Victoria, BC is one of our favorite places in the world and it's not hard to see why. There's just so much to love about this beautiful city!
Located on Vancouver Island's southern edge, Victoria — the capital city of British Columbia — offers an amazing blend of natural coastal beauty, historical architecture, friendly locals, incredible restaurants, mild climate, and so many fun things to do!
As locals, we feel incredibly lucky to call this beautiful city home. Since moving here, we've explored every nook and cranny of Victoria and have uncovered some of the best things to do and places to see in the city.
Below, we cover the best things to do and see in Victoria, based on our local knowledge and experiences. We share the top activities, hidden gems, and must-visit landmarks, with insider tips to help you make the most of your time in our beloved city. Enjoy!
Best Things to Do in Victoria, BC
From scenic seaplane flights and whale watching tours to famous flower gardens and beautiful beaches, Victoria is packed full of top things to do, beautiful places to see, and fun activities for just about every type of traveler!
Owing to the sheer abundance of activities, it can be hard to decide on what to do in Victoria, BC. We've been living here for years but still haven't done and seen everything!
Don't worry though — we're here to help you pick the best things to do, places to see, activities, and must-visit attractions when visiting Victoria. Read on to discover the best that this city has to offer!
1. Butchart Gardens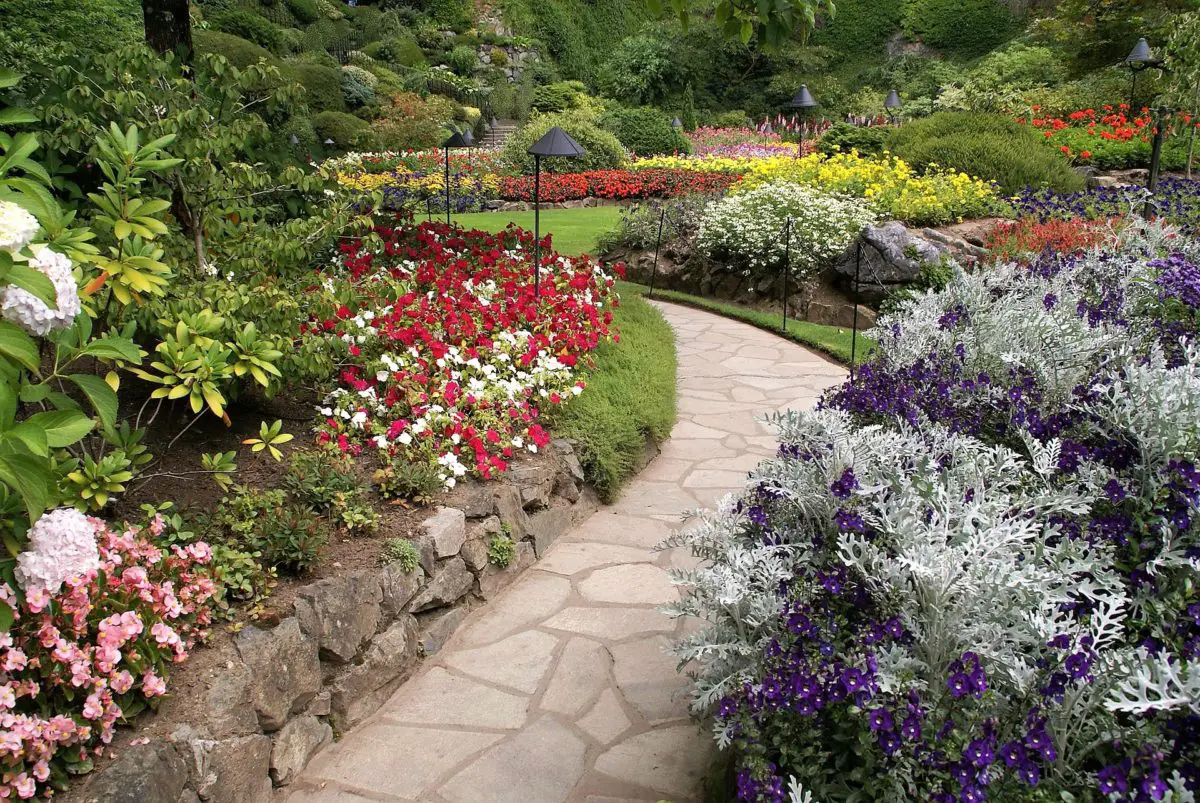 Visiting the world-famous Butchart Gardens easily makes it to the top of our list of the best things to do in Victoria, BC — and for good reason!
One of the most popular gardens and tourist spots in Victoria, the Butchart Gardens are a must-see destination, year-round. Formerly a limestone quarry, the 55-acre property now houses thousands of colorful flowers and perfectly manicured plants, as well as stunning fountains, unique sculptures, totem poles, and even a carousel!
Related Article: Beautiful Gardens around Victoria, BC
Some of the most picturesque areas include the Sunken Garden, which is breathtaking every time we see it, and the Japanese Garden, complete with a towering Torii gate and gorgeous Japanese maples. We also love the impressive Ross Fountain and bronze Butchart Boar statue — apparently, rubbing its nose is good luck!
As if that all wasn't enough, the Butchart Gardens also puts on a spectacular fireworks display on Saturday evenings in summer. And in December, the gardens transform into a magical winter wonderland of twinkling lights and festive decorations during the Magic of Christmas event.
Related Article: Festive Things to Do at Christmas in Victoria, BC
Located in Brentwood Bay, the gardens are just a quick half-hour drive from downtown Victoria. Don't have your own car to get there? This Butchart Gardens shuttle bus (admission included) will take you from downtown Victoria to the gardens, and back after!
For a daytrip from Vancouver to Victoria, this Butchart Gardens Tour from Vancouver will shuttle you by bus and ferry from Vancouver to Victoria and back. They even pick you up from your hotel in Vancouver.
Alternatively, arrive to Victoria in style on a seaplane flight from Vancouver, which includes transportation and admission to Butchart Gardens. Both of these day trips will also give you time to explore the Inner Harbour and see sights like Chinatown, BC Parliament Buildings, and the Empress Hotel.
2. Whale Watching Tour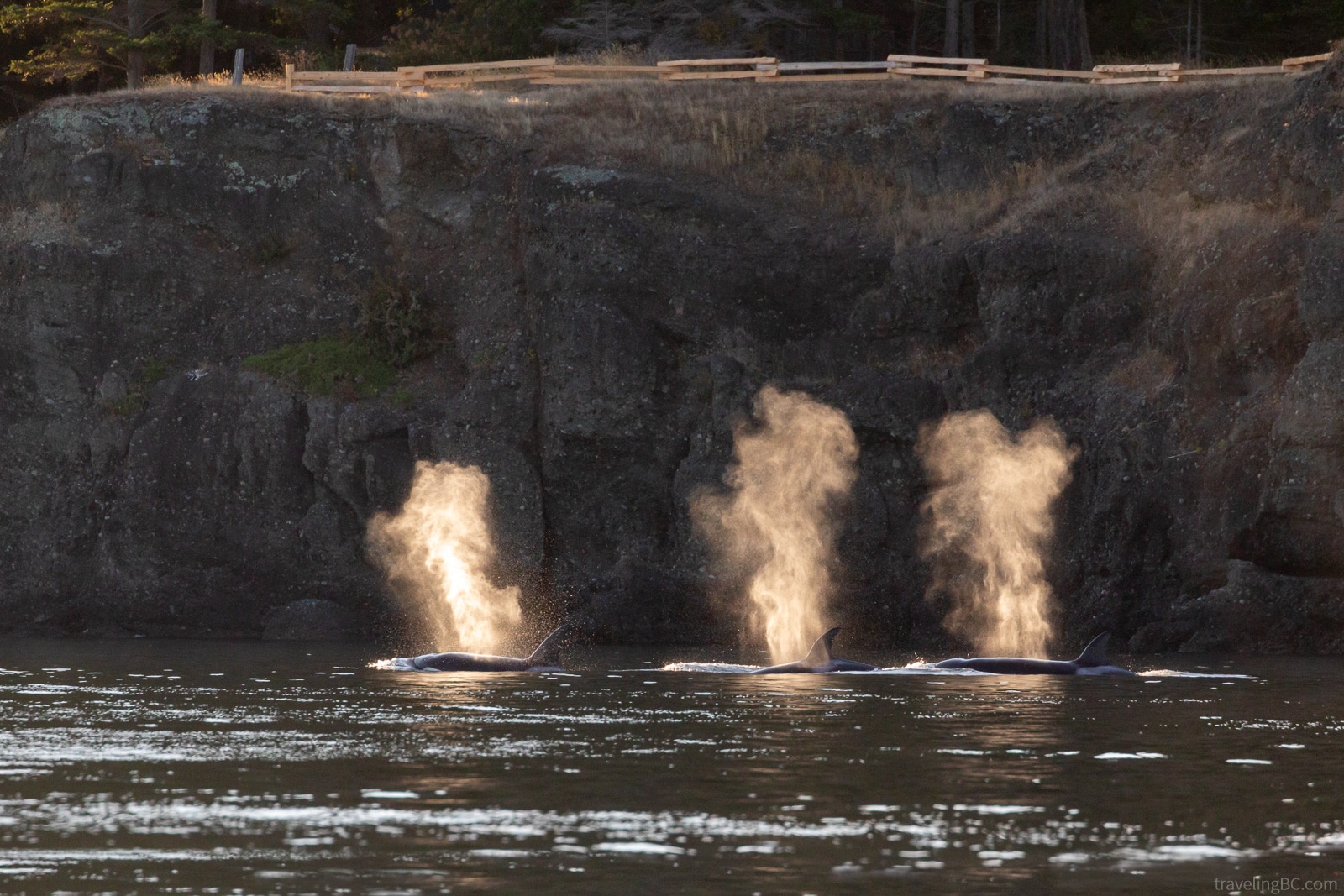 Who doesn't want to experience the magic of spotting whales around Victoria?
Whale watching tours are one of the best ways to see these magnificent marine mammals, while also exploring Victoria's coastal waters while you're at it. If you're lucky, you might spot a whale from land — but these tours guarantee a sighting!
Around Victoria, you'll have the chance to spot gray, humpback, and minke whales, as well as our favorite — orcas! There are also the smaller Pacific white-sided dolphins, harbour porpoises, and Dall's porpoises, as well as other marine animals like Steller and California sea lions, harbour seals, river otters, and seabirds.
With a whale watching tour (like this half-day tour), you'll search for whales while experiencing the beauty of the Salish Sea. Don't forget your camera! Thanks to marine experts, you'll also learn more about the ecology of the whales in the area.
Sunset whale watching tours are our favorite. Ideal for photographers, these evening tours take you onto the water just before the sun sets, searching for whales in the golden light of dusk.
If you want to enjoy the sun more while you're on the water, there are also half-day whale watching tours that head out in the morning or afternoon. You can choose to go out on a semi-covered vessel or for the more adventurous, a zodiac boat. If you don't want to get splashed, we highly recommend sticking with the semi-covered boats!
3. Walking Food Tour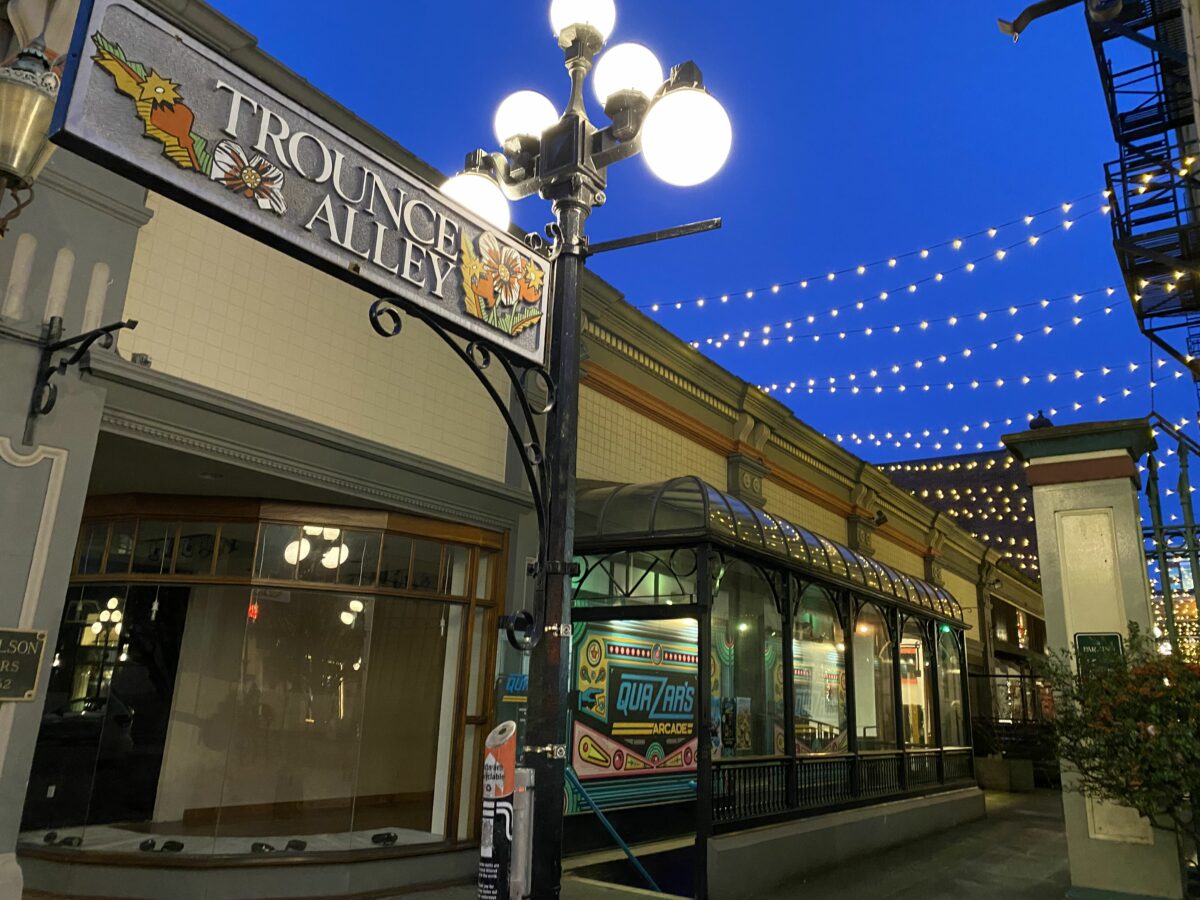 Foodies, rejoice! A walking food tour in Victoria is undoubtedly one of the best things to do in the city for those who want to experience all the local tastes.
Munch your way through Victoria's culinary scene while enjoying a guided walking tour of the city with this Food and History Tour. Enjoy many local foods while learning about the rich history of the city!
Starting at the Victoria Public Market, you'll explore highlights around downtown Victoria. Marvel at the Gate of Harmonious Interest in Chinatown, walk down the incredibly narrow Fan Tan Alley, stop at the historic Bastion Square, explore the charming Trounce Alley, and more!
Along the way, you'll stop for food tastings from various local restaurants. Participants get to taste a wide range of locally sourced foods, from fresh seafood and artisanal cheeses to locally brewed beers and handcrafted chocolates.
The knowledgeable and friendly guides make this experience enjoyable and informative for all ages, making it a must-do activity for any visitor to Victoria!
4. Chinatown & Fan Tan Alley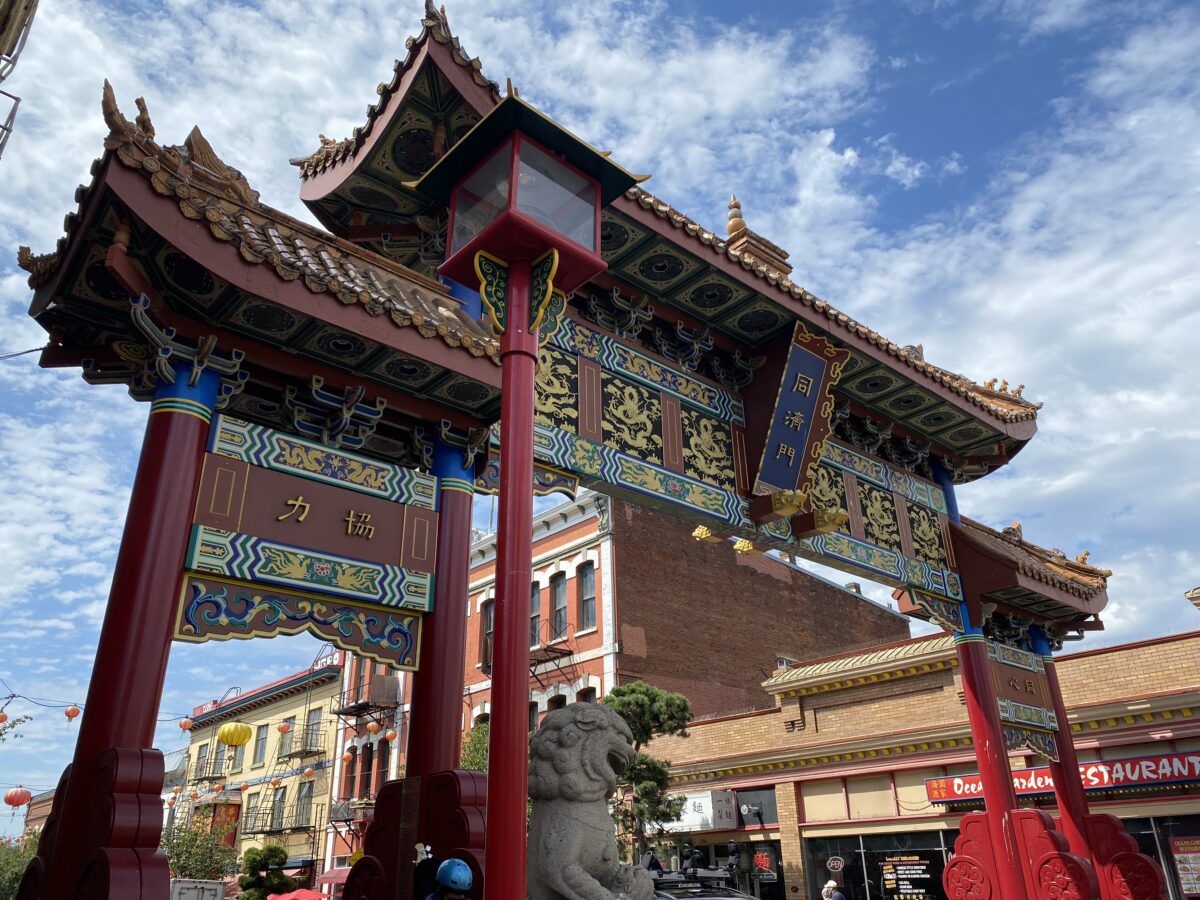 Victoria is home to Canada's oldest Chinatown (and North America's second oldest), which is just north of downtown. This historical neighborhood offers visitors a taste of Chinese culture, with its vibrant colors, traditional architecture, delicious cuisine, and boutique shops.
The entrance of Chinatown is marked by the famous Gate of Harmonious Interest. This 38-foot tall ornate gate spans over Fisgard Street and welcomes visitors to the neighborhood with its intricate designs and stone lion sculptures.
Despite being small, Victoria's Chinatown is packed full of unique shops selling all kinds of goods and souvenirs, restaurants serving Chinese cuisine like dim sum or bubble tea, grocery stores with specialty foods like durian and lychee, and narrow alleyways.
Don't miss the easily-overlooked Fan Tan Alley while wandering around Chinatown. A hidden gem in Victoria, Fan Tan Alley is the narrowest street in all of Canada at only 0.9 meters (35 inches) wide in places! Marked only by a small sign on a lamppost, it's easy to walk past this small street — keep your eyes peeled!
One of the best ways to fully experience Victoria's Chinatown is on a two-hour Eat, Drink, and Explore Chinatown walking tour. On the tour, you'll learn about the history of Chinatown's heritage sites like the Chinese Language School, the Gate of Harmonious Interest, and Fan Tan Alley.
And of course, this food tour lets you sample a variety of foods and drinks from local vendors in the Victoria Public Market and Market Square. You'll be treated to locally-roasted coffees, savory hand pies, arancini, and even some craft beer!
5. Seaplane Flight
Scenic floatplane tours are one of the best ways to see Victoria — from a bird's eye view!
Soaring above the city skyline is the ideal way to admire all the great sights that Victoria is known for. Not only that, the seaplanes take off and land right in the Inner Harbour.
If you haven't flown in a floatplane before, it's quite a unique experience!
Book a Panorama Seaplane Tour for an unforgettable adventure. You'll board the seaplane at the Victoria Harbour Airport terminal. Then, the floatplane will skim quickly along the water of Victoria's Harbour before taking to the skies.
From above, you'll be treated to spectacular aerial views of Victoria and Vancouver Island's southern coast. Look for landmarks like the Saanich Peninsula, Finlayson Arm, Mount Douglas, Salt Spring Island, and the distant Olympic Mountains over the Strait of Juan de Fuca.
Overall, a scenic floatplane tour is an excellent way to see the city of Victoria and its surroundings from a unique perspective, creating memories that will last a lifetime.
6. Beacon Hill Park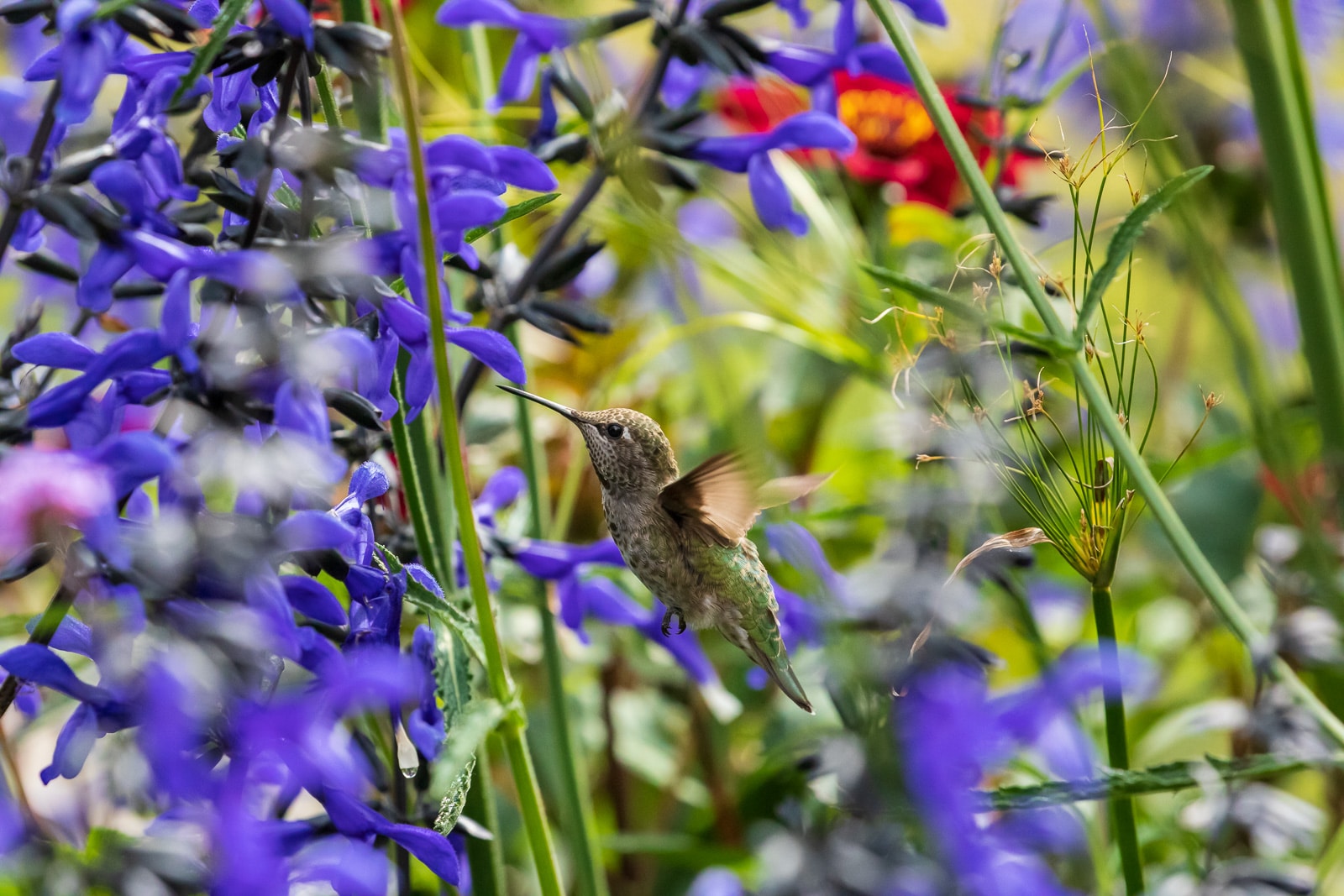 Looking for one of the best free things to do in Victoria? Check out Beacon Hill Park!
Beacon Hill Park is an expansive 75 hectare (200 acre) park by the Dallas Road waterfront. Not only does this park command an excellent location right by the ocean, but it is also within walking distance of downtown.
Often considered the crown jewel park of Victoria, Beacon Hill features rare Garry Oak meadows that fill with blossoms in the spring, year-round flower gardens, lily ponds with turtles, beautiful fountains, sports fields of all kinds, and more.
There's even the Beacon Hill Children's Farm (admission by donation), one of the fun family-friendly things to do in Victoria.
Beacon Hill Park is also home to what was once the tallest free-standing totem pole in the world. You'll find this impressive carved cedar tree near the woods beside Dallas Road. Often, there will be a bald eagle perched at the very top!
Wander through Beacon Hill Park on foot or treat yourself to a scenic horse-drawn carriage ride through the park. As you explore, keep your eyes peeled for unique sights like colorful peacocks or the Moss Lady statue. In the summer, the park is a popular spot for picnics, especially during the weekend concerts held at the Cameron Bandshell.
7. Horse-Drawn Carriage Tour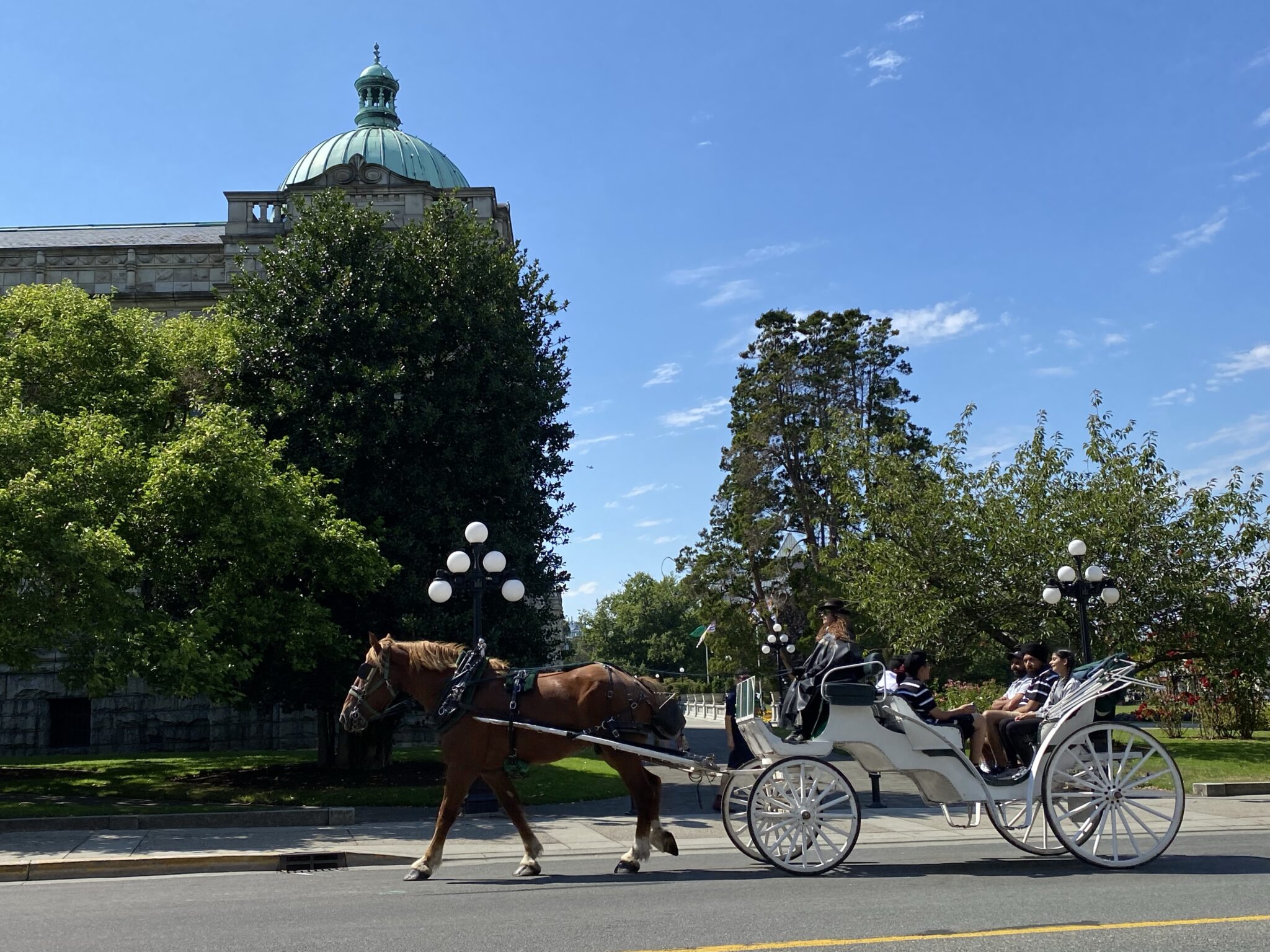 One of the most unique ways to explore Victoria is on a horse-drawn carriage tour. Enjoy the clip-clop of the horses' hooves on the pavement and the gentle pace of the carriage as you take in the sights and sounds of this beautiful city.
These relaxing tours take visitors through Victoria's picturesque downtown, past must-see spots, and beside the waterfront. Along the way, you'll see iconic landmarks like the Inner Harbour, BC Parliament Buildings and Empress Hotel.
Throughout the tour, your knowledgeable guide will share stories and anecdotes about the city as you ride through its streets.
For a full show of all that downtown Victoria has to offer, we recommend this 60-minute horse-drawn carriage tour. The tour cost covers the entire carriage (up to 6 people), making this one of the top things to do in Victoria with a group or for a romantic date.
You'll start the tour beside the Empress Hotel and then journey through the stunning Beacon Hill Park. After, the carriage will head along the Dallas Road waterfront. Enjoy incredible views of the Olympic Mountains over the Strait of Juan de Fuca, before heading back downtown through the historic James Bay neighborhood.
8. BC Parliament Buildings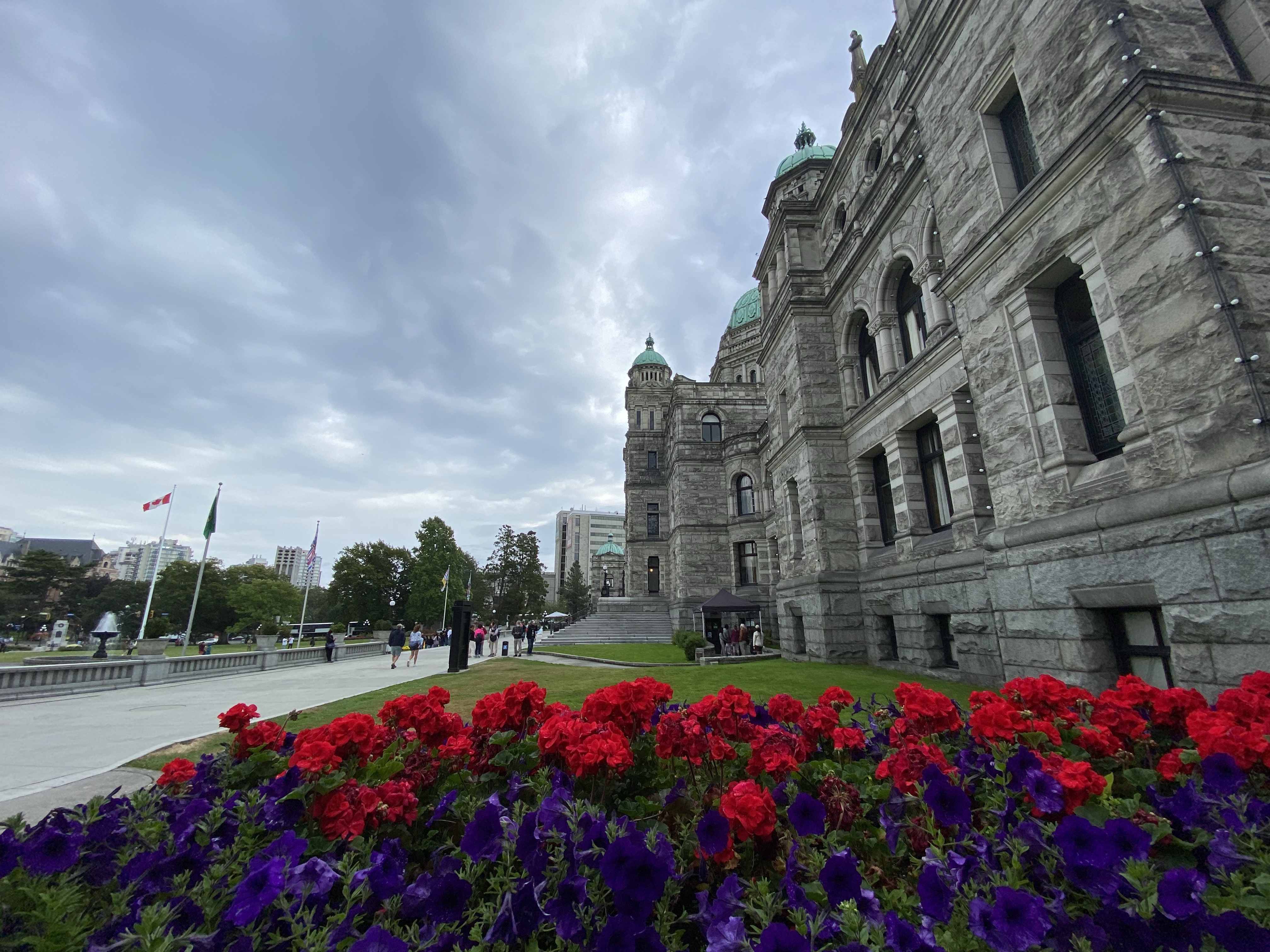 Located in the heart of downtown Victoria, the BC Parliament Buildings are truly a sight to behold. Standing on the edge of the Inner Harbour, the neo-baroque buildings feature a grand façade, renaissance-style copper domes, statues of historical figures, gorgeous water fountains, and more.
The Parliament Buildings are home to the Legislative Assembly of British Columbia, but you don't need to be a fan of politics, history, or architecture to visit this beautiful landmark. Many visitors walk its gorgeous grounds to enjoy views of these iconic buildings or to just to snap a photo of the front.
While visitors often stop to admire the front of the British Columbia Parliament Buildings, there is so much more to see than just that! Make sure to walk around the buildings to spot sights like the Centennial Fountain, Rose Garden, and all of the various statues and monuments. Visit at night to admire the building's exterior lights, too.
And yes, you can go inside the Parliament Buildings! Don't miss seeing the grand interior, like we did when we first moved here.
Entry is free from Monday to Friday, 8:30 am to 4:30 pm. There are free self-guided or public tours, which include the Rotunda, Legislative Chamber, Legislative Library, and Hall of Honour.
Whether you want to observe a debate from the public gallery, take pictures of the stained glass windows (there are hundreds of them!), or see the traditional hand-crafted Shxwtitostel canoe, rest assured that there's always plenty to keep you entertained for the day!
9. Craigdarroch Castle
Did you know that there's a castle near downtown Victoria?
Craigdarroch Castle is a beautiful Victorian-era mansion located in the heart of Victoria near the Government House — and it's actually one of TWO castles in the city!
Originally, Craigdarroch Castle was an extravagant home for the wealthy coal baron Robert Dunsmuir and his family, built in the late 1800s. Now, the castle is a National Historic Site and a must-see attraction for anyone visiting Victoria.
Wander through the castle on a self-guided tour, learning about its fascinating history and that of the family that lived there. The castle is open from Thursday through Sunday (10:00 am – 4:00 pm).
Even if you don't want to tour the castle, it's worth stopping by to see the outside! The historic building really stands out in the Rockland neighborhood. When the cherry blossoms bloom in spring, the castle combined with the pink flowers make for stunning photographs!
For a unique experience, consider joining a 2.5-hour Craigdarroch Castle Pedicab Tour which combines your castle admission with a pedicab tour of the area. On the way to the castle, you'll pass by points of interest like the Government House (the gardens here are free and worth a visit).
If you haven't had enough of castles after exploring Craigdarroch, you can always head over to Hatley Castle in Colwood, another National Historic Site located just 20 minutes away!
10. Fairmont Empress Hotel
A visit to the historic and iconic Empress Hotel is an absolute must-do when you're in Victoria, BC. While the Empress is one of the best oceanfront hotels in Victoria, it's not just a hotel but a cultural landmark that has played an integral part in the city's history for over 100 years.
One of the world's most famous hotels, The Empress was built in the early 1900s and designated a National Historic Site in the 1980s. The hotel has hosted numerous celebrities and dignitaries over the years, including Queen Elizabeth II, King George VI, and Shirley Temple.
To experience the most that The Empress has to offer, book a stay in one of its many luxurious guest rooms. But that's not the only thing you can do at this hotel!
The Empress is well known for its world-renowned afternoon tea, a time-honored ritual lasting for over a century. This elegant experience treats guests to a selection of teas, finger sandwiches, freshly baked scones, and decadent pastries, served on royal china and accompanied with classical piano.
Make reservations in advance — this is easily one of the most coveted activities in Victoria! Just be forewarned — the afternoon tea is on the pricey side.
Even if you don't stay or eat at The Empress, make sure to visit this iconic landmark. The hotel's stunning architecture and location on Victoria's Inner Harbour make for some beautiful photographs. A visit to The Empress is a truly unforgettable experience that combines luxury, history, and stunning views, making it one of the best things to do in Victoria!
11. Inner Harbor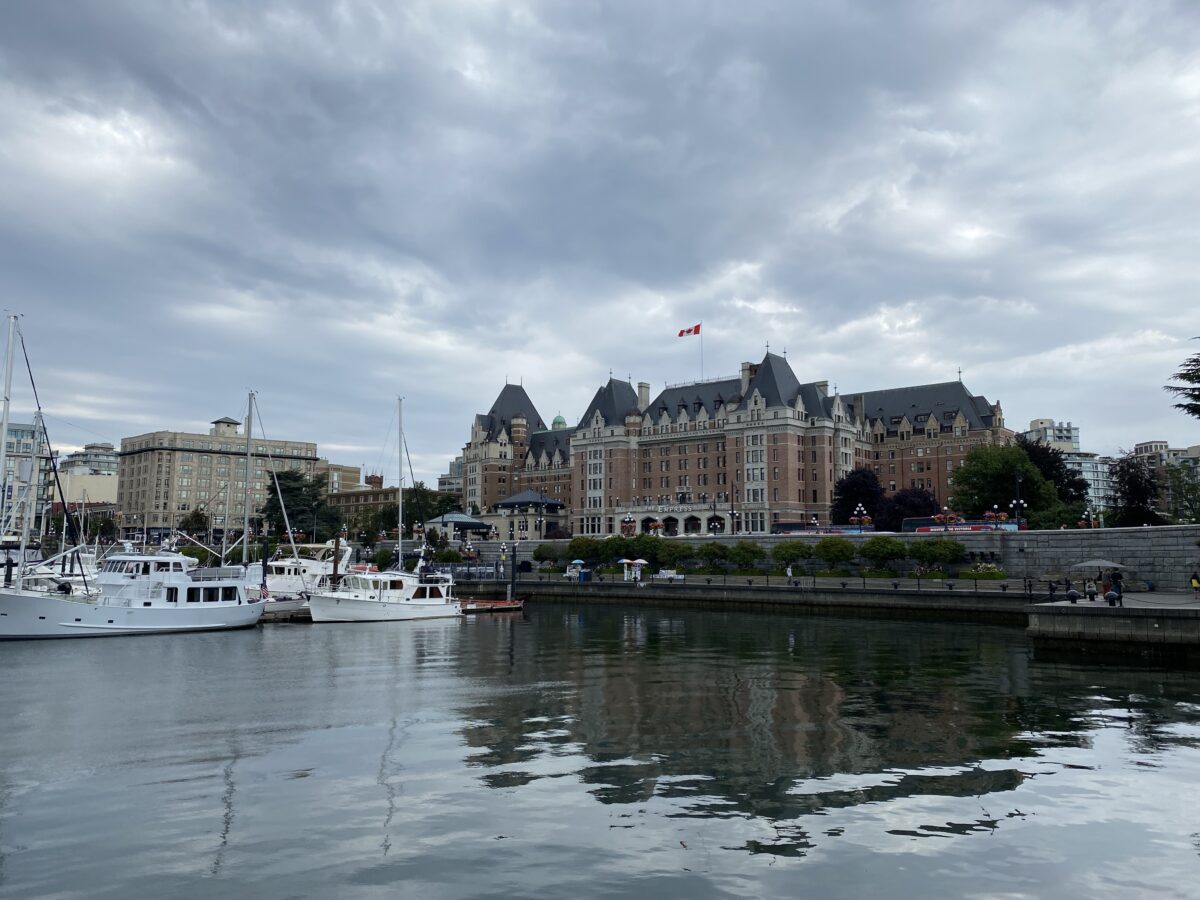 Don't miss visiting the Inner Harbour if you're looking for the must-see destinations in Victoria!
One of the most beautiful harbors in the world, Victoria's Inner Harbour has everything — picturesque waterfront views, historic buildings, delicious dining options, boutique shops, and a vibrant atmosphere that truly captures the essence of the city. In addition, the harbor services many businesses like whale watching and floatplane tours.
Take a stroll along the harbor causeway and admire the stunning architecture of the Fairmont Empress Hotel and British Columbia Parliament Buildings. During the summer months, this area turns into bustling tourist hotspot with street performers, music, food vendors, and sightseers from all over the world.
Visitors can also enjoy whale watching excursions or simply relax in one of the many waterfront cafes and restaurants. If you're feeling adventurous, join a guided kayak tour to explore the waters of the Inner Harbour — one of the best harbours to paddle around in the world!
Of course, no visit to Victoria's Inner Harbor would be complete without checking out the iconic Pickle Boats. These small ferry boats cruise all around the harbour, connecting different destinations like Chinatown, Fisherman's Wharf, and the Empress. And yes, these water taxis are shaped like tiny pickles!
12. Royal BC Museum
Home to over 7 million specimens and artifacts, the Royal BC Museum is one of the largest in Canada — and well worth a visit!
This world-class museum is dedicated to both human and natural history, offering incredible learning experiences for visitors of all ages. Visiting the museum is one of the best family-friendly things to do in Victoria — but it's also lots of fun for adults too!
One of the most beloved exhibits at the Royal BC Museum is the Giant Mammoth. This life-size replica is named Woolly and was based on a real-life mammoth skeleton discovered in 1931.
For an immersive experience, check out the Old Town exhibit, designed to make visitors feel like they're meandering through Victoria's cobbled streets back at the turn of the century.
The museum also regularly brings in traveling exhibits, so there are always new things to see!
When you're done look at artefacts, stop by the IMAX theatre in the Royal BC Museum to check out a movie or informative documentary. There are showtimes all through the day!
No trip to the Royal B.C. Museum would be complete without a visit to Thunderbird Park, known for its impressive collection of totem poles. Located just outside the museum, Thunderbird Park is free to visit — so make sure to check it out!
The Royal BC Museum is a must-see destination in Victoria, with its vast collection of specimens and artifacts, incredible exhibits, IMAX theatre, and stunning outdoor Thunderbird Park. Visiting this museum is a great way to spend a day and learn more about the fascinating history and culture of the area.
Note: The Royal BC Museum's third floor is currently closed as they work on decolonization and renovation of the galleries. Click here for the museum's current exhibitions.
13. Ghostly Walking Tour
Looking for a unique activity to do in Victoria? If you're in the mood for something different, consider taking a ghost tour of the city's downtown!
The 60-minute Ghostly Walking Tours offer an unusual and intriguing way to experience the city. Led by talented storytellers, this spooky tour guides you through some of downtown's most haunted spots. You'll also get to see many of Victoria's well known landmarks along the way.
Get ready to be spooked as your knowledgeable guide shares Victoria's ghost stories and tragic tales! One of the best things about this tour is the opportunity to learn more about the unusual side of Victoria's history.
Whether you're a history buff or simply looking for an eerie adventure, this tour offers something for everyone. Don't miss out on this spine-tingling opportunity to explore Victoria's haunted history!
14. Fisherman's Wharf
Just a short walk around the corner from the Inner Harbour, you'll find the quirky Fisherman's Wharf. A floating marine destination, this must-visit spot features brightly-colored float homes, outdoor eateries, unique souvenir shops, and various ecotourism businesses like whale watching tours.
The colorful floating homes are one of the most whimsical features of Fisherman's Wharf. Unfortunately, they are private residences and can't be explored. But, if you want to experience what it's like to stay in a floating home, book a room at the Fisherman's Wharf Floating Bed & Breakfast!
Fisherman's Wharf is a great spot to head for lunch. The floating outdoor restaurants serve all types of seafood, from fish n' chips to freshly caught shellfish. Enjoy your meal at a picnic table, while taking in the lively atmosphere and watching the boats come and go. You might even catch a glimpse of seals!
After, if you've got some extra time to spare, you can always hop on a water taxi to explore the rest of Victoria's Harbour. Alternatively, join one of the whale watching tours that depart from Fisherman's Wharf to spot some marine wildlife like orcas and sea lions.
As a heads up, Fisherman's Wharf is best visited in the summer months. Most businesses at the wharf are shut during the winter season. Also, expect crowds during peak tourist season!
15. Victoria Butterfly Gardens
Visiting the Victoria Butterfly Gardens is the perfect activity for a rainy or chilly day in the city. These indoor gardens provide an escape to the tropics without leaving British Columbia!
As you enter the gardens, you will be greeted by up to 70 species of butterflies, fluttering free among the plants. Our favorites are the massive atlas moths (which live less than a week after leaving their cocoons) and the orange-and-black monarch butterflies (known for their incredible multi-generational migrations).
Adding to the jungle experience, the gardens also house free-flying parrots and other tropical birds, like Caribbean flamingos! Other animals you'll get to see include iguanas, tortoises, turtles, and poison dart frogs. You'll also find a small stream, waterfall, and pond full of tropical fish!
Not only that, the indoor garden is a botanical wonderland. Here, you'll find all kinds of flowers and plants from different parts of the world. They even have carnivorous plants that eat insects and sensitive Mimosa plants that close their leaves after being touched.
A visit to the Victoria Butterfly Gardens is a perfect way to spend a relaxing and fun-filled afternoon with your loved ones. Plus, since the Victoria Butterfly Gardens are located near Brentwood Bay, it's an excellent activity to add to your day's itinerary before or after visiting the Butchart Gardens.
16. Beaches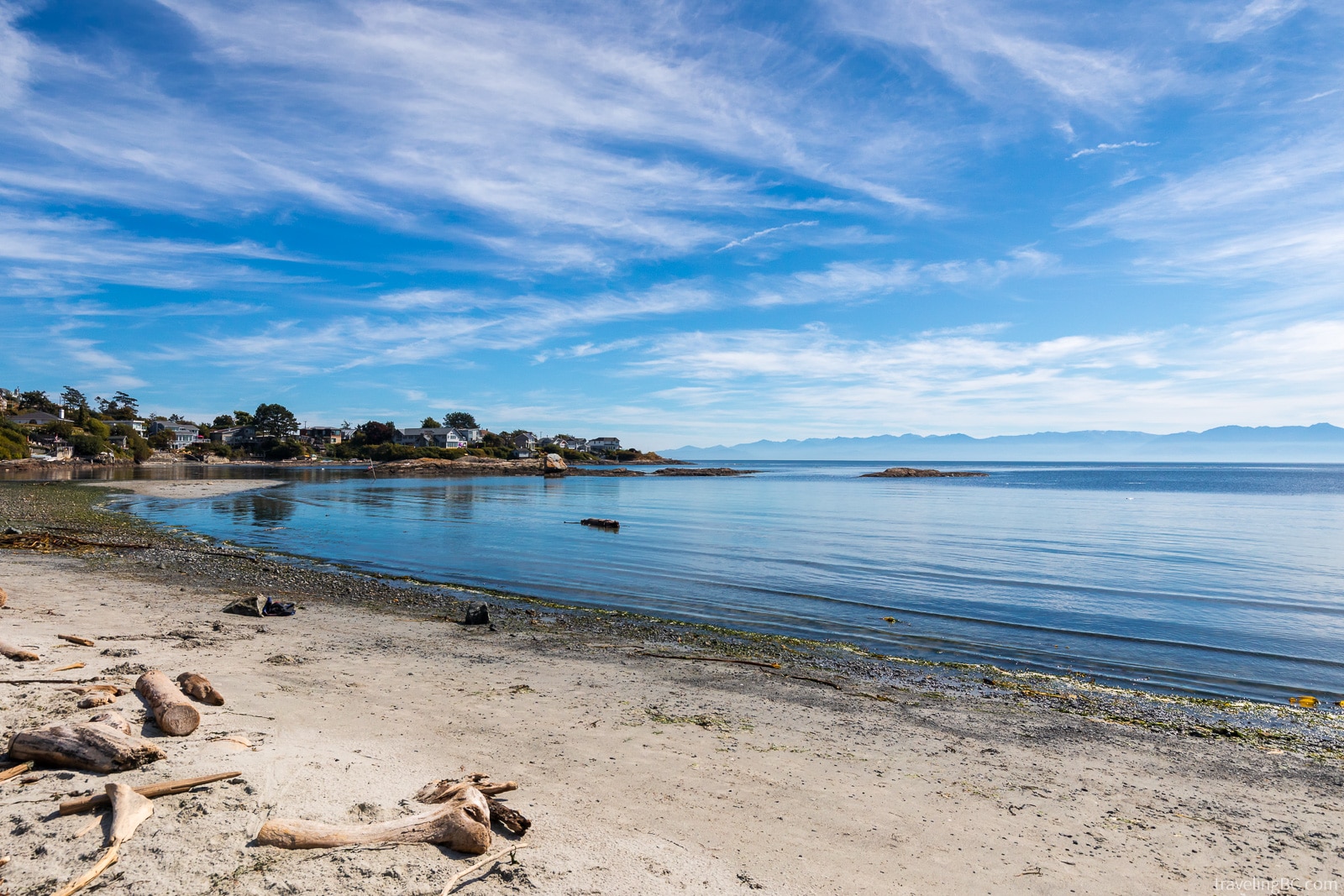 It's no secret that some of the most beautiful beaches in British Columbia are found in Victoria. After all, the city is practically surrounded by the ocean!
Willows Beach is by far the most popular beach in Victoria. One of the few sandy beaches in town, it does admittedly get crowded in the summer… but it's so worth visiting.
With a grassy park, soft sand, and shallow water, Willows Beach is the perfect spot for a picnic, long walk, or quick dip in the ocean. We also love playing spikeball here!
Another incredible sandy beach in Victoria is Gonzales Beach. Located in a sheltered bay, we find that Gonzales is one of the best beaches in Victoria to head on a windy day. The water here is calm, making it a family-friendly beach that's great for swimming — if you can brave the cold water, that is!
Head to the Dallas Road waterfront for another beautiful beach — Spiral Beach. This rocky beach isn't great for swimming but it's incredibly scenic! There are stairs to get down to the beach near Cook Street or Clover Point.
Looking for more beaches in Victoria to explore? Check out our articles on the best sandy beaches, most beautiful beaches, and most accessible beaches in town!
17. Hop-On Hop-Off Sightseeing Bus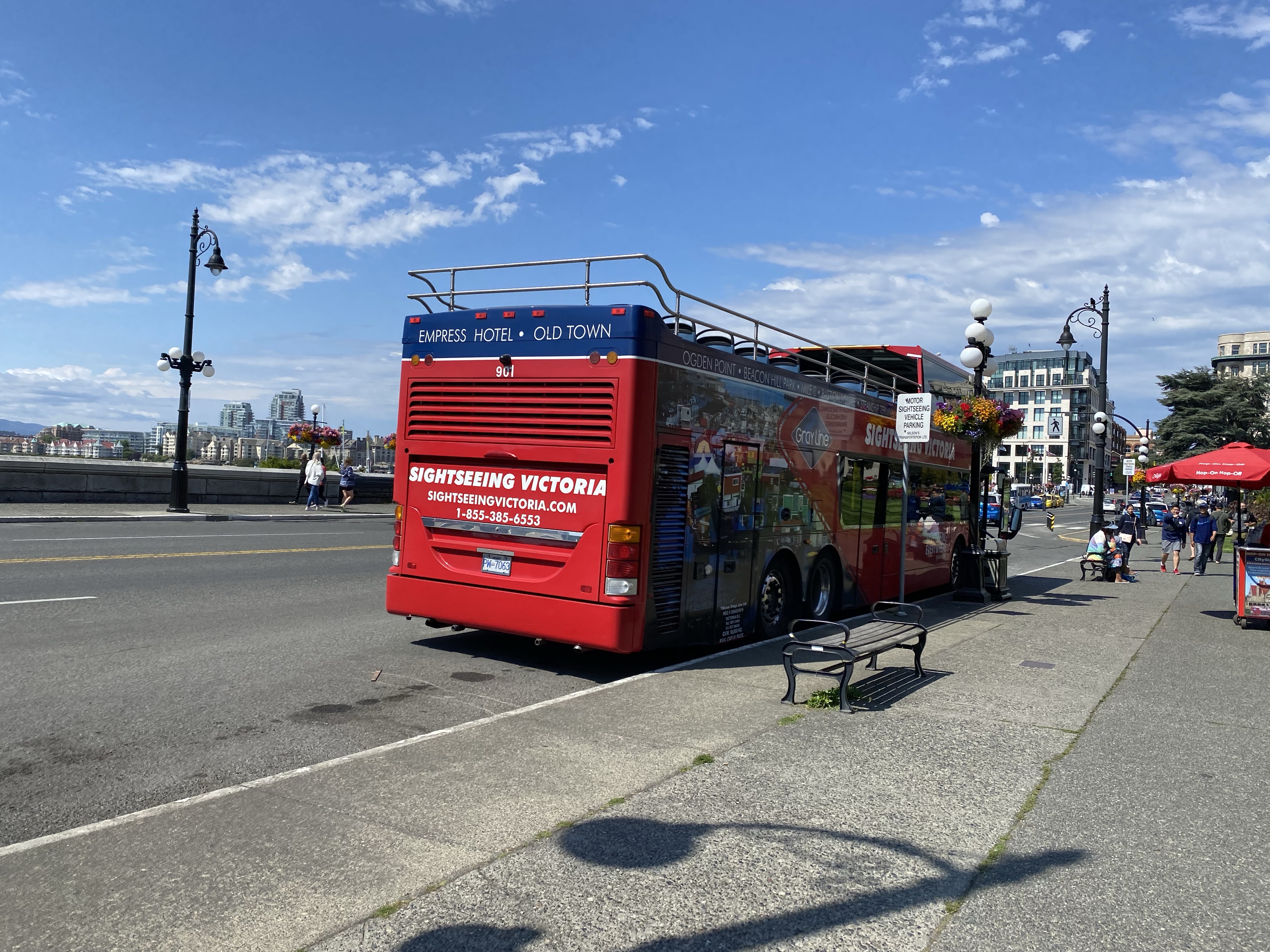 Hop-on hop-off buses are one of the best ways to explore the beautiful city of Victoria. Not to mention, they are all double-decker buses with an open top half — which makes them loads more fun to ride than a normal bus!
These sightseeing buses offer a convenient and flexible way to see the city's top attractions. You get unlimited access for a half day. The buses are available from March through to October.
Points of interest on the bus routes include the Fairmont Empress Hotel, Craigdarroch Castle, Chinatown, Old Town, Fisherman's Wharf, Inner Harbour, BC Parliament Buildings, Christ Church Cathedral, Oak Bay Village and Marina, Cook Street Village, and the Breakwater.
With the freedom to get off at any stop and explore at your own pace, you can customize your tour according to your interests and schedule. They are the perfect way to get around if you don't have a vehicle!
18. Government Street
Government Street is easily one of the most vibrant and pedestrian-friendly roads in Victoria. If you want to see some of the city's iconic landmarks, check out local restaurants and bars, or just love shopping, this is the place to head!
While the street starts at Dallas Road and runs all the way to Douglas Street, the central portion (between Chinatown and the Inner Harbour) is the most lively and packed full of top things to do.
An entertainment and shopping hub, Government Street is lined with an assortment of boutique stores, restaurants, bars, historical buildings, and iconic landmarks. In the summer, there are often street performers, too!
Walking is the best way to explore Government Street. We recommend that you start at Beacon Hill Park or the BC Parliament buildings and head north towards Chinatown. Along the way, you'll spot all kinds of must-see tourist destinations, including Bastion Square and the Empress.
If you want to learn more about the history of this area, we recommend joining a Historical Victoria Walking Tour!
19. Malahat SkyWalk
Looking for unparalleled views of the Salish Sea? If so, the Malahat SkyWalk should be at the top of your itinerary when visiting Victoria!
One of the more unique things to do in Victoria, the Malahat SkyWalk is a spiral 32-m high tower offering 360-degree views from the top. You'll be able to see the Finlayson Arm, Saanich Peninsula, and all the way to Mount Baker!
Here's one of the most fun parts about the Malahat Skywalk: when you're done at the top, you get to slide all the way back down!
The Spiral Slide is 50 m (165 feet) long and 20 m (65 feet) tall. You can ride it as many times as you'd like.
There's also an exciting adventure net at the top of the tower. Walk on it if you dare (don't worry — it's safe)!
The Malahat SkyWalk is just north of Victoria on the Malahat Highway, along the edge of the Saanich Inlet. You'll need a vehicle to get there. If you don't have one, consider this round-trip shuttle service from downtown Victoria (which also includes your admission ticket).
20. PKOLS (Mount Douglas Park)
For incredible 360-degree views of Vancouver Island and the Salish Sea, head to PKOLS (aka Mount Douglas Park) in Saanich.
At 225 meters high, the summit of Mount Doug offers spectacular views of much of Victoria and the surrounding regions. You'll be able to see downtown Victoria, the rural Saanich Peninsula, Cordova Bay, and even Washington's Olympic and Cascade Mountains.
There are many hiking trails that lead to the top of PKOLS. Alternatively, you can walk, bike, or drive up to the summit via Churchill Drive. The road is closed to vehicles until noon.
Don't miss Mount Doug Beach when exploring the park! The beach is located near the large parking lot off Cordova Bay Road. We also recommend parking here, as the Churchill Drive parking lot is quite small.
21. Hot Tub Boat
Do you know what's better than sightseeing on foot? Exploring Victoria from the cozy comfort of a hot tub boat, of course!
Hot tub boats are one of the most unique and fun ways to explore the Gorge Waterway and Upper Harbour of Victoria. These are Canada's first hot tub boats and they are a blast to cruise around in.
The floating wood-fired hot tubs launch near the Johnson Street bridge. Each private hot tub boat rental has 1.5 hours on the water. You can cruise all the way to the Selkirk Trestle and back in that time!
The hot tub boats are equipped with waterproof speakers. Enjoy your favorite music while gazing out at Victoria's historic waterfront. When you're too hot, you can even go for a swim to cool off, thanks to the onboard ladder!
22. Goldstream Provincial Park
Goldstream Provincial Park has it all: stunning waterfalls, incredible wildlife viewing opportunities, moss-covered forests, hiking trails, camping, epic panoramic views of the city…
Despite being on the city's edge, this park is one of the best places to visit in Victoria if you're a fan of the outdoors. It's only 16-km from downtown Victoria, located at the start of the Malahat in Langford.
Goldstream is best known for its impressive salmon run in the fall. Thousands of Chum salmon return to the river and swim upstream to spawn. Visitors can watch this spectacle from late October through November. It's also a great time of year to see the animals that feed upon the salmon, like bald eagles!
The park features one of the most beautiful waterfalls in Victoria — Niagara Falls. Yes, it has the same name as the one in Ontario. Now while it's admittedly much smaller than its massive namesake in the east, Goldstream's Niagara Falls is still quite beautiful! You'll also find another waterfall, Goldstream Falls, near the campground.
Related Articles: Best Waterfalls Around Victoria, BC
Goldstream Provincial Park is also home to Mount Finlayson, one of Greater Victoria's highest points and best scenic viewpoints. We do have to point out that the hike to the top isn't exactly easy since it's also the steepest trail in the area. But the view from the top is totally worth it, with amazing vistas of the island from every angle!
23. Hiking Trails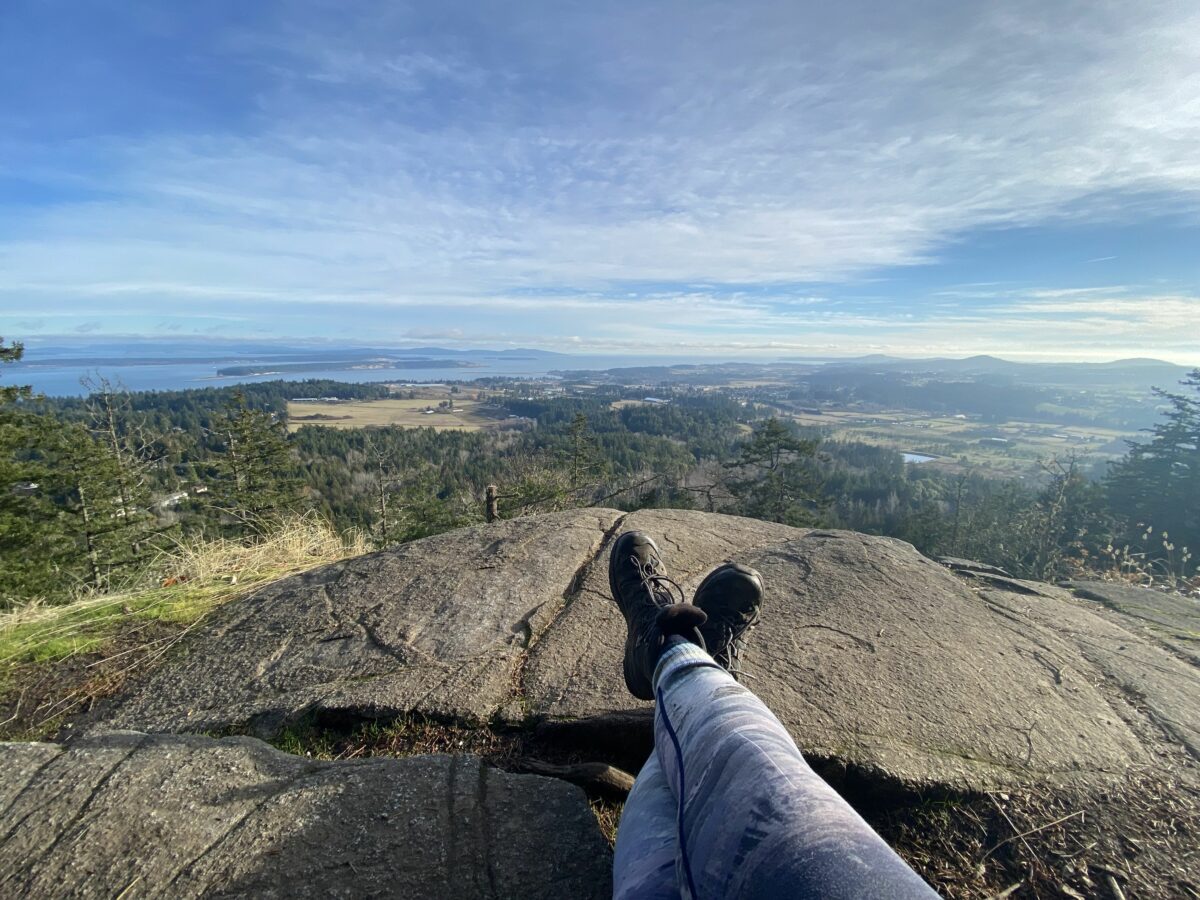 Do you love hiking? If so, here's the great news about Victoria: the city is packed full of hiking trails, with options suitable for just about every fitness level!
A favorite of ours is PKOLS (Mount Douglas Park) which just so happens to be one of Victoria's most dog-friendly hikes. The top of Mount Doug (as locals often call it) offers some of the best views of the city. The summit takes about 20-40 minutes of walking, depending on your fitness level.
If you're in the mood for something strenuous, climb to the top of Mount Finlayson in Goldstream Provincial Park. Remember to wear your best hiking boots since the walk to the top is super steep!
For a more relaxing walk, you could always check out the hiking paths around Thetis Lake. Or if you're looking for spectacular ocean views, we highly recommend hiking part of the Coast Trail in East Sooke Park.
Traveling with kids or need a more accessible walk? Check out the Dallas Road Waterfront Trail, Kinsol Trestle Bridge, or Songhees Walkway!
24. Southern Gulf Islands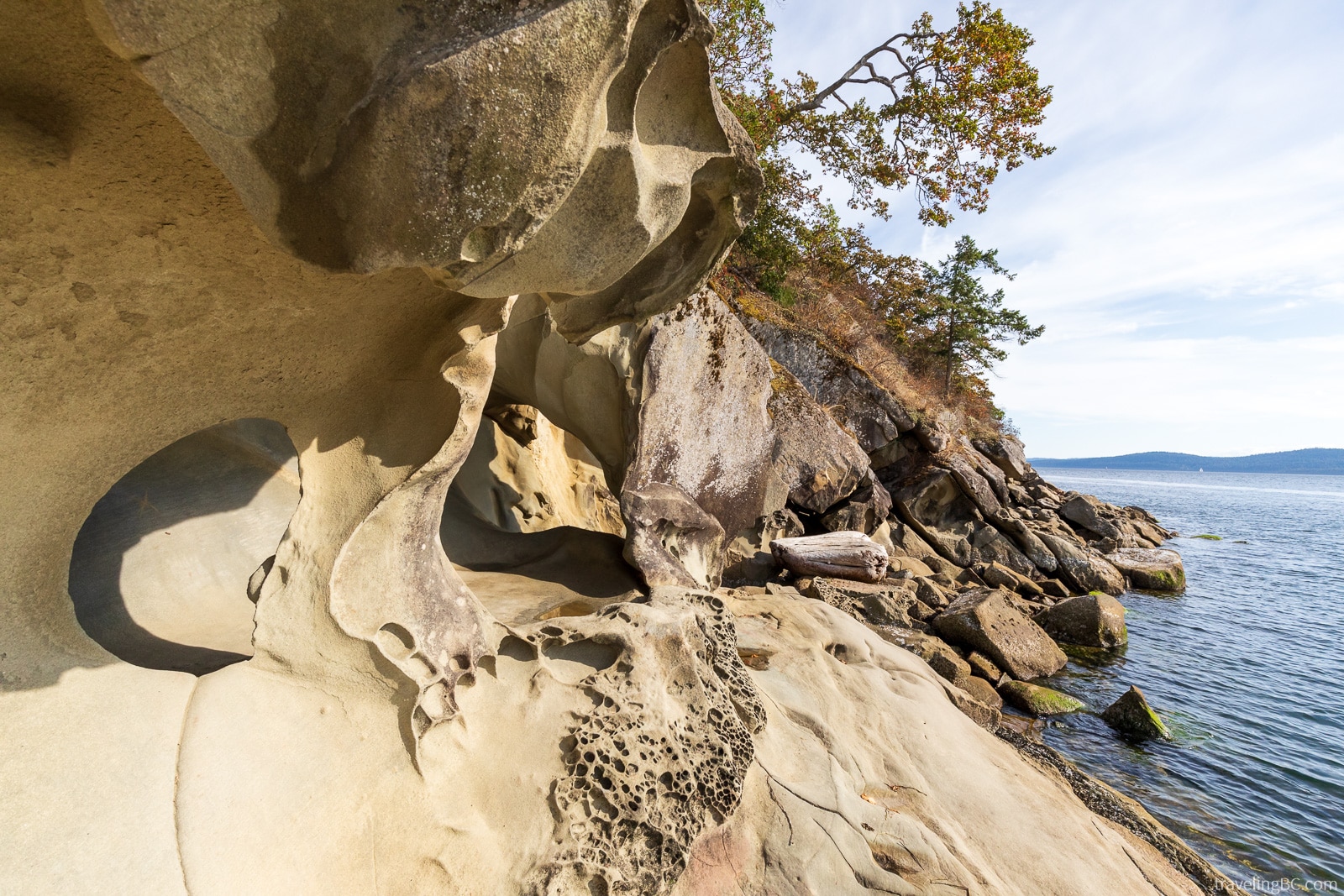 While Victoria itself has plenty of things to do, visiting one of the Southern Gulf Islands is an unforgettable experience that shouldn't be missed.
While the Gulf Islands archipelago stretches along much of Vancouver Island, the main islands around Victoria are Salt Spring, Galiano, Saturna, Mayne, Pender, and Sidney Islands. Despite how close these islands are to Victoria, they have a distinct feel that makes them worthwhile adding to your Vancouver Island itinerary.
Each of the Southern Gulf Islands has its own charm and attractions, from the laid-back vibe of Galiano Island to the rugged beauty of Saturna Island. Salt Spring Island (also called Saltspring) is the largest, most developed, and most popular to visit.
Mayne Island features beautiful coastline, while Pender Island offers breathtaking hiking trails and chances to spot orcas. Sidney Island feels like a hidden gem, with long sandy beaches and tidal flats.
No matter which island you choose to visit, you'll find a welcoming community, stunning island scenery, vibrant arts scene, farm-to-table foods, and plenty of opportunities for relaxation and adventure.
And with regular ferry service to and from Victoria, getting to the Gulf Islands is a breeze. These beautiful islands are perfect for a day trip (or longer) and the ferry is a great way to see the ocean scenery around Victoria!
25. Thetis Lake Regional Park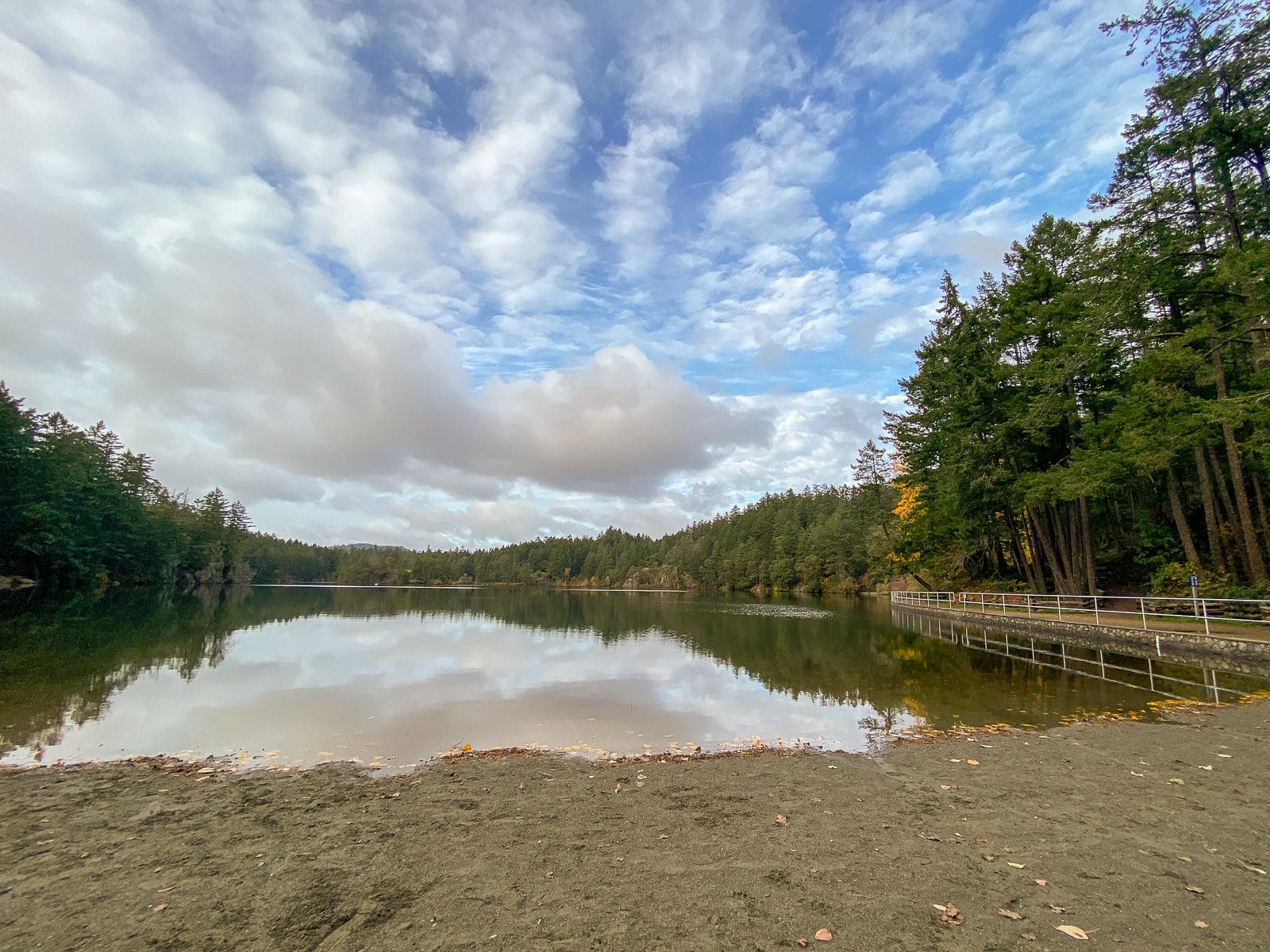 When we first moved to Victoria, Thetis Lake Regional Park quickly became one of our favorite spots in the city — and that hasn't changed to this day!
Thetis Lake is a 921-hectare natural area featuring two beautiful lakes: Upper and Lower Thetis Lakes. Both lakes are quite popular for swimming, floating, kayaking, and just about any lakeside activity you can think of.
There's also the smaller Prior Lake, but be warned — it's clothing-optional!
Not only that, the park has over 40 kilometers of hiking trails. Wander through Douglar fir forests, explore around the lakes, and hike up to beautiful viewpoints at the top of Stewart Mountain, Seymour, or Scafe Hills.
Great for swimming, Thetis Lake is a very busy destination on hot days. In the summer, we highly recommend arriving before noon to beat the crowds. Parking gets pretty ridiculous, so arriving early will let you find a parking space and enjoy the lake before it gets busy.
Thetis Lake also offers ideal conditions for stand-up paddleboarding. Check out this paddleboarding lesson that'll take you from the Main Beach to Upper Thetis Lake. Ideal for beginners, you'll learn how to use a paddleboard while exploring the beautiful lakes!
26. Fort Rodd Hill & Fisgard Lighthouse
Looking for a family-friendly thing to do or just want to learn about Victoria's history? If so, head to Fort Rodd Hill and the Fisgard Lighthouse in Colwood!
Both National Historic Sites, Fort Rodd Hill and the Fisgard Lighthouse offer a fascinating glimpse into Canada's military and maritime history. The two sites are directly adjacent to each other.
Built in the 1890's, Fort Rodd Hill was once an important coastal defense for Vancouver Island. Now, visitors can explore the historic remains, including gun batteries, barracks, command posts, and underground magazines, all while enjoying scenic ocean views.
Meanwhile, the Fisgard Lighthouse is the oldest lighthouse on Canada's west coast, dating back to 1860. While it no longer has a keeper, the red-and-white lighthouse is still operational. Enter the lighthouse to learn about everything from shipwrecks to lighthouse keepers.
Admission to Fort Rodd Hill and the Fisgard Lighthouse is cheap, under $10 for adults and free for youths, making them one of the best cheap things to do in Victoria!
Did you enjoy these historic sites? Visit Macaulay Point Park next! Here, you'll find Fort Macaulay, another coastal defense battery that's free to visit!
27. Juan de Fuca Provincial Park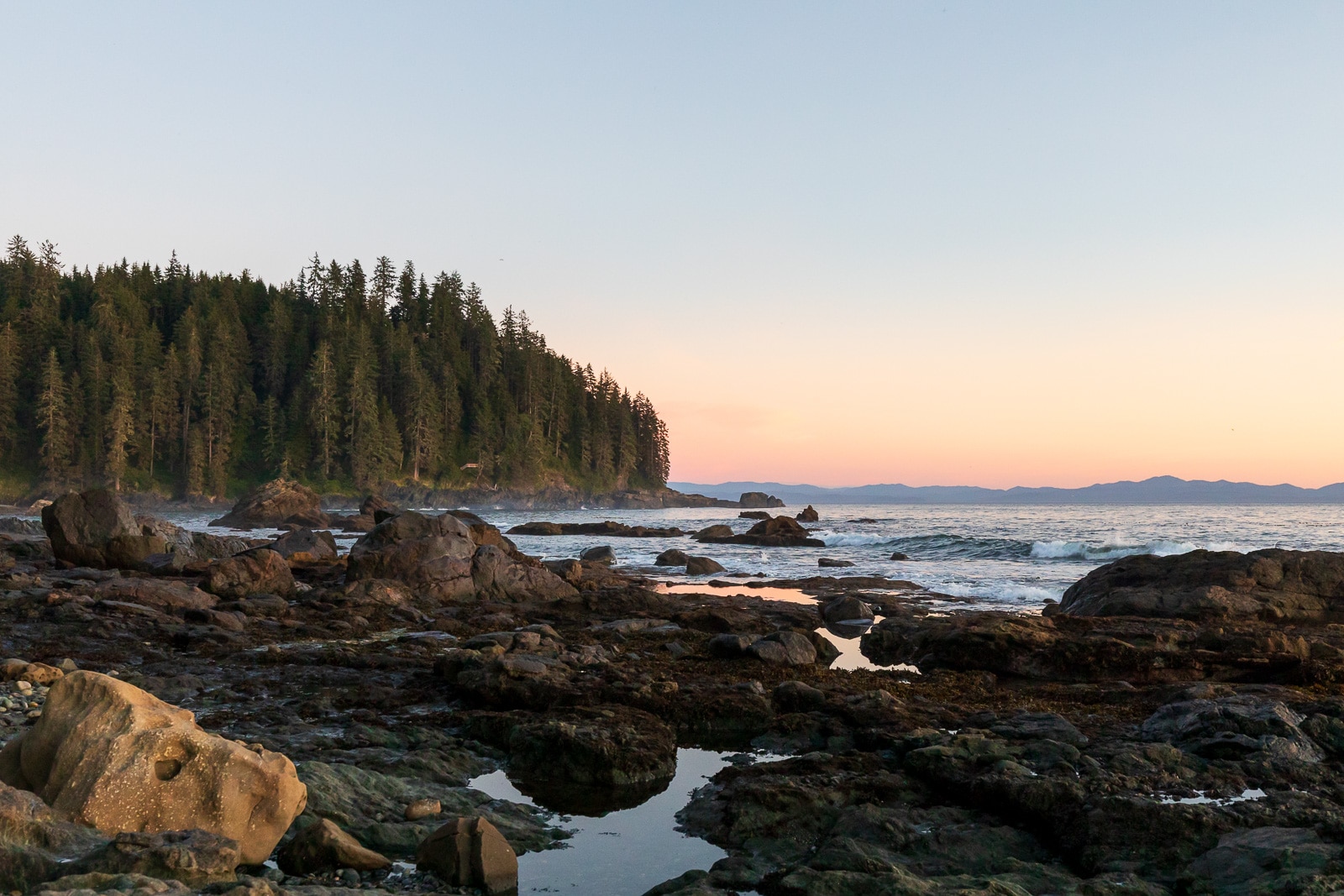 Offering spectacular hiking trails, breathtaking beaches, seaside backcountry camping, hidden waterfalls, wildlife spotting opportunities, and tide pools galore, the Juan de Fuca Provincial Park is an outdoor enthusiast's dream come true!
One of the park's main draws is the Juan de Fuca Marine Trail. This popular hiking and backpacking trail stretches over 40 km along Vancouver Island's shoreline, between China Beach and Botanical Beach near Port Renfrew.
The Juan de Fuca Marine Trail neighbors the famous West Coast Trail, which starts on the other side of Port Renfrew!
Within the park, you'll find several incredibly beautiful beaches. From the bowl-shaped tide pools of Botanical Beach to the hidden waterfall at Sombrio, it's worth checking out all of the beaches along this stretch of protected coastline.
Be sure to check out Mystic Beach, accessed via a short hike through the forest. Here, you'll find a waterfall that tumbles directly onto the beach!
If you want to stay in the park overnight, there is frontcountry camping in the China Beach Campground. Most of the beaches also allow backcountry camping, with a permit.
28. Waterfalls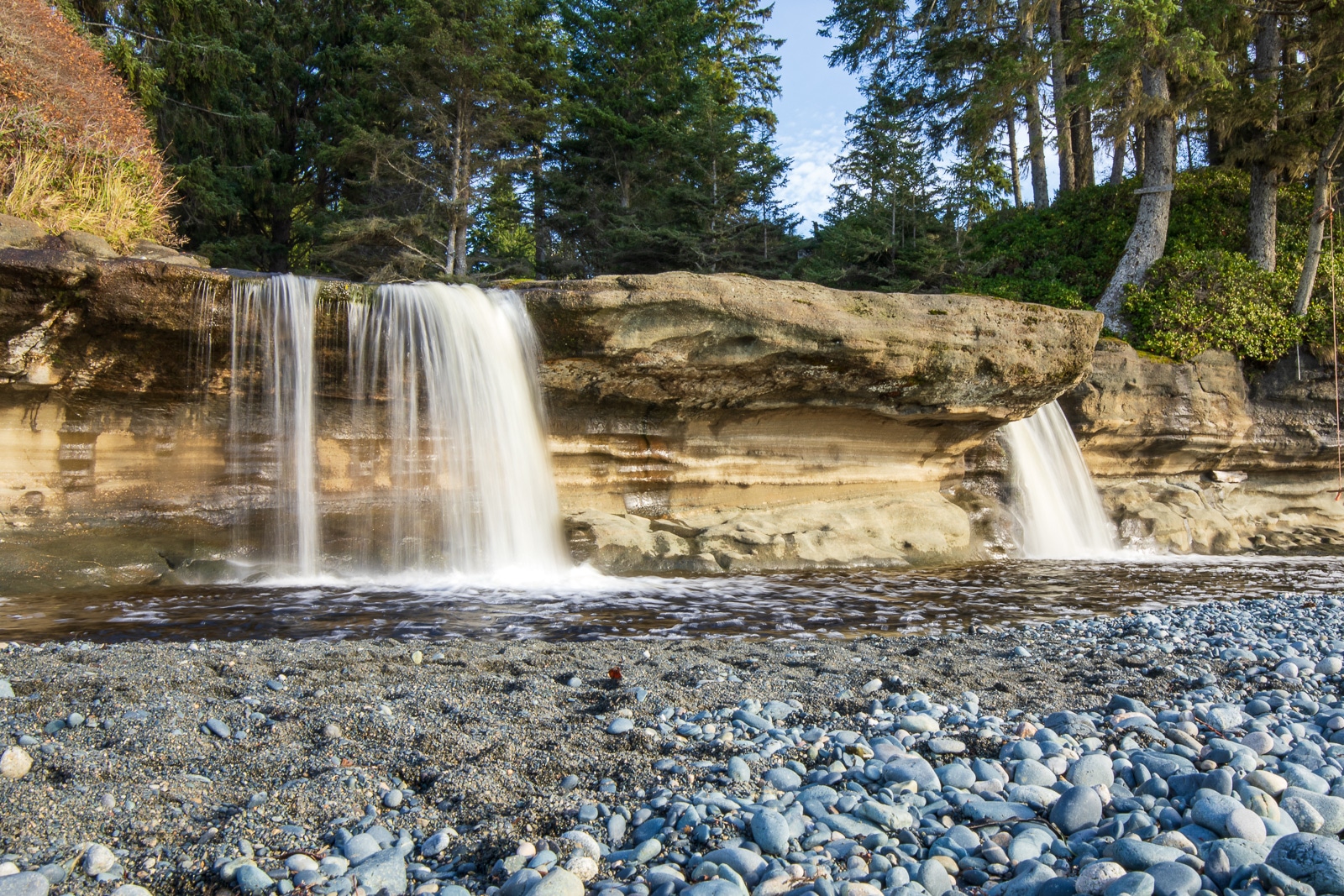 While Victoria may be known for its beautiful gardens and picturesque coastline, the city is also home to some stunning waterfalls that are not to be missed.
Chasing waterfalls is one of the top activities in Victoria for those seeking a little adventure and some incredible natural beauty. Because the waterfalls get more impressive after a good rainfall (and some even dry up in the summer), this is one of the best things to do in Victoria in the rainy winter season.
One of the most popular waterfalls in Victoria is Goldstream Provincial Park's Niagara Falls. The waterfall is close to the parking lot and you can walk almost right up the base of the falls, depending on the time of year.
Another beautiful waterfall to visit is Sitting Lady Falls in Witty's Lagoon Regional Park. This waterfall resembles a sitting lady wearing a dress of water!
If you don't mind driving outside of town, head to the Juan de Fuca Provincial Park for a couple of waterfalls right by the beach. Both Mystic and Sombrio Beaches feature waterfalls.
While Mystic Beach's waterfall tumbles right onto the sand, you'll need to search for the falls on Sombrio. Hint — the waterfall is hidden down a forest trail on the east side of the beach!
Click here to learn about more beautiful waterfalls in Victoria!
29. Cowichan Valley Wine Tour
Did you know that one of the major wine regions in British Columbia is found on Vancouver Island?
Most of Vancouver Island's vineyards are located in the Cowichan Valley, just north of Victoria. While the vineyards on the island operate at a smaller scale than those in the BC Interior, the wines they produce are just as delicious!
With mild temperatures and a long growing season, the Cowichan Valley creates the ideal conditions for growing delicious grapes. Cowichan, a name given by the Quw'utsun people, even reflects the region's Mediterranean climate and means "to warm one's back in the sun"!
If you ask us, the Cowichan Valley is the ideal place for sipping on some of the best wines in the country. And the best way to experience the region's incredible wine scene is by booking a wine tour!
Perfect for wine aficionados, this half-day Cowichan Valley Wine Tour takes you across three wineries — complete with tours and tastings! Offering round-trip transportation from Victoria's downtown, this activity also includes a delicious lunch at a local boutique winery. 
30. Hatley Castle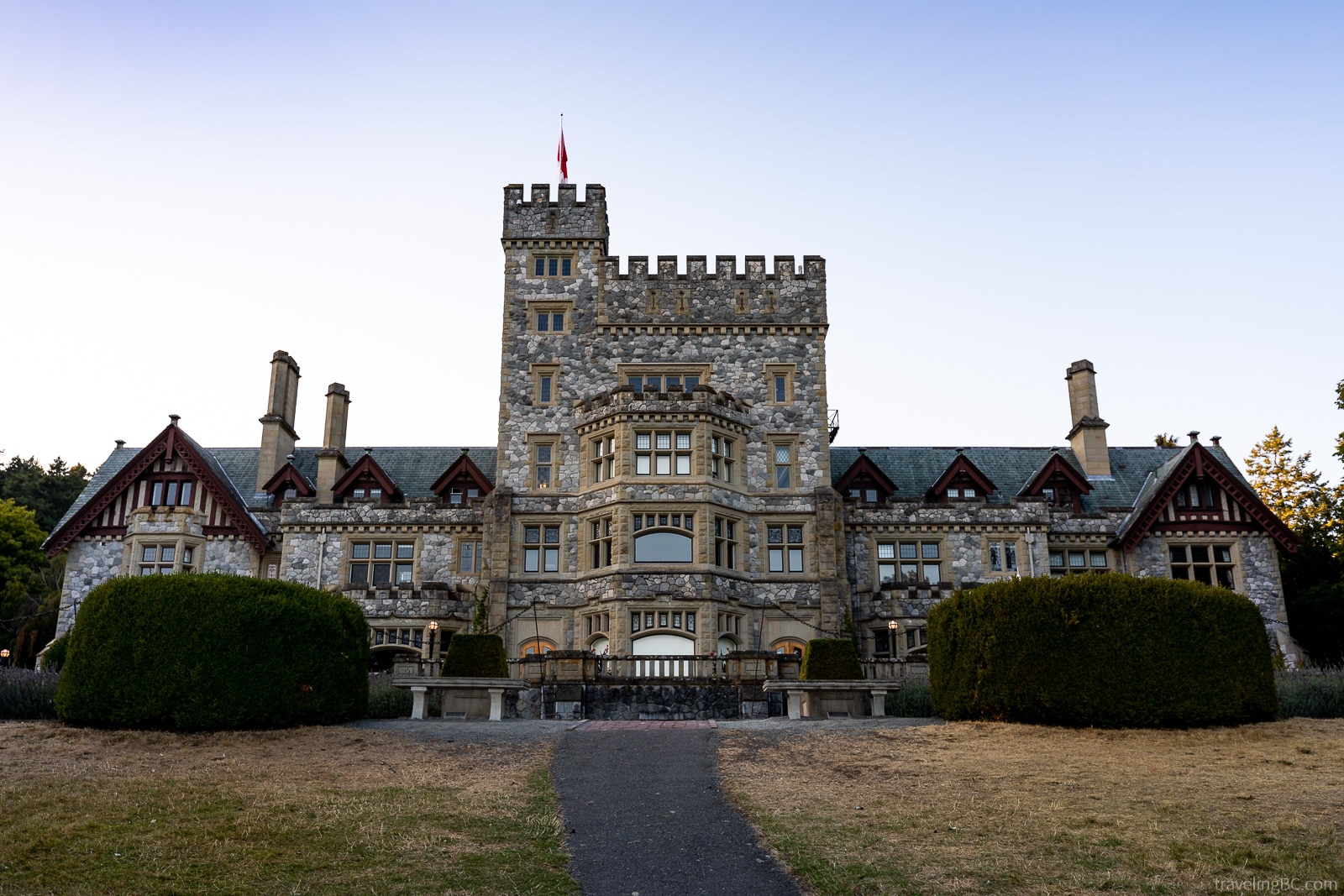 Didn't get enough of castles after Craigdarroch? If not, then head to Hatley Castle!
Built in 1908 for James Dunsmuir, Hatley Castle is a Edwardian stone mansion in Colwood that was designed to look just like a castle. The fancy castle stands at Hatley Park on the grounds of the Royal Roads University, overlooking the serene waters of Esquimalt Lagoon.
And if the place looks familiar to you, that's because it was featured in several movies! Hatley Castle was in movies like Smallville, X-Men, Arrow, and even Deadpool! Cool, right?
Surrounded by beautifully manicured gardens, this National Historic Site is quite a beautiful spot to spend an afternoon. While the main castle grounds are free to explore, entry into the castle is only permitted on guided tours for a small fee.
While you're in the area, make sure to explore the many walking trails that lead through the towering forest of Hatley Park. After, stop at the sandy beach of Esquimalt Lagoon, a migratory bird sanctuary known for its shallow lagoon, birdwatching opportunities, sandy beach, and driftwood sculptures.
31. Kayaking & Stand-Up Paddleboarding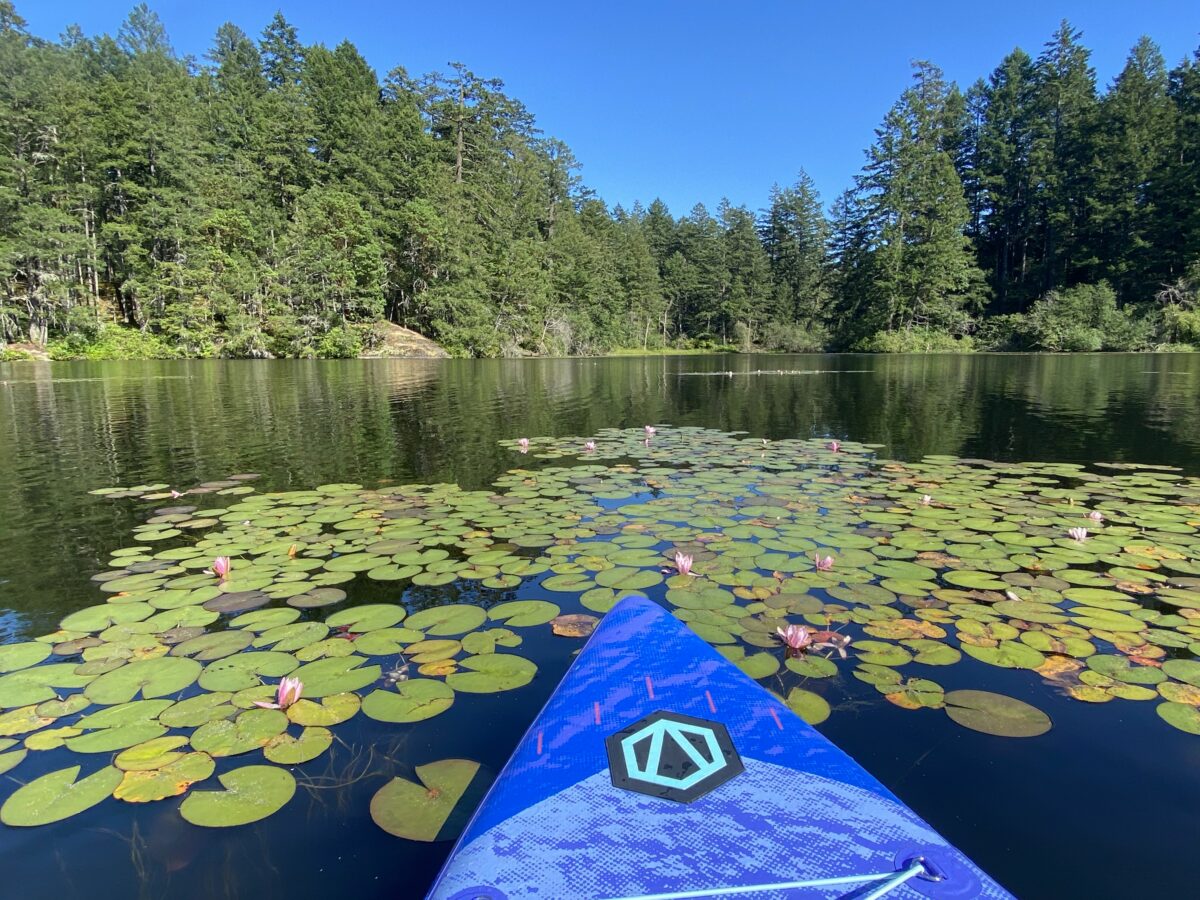 Are you into watersports? If so, we've got some good news for you! Victoria just so happens to have some amazing kayaking and stand-up paddleboarding (SUP) opportunities.
Whether you're into kayaking, paddleboarding, or are just trying these sports for the first time, Victoria has something for you! Best of all, you don't need your own gear to try these sports.
If you have your own kayak or paddleboard, that's great! If you don't, there are plenty of places to rent gear in the city or take a lesson, if it's your first time.
For beginner paddleboarders, try this SUP lesson which takes you onto the beautiful Thetis Lake — our favorite lake in all of Victoria! During this beginner-friendly activity, you'll learn basic paddleboarding techniques while exploring the spectacular waters of Lower and Upper Thetis Lake. It's a blast!
Prefer kayaking? Check out this 3-hour Victoria Harbour Kayak Tour. Paddle around the downtown waters, getting to see landmarks like the Fairmont Empress and BC Parliament Buildings from a different perspective. Your guide will safely navigate you through the harbour's marine traffic, while providing insight on the historic sights along the way.
Have your own gear? Here's a list of the best SUP spots in Victoria (these are also great for kayakers)!
32. Dallas Road Waterfront & the Breakwater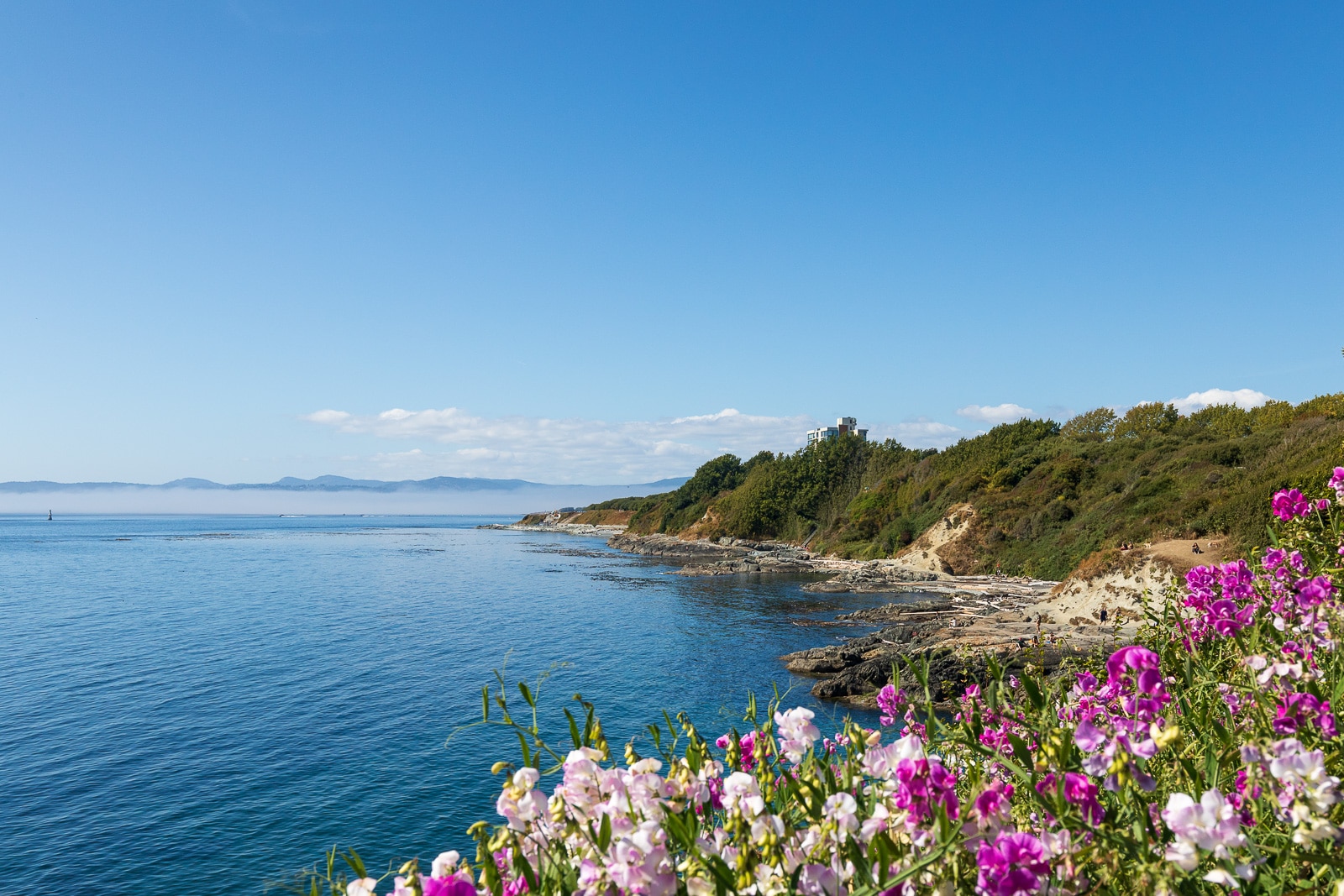 Some of Victoria's most beautiful coastline is found along Dallas Road. If you spend an afternoon here, you'll be sure to agree!
Dallas Road follows along the southern edge of Victoria. The waterfront walkway along the street features incredible coastal views and the distant Olympic Mountains over the Strait of Juan de Fuca.
Walking or jogging the Dallas Road Waterfront Trail is the best way to enjoy the ocean vistas. This 4-km long trail stretches from Fisherman's Wharf all the way to the Ross Bay Cemetery. Accessible and dog-friendly, the path is super walkable with no real elevation but features some really spectacular views!
Along the way, you'll pass by all kinds of beautiful coastal parks, including the massive Beacon Hill Park (look for the tallest free-standing totem pole near Camas Circle), Holland Point Park, and Clover Point.
There are stairs near Cook Street that'll take you down to the rocky Spiral Beach below Dallas Road, one of the most beautiful beaches in Victoria. Further down the road, you can also visit Ross Bay Beach near the cemetery.
For some of the best views, stroll over to the the Breakwater, a 762-meter long ocean walkway extending off Dallas Road. It has a cute lighthouse at the end and is great for watching boats go by and looking for seals!
33. Sooke Potholes Regional Park
Sooke Potholes Regional Park is among our top favorite swimming spots in Victoria. If you're visiting Victoria in summer, swimming in the potholes is one of the best things to do!
The Sooke Potholes are a series of natural swimming pools along the Sooke River, about 45-minutes outside of Victoria. Carved into the rock by the cascading waters of the Sooke River, the potholes make for great swimming spots. Some thrill-seeking people even cliff jump here!
While the Sooke Potholes aren't as chilly as the Pacific Ocean, we do find the river is colder than lakes like Thetis. On a hot day, you get used to the water though!
The main beaches along the river include Crescent (the most popular), Sand Pebble, Skipping Rock, Ripple Rock, and Hideaway Beaches. You'll find people spread out all along the river, though.
Swimming isn't the only thing to do here though. The riverside rocks are great for sunbathing, the shallows are great for wading, and you can walk the trail all along the Sooke River!
The park also borders the Sea to Sea Regional Park, which is great for hiking. Mary Vine Creek Waterfall is quite beautiful after a good rain and if you go just a bit further, Peden Lake is also quite scenic.
On a hot summer's day, make sure to arrive at the Sooke Potholes Regional Park early. The parking lot gets quite busy! Parking is paid but if you get a season's pass, it covers parking at both the Sooke Potholes and Thetis Lake Regional Parks.
34. Craft Breweries
Visiting one (or more) of the amazing craft breweries around Victoria is one of the best things to do in the city for beer lovers. There's nothing better than tasting some of the local brews while enjoying the sun on an outdoor patio!
Home to the first brewpub in Canada, Victoria is a city with a rich brewing history and thriving craft beer scene. Don't miss out on the opportunity to sample some of the best beer that Vancouver Island has to offer.
From small-batch sours flavored with locally-grown fruits to West Coast-inspired IPA beers, there's a beer to suit every taste. Sometimes the breweries even feature more unique brews, like kelp beer!
If you're visiting at the right time, Victoria also has a couple of craft beer-focused festivals, including the Great Canadian Beer Festival and Victoria Beer Week. These events gather people from all over to celebrate the city's craft beer culture.
35. The Gorge Waterway
The Gorge Waterway (known as the Gorge by locals) is the beautiful tidal inlet that starts at the Selkirk Trestle in the Victoria Harbour and extends north all the way to Portage Inlet.
This is a must-see destination for travelers looking for the best things to do in Victoria and it won't take you long to understand why either! The Gorge is quite beautiful and peaceful.
Much of the Gorge can be enjoyed on foot. We usually like to start our walk at Saanich Gorge Park and then heading to Tillicum Bridge to see the Reversing Falls rapids.
After, we either continue onward along the Gorge Waterway Park Path to Craigflower-Kosapsom Park. Or, you can cross Tillicum Bridge to walk to Esquimalt Gorge Park, where you'll find a peaceful Japanese garden!
While walking is an option, the best way to explore the Gorge is by stand-up paddleboard or kayak. You'll be able to see much more of the waterway, especially Portage Inlet!
36. Galloping Goose and Lochside Trails
Whether you're a seasoned cyclist or just looking for a leisurely ride, the Galloping Goose and Lochside Trails are two of the best ways to explore the beauty of Victoria by bike.
These trails shouldn't be missed! Both are mostly flat, paved, and accessible for bikers of all levels. The trails are multi-use so they're also great for walking and running.
The Galloping Goose is a 55-kilometer trail stretching from Victoria all the way to Sooke. The trail offers stunning views of the city, with beautiful murals (some goose-themed ones!) along the way. The trail passes must-see spots like the Selkirk Trestle across the Gorge Waterway, Thetis Lake, Hatley Castle, and Sooke Potholes.
The Lochside Trail connects to the Galloping Goose at Switch Bridge and is a 29-kilometer north-south trail on the Saanich Peninsula. It runs from downtown Victoria to Swartz Bay, winding through rural landscapes along the way. Points of interest along the way include Swan Lake Christmas Hill Nature Sanctuary, Mount Douglas Park, and the town of Sidney.
Don't want to venture out on your own? Try this guided Castles and Neighborhoods Bike Tour. While it doesn't take you on the Lochside or Galloping Goose Regional Trails, this bike tour will take you past some other landmarks around the city, like Craigdarroch Castle and Cook Street Village.
Top Travel Tips & Resources for Victoria, BC