Who doesn't love sunbathing on a warm sandy beach in the summer? Luckily, Victoria is surrounded by the ocean on three sides, making it the perfect place to find a beautiful beach to spend the day at. However, there's a catch – many of the beautiful beaches in Victoria are rocky, which isn't always ideal for that perfect day of laying on the beach. Fortunately, you can still find some great sandy beaches in Victoria, BC, without having to drive too far!
We've created a list of our favorite sandy beaches around Victoria, BC. Most of these beaches are within the city of Victoria, but some are located in Greater Victoria, which is comprised of all the municipalities on the southeastern tip of Vancouver Island. However, these beaches are all within a 20-30 minute drive of downtown Victoria. All of these beaches are perfect for sunbathing, swimming, kayaking, paddleboarding, and all kinds of other beach activities!
If you close your eyes while laying on these nice Victoria beaches, you will feel like you're on a tropical vacation…in Canada! However, don't expect the water to be as warm as in the tropics. On average, the ocean around Vancouver Island is 8 to 10°C (46 to 52°F). Luckily, the beaches get warm in the sun so you can warm up after swimming! If you get cold easily, we recommend wearing a wetsuit if you want to swim. Swimming in cold water is good for your mind and body, and some people swim year-round in Victoria!
There are so many wonderful sandy beaches in Greater Victoria, each amazing to visit and unique in its own ways. Plan your next beach adventure with this list of the best sandy beaches in Victoria, BC!
Best Sandy Beaches in Victoria, BC
Here is our list of the 10 best sandy beaches in Victoria, BC. All of these beaches are wonderful in their own way and worth checking out. Grab your sunscreen and beach towel and head to one of these amazing beaches today!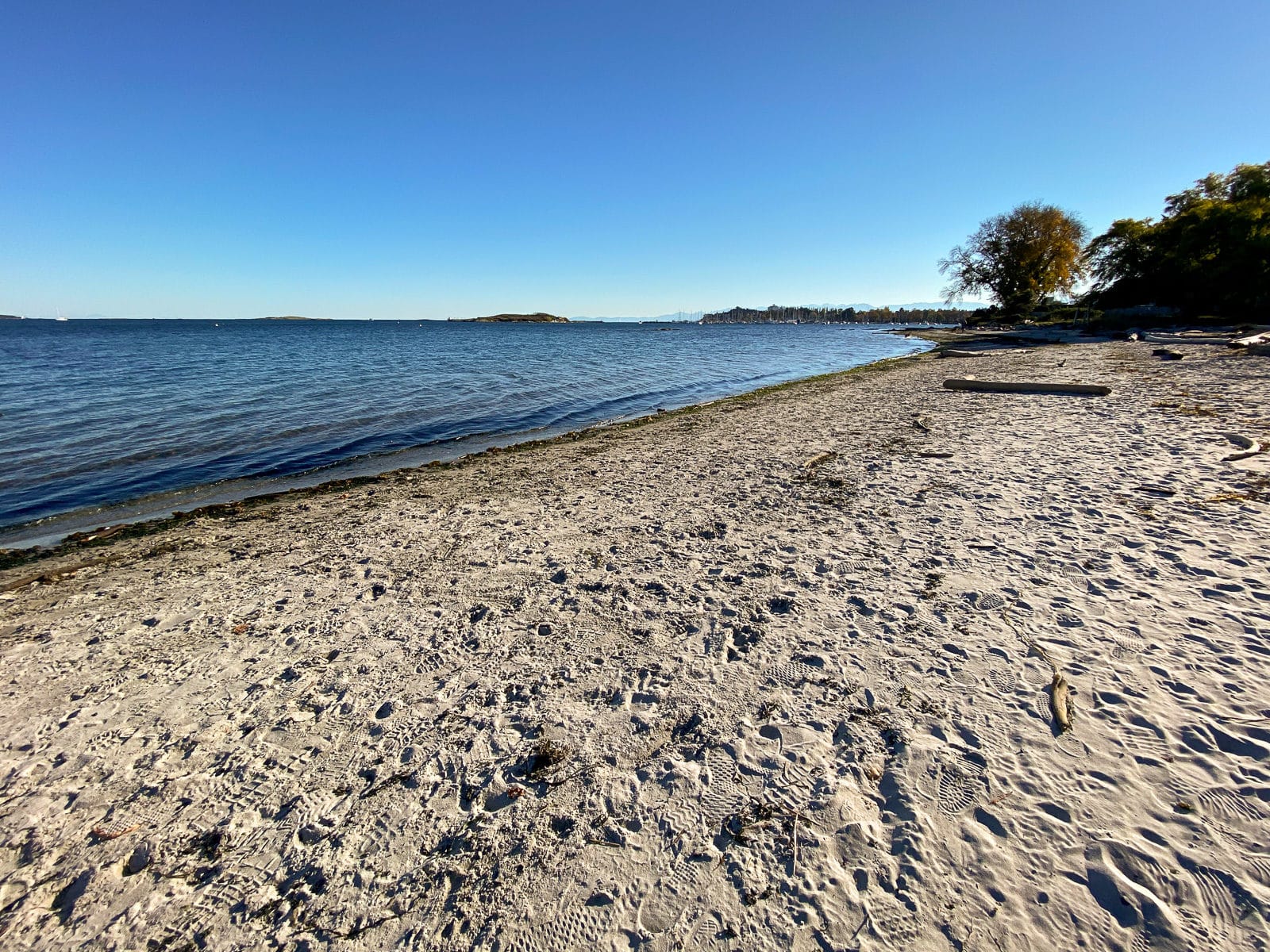 If you can only choose one beach in Victoria to visit, Willows Beach is a good choice. Willows Beach is one of the best sandy beaches in Victoria, BC. With beautiful white sand that seems to stretch on forever, it's no surprise that Willows Beach is one of the most popular beaches in Victoria, as well.
Willows Beach is a gorgeous beach at any time of year. It's the perfect place to watch the sunrise paint the sky red and orange over the ocean. Also, all kinds of wildlife call Willows Beach home. From the beach, you can spot river otters, harbor seals, bald eagles, shorebirds, and sometimes (if you are lucky), even orcas or sea lions!
This beach has a great atmosphere and is perfect for any beach activity. It's a great place to go sunbathing, swimming, boating, kayaking, and paddleboarding. You will often see people playing beach games like beach volleyball or spikeball. There is also a large grassy area that is great for picnics and lawn games. For families, there is even a small playground!
If you like exploring, follow the beach north to Cattle Point and Uplands Park, which are popular areas for exploring tide pools and wandering through Garry Oak woodlands. Uplands Park is especially beautiful when the Camas are flowering, blanketing the woodlands in purple.
For everything that you need to know, check out our complete guide to Willows Beach, Victoria. In this article, we'll cover how to get to Willows Beach, available parking, nearby accommodations, whether dogs are allowed, events at the beach (including the extremely popular Oak Bay Tea Party), and more!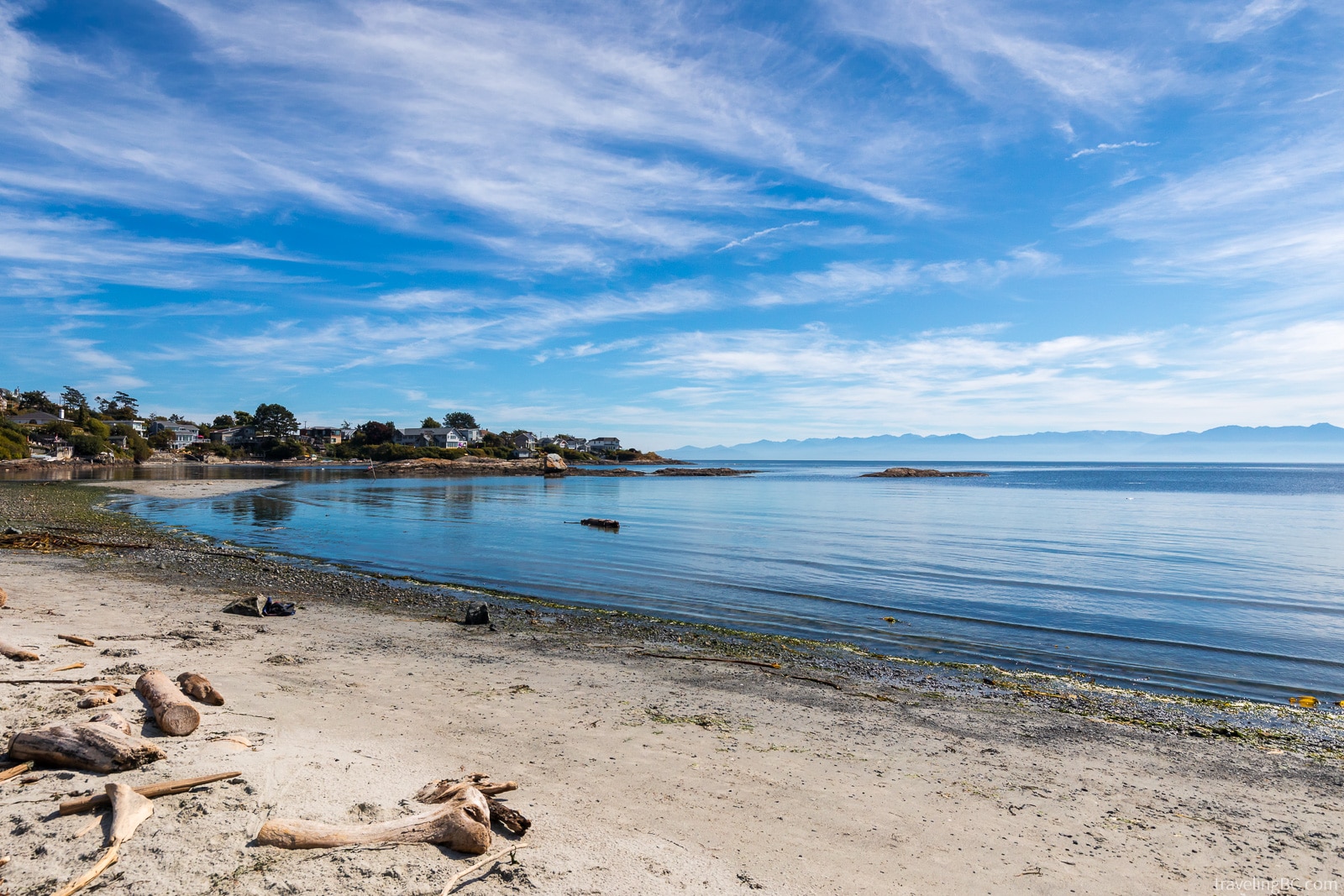 Just a short drive from downtown Victoria, Gonzales Beach is another great place to set down your beach towel on a hot afternoon. Nestled in Gonzales Bay, the beach is sheltered and the water is very calm. Enjoy the soft sand while you soak up the sun and listen to some tunes!
This crescent-shaped beach has everything you need – beautiful views, soft sand, great water, tidal pools, and all kinds of wildlife. The beach slopes gradually, so this is a great place for children to swim. There is also plenty of driftwood, which is lots of fun for building all kinds of structures! For a scenic view of the beach, walk or drive up to the Gonzales Observatory. This viewpoint is easy to get to and a perfect way to get a good view of the city.
Protected from the wind, Gonzales beach is an awesome place for snorkeling or to launch your paddleboard. If you don't have a SUP board, there are several nearby local businesses that rent them out and can deliver right to the beach. Look out for jellyfish and starfish while you paddle!
The beach is a great place to spot wildlife and the occasional molting elephant seal can be found laying on the beach. While you are at Gonzales Beach, look for harbor seals, sea lions, herons, bald eagles, and tidal pool creatures. And while uncommon, we have spotted a pod of orcas swimming past the rocky edges of Gonzales Bay!
Check out our complete guide on Gonzales Beach, Victoria to help you plan your visit. We cover everything, including how to get there, parking, and how to make sure that the tides don't ruin your visit!
3. Cadboro-Gyro Park
Cadboro-Gyro Park, located near the Cadboro Bay Village, is one of the most family-friendly beaches in Victoria, BC. Featuring a never-ending sandy beach, a large oceanfront beach-themed playground, a huge grassy park, and even a zipline, Cadboro-Gyro Park is an amazing place to go for an afternoon full of fun with family and friends.
While the beach itself is worth a visit, the park is best known for its iconic playground structures, including a large octopus, salmon, and sea serpent. The sea serpent is fondly called 'Caddy' or Cadborosaurus, in reference to reports of a possible sea monster sighted in Cadboro Bay in the 1930s. The playground also has a fun shipwreck to explore and an accessible ship!
With stunning views of the mountains and the Salish Sea, Cadboro-Gyro Beach is a beautiful place for swimming, paddleboarding, kayaking, and other fun outdoor beach activities. There is a boat launch for non-motorized boats that makes it easy to get into the water. Also, you can rent a paddleboard at the nearby paddleboard shop. There is a tennis court at the park, and the grassy area is great for picnics and flying a kite!
Cadboro-Gyro Park is a beautiful, well-maintained beach. It's the perfect location to sunbathe on soft white sand among the driftwood, while your kids tire themselves out at the park! Cadboro-Gyro Beach is one of the nicest beaches in the city, and we also rate it as one of the most wheelchair-accessible beaches in Victoria.
One of the most beautiful and unique sandy beaches in Greater Victoria is Esquimalt Lagoon, located in the city of Colwood. It's only a 20-minute drive from downtown Victoria and it's absolutely worth the drive!
The gorgeous beach at Esquimalt Lagoon stretches 2-km along the Coberg Peninsula, the land separating the lagoon and ocean. Ocean Boulevard runs along the peninsula, with great views on either side of the road. Esquimalt Lagoon is great for swimming, kayaking, sunbathing, and exploring all of the unique attractions that the beach has to offer.
Esquimalt Lagoon has many features that make it one of a kind! A gallery of driftwood sculptures of birds and mythical creatures line the beach. Nearby, you'll find the old military fortifications of Fort Rodd Hill, with the picturesque Fisgard Lighthouse watching over the ocean. Across the lagoon, you'll spot the magnificent Hatley Castle, surrounded by a massive old-growth forest and plenty of walking trails. There are even a couple of waterfalls hidden near the castle grounds!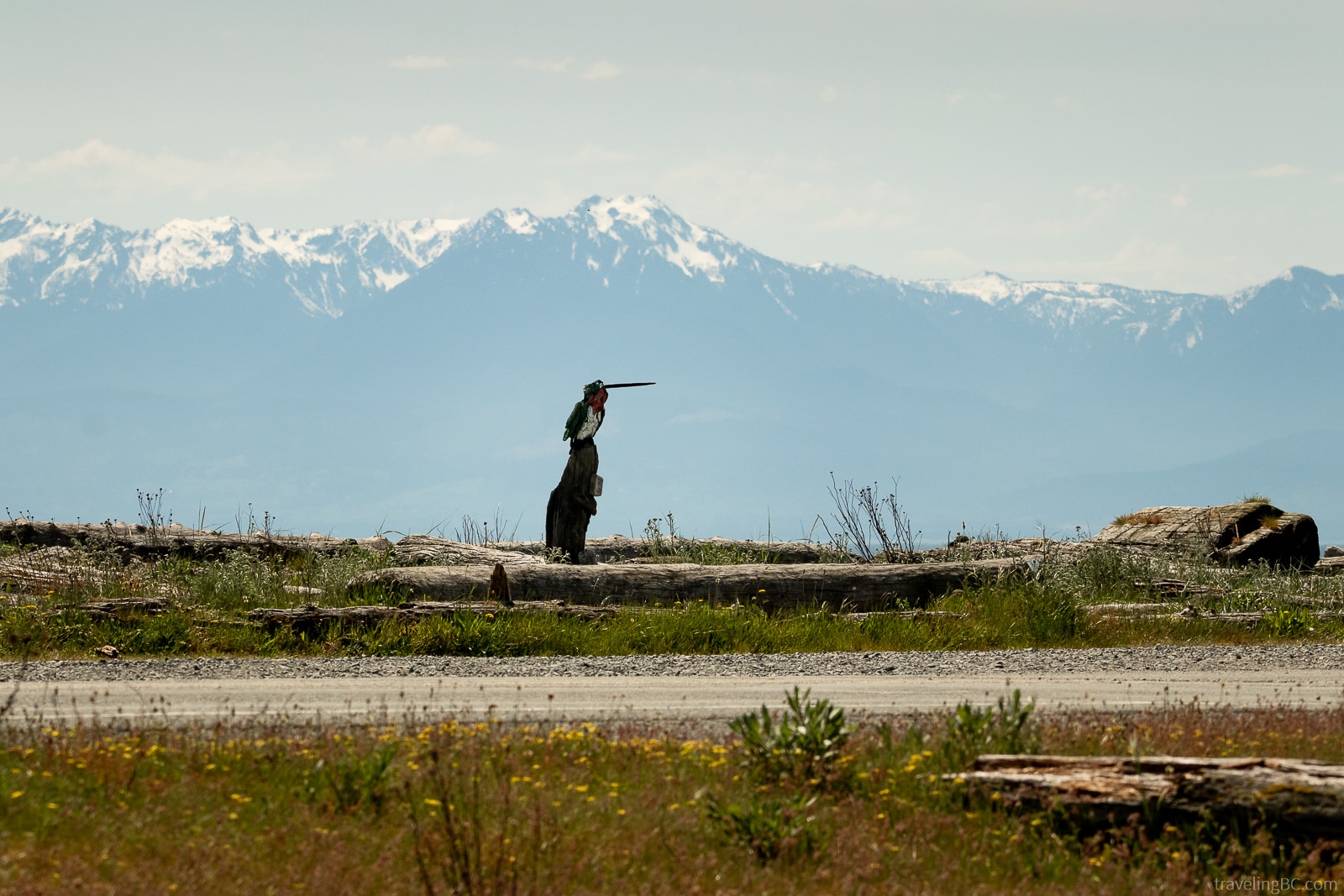 Esquimalt Lagoon is a great spot for birdwatchers, as the lagoon is designated as a Migratory Bird Sanctuary. There are hundreds of bird species that frequent the lagoon. Try to spot them all!
Esquimalt Lagoon is an absolutely stunning beach and great for photography. Plus, there are so many things to see at Esquimalt Lagoon, that you'll just keep coming back!
To help you plan your visit, check out our complete guide on Esquimalt Lagoon in Colwood. We cover everything, including how to get there, parking, whether dogs are allowed, and more!
5. Cordova Bay Beach
Just beside Cordova Bay Road, you'll find the beautiful Cordova Bay Beach, which runs along the eastern Saanich Peninsula. Cordova Bay Beach is a long beach with lots of sand and some pebbles. It has great views of the Haro Strait, the San Juan Islands, and distant Mount Baker in Washington. Because the beach is so long, it never feels too busy. Cordova Bay Beach has a peaceful, serene atmosphere, making it perfect for a relaxing day by the ocean!
This gorgeous beach is hidden behind the restaurants and cottages that line the road, so many people might not realize it's even there! There are multiple spots along Cordova Bay Road where you can park and access the beach. One of the main access points is at Cordova Bay Park, which has a small playground and seasonally available washrooms.
Cordova Bay Beach is great for a stroll along the shore, sunbathing on a hot summer day, or swimming (if you don't mind the cold). Kayaking and paddleboarding are also a lot of fun along this beach. The shallow waters and gently sloping beach make it easy to launch your kayak or paddleboard. And, after a long day at the beach, you can head up to one of the oceanfront restaurants to enjoy a delicious meal with an amazing view!
6. Island View Beach Regional Park
Island View Beach Regional Park is a 48-hectare conservation area with a long sandy beach that stretches on as far as the eye can see! It is located on the Cordova Shore of the Saanich Peninsula. The incredible views at this park make the 20 to 30-minute drive from downtown Victoria worthwhile. Island View Regional Park offers unparalleled views of the Haro Strait and the Gulf Islands. You'll even be able to spot the impressive Mount Baker in the distance!
This park is great for long walks down the beach, during which you can enjoy the soft sand, scattered driftwood logs, and panoramic ocean views. After walking down the beach, you can return to the parking lot on the inland trail, which takes you through an old salt marsh and past unique sand dunes. The ecosystem in this area is fragile so make sure you stay on the pathways!
You can swim at Island View Beach, but the beach does get rockier in the water. It's also a great place to launch a kayak or paddleboard and explore the coastline. Or, just sunbathe and enjoy a picnic on the sand! Also, the beach is popular with birdwatchers, as many bird species live around this park.
If you want to stay a few nights, Island View Beach Regional Park has a seasonal campground, for both tents and trailers. Don't expect much privacy between campsites though, as there aren't many trees in the campground. However, if you stay at this campground, you can wake up to stunning sunrises over the ocean and enjoy a full day playing on the beach!
7. Thetis Lake Regional Park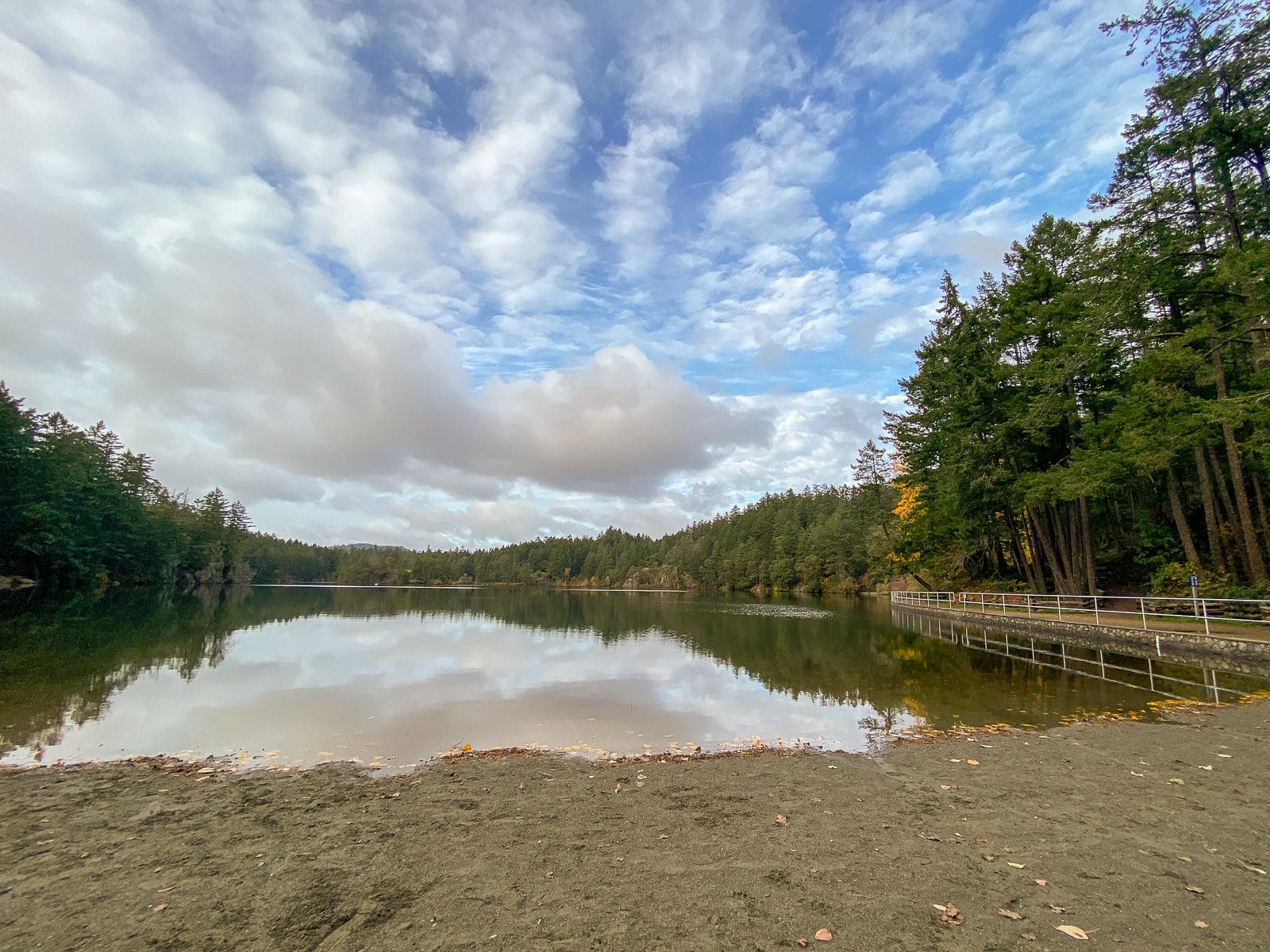 One of the best sandy beaches in Victoria, BC, is at Thetis Lake Regional Park, even though it's not even beside the ocean! Thetis Lake isn't really one lake – this park actually consists of two gorgeous rocky lakes, Upper and Lower Thetis Lakes, joined at one end by a narrow channel. On Lower Thetis Lake, there is a beautiful sandy beach near the main parking lot, perfect for sunbathing! There is also a small sandy beach at the second parking lot. However, this second beach is used more by dog owners and for launching non-motorized boats.
If you want a beach where you can swim without freezing, Thetis Lake is probably your best bet. Unlike the ocean, the water temperature at Thetis Lake in the summer is perfect for swimming or floating!
Thetis Lake Regional Park has an extensive trail network, so you can walk or run around both Upper and/or Lower Thetis Lakes. For an amazing view, head to the east side of Lower Thetis Lake, where you'll walk up a small hill and be rewarded with a spectacular view of the lake. Or, hike the short path up Seymour Hill and look down on all of Thetis Lake! Also, the lake is a popular fishing spot, mostly for trout. Kayakers and paddleboarders love paddling around these lakes. Look for turtles sitting on logs as you paddle by the lake edge!
Thetis Lake is pretty popular in the summer. If you want to avoid the crowds, there are a few spots on the rocks around the lake where you can hang out with more privacy. We also recommend arriving earlier in the day, so you can find a parking spot.
8. Hollydene Park Beach
The beach at Hollydene Park is one of the small pocket beaches hidden along Victoria's coastline. Even though this beach is small, it is still quite beautiful. Hollydene Beach is nestled in a peaceful cove, surrounded by steep hills and towering trees. It is separated from another rockier beach at Arbutus Cove Park by rock, but you can walk between the beaches when the tide is out!
Hollydene Park is one of the many incredible hidden gems that Victoria, BC has to offer. Accessed via a steep set of stairs that descend from Hollydene Place between the houses, Hollydene Beach is quite hidden so not as many people know about it. As a result, this beach feels more private and secluded than some of the more popular sandy beaches in Victoria. It tends to be less busy and quieter, which is great if you're looking for a relaxing, peaceful day at the beach! However, because it's a smaller park, there aren't any washrooms and parking is limited.
This park is great for a day of sunbathing and swimming. You can kayak or paddleboard at this beach, but the steep stairs make it difficult to launch watercraft directly from this beach.
9. Parker Park Beach
Parker Park's gorgeous sandy beach is definitely a hidden gem in Victoria, BC. With a long stretch of beautiful white sand, it's surprising that this beach isn't more popular! Only a 20-minute drive from downtown Victoria, this beach hides its beauty behind an unassuming "Parker Park" sign and a small parking lot, with stairs descending to the hidden beach. Once you find the beach though, you'll keep coming back!
During the summer, it's one of our favorite beaches to visit. Not only is it gorgeous with soft white sand, but it's also one of the few sandy beaches that allow dogs through the summer. If you visit, make sure to keep your dog under control and use doggy bags, so that dog owners can keep using this park!
Parker Beach has a gently sloping beach that's perfect for wading or for children to play in the shallow waters. On hot days, the ocean heats up along the shore, so the normally chilly ocean water might even feel warm. With a low tide and a hot day, the water even steams off of the sand!
Because Parker Park isn't as developed as some of the other beaches in the city, there aren't as many amenities. If you're planning to stay all day at the beach, keep in mind that the park doesn't have washrooms or change rooms.
10. Royal Beach Park
Royal Beach Park is another beautiful sandy beach in Colwood. This park is located very close to Esquimalt Lagoon and about a 30-minute drive from downtown Victoria. Because Royal Beach Park and Esquimalt Lagoon are so close to each other, it's worth taking the time to stop at both beaches when you're visiting the area!
Similar to Esquimalt Lagoon, Royal Beach Park has beautiful sand, amazing views, and unique driftwood sculptures. Royal Beach Park is home to a pair of massive driftwood mammoths, created by the artist Alex Witcombe. It's quite the sight to see these prehistoric creatures standing beside the ocean! As well, when you enter the park, you'll be greeted with giant driftwood letters spelling out "Royal Beach"!
Royal Beach Park has excellent views of the Juan de Fuca Strait and the Olympic Mountains. You can enjoy these amazing, scenic views while relaxing on the warm sand in the sun! Swimming at the beach is wonderful, although the ocean is chilly. There is also a playground for children to enjoy, and outhouses in case you're spending a long time at the beach.
Best Oceanfront Hotels in Victoria, BC
After a long day at the beach, what's better than returning to a beachfront hotel with amazing views of the ocean? If you love oceanside accommodations, Victoria has many amazing hotels to offer!
We've selected a couple of our favorite hotels that have the best ocean views in Victoria. All of these hotels are right on the ocean, with spectacular views, incredibly comfortable rooms, lots of amenities, and super convenient locations!
Our top pick for beachside hotels in Victoria is the Oak Bay Beach Hotel. This luxurious hotel is right beside the ocean, only a few minutes from Willows Beach and a very short walk from the Oak Bay Marina. From this hotel, you'll get spectacular views of the Chain Islands, Discovery Island, the Salish Sea, and Mount Baker. Our favorite part about this hotel is the oceanfront mineral pools, gardens, and sundeck. You can soak in a hot tub while looking out over the ocean and watching seals swim by!
Not only is the Oak Bay Beach Hotel beautiful, but its rooms are incredibly comfortable and luxurious. The rooms have whirlpool tubs, rainfall showerheads, minifridges, microwaves, a fireplace, and large TVs. You'll have everything that you need at this hotel, including a restaurant, spa, pub, cafe, exercise gym, and more! Also, you get exceptional service from the hotel staff. It's no wonder this hotel was rated #1 in Canada by the Condé Nast 2021 Reader's Choice Awards.
If you want a B&B that's practically beachside, try the Birds of a Feather Ocean Lagoon Bed & Breakfast. This B&B backs right onto Esquimalt Lagoon, so you'll be really close to the beach! This hotel offers amazing views of Esquimalt Lagoon, with a backdrop of Mount Baker and the Olympic Mountains. They even have a dock where you can sit and enjoy the calm lagoon water, perfect for sunrises and sunsets!
Their rooms have fireplaces, cathedral ceilings, lagoon-front terraces, and have all the amenities you need for a great stay. The rooms even have two floors, with the second floor accessed with spiral stairs or a ladder. This hotel is a great choice if you want an amazing location and views, right beside the beach!
Summer Weather in Victoria, BC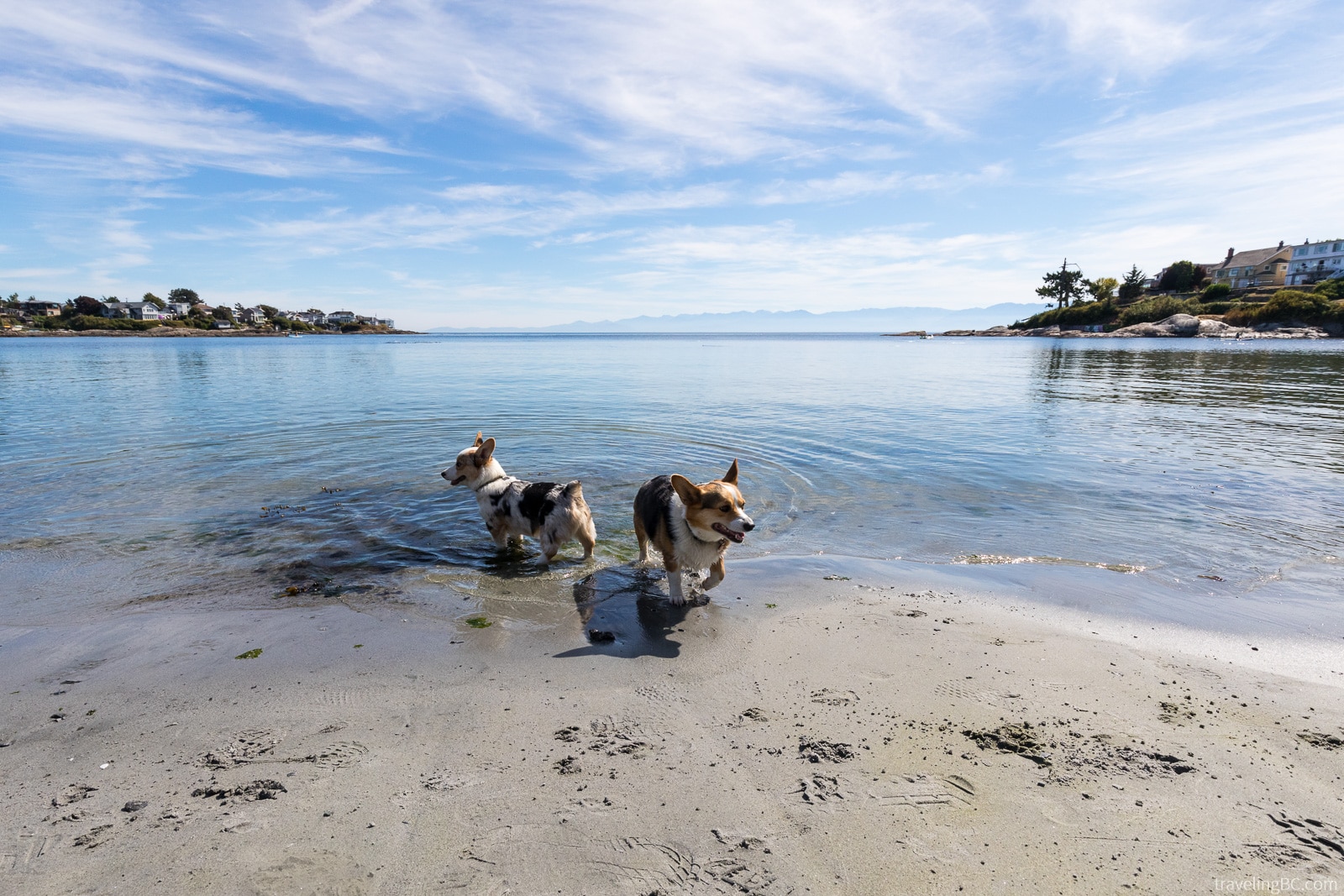 While Victoria, BC, has a reputation for being rainy, the summer in Victoria is anything but that. In the summer, Victoria feels almost like a tropical vacation. You might even be able to trick yourself if you lay on the beach in the sun!
During the summer, Victoria gets comfortably warm, with the temperature usually hovering around 20°C. Because it's nearby the Pacific Ocean, the weather stays pretty mild year-round and rarely does it ever get too hot in the summer. Also, there isn't much rain through the summer, usually only a few days of rain per month.
The driest, hottest months are July and August when temperatures usually are around the mid-20s. These are the most popular months for beachgoing and other outdoor activities on Vancouver Island!
Final Thoughts
Relaxing on these sandy beaches in Victoria, BC, is a great way to spend an afternoon. The chilly ocean water is a great way to cool down on a hot day, and there are lots of beach activities that you can do at all of these beaches!
Victoria is an amazing city to travel to or live in, not just for the beaches. There are plenty of tourist activities like visiting the Butchart Gardens or whale watching, as well as many other less touristy, unusual things to do in Victoria.
For more ideas on things to do in Victoria, BC, check out our other articles:
Top Travel Tips & Resources for Victoria, BC