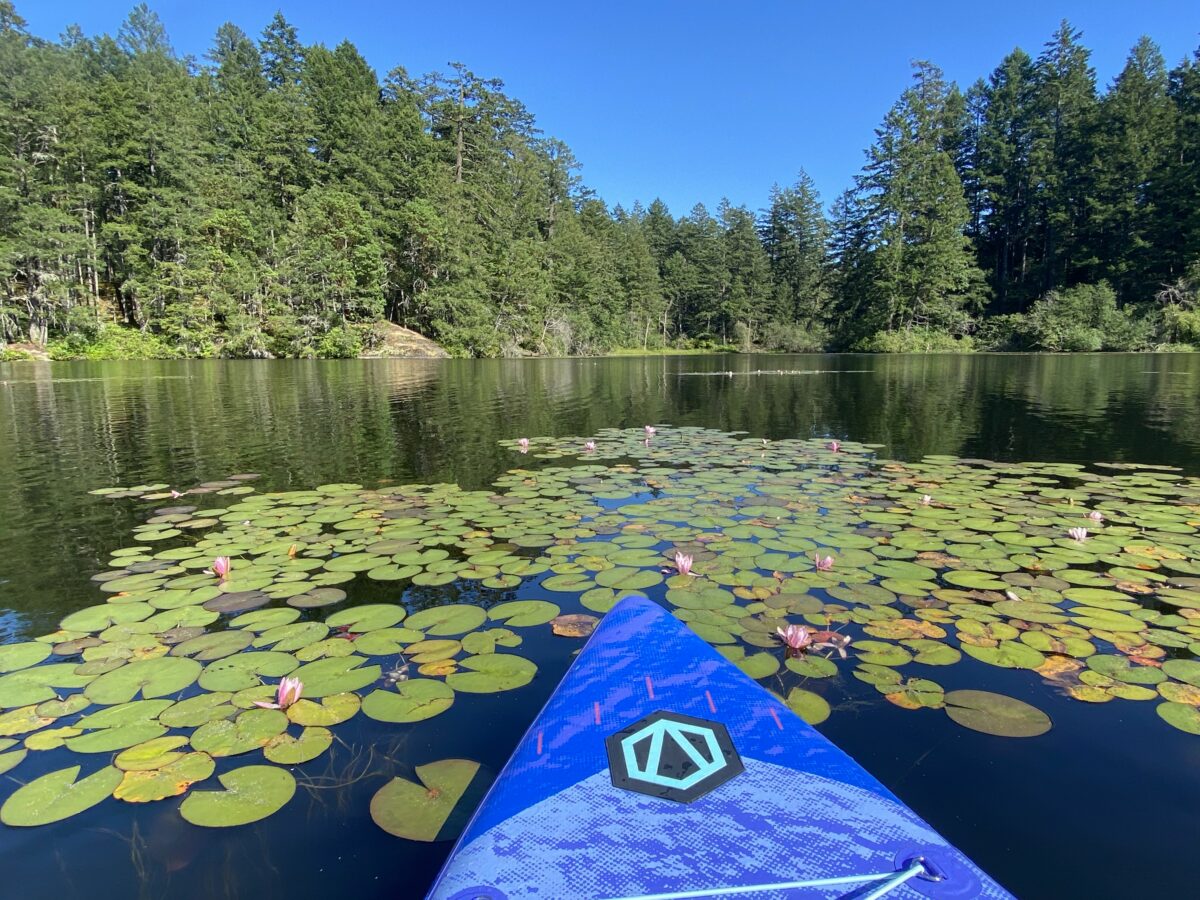 Bordered by the Pacific Ocean and home to plenty of lakes, Victoria in British Columbia has some of the best spots to go stand-up paddleboarding in Canada.
Standup paddle boards, also known as SUPs, are becoming quite popular around Victoria, BC. Paddleboards aren't too expensive, easy to transport and store, and lots of fun to use. For a new perspective on Victoria, exploring the water is the way to go!
From purple starfish clinging to the rugged coastlines to tranquil lakes surrounded by forest, Victoria has a lot to offer for anyone who enjoys standup paddle boarding. There's a variety of unique places to explore and lots to see as you paddle around this beautiful southern Vancouver Island city.
We've spent a lot of time paddling around the coast of Victoria with our SUPs and have learned where some of the best places to go stand-up paddleboarding are around the city. Here are some of our favourite spots for SUPing around Victoria (this list also applies to kayaking)!
Disclaimer – This post contains affiliate links. We may receive a commission if you make a purchase through these links, at no extra cost to you. Thank you for your support! Learn More.
Best Places to Go Stand-Up Paddleboarding (SUPing) Around Victoria, BC
1. Thetis Lake Regional Park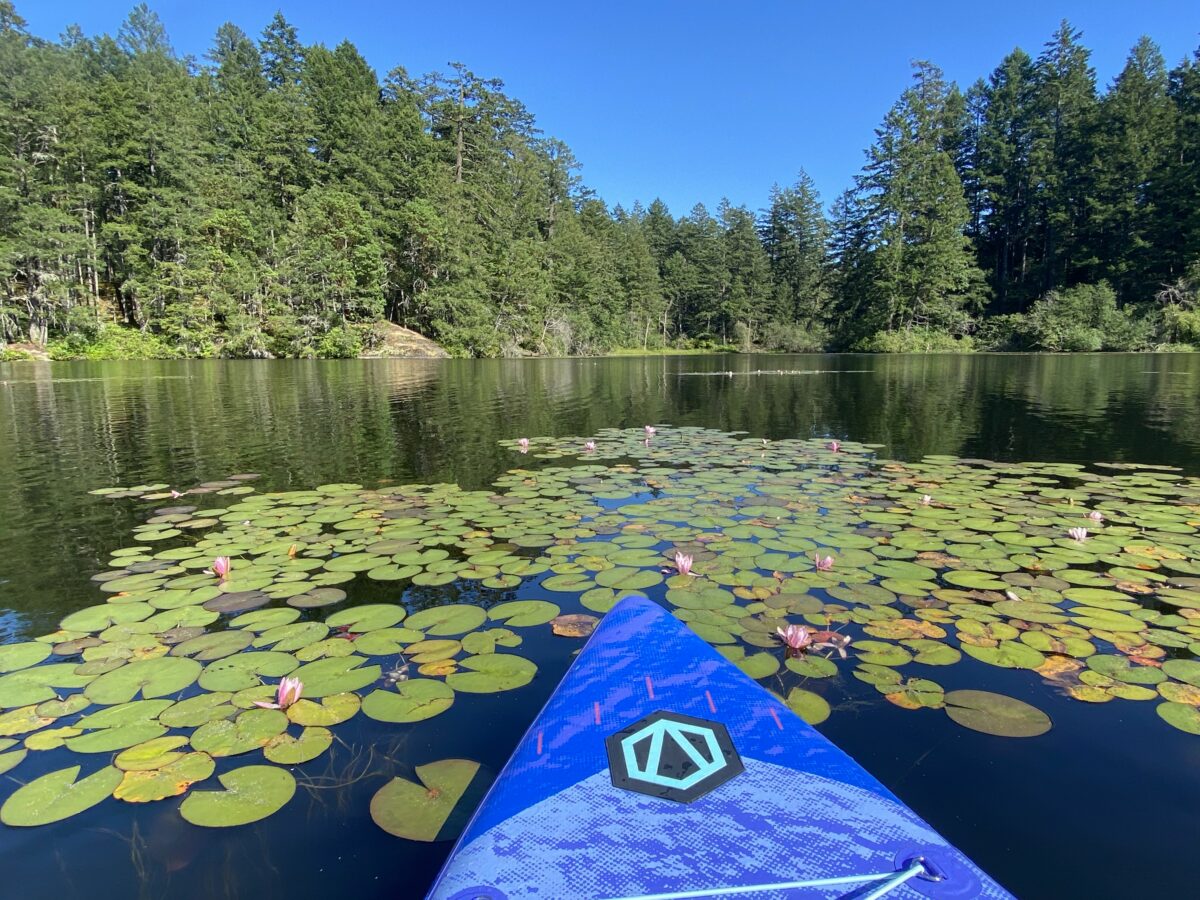 One of the best places to go paddle boarding around Victoria is at Thetis Lake Regional Park. It's our favourite spot to head on a summer day — we've visited this park many times but never grow tired of it!
With a beautiful shore surrounded by towering trees, Thetis Lake is a popular spot for anyone wanting to enjoy some time near the water, from paddleboarding to sunbathing. During the summer, it's fun to jump in the lake from your SUP to cool off and get some swimming in too.
Launch your SUP at the main beach or the dog beach. Once on the water, you can explore both Lower and Upper Thetis Lakes. To get between them, paddle underneath the bridge on the north side of the lakes. Watch for turtles, river otters, turkey vultures, and bald eagles as you go!
2. Gorge Waterway & Portage Inlet
The Gorge Waterway — the channel of water extending from the Selkirk Trestle in Victoria's Upper Harbour to Craigflower Bridge — and the connected Portage Inlet are both excellent spots to go paddle boarding.
This 6-km long waterway offers incredibly scenic views for stand-up paddlers. Coastal homes, oceanside parks, and rocky shores line the edge of this narrow tidal estuary. Paddle over underwater eelgrass meadows and spot waterfowl feeding in the migratory bird sanctuary.
As the tide goes in and out, the current in the Gorge Waterway changes quite a bit. If you're going against the flow of the water, you might find paddling tiring. Make sure to avoid the Tillicum Narrows (aka reversing falls), which are the rapids that form under Tillicum Bridge.
3. Tod Inlet
Tod Inlet is one of the best places to go paddleboarding on the ocean around Victoria, BC. Sandwiched between the famous Butchart Gardens and the stunning Gowlland Tod Provincial Park, this beautiful inlet features calm waters, beautiful coastline, a tranquil atmosphere, and lots of marine life.
Launch near the public wharf in Brentwood Bay and then paddle south into Tod Inlet. You'll pass by the small Daphne Island and Butchart Cove as you go. Watch for boaters!
Want to spot jellyfish? Head to Tod Inlet. This spot is absolutely teeming with the harmless moon jellyfish, which thrive in the low oxygen waters. We've also spotted some lion's mane and fried egg jellyfishes closer to Brentwood Bay, too.
4. Langford Lake
Langford Lake is a large, beautiful urban lake located on the west side of Victoria. Despite being the biggest lake in Langford, this beautiful spot is a hidden gem and often overlooked for the nearby Thetis Lake.
With warm and calm waters, Langford Lake is the perfect place to take your SUP on a nice day. The lake features a swimming platform, fishing spots, and sandy beaches. There are a few good spots to launch your paddleboard, including Langford Lake Beach Park, Paisley Park or the boat ramp.
With almost half the lake surrounded by houses, Langford Lake might not be the best choice if you want to feel like you're escaping civilization while paddling. But, with close proximity to the city, this is a convenient spot that's easy to access for those without a vehicle.
5. Inner Harbour
There's no doubt that Victoria's Inner Harbour is a beautiful area. Surrounded by iconic landmarks like the Empress Hotel and the Parliament Buildings, the Inner Harbour is a great place to explore on foot — but why not view it from a new perspective on a paddleboard?
Paddling in the Inner Harbour of Victoria is a lot of fun. There's lots to see, from historic buildings to wildlife like harbour seals. Sheltered from the wind and waves, the waters here are relatively calm, even in rougher weather.
If you decide to paddle here, you'll need to be careful exactly where you go. The Inner Harbour is a busy working area with plenty of boats, water taxis, ferries, and floatplanes to watch out for. You definitely don't want to get in their way!
6. Gonzales Beach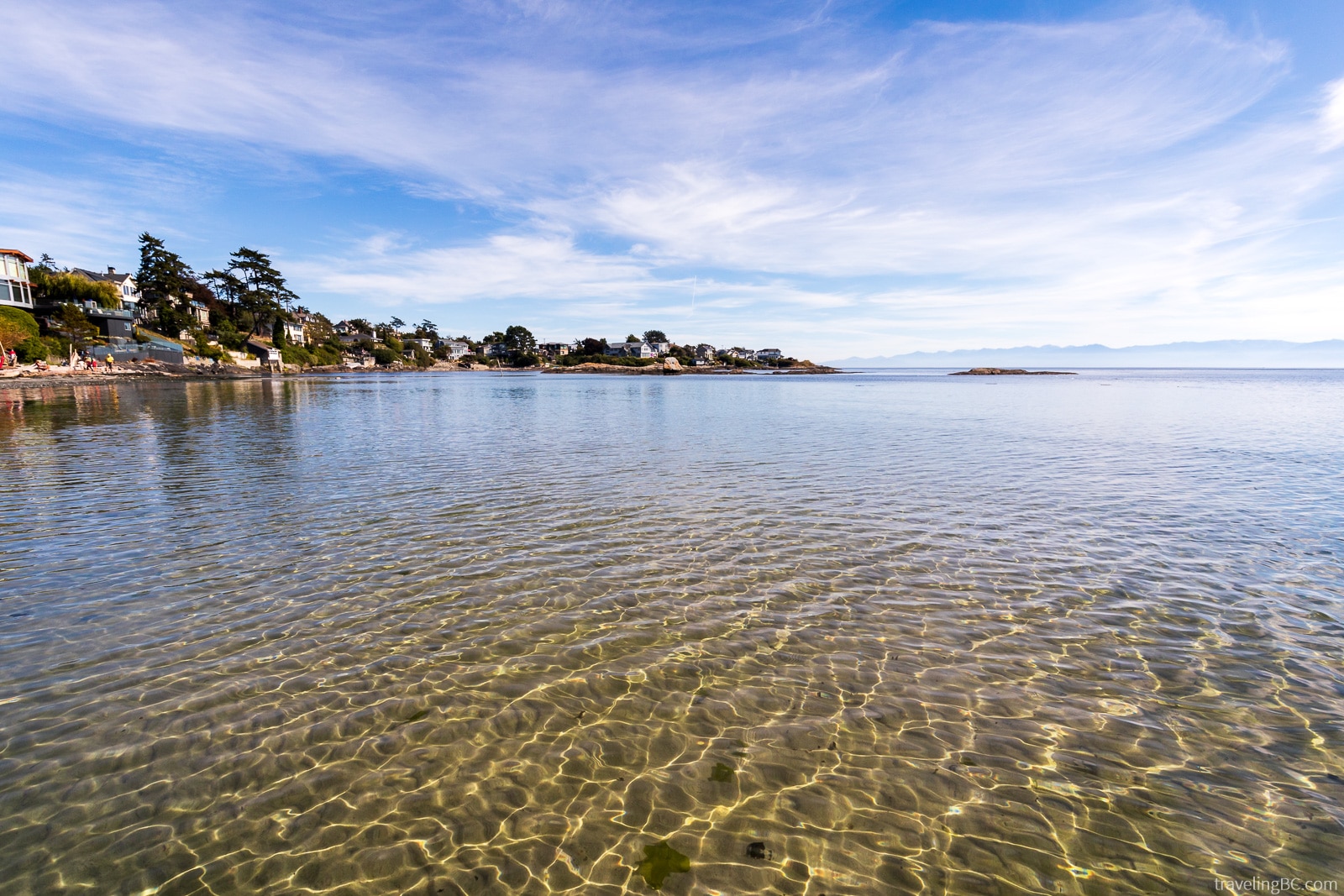 The calm water in the sheltered bay at Gonzales Beach is perfect for anyone learning how to paddle board. Combined with a relaxed atmosphere and a beautiful sandy beach, this is a great spot to grab your board and head for some time on the ocean!
One of the few sandy beaches in Victoria, Gonzales Beach is a popular summer destination. The beach gets pretty busy on hot days, but the ocean never feels crowded.
Launching your SUP from this beach is easy — just carry your paddleboard down the ramp on the west side of Gonzales Beach. Once on the water, explore the rocky coastline along the edge of the bay, looking for starfish and other sea creatures.
7. Elk/Beaver Lake Regional Park
Elk/Beaver Lake Regional Park is a beautiful natural area with a set of two freshwater lakes — Elk Lake to the north and Beaver Lake to the south — joined together to form one huge waterbody.
With spectacular forested shores, multiple beaches, and lots of water to explore, Elk/Beaver Lake Regional Park is a prime spot to go paddleboarding. The lake is also quite popular with kayakers, beachgoers, swimmers, fishers, rowers, hikers, and horse riders. There's never a shortage of things to do here!
To explore these connected lakes, you can launch your paddleboard at Beaver Beach, Hamsterly Beach, the Brookleigh Road Boat Ramp, or near the Victoria City Rowing Club.
8. Willows Beach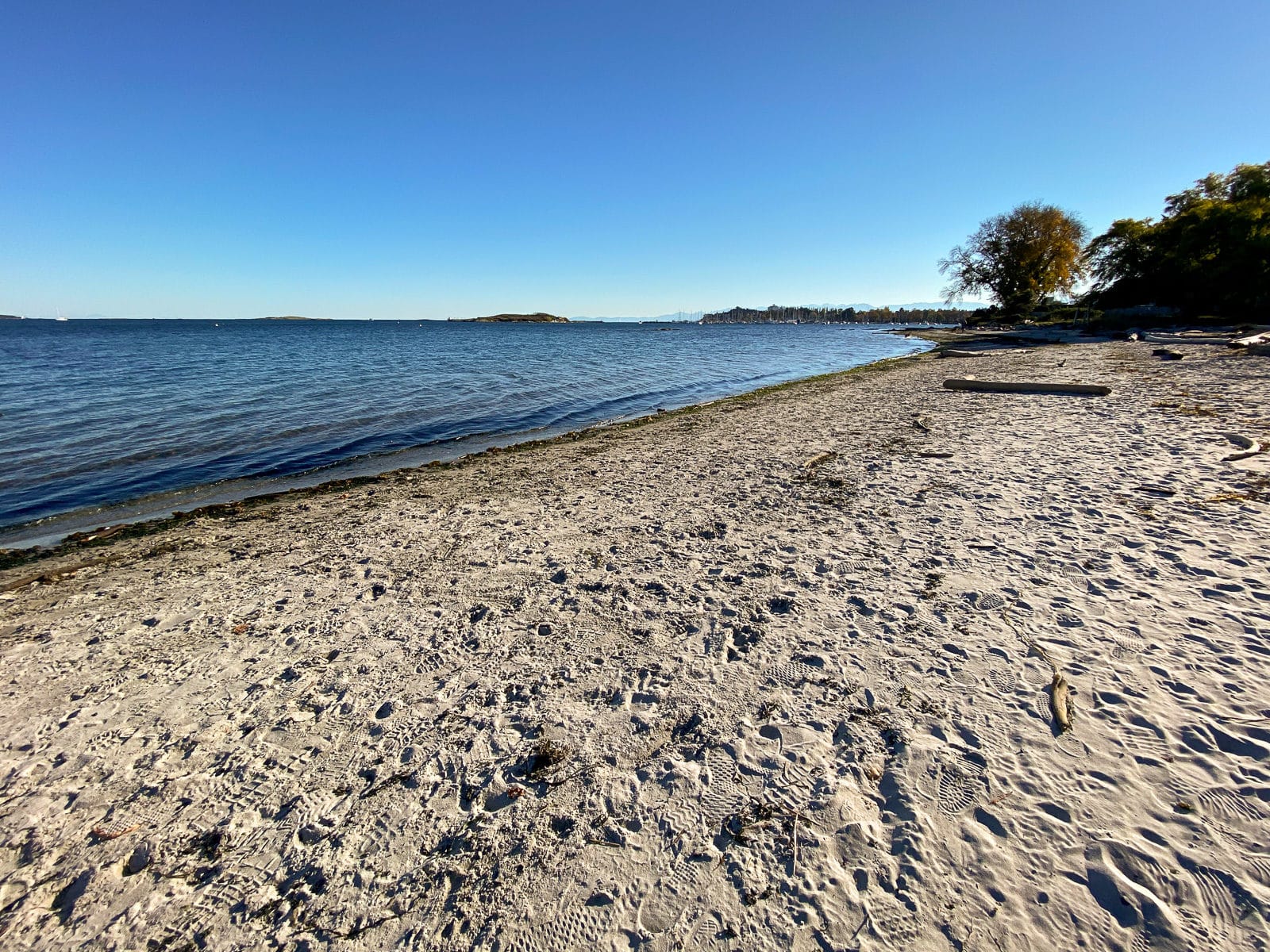 Willows Beach features beautiful soft sand, stunning views of Mount Baker and Discovery Island, and awesome paddling opportunities. For those comfortable with paddling on the ocean, we highly recommend a visit here!
One of the best beaches in Victoria by far, this is a popular spot that attracts both summer and winter visitors. Paddling is good here year-round, but since this beach is more exposed to the waves and wind, make sure to only head out on a calm day.
There's lots to explore from Willows Beach. Immediately to the north of the beach, you'll find the rocky Cattle Point and a series of smaller pocket beaches past that. Or, head south to paddle around the Oak Bay Marina. You can even land your paddleboard on Mary Tod Island (the small island just beside the marina) to take a break!
9. Cadboro Bay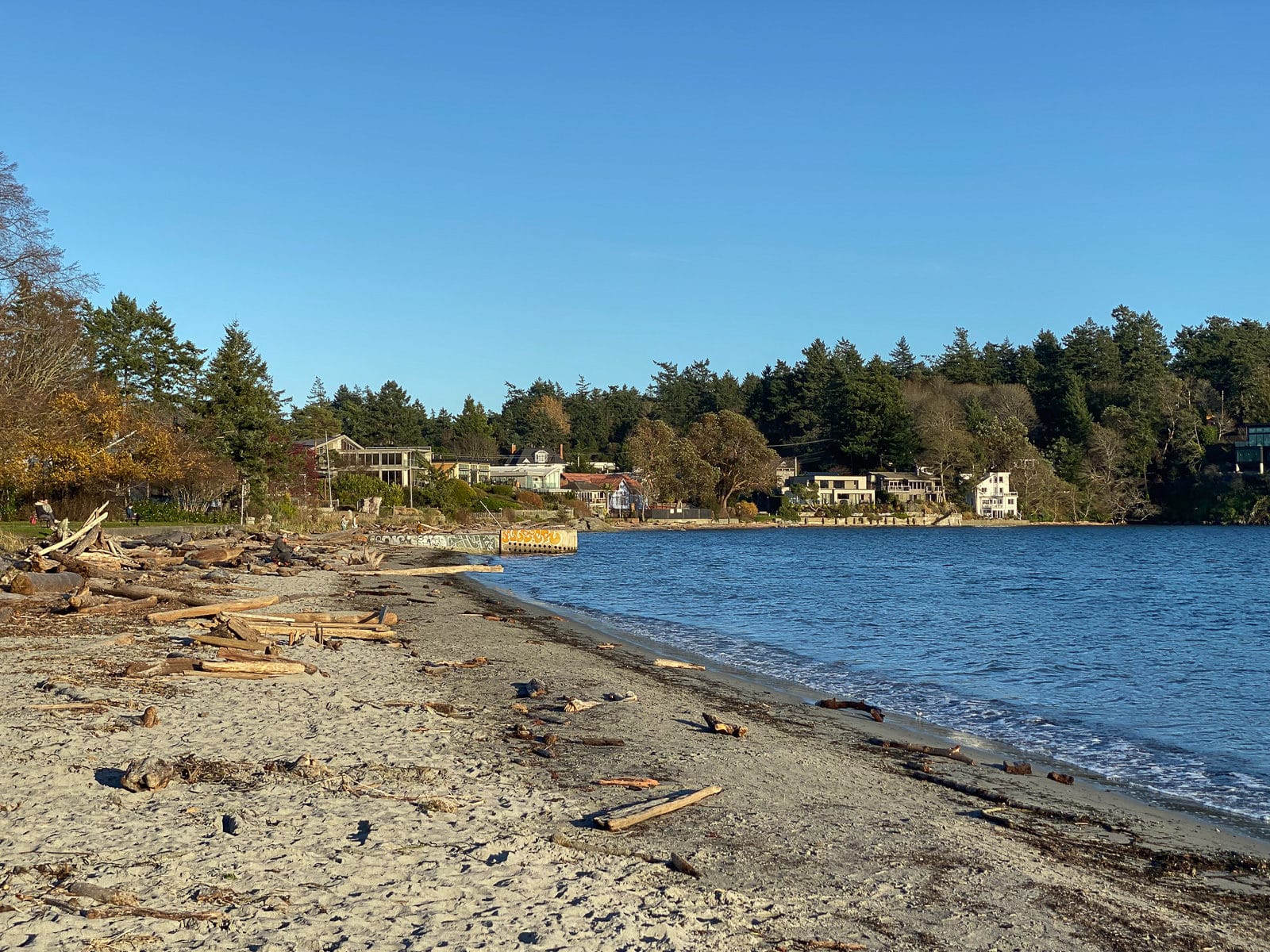 Cadboro Bay (often called Caddy Bay by locals), accessed from Cadboro-Gyro Park, is an excellent place to go paddle boarding. This tranquil, sheltered bay has excellent views of the Olympic Mountains and a gorgeous sandy beach, with lots to explore around the edges of the bay itself.
This beach is a great option for paddlers who need to rent their board, as there is a rental shop nearby in Cadboro Bay Village.
The beach at Cadboro-Gyro Park is quite popular with beachgoers, swimmers, paddlers, and boaters. One of the most family-friendly beaches in Victoria, the park also has an accessible playground featuring large playground monster structures (including the Cadborosaurus).
10. Esquimalt Lagoon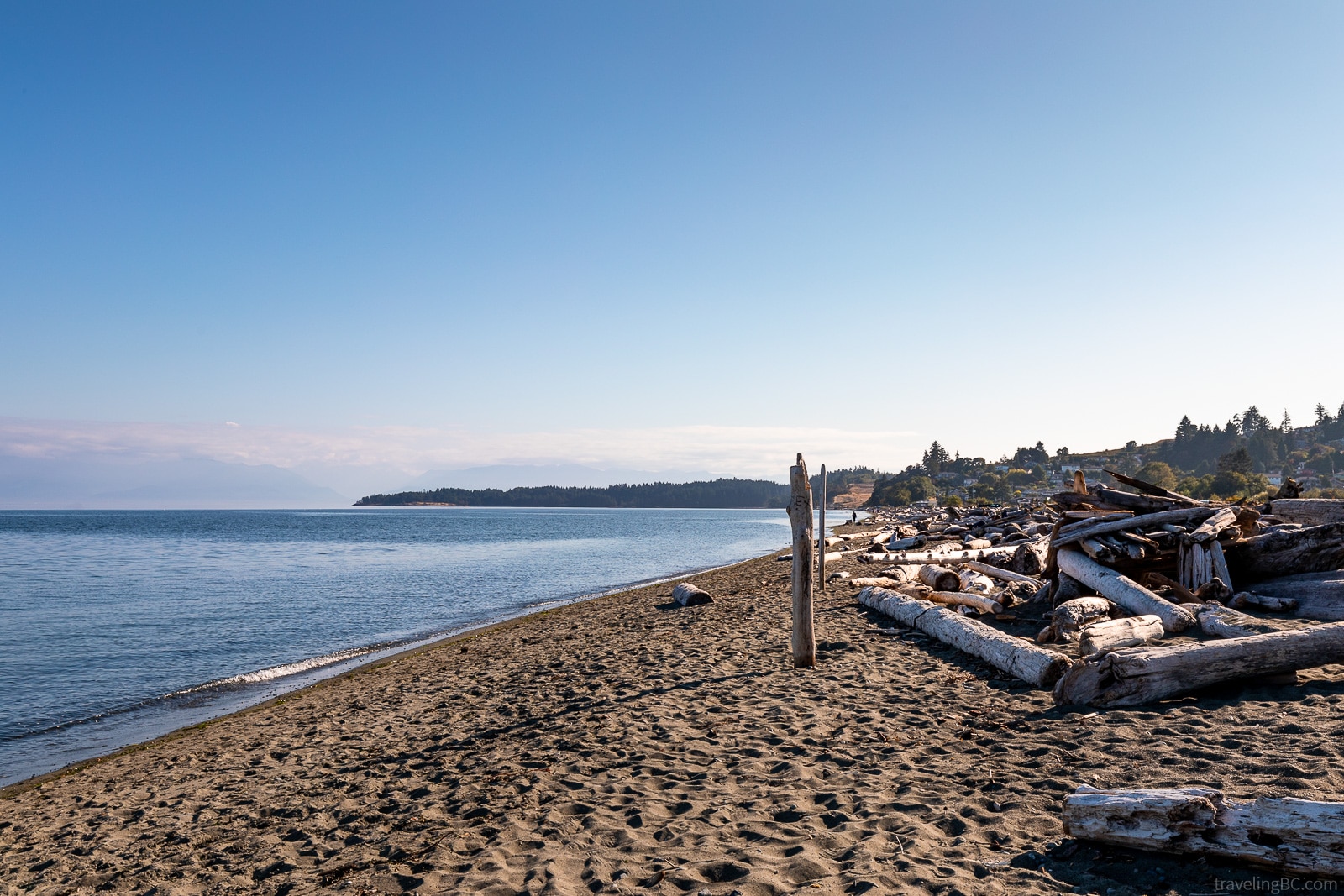 Esquimalt Lagoon is a gorgeous 2-km long sandy beach in Colwood, which is on the west side of Victoria. With a shoreline facing to the east, this is one of the best spots in Victoria to head for some morning paddleboarding if you want to watch the sunrise.
With parking all along Ocean Boulevard on the Coburg Peninsula, you'll have plenty of choices for where to launch your board. Once on the water, you can paddle along the long stretch of beach, down to Royal Beach Park and Albert Head Lagoon Regional Park. Or, paddle northeast to explore the water around the Fisgard Lighthouse at Fort Rodd Hill.
If you want to go even further, paddle your SUP into Esquimalt Harbour! Here, you can paddle to Thetis Cove Beach, Stewart Beach, or the historic Cole Island, which was once home to an ammunition depot and is now a national historic site.
Top Travel Tips & Resources for Victoria, BC