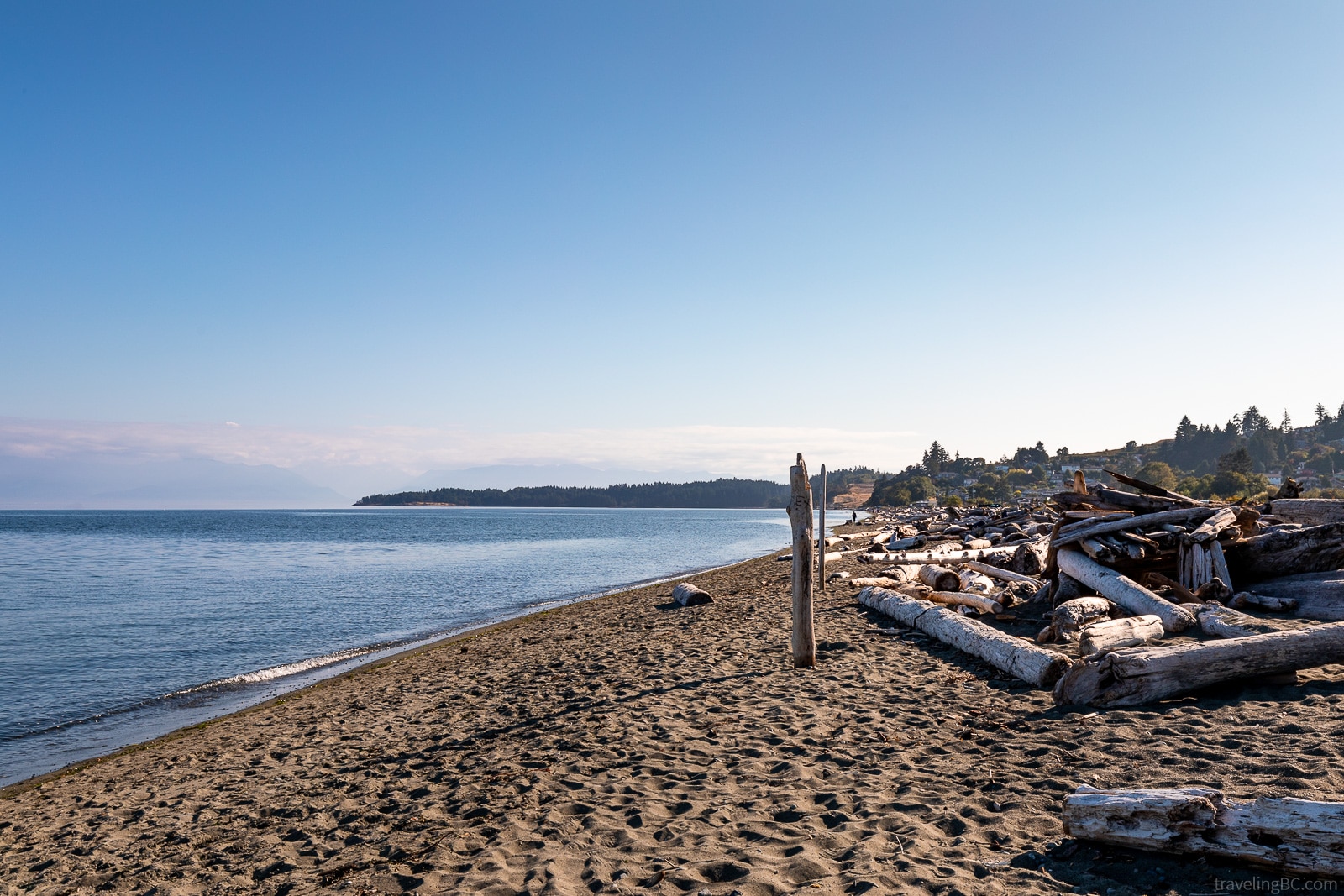 Vancouver Island is home to many wonderful beaches, but Esquimalt Lagoon in Greater Victoria is one of the most unique! Describing Esquimalt Lagoon makes it sound like it is out of a dream. Kilometers of soft sandy beach, whimsical driftwood creatures, beautiful trails passing massive ancient trees, meadows with blackberry thickets, a nearby majestic castle, and abundant wildlife… Doesn't that sound like the perfect place to spend an afternoon?
Esquimalt Lagoon is naturally enclosed by the Coburg Peninsula, a sand and gravel barrier with a road (Ocean Boulevard) running along it. Only a channel on one end connects the lagoon and ocean, with a small bridge over the water. It's a really awesome experience driving down the peninsula, with the lagoon on one side and the ocean on the other!
We love heading to Esquimalt Lagoon for the day, especially with a camera! The lagoon is a photographer's dream, and the view of the Olympic mountains over the Juan de Fuca strait is amazing. Don't forget to check out the nearby Fort Rod Hill and Fisgard Lighthouse!
Planning a trip to Esquimalt Lagoon, Colwood? This guide will tell you everything that you need to know about Esquimalt Lagoon, including how to get there, amenities, events, history, and more!
Disclaimer – This post contains affiliate links. We may receive a commission if you make a purchase through these links, at no extra cost to you. Thank you for your support! Learn More.
How to Get to Esquimalt Lagoon
Esquimalt Lagoon is in Colwood, BC, part of the Greater Victoria area. It is about a 20 to 25-minute drive west from downtown Victoria. Here is a map showing the location of Esquimalt Lagoon:
Click on the map marker to get directions or alternatively, click here for directions.
To drive to Esquimalt Lagoon from downtown Victoria, take Highway 1 to Highway 1A (Island Highway, which turns into Sooke Road). From there, turn south onto Ocean Boulevard.
From the other side of the lagoon, you can access the beach from Sooke Road by using Metchosin Road and then following Lagoon Road to the beach. You can drive along the Coburg Peninsula or park to explore the beach on foot.
The Galloping Goose bike trail makes biking to Esquimalt Lagoon surprisingly easy. This bike trail is an amazing, eco-friendly way to commute across Greater Victoria. The trail takes you all the way from downtown Victoria to the intersection of Sooke Road and Ocean Boulevard. At this intersection, simply bike down Ocean Boulevard to get to the beach. We haven't seen bike racks on Ocean Boulevard, but you can lock your bike up at the covered bike racks at Hatley Castle.
Bus route #52 goes to the south side of the lagoon – look for "via lagoon" buses. The stop is at the end of the peninsula. You can connect to this bus from downtown Victoria using the #50 bus. If you want to go to Hatley Castle, #52 or #43 will drop you off near University Drive.
Parking at Esquimalt Lagoon
Parking is free along Ocean Boulevard at Esquimalt Lagoon and paid at Hatley Castle.
There is a lot of free parking at Esquimalt Lagoon, all along the beach. You can park on either side of the road in most places, so you get to choose if you want a view of the ocean or the lagoon!
Parking at Hatley Castle costs $1 per hour or $8 per day to park, paid with coins or a credit card at the parking machines.
Can You Swim at Esquimalt Lagoon?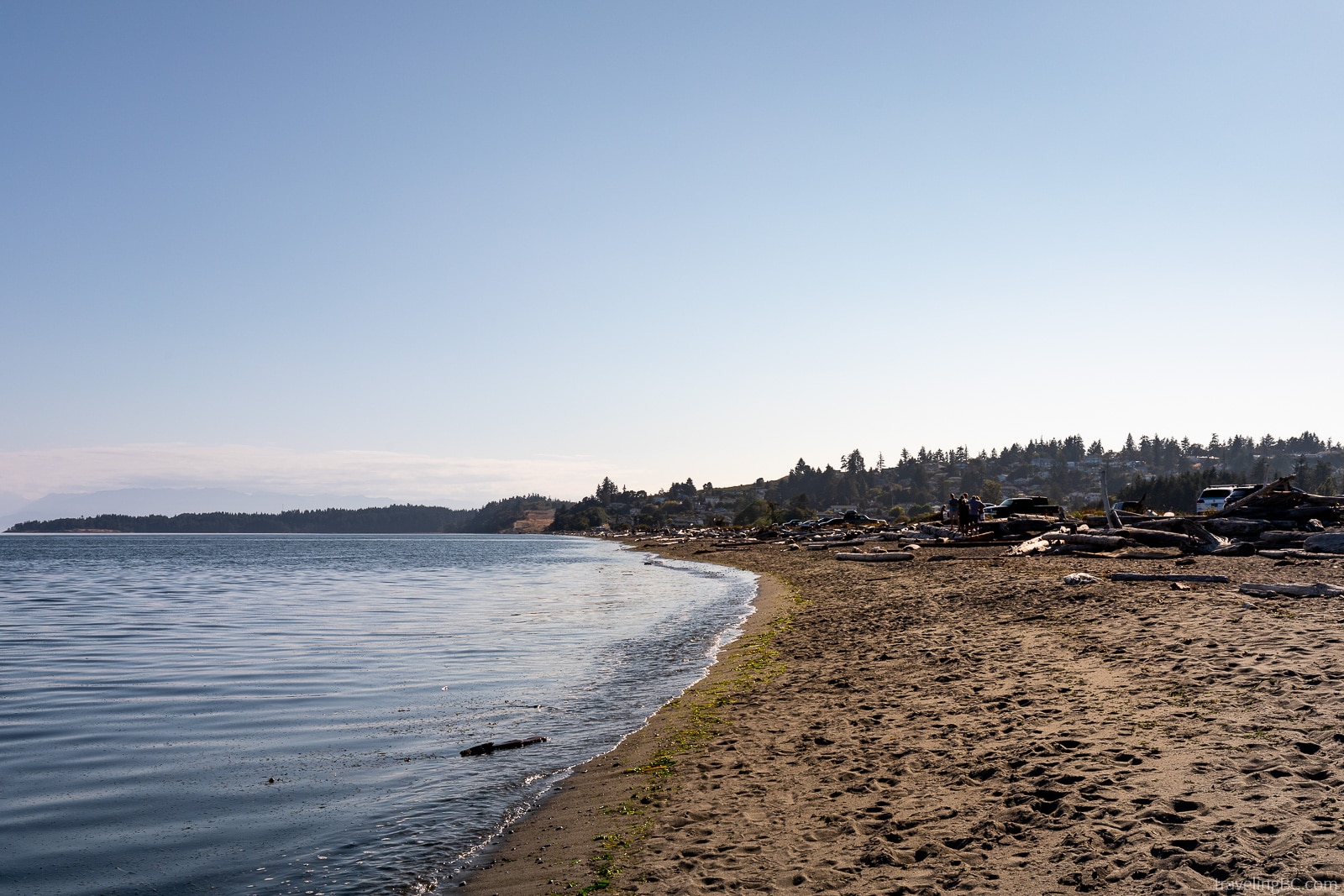 Definitely!
You can swim in the ocean at Esquimalt Lagoon, although the water will be chilly (even in the summer). On a hot day, taking a dip in the ocean is a perfect way to cool down!
Don't swim on the lagoon side though – leave that side to the ducks and geese!
Are Dogs Allowed at Esquimalt Lagoon?
Dogs are allowed at Esquimalt Lagoon throughout the year but must remain on-leash and under control. This includes all areas surrounding the lagoon, as well as the beach along Ocean Boulevard. The lagoon is a protected wildlife area, so it is important that you do not allow your dog to harass wildlife. Dogs must also be leashed at Hatley Castle.
If you want to take your dog off-leash, there is a designated off-leash area near Esquimalt Lagoon that is southwest of the public bathroom at the lagoon.
Can You Camp at Esquimalt Lagoon?
No, you cannot camp at Esquimalt Lagoon. Additionally, there is no overnight parking along the waterfront, from one hour after dusk until dawn.
If you are looking for places to camp, there are a few nearby locations to choose from. The nearby Fort Rodd Hill has oTENTik tents that you can rent within the fort's walls for a unique, historical experience. Other nearby campgrounds include Goldstream Campground, All Fun RV Park, and Fort Victoria RV Park.
Esquimalt Lagoon Driftwood Sculptures
While exploring the sandy beach, you might notice whimsical creatures made out of driftwood lining the beach. Esquimalt Lagoon showcases the talents of two local Vancouver Island artists: Alex Witcombe and Paul Lewis.
One of the most iconic sculptures is a large man-like mythical creature called "McGnarly the Beach Ent", the protector of the lagoon. McGnarly was created by Alex Witcombe, inspired by J.R.R. Tolkein's Lord of the Rings. If you wander further down the beach, to Royal Bay Beach (southwest of the lagoon), you'll find another one of Alex Witcombe's creations – a pair of driftwood mammoths.
Inspired by Witcombe, Paul Lewis turned the lagoon's beach into an art gallery of beautiful driftwood animal sculptures. His masterpieces include a bald eagle, a raven overlooking its nest, a brilliant blue Steller's jay, a wise owl, and more! Not only have these sculptures transformed the beach, but they've played a transformative role in Lewis himself. He went from convict to well-renowned artist and credits art in his transformation.
All of these extraordinary sculptures make Esquimalt Lagoon a unique place to visit. Make sure to check out the driftwood sculptures each time you go, as sometimes Lewis adds new creatures to the beach art gallery!
Activities at Esquimalt Lagoon
Esquimalt Lagoon is amazing for all kinds of beach activities. It's fun heading to this beach to go beachcombing and sunbathing. You can also build epic sandcastles and create driftwood forts! Or, walk along the beach with the sand between your toes.
For the more adventurous, the ocean is great for kayaking, paddle boarding, and swimming. The lagoon is phenomenal for birdwatching (the lagoon is a migratory bird sanctuary, after all). And, you can walk to Hatley Castle, while exploring the surrounding forest!
Esquimalt Lagoon Wildlife
As a Migratory Bird Sanctuary, Esquimalt Lagoon is home to many bird species. Colwood Creek – a spawning area for fish – flows into the lagoon making it an estuary of saltwater and freshwater. More clams, mussels, and oysters live in the intertidal areas of the lagoon than most other regions near Victoria. Seals are often seen around the lagoon, and the rare wolf has been spotted in the nearby forest!
Birdwatching at Esquimalt Lagoon Bird Sanctuary
Sheltered from the open ocean, Esquimalt Lagoon is home to numerous bird species, making it an amazing place for birdwatching. During October to May, Esquimalt Lagoon is an important stop for thousands of birds on their yearly migrations as it lies on the Pacific Flyway, a "bird highway" linking South and North America. Due to the critical importance of this area, the 134-hectare area was designated as a Migratory Bird Sanctuary.
On a single day, you might see up to 75 different species of birds! The shallow waters are home to species like oystercatchers and herons. In the deeper waters, look for diving birds like cormorants. Shorebirds, like sandpipers, are everywhere at the lagoon. Other potential species include geese, swans, eagles, quail, kingfishers… Try to spot them all along Ocean Boulevard and nearby forests!
Hatley Castle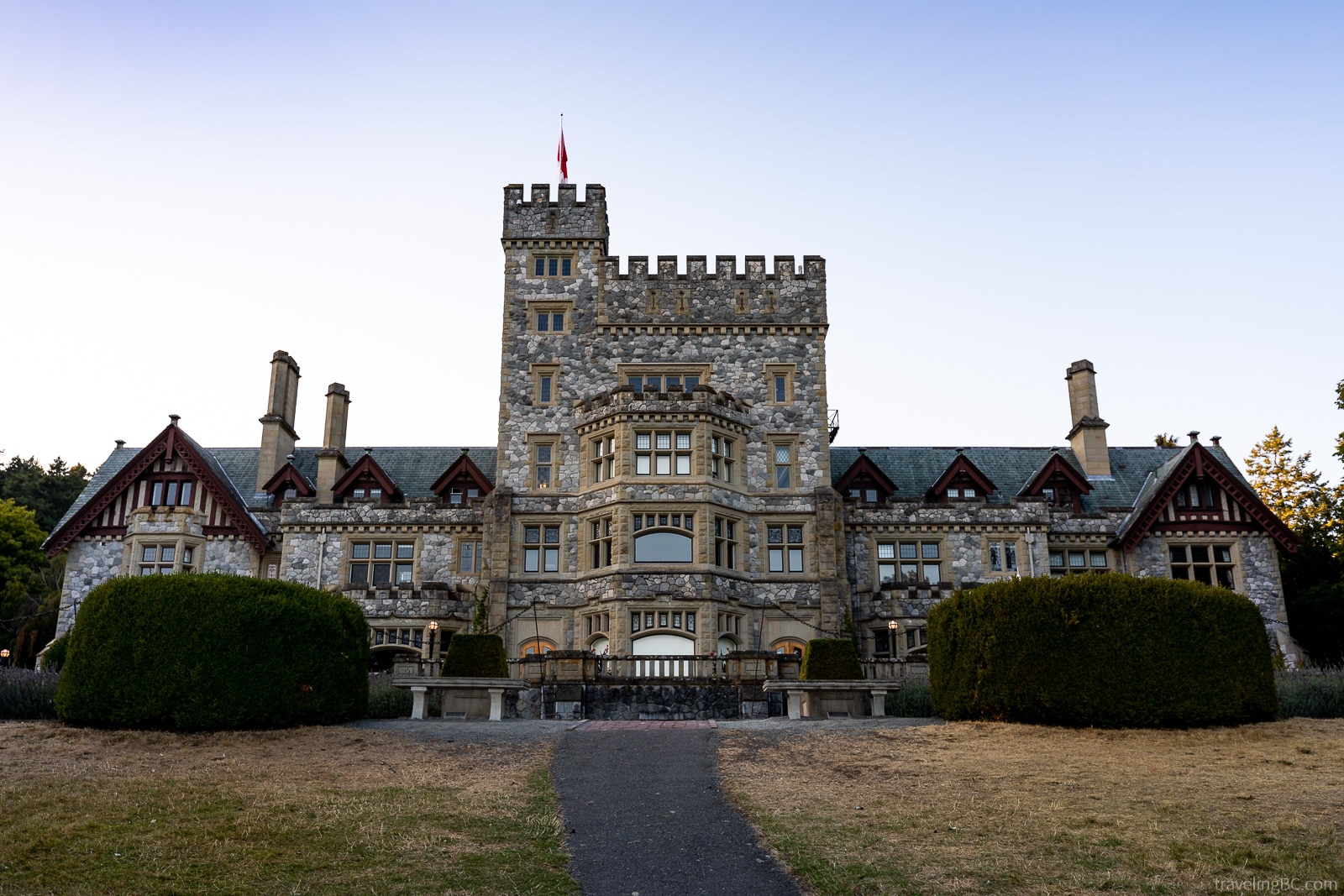 Across the lagoon, you will see the majestic Hatley Castle, a 565-acre estate overlooking the lagoon. The castle was once home to one of the Premiers of BC but is now home to the Royal Roads University. The grounds have many beautiful gardens which are fun to wander. Check out their Japanese gardens, smell the roses in the rose garden, and look over the Italian garden from the terrace above!
You can explore the gardens at your leisure (dogs are not allowed), or take a guided walking estate tour. Due to its beautiful gardens, the castle is a sought-after event venue. If you plan on getting married soon, Hatley Castle would be a memorable place for your special day!
Fort Rodd Hill and Fisgard Lighthouse
Just northeast of Esquimalt Lagoon, you'll find the historic sites of Fort Rodd Hill and Fisgard Lighthouse, both great fun for children and perfect for learning about some of Canada's history. In summer, the historic site even hosts the annual Water Gun Wars (Victoria's biggest water gun battle).
Fort Rodd Hill was a coastal artillery fortress, used to protect the shores of Victoria. Now, you can explore this historic site's old buildings, including guardhouses and barracks.
Fisgard Lighthouse was the first permanent Canadian west coast lighthouse, protecting ships traveling through the Juan de Fuca Strait during dark nights or bad weather. Fisgard Lighthouse is still in use, but it hasn't had a keeper since 1929. With a bright red building, the lighthouse is a great spot for photography.
There is a historic site entry fee (free for children) to explore Fort Rodd Hill and Fisgard Lighthouse. Pets are not allowed.
Old Growth Coastal Douglas Fir Trees
The forest around the lagoon has many impressive ancient trees, including Douglas-fir and western red cedars. Esquimalt Lagoon is one of the best places around Victoria to see old-growth forest without having to drive to Cathedral Grove or Carmanah Walbran Provincial Park (although we highly recommend visiting these locations).
The Magna Carta Tree near Esquimalt Lagoon is one of the top 10 largest Douglas-fir trees in British Columbia. Over 73.5m tall (241 feet) and almost 9 m (28 feet) in diameter, this tree has been alive for over 800 years, even surviving an earthquake in 1700!
Underneath the towering trees, the forest is lush with sword ferns, vanilla leaf, and trilliums. Many trails allow you to explore Hatley Forest, under the canopy of these ancient trees.
Trails Around Esquimalt Lagoon
The main attraction at Esquimalt Lagoon is arguably the walk along the Coburg peninsula, which will take you about an hour. However, there are many other trails in the area that are worth your time!
Charlie's Trail is a magical little walking trail through Hatley Forest, which follows Colwood Creek, passes two small waterfalls, and ends near Hatley Gardens. Charlie's Trail is 3.5km long and will take you about an hour one-way.
You can also do the Royal Roads loop, which is about 7 km and takes 2 hours to complete. This trail takes you through the Royal Roads University forests, joining up with Charlie's trail at the far northwest end. The walk is easy-moderate, mostly flat, and has many side trails to follow.
Lastly, you can walk around the entire lagoon. At the end of Ocean Boulevard, head up Lagoon Road and get into Hatley Forest near Heatherbell Road. There, you can walk towards Hatley Castle, enjoying the lush forest. Then, follow University Drive to the grounds of Hatley Castle, where you can admire the lagoon from the other side. To return, there is a small forest path on the north side of Hatley grounds (near the south end of Charlie's Trail) that will take you back to the bridge on Ocean Boulevard. We recommend bringing a map on your phone to make sure you are on the right path!
Esquimalt Lagoon Bathrooms and Amenities
The main bathrooms at Esquimalt Lagoon are at the southwest end of the peninsula. The beach is about 2km so if you park at the opposite end, you might have a bit of a walk! Luckily, there are additional washroom facilities halfway down the beach. Fort Rodd Hill also has public bathrooms, but there are no easily accessed public washrooms at Hatley Castle.
There are plenty of garbage cans located all along the stretch of the beach.
There is an electric vehicle charging station in the parking lot of Hatley Castle and at Fort Rodd Hill.
Unfortunately, there isn't a playground at Esquimalt Lagoon. There is lots of sand to play in though, and driftwood to build structures with!
Food and Drinks at Esquimalt Lagoon
Esquimalt Lagoon hosts beach food events on summer weekends. Local food trucks line Ocean Boulevard, allowing you to grab tasty snacks while enjoying the refreshing ocean air. Spread a blanket out on the sand to eat your food, while listening to live music near the driftwood sculptures!
Otherwise, there are no food or drink options located immediately at Esquimalt Lagoon. The closest options are along Sooke Road. There are blackberry bushes nearby the lagoon if you want a small, sweet snack!
Accessibility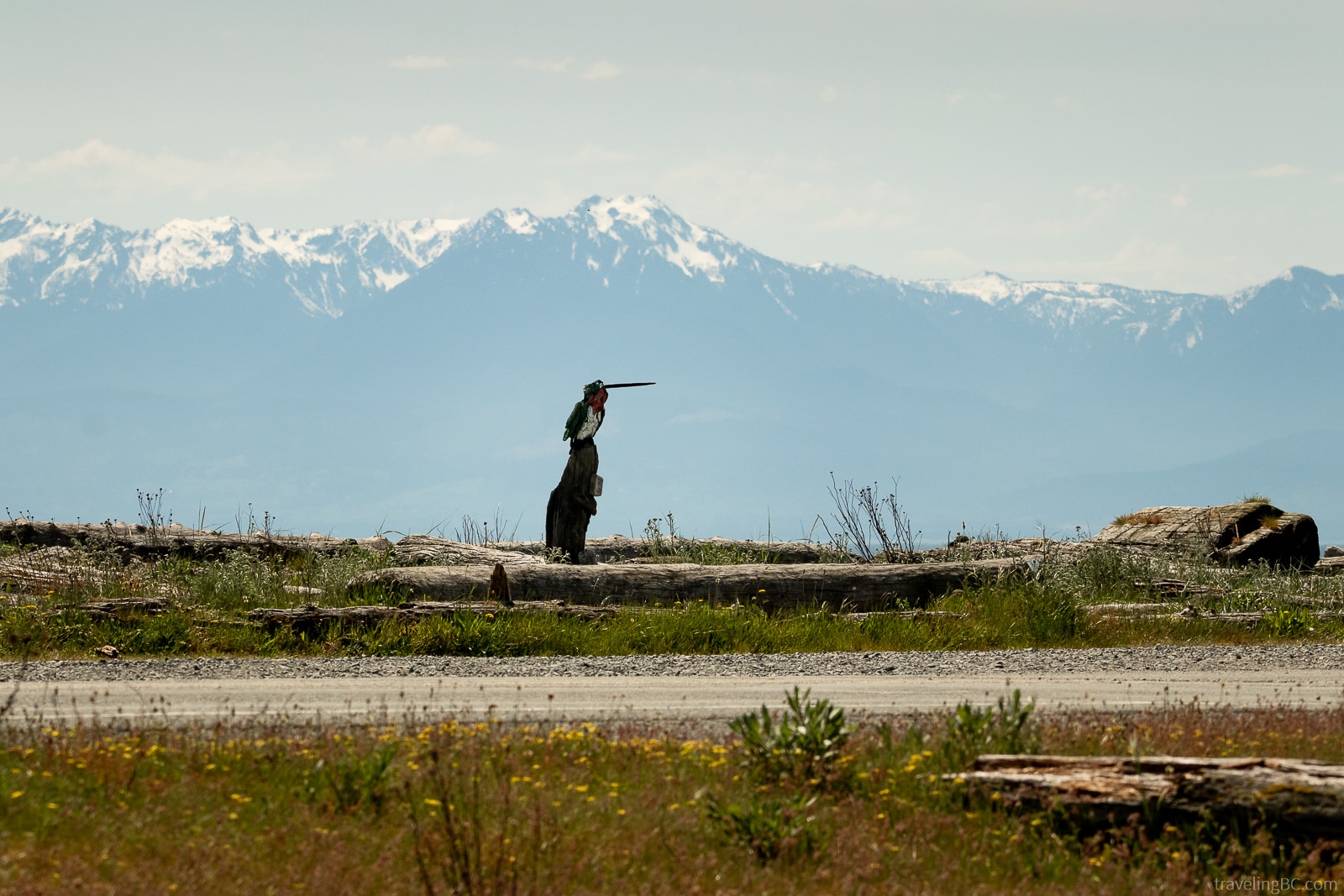 A flat, easy to walk pathway follows along Ocean Boulevard, allowing you to view the ocean and lagoon. You can also drive along Ocean Boulevard to view the lagoon, and the driftwood sculptures can all be viewed from the road. There are two accessible parking spaces near the southwest washroom.
Fort Rodd Hill, Fisgard Lighthouse, and most of the paths around Hatley Castle are wheelchair accessible.
History of Esquimalt Lagoon
Esquimalt Lagoon is part of the traditional territory of the Xwsepsum (Esquimalt) and Lkwungen (Songhees) First Nations. Originally, these Coast Salish nations used Esquimalt Lagoon for harvesting food from the clam beds near the lagoon's entrance. However, harvesting shellfish at the lagoon is now prohibited due to pollution contamination making these shellfish potentially deadly to eat.
Colonial development of the Esquimalt area began in 1854 with the Esquimalt Harbor and the creation of a naval base. Fisgard Lighthouse was built in 1860. The gold rush of 1858 led to many settlers flocking to live near the lagoon. You can still find gold on Vancouver Island if you know where to look!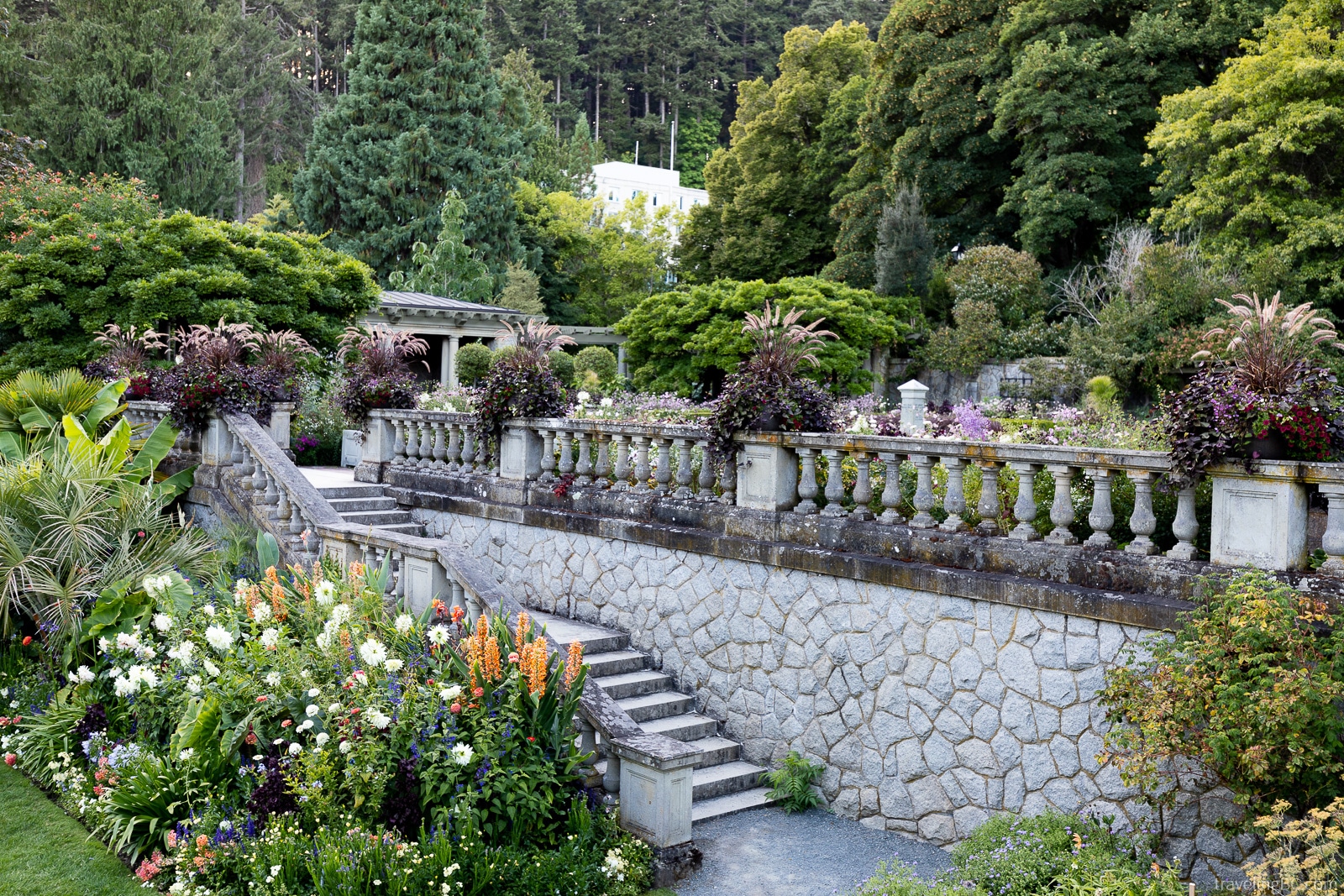 Hatley Castle was built in 1908 by James Dunsmuir, who served as both the Premier and Lieutenant Governor of BC. His family also dominated the coal industry in BC. Dunsmuir used the home to escape from the busy world of politics. There, he enjoyed his peaceful retirement, living off the land and entertaining guests.
Later, in 1940, the government purchased the land to create the Royal Roads Military College for training service personnel, using the peninsula as a rifle range. After the college closed in 1995, Hatley Castle became home to the newly established Royal Roads University, and still is to this day.
The Canadian Wildlife Service created the Migratory Bird Sanctuary in 1931. Esquimalt Lagoon is one of seven bird sanctuaries established in British Columbia, and one of the best places to go birding in Victoria. In 2000, the Esquimalt Lagoon Stewardship Initiative was formed to protect and enhance the lagoon ecosystem.
Events at Esquimalt Lagoon
During the summer, the City of Colwood hosts beach food days at Esquimalt Lagoon. This event features a huge selection of food trucks and live music. You can enjoy the scenic views at the lagoon while eating tasty locally-made food and listening to music from Vancouver Island artists.
Nearby, Fort Rodd Hill hosts the city's annual Water Gun Wars, a massive water gun battle. Expect to get wet and bring your own water guns!
You can find any upcoming community events using the Colwood calendar.
Things to Do Near Esquimalt Lagoon
There are plenty of things to do near Esquimalt Lagoon if you want to spend your day exploring.
Another birdwatcher's paradise is at Witty's Lagoon Regional Park, a short drive south of Esquimalt Lagoon. This park has a spectacular waterfall called Sitting Lady Falls. After seeing the waterfall, you can walk the trail around Witty's Lagoon to view saltwater marshes, sandy beaches, rocky coastland and coastal woodland.
Just north of the lagoon is one of our favorite places in the city, Thetis Lake Regional Park. Unlike the ocean, you can swim at Thetis Lake without freezing! There is a huge trail network all around Thetis Lake and for a great view, you can head to the summit of Seymour Hill!
The beautiful Goldstream Provincial Park is also nearby Esquimalt Lagoon. Goldstream has BC's Niagara Falls and while this waterfall isn't quite as large as the famous Ontario waterfall, it is still quite impressive. In the autumn, Goldstream is a popular place to watch the salmon run.
Conclusions
Esquimalt Lagoon is arguably one of the most unique beaches in Victoria, and we rate it as one of the top 10 best sandy beaches in Victoria, BC.
Every time we visit Esquimalt Lagoon, we find something new. We just keep coming back! We especially love the sandy beach, with its driftwood creatures. And, as a wildlife photographers and avid birders, we love hanging around the lagoon to see what bird species we can spot each time! Make sure to bring your binoculars when you visit the lagoon!
For more things to do around Victoria, check out these articles:
Top Travel Tips & Resources for Victoria, BC