There are lots of touristy things to do in Victoria, but sometimes it's nice to do something that's a little different and off the beaten path. Maybe you've visited the Butchart Gardens, climbed Mount Doug, or gone whale watching one too many times recently, and you need a change. Or maybe, you just prefer more unique activities. Luckily, there are lots of unusual things to do in Victoria, BC!
While there are many tourist attractions around the city, there are also lots of unique or unusual things to do in Victoria. There are many hidden gems around Victoria, you just have to look for them! The city has many unique activities that you can experience, from ghostly tours to yacht races.
Also, there are so many weird and wonderful things to see in Victoria including everything from whimsical driftwood sculptures at Esquimalt Lagoon to the world's largest gnome to the mythical Cadborosaurus at Cadboro-Gyro Park! You'll never run out of things to do!
In this article, we've compiled a list of 20 unusual things to do in Victoria, BC, so that you can explore some of the more unique and weird activities that the city has to offer! We also provide recommendations for unique and unusual hotels and places to stay, as well as unique restaurant experiences that the city has to offer.
20 Unique and Unusual Things to Do in Victoria, BC
Below, we list the best unique, unusual, and weird things to do in Victoria, BC. These activities aren't in any particular order, and all of them are unusual in the sense that they aren't the typical tourist attractions that people usually go to on their vacations. Enjoy!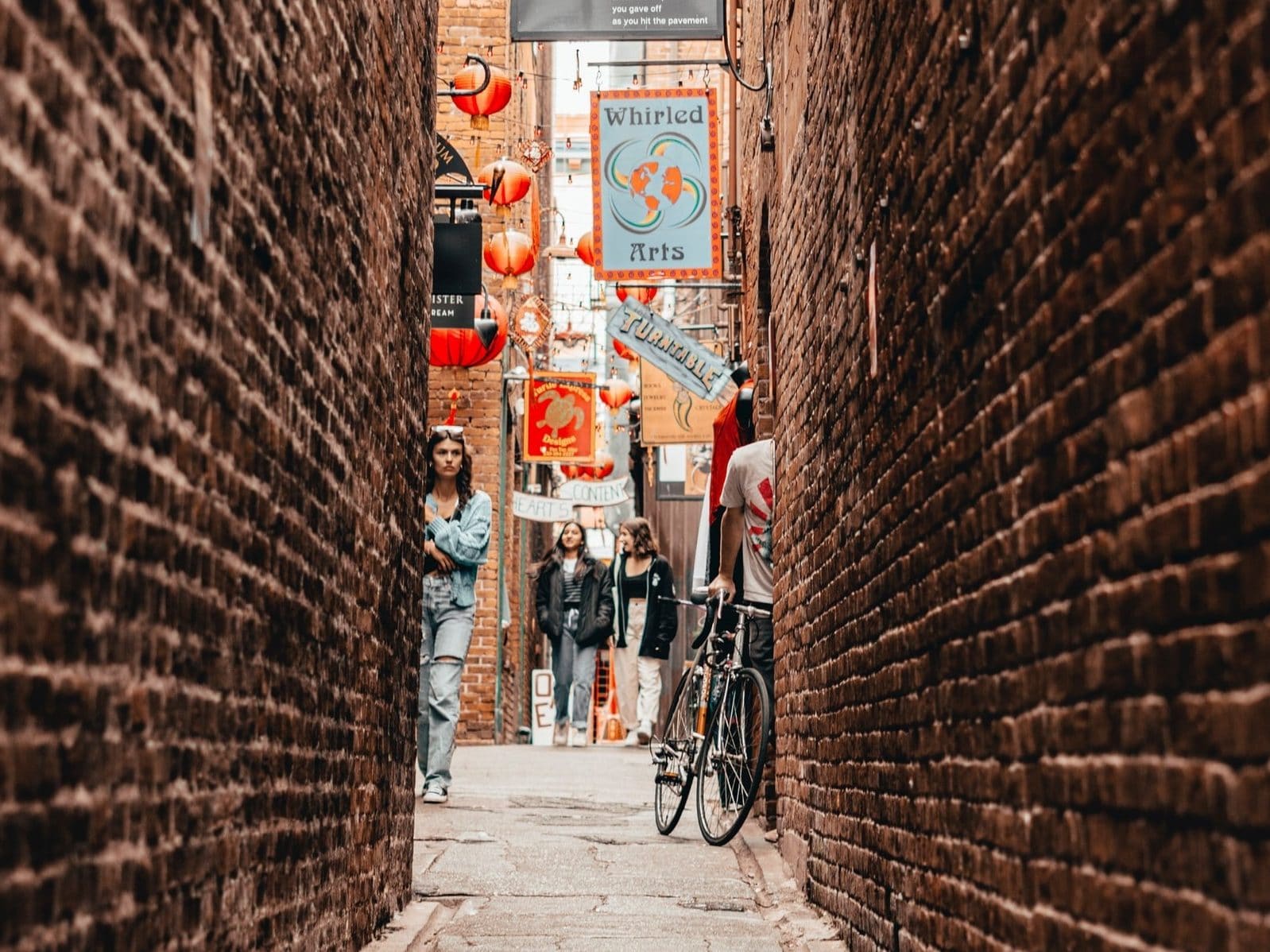 Downtown Victoria is full of one-of-a-kind, hidden alleyways! Each alley is unique in its own way, with its own history and quirks. Often, these alleys look inconspicuous from the road, but once you step inside, these alleyways will open up into a whole new world!
Fan Tan Alley is famous for being the narrowest street in Canada. This alleyway opens into a magical, hidden shopping area in the oldest Chinatown in Canada. You can also walk through Dragon Alley, a historic Chinatown Alley, marked by a red dragon.
Alternatively, you can shop under the glow of 125+ year old gas lights in Trounce Alley, between Government and Broad Streets. Another option is to walk through Waddington Alley, the only street in Victoria paved with wood!
Many of the alleys are lit up at night with strings of lights, and full of adorable little local shops, selling everything from food and drinks to clothes and art. It's a lot of fun trying to explore them all!
Cost: Free
Time: Varies
Duration: 1-3 hours
Location: downtown Victoria
2. Admire the Moss Lady at Beacon Hill Park
Hidden in among the beautiful gardens of Beacon Hill Park, you'll find the sleeping Moss Lady, a giant statue of a lady with a body blanketed in moss. Inspired by the 'Mud Maiden' of the Lost Gardens of Heligan in England, the artist Dale Doebert created the Moss Lady out of boulders, cement, pipes, wire, soil, and plants. Flowers grow from her head in place of hair, and her face is serene as she lays under the trees in the park.
The Moss Lady in Beacon Hill Park lays nearby a small stream and the park's bandshell, which often has live music on summer weekends. There are two carved chairs in front of the Moss Lady where you can enjoy the peaceful scene and the park's atmosphere. Here, you can relax under the canopy of the trees, listen to music, and admire the beautiful Moss Lady and her surroundings.
Cost: Free
Time: Anytime
Duration: <30min
Location: Beacon Hill Park by the Cameron Bandshell
3. Join a Ghost Tour of Downtown Victoria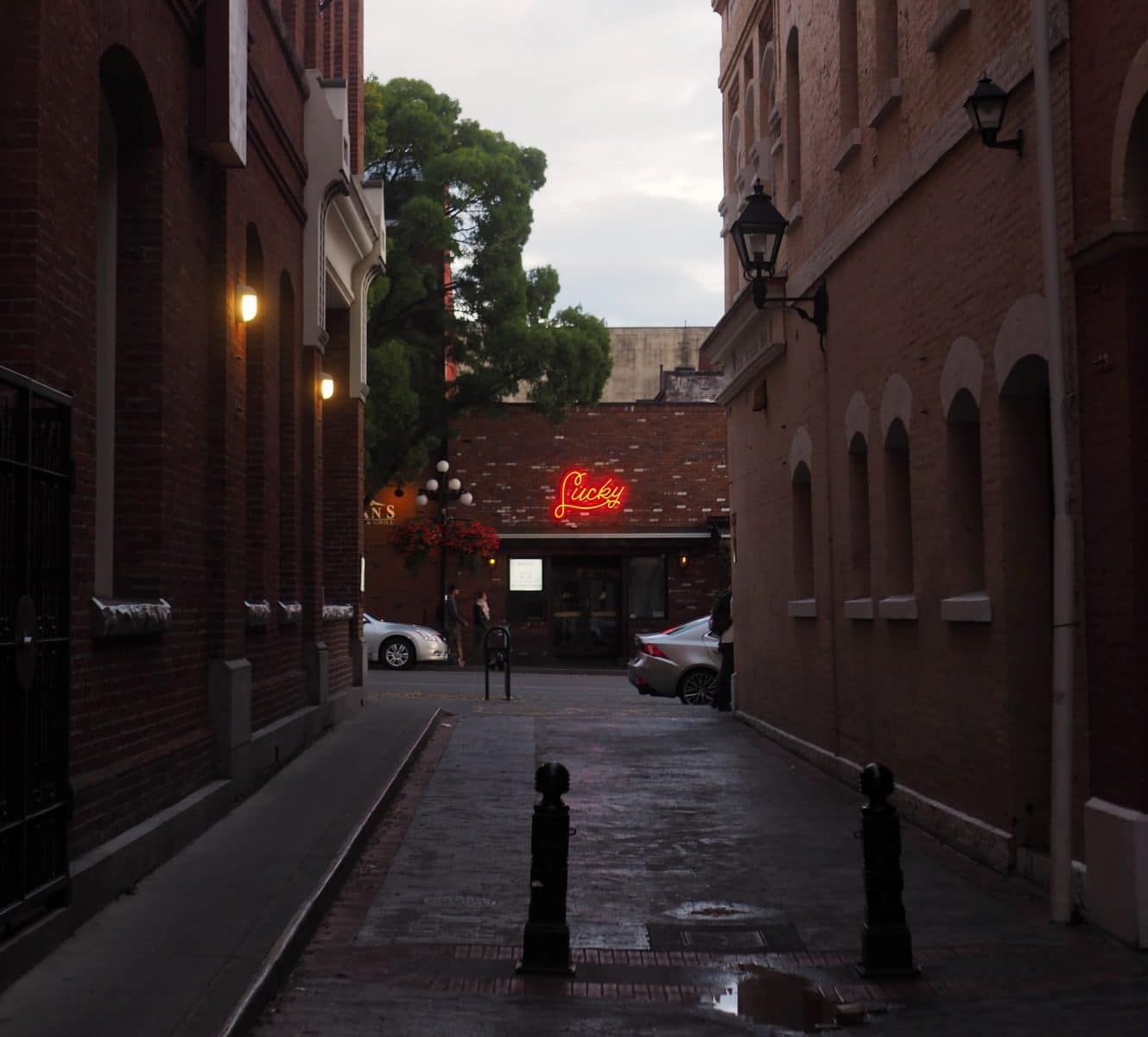 What better way to spend your evening than listening to a good scary story and exploring Victoria's haunted past? Join a guided walking ghost tour to discover the ghosts haunting the buildings and streets of downtown Victoria, a city with a surprising reputation for paranormal activity!
If you love scary stories, Victoria's ghostly walks will be perfect for you! Your knowledgeable tour guide will lead you on a walk through the dark history of Victoria, telling you entertaining, spooky stories about paranormal events and tragic tales, including everything from hangings to romance to murders. These tours are guaranteed to leave you sleeping with the lights on!
Cost: $20 per adult / $15 for students and seniors / $10 for children
Time: Late evening, usually Friday-Sunday
Duration: 60 minutes
Location: Downtown Victoria
4. Visit the National Toy Museum of Canada
Did you love toys as a child and want to take a walk down memory lane? Or, want to show your children some of the toys you grew up with? Head to the National Toy Museum of Canada, an amazing museum that collects and displays all kinds of vintage toys. They have all kinds of toys, from the 1960s to the 90s!
Stepping into the National Toy Museum is like being transported back in time to when you were just a child. The museum is super nostalgic and will trigger fond childhood memories of playing with action figures and toy sets. Plus, it's located on top of an awesome toy store: Cherry Bomb Toys. The toy shop has reasonable prices and the employees are incredibly friendly. It's definitely worth the visit, even just for the trip down memory lane!
Cost: Entry by donation / Free for children
Time: 12pm-5pm, Tuesday-Sunday
Duration: 30-60 minutes
Location: 1410 Broad Street
5. Head to the Victoria Bug Zoo
Do you love bugs or want to overcome your fear of creepy crawlies? Try visiting the Victoria Bug Zoo, a mini-zoo with all kinds of insects, spiders, and other arthropods that you can view. Some of them you can even hold, like the tarantulas!
The Victoria Bug Zoo has over 50 species, from giant walking sticks to glow-in-the-dark scorpions to brilliantly green praying mantises. You can also watch busy leaf-cutter ants carrying leaves in Canada's largest leaf-cutter ant farm.
This insect zoo is great fun for both kids and adults. The tour guides are very knowledgeable. Check out the gift shop at the Victoria Bug Zoo when you're finished for lots of cool bug-themed souvenirs!
Cost: $14 per adult / $8 per child age 5-17 / Free for children under 5 / $10 for seniors and students
Time: 11am-4pm (opens 10am on weekends)
Duration: 30 min to 2 hours
Location: 631 Courtney Street
6. Discover a the Sphinx in the Galey Farms Corn Maze
Egypt isn't the only place with a sphinx and pyramids… you can also find them in Victoria, hidden deep within a corn maze! Truly one of a kind, Galey Farms is a unique farm with a whimsical assortment of attractions. At this farm, you can find all kinds of unique sculptures: a sphinx, pyramid, pirate ship, dinosaurs, and even Howard, the world's tallest gnome. Howard greets visitors to the farm from a patch of massive fiberglass mushrooms!
You're guaranteed to have a blast if you visit Galey Farms' maze and market. Even adults love visiting this farm! In addition to being a working family-owned farm, they have all kinds of outdoor fun things to do, including a train ride, pumpkin patch, haunted house, and corn maze. You can also buy fresh Vancouver Island-grown produce (grown on their farm!) from their produce stand.
Cost: $20 per adult / $15 per child (12 and under)
Time: Galey Farms opening hours
Duration: 1-3 hours
Location: 4150 Blenkinsop Road
7. Walk through Ross Bay Cemetery
Exploring a cemetery may not be at the top of everyone's list, but a quiet stroll through Ross Bay Cemetery is definitely worth a try. This Victorian-era cemetery is extremely gorgeous, with large trees, unique marble sculptures, and striking monuments. It's an incredibly beautiful place for an afternoon walk and is even located right beside the ocean!
Ross Bay Cemetery is the final resting place for several famous Canadians and Americans, including Emily Carr (world-famous artist and writer), Robert Dunsmuir (coal baron and builder of Craigdarroch Castle), Isabella Mainville Ross (the first woman to be a registered landowner in BC), and Sir James Douglas (First Governor of BC).
You can walk through the cemetery and view the graves for free. Or, take a guided tour with the Old Cemeteries Society of Victoria if you want to learn about the cemetery's history and inhabitants.
Cost: Free / $5 for a tour
Time: Anytime
Duration: 1 hour
Location: 1495 Fairfield Road
8. Find the Heron Colony at Beacon Hill Park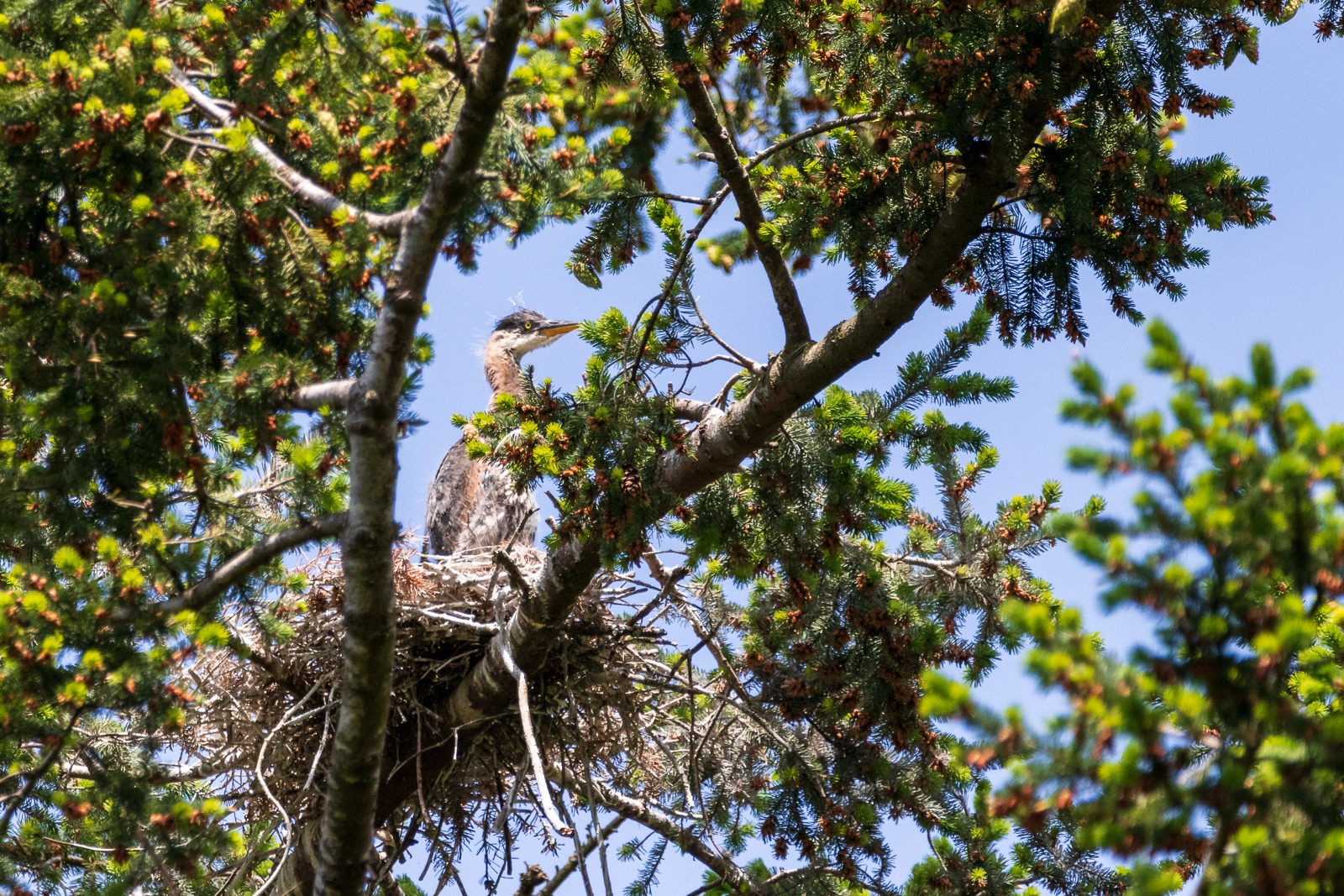 Every year, Great Blue Herons form a massive nesting colony (called a heronry or rookery) by Goodacre Lake in Beacon Hill Park, where they build nests, lay eggs and raise their young. The herons arrive around January to February and stick around until mid-summer when their offspring can fly.
It's a lot of fun watching the adults awkwardly land in trees, seeing heron chicks begging for food, and watching juveniles clumsily fly around. You might even see bald eagles hunting around the nests!
You'll probably hear or smell the heron rookery before you see it! Because the heron chicks can't leave the nest, the plants and pathways underneath the colony get stained white and the air fills with quite a fishy stench. And, if you hear snapping and screeching noises, you'll know that you're close. However, while these birds may be stinky and loud, the herons are extremely cool to watch and popular with visitors to the park!
Cost: Free
Time: Approximately February to July/August
Duration: 1 hour
Location: Goodacre Lake at Beacon Hill
9. Feel like a Giant in Miniature World
Have you ever wondered what it feels like to be a giant? Why not head to Miniature World and find out!
Fun for both children and adults, visiting Miniature World is like stepping into a new universe – one that has shrunk, that is! Located inside the famous Empress Hotel, Miniature World has interactive dioramas depicting scenes from around the world and through history. You'll spend hours looking at all the details and figures in the miniature scenes!
Cost: $18 per adult / $9 for children
Time: 10 am-5 pm, Wednesday-Sunday
Duration: 1-2 hours
Location: 649 Humboldt Street
10. Try some Acroyoga at Beacon Hill Park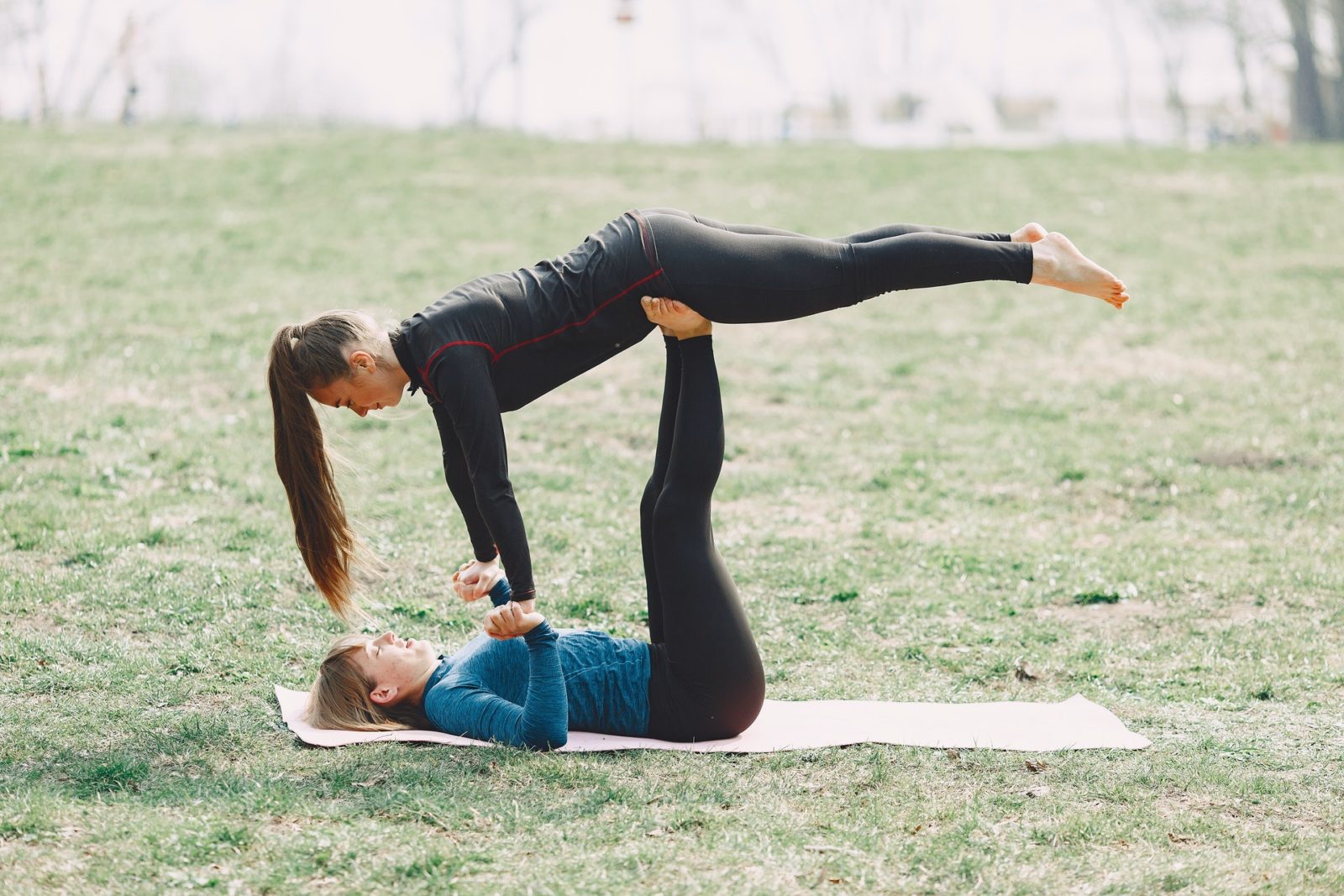 Have you and a partner ever wanted to try acroyoga (or acro yoga), a mix of acrobatics and yoga? Well, you are in luck! Every Sunday at Beacon Hill the Victoria Acro Community meets by the Cameron Bandshell to practice acroyoga and other flow arts. It's a lot of fun to watch or to join in!
The jam session is open to anyone, although you might want to take an acro yoga class or two before joining. The acroyoga meetup also has people practicing other movement-based art forms, like juggling, hooping, poi, staff spinning, and slacklining.
There is also often music playing on the weekends at the park, so you can practice and enjoy the yoga jam session while listening to local music! When you're done, head over to the Beacon Hill Children's Farm petting zoo to enjoy meeting the goats, or check out one of the world's tallest free-standing story totem poles near Dallas Road.
Cost: Free
Time: 2 pm, Sundays during summer (weather dependent)
Duration: 1-2 hours
Location: Cameron Bandshell in Beacon Hill Park

11. View the Totem Poles at Thunderbird Park
Located beside the museum, Thunderbird Park displays totem poles and monuments from First Nations (primarily Gitxsan, Haida, and Kwakwaka'wakw) of BC. Their culture and history are a vital part of the land and the province. These poles are replicas and originals from places like Haida Gwaii, Xwatis (Hwates) in Quatsino Sound, and Gitsegukla (Skeena Crossing) by the Skeena River.
While these totem poles are part of Victoria's Royal BC Museum, you can view this attraction for free by the intersection of Douglas Street and Belleville Street. These poles have been displayed since 1941 and were restored by master carver, Mungo Martin, and others.
What is the meaning of Thunderbird in the park's name? In Indigenous culture, Thunderbird is a powerful being who creates thunder from his wings, lightning from his eyes, and rainstorms to water the earth. In the Northwest Coast, he is only depicted at the top of totem poles due to a promise made by the people after he helped them during a food shortage.
Cost: Free
Time: Anytime
Duration: 30 minutes
Location: 638 Douglas Street
12. Marvel at the Mansions in the Uplands Neighborhood
Victoria is one of the richest cities in Canada and also one of the most expensive to live in! One of the most prestigious places to live in Victoria is along Beach Drive and the adjacent streets, in the neighborhood of Uplands.
Along Beach Drive, you can spot huge, expensive mansions lining the streets and backing onto the ocean, displaying all kinds of wealth. Walking down Beach Drive to look at the mansions can be a lot of fun if you've ever been curious about how some of the richest people in BC live. Make sure to respect their privacy though and try to not get too jealous!
As you walk, check out the numerous rocky, pocket beaches at the end of many of the oceanside streets. After, you can head to the nearby Willows Beach, one of the most popular sandy beaches in Victoria, BC.
Cost: Free
Time: Daytime
Duration: 1-2 hours
Location: Uplands neighborhood
13. Go Stargazing at Cattle Point
Sitting under thousands of stars beside the ocean is an unforgettable experience that'll leave you in infinite wonder, every time. Luckily, you can stargaze in the city of Victoria, from the rocky coast of Cattle Point by Uplands Park. Despite being located within the city, this part of Victoria is perfect for enjoying the stars over the ocean on clear nights!
Cattle Point is designated as a dark sky urban star park. It's part of a program that aims to help reduce light pollution in cities and let urban residents experience the beauty of sitting under the stars. The park is perfect for stargazing and sometimes people will even set up their telescopes in the parking lot!
During the daytime, Cattle Point is an amazing place to check out the tide pools. Keep an eye on the tide charts! At night, bring a blanket and a mug of hot chocolate so you're nice and cozy while sitting on the driftwood by the water under the beautiful stars. See if you can spot the milky way on a clear night!
Cost: Free
Time: Nighttime
Duration: 1-2 hours
Location: Cattle Point
14. Walk through History at Macaulay Point Park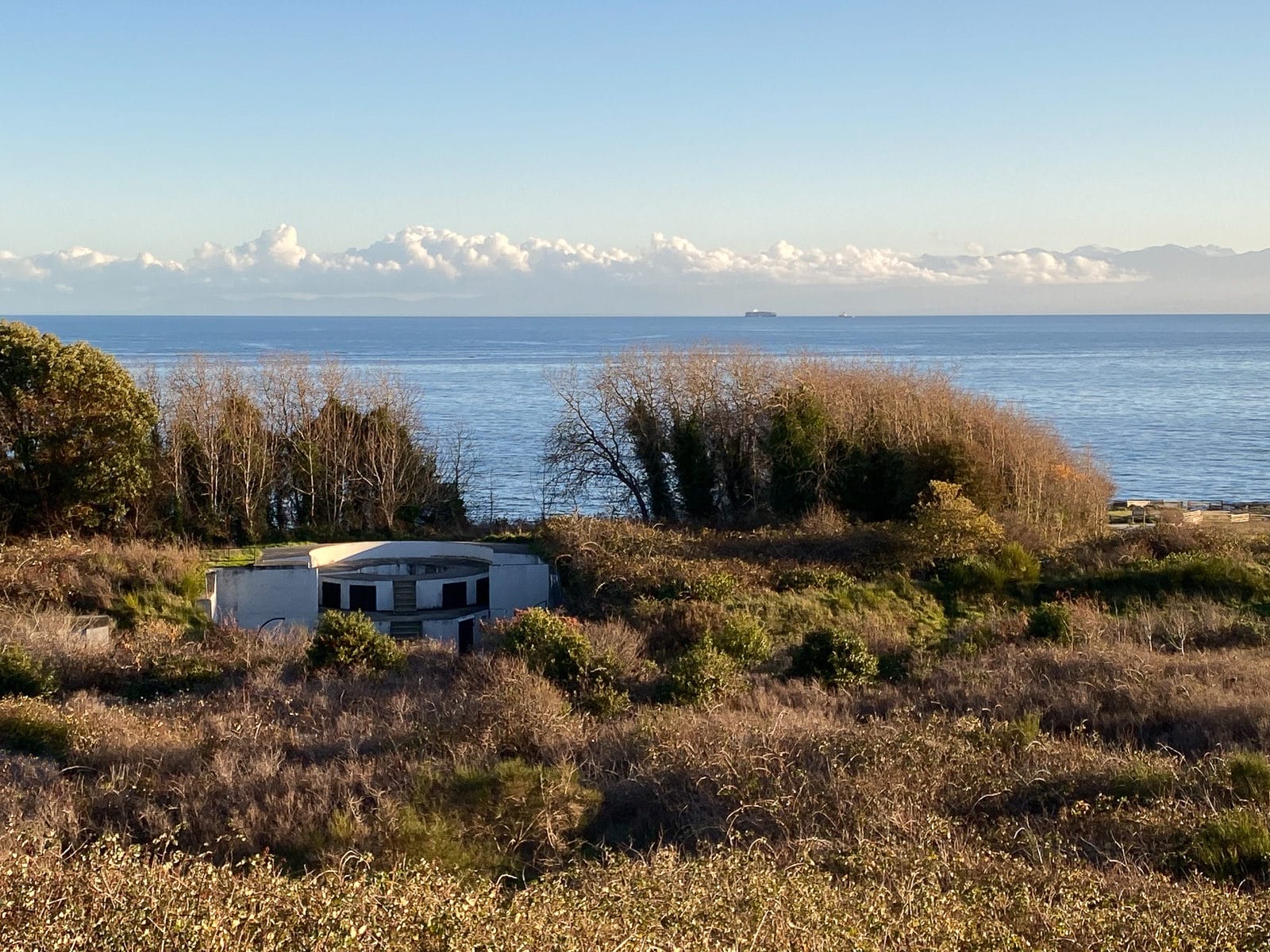 Macaulay Point Park is a hidden gem that many people don't know about, including locals! From the parking lot, this park looks pretty normal. However, as soon as you start walking around this park, you'll realize that it definitely isn't just any park. Here, you can explore the remains of an old coastal defense fortress that used to protect the shores of Victoria!
Macaulay Point Park used to be home to Fort Macaulay, an old military fortification used from 1878 to 1956 to protect the coastline. If you love military history, you'll love walking through this old fort! Macaulay Point Park has lots of old structures, including a gun emplacement and a battery command post, which you can access by walking through a neat little tunnel.
While not as well preserved as Fort Rodd Hill, this historical experience is a great free attraction in Victoria and still lots of fun! When you're done exploring the historical buildings, check out the rock climbers at Fleming Beach, scrambling up the huge rock wall.
Cost: Free
Time: Anytime
Duration: 1-2 hours
Location: Macaulay Point Park
15. Watch the Swiftsure Yacht Race from Clover Point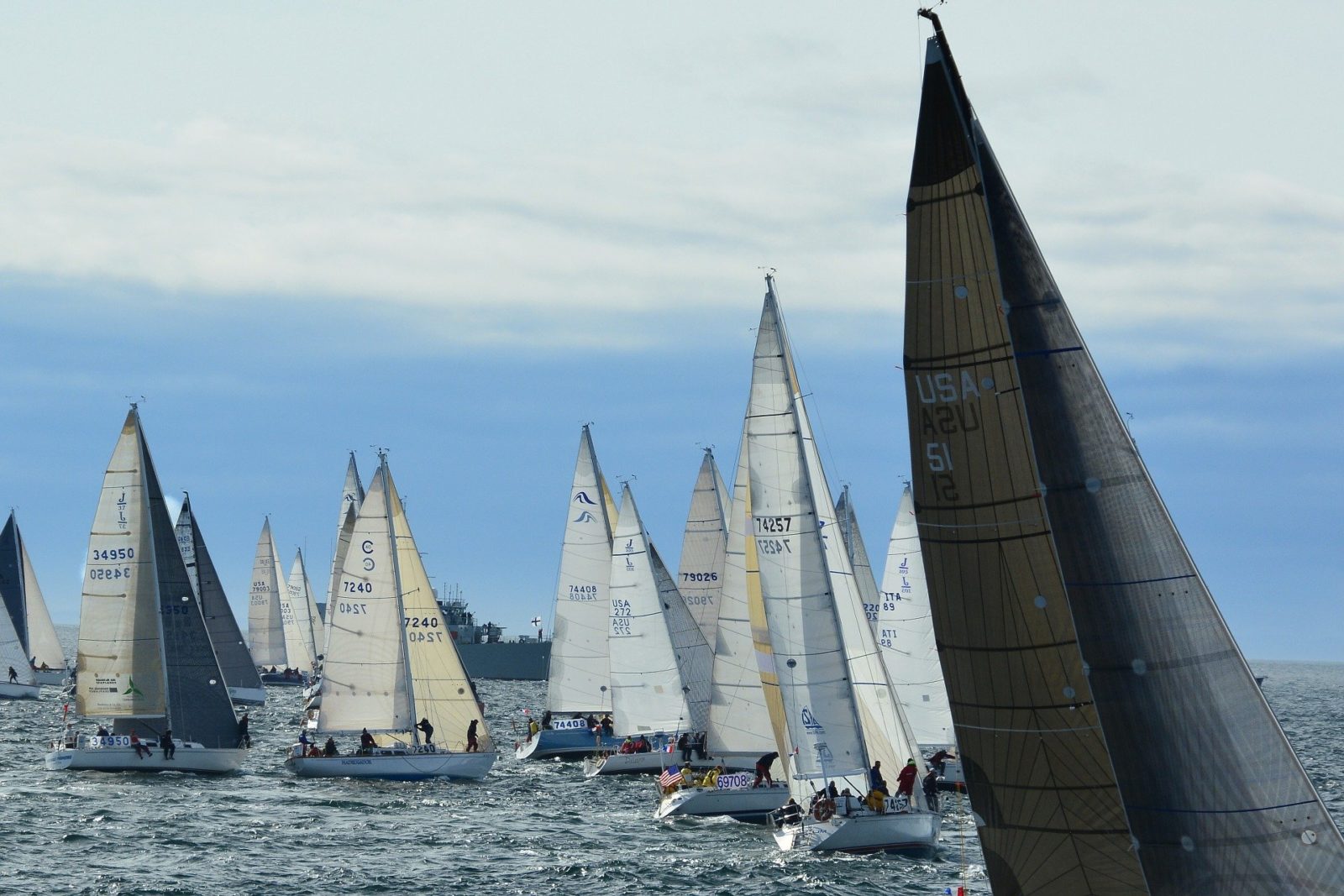 Each year over the Memorial Day weekend, over 200 yachts with more than 1400 crew members race across the ocean as part of the international Swiftsure Yacht Race! During the race, the yacht sailors try to sail across the Juan de Fuca Strait as fast as possible. Each yacht fights to be the first to cross the finish line in this thrilling sailing contest.
This premier yacht sailing race is hosted by the Royal Victoria Yacht Club. There are different race events with varying distances and difficulties, but all require a lot of sailing skills!
While you can't watch the entire race, it's a lot of fun watching the yacht race head out from the shores of Victoria. Head to Clover Point to watch all the Swiftsure boats sail past. It's quite a sight to see all the yachts go past, leaning with the wind! You can see the yachts clearly from shore, but for a better view, bring a pair of binoculars.
Cost: Free to watch
Time: Memorial Day weekend
Duration: 1 hour
Location: Clover Point
16. Drive to Mile 0
If you ever take a road trip across Canada, you will be driving on the Trans-Canada Highway (otherwise known as Highway 1 in BC). This long highway spans the entire country and connects many major cities in Canada. We're sure you've heard of it!
This super important highway starts in Victoria at Mile 0. The spot is marked by a sign on the grassy field at the Douglas Street and Dallas Road intersection. If you ever visit St. John's on the east coast, you can find the other end of the Trans-Canada Highway – although they also call their side Mile 0!
The Mile 0 marker is also home to a statue of Terry Fox, a famous Canadian who set off from Newfoundland on a cross-Canada Marathon of Hope after losing his leg to cancer. His mission was to fundraise for cancer research. While he unfortunately never made it to Victoria, the statue stands in his honor in the place where he would have finished the marathon.
Cost: Free
Time: Anytime
Duration: <15 min
Location: Douglas Street and Dallas Road intersection
17. View the Ocean from the Gonzales Observatory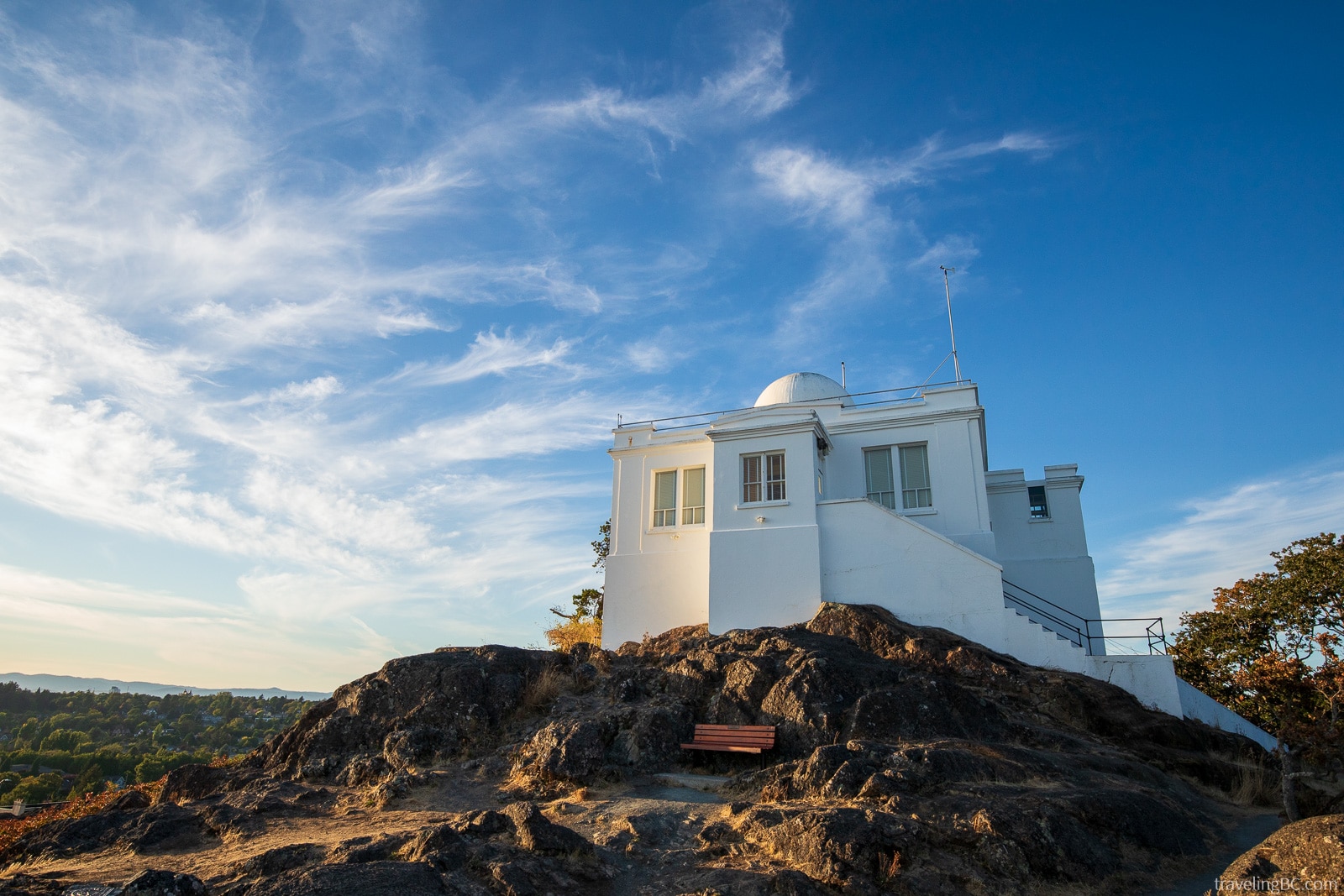 If you're driving around the south side of Victoria, you might spot a striking white building on the top of a hill looking over the ocean and contrasting beautifully against the dark rocks. This is the Gonzales Observatory, a weather station turned heritage building that overlooks Gonzales Beach (one of the most beautiful beaches in Victoria) and the city.
For 75 years, the Gonzales Hill Observatory served as a weather station for Environment Canada. After it was abandoned, the observatory and surrounding land were converted into a gorgeous park.
The observatory is located in Gonzales Hill Regional Park, the smallest park in the Greater Victoria region. This small park offers unparalleled views of the Olympic mountains over the Juan de Fuca Strait. The park is also home to rare wildflowers, Garry oak trees, and California quail. While you can't go inside the observatory, Gonzales Hill is the perfect place to watch the sunset over the Sooke Hills or get amazing views of Victoria!
Cost: Free
Time: Anytime
Duration: 1 hour
Location: Gonzales Hill Regional Park
18. Try a Discovery Flight over Victoria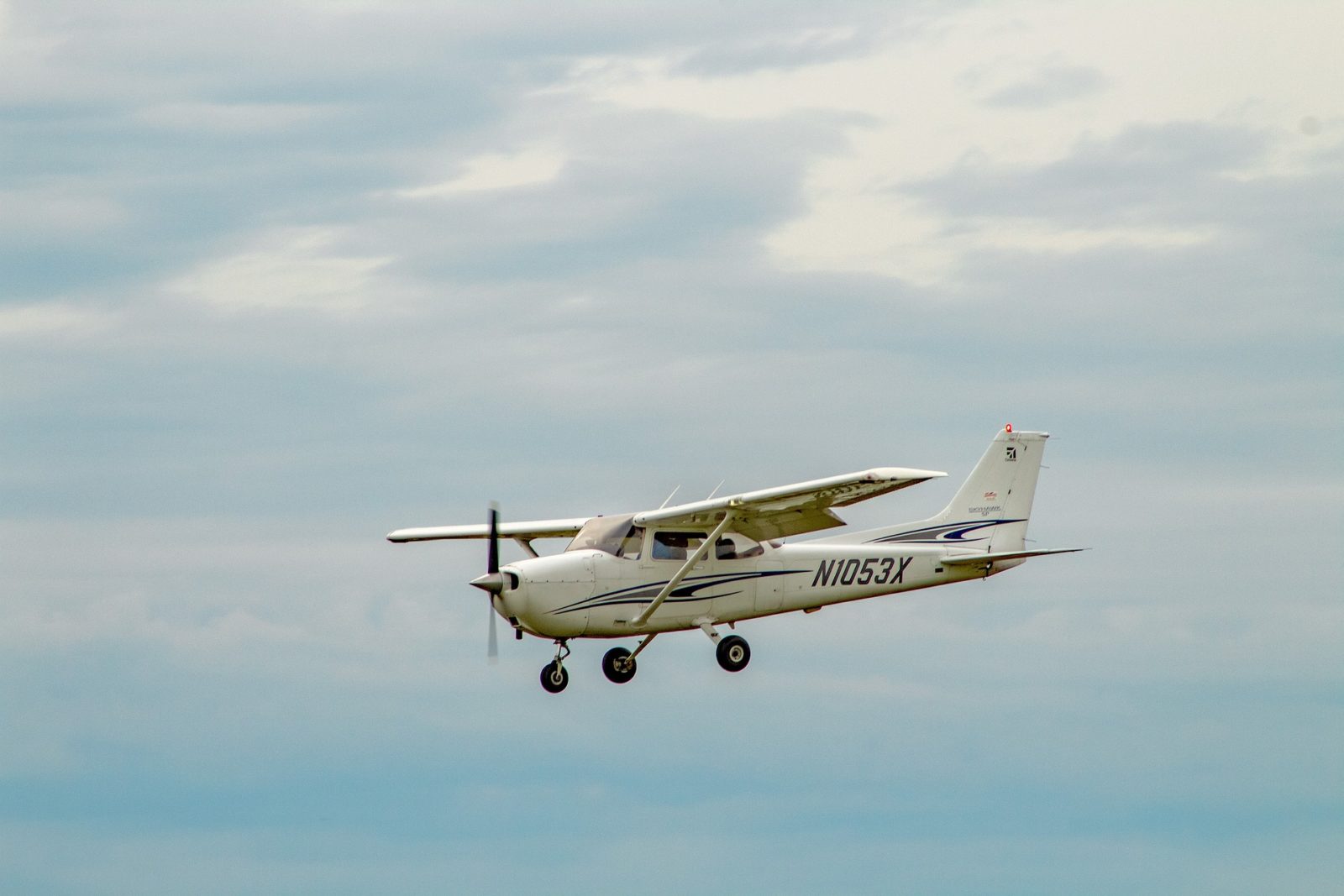 Have you ever wondered what it feels like to fly a plane? Try a discovery flight with the Victoria Flying Club!
A discovery flight is exactly what it sounds like: an introduction to aviation and flying an airplane for someone who hasn't flown before. This introductory flight is meant to introduce potential students to a flight school and the instructors, and to let them experience what flying a plane feels like.
First, your private flying lesson will involve a pre-flight briefing and training orientation of the aircraft on the ground. Then, the fun begins!
In the second half of the lesson, you will be in the air, flying over the city. You'll even be given a chance to control the plane under the tutelage of the pilot. This is an unforgettable experience and will give you a brand new perspective on flying!
Cost: $250 per hour
Time: By appointment
Duration: 2 hours (about 60 minutes flying)
Location: 101 – 1852 Canso Road
19. Visit the Emily Carr House
Emily Carr was a famous Canadian artist and writer, who lived between 1871 and 1945. She was famous for capturing the spirit of Canada through paintings of First Nations culture and West Coast forests. Additionally, she wrote an autobiographical series of books and short story collections.
Her childhood home, the Emily Carr House, is a national historic site in Victoria. The house celebrates her life through historic exhibits, education programs, and tours. You can tour the house by appointment or wander around the gardens for free. Learn about a Canadian icon and her vibrant life!
Cost: $6.75 / By donation
Time: Opening hours
Duration: 1 hour
Location: 207 Government Street
20. Cruise around in a Hot Tub Boat
Cruise around the Upper Harbour and Gorge Waterway in style… in a hot tub boat! Seriously, you can sit in a hot tub while exploring the coastline! Doesn't that sound amazing?
Renting a hot tub boat is truly a unique experience to view the waterway. Offered by Hot Tub Boat Victoria, you can relax in hot water that is heated by an onboard stove while touring the waterway. The rentals come with a Bluetooth speaker, water bottles, and dry bags to protect your phones.
Each boat sits up to 6 people, so you can bring friends or take the hot tub boat out on a romantic cruise for two. After soaking in a hot tub boat, you won't look at normal hot tubs the same way ever again!
Cost: $65 per person
Time: By scheduled bookings
Duration: 2 hours
Location: 450 Swift Street
Unique places to stay in Victoria, BC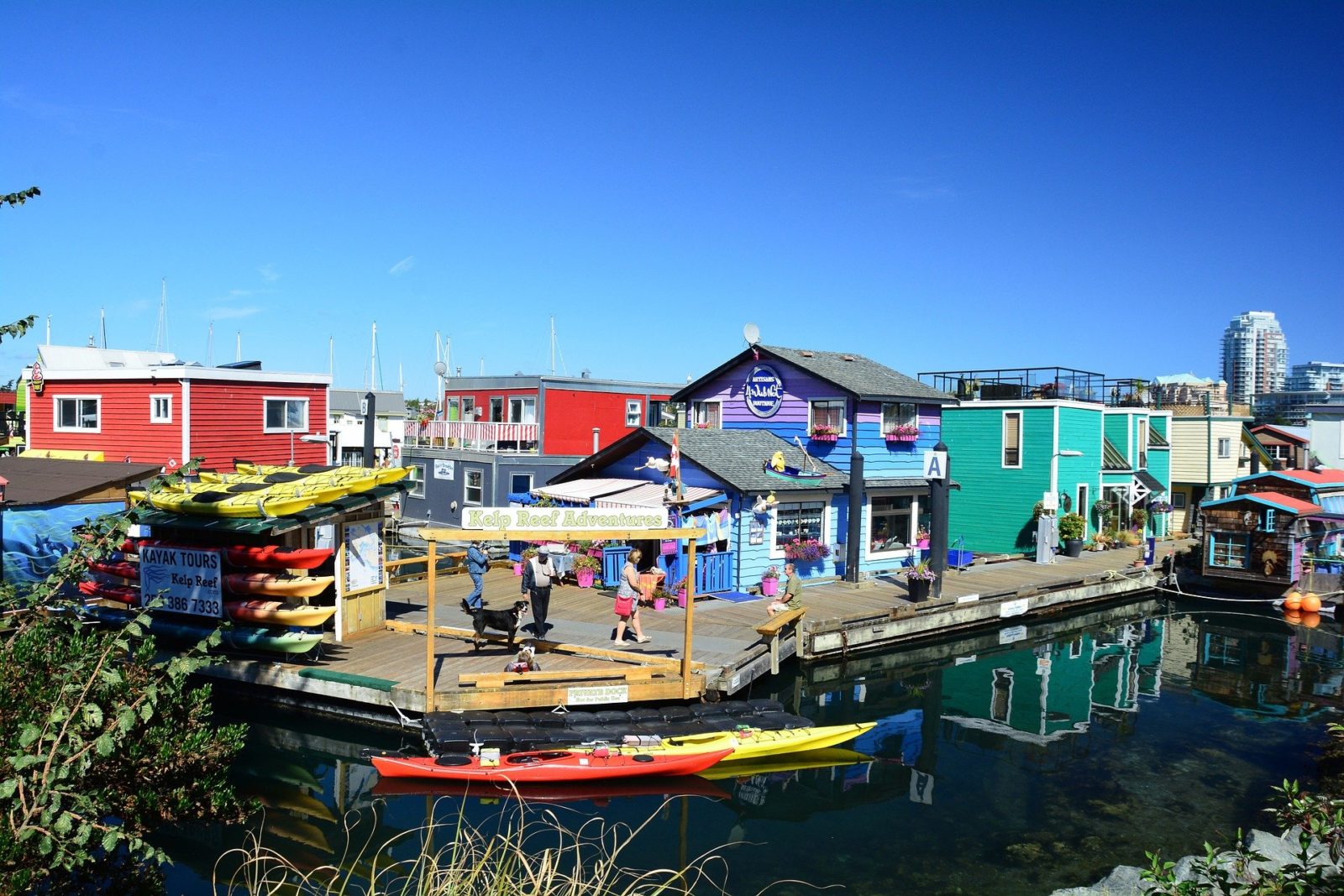 In addition to these unusual things to do in Victoria, there are many unique places to stay when you're visiting this BC city. Here, we've listed a few of the more unique accommodations within the city. All of these hotels are great choices for your vacation. Each hotel has its own unique features and charm that you will definitely enjoy!
Unique Restaurant Experiences in Victoria, BC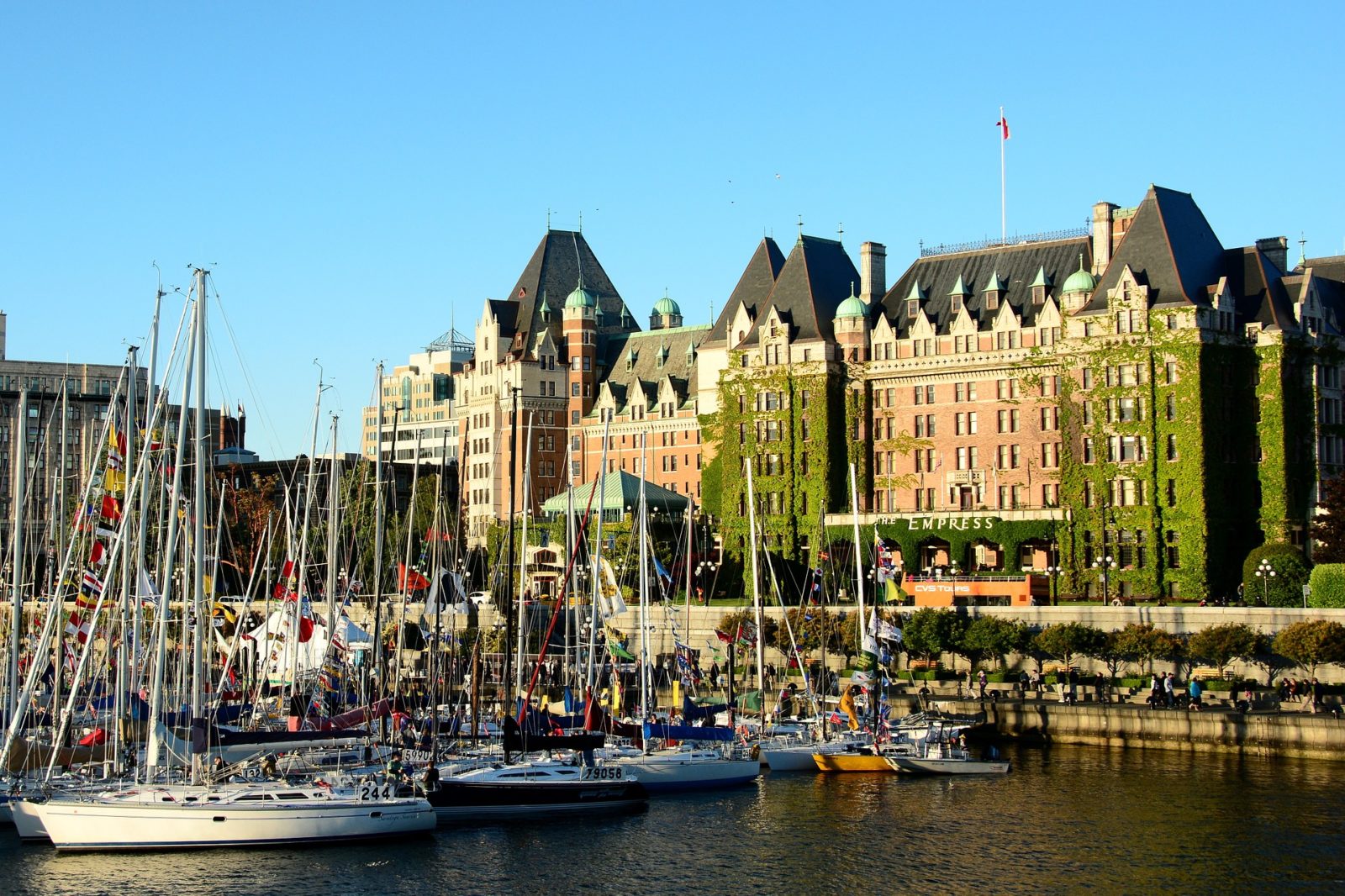 After trying out some of these unusual things to do in Victoria, you might be looking for a more unique or unusual restaurant experience. Here, we've listed some unique dining experiences that you can have in Victoria.
Pedal pub crawl: Pedal between restaurants in style with The Rolling Barrel, a multi-person bike that will tour you around Victoria's amazing restaurants. This bike sits up to 15 people, but you need at least 10 to get it rolling. While you can't eat or drink alcohol on the bike, it's a really unique way to explore Victoria's iconic pubs and downtown area. Each tour is 2 hours, with three stops at various restaurants. It's a lot of fun and a great experience!
Water taxi pub crawl: Another unique restaurant experience that Victoria offers is the Pickle Pub Crawl, a tour between the best pubs of Victoria by boat! For groups of four people, the water taxi will cruise around the harbor, stopping at all of Victoria's best watering holes. While you can't eat or drink in the water taxi, they give each group one complimentary appetizer per restaurant with beverage purchases. This pub crawl experience is really unique to Victoria and definitely unforgettable!
Other Things to Do and Attractions around Victoria
If you're still looking for more things to do, here are a few more ideas:
Take a day-trip to a Gulf Island: These beautiful islands are just off the coast near Victoria. Our favorite is Galiano Island because it's got a lot of things to do and we love the white shell beach at Montague Harbour. Don't know how to get to Galiano Island? Here's a guide for getting to Galiano Island from Victoria!
Walk along the ocean: If you're in Victoria, you have to explore all the oceanside pathways around the city! Try the popular Ogden Point Breakwater near downtown Victoria, the nearby Dallas Road Waterfront Trail, or the Songhees Walkway.
Look for some waterfalls near Victoria: There are so many waterfalls near the city to choose form. Some of our favorites are the waterfalls at Sandcut Beach in Jordan River Regional Park, Mystic Beach and Sombrio Beach in the Juan de Fuca Provincial Park, and Niagara Falls at Goldstream Provincial Park.
Explore the rest of Vancouver Island: Head up island and explore some of the other attractions on the island!
Final Words
Victoria is a beautiful city and we highly recommend visiting it, whether you enjoy activities that are touristy or more unique. The city has lots of attractions and you will always be able to find lots to do. It's one of our favorite places in British Columbia and we love getting to explore everything that the city has to offer. Hopefully, this list of unusual things to do in Victoria is helpful to you in planning your vacation or finding new ways to explore the city!
Top Travel Tips & Resources for Victoria, BC