Macaulay Point Park in Esquimalt is one of the true hidden gems found around Greater Victoria, BC. This beautiful historic park with all its secret wonders is hidden in plain sight. It's actually hidden so well that even many locals don't know about it!
From the outside, Macaulay Point Park looks inconspicuous and unremarkable. However, as soon as you start exploring the park, you'll realize that it is something quite special!
Home to an old military defense fortress called Fort Macaulay, Macaulay Point Park is a military historic site, with many unique old buildings. If you like history or enjoy Fort Rodd Hill, Macaulay Point Park is the perfect, free addition to your travels around Greater Victoria!
Additionally, the park has an extremely popular rock-climbing wall at Fleming Beach. Also, many endangered or rare protected plant species live in the park.
In this article, we provide everything that you need to know about Macaulay Point Park and Fleming Beach, including how to get there, information on rock climbing at Fleming Beach, Fort Macaulay's history, and more!
How to Get to Macaulay Point Park and Fleming Beach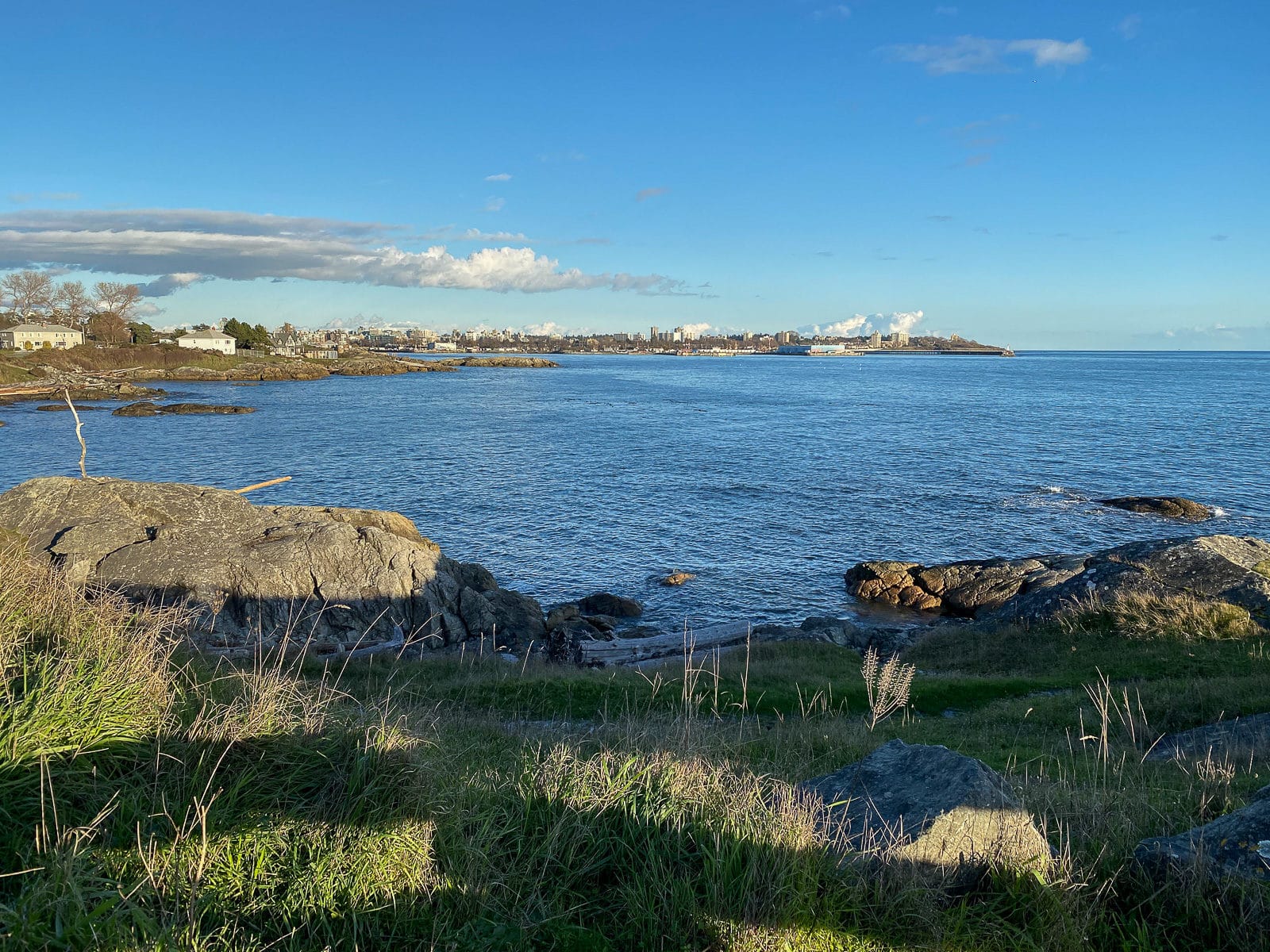 Here we provide information on how far Macaulay Point Park and Fleming Beach are from downtown Victoria, and how to get to the park.
Map of Macaulay Point Park and Fleming Beach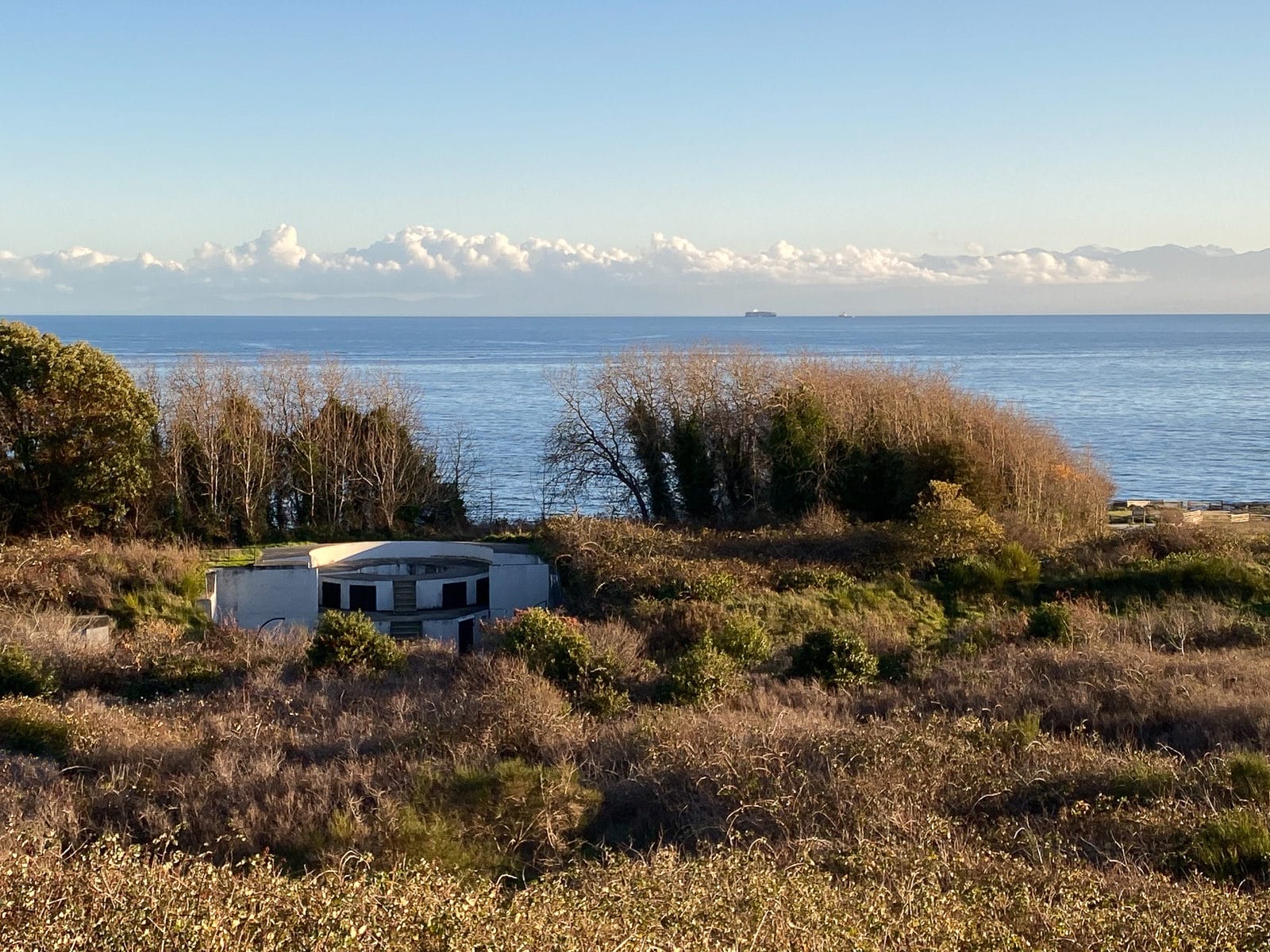 Macaulay Point Park and Fleming Beach are located in Esquimalt, which is part of the Greater Victoria region in southern Vancouver Island. Here is a map of Macaulay Point Park's location:
Distance from downtown Victoria to Macaulay Point Park
Macaulay Point Park is about 5km from downtown Victoria. You can get to the park from downtown Victoria by car, public transportation, bike, or even on foot!
By car, it will take about 10 minutes to drive from downtown Victoria to Macaulay Point Park. With public transportation, it will take about 20-25 minutes. Because it's so close to downtown Victoria, it doesn't even take that long to walk! It'll only take you about 1 hour of walking. On a bike, it should only take you about 17 minutes to get to the park from downtown Victoria.
Directions to Fleming Beach and Macaulay Point Park
Getting to Macaulay Point Park and Fleming Beach from downtown Victoria is quite straightforward.
From downtown Victoria, all you have to do is cross the Johnson Street Bridge on Pandora Avenue, then follow Esquimalt Road west. When you get to Lampson Street, you'll turn left. From there, follow Lampson Street south until you are at Munro Street.
At Munro Street, you can either turn right or left to get to Macaulay Point Park. If you turn right onto Munro Street, you'll immediately come across the parking lot for Fleming Beach. We prefer entering the park from this side because this is the only spot near the park with good parking.
Alternatively, if you turn left at Munro Street, you can access the park from either Clifton Terrace or Anson Crescent. Neither road has parking or bike racks and is mostly just an entrance for people on foot.
Macaulay Point Park and Fleming Beach Parking
There is lots of parking near the Fleming Beach boat ramp. The parking lot is marked by a "Macaulay Point" sign with an anchor in front of it. Also, there is a sign for the Fleming Beach boat ramp and the Buxton Green.
All of the parking is free. There is no parking between 11 pm and 4 am. Additionally, the parking lot has lots of space for parking your boat trailer.
Fleming Beach Rock Climbing and Bouldering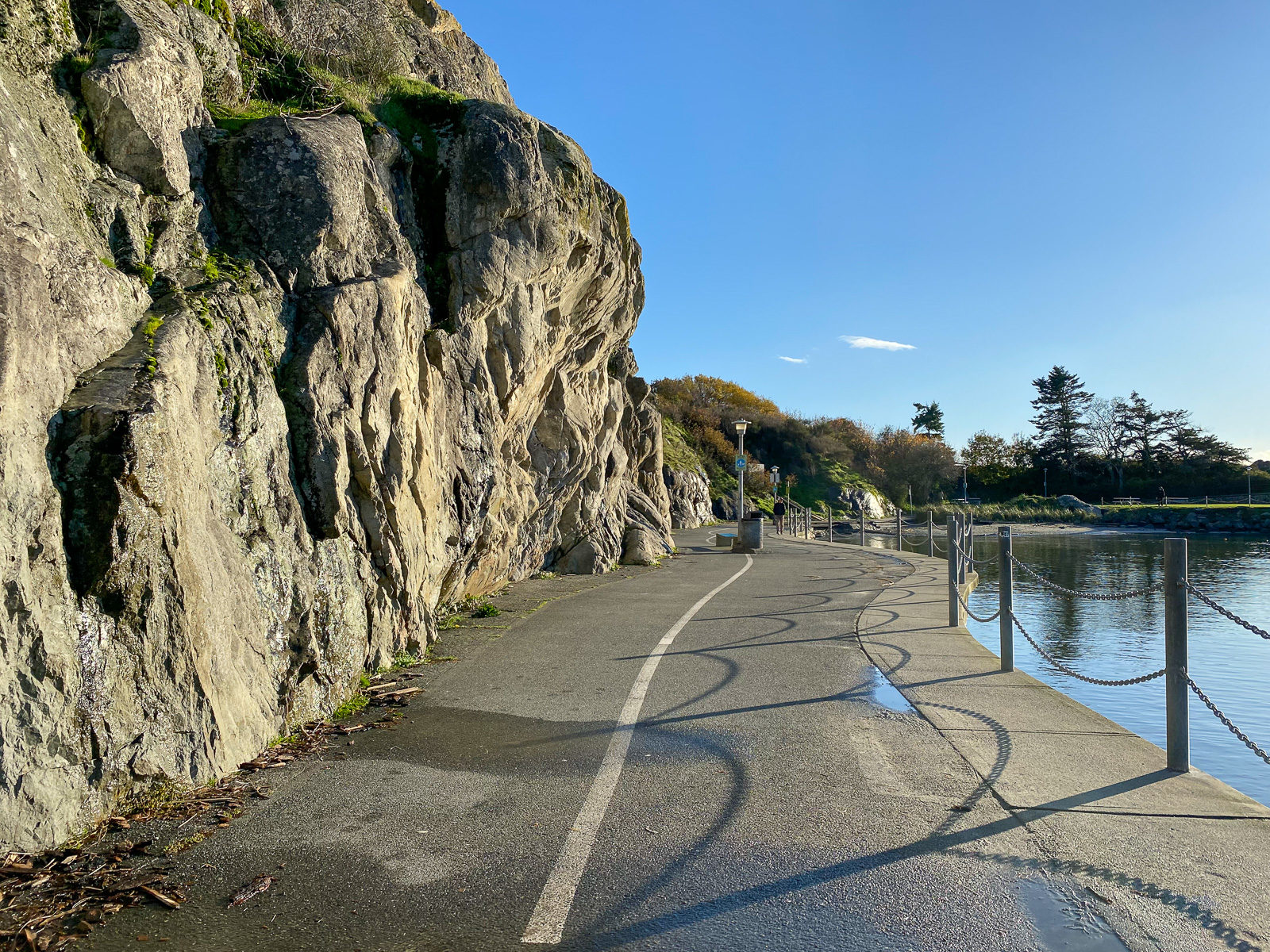 When you first enter the park from the parking lot, you'll immediately notice a large rock wall beside the ocean. Often, you'll be able to spot rock climbers hanging off the rock. A sign painted on the ground warns you to watch for people climbing above the path.
The rock wall at Fleming Beach is one of the best spots to go rock climbing and bouldering right in the city of Victoria. On summer days, the climbing wall gets quite busy as Fleming Beach is a very popular outdoor climbing area.
Almost every surface of the rock wall at Fleming Beach is climbed in some way or another. People visit the rock wall to either boulder or top rope (rock climbing using a rope and harness).
The wall is great for practicing long bouldering traverses, including the "Jane Fonda Traverse" (bouldering from one end of the wall to the other, and back). The main wall is the most popular climbing spot, but you can also climb at the Fisherman's Wall (by the parking lot), Barbwire Boulder (at the top of the hill), and The Overhang (the bulging rock at the start of the beach).
If you like top-roping, the anchors for the cliff are easily accessible. Just head to the end of the rock wall and follow the path up near the concrete box structure. Watch out for loose rock on the path up!
You can find information on the climbing routes in Al Agopsowicz's Vancouver Island Climbing Guidebook (sold at MEC) or on the Fleming Beach page on Sendage. Also, the Fleming Beach Eliminates website has great information on bouldering routes. If you're bouldering though, you can pretty much pick any spot on the wall to try climbing!
Fleming Beach Rock Climbing Permit
Esquimalt requires that you have a climbing permit if you are bouldering or top-roping at Fleming Beach. The annual climbing permit costs $10. Here is a blank Fleming Beach rock climbing permit form. You can purchase the permit at the Archie Browning Sports Centre or Esquimalt Rec Centre.
Fleming Bay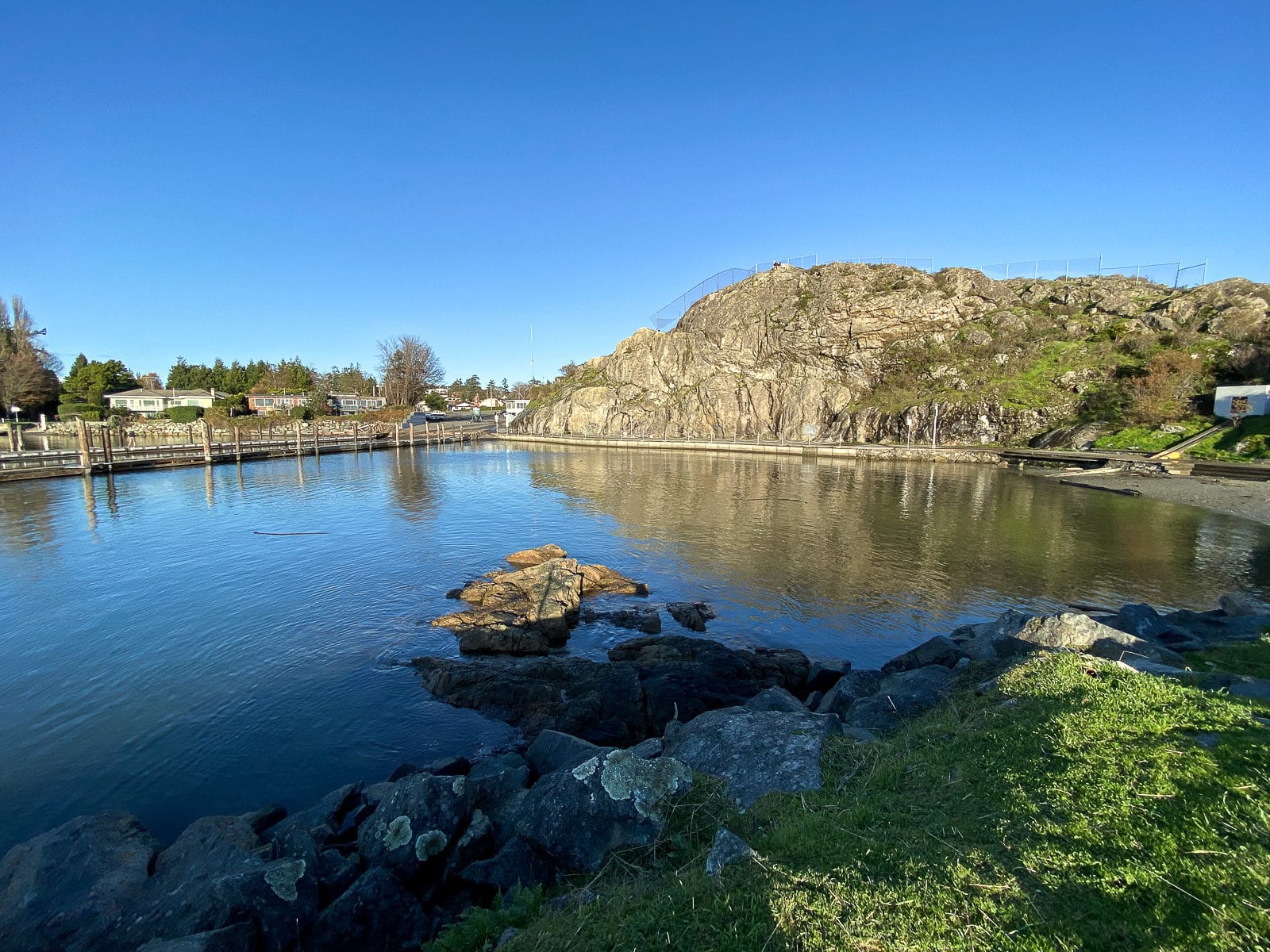 Fleming Bay has calm waters, protected by a manmade rock breakwater that encloses the beach area. You can walk out on this breakwater for a better view of the ocean and the climbing wall.
In the bay, you'll find the Fleming Beach boat launch, as well as a small sand and pebble beach. Often, seals and river otters hang around the docks, looking for fish scraps.
While the beach is tiny, it's still beautiful. It's a great place to sit and watch the rock climbers. If you're looking for larger sandy beaches, check out ourlist of the best sandy beaches around Victoria. We recommend checking out Willows Beach or Gonzales Beach!
History of Macaulay Point Park and Fort Macaulay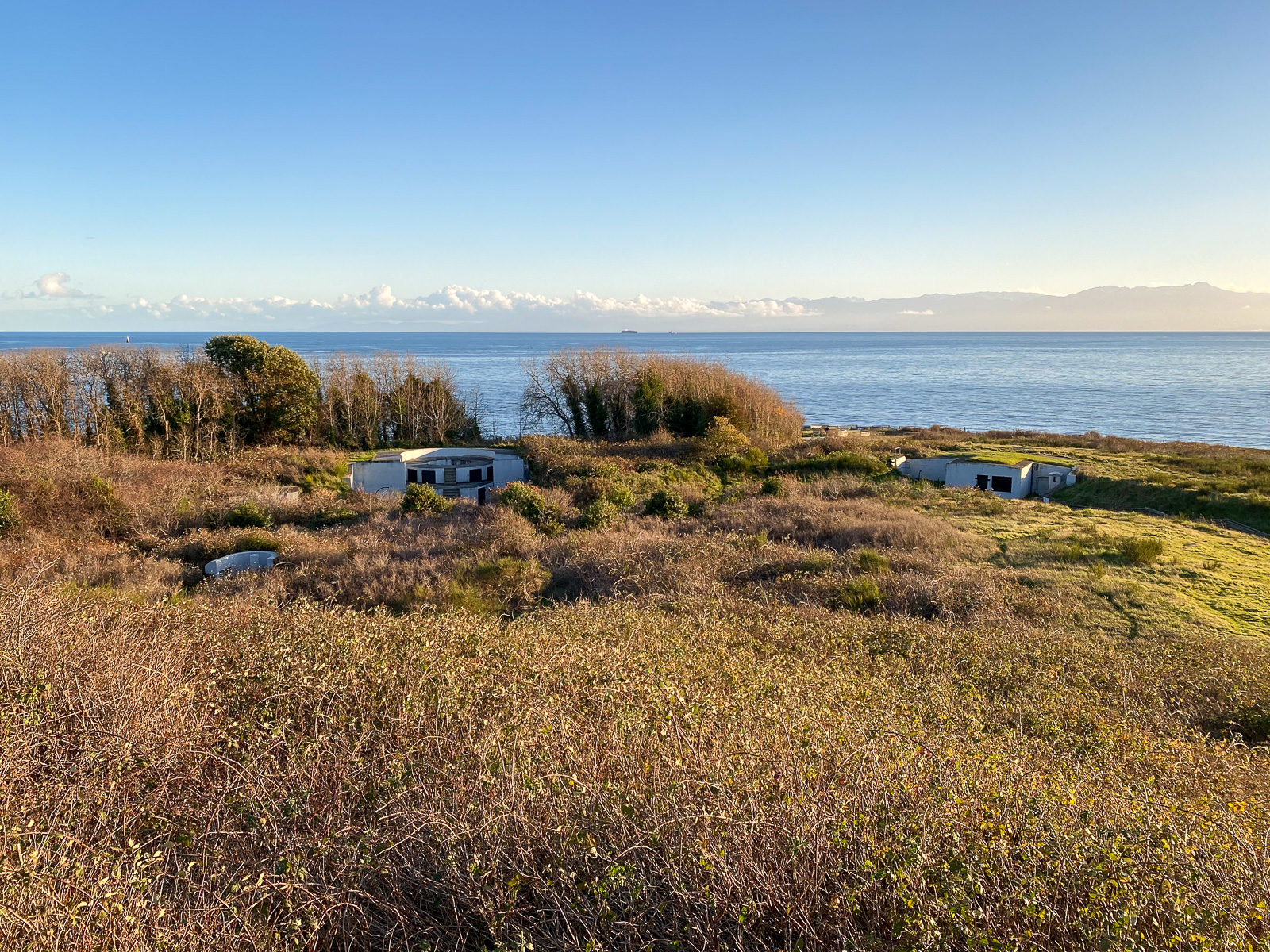 As you walk further into the park, you'll find old military structures built into the hills of Macaulay Point Park. This area used to be the site of Fort Macaulay, a military fortress that guarded the coast of Victoria and Esquimalt. Now, you can find the remnants of the fort throughout the park, in among the shrubs, grass, and blackberry bushes
Many old historical military structures still stand at the park, including gun emplacements and old military buildings and weapon shops. There is even a defense tunnel that you can walk through!
Macaulay Point Park is perfect for a day of exploring old, historic structures. It's also a great spot to learn about some of Canada's coastal history!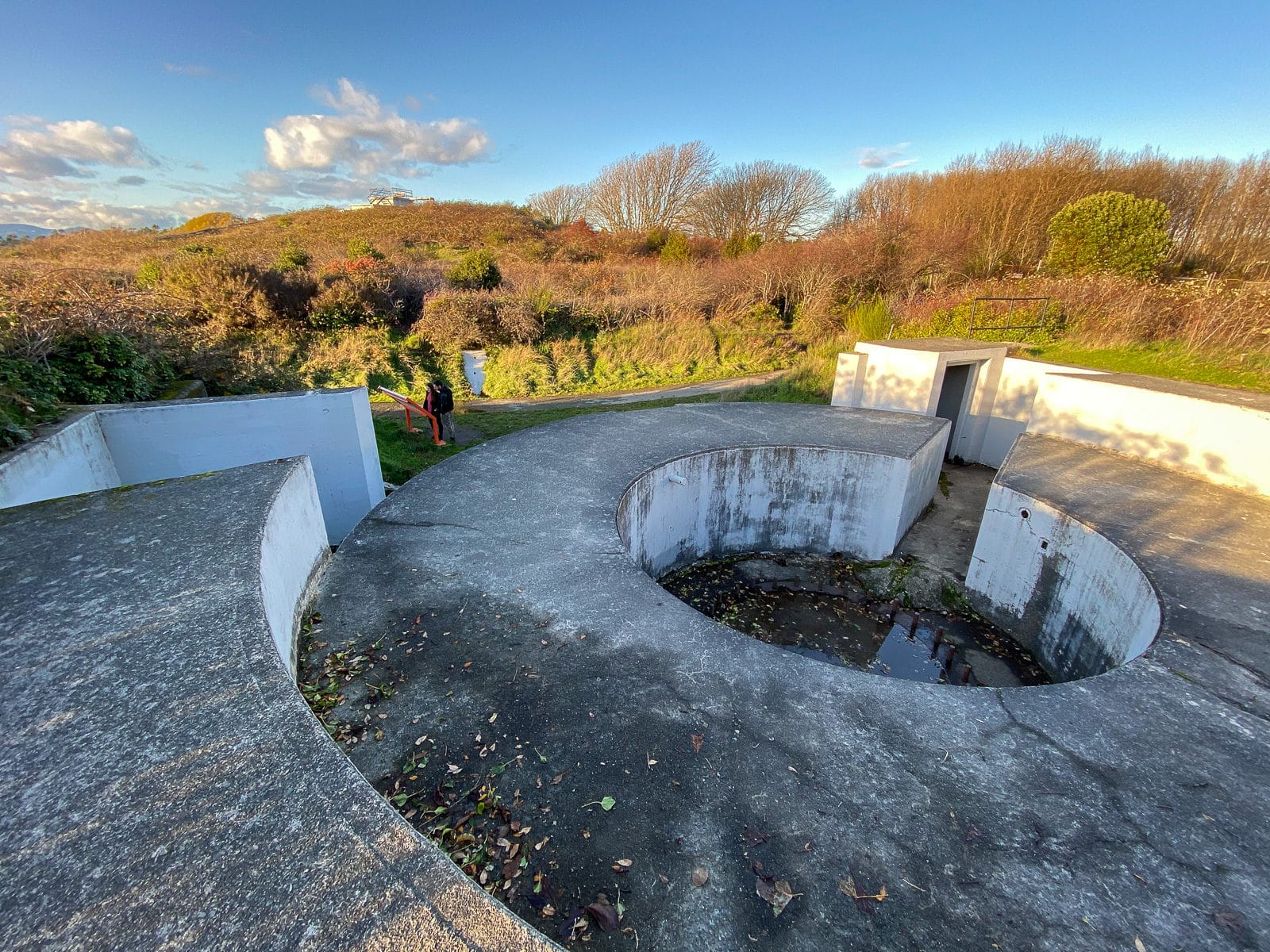 Macaulay Point Park has a long history of coastal defense. It was used originally by First Nations, and then by European colonizers. Here's some history about the park.
Mukwuks
Before colonization, Macaulay Point Park was called Mukwuks and the park lies on the traditional territory of the Lekwungen First Nations. They used the area about 4000 years before colonization occurred. The area used to have a First Nations camp and defensive sites.
As well, the Lekwungen First Nations used Fleming Bay for salmon fishing, with a reef netting station. Additionally, a shell midden has been found in the back of Fleming Bay, one of the oldest archaeological sites in Esquimalt. Unfortunately, much of the midden has been destroyed by city developments.
Viewfield Farm
In 1790, Europeans entered the Esquimalt Harbour area for the first time. In 1850, Mukwuks became known as Viewfield Farm, owned by the Puget's Sound Agricultural Company, a Hudson's Bay Company subsidiary. A bailiff called Donald Macaulay and his family managed the farm. His family name eventually became the namesake of the park.
Fort Macaulay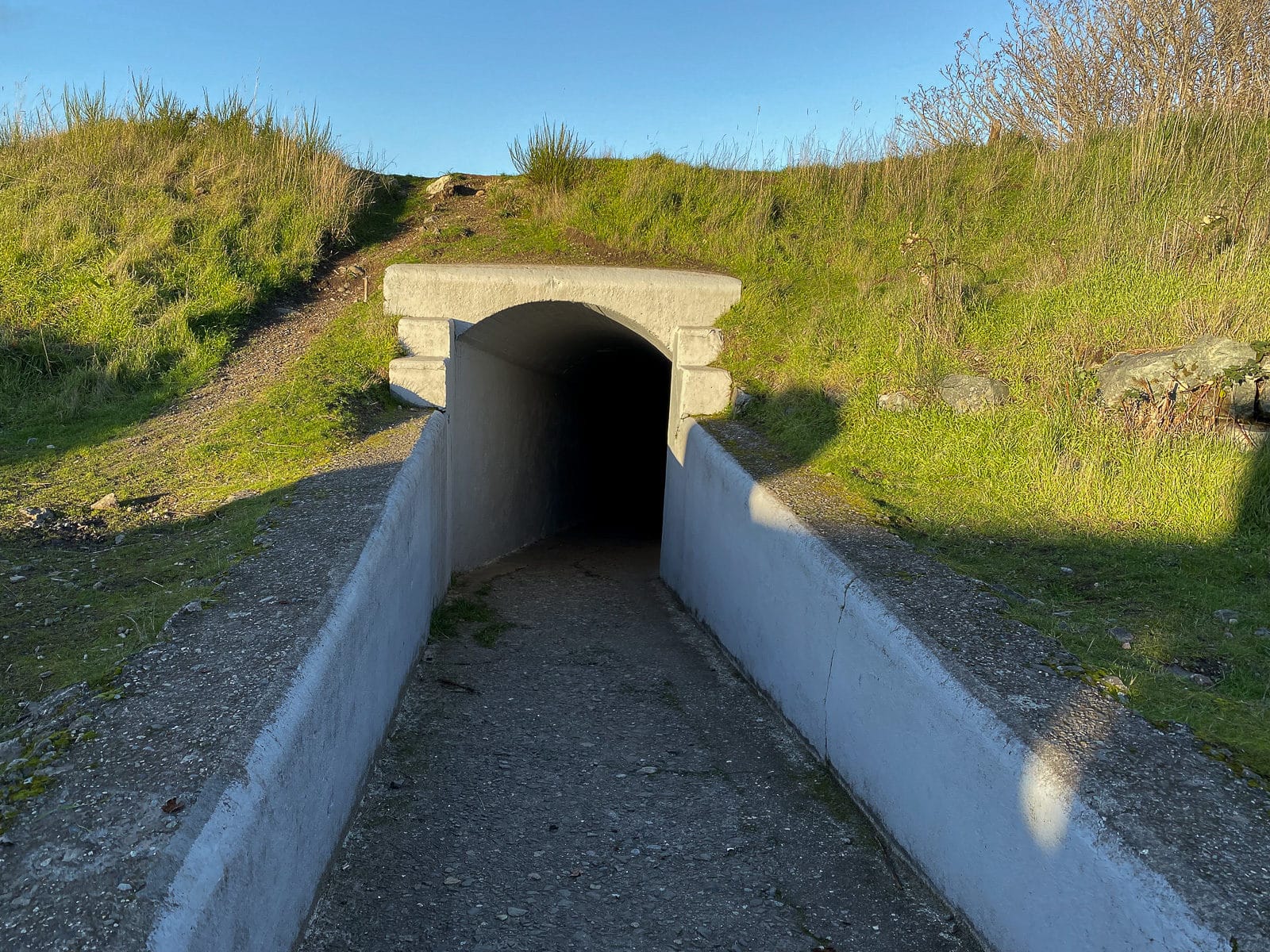 In 1878, the land became used as a coastal defense fortress known as Fort Macaulay. The fort was used as part of the Esquimalt Coast Defence Fortification System, which had artillery batteries and searchlights added across the coast of Greater Victoria. The fort was used to protect the coast and also for military training.
Fort Macaulay was used until 1956, after World War II. From 1985 onward, Esquimalt leased the land from the Department of National Defense. Now, the area is known as Macaulay Point Park, a heritage site in Esquimalt.
At the park, you can still find an old battery command post at the top of the hill, artillery stores and weapons shops, a guardhouse foundation, a defense tunnel, and gun emplacements. Walking through the historic fort site is a great way to learn about a part of Canada's history.
Fort Rodd Hill vs Macaulay Point Park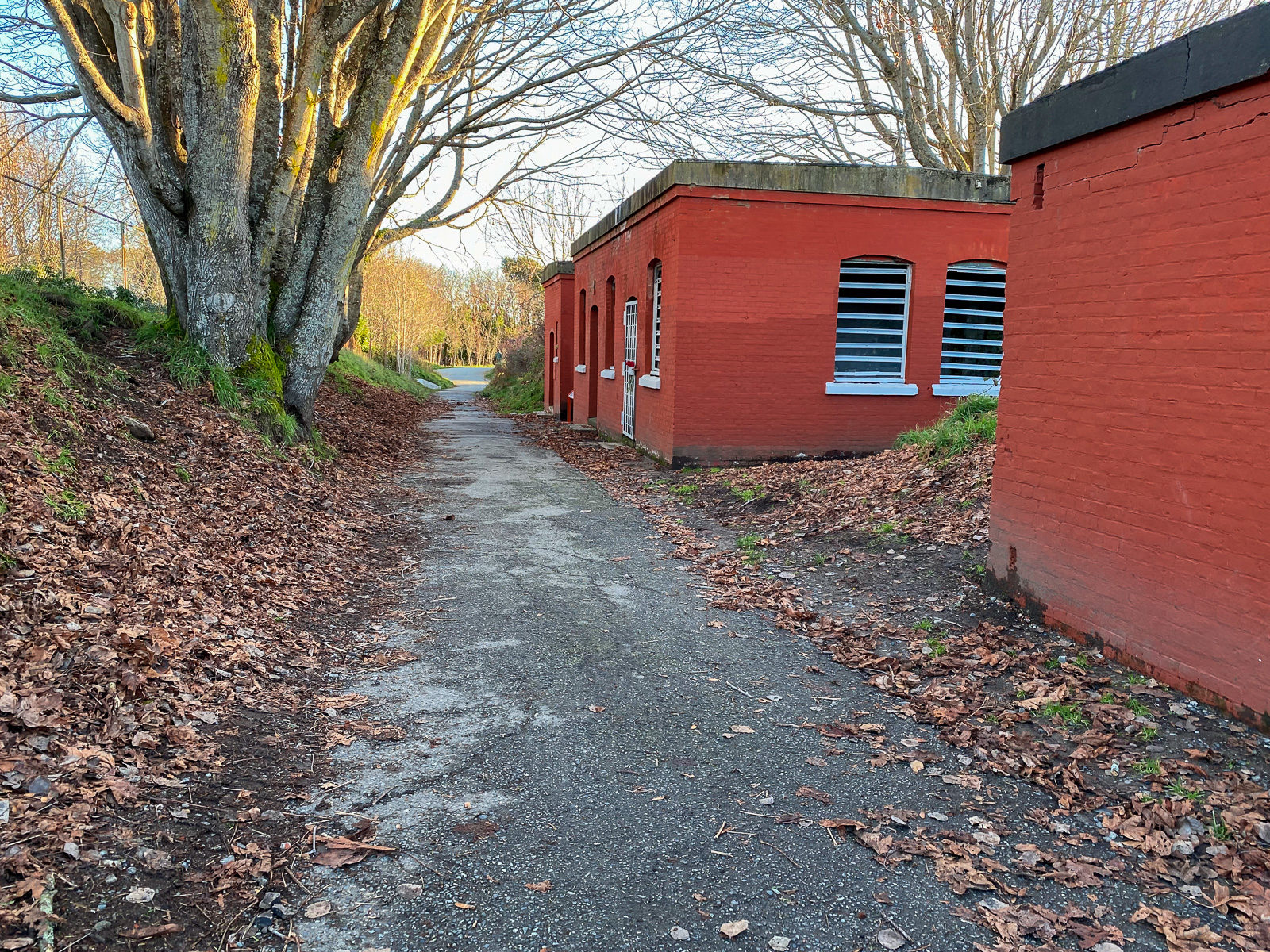 Fort Rodd Hill and the Fisgard Lighthouse are national historic sites in Colwood, managed by Parks Canada. If you love learning about Canada's history, these historic sites are a great place to head with the family!
Trying to decide between visiting Fort Rodd Hill and Macaulay Point park? If you're limited in time and can only visit one place, here is a quick comparison of the two historic sites to help you decide!
Fort Rodd Hill has more historic buildings and is better preserved than Macaulay Point Park. You'll spend more time exploring Fort Rodd Hill, and learning about history with their information boards and historical artifacts. However, there is a small fee (about $8 per adult) for entering the Fort Rodd Hill and Fisgard Lighthouse historic sites, unlike Macaulay Point Park which is free. Also, you can't bring your dog to Fort Rodd Hill, but you can at Macaulay Point Park.
Macaulay Point Park Dog Park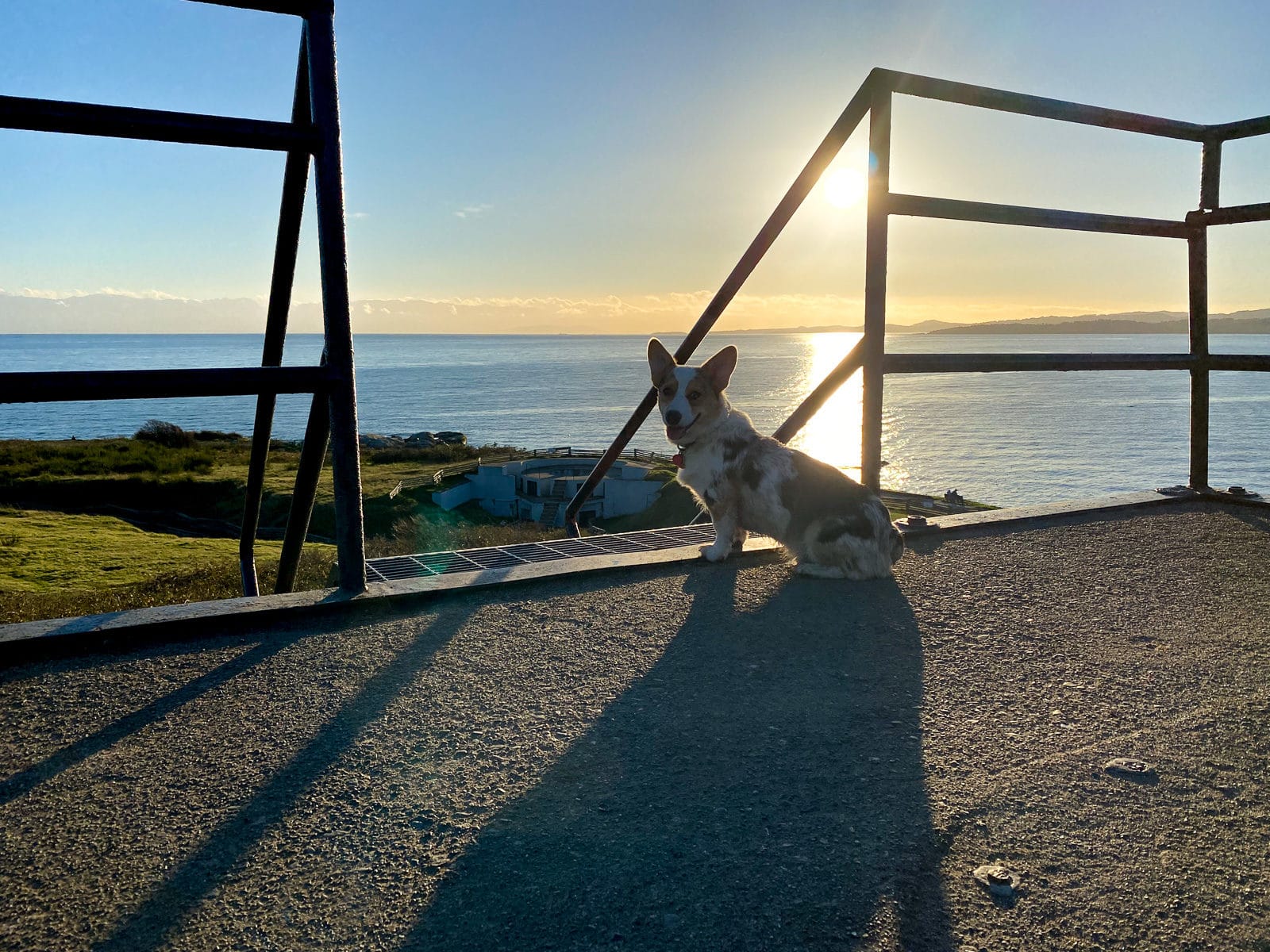 Macaulay Point Park is popular with dog owners, as there is an off-leash area. The off-leash area includes the south part of the park and the breakwater. A sign marks where the leash optional area begins.
Fleming Beach is leash optional from November 1 to May 1. However, at other times of the year (May 2 to October 31), dogs have to be leashed at the beach.
There are many species at risk in the park, protected by wooden fences. There is signage prohibiting you and your dog(s) from entering these protected areas. Be respectful of the area. If you or your pets disobey the signs and enter the protected area, you could receive a large fine!
Fleming Beach Boat Launch
The Esquimalt Angler's Association operates the boat facilities at Fleming Bay. They have a clubhouse and washrooms in the parking lot.
There is a membership fee for using the Fleming Beach boat ramp. The boat launch even has a web camera so you can check the conditions before you leave home!
Buxton Green
The Buxton Green is a small grassy area beside Fleming Bay. There are benches and picnic tables at the Buxton Green, and it's a great spot to watch boats, rock-climbers, and seals. It's also perfect for picnics!
Accommodations in Esquimalt
Best location: Birds of a Feather Ocean Lagoon B&B
Most popular: The Empress Hotel
Budget: Island Travel Inn
Other nearby attractions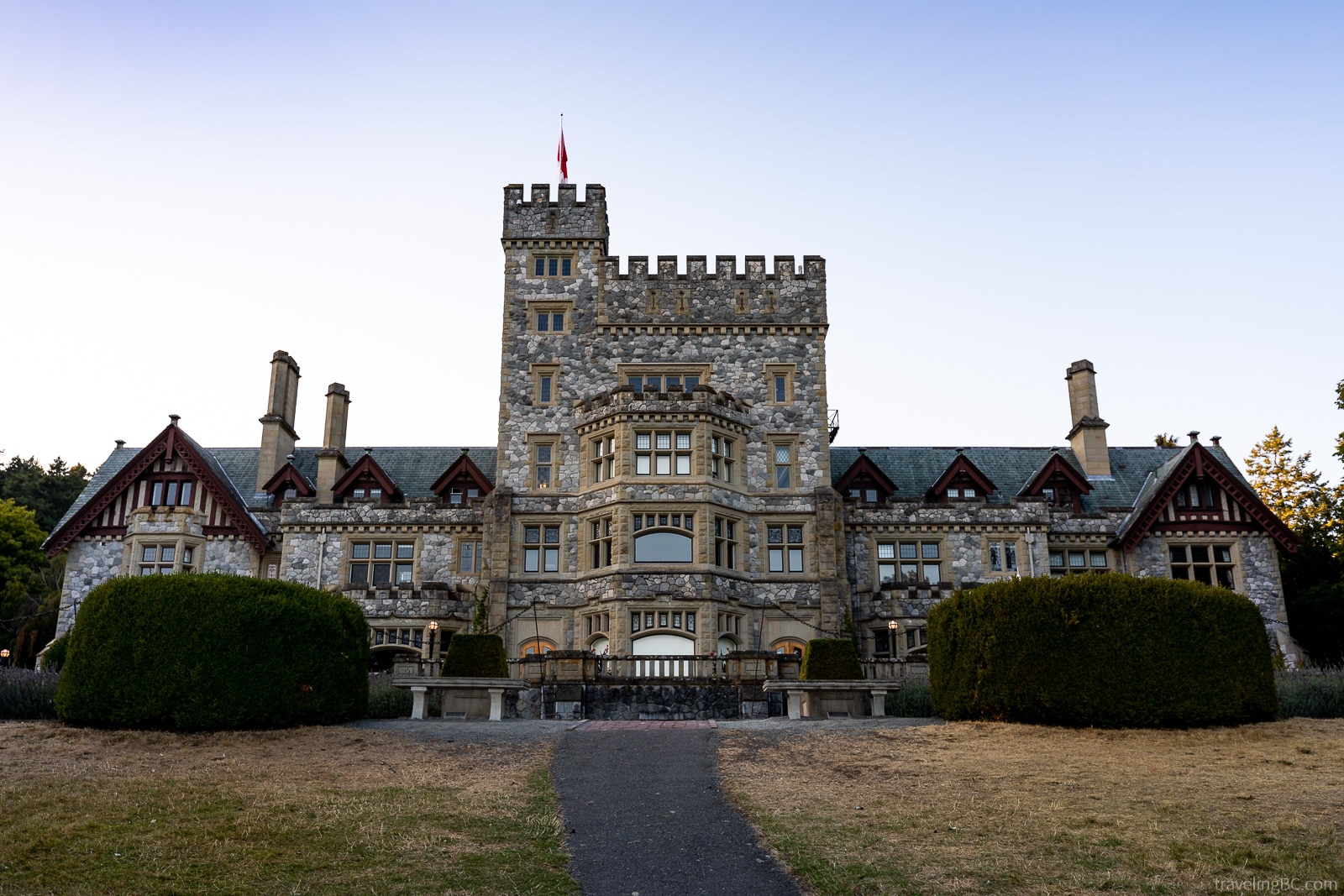 Victoria, BC has all kinds of tourist attractions that you can enjoy. Also, if you love history, the city has many historical tourist attractions where you can learn about the rich culture and history of Victoria!
Fort Rodd Hill and Fisgard Lighthouse are great places to head for a full day of fun. These historic sites are also nearby the beautiful Esquimalt Lagoon in Colwood and the majestic Hatley Castle by the lagoon.
Another great castle to check out is the impressive Craigdarroch Castle, which is close to downtown Victoria. You can tour around this castle and learn about how people used to live in Victoria.
Lastly, the Royal BC Museum is a great place to learn about history. Don't miss Thunderbird Park, a totem pole display located outside of the museum!
Final Thoughts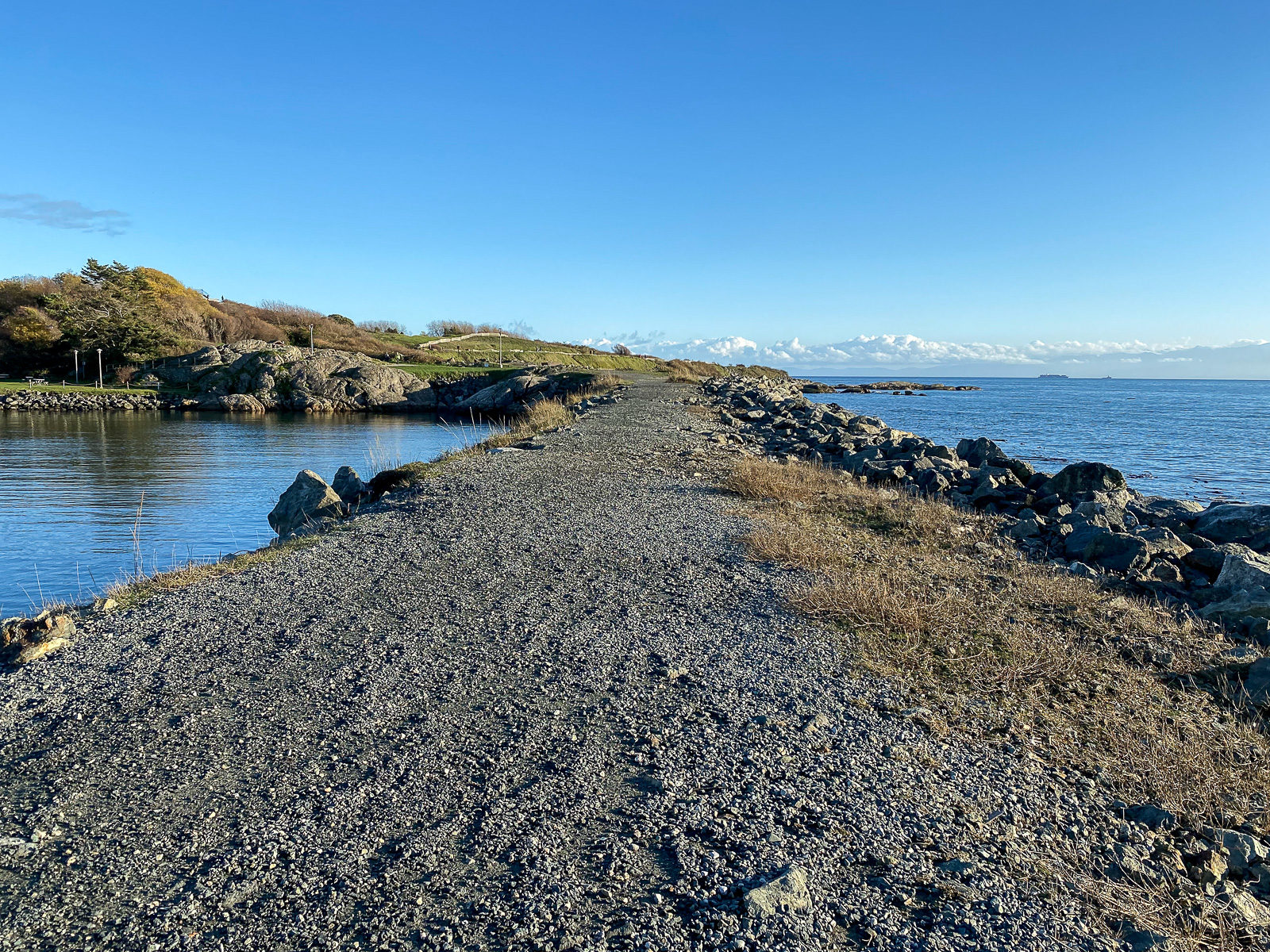 Macaulay Point Park is quite beautiful. It's perfect for a walk along Victoria's coast or learning about some of Victoria's history. This park truly is a hidden gem, with its rock-climbing wall at Fleming Beach, the beautiful Fleming Bay, and the military history of Fort Macaulay. It's definitely worth a visit, especially if you love history!
Here are some other things to do around Victoria and Vancouver Island:
Top Travel Tips & Resources for Victoria, BC