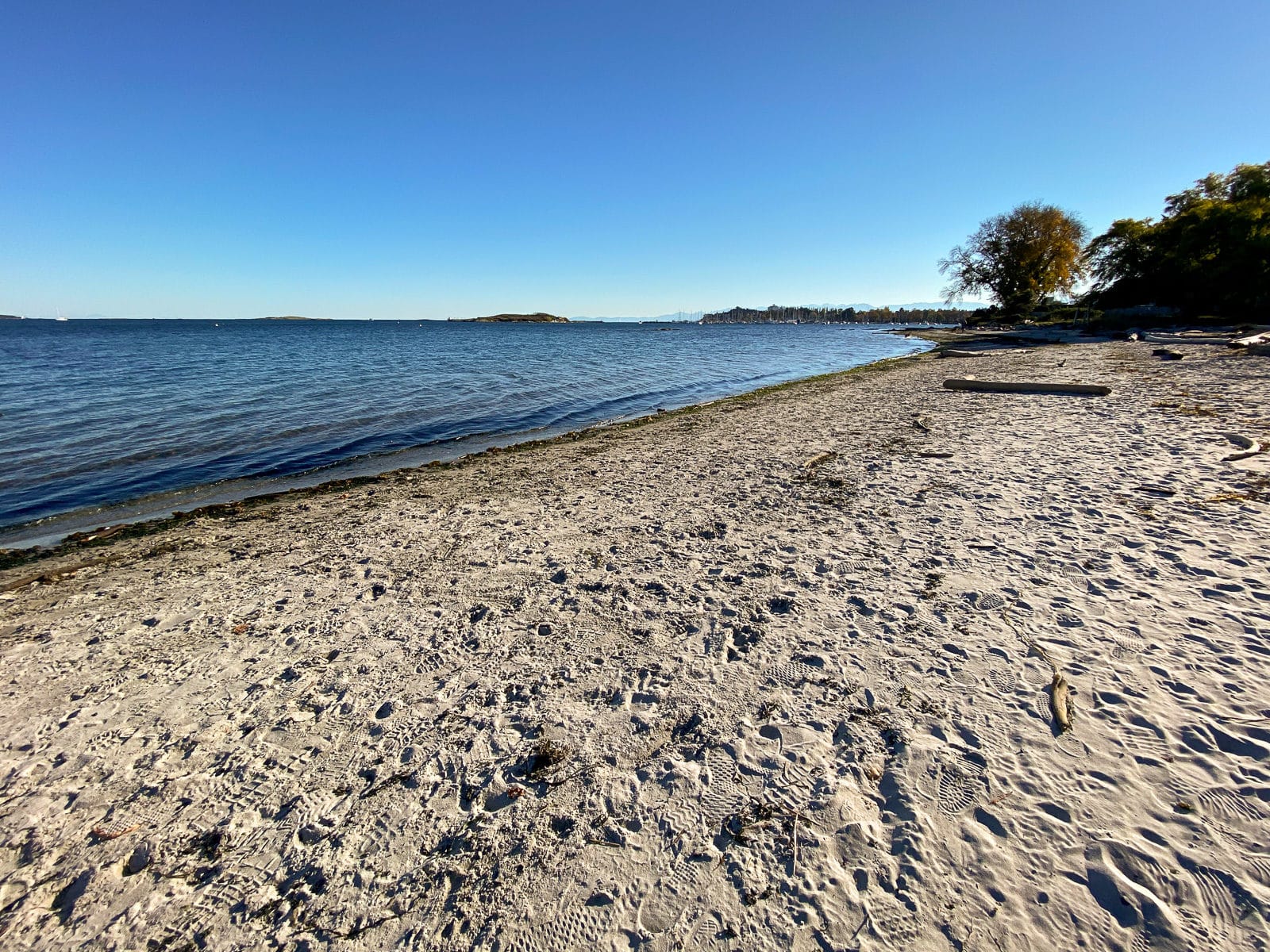 Willows Beach is one of the best sandy beaches in Victoria that you don't want to miss this summer. This beach is absolutely gorgeous and the sand is super soft. It's one of our favorite beaches to hang out on during hot summer days. We even love walking and relaxing on Willows Beach during the winter!
Featuring a long sandy beach with scenic views, plenty of driftwood, and a large grassy area for picnics, Willows Beach is definitely worth spending an entire day at! It's a beautiful beach, and very popular with both tourists and island residents. Best of all, it's only a short drive from downtown Victoria!
Planning a visit to Willows Beach, Victoria? This complete guide will tell you everything that you need to know about Willows Beach, including how to get there, amenities at the park, events, and more. Grab your sunscreen and head to the beach today!
Disclaimer – This post contains affiliate links. We may receive a commission if you make a purchase through these links, at no extra cost to you. Thank you for your support! Learn More.
Willows Beach Highlights
With sand so soft that your shoes come right off, Willows Beach is a perfect place to walk along the ocean, enjoying amazing views of Mount Baker and Discovery Island. If you get too hot, take a refreshing dip in the ocean or hang out in the shade of the trees.
Facing east, Willows Beach is a spectacular place to view the sunrise. Watching the sun paint the sky red and orange over the ocean water and distant mountains is undeniably worth waking up early for. Don't forget to bring your coffee! Or, if you are a night owl, stay up late, lay on the beach, and watch the stars.
On hot summer days, this beach attracts crowds, so make sure that you arrive early to get your spot on the beach. Luckily, the beach is massive so even if you show up later in the day, you should be able to find a spot!
Swimming is awesome at Willows Beach. It's one of the best beaches in Victoria for swimming, due to its shallow, protected waters. You'll have to brave the chilly ocean water though!
Willows Beach Map
Willows Beach is located along the scenic Beach Drive in Oak Bay, about 10 to 15 minutes east of downtown Victoria. Here is a map showing the location in Victoria:
You can click on the marker on the map to get directions. Alternatively, click here for directions.
How to Get to Willows Beach
You can get to Willows Beach easily via car, bike, public transit, or on foot (depending on where you are).
If you are driving, take Beach Drive to get a scenic look at the ocean. There is plenty of parking nearby the park (see Parking section below).
Victoria has a mild climate so you can bike to Willows Beach at any time of the year. Uncovered bike storage racks are located in the parking lot on Dalhousie Street and in front of Willows Park. You can also lock your bike up at Cattle Point. Most of the bike routes are residential. There aren't bike lanes and you must share the road with cars.
You can get to Willows Beach using the #2 bus route. The closest bus stops are both on Beach Drive, near the Estevan Avenue or Dalhousie Street intersections.
There are many pathways through the adjacent neighborhoods that lead to the ocean. These pathways are fun to explore! Camas Lane, which goes all the way from the ocean to Nottingham Road, is a heritage byway that used to separate farm settlements in the area. Also, there is a pathway connecting Willows Beach and Cattle Point.
Is There Free Parking at Willows Beach?
Willows Beach has lots of free parking. There is a parking lot on Dalhousie Street, which is on the south side of the park. Additionally, you can also park along the esplanade, which is the street that runs along the ocean. The esplanade is accessible via Estevan Street.
If these parking areas are full, there is street parking along Beach Drive and adjacent roads. If you park on the road, fold in your mirrors. The street is narrow and unfortunately, it isn't uncommon to see parked cars with their side mirrors broken off along this road.
Another alternative parking lot is at Cattle point, which is just north of Willows Park and connects via a walkway. Cattle point is a beautiful area to explore as well!
Accommodations near Willows Beach
The closest hotel is the Oak Bay Beach Hotel, an absolutely stunning, luxurious hotel backing onto the ocean. This hotel has elegant, comfortable rooms, with excellent views of the Salish Sea and the mountains. You'll be well taken care of at this hotel – they have exceptional service! The best part about the Oak Bay Beach Hotel is its oceanfront gardens and seaside mineral pools! You can soak in the pool while watching the waves, and leave your vacation more relaxed than ever!
There are also many options for Airbnbs in the area!
Can You Swim at Willows Beach?
Yes, Willows Beach is one of the more popular swimming beaches in Victoria! Swimming at Willows Beach is a lot of fun, especially if you can brave the cooler water.
The beach is sandy and the water at Willows Beach is shallow and well protected. This makes it great for swimmers of all ages. Because the water is so shallow, the water will warm up in the summer, making it great for wading and playing in the water.
The water quality is regularly tested through the summer by Environmental Health Officers, who regularly report on the beach water quality and beach advisories.
Willows Beach Ocean Water Temperature
The ocean at Willows Beach is not very warm. Don't expect the water to be as warm as it would be at a tropical beach! The water is great for cooling off in the summer, but even then, it's chilly. And, very few people swim in the winter, unless they can brave the cold.
The average temperature of the ocean at Willows Beach is about 10°C. The water only gets up to about 12°C in the summer, with the warmest water in August. It's the coldest in the winter months, especially in February, when it can get down to about 8°C.
Activities at Willows Park
Willows Beach is perfect for all kinds of activities. You are guaranteed to have a fun-filled day at this park.
If you want to relax, you can sunbathe on the beach with a picnic and a good book. You can set up a hammock or lay in the shade among the trees.
Or, if you want something more active, the beach is great for water sports such as swimming, skimboarding, kayaking, and paddleboarding. Also, it's pretty common to see people playing beach volleyball on the beach!
The large grassy park is great for picnics, slacklining, and games like frisbee or spikeball. Or, you can just hang out and chat with friends in the shade of the trees!
Events at Willows Beach
Many events are held at Willows Beach. Willows Park is quite spacious, making it a perfect place for hosting events.
In the summer, the city of Oak Bay loves hosting its events at Willows Park. The events are usually free and for all ages. They include everything from outdoor yoga to live music concerts. Also, the annual Oak Bay Tea Party is always hosted at Willows Park and is a lot of fun!
You can find out what events are upcoming by checking out the Oak Bay events calendar.
Yoga at Willows Beach
Throughout the summer, the city of Oak Bay hosts free outdoor yoga sessions on Tuesday evenings at Willows Beach park. These yoga sessions are really popular and a lot of fun!
Led by Oak Bay yoga instructors, these yoga sessions are a great way to spend a weekday evening, leaving you relaxed and refreshed. Typically, these sessions are held for one hour between 6pm and 7pm. After, walk along the beach and enjoy the sunset!
Everyone can participate in these classes. Bring your yoga mat and a friend! Check out the Oak Bay calendar to get more details.
Oak Bay Tea Party at Willows Park
Every year in June, the Oak Bay Tea Party is held at Willows Park. Don't let the name fool you – this event isn't just a normal tea party (although there are teacup races)!
The Oak Bay Tea Party is a weekend-long, excitement-filled event featuring a parade, air show, bathtub race (really!), carnival rides, fireworks, and all kinds of entertainment! This event has been happening since 1963, and is a popular tradition for Oak Bay.
Keep an eye on the Oak Bay calendar to find out when this event is being held. The entire weekend is a blast, so make sure you check it out!
Are There Bathrooms at Willows Beach?
Willows Beach has bathrooms, which is great if you want to spend a full day at the beach! The bathrooms are located at Willows Park, which is the grassy area about midway down the beach. They are in the small building nearby the playground.
There are also changing rooms, which are handy if you want to go swimming! They are located in the same building as the washrooms.
Are Dogs Allowed at Willows Beach?
Dogs are not allowed on the beach between May 1st and September 30th. If you want to visit a sandy beach during the summer with your dog, you'll have to go elsewhere (try Parker Beach).
At other times of the year, from October 1st to April 30th, you can bring your dog onto the beach. There is plenty of driftwood for playing fetch in the shallow waters!
Dogs are always allowed on the grassy areas and pathways but must remain controlled and on leash. Also, there are plenty of garbage cans around the park, if needed!
Willows Beach Tea Room and Concession Stand
There is a beachfront teahouse and concession stand located in the park, called Willows Beach Tea Room. They serve yummy food and all purchases at this concession stand support the local community!
The tea room is usually open from 10am to 4:30pm, May to September. They serve beverages (e.g. tea and pop), and snacks (e.g. hot dogs, fries, popsicles, and ice cream). On Sundays, they serve $10 breakfasts.
Students and volunteers of the Oak Bay Kiwanis Club run the teahouse. All proceeds go back to the Oak Bay community and club charities!
Accessibility of Willows Park
There is a paved walking path through Willows Park and along the beach, which will allow you to get scenic views of the ocean. The walkway goes along the esplanade in front of Willows Park, and extends from Cavendish Avenue to the north side of the beach near Cattle Point. However, the pathway that links Willows Beach to Cattle Point and the Uplands Park area has stairs.
The beach itself is difficult to access with a wheelchair. The beach is accessed via small sets of stairs and there are no ramps down to the sand. If you're looking for a more accessible beach, check out Cadboro-Gyro Park.
Willows Park Playground
Willows Beach has a small oceanfront playground, so you can enjoy ocean views while your children have fun on the swings! The playground is located near the washrooms, at the front of Willows Park.
Your kids will have lots of fun playing at this park! The playground structures include climbing equipment, a slide, and a swing set. They will also enjoy playing in the sand and splashing in the shallow water on the beach!
Other Amenities
Several day-use picnic tables can be found scattered around the park, overlooking the ocean or shaded by the tall trees around the park. There are also lots of benches around the park for watching the ocean and mountains.
Alternatively, you can also spread out a picnic blanket on the beach or in the grass! The grassy area is large and perfect for day-use activities.
The park has public water fountains along the beach walkway. One water fountain is located near the teahouse.
Tides at Willows Beach
Unlike some of the other beaches in Victoria that disappear during high tides (like Gonzales Beach), Willows Beach is great to visit during both high and low tides. The tide will drastically change the width of the beach at Willows Park, but there will still be lots of sand to lay your towel down on, even during high tide.
Because Willows Beach is sandy, there won't be tidal pools at the beach. If you want to explore tide pools, head to Cattle Point, just to the north of the beach. Cattle Point has amazing tide pools, where you can find lots of little ocean creatures!
If you want to know the tide times, you can check out the tide charts for Willows Beach.
Wildlife at Willows Beach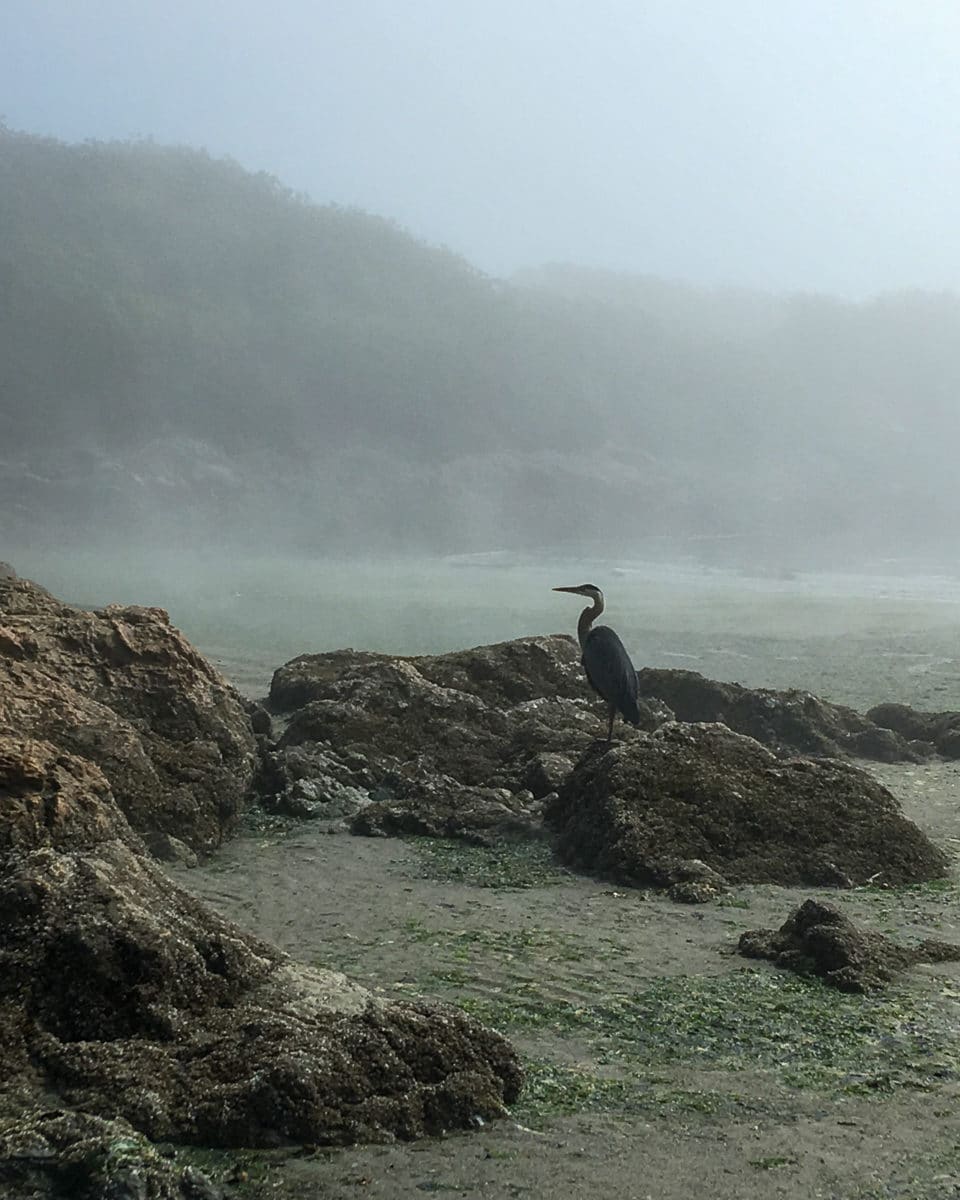 You can spot all kinds of wildlife at Willows Beach, everything from birds to whales!
Almost every time we visit Willows Beach, we spot harbor seals floating around in the ocean. They often come quite close to shore. Look for them bobbing around the beach!
River otters are often spotted playing in the water. Even though you may see them in the ocean, they aren't sea otters! There are only river otters in Victoria, no sea otters (head to northern Vancouver Island to see sea otters).
It's also a great spot for birdwatching. There are all kinds of shorebirds that live on and around the beach. Listen for the loud calls of the black oystercatchers! There are also majestic bald eagles that will frequently fish near the beach.
If you head to the beach really early on a hot day, you might even see some black-tailed deer wading in the cool ocean water.
While rarer, there is the chance of spotting a sea lion or pod of orcas swimming by. Bring your binoculars, just in case!
History of Willows Park
Willows Beach is located on Songhees traditional territory.
Willows Park used to be home to a Coast Salish community called Sitchanalth, with up to 10,000 people with their longhouses all lining the shore. The name Sitchanalth refers to driftwood logs buried in the sand. This village extended from the sandy beach to the nearby land, centering at Bowker Creek.
A tsunami from an earthquake destroyed the village of Sitchanalth. Afterward, it was reoccupied until approximately 1843, when European colonizers arrived. A small cairn near the Kiwanis teahouse marks where the village once stood.
Later, the area became a farm settlement for the Hudson's Bay Company and their chief trader, Jon Tod. Tod House, built in 1851, is nearby Willows Beach, close to the Heron Street and Estevan Avenue intersection.
Willows Beach takes its name from the Willows Fairground, formerly a horse racetrack developed in 1981. The racetrack was named after willow trees growing in the area.
Conclusions
Overall, Willows Beach is a beautiful location, with amazing views and fantastic sand. There is no surprise that it is one of the top beaches in Victoria!
If you only have time to see one beach in Victoria, we highly recommend choosing Willows Beach. With a large sandy beach and beautiful views, you won't regret spending your day there!
If you have time for more than just one beach, here are some ideas for amazing beaches in Victoria to explore:
Top Travel Tips & Resources for Victoria, BC