Spending a day in Victoria, BC, and don't know what to do? If you only have 24 hours to spend in Victoria and need an itinerary of things to do, we're here to help!
From its historical buildings and scenic ocean views to the expansive selection of tourist activities and great restaurants, there's more than enough to do in the beautiful city of Victoria. With so much to see and do in one day, knowing where to start for your Victoria day trip can be a challenge.
Victoria is one of those places that has so much to offer that you can't fit it all in one day. We've been living here for years and still haven't seen and done everything!
Even so, you'll be able to see some of the best tourist attractions that Victoria has to offer if you know where to go and what to do. So, what should first-time visitors do when they have limited time in this incredible city?
If you're looking to make the most of your time in Victoria, British Columbia, here's a suggested itinerary for spending one day in the city. This comprehensive itinerary covers things to do, see, and eat in Victoria – all in the span of one day. You won't be bored for a minute with this 24-hour Victoria travel guide!
One Day Itinerary for Victoria, BC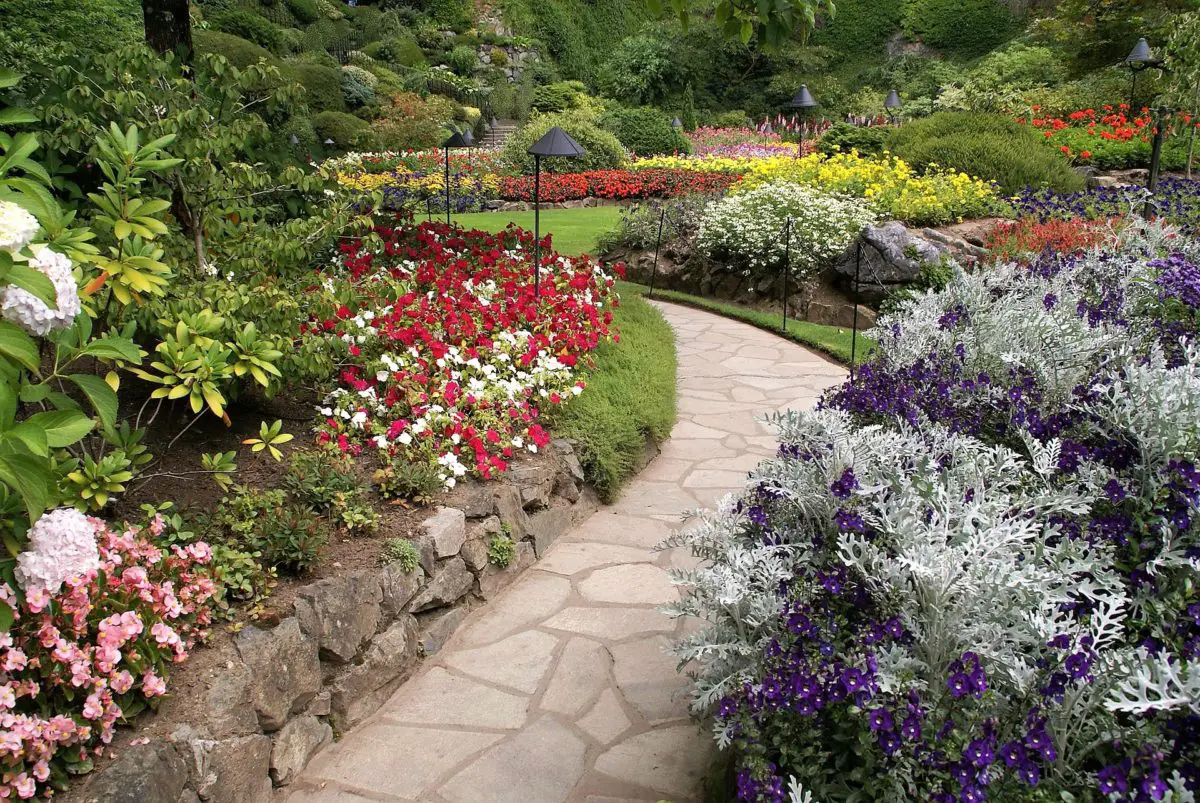 There is a lot to see in Victoria and doing it all in one day isn't always the easiest option. But, this Victoria travel guide will give you an itinerary and the basics on what to do so that you can make the most of your 24 hours.
Our day trip itinerary for Victoria covers the best things to see and do, must-see attractions, places to eat, and where to stay around this beautiful city. We also discuss how to get around Victoria, as well as other travel tips and advice.
This itinerary assumes you're starting in the morning and have the entire day free. You may have to modify the itinerary if you don't have a full 24-hours in Victoria. Also, you may need to modify the itinerary depending on your travel style. If you like to take your time sightseeing, you may need to drop an activity or two!
At the end of the article, we've also provided a list of alternative things to do and see around Victoria if you don't like the activities listed in the itinerary. We tried to provide a variety of options so there's something for everyone.
Now, on to the suggested itinerary for how to spend your time in Victoria!
Eat Breakfast at a Local Cafe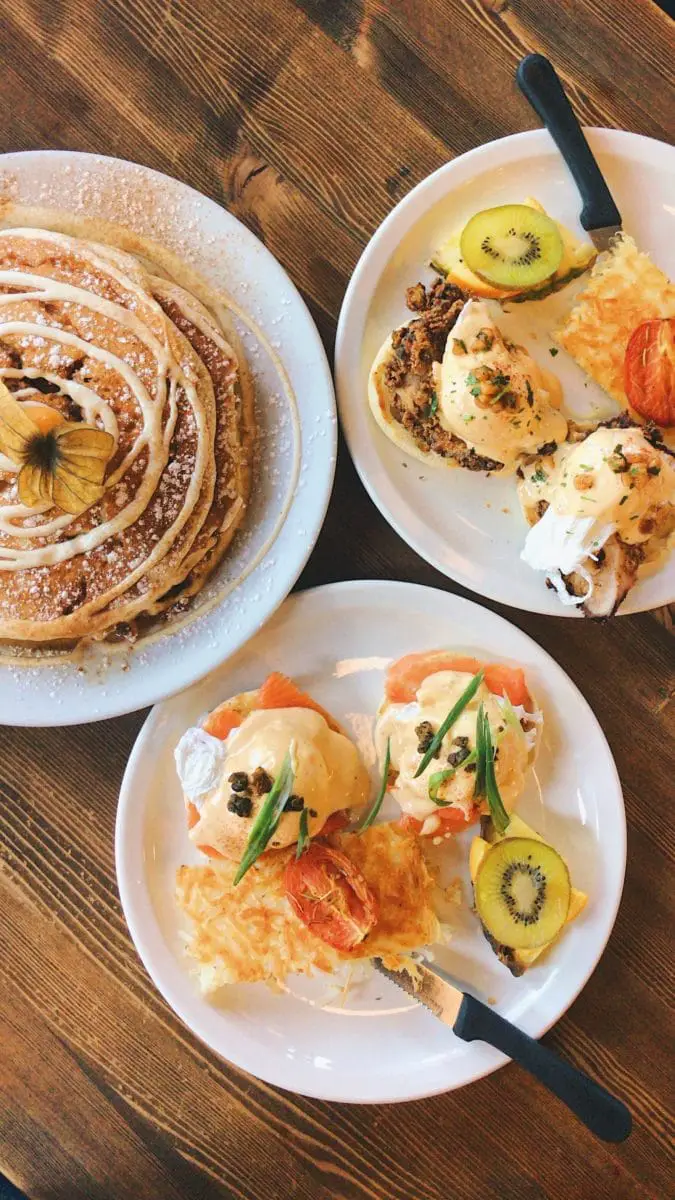 Start your day off right with a hearty breakfast at one of Victoria's many cafes. You don't want to be exploring the city hungry!
Victoria has many amazing cafes that are worth checking out. Some of the best breakfast food we've ever eaten has been at these Victoria restaurants.
One of the most popular spots in the city for all-day breakfast food is the Blue Fox Cafe. This funky restaurant serves some of the best brunch food in Victoria, from stacks of fluffy pancakes to ten different kinds of eggs benny. There's usually a line of waiting patrons out the door, so get there early!
Jam Cafe is a breakfast experience that's worth the wait as well. This all-day breakfast cafe is popular for a reason – you won't be disappointed with the food here! Choose from egg bennies, veggie bowls, waffles, french toast, pancakes, and more. One of their best dishes is the Charlie Bowl – you should definitely give it a try!
If you want lots of breakfast choices, head over to John's Place Restaurant on Pandora Avenue. They have a massive menu with all kinds of different breakfast food options, including Belgian waffles, delicious customizable omelettes, and so much more.
For vegans or vegetarians, check out the Fern Cafe and Bakery. It's a bit outside of downtown Victoria, but they are 100% vegan with plenty of delicious brunch foods and baked goods to try. And, if you need a gluten-friendly spot, try Nourish Kitchen & Cafe near the Inner Harbour.
Tour the Butchart Gardens
Once you're fueled up and ready to go, it's time to explore some of Victoria's top attractions. The first stop is the world-renowned Butchart Gardens near Brentwood Bay. These famous gardens are one of the highlights of Victoria and definitely a must-see spot in southern Vancouver Island.
If you don't have a vehicle, a Butchart Gardens tour is the best way to get to this must-see attraction. The tour shuttles you from downtown Victoria straight to the gardens and brings you back later in the day. The fee includes entry to the gardens and round-trip bus transportation.
Once you're there, you can explore the different gardens and admire all of the beautiful flowers and plants. Our favorite spot in this botanical oasis is the Sunken Garden, followed by the incredible Ross Fountain. There are also Rose, Italian, Mediterranean, and Japanese Gardens to explore.
Expect the Butchart Gardens tour to take about 3 to 5 hours, depending on your pace. You don't want to rush through because there are lots of things to see!
The amount of time you should budget for this activity will also vary depending on whether you're driving or taking the Butchart Gardens tour bus. The gardens will take up more time in your day if you're taking the bus. However, the Butchart Gardens is one of the must-see destinations around Victoria and it's worth the effort to get there!
Eat Lunch at Fisherman's Wharf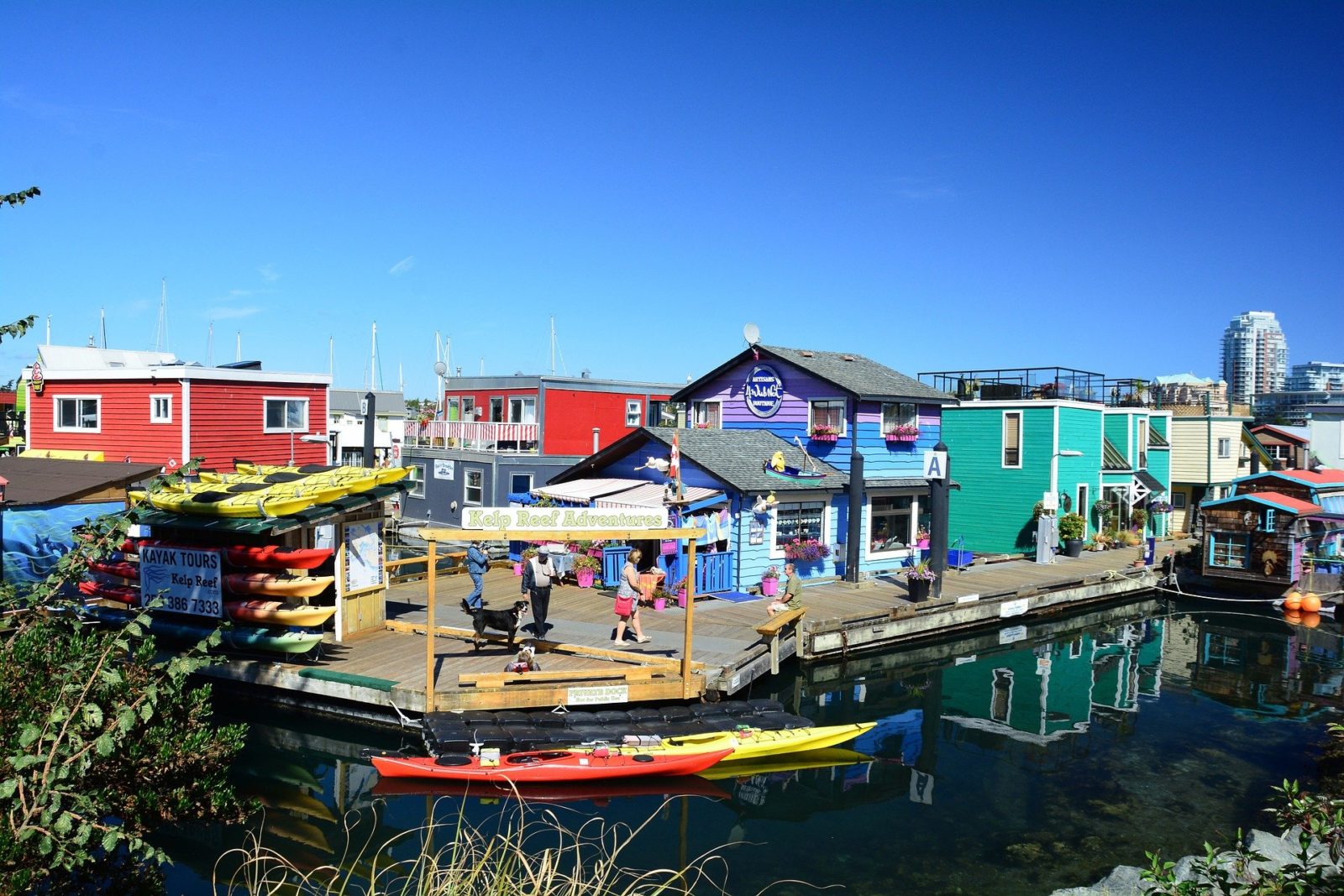 When you return to downtown Victoria, you'll probably be ready for lunch. If you haven't eaten already, it's time to head to the colorful Fisherman's Wharf for a bite to eat. Or, save some time by grabbing food at Butchart Gardens from The Blue Poppy Restaurant, The Dining Room, or their coffee shop.
From downtown Victoria, you can walk or drive to Fisherman's Wharf. But, if you want to get the most out of your Victoria experience, we recommend taking one of the Victoria Harbour Ferries to the wharf.
These charming water taxis cruise all around the harbor waters. The small ferries link tourist destinations like the Fairmont Empress, Fisherman's Wharf, Chinatown, and Old Town.
Jump on one of the harbour ferries near the Empress and enjoy scenic views of Victoria's Inner Harbour from a unique perspective. The water taxis are pretty cheap so they're a great way to get around and sight-see!
Fisherman's Wharf is only a 15-minute walk from downtown Victoria. If you don't feel like walking, you can drive, cab, or bus. Alternatively, you could use a hop-on hop-off tour bus to get around between tourist destinations.
Once you're at Fisherman's Wharf, you have plenty of food kiosk options to choose from. These kiosks aren't really sit-down restaurants, although there is outdoor seating available.
Barb's Fish and Chips is a world-famous restaurant serving some of the best fish & chips in Victoria (and probably all of Canada). We definitely recommend giving them a try.
Or, try some of the local fresh seafood at The Fish Store, like salmon, mussels, oysters, and Dungeness crab. You won't get much fresher seafood than this!
Fisherman's Wharf is a marine tourist destination that's worth a visit, but we wouldn't budget too much time at this spot. In our opinion, Fisherman's Wharf is only really worth a visit to grab a bite to eat, see the colorful houseboats, or join an eco-tour. Most of the houseboat areas are private access only so be respectful to the homeowners!
Walk along the Breakwater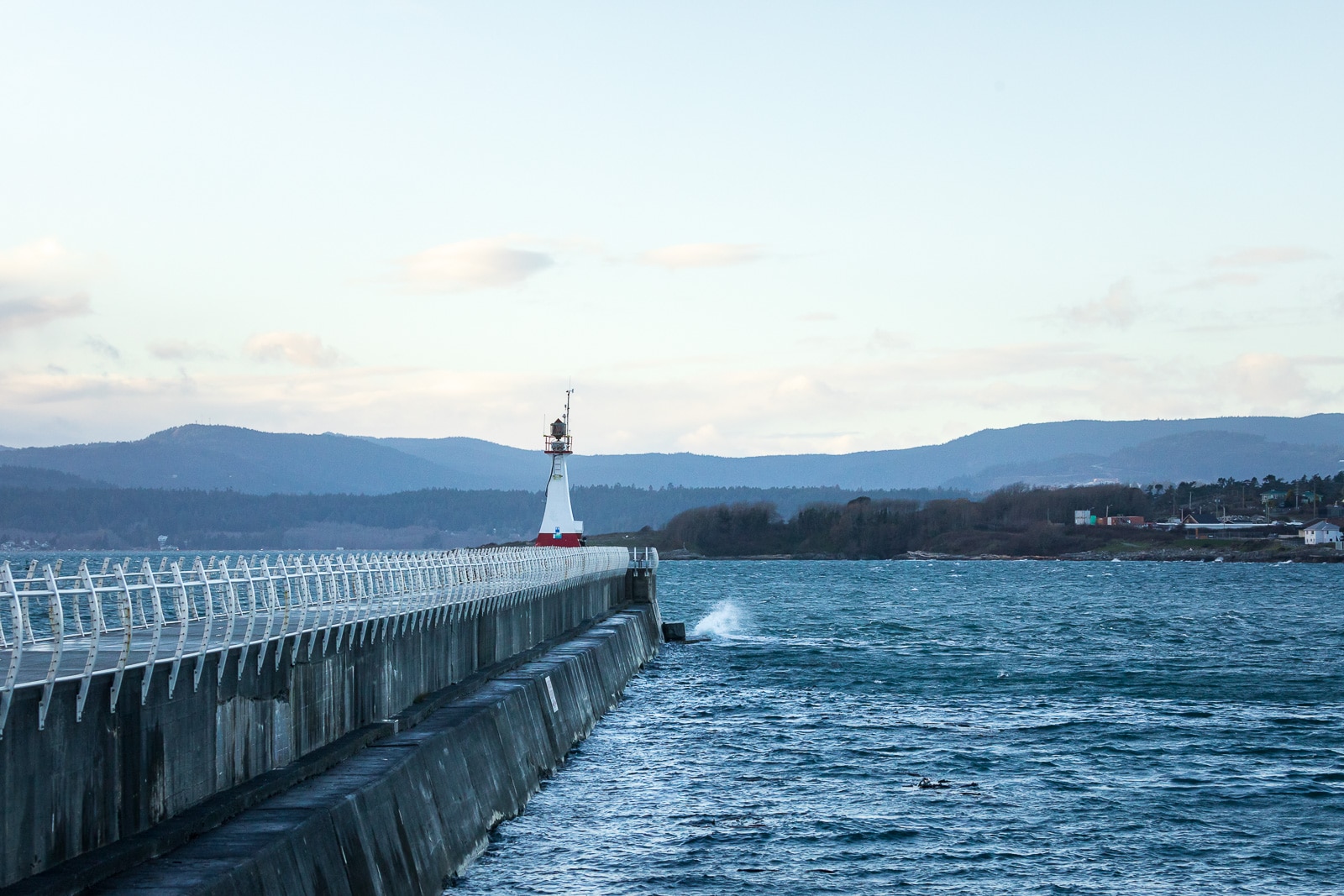 After lunch, head to the Ogden Point Breakwater for some of the best views of Victoria's harbor area. Not too far from Fisherman's Wharf, this short, easy walk is a great way to get some incredible ocean views!
One of the stops on the hop-on-hop-off sightseeing buses in Victoria, the breakwater is a popular tourist destination in James Bay. This 762-meter long walkway takes you far out into the water from Dallas Road. For this reason, we recommend only visiting the Breakwater on calm days, unless you're ready to be splashed by waves!
Look for seals and river otters swimming beside the Breakwater as you walk. Massive cruise ships dock near the Breakwater at the cruise ship terminal. Floatplanes take off near the end of the walkway and you can also watch boats zooming around the waters. And, if you're really lucky, you might spot some whales!
The Ogden Point Breakwater is the perfect place for a stroll to help you digest lunch. If you need a pick-me-up, grab a coffee for your walk at the Breakwater Bistro & Bar at the start of the pathway.
Beacon Hill Park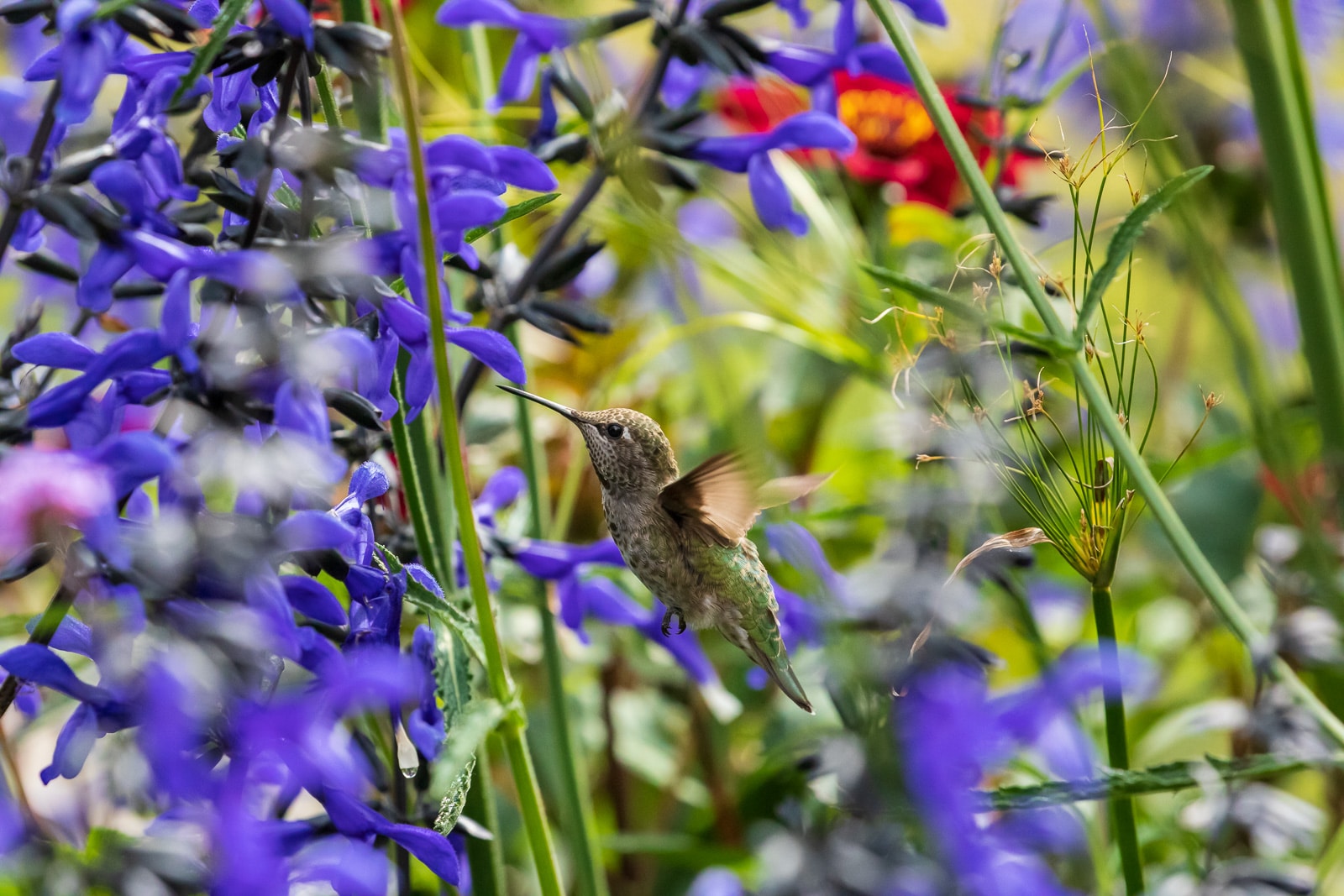 A visit to Victoria isn't complete without wandering through Beacon Hill Park. This beautiful, 200-acre parkland treasure is located just outside of downtown and is one of the best parks in Victoria.
Beacon Hill Park is brimming with stunning flowers, serene ponds, unique wildlife, and fun events. Best of all, it costs nothing to visit this park!
There are many pathways that wind their way through the gorgeous parkland. You could walk around the park for hours!
Don't feel like walking? Take a horse-drawn carriage tour of Beacon Hill Park instead! These carriage tours are an excellent way to see the beautiful park. It's also a lot of fun getting towed around by the horses.
At the top of Beacon Hill, enjoy views of brilliant purple camas flower meadows in the spring. Check out the world's tallest free-standing totem pole near Dallas Road, then wander through the parkland finding fountains, animals, and abundant flowers.
The beautiful Goodacre Lake is full of ducks and turtles sunning themselves on logs. Search for the nearby Moss Lady, hidden among the trees. Admire the stunning, colorful flowers near Chestnut Row. And for children, there's even a petting zoo!
In summer, there are weekend events at the Cameron Bandshell in the park. Sit and enjoy free concerts, from jazz to folk music.
After exploring Beacon Hill Park, head back downtown to enjoy Victoria's core. Depending on what time it is, you can spend some time exploring downtown Victoria or head for dinner.
Check out Thunderbird Park
From Beacon Hill Park, head north along Douglas Street. You'll pass by the Royal BC Museum on your way. This museum is home to over 200,000 artifacts and specimens, making it one of the largest museums in Canada.
Outside of the Royal BC Museum, you'll find Thunderbird Park, featuring a collection of impressive totem poles. A walk through Thunderbird Park only takes a few minutes but it is definitely worth stopping for!
Take some time to admire the striking carvings and longhouse of the west coast First Nations peoples. Many of these poles are replicas carved by master carver Mungo Martin, with the originals stored inside the museum.
Victoria is located on the traditional territory of the Lekwungen people, known today as the Songhees and Esquimalt First Nations. These Coast Salish people have an intimate, long-lasting relationship with the land of southern Vancouver Island.
View the BC Parliament Buildings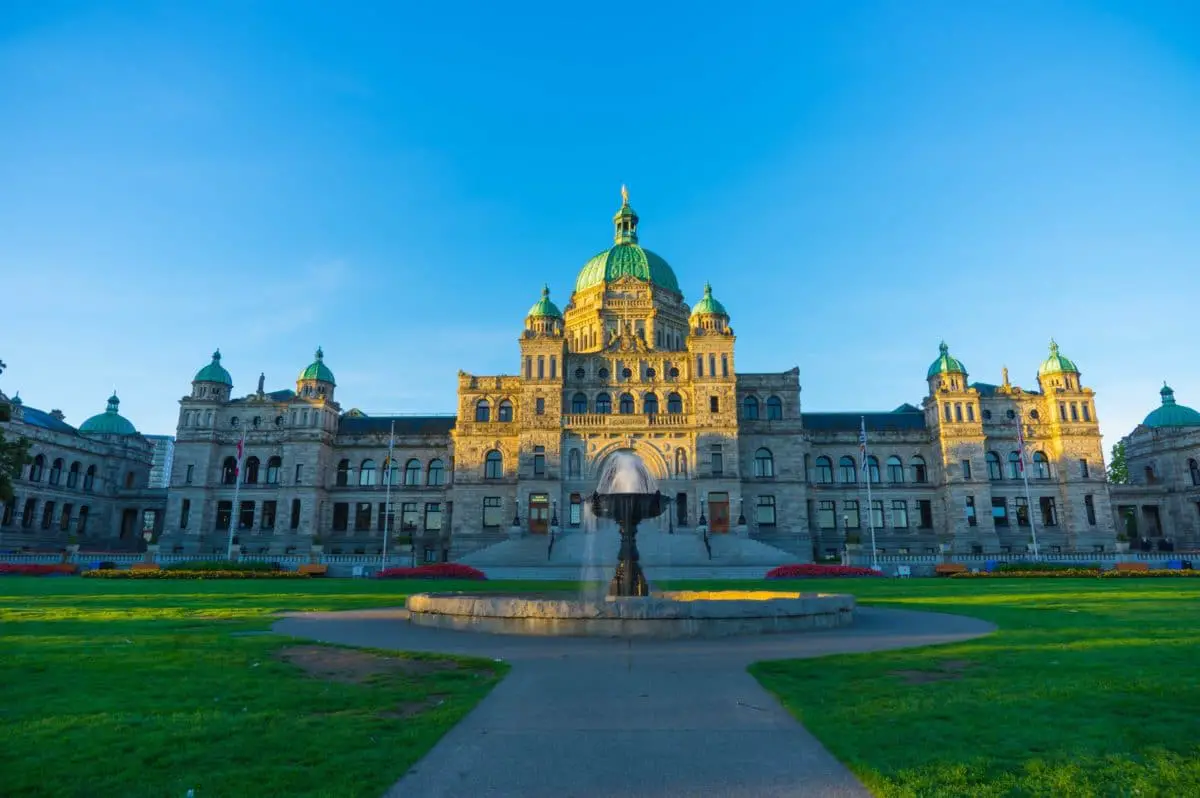 Next, head towards the Inner Harbour to get a good look at the BC Parliament Buildings, home to the Legislative Assembly of British Columbia. With 5-acres of waterfront land and historic buildings constructed in 1893, the Parliament Buildings are an impressive sight.
There are self-guided or public tours of the Parliament Buildings if you're interested. But, you probably won't have time for one on a day trip.
Instead, enjoy the building's Romanesque architecture, manicured waterfront grounds, beautiful water fountains, Premier's rose garden, and statues of founding BC figures.
On the top of the central dome of the Parliament Buildings, you'll spot Captain George Vancouver, known for exploring the Pacific coast of North America. Both Vancouver and Vancouver Island take their name from this British Royal Navy officer.
Other notable monuments include the Cenotaph memorial to the unknown soldier, Queen Victoria's statue, the Speaker's chair, and the Knowledge Totem Pole.
A walk through the BC Parliament grounds won't take too long. Even if you don't want to explore the property, it's worth taking a look at the impressive buildings.
Walk the Harbour Causeway and Government Street
For amazing views of the harbour, cross the street to the Inner Harbour Causeway. This is the pathway that runs alongside the ocean beside Belleville and Government Streets. You can access the causeway via the stairs or ramp near the Bateman Gallery.
Here, you'll get excellent views of the ocean, marina, and harbour traffic. The causeway is a great place to sit and watch the boats cruise by.
The Inner Harbour Causeway features a "Welcome to Victoria" sign made out of flowers. There are also food kiosks, local vendors, and a lemonade stand.
At the north end of the causeway, you'll have an excellent spot to watch floatplanes take off from the Victoria Harbour Airport. If you're interested in experiencing a seaplane flight, book one of the scenic floatplane tours of Victoria that will depart from this marine airport!
If you have time, you can also explore Government Street, the main shopping street in Victoria. This popular road is perfect for browsing unique stores and picking up souvenirs. You'll find everything from bookstores to art galleries to clothing stores.
Dinner in Downtown Victoria
By now, you're probably getting hungry again so it's time for dinner!
Downtown Victoria has plenty of amazing restaurants to choose from. Some of the best foods we've tasted in BC have come from restaurants in Victoria. There's a variety of cuisines and restaurants that fit any dietary needs.
One of our favorite places to eat in downtown Victoria is Finn's Seafood Restaurant. This is one of the best restaurants in Victoria, in our opinion. This brick restaurant sits right beside the water, offering incredible ocean views from the outdoor patios.
Red Fish Blue Fish is a casual seafood restaurant located on the waterfront. The dockside restaurant is known for its tacos, fish and chips, and fish sandwiches. Order your food to go and eat it at one of the bars overlooking the harbour.
Pagliacci's is a local favorite for Italian food and isn't too far from Victoria's Inner Harbour. The eatery has a great selection of pasta dishes, as well as delicious seafood and grilled meats. It's the perfect place to relax and enjoy a hearty meal after a busy day of sightseeing.
Lastly, if you want something quick to eat, try ordering something from Tacofino. We think that Tacofino is the best taco restaurant in Victoria. Usually, we order their fish or steak tacos.
The last activity of the day will be whale-watching by boat. If you get seasick easily, you may prefer to eat dinner afterward. Also, try to pick a restaurant that's near the harbour because it'll make it easier to get to your wildlife viewing tour.
Sunset Whale Watching Tour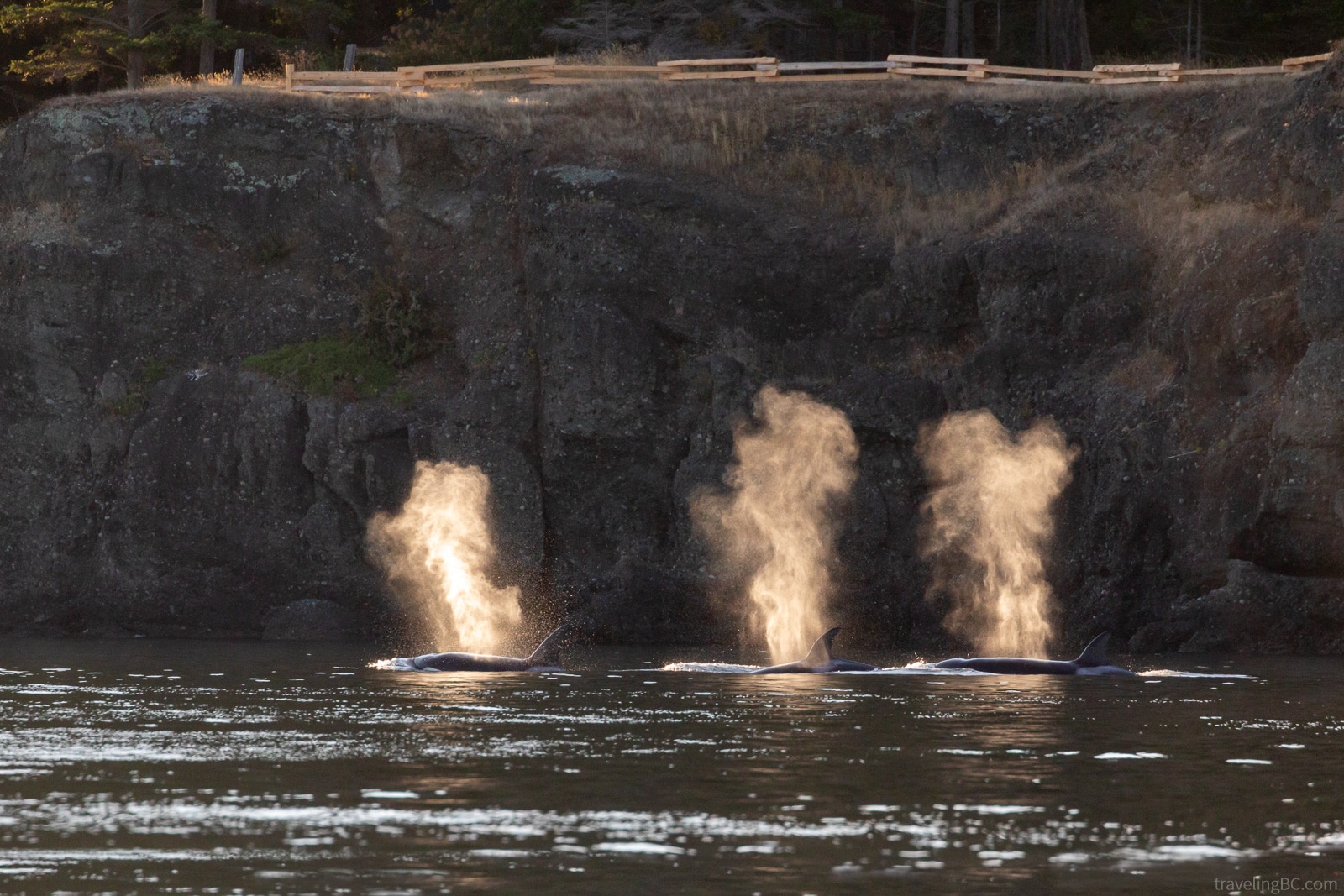 One of our favorite things to do in Victoria is a sunset whale-watching tour. Explore Victoria's coastline on a luxurious catamaran while searching for whales and enjoying the gorgeous colors of the setting sun. With opportunities to spot orcas, humpback whales, grey whales, and so much more, you won't be disappointed on these wildlife viewing tours!
The sunset whale watching tour departs from Wharf Street in downtown Victoria and lasts three to four hours. You're pretty much guaranteed to see whales – they have a 95% success rate! If you don't spot whales, they'll send you on a second tour, free of charge.
Perfect for photographers, this wildlife viewing adventure leads to some excellent photo opportunities. There is spectacular lighting for whale photos, no matter what species you see. Also, the beautiful sunset colors look incredible over the islands and serene ocean water.
Overall, this sunset experience is unforgettable and the perfect way to wrap up a day of exploring!
Keep the Night Going?
When you get back from the sunset whale watching tour, you'll have the choice to head back to the hotel or keep the night going. If you choose the latter option, there are a few things you can do to enjoy Victoria's nightlife.
Head to a local pub – Fancy a drink to end the night? There are plenty of pubs and bars that are local favorites near Victoria's Inner Harbor that you can head to for a nightcap. Try the Bard & Banker with its Scottish style and historic charm. Or, Whistle Buoy Brewing Company is another popular watering hole in downtown Victoria.

Catch a show – Victoria has plenty of late-night shows. You just have to find them! The Friends of Dorothy Lounge often offers late-night drag shows, karaoke, and other events. The Mint regularly hosts evening variety shows and comedy nights. And, the Irish Times Pub usually has live music in the evenings.

Stargazing at Cattle Point – One of the most peaceful ways to end a day of exploring in Victoria is to go stargazing. Cattle Point in Uplands Park is a dark sky preserve with incredible starry views over the ocean. Sit outside under the stars or in the warmth of your car, enjoying the beautiful night sky.
Other Things to Do in Victoria in 24 Hours
Looking for something else to do in Victoria other than the activities listed on the one day itinerary? Here are some ideas for other things to do during your day trip to Victoria.
Scenic Floatplane Tour
A breathtaking way to experience all that Victoria has to offer is with a scenic floatplane tour. If you've never flown in a seaplane before, it's a great time to try it!
Harbour Air seaplane tours depart from the Victoria Harbour Airport in the Inner Harbour. You'll spot the floatplanes all docked at the marina, looking out of place among the boats.
The scenic seaplane tours are spectacular and unforgettable. You take off from the ocean, speeding along the water until the plane picks up enough speed to take flight. Then, soar over the beautiful city, enjoying views of Victoria and southern Vancouver Island.
Guided Food and History Tour
A great way to see and taste all that Victoria has to offer is with a guided food and history tour. You won't miss any attractions with a local guide showing you around!
This awesome culinary tour takes you to must-see attractions around downtown Victoria. It's a great way to see some of Victoria's hidden gems.
On this guided walking tour, you'll see the impressive Parliament Buildings, walk along the Inner Harbour Causeway, and visit Trounce Alley. You'll also visit Chinatown to see the famous Fan Tan Alley and the Harmonious Gates of Interest. There are also stops in Bastion and Market Squares, as well as the Victoria Public Market.
Along the way, you'll get to taste multiple different local foods, while learning about the history of the city. Make sure you're hungry before you go on this tour!
Chinatown
Victoria's Chinatown is the oldest one in Canada and also the second oldest in all of North America! The neighborhood features brilliant red and gold colors, unique architecture, and an ornate archway marking the entrance.
Here, you'll also find the hidden gem of Fan Tan Alley, the narrowest street in Canada. Within the alley, there are a bunch of hidden shops that are fun to browse. This small alley is easy to walk by, so don't miss it on your adventures!
Government House Gardens
The Government House Gardens are one of the best gardens in Victoria but they aren't as well known as the famous Butchart Gardens. Even so, these gardens are breathtakingly beautiful.
Overflowing with plant life, the Government House gardens feature a variety of unique gardens and plants. The best part is that entry into the gardens is free!
Head to the Beach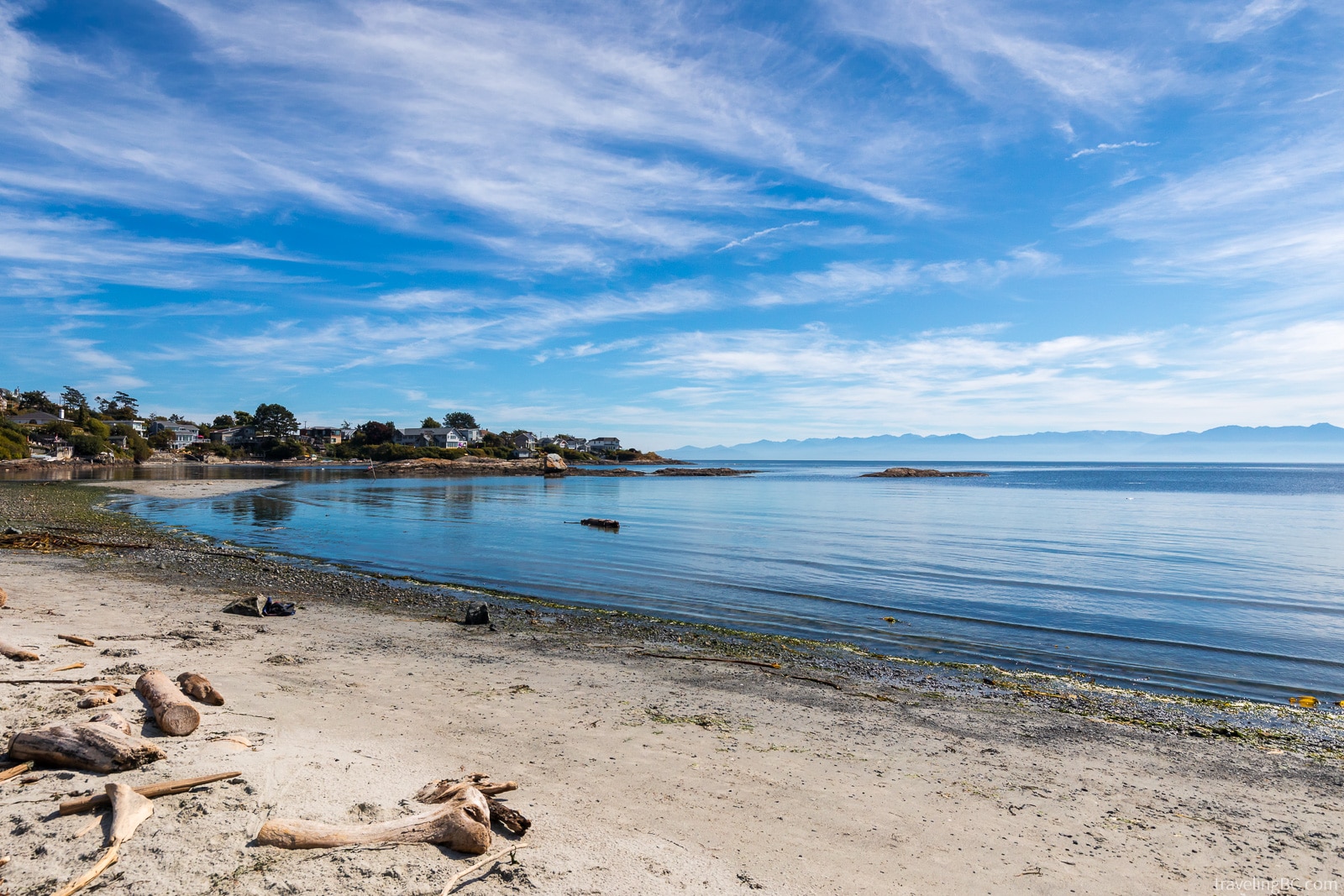 The beaches in Victoria are some of the best in Canada. So, if it's a nice day, you should head to the beach to get some sun and enjoy the sand!
Many of the beaches in Victoria are rocky and rugged. However, there are a few excellent sandy beaches that are perfect for laying out your beach towel and sunbathing. Willows Beach and Gonzales Beach are two of Victoria's best sandy beaches.
Unfortunately, the water around Vancouver Island is pretty chilly. While you can brave the cold, most people find the temperature too cold for much more than wading.
Tour Craigdarroch Castle
This Victorian-era castle is a must-see for history buffs. Located not too far from downtown Victoria, Craigdarroch Castle is a magnificent Victorian-era mansion and national historic site.
The extravagant castle was built for Robert Dunsmuir, a Scottish-Canadian coal baron, to reflect his wealth and importance. He is recognized as a National Historic Person and his family plays an important role in British Columbia's history.
Craigdarroch Castle is open for tours from Thursday through Sunday. The tour takes about an hour. You'll learn all about the castle's history as well as get to see some of the beautiful rooms and views.
Want to see Craigdarroch Castle but don't feel like touring it? Try this Castle Bike Tour which takes you from the Inner Harbour to Craigdarroch Castle, with a stop at Beacon Hill Park and the world's tallest free-standing totem pole.
Afternoon Tea at the Fairmont Empress
After a busy day of sightseeing, relax with afternoon tea at the Fairmont Empress. This iconic hotel is located right on Victoria's Inner Harbour and is known for its afternoon tea service.
Sit back, relax, and enjoy some delicious afternoon tea while taking in the views of Victoria's harbour. The afternoon tea service includes sandwiches, scones, and pastries served with housemade jam and honey. You'll be served your choice of premium loose-leaf tea, presented in royal china.
Where to Stay in Victoria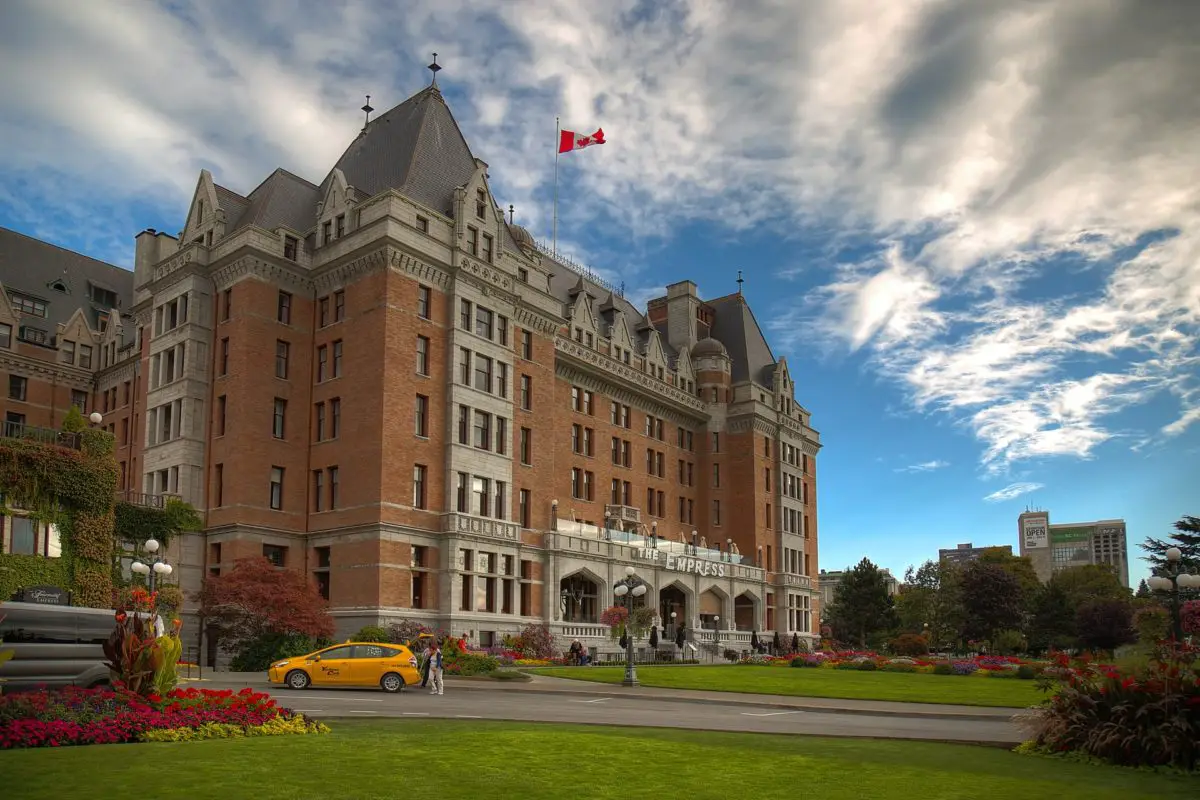 Staying overnight in the city? You'll want the perfect place to stay for your one-day getaway in Victoria.
There are lots of great places to stay in Victoria, depending on your budget and preferences. Check out these articles for some recommendations:
Here are some of the top hotels in Victoria to help you find the best place to stay.
Luxury Hotels
The Fairmont Empress is a luxurious, elegant hotel located right in the heart of downtown Victoria. From this hotel, it's easy to access all of the best attractions. With an oceanfront location, you'll enjoy stunning views of the water. Plus, as a national historic site, this hotel is pretty much a tourist attraction on its own.

The Inn at Laurel Point is another excellent luxury hotel with a convenient location. This waterfront hotel is beside the Victoria harbor and offers stunning ocean and downtown views. There are also oceanfront patios and beautiful gardens!
Mid-Range Hotels
Strathcona Hotel is a mid-range priced hotel located downtown. It has comfortable, modern rooms. Also, the hotel has plenty of fun things to do, including billiards, darts, and a rooftop sand volleyball court!

Helm's Inn is right beside Beacon Hill Park and close to the Inner Harbour. It's easy to walk from this hotel to downtown attractions. Suites at this hotel have a kitchenette, making it a great choice if you don't plan on dining out.
Budget-Friendly Hotels
Ocean Island Inn is a great choice if you don't mind hostel-style accommodations. This hostel is centrally located and perfect for travelers looking for budget-friendly rooms. Pick from a variety of room types, from private rooms to dorms.

Hotel Zed Victoria is a good choice if you need affordable accommodations but don't want a shared dorm room. This colorful hotel has private, spacious rooms at a low affordable price. They pride themselves on providing a fun, funky atmosphere with plenty of unique amenities.
Getting around Victoria
Cars – You don't need a vehicle to get around downtown Victoria, but it's handy if you plan on exploring more of the city. If you're looking to rent a vehicle for your trip, we recommend booking through RentalCars.com. This site allows you to compare prices between companies to find the most inexpensive rental vehicle for your trip.
Hop-on Hop-off Bus Tours – These double-decker buses take you around Victoria to all the must-see destinations. They pass by the Breakwater, Beacon Hill Park, Craigdarroch Castle, Oak Bay Marina, and more. On nice days, you'll get the best views from the top of the bus!
Bikes – Victoria is a very bike-friendly city. There are plenty of bike lanes and trails, like the Galloping Goose and Lochside Regional Trails. If you don't have your own bike, there are lots of rental shops with hourly or daily rates. You can even rent e-bicycles if you don't want to pedal!
Top Travel Tips & Resources for Victoria, BC