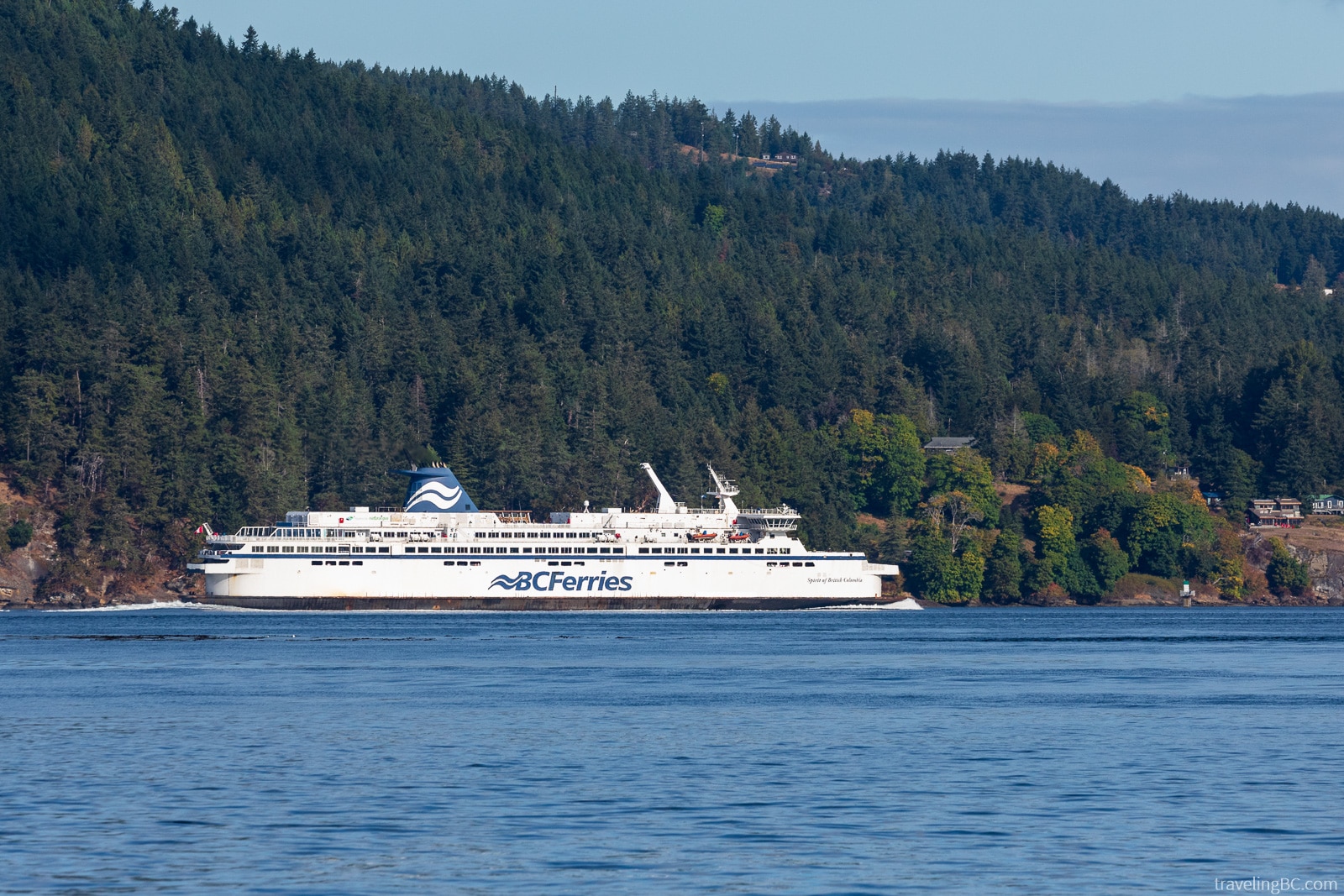 The islands along British Columbia's coast – including Vancouver Island, Haida Gwaii, the Gulf Islands, and others – are all beautiful places to live or travel, with scenic views around every corner. However, traveling to these islands on BC Ferries gets expensive, especially if you bring your vehicle. In this article, we discuss the 11 best tips to save money on BC Ferries travel, to help you travel cheaper and on a budget!
Disclaimer – This post contains affiliate links. We may receive a commission if you make a purchase through these links, at no extra cost to you. Thank you for your support! Learn More.
Tips to Save Money Traveling on BC Ferries
Here are our 11 best tips to save money traveling on BC Ferries, in no particular order. These tips will help you save money and travel on a budget!
1. Pay with the BC Ferries Experience Card
A BC Ferries ExperienceTM Card saves you money when you travel on select ferry routes. Similar to a gift card, all you have to do is load money onto the BC Ferries Experience Card and use it to pay for your ferry trip. The card will automatically give you discounts on certain ferry routes, like the Victoria-Gulf Islands or Vancouver-Sunshine Coast routes. It also gives you access to cheaper prepaid fares.
The amount that you save varies between routes, but savings are often between $2 to $4 for a foot passenger and almost $11 on vehicles! Unfortunately, the BC Ferries Experience Card doesn't work on the most popular ferry routes (Tsawwassen-Swartz Bay, Tsawwassen-Duke Point, and Horseshoe Bay-Departure Bay) and can't be used for bookings. It does have auto-load and loss protection though, so you can have peace of mind when using it!
2. Pay with a Cash-Back Credit Card
One way to save while traveling on BC Ferries is to pay for your ferry ticket and reservation using a cash-back credit card. Depending on what card you use, you can get anywhere from 0.5 to 5% back for your purchase! For example, if you are traveling with your vehicle between Victoria and Vancouver, it will cost about $93.70 but if you pay with a cash-back credit card, you get almost $5 of that back! Best of all, you'll get cash-back on any purchase, not just through BC Ferries!
All you have to do is apply for the credit card through your bank of choice and then pay for any purchases using the cash-back credit card. There are many bank options that offer cashback credit cards, such as Tangerine, TD, and Scotiabank. Just make sure to pay off any expenses before the end of the month to avoid interest charges!
3. Use Saver Fares on Less Busy Sailings
Recently, BC Ferries introduced Saver Fares, which are cheaper fares for passengers traveling with a vehicle who are willing to sail at less busy times on select routes. You can find the Saver fares on the more popular routes (Nanaimo-Vancouver and Victoria-Vancouver) during midday (weekdays only), early mornings, and late evenings. Saver fares range from $49 to $76.10, which includes a passenger, a standard vehicle, and in some cases, the reservation fee. That's a really good deal, with savings of up to $45!
BC Ferries' Saver fare tickets must be purchased in advance through their reservation system. You have to pay fully in advance, so make sure you have concrete travel plans. Also, the Saver fares are limited in availability – so book early!
4. Park Your Car at the Ferry Terminal
If you are only planning a short trip, it might make more sense to park your vehicle in the ferry terminal parking lot, instead of paying to bring your vehicle across with you. Parking in the ferry terminal parking lots typically costs around $17 to $19 per day (depends on the terminal), compared to the round-trip cost of up to $120 for bringing a standard vehicle on the ferry!
Of course, you have to weigh the costs of leaving your vehicle behind. If you are only traveling for a couple of days and can take public transportation, you will likely save money leaving your vehicle in the ferry terminal parking lot. If you need to travel a lot, pay for taxi rides or rent a vehicle, or will be gone long-term, bringing your car on the ferry is likely the smarter choice.
5. Check for BC Ferries Deals and Offers
BC Ferries often has promotions that will help you save money on ferry travel. These promotions can be found on their Deals and Offers page, and include sailing, onboard and vacation promotions. Their sailing promotions include discounts for on-board cafeteria food and drinks, while their sailing promotions offer reduced prices for ferry tickets and certain vehicle types (e.g. oversized vehicles).
Additionally, if you are planning a vacation, BC Ferries regularly offers vacation packages that save you money when traveling to certain destinations. Their vacation packages combine the ferry ticket and reservation with several nights at a hotel. These packages and offers are a great way to save on your vacation expenses!
6. Bike or Bus to the Ferry
The best way to save money on ferry travel is to avoid bringing your vehicle to the ferry terminal at all! Vehicle costs are the most expensive part of traveling on the ferry. Taking public transportation or biking to the ferry will save you money on gas, ferry tickets, and parking fees. And, as an extra benefit, it's better for the environment!
Getting to the ferry is easy, whether you take the bus or bike. Many bus routes take you straight to the ferry terminal and usually, the fare is only a few dollars. If you bike, there is no extra fee to bring your bike onto the ferry. So, if you bike or take the bus instead of driving, you'll be saving up to $120 on a round-trip ferry ride!
7. Know When to Pay the BC Ferries Reservation Fee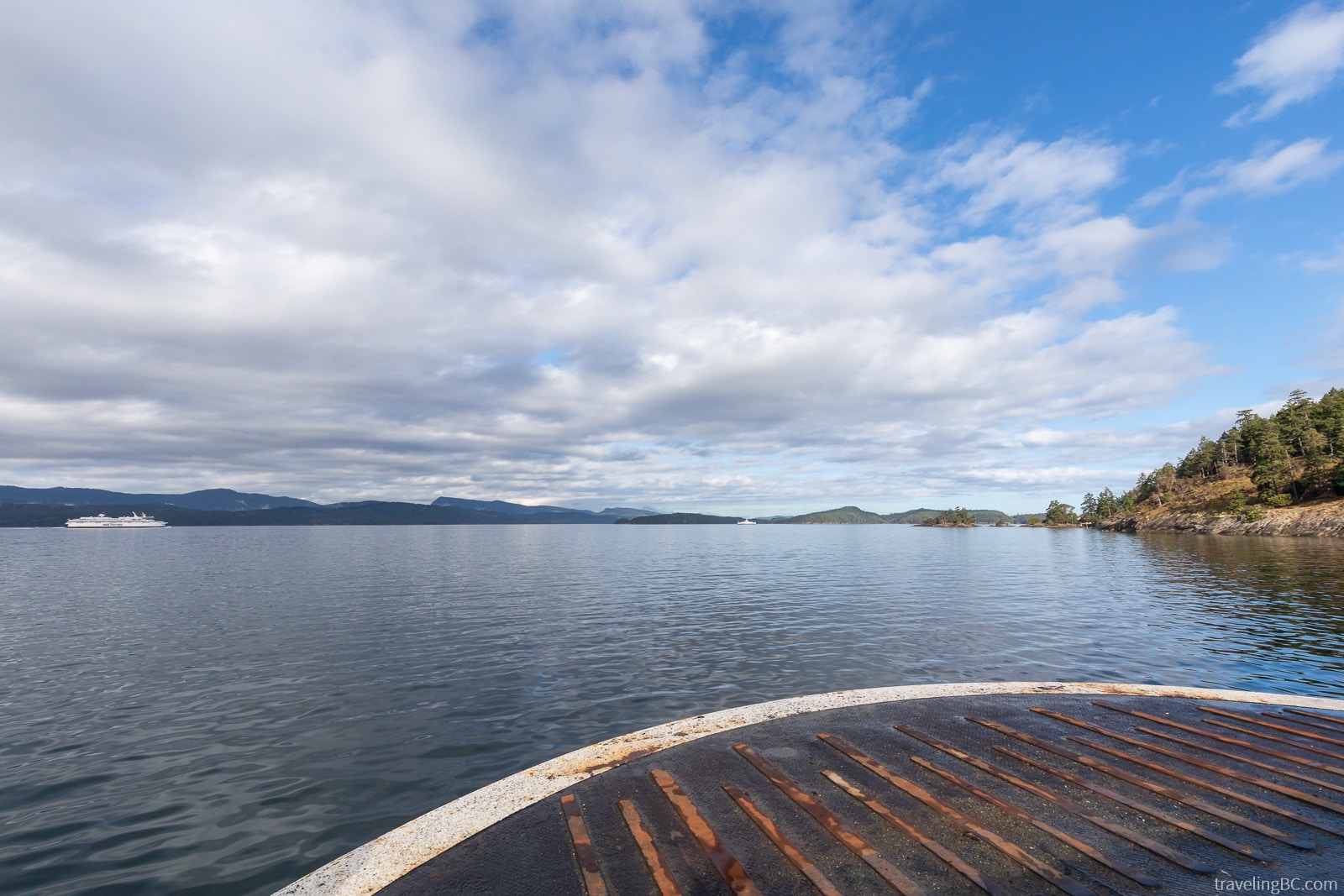 If you are willing to wait, you can save almost $20 on a ferry trip by not paying the reservation fee! However, it's important to know when to spend the extra money on a reservation and avoid a long wait.
If you are traveling at a non-busy time, you can probably get away with not paying for a reservation. You can check the available deck space for your planned ferry sailing by checking the 'Current Conditions' on BC Ferries' website. However, it's definitely worthwhile spending a little extra to ensure you get on a sailing during busy times, like holidays or summer weekends. You don't want to miss out on your vacation or get stuck on an island, just because you wanted to save a few bucks!
8. Don't Spend Extra Money on the Ferry or at the Terminal
One way to save money while traveling on BC Ferries is to avoid buying unnecessary items while waiting at the terminal or on the ferry. Avoid buying food or drinks at the vending machines, terminal cafes, or onboard cafeteria. Eat before you leave for the ferry, bring coffee from home in a travel mug, or bring some travel snacks with you. Don't spend money at the gift store, although the gift shop is great for buying that last-minute souvenir!
While BC Ferries' cafeteria and gift shop have many great options, if you are trying to save money, save shopping for later and you'll have a few extra dollars to spend later on your vacation!
9. Take Advantage of Reduced Fares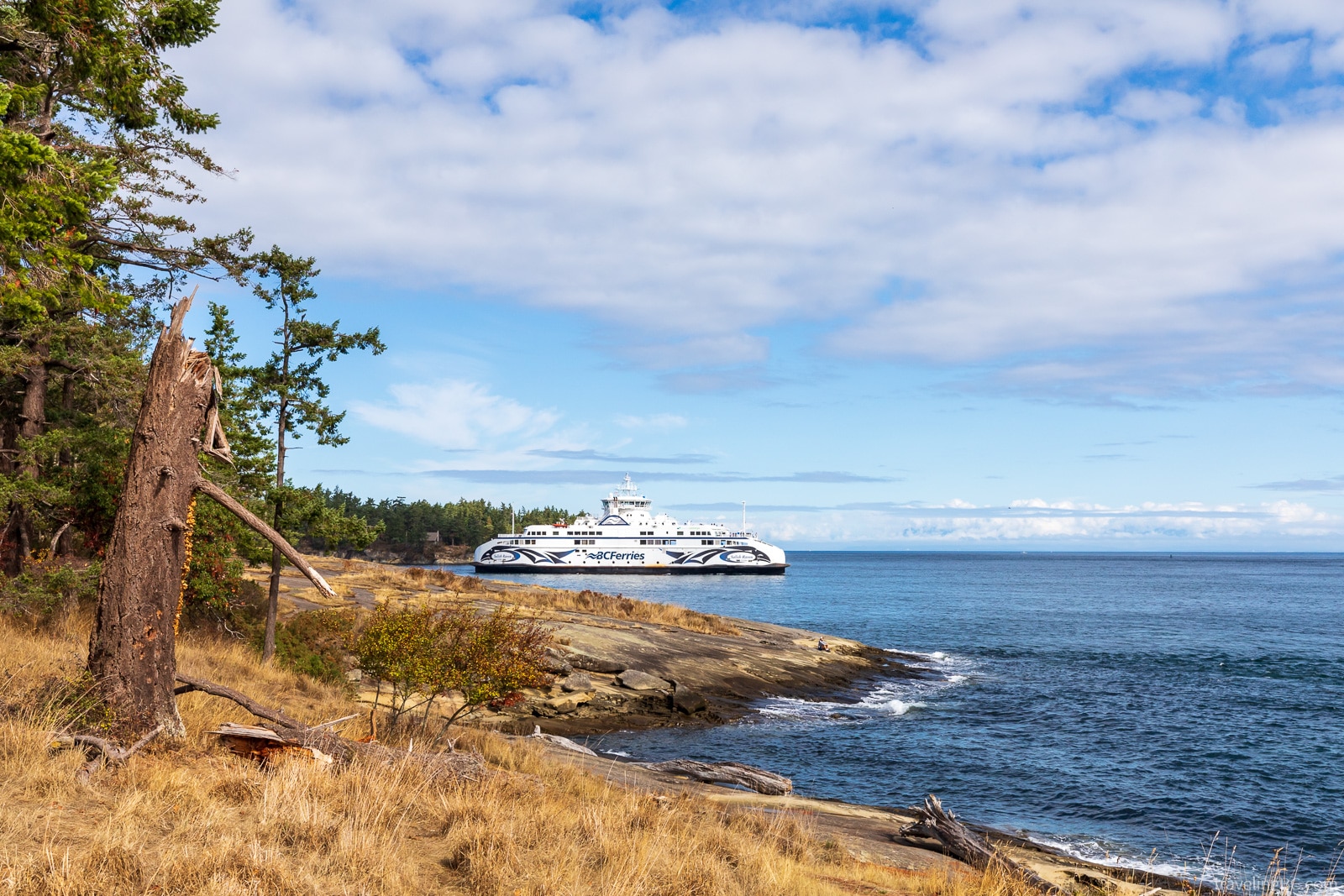 BC Ferries offers the BC Resident Assistance Program, which provides reduced fares for students, seniors, and people with permanent disabilities. The amount that you save on a ferry trip varies by route, but it is usually about a 50% discount! Also, seniors travel free on Mondays through Thursdays (excluding Statutory Holidays) and students travel for free on select routes if traveling for school or student events.
To qualify for the reduced fare, you must be a resident of British Columbia and present appropriate documentation that you are a student, senior, or have a disability.
10. Avoid Taking the Ferry at Peak Times
Traveling on the ferry during busy peak times will be more costly than during less popular times. BC Ferries offers incentives for traveling in less desirable months or on less popular days of the week, to help spread passengers between sailings. In addition to the Saver fare, BC Ferries offers a cheaper off-peak fare, which typically saves you money on bringing a vehicle on the ferry.
You can find out what counts as peak vs off-peak by checking out the BC Ferries fare guide. You can usually find off-peak fares on weekdays, through the winter months (often excluding holidays).
11. Save Money on BC Ferries with Group Discounts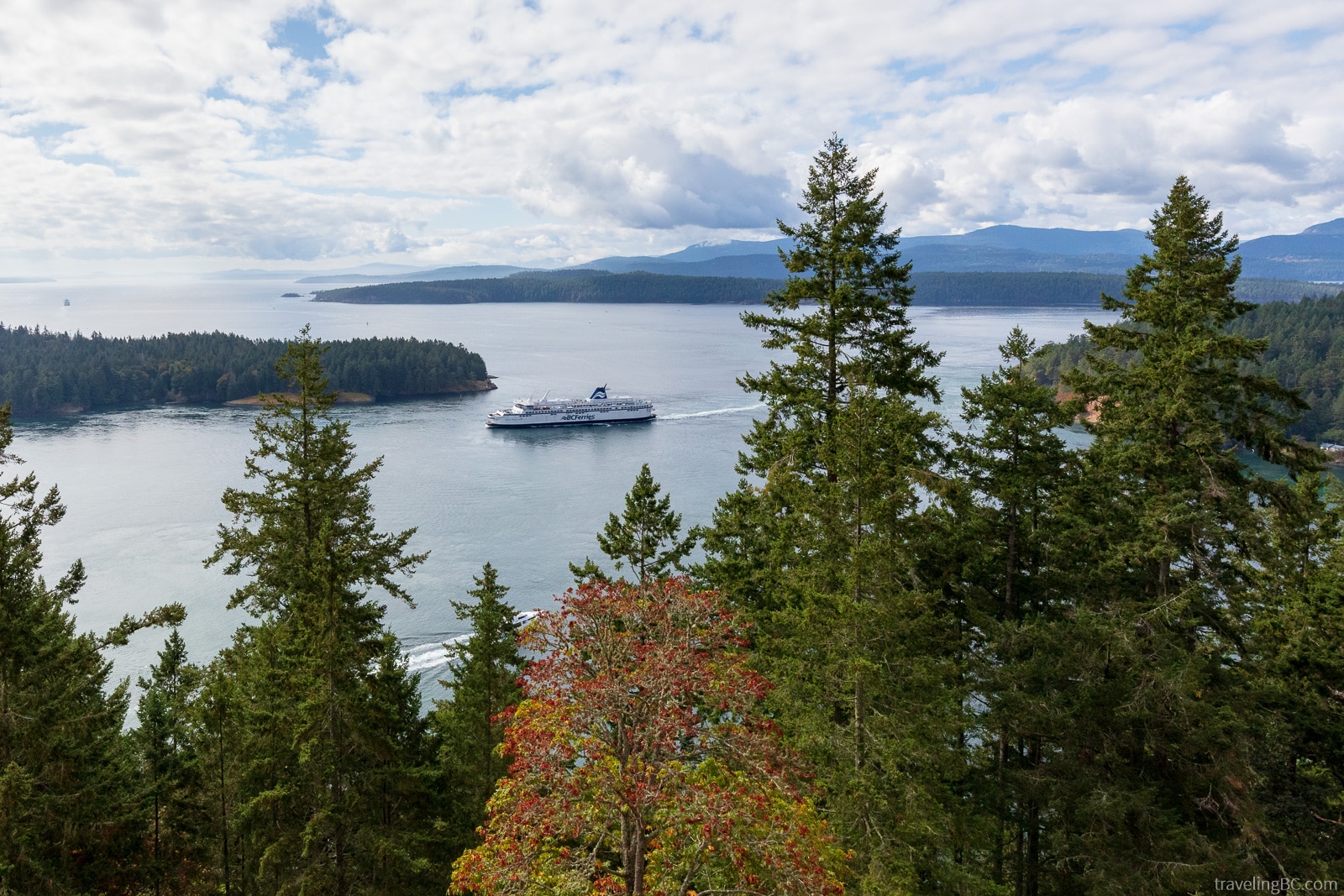 If you are traveling with a large group, you can get a cheaper group rate when traveling on the ferry. Group fares will save $2 to $3 per person when you travel. That adds up quickly!
To get the discount group rate, you have to be traveling on select routes in a group of 10 people or more, either in one vehicle or as a group of walk-on passengers. You also have to reserve at least one week in advance, and the group discount is not available during the peak season, unfortunately. While there are some limitations, it's a great way to save if you are traveling with lots of company!
Conclusions
Traveling to and from the islands around British Columbia doesn't have to be expensive, especially if you follow these tips to save money on BC Ferries travel. With just a little bit of planning, you can easily save money traveling on the ferry!
Check out these other guides to help you have the best experience traveling on BC Ferries and around British Columbia:
Top Travel Tips & Resources for BC
Travel Insurance – If you're travelling internationally, travel insurance is a must for any trip. Being covered by insurance is especially important when you're going to an adventure-filled place like British Columbia. If you injure yourself while adventuring, you want to have insurance! We recommend using SafetyWing for international travel insurance. They are affordable and have great policies for travellers, digital nomads, and remote workers. Also, SafetyWing provides COVID-19 coverage, which many other insurance companies don't cover.

Car Rental – We find the best deal on vehicle rental prices using RentalCars.com. They compare the prices for different car rental companies so you can find the best deals out there!

Accommodations – We prefer booking all of our hotels, hostels, and other accommodations through Booking.com because they have a flexible cancellation policy. Also, there are lots of different options on their platform, from hotels to vacation homes. Alternatively, Expedia and Hotels.com are good for booking accommodations. For vacation home rentals, VRBO is an excellent choice (they have lower fees than Airbnb, many of the same properties, and are more ethical).

Flights – You can find many good flight deals on Google Flights or Kayak. If you fly at less popular times (e.g. mid-week or red-eye flights), you can save some money.

Tours – Get the most out of your vacation by taking a guided tour! This is a great way to see the city, adventure to exciting new locations, and learn about the local culture. Viator or GetYourGuide are great options for booking tours.