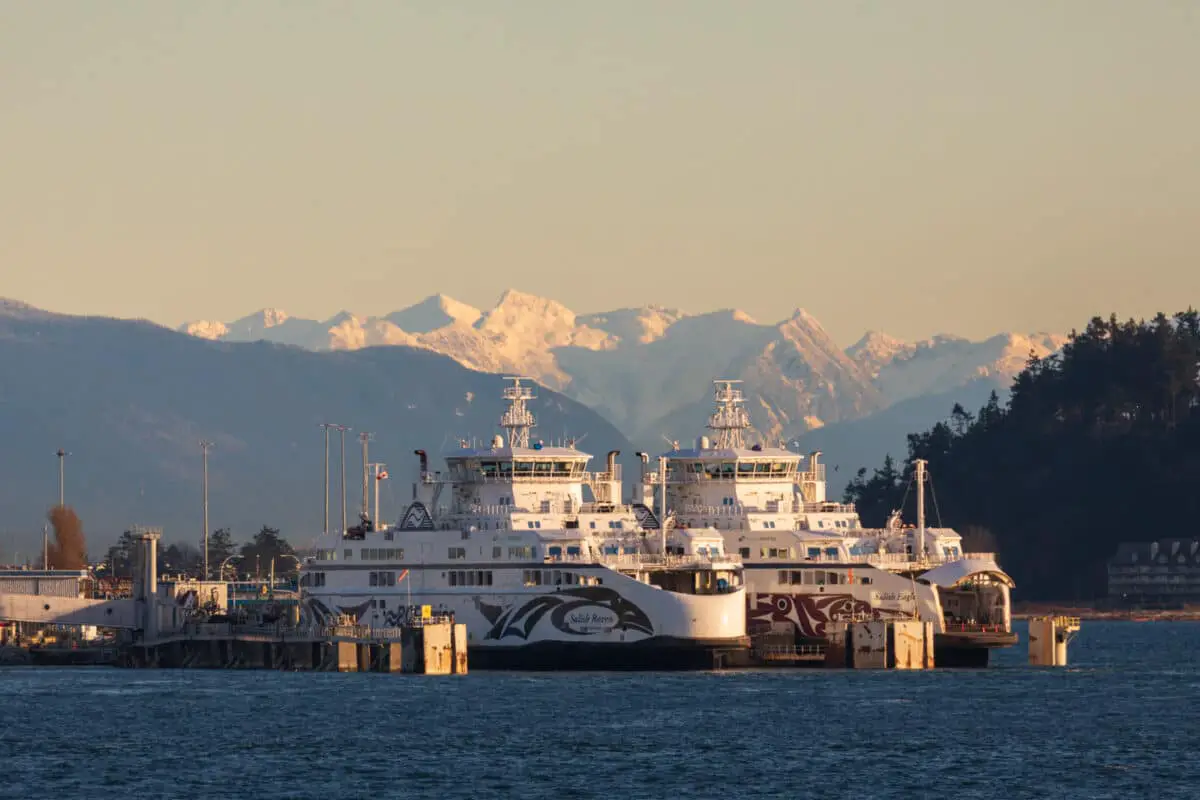 Need a place to stay before catching an early morning ferry or after arriving on the last ferry of the day? If so, we've got you covered with the best places to stay near the Tsawwassen Ferry Terminal in Metro Vancouver!
Located in Delta, the Tsawwassen Ferry Terminal is a main point of connection between the Lower Mainland and nearby Vancouver Island communities of Victoria, Nanaimo, and the Southern Gulf Islands.
Locals know that traveling by ferry doesn't always go as planned. Sometimes the last boat fills up before you get there or you arrive just after the last departure. Or, maybe you just caught the last ferry to the Lower Mainland and are now wondering where to stay near the Tsawwassen Ferry Terminal before continuing your travels.
As Victoria residents, we've missed the ferry a few times — it's a pain! Luckily, there are a number of top hotels in Metro Vancouver that'll keep you close to the ferries. Here are the best hotel options to help you decide on exactly where to stay near Vancouver's Tsawwassen Ferry Terminal, to make your crossing as seamless as possible!
Disclaimer – This post contains affiliate links. We may receive a commission if you make a purchase through these links, at no extra cost to you. Thank you for your support! Learn More.
Where to Stay Near the Tsawwassen Ferry Terminal in Metro Vancouver
1. Coast Tsawwassen Inn
Want a place to stay in Vancouver that's as close to the Tsawwassen Ferry Terminal as possible? If so, the Coast Tsawwassen Inn is the best hotel option for you!
Located in Delta of Metro Vancouver, the Coast Tsawwassen Inn is less than a 10 minute drive (about 7 km) from the Tsawwassen Ferry Terminal. For those without a car, it's a 20-minute transit ride on the 620 bus, caught just a five minute walk from the hotel. Alternatively, the cab ride is quite short!
The hotel is pretty affordable, recently renovated, and offers comfortable suites. Every room allows pets, making this the best pet friendly hotel near the Tsawwassen Ferry Terminal, too!
Choose from their nine types of guest rooms, like queen or king rooms, double bedrooms, or premium suites. While more deluxe rooms offer added luxuries like full kitchens, even the more basic rooms have separate seating areas, fridges, microwaves, free Wi-Fi, and flatscreen TVs.
While staying at the Coast Tsawwassen Inn, take advantage of the gym facilities or their free continental breakfast. The Tsawwassen Mills Centre is nearby if you want to do any shopping and there's a Browns Socialhouse on-site for a convenient meal.
2. Delta Hotels by Mariott Vancouver Delta
The Delta Hotels by Marriott Vancouver Delta features a full-service resort-like experience with an excellent location for connections to either the Vancouver International Airport (YVR) or the BC Ferries Tsawwassen Terminal. The hotel is even close to the U.S. border, making it quite convenient for international travelers!
Just a half-hour drive from YVR or 15 minutes from the ferries, this hotel is the perfect place to stay if you want to get to your destination quickly. For those without a car, there's no shuttle from the hotel to the ferry terminal, but it's a straightforward 45-minute bus ride on the 620 and 640 (transfer at the Ladner Exchange).
The guest rooms at the Marriott Vancouver Delta Hotel all feature king beds, with large suites available for families or those wanting more space. All rooms feature workspaces if you need to slip in a few hours of work before dinner, along with flatscreen TVs and all-day room service for unwinding.
There's lots to do at the hotel itself. Relax at the hotel spa, get your sweat on in the fully equipped gym, or go for a dip in the outdoor swimming pool and hot tub. The Cascades Casino is right next door and the charming suburbs of Richmond, like Ladner and Steveston Village, are just minutes away by car. For shopping and movie theatres, head to the nearby Tsawwassen or Richmond for a night on the town.
3. Holiday Inn Express & Suites Riverport Richmond
Located in Richmond, about halfway between the YVR airport and Tsawwassen Ferry Terminal, the Holiday Inn Express & Suites Riverport Richmond Hotel is great for people traveling via both air and sea.
When it's time to hit the road, the Tsawwassen Ferry Terminal and Vancouver International Airport are both about a 20-minute drive away. If you don't have a car, the hotel offers a free shuttle service to the airport but there's no shuttle to the ferry terminal. However, it's only a 10-minute walk to catch the 620 bus which drops you off right in front of the Tsawwassen terminal entrance.
The hotel has mid-range, spacious rooms with useful amenities like blackout shades for better sleeps and luxurious walk-in showers. Choose from standard large rooms, suites with kitchens, and even some two-bedrooms. However, the guest rooms are not pet-friendly, so you'll need to head elsewhere if you're travelling with an animal!
The best ways to unwind at this hotel are just across the parking lot, including SilverCity for the latest Hollywood releases and Watermania's indoor waterpark. Ironwood Plaza is less than a kilometre down the road for more restaurants, bars, and stores.
If you prefer to spend the evening close to home, the hotel has indoor pools (including one for children), a hot tub, outdoor patio, and a full fitness centre. Breakfast is included with your stay, too.
4. Fairmont Vancouver Airport In-Terminal Hotel
The Fairmont Vancouver Airport Hotel is a top hotel choice for those travelling by a combination of air and sea. Located in the Vancouver International Airport terminal, staying at this upscale 5-star hotel is a little slice of luxury on a long day of traveling.
While it's one of the best YVR hotels, the Fairmont Airport Hotel isn't the closest to the ferry terminal. However, it'll fit the bill for weary travelers who find themselves arriving on a late flight after the last ferry and needing a convenient place to stay before their next leg of travel.
If you're heading to Vancouver's Tsawwassen Ferry Terminal, it's a straightforward 30-minute southbound drive down Highway 99 from the hotel. Otherwise, transit takes about an hour — catch the Canada Line to Bridgeport Station and then hop on the 620 bus at Bay 12.
Guest rooms at the Fairmont are soundproofed and luxurious, each with queen or king beds, mountain or runway views, and floor to ceiling windows. Their elegant suites are spacious and offer complimentary access to the Fairmont Gold Lounge, with added perks like evening canapés, an exclusive bar, and a personal concierge. All rooms are pet friendly for a small fee.
To unwind, check out the wellness centre, go for a relaxing spa treatment, or swim in the heated indoor pool. There's live music nightly in the Jetside Lounge and an artist in residence every Thursday.
Catching another flight out of Vancouver? The hotel offers bell staff and a departure kiosk inside the hotel lobby, where you can check in for your flight without waiting in a line.
Top Travel Tips & Resources for Vancouver, BC