Winter is one of the best times of year to go for a road trip in BC. From stunning snow capped mountains and world-class ski resorts to icy waterfalls and natural hot springs, there are so many places to see and things to do across this beautiful province.
Don't know where to go? We cover some of the best winter road trips in British Columbia. From the epic mountains of the Sea to Sky Highway to the coastal cities of Vancouver Island, these journeys take you through some of the most beautiful winter scenery in Canada. So get out there and explore all that this beautiful province has to offer this winter!
Disclaimer – This post contains affiliate links. We may receive a commission if you make a purchase through these links, at no extra cost to you. Thank you for your support! Learn More.
Where to Go on a Winter Road Trip in BC
1. Sea to Sky Highway
The Sea to Sky Highway (the central portion of Highway 99) is one of the best road trips in BC in winter — or any time of year! This incredible highway takes you from the coastal city of Vancouver, along the spectacular Howe Sound, and to the mountain towns of Squamish, Whistler, and Pemberton.
Whether you want to go skiing at Whistler-Blackcomb, snowshoeing through Garibaldi Provincial Park, or ride the Sea to Sky Gondola, there's plenty of fun winter things to do and see along the Sea to Sky Corridor. Enjoy the mild weather of Vancouver before traveling into the mountains on one of the most beautiful drives in all of Canada.
Look for the impressive Stawamus Chief and Shannon Falls as you drive into Squamish — you can't miss them! Snowshoe to the frozen Brandywine Falls, walk through the immersive Vallea Lumina experience, or speed down the slopes of the Whistler-Blackcomb Ski Resort. There's no shortage of fun on a winter Sea to Sky Highway road trip!
Don't have a vehicle? Take this bus transfer service between Vancouver and Squamish or Whistler. Alternatively, head out for the day on a Vancouver to Whistler coach tour, with stops at the Sea to Sky Gondola, Shannon Falls, and Whistler Village.
Best Stops: Shannon Falls Provincial Park, Brandywine Falls Provincial Park, Stawamus Chief Provincial Park, Garibaldi Provincial Park, Sea to Sky Gondola, Whistler Blackcomb Ski Resort
More Info: Sea to Sky Highway Road Trip Guide
2. Vancouver Island
From beautiful sandy beaches to spectacular snowy mountains, Vancouver Island has everything you could ever want in a winter BC road trip. Best of all, with mild weather, it never gets too cold on the island!
A good starting point for any Vancouver Island road trip is the coastal city of Victoria. Here, you can see spectacular winter light displays at the famous Butchart Gardens, sightsee around the Inner Harbour, or adventure to a nearby park, like the Sooke Potholes, Thetis Lake, or Juan de Fuca Provincial Park.
The winter fun doesn't stop at Victoria, though! Head north up Vancouver Island to discover the snowy backcountry of Strathcona Provincial Park, home to excellent snowshoeing trails, and Mount Washington, Vancouver Island's best ski resort.
For a unique winter activity, head to Tofino and Ucluelet for some storm watching. Watch huge waves crash against the coast, right from your oceanfront hotel room. On calm days, explore the never-ending shores of Long Beach, hike to the Cox Bay Lookout, or have a fire on Chesterman Beach! And on your drive to the Pacific Rim region, make sure to stop to admire the huge old growth trees at Cathedral Grove.
Best Stops: Victoria, Butchart Gardens, Juan de Fuca Provincial Park (Botanical & Mystic Beaches), Strathcona Provincial Park, Tofino, Ucluelet, Pacific Rim National Park Reserve, Cathedral Grove, Mount Washington Alpine Resort, Southern Gulf Islands
3. Okanagan Valley
For wine lovers and outdoor adventurers, a winter road trip through the Okanagan Valley in southern BC is a must.
While the cities within this region — like Kelowna, Penticton, Vernon, and Osoyoos — are known for sunny lakeside summers, they're also some of BC's top winter destinations. When the Okanagan Valley gets snow, these areas turn into a winter wonderland that's just waiting to be explored!
Home to ski resorts like Big White, Apex, and Silverstar Mountain, the Okanagan Country is one of the best places to head in BC if you enjoy skiing or snowboarding. These mountains are also home to a variety of other winter sports, like Nordic skiing, dog sledding, tubing, and horse-drawn sleigh rides.
There are plenty of winter activities and attractions that are off these mountain resorts, too. Go skating at the charming Stuart Park in downtown Kelowna, snowshoe the Myra Canyon Trestles, or hike up Knox Mountain to get incredible views of the Okanagan Lake. Warm up after your adventures by sipping a hot drink at one of the many cafes or restaurants around town.
And don't worry, many wineries are still open in winter! Join a winter wine tasting tour to visit some of the best wineries in the region — like the Mission Hill, Quails Gate or Summerhill Pyramid Wineries — without worrying about choosing a designated driver!
Best Stops: Big White Ski Resort, Silverstar Mountain Ski Resort, Okanagan Lake, Myra Canyon Trestles, Knox Mountain Park, Wineries
4. Kootenays
With an abundance of snow, endless opportunities for outdoor adventures, and rejuvenating mineral hot springs, the Kootenays of southeastern BC are sure to provide an unforgettable winter road trip experience.
For those looking to escape into the mountains, this is the right spot for you! The Kootenays are packed with mountain towns full of character (like Fernie and Revelstoke), beautiful national parks (Revelstoke, Glacier, Yoho, and Kootenay), and tons of backcountry wilderness.
Encompassing four mountain ranges, it's no surprise that some of the best ski resorts (as well as heli-skiing) in BC are found in the Kootenays. No matter whether you hit the slopes at Revelstoke, Kicking Horse, Fernie, or one of the other mountain resorts, you'll find some incredible alpine terrain with powder snow and fun ski runs.
Want to feel rejuvenated on your vacation? The Kootenays are also home to several hot springs, such as Radium, Fairmont, and Ainsworth Hot Springs. These hot pools are a great way to relax and soothe your muscles after a long day of outdoor fun. Visit all of them on the Hot Springs Circle Route!
Within the Kootenays, you'll also find Indermere's Lake Windermere Whiteway, a 34-km groomed ice skating and Nordic skiing track around the outskirts of the lake. It's one of the longest skating trails in the world!
Best Stops: Mount Revelstoke National Park, Yoho National Park, Kootenay National Park, Glacier National Park, Revelstoke Mountain Resort, Radium Hot Springs, Fairmont Hot Springs
Best Tips for Winter Road Trips in BC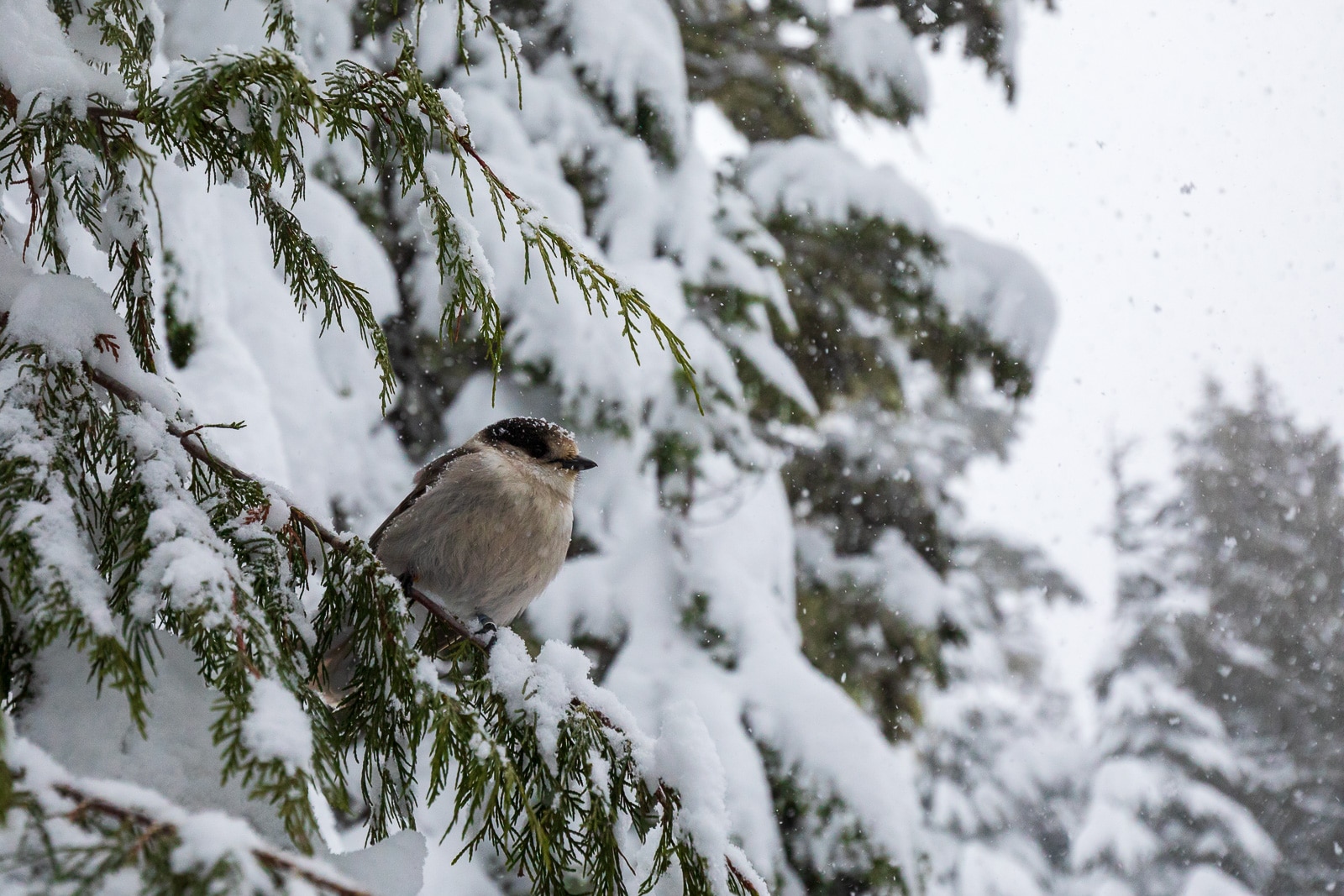 While winter is an incredibly rewarding time of year to explore BC, winter road trips through the province can also be challenging. Icy roads, heavy snowfall, road closures, avalanche warnings, and other bad winter conditions make driving through parts of BC quite difficult at times.
Before heading out on your road trip, make sure to check the conditions along your planned route using DriveBC. This website provides up-to-date information on road conditions (e.g. avalanche warnings, slippery sections, snow warnings), closures, construction, planned events (e.g. future road work), and traffic incidents. It's an incredibly handy resource for road trips in BC!
Also, check the weather forecast before traveling. Snowstorms make driving through BC very difficult (and scary). Trust us, don't drive in a BC snowstorm! While this is especially true in the mountains, driving in the coastal cities (like Victoria and Vancouver) during a snowstorm is also quite dangerous as many drivers lack proper snow tires.
Generally, snow tires are required to drive the highways in BC during the winter. For the most part, winter tires must be used from October 1 – April 30, but some highways only require them from October 1 – March 31. You can check here for maps showing the seasons for designated routes. Winter tires should have the mountain snowflake symbol, but M+S tires are also legal.
Top Travel Tips for British Columbia