Kelowna is an amazing year-round destination in British Columbia. While many people visit in the summer for the sunny weather, world-class vineyards, and beautiful Okanagan Lake, there are also many fun things to do in Kelowna in the winter.
Every year, this gorgeous city receives huge amounts of soft snow, turning the landscape into a spectacular winter wonderland. However, while Kelowna gets a lot of snow, temperatures never drop too low. The climate is so mild that the Okanagan Lake rarely freezes over. The warm winter temperatures leave Kelowna envied by most of Canada!
This combination of mild weather and plenty of snow makes Kelowna the perfect spot for winter activities, like snowshoeing and Nordic skiing. Plus, Kelowna is surrounded by fun-filled mountain resorts, so it's the perfect place to head if you love skiing or snowboarding! Or, if you prefer a warmer activity, there are plenty of things to do indoors in Kelowna during winter. There's really something for everyone!
There are lots of winter activities that you can do in Kelowna, all around the city. This article will cover some of the most fun things to do and places to see in Kelowna in winter to help you enjoy this snowy season, both indoors and outdoors. Below, we also cover exactly what to expect from the weather and the best places to stay in Kelowna in winter for your ultimate snowy getaway!
Disclaimer – This post contains affiliate links. We may receive a commission if you make a purchase through these links, at no extra cost to you. Thank you for your support! Learn More.
Fun Things to Do in Winter in Kelowna, BC
If you're wondering what to do or where to go in Kelowna, BC during winter, look no further! We've compiled a list of some of our favorite winter activities, things to do, and places to see around Kelowna, both outdoors and indoors. In no particular order, here are some fun things to do in Kelowna in winter!
1. Snowshoeing the Myra Canyon Trestles on the Kettle Valley Rail Trail
Located on the Kettle Valley Rail Trail, the Myra Canyon Trestles are some of the most famous features for snowshoeing around Kelowna. With 18 trestles and two tunnels, you'll find jaw-dropping views of the surrounding Okanagan Canyon as you pass through. The surrounding valley is the perfect backdrop for immersing yourself in this piece of BC's history and the snowy wonderland of Kelowna.
After two of the trestles were destroyed by a fire in 2003, the trail was closed to the public during the replacement and reconstruction of the historic structures. Reopened in 2008, you'll find absolute serenity during your walk through some of the most beautiful scenery in Kelowna.
While the trestles are incredibly popular during the spring and summer months, during winter you'll often find yourself alone for hours at a time. It's the perfect place to escape from the hustle and bustle of the city, and enjoy the peacefulness of nature!
2. Skiing & Snowboarding the Slopes at Big White, SilverStar or Apex Mountain Resorts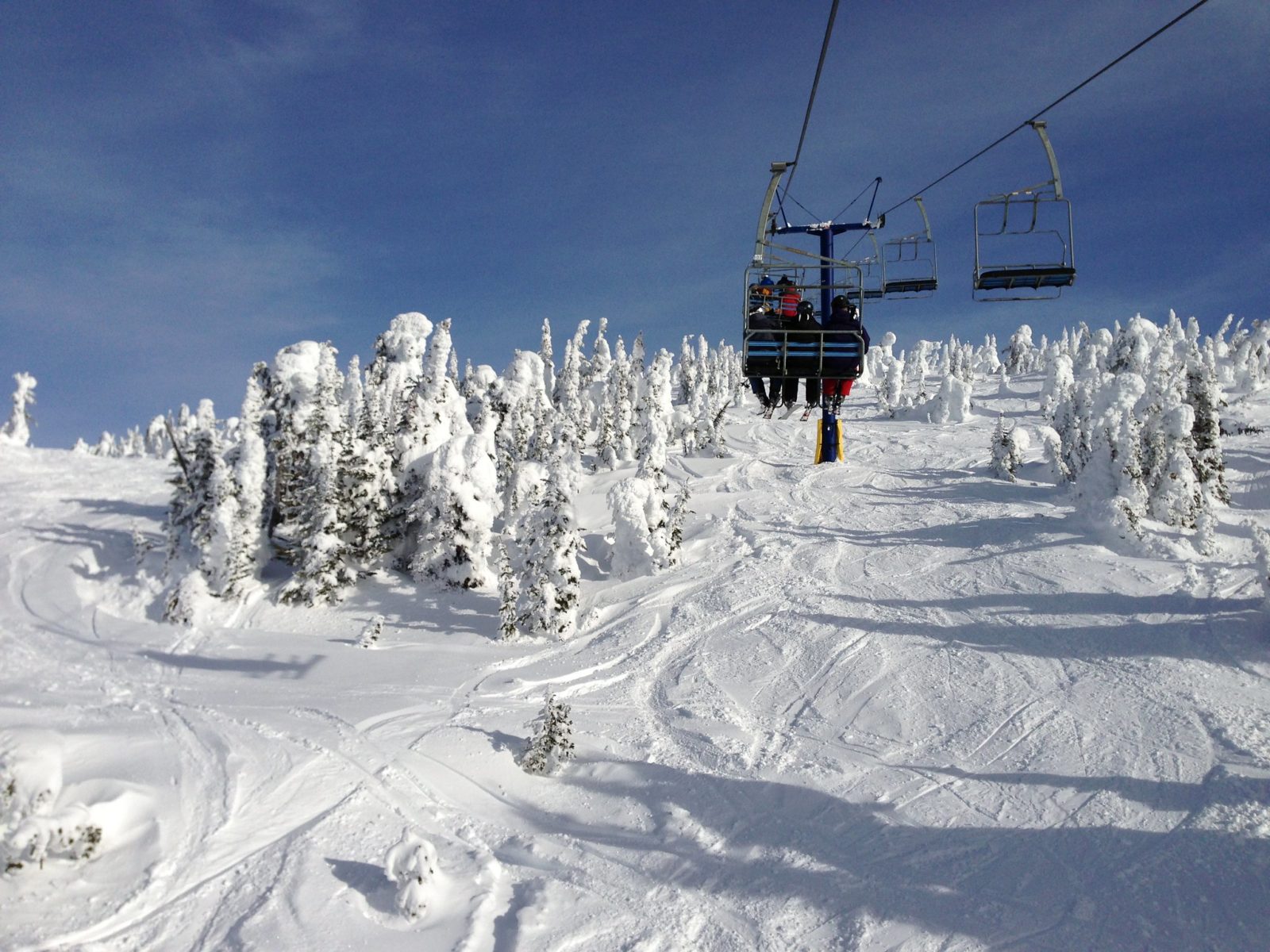 Surrounded by mountains, Kelowna is one of the best places in British Columbia to head for alpine skiing and snowboarding. The city has three awesome mountain resorts nearby – Big White Ski Resort, SilverStar Mountain Resort, and Apex Mountain Resort. All of these mountains are only a 60-90 minute drive from Kelowna and are loads of fun!
Big White is the second-largest ski resort in British Columbia, and one of the most popular winter destinations in the province. The resort is home to 2,765 acres of incredible skiing terrain for all abilities. The runs are all meticulously maintained and lots of fun. With over 7.5m of snow each year, it's easy to see why this massive resort is so popular!
SilverStar Mountain Resort is about 75 minutes north of Kelowna, near Vernon. This mountain is another fantastic option for those who wish to take their skiing game to the next level. The resort features 132 runs of varying difficulty and a modern ski-in-ski-out village for when you need a rest. Take a break with a warm hot chocolate in one of SilverStar's cafes, then head out to continue your family-friendly day on the slopes!
Lastly, you can head to Apex Mountain Resort, about 90 minutes southwest from Kelowna. Compared to the other ski resorts, Apex is smaller, with only 450 hectares (1,112 acres), 73 trails, and 2 chair lifts. However, Apex makes up for its size with smaller crowds and challenging runs. If you're more experienced, Apex might be a great choice for you. However, there are also plenty of easier runs, so the mountain is perfect for all skill levels!
3. Cross-Country Skiing & Snowshoeing at the Telemark Nordic Club
For cross country skiing or snowshoeing lovers, the Telemark Nordic Club is a fantastic place to test out your skills. The Telemark Nordic Club is only 30 minutes west of downtown Kelowna, by Crystal Mountain on Glenrosa Road. With such a convenient location, it's perfect for a quick lap around the trails or a full day of exploring.
With over 50 km of groomed ski trails and 60 km of snowshoe trails, you'll never run out of new routes to explore! There are even about 6-km of dog-friendly trails, which are perfect if you love skijoring. The trails are incredibly beautiful taking you through Ponderosa pine forests and past scenic views of the snowy Okanagan Valley.
Whether you want to brush up on your skills or develop some new ones, you'll be welcome at the Telemark Nordic Club. This location is a favorite of locals with a real sense of community, but newcomers are always welcome. At the end of a chilly day, you can warm up near the fire in the lodge with your newfound friends, enjoying a warm drink and good conversation.
If you don't have the equipment, don't worry! There is a rental shop at the club where you can hire a full complement of ski equipment, right down to the goggles. The rental is incredibly good value as well. You'll get skis, poles, boots and day passes for about $40. Or, if you want to snowshoe, a rental and day pass will cost you about $21. You'll be hitting the trails in no time!
4. Winter Hiking at Knox Mountain Park
One of the best spots for spectacular views of Kelowna and the Okanagan Lake in winter (and summer) is at Knox Mountain Park, one of the largest parks in the city. This 367-hectare park is right beside the Okanagan Lake, on the north side of Kelowna's downtown area. The summit of the mountain is 300-m above the water of the Okanagan Lake, so it has amazing views of the city's core and the surrounding valley.
While Knox Mountain is a popular destination in summer, it's also a great spot to head in the winter. The trails vary in length and difficulty. Also, it's a great spot to bring your leashed dogs. The snow usually gets packed down on the trails, so you probably don't need snowshoes unless it's recently snowed.
You can walk up to the summit on various trails, like the Apex Trail (4-km roundtrip). Alternatively, you can do the 10-km loop around Knox Mountain and Kathleen Lake or head along the side of the park on Paul's Tomb trail (4.8 km roundtrip). Also, during the winter, you can walk on the road that goes to the top, because it is closed to vehicles.
5. Trying Ice Wine on a Winter Wine Tour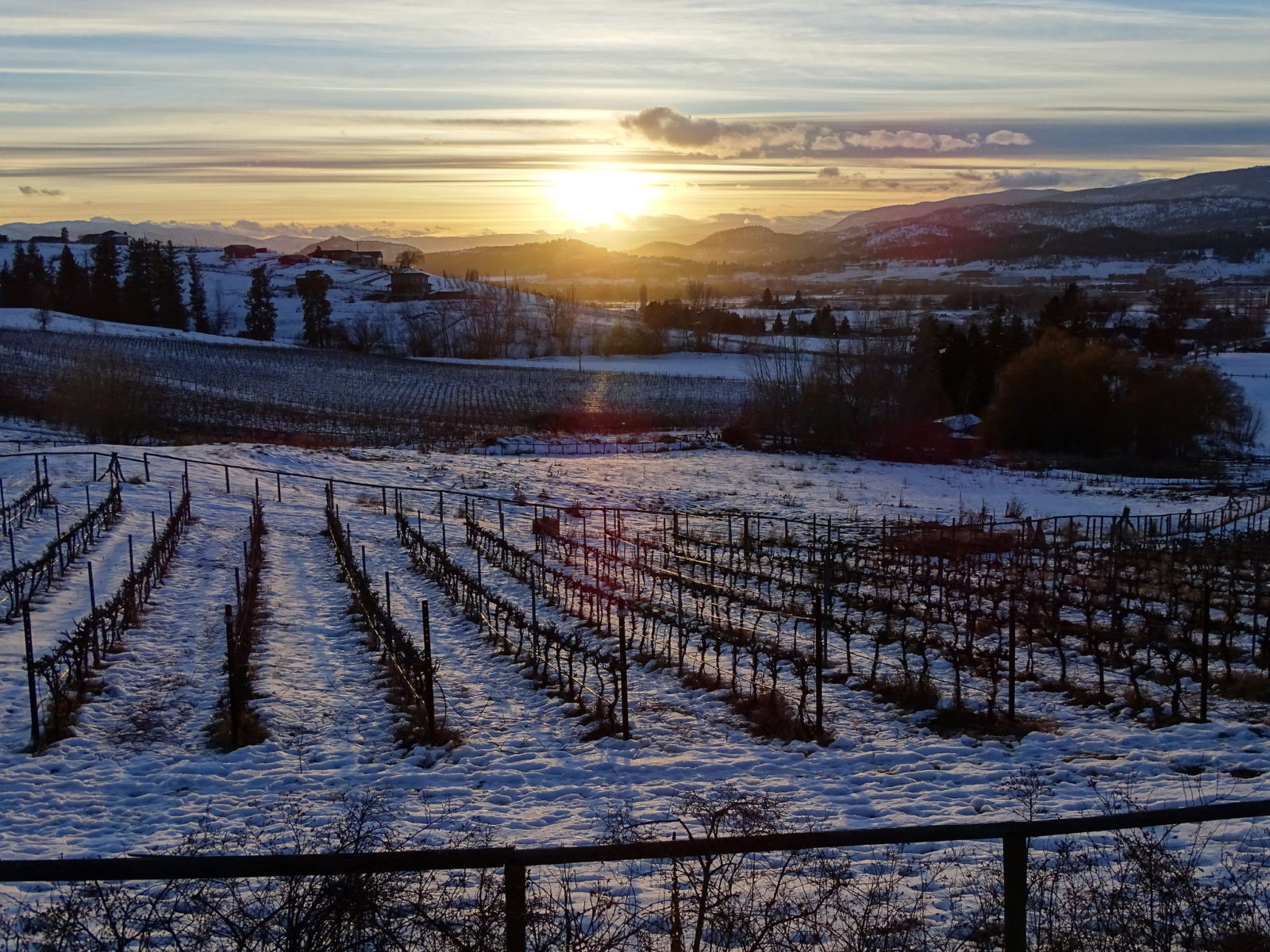 Kelowna is famous for its vineyards and orchards, so you'd be remiss not to test out some of its wineries. Winery tours aren't just a summer activity. The tours run year-round, so you won't miss out on your winter holiday. In winter, the wineries are less crowded and the vineyards are breathtaking under a layer of sparkling snow.
A highlight in the winter is Kelowna's delicious ice wine. The Okanagan region is one of the most unique areas in the world for growing wine and is known for being one of the only places where ice wine is produced. This sweet, rich wine not only requires nutrient-rich soil but the grapes must also be harvested when nearly frozen. Ice wine is a protected food item, and must meet strict Vintner Quality Alliance standards in order to qualify for the title – otherwise, it can only be sold as a dessert wine.
Kelowna's history of ice wine production dates back to the 1970s. By the early 2000s, the region was recognized as one of the top areas for ice wine production in the world.
Today, reputable wine tours are run year-round through some of Kelowna's top vineyards. Some of the stand-out wines include Summerhill Pyramid Winery's Chardonnay Ice Wine, as well as Mission Hill's Reserve Merlot Ice Wine. You'll usually head to four or five vineyards in a tour. Check with your tour guide to see which vineyards you'll be visiting prior to the day.
6. Ice Skating at the Stuart Park Ice Rink
One of the most popular lakeside parks in Kelowna, Stuart Park becomes a dazzling ice rink with free skating during winter. Locals and tourists flock to this huge rink during the skating season, usually from December to February. Located on Kelowna's waterfront, the skating rink has amazing, scenic views of the Okanagan Lake and Valley.
Bring your own skates and enjoy gliding across the massive ice rink. For those that don't have their own equipment, there is a skate rental booth at the rink (open 11 am to 8 pm). Skate rentals cost $5 for adults and $4 for children. With free admission, skating at Stuart Park is a very affordable, family-friendly activity during the winter!
Don't worry about booking your skating session – the rink is open to casual drop-ins, and welcomes skaters of all ages and abilities. You can check the opening times on the council website. For families, visiting earlier in the day usually means a quieter experience.
It's rare to see the rink empty. If you visit Stuart Park and find that it's too busy, you can try skating at the Memorial Arena, Rutland Arena, or Capital News Centre.
Also, when you're done skating, you can head for a walk along Kelowna's Waterfront Promenade. Or, admire the impressive blue Bear sculpture near the rink, which represents the city's namesake.
7. Dog Sledding with Candle Creek Kennels at Big White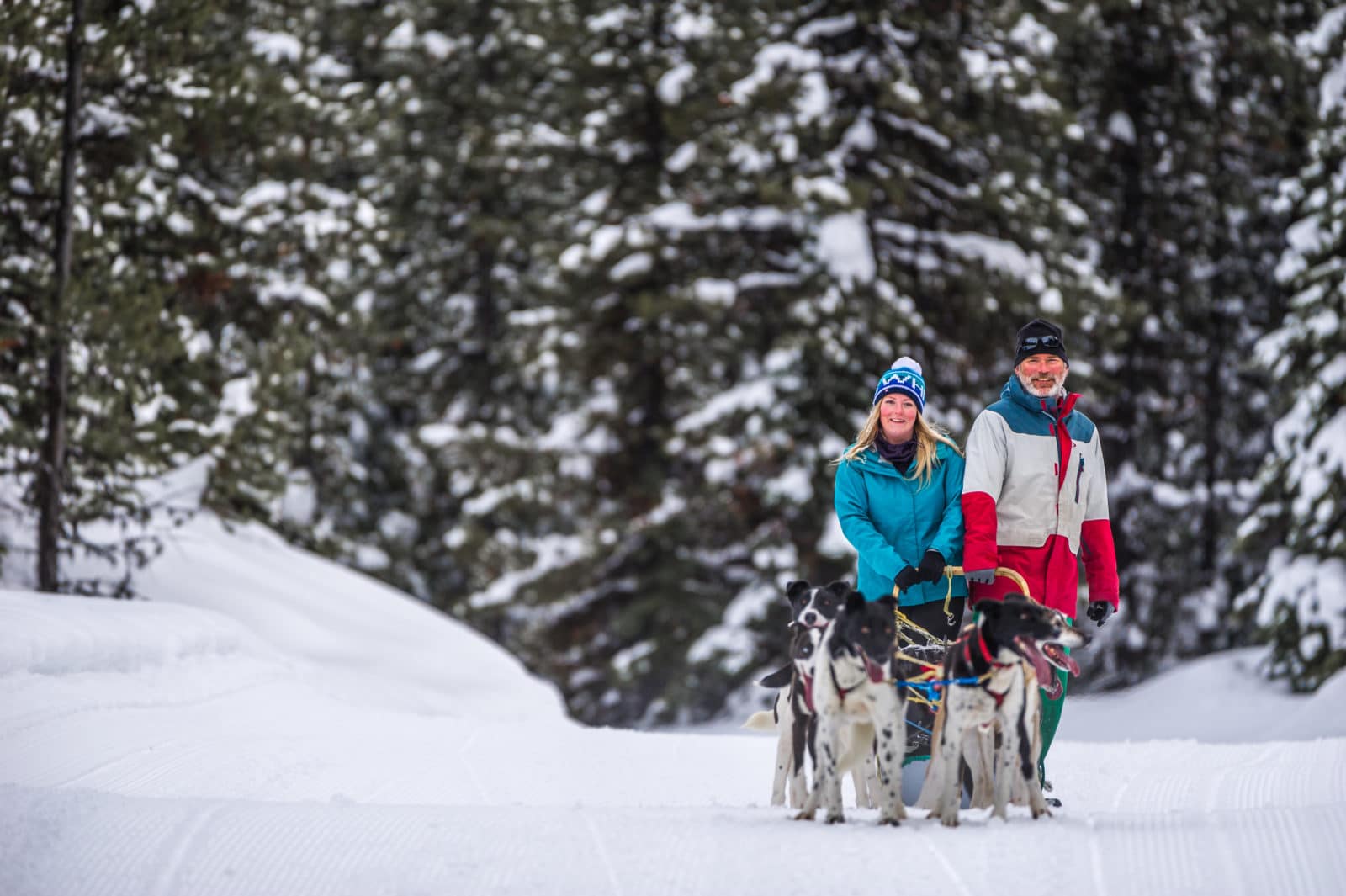 If you're looking for a more unique winter activity, you should try dog sledding in Kelowna! At Big White Ski Resort, you can go on a dog sledding tour of the backcountry trails around the Happy Valley Adventure Park with Candle Creek Kennels. The dogs are adorable and the tour is a blast!
The trail is 6-km, takes about 30-minutes, and costs $299. You'll get to meet the dogs before you take off on this exciting journey. They're all adorable and very friendly! Once on the sled, you'll be zooming through the trees, and enjoying the snowy fields and pine forests in Big White's backcountry areas.
Dog sledding is a one-of-a-kind activity. It's a lot of fun to ride on the sled and watch the dogs work as a team to pull the sled. Make sure to wear warm clothing and goggles in case of snow being kicked up!
8. Hiking to a Frozen Waterfall in Bear Creek Provincial Park
Hiking to a frozen waterfall should be at the top of the list for anyone wanting to experience a Kelowna winter. While there are several stunning waterfalls around Kelowna, one of the most spectacular is at Bear Creek Provincial Park. It's perfect for both summer and winter adventures. In the winter, you can sometimes even walk right up to the waterfall!
The Bear Creek Provincial Park waterfall can be accessed via the Canyon Rim Trail. Popular with tourists and locals alike, this 2.5 km long trail loops around the top of the falls for a truly breathtaking view from above. Also, you'll come across a hidden trail to the bottom of the waterfall during your walk, so keep an eye out!
For another frozen waterfall, consider visiting Mill Creek Regional Park. Only a 3 km round trip, the waterfall at Mill Creek is worth the walk! Follow a beautiful snowy trail through the woods to a picturesque frozen waterfall at the end, taking in the serene white scenery as you walk.
While meandering through some of BC's parks is a popular summertime activity, these parks are often much less crowded during the colder months. They offer the perfect spot to immerse yourself in a winter wonderland!
9. Ice Fishing at Idabel Lake & Shannon Lake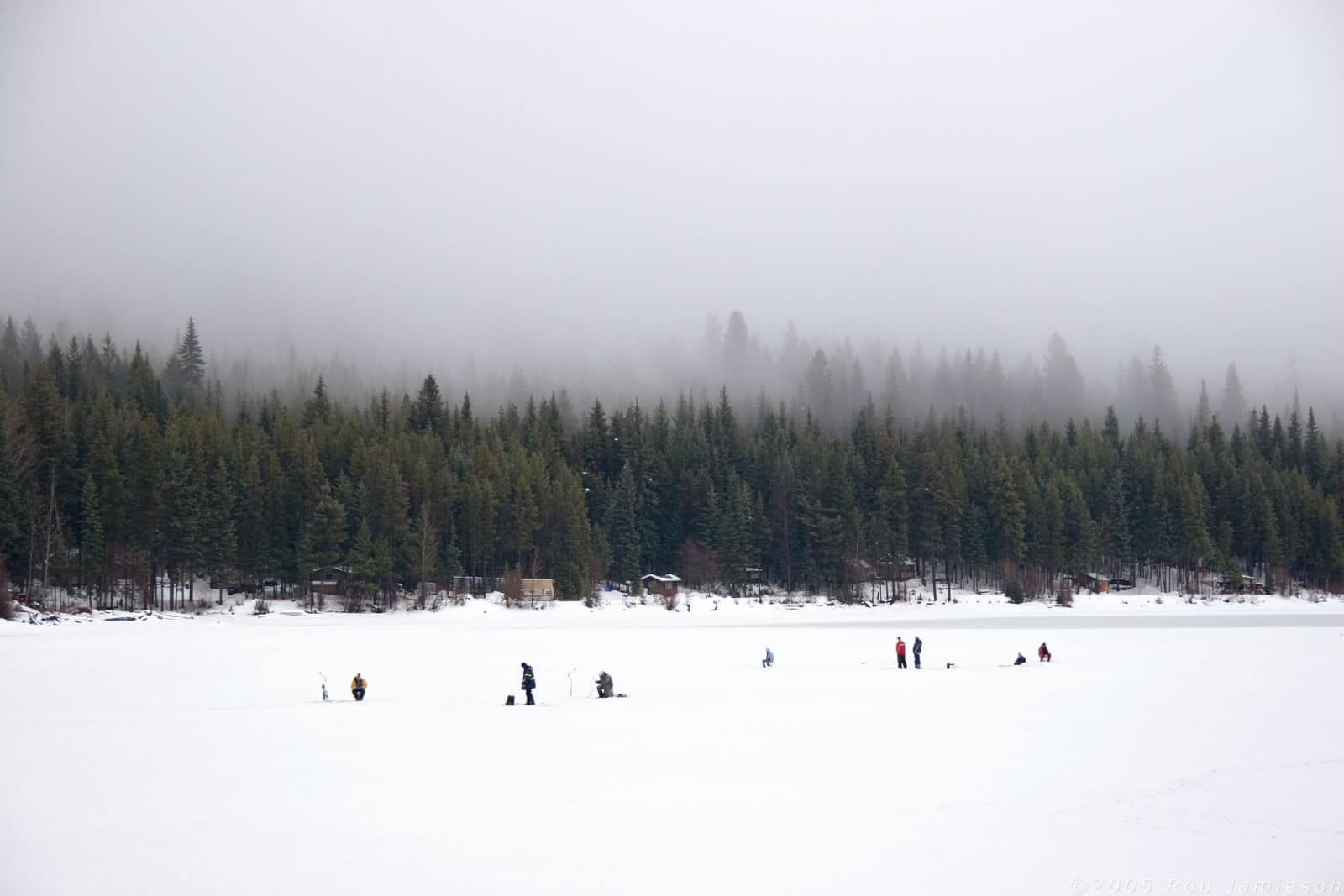 Ice fishing is one of the more popular winter pastimes in BC, and Kelowna is home to some of the best locations to participate in this classic cold-weather activity!
Just 30 minutes drive from Kelowna, Idabel Lake is famous for its plentiful ice fishing during the winter season. Due to its popularity, Idabel Lake is always easily accessible via well-plowed roads. The lake is home to plenty of stocked rainbow trout and brook trout. The lake tends to freeze over enough to allow ice fishing between late December and mid-February.
If you want something a little closer to town, take a trip to Shannon Lake. This urban fishery is only a few minutes from West Kelowna. Home to perch, rainbow trout, and largemouth bass, this 16-hectare lake is full of drop-offs perfect for avid ice fishermen wishing to catch their dinner. With easy access to parking and bathroom facilities, Shannon Lake is a great option for a family-friendly day on the ice!
10. Enjoying Views of Kelowna from John's Family Nature Conservancy Regional Park
The Okanagan has some of the most jaw-dropping scenery in BC, so what better way to see it than with a panoramic view? Put on your snowshoes and take a trek through John's Family Nature Conservancy Regional Park, just 20 minutes from downtown Kelowna.
There are a few trail choices to suit hikers of all experience levels, with the shortest ending just over 500m away from the parking lot. For the best panoramic views, try the Elk Trail. At 3.7km long oneway, the Elk Trail is the longest trail that the park has to offer, taking you to the far western edge of the park before you turn back to the parking lot. You'll be treated to some fantastic views over the frozen Okanagan Lake, as well as the surreal and beautiful snow-covered landscape.
John's Family Nature Conservancy Regional Park is a popular spot to head in the summer, as well. The trails are great for hiking, and connect all the way to Lebanon Creek. Also, a well-known rock-climbing location, The Crags, is located at John's Family Nature Conservancy Regional Park.
11. Drinking Craft Beer from One of Kelowna's Breweries
Beer lovers, rejoice – Kelowna is the place to be if you're in search of a unique brew! Kelowna has one of the fastest-growing craft brewing industries in BC, so make sure to pay a visit to some of the quality establishments around the town.
Each brewery has its own personality, and often a fantastic food menu to go along with their quality beer. Local favorites include Tree Brewing Beer Institute and BNA Brewing Co. Make sure to sample some of the top-notch ramen sold from the Tokyo Food Truck located out the front during the weekends!
If craft beer isn't your thing, there are also some fantastic cideries local to Kelowna worth visiting. A firm part of Kelowna's agricultural history, ciders from establishments like Wards Cidery and Scenic Roads Cider Co. are made with local fruit and range from deliciously sweet to refreshingly dry.
12. Enjoying One of the Many Winter Festivals, Markets or Shows
Kelowna is a great spot to head for fun winter events, including winter festivals, markets and theatre shows. You'll get to see everything from epic firework displays to winter-themed performances. There's something for everyone!
You can celebrate the holidays at one of the family-friendly winter festivals in Kelowna. At these festivals, there are all kinds of activities and entertainment. The festivals have sparkling firework displays, live local music, outdoor skating rinks, and more! Some of the more popular winter festivals include the New York New Years Celebration, Festival of Trees, and Downtown Winter Light Up.
If you love shopping, check out one of the many winter markets, full of local crafts, unique souvenirs, and tasty foods. Sip on hot chocolate as you browse through the market stalls. Some of the markets include the Winter Street Market in downtown Kelowna, the Craft Culture Holiday Market, and the Kelowna Farmers' and Crafters' Market.
Lastly, if you love theatre, check out one of the winter shows performed on stage in Kelowna. There are many holiday-themed shows, including the annual Nutcracker Ballet that's been performed over 30 years!
13. Riding in a Horse-Drawn Sleigh at Big White or SilverStar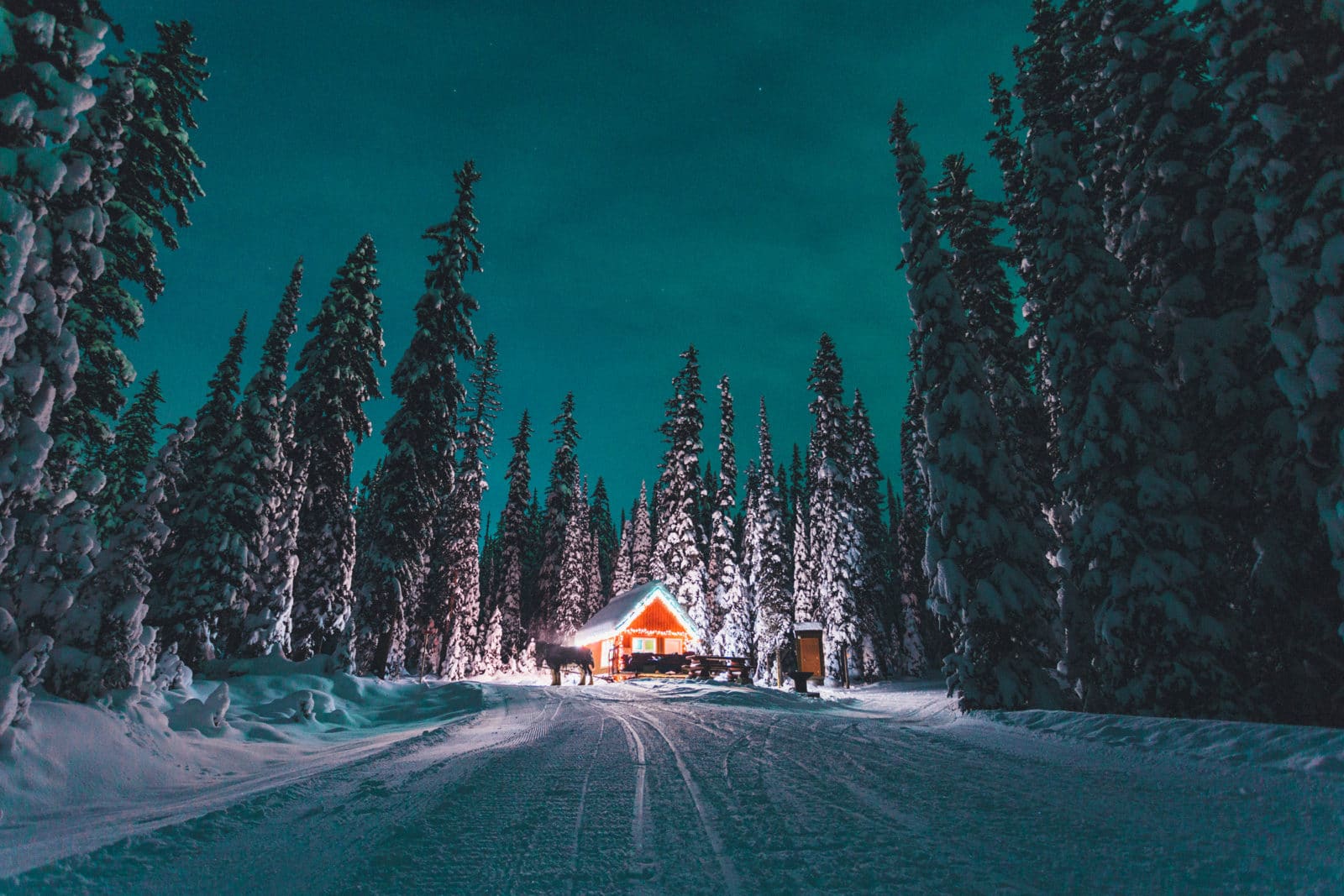 The largest ski resorts in BC aren't just known for their quality slopes! Step back in time with a magical horse-drawn sleigh ride at Big White Ski Resort or SilverStar Mountain Ski Resort.
Surrounded by snow-capped trees, snuggle up under a blanket as you and your companions are driven through the forests around the resort for up to 60 minutes. It's an amazing way to explore the forests of Kelowna!
This is the perfect activity for families, couples, or those wanting to feel like they've stepped into a fairy tale. You can choose from group tours or small private sleigh rides for something more intimate, so sit back and enjoy!
14. Fat Biking on a Snowy Forest Trail
If you love biking, you will be happy to know that you don't have to stop in the winter in the Okanagan! With a fat bike (a bicycle with oversized tires), you'll be able to explore the snowy trails around Kelowna with ease. These bicycles give you access to off-road trails and terrains that a normal bike's wheels would sink into, like snow.
If you don't own a fat-tire bike, you can rent one from a local bike shop or ski resort.
You can head to one of your favorite local bike trails, like the Crawford Trails and Myra Canyon in Myra-Bellevue Provincial Park. Other good fat biking locations are the trails at Isobel Lake, Kenna Cartwright Nature Park, and McBride Mountain.
Alternatively, you can head to the fat bike trails at one of the local ski resorts. A pass to use the bike trails will cost about $15. At Big White, most of the fat biking is on the Trapping Meadows Trail, taking you through the beautiful alpine wilderness. At SilverStar, there is about 15 km of snowy forest trails. And Apex Mountain has recently opened up some new fat bike trails that are ready for you to explore!
15. Visiting One of Kelowna's Museums
For those who need a break from the cold, step inside one of Kelowna's many museums. From the incredible wine and agricultural history through to the construction and use of the region's railways, there is a gallery or museum for every taste!
Discover the natural and human history of the region at the Okanagan Heritage Museum. Or, learn more about Okanagan's wine-making processes and orchard industry at the Wine and Orchard Museum in downtown Kelowna. There is even the fascinating Okanagan Military Museum with a rotating exhibition lending unique insight into Kelowna's contribution to major wars.
16. Snow Tubing at Big White or Silver Star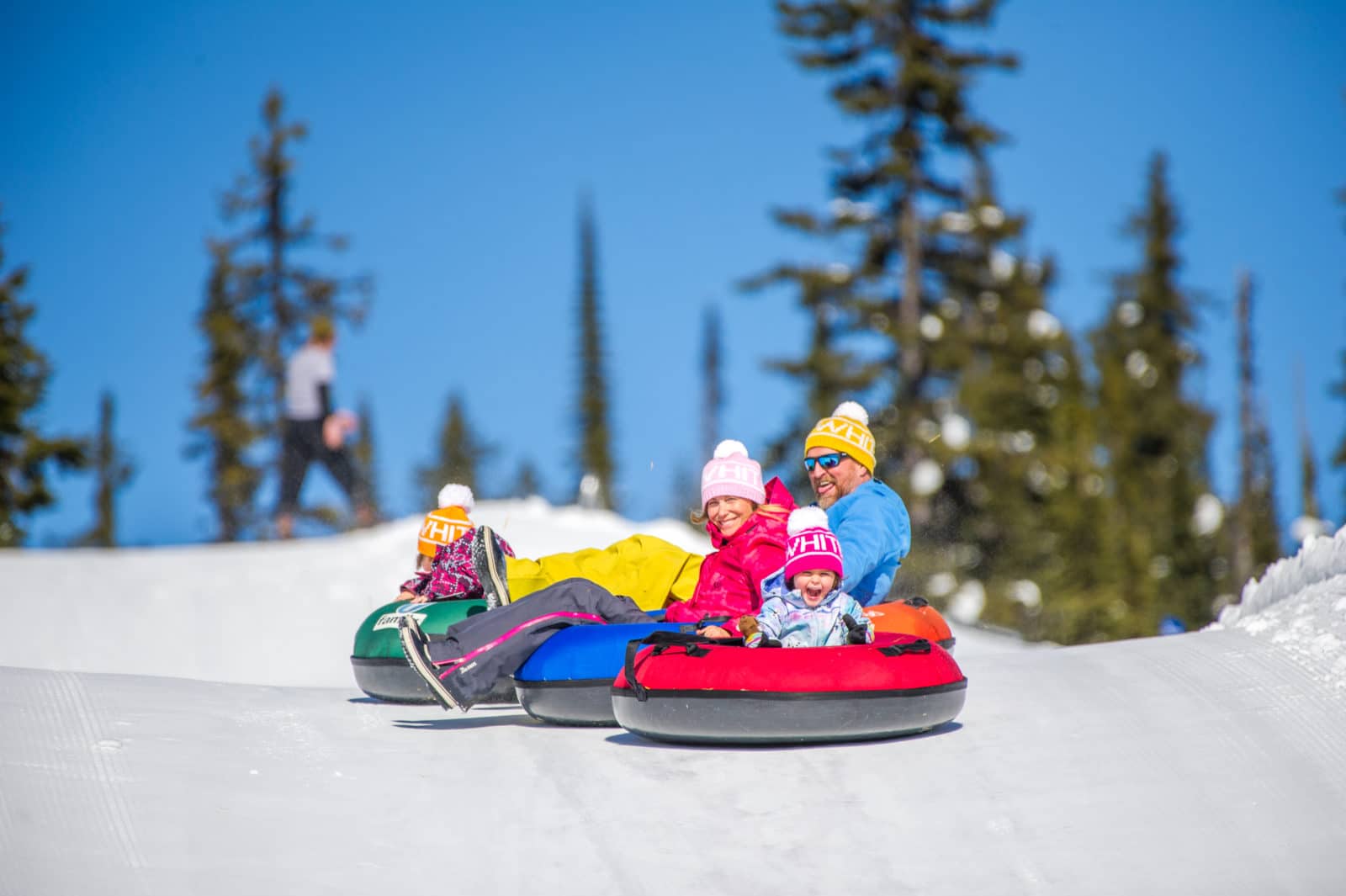 Not everyone visiting the ski slopes wants to strap on a board. Snow tubing is a fantastic alternative for those who don't feel confident on a pair of skis or simply wish to enjoy the snow in a different way.
Both of the major ski resorts in Kelowna, Big White and SilverStar, offer this family-friendly pastime. These mountain resorts rent out tubes to those wanting to surf down the snow without having to steer. There's no skill or experience required for tubing – just get ready for some serious speed!
Make sure that you're in the right area – each resort has dedicated slopes and lanes for tubers or sledders. It's dangerous to tangle with skiers and snowboarders on the larger runs, so proceed with caution!
Alternatively, go for tobogganing for free at one of the local hills, like Summerside Park, Curlew Park, Kettle Valley, or Dilworth Mountain.
17. Indoor Rock-Climbing at Beyond the Crux
If you need a break from the cold and want to try something unique, head to Beyond the Crux for some excellent indoor rock climbing and bouldering. Whether you're new to the sport or an experienced climber, this climbing gym is a lot of fun. It's also the perfect place to head for an upper body workout in the winter!
Kelowna is a hotspot for rock climbing, located near both The Crags and Skaha Bluffs Provincial Park. While you can't climb outside in the winter, heading to the local climbing gym is a great way to hone your skills during the snowy months.
At Beyond the Crux, drop-in rates are only $16.50, or you can snag an annual membership for $480. That's really affordable for many hours of fun!
If you haven't climbed before, you'll need to take a belay course before starting. The course will teach you the basic skills and proper techniques needed to climb in the gym. When you advance further, you can learn how to lead climb, opening up all kinds of new routes in the gym. And, in the summer, you can join an outdoor climbing course with one of the local guides to learn how to put your new belaying skills to the test at the Crags or Skaha Bluffs.
18. Backcountry Snowmobiling with Big White or Silver Star
Whether you've never seen snow before or are a seasoned cross-country rider, snowmobiling is the perfect way to experience the backcountry surrounding Kelowna!
If you own a snowmobile, you can explore the Okanagan Valley on one of the many sled trails, like at Graystokes Provincial Park. However, if you don't own a sled, you can still join in the excitement with one of the many fun-filled snowmobile tours at the nearby mountain resorts!
There's a variety of snowmobile tours taking place on well-maintained trails around both Big White and SilverStar Mountain Resorts. These tours are perfect for all experience levels. Choose to drive your own snowmobile, or double up with a friend. You'll be powering through the thick snow that Kelowna is so famous for!
Tours run for 1, 2, or 4 hours, and can be private or group-led. A word of warning – all drivers on tours must be at least 16 with a valid driver's license. Make sure you bring yours with you to avoid disappointment!
19. Axe Throwing at Axe Monkeys
Axe throwing has exploded in popularity over the last decade, and Axe Monkeys in Kelowna is the ideal place to test your aim! Located in the center of town, Axe Monkeys is Kelowna's first and only axe-throwing centre. The venue aims to help patrons of all ages learn the age-old techniques of axe-throwing. You'll have a blast throwing axes and seeing if you can hit the targets!
Axe Monkeys Kelowna has nine dedicated throwing lanes. Also, they've recently expanded their equipment to include knives, ninja stars, and other unique implements to throw!
With trained professionals instructing and guiding every step of the way, you'll love the feeling of hitting that target time and time again. The only problem will be when your session finishes!
20. Having a Hot drink & Playing Board Games at Twice the Dice
If you want a break from the cold weather, head inside Kelowna's own board game café! Opened in 2020, Twice the Dice has a collection of over 1000 board games for you and your friends to amuse yourselves with while defrosting from the snow outside.
With a wide menu of delicious beverages and snack foods, Twice the Dice is a great place to spend an afternoon relaxing, chatting, or simply revisiting your childhood with some of the retro and modern games on hand.
If you feel like something stronger than a milkshake, Twice the Dice is fully licensed. They have a wide range of local craft beers, ciders, wines, and cocktails – great for bringing out your competitive streak!
21. Walking through Mission Creek Regional Park & the Greenway
If you love winter walks, Mission Creek Regional Park and Greenway is one of the best spots to head in Kelowna. With 92-hectares of parkland, Mission Creek Regional Park has over 26 km of excellent walking trails. The paths follow the creek all the way from the Okanagan Lake to Mission Creek Falls.
The trails along Mission Creek are great for winter walking and fat biking. You can bring your dog if they're leashed. The trails are accessible year-round, although they can get a little slippery in the winter.
Mission Creek is a great spot to head in other seasons too. The pathways look quite different when the snow has melted in the summer. In September, Mission Creek is an excellent location to see kokanee salmon in the spawning channel. There's even a salmon festival held each year in September! At the park, there is also a children's fishing pond and the Environmental Education Centre for the Okanagan (EECO).
You can also access Scenic Canyon Regional Park through the Mission Creek Greenway. Scenic Canyon is a great spot for winter hikes and cross-country skiing. It has some incredible views of rock ovens (cave-like formations used as shelters by gold miners) and Layer Cake Mountain.
Winter Weather in Kelowna: What to Expect
You might be wondering what kind of weather to expect during winter in Kelowna. You have to know what to pack and you certainly don't want to freeze on your winter vacation!
Luckily, Kelowna is a great spot to head in winter. The city has the perfect combination of snow and mild temperatures!
The snow arrives usually in November, although there might be a few snowflakes in October. Most of the snowfall is in the surrounding mountains, which also tend to be colder. The city doesn't get quite as much snow.
Usually, the ski resorts open in mid-November or December and stay open until mid-April. Snow melts earlier in town, usually around March. You'll have lots of time to enjoy the snow, especially in the mountains!
Temperatures through the winter are usually quite mild. November temperatures average between 6°C (42.8°F) as a high and -1°C (30.2°F) as a low. December and January are the coldest months, with average temperatures that hover between 1°C (33.8°F) and -4°C (21.2 °F).
In February, temperatures begin to warm up, with a low of -3°C (26.6°F) and a high of 4°C (39.2°F). By March, days are much longer, and the average temperature is between 0°C (32°F) and 10°C (50°F).
Sometimes, the city gets cold snaps (mostly in January), but days with -30°C (-22°F) are rare. However, you should pack warm clothing, just in case!
Located in a valley, Kelowna tends to be quite cloudy in winter. Luckily, the ski resorts are sunnier, especially at the summits.
Overall, Kelowna is a great winter destination, with lot of snow, mild temperatures, and lots of things to do. You're guaranteed to have a fun-filled vacation!
Final Thoughts
Kelowna is a year-round destination in British Columbia, with something for everyone. Known for its summer activities, Kelowna has amazing sunny weather, great beaches, world-class vineyards, locally-grown fruit, and the gorgeous Okanagan Lake. However, Kelowna also has a lot to offer in the winter!
With mild weather and lots of snow, you won't regret a visit to Kelowna and the rest of the Okanagan Valley in the winter. Kelowna has lots of activities and things to do in winter, both indoors and outdoors. You can explore the winter hiking trails, speed down the snowy slopes at one of the mountain resorts, try unique adventures like dog sledding, stay cozy indoors playing games, and so much more. You definitely won't regret a visit to Kelowna in winter!