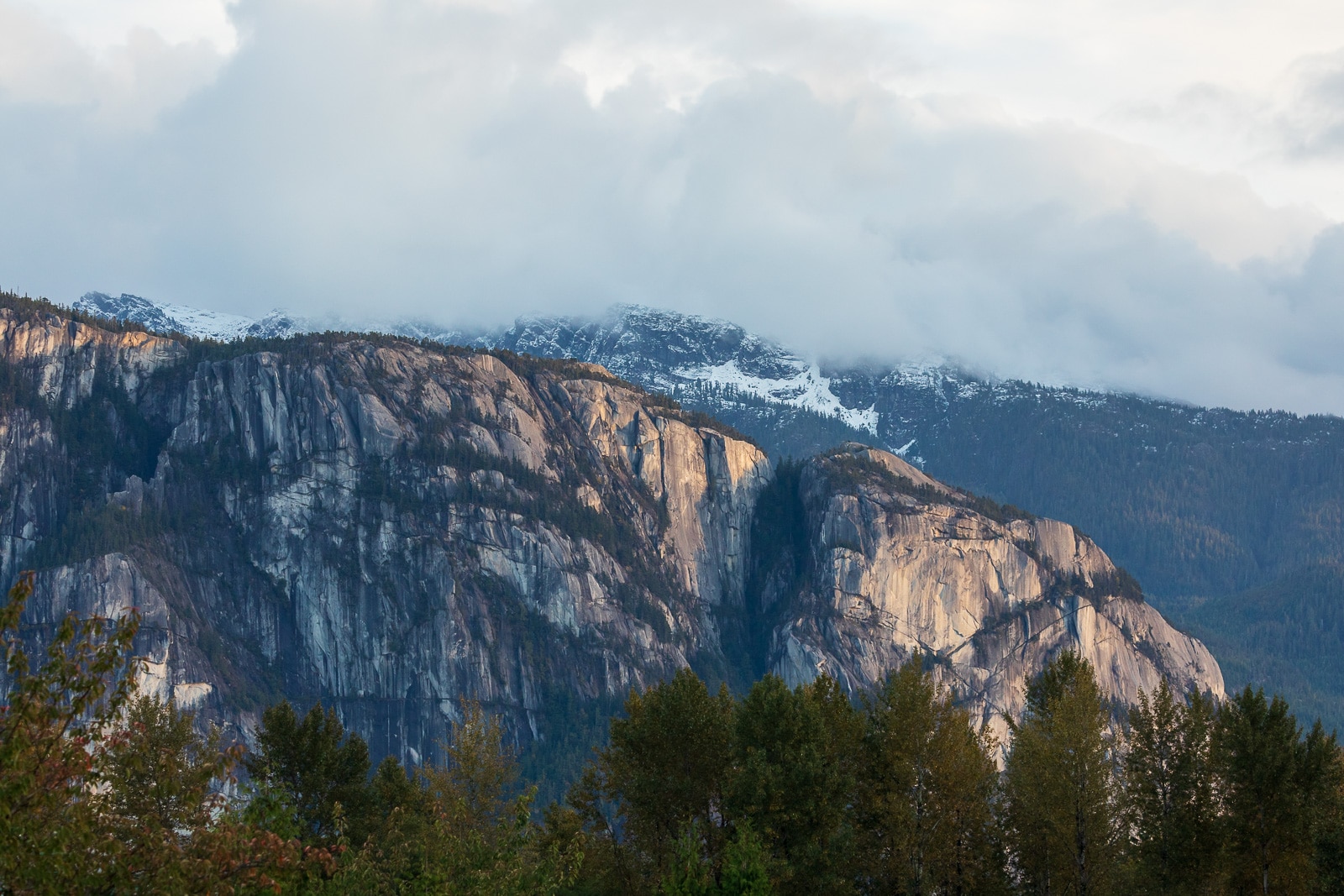 Squamish is one of the best places in British Columbia to head in the summer if you love outdoor adventures and activities. Known as "Canada's outdoor recreation capital", Squamish has plenty of things to do and everything you need for a fun-filled summer!
Located beside the gorgeous Howe Sound fjord and Squamish River estuary, Squamish is surrounded by spectacular mountains, world-class hiking trails, alpine rivers, and incredible waterfalls. This beautiful mountain town is known for being a rock climber's paradise due to its famous Stawamus Chief mountain. However, there are many other awesome summer activities and things to do in Squamish. You'll never be bored during a trip to this beautiful city!
In this article, you'll learn about the best things to do in Squamish during the summer. This list covers everything from epic rock climbing adventures to stunning backcountry trails. There are even a few options for indoor, urban activities that you can do in Squamish during the summer, in case it's raining or you need a break from exploring. Also, we cover the best places to stay in Squamish, what to pack for your trip, and exactly what to expect from the weather during summer.
Disclaimer – This post contains affiliate links. We may receive a commission if you make a purchase through these links, at no extra cost to you. Thank you for your support! Learn More.
Best Things to Do in Squamish in Summer
There are many awesome things to do, places to see, and locations to visit in Squamish during the summer months. Below, in no particular order, we cover the best things to do in Squamish during the summer. This list covers all kinds of activities and adventures in Squamish, ranging from a relaxing tube ride down the river to adrenaline-filled rock climbing hundreds of meters above the ground. You won't be bored this summer with this list of the best things to do in Squamish, BC!
1. Climb the Stawamus Chief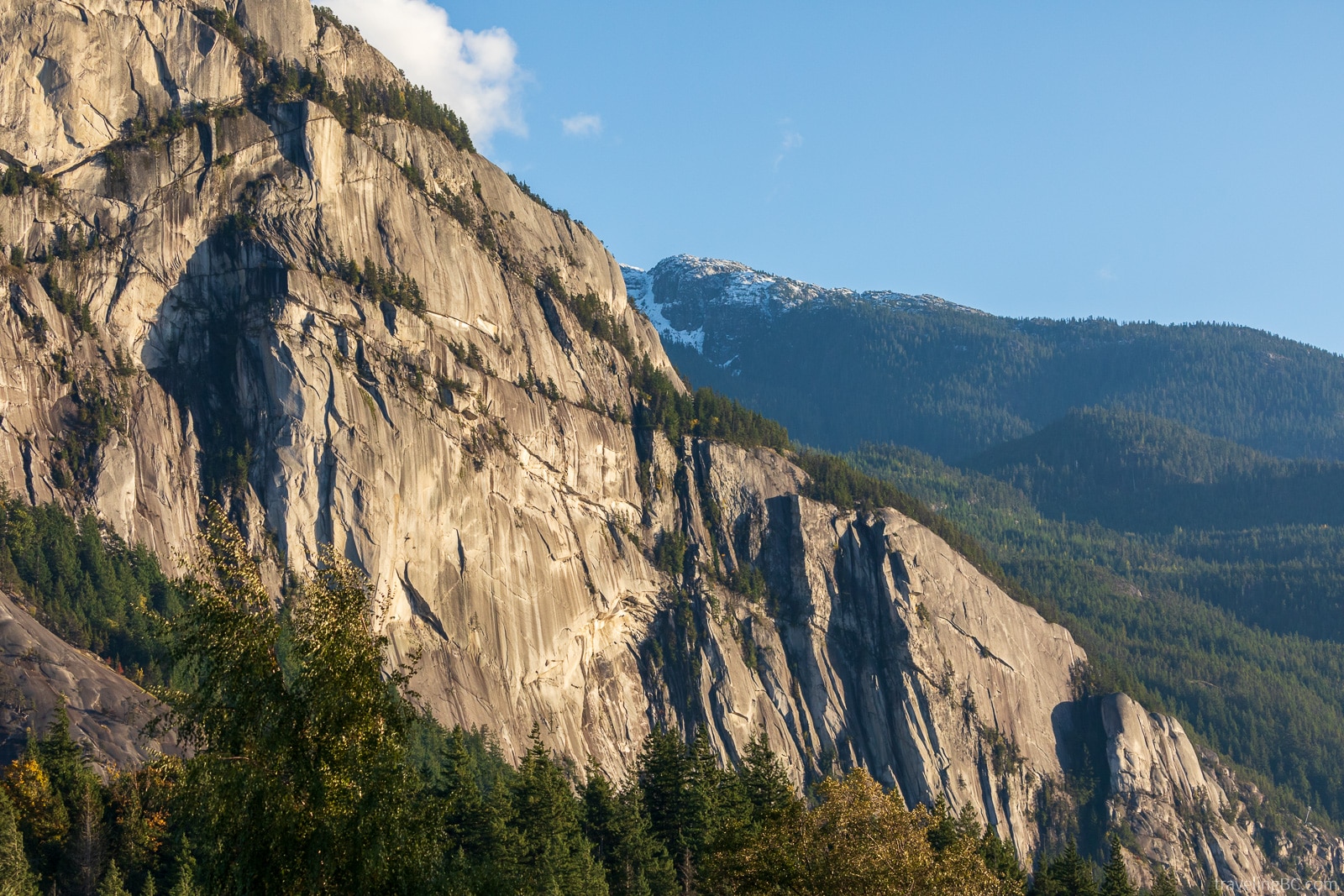 Squamish is best known for its world-class rock climbing and bouldering at the Stawamus Chief mountain. Fondly known as The Chief by locals, this 700-m granite monolith towers over the city of Squamish. Whether you are a novice climber or experienced at sending the toughest climbing routes, you'll love a day on the granite at the Stawamus Chief Provincial Park.
The Stawamus Chief has every type of climbing – sport, trad, top-rope, single-pitch, multi-pitch, bouldering, and even ice-climbing in the winter! Test your skills on the famous Grand Wall route, a classic climb that you shouldn't miss on your trip to Squamish. Or, choose from over 200 bouldering problems, scattered around the Chief. By the end of the day, your arms will be very sore!
If you're an experienced outdoor climber, head out to the Stawamus Chief with a Squamish climbing guide book (try the Squamish Select route book), a knowledgeable local, or a tour guide. If you're new to outdoor climbing, join one of Squamish's many rock climbing intro courses to learn basic rock climbing skills and techniques, like belaying, rope management, and anchoring. You'll be ready to tackle some of the routes on the wall in no time! Alternatively, try the Via Ferrata Tour which is perfect for people wanting to experience the thrill of rock climbing without the training.
Don't just stick to the rock climbing at the Chief, though. There are many other great rock climbing spots all around Squamish. Other crags and routes to check out include the multi-pitch and crack climbing at Shannon Falls (try the Klahanie Crack), the cliff climbs at the Smoke Bluffs, the awesome sport climbing routes at Murrin Provincial Park, the hard climbs at the Chek Canyon, and more!
2. Walk around Shannon Falls Provincial Park
As you drive the Sea-to-Sky highway near Squamish, you'll likely notice a spectacular waterfall thundering down the cliffs near the Stawamus Chief. Only a few minutes from Squamish's downtown, Shannon Falls Provincial Park is a must-see on any trip to Squamish.
Shannon Falls is the third highest waterfall in BC, at an impressive 335 meters (1,100 feet) tall. It follows closely behind Vancouver Island's massive 481-meter (1,578 feet) tall Della Falls in Strathcona Provincial Park and Bella Coola's 396-meter (1,299 feet) Hunlen Falls in Tweedsmuir Provincial Park. These massive waterfalls are some of the best waterfalls in BC!
The base of this waterfall is very accessible and only a short walk from the parking lot. Easy walking trails take you through the lush forest, along the river, and to a viewing platform near the incredible waterfall. The entire loop to the viewpoint is about 1 km and will take about 20 minutes.
If you're looking for something more adventurous, head up the Shannon Falls pools trail or to Upper Shannon Falls. You can access the Shannon Falls Pools on a 2.4 km trail. Bring good running shoes because hike has a lot of scrambling and ropes!
Alternatively, you can view the pools from above as you hike the Upper Shannon Falls Trail. This hike is about 7 km and takes about 4 hours total. After, you can continue up the Sea to Summit Trail or head back down the mountain!
3. Hike the Stawamus Chief Trails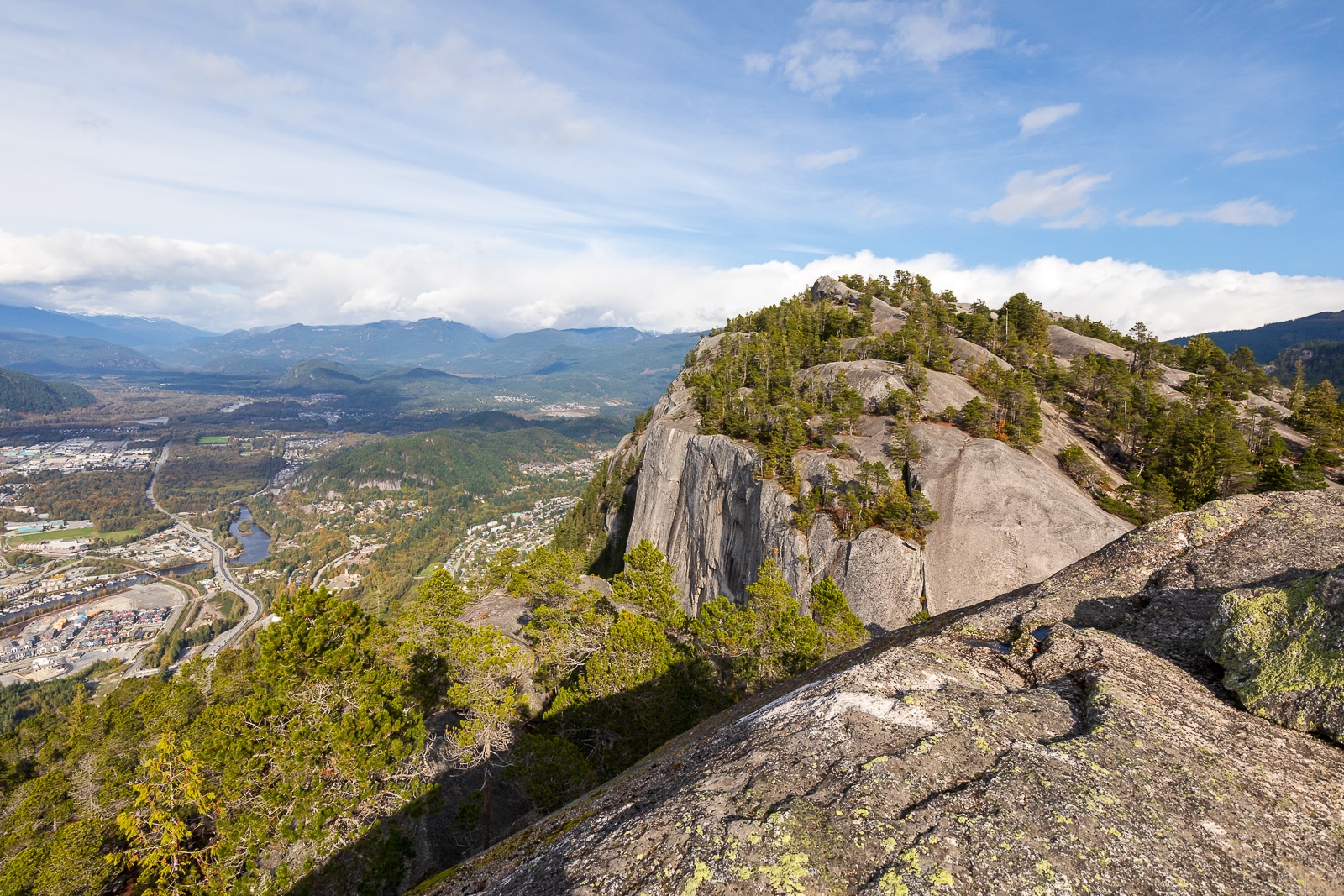 For a spectacular view of the Howe Sound and the city of Squamish, climb up to one of the three Stawamus Chief peaks. If you're ambitious, you can even try tackling all three summits in one day!
The first peak of the Stawamus Chief is the most popular. At this summit, you'll get some of the best views of the Howe Sound. This is the southernmost summit, rising 610 m (2,001 feet) above the city. The trail is 4 km total but you should expect it to take about 2 to 4 hours. There are a lot of stairs!
The middle, second peak is 655 m (2,149 feet) tall. This summit gives incredible views of both the first and third peaks. You also get an impressive view of the city and the Squamish estuary. The trail to the second peak is 5 km. It usually takes about 4 to 5 hours to complete.
The highest summit of the Chief is the northern third peak, at 702 m (2,303 feet) tall. This trail is 7 km long and should take about 5 to 7 hours. At this peak, you'll get incredible views of Mount Garibaldi and Squamish. You also get an amazing view of the North Gully between the second and third peaks. The world will feel endless at the top of this peak. You won't want to come down after you've reached the summit!
On all of these hikes, be prepared to climb a lot of stairs, ropes, and ladders. The hikes are a lot of fun but difficult if you're not in the best shape. However, hiking the Chief is definitely worth the effort. You'll be well rewarded at the summit! Also, you can do the summit with your dog, but be prepared to carry them up some sections.
4. Explore Garibaldi Lake Provincial Park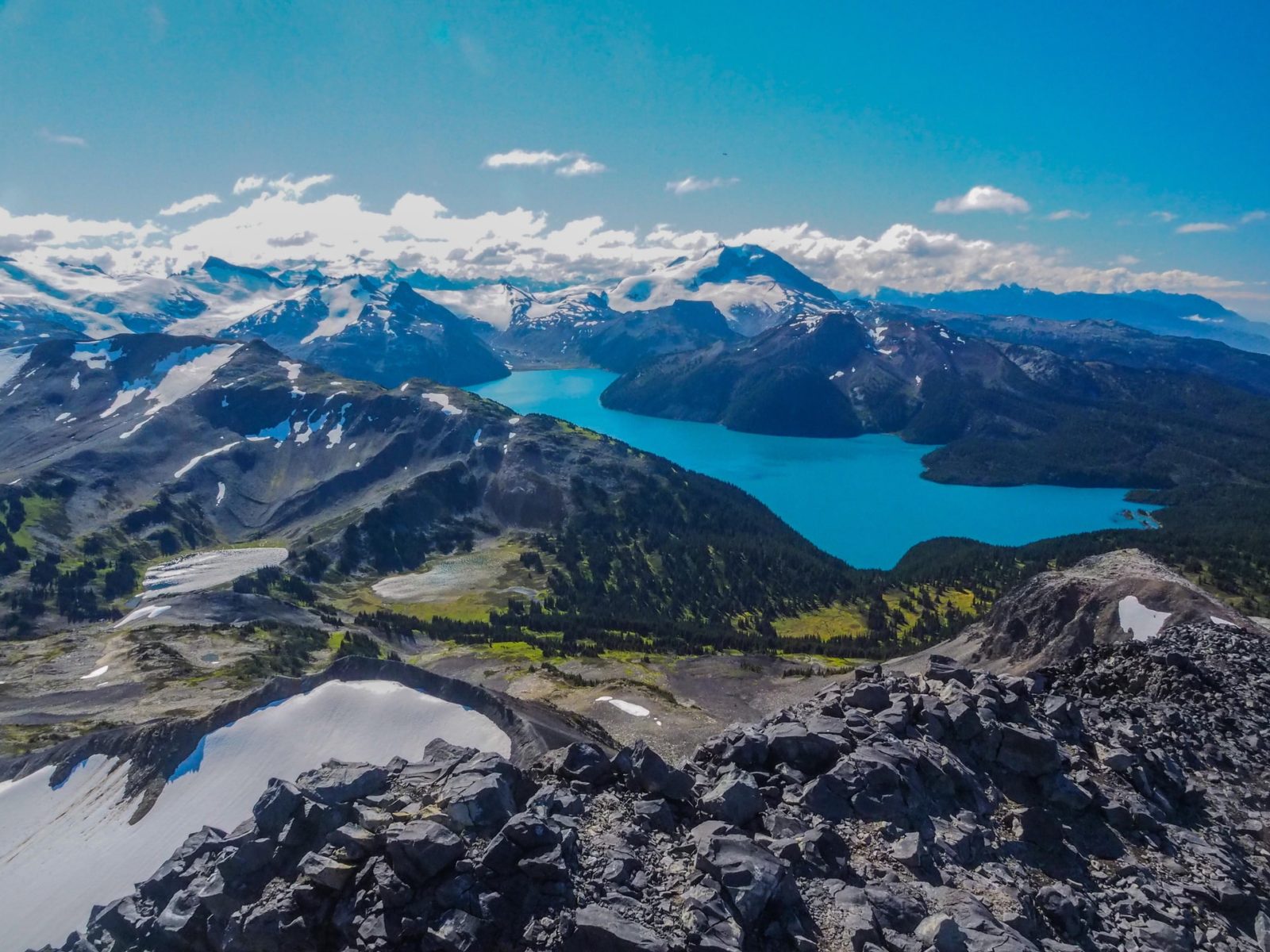 North of Squamish, you'll find the incredible Garibaldi Lake Provincial Park. One of BC's most gorgeous mountain landscapes, this park features the impressive 2,678 meter Mount Garibaldi and the brilliant blue Garibaldi Lake. The park has endless hiking trails, incredible beauty, and is only a 30-minute drive from Squamish!
You won't run out of hiking trails at Garibaldi Lake Provincial Park. You can hike the popular Red Heather Hut loop or the Elfin Lakes trail to the backcountry campground. Or, visit the Diamond Head area to see incredible views of Mount Garibaldi, Atwell Peak, Garibaldi Neve, Opal Cone, and Mamquam Lake. This is a popular spot for mountaineering!
Around Garibaldi Lake, you'll find other amazing features like the Black Tusk (a stratovolcano), Helm Glacier, the Sphinx mountain and glacier, Guard Mountain, the Table (a flat-topped mountain), Sentinel Glacier, and Castle Towers. Here, you'll also be able to hike the spectacular Panorama Ridge trail, which has epic views of Garibaldi Lake and the rest of the park. You can also swim at several of the lakes around the park, including Garibaldi Lake, Cheakamus Lake, Russet Lake, Wedgemount Lake, and one of the Elfin Lakes.
With incredible natural beauty, it's no surprise that Garibaldi Lake Provincial Park is one of the more popular parks in BC. To prevent overcrowding during the summer, you'll need to book a free day pass before you visit. These provincial park reservations are available at 7 am one day before your planned visit. You can reserve a pass on the Discover Camping website.
5. Ride the Sea To Sky Gondola
Surrounded by some of the most beautiful mountains in the world, you'd be remiss not to check out the Sea to Sky Gondola. Rising 885 meters above sea level, visitors are treated to panoramic views of the Howe Sound, lush surrounding forests, and the impressive Shannon Falls.
The journey in the Sea to Sky Gondola to the summit lodge will take about ten minutes. If you're scared of heights, make sure to face forward during the ascent – the views from the top will make you forget that you were ever afraid!
The Sea to Sky Gondola has been in operation since 2014 and has quickly established itself as one of the best things to do in Squamish in both the summer and winter!
One of our favorite things to do at the summit is to walk along the 100-m long Sky Pilot Suspension Bridge, which gives you a birds-eye view of Squamish. You'll also get lots of adrenaline as you walk across it!
Another great option is to try the Sea to Sky Corridor's Via Ferrata tour, a rock climbing adventure that takes you up a series of ladders and suspension bridges to breathtaking lookout points. The best part is you don't need any climbing experience!
Whether you're a keen hiker or simply want to wander through the plentiful walking trails, you'll find yourself losing track of time as you embrace the beautiful surroundings. Walk along the beautiful Spirit Trail to see jaw-dropping views of the Goat Ridge, Sky Pilot mountain, and Howe Sound. Or, head through the coastal forest on the Panorama Trail to the Chief Overlook Viewing Platform, a cantilevered deck over a steep drop featuring incredible views of the mountain vistas.
6. Go Whitewater Rafting Down the Elaho River
One of the most popular Squamish summer activities is whitewater rafting – and for good reason! Snaking through the region, the Elaho River offers world-class rapids. Plus, floating down the river is the perfect way to view everything that Squamish wilderness has to offer. The thick forest on either side of the river is home to many fascinating plants and animals. All kinds of wildlife like eagles and bears often make their way to the river banks for a drink!
For a fun adventure, join an Elaho River whitewater rafting tour with an experienced and knowledgeable guide. While you don't have to be a seasoned expert to enjoy this unforgettable activity, you'll be traveling down some Class 3 and Class 4 rapids during your rafting trip. Be prepared to get wet!
You'll have an incredible whitewater experience on these Squamish rafting trips. Or, if you know what you're doing, there are rental stores for white water kayaks. And, if you're looking for a more family-friendly activity, try joining a scenic twilight float down the Lower Squamish River. Whether you join a rafting adventure or head out whitewater kayaking, you'll have a blast!
7. Take a Windsurfing or Kitesurfing Lesson
With an incredible combination of water and wind, Squamish Spit is a paradise for keen windsurfers and kitesurfers! If you visit the Spit on any given day, you'll spy a rainbow of sails and kites racing around on the water.
Don't be intimidated by the speed and skill of those around you! If you're completely new to the sport, there are multiple shops where you can book a one-on-one lesson with a pro. They'll have you racing around in no time! You can also hire fins, booties, and wet or dry suits to keep you warm in the chilly water during your session.
The Squamish Spit was once a well-kept local secret. However, it has become increasingly popular with visitors looking to try their hand at windsurfing or kiteboarding. If you want to have more of the water to yourself, book your lesson earlier in the day or later in the afternoon. As with all things, make sure to check the forecast first to ensure that the wind is right!
8. Swim at Brohm Lake
Just north of Squamish, Brohm Lake is the ideal combination of rocky forest and a serene lake for those looking to get away from busy city life. This large freshwater lake is a favorite with locals and visitors alike. It makes for a great hiking day trip outside of the main town.
Many parts of Brohm Lake are surrounded by steep rock, creating the perfect temptation for cliff jumpers! If you're feeling brave, throw yourself from 7 to 13-meter cliffs into the deep, crystal clear water for an adrenaline rush that will leave you gasping. Also, you can even swim across to the other side of the lake where there is – you guessed it – another cliff jumping site!
From the parking area, there is a pebbly path down to the water's edge. While the walk isn't far, it is filled with tripping hazards like jagged rocks and tree roots. Watch your footing as you make your way down the path!
If you feel like hiking after, you can also explore the 8.5 km long Brohm Lake Trail loop through the Brohm Lake Interpretive Forest. You'll have excellent views of the lake and forest. You'll also get to cross some wooden bridges. On the trail, there is also an awesome viewpoint to see Mount Tantalus and Pelion Mountain!
9. Stand Up Paddleboard (SUP) around the Squamish Estuary
No matter where you go in Squamish, a unique water activity is just around the corner! If you aren't a fan of kayaking or don't feel brave enough to try kitesurfing, a stand-up paddleboard might just be the way to go. Originating in Hawaii, this watersport is now found around the world. SUPing is a great way to see the Squamish Estuary from a different point of view!
If you need to rent a board, there are multiple rental shops around the town of Squamish. Inexperienced paddlers can also opt to take a half-day or full-day tour with a local guide. They will take you to the best spots while explaining the local and natural history of the region during the unforgettable SUP experience.
Not only is paddleboarding a heap of fun, but it's also a great core and leg workout. While experts might make it look effortless, you'll soon find out how tricky it can be to keep your balance and steer at the same time. Make sure to bring a life jacket in case you fall in!
10. Visit the Britannia Mine Museum
Squamish has a fascinating industrial history, and there is no better way to discover it than at the Britannia Mine Museum! Located in the former mining town of Britannia Beach, the museum is only a 15-minute drive from Squamish. This national historic site is the perfect way to pass a rainy day without wasting your time in Squamish.
Visiting a museum may not sound like a must-see in an area that's so focused on outdoor activities. However, the Britannia Mine Museum is incredibly interactive and makes for a great family day out!
Get involved in the live-action show that demonstrates what it was like back in the mining days. Try your hand at gold panning. Or, hop on the underground train tour to learn more about how the mines work!
11. Kayak around the Howe Sound
If you've got any kayaking experience, paddling around the Howe Sound is one Squamish summer activity to add to your to-do list! This beautiful fjord is incredibly serene. It will feel as though the world has paused while you glide through the islands that flank the water. Keep an eye out for curious seals that love to swim alongside paddlers – some may even surface right in front of your kayak!
Use your own kayaking equipment or rent your gear from a local shop. There are rental shops in Squamish or you can rent your equipment from the kayak information center located at Porteau Cove. The friendly local shops will happily tell you which are the best islands to check out during your journey.
A word of advice before paddling out – make sure that you check the tide charts and weather for the day. Also, plan and document an expected return time with a friend. While the day may seem calm, it can turn quickly. The waters in Howe Sound are chilly with strong undercurrents. If you aren't an experienced paddler, you can join a kayaking tour that will take you around the beautiful fjord safely.
Don't want to kayak? Try out a Sea to Sky Afternoon Sail and experience the beauty of the Howe Sound on a 3-hour sailboat adventure.
12. Tube Down the Mamquam River
Lazing on a slow-moving river is one of the best things to do in Squamish in summer. While the glacier-fed rivers are often too cold to swim for long, tubing can help you beat the Squamish summer heat in style. The lower Mamquam River has many slow-moving areas that are ideal for spending an afternoon floating around. Grab an inflatable tube and some friends and make a day of it!
Most of the Mamquam River is slow. However, some rapids should be walked around because they could cause damage to your tube – or yourself! Pack some drinks, a tube repair kit, and some water shoes so that you aren't caught unprepared. Enjoy a lazy day on the water – not every day has to be an adrenaline rush!
13. Try Slacklining at Nexen Beach
Squamish summer activities don't just focus on the water! First practiced by mountain climbers to hone their balance and strength, slacklining has become a sport of its own. With a significant rock climbing and mountaineering community, it's no surprise that slacklining is such a popular activity around Squamish.
If you feel like trying your hand at it, there are usually slacklines set up around Nexen Beach year-round. Jump on a line and see how far you can walk. Don't worry, there's not a long way to fall!
If you head down to Nexen Beach during mid-July, you can join in Hevyfest, a Squamish slacklining event completely dedicated to the practice of this weird and wonderful activity. Hevyfest overlooks the scenic Howe Sound and showcases the sub-disciplines of slacklining that you may have never even heard of. From the showy, technical tricklining to classic longlining, you can watch life-long disciples and amateurs alike take on the unique sport.
14. Enjoy a Scenic Flight Above Squamish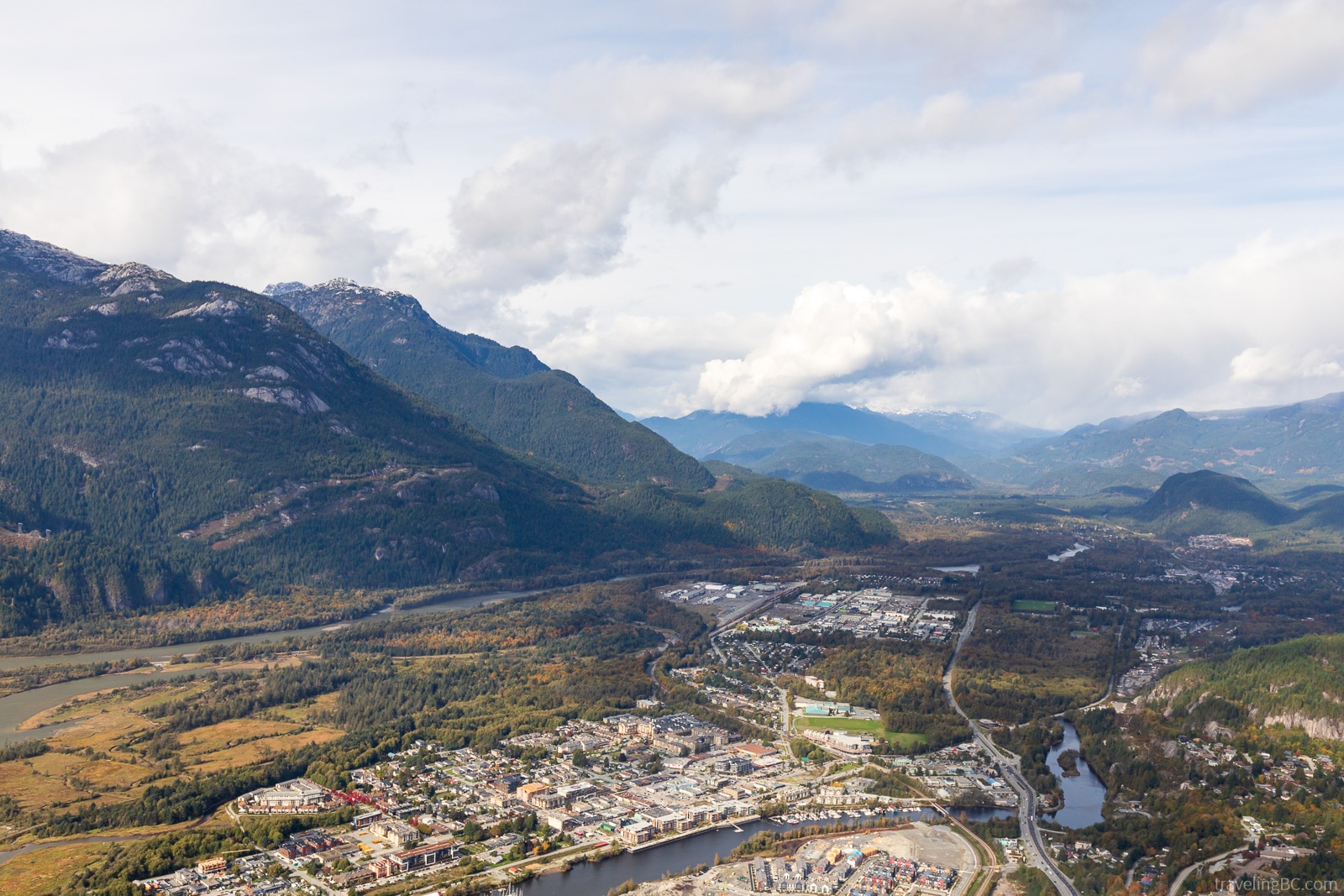 One of the best ways to experience Squamish is to view it from above from a plane. With a scenic flight, you can get breathtaking views of Squamish and the Sea to Sky wilderness. Some of the best Squamish sightseeing is from the air!
Fly beside towering mountain ranges, massive icefields and glaciers, and over islands in the gorgeous turquoise waters of the Howe Sound fjord. You'll be able to see the Stawamus Chief in all its glory. As well, you'll spot the epic Shannon Falls, Mount Garibaldi, the Tantalus Range, and other incredible land features.
You can pick different flight routes with variable durations, typically between 25 to 90 minutes. Each flight experience has a different route which offers something new to see. Some of the tours are on wheeled planes while others are on floatplanes. If you've never flown in a seaplane before, we highly recommend trying one of these tours. Everyone should experience taking off and landing on the water in a floatplane!
If you love exploring areas that aren't quite as popular, try hiking the trail to the hidden Echo Falls. The Echo Lake Trail (also called the Monmouth Creek Trail) is a magical destination. The trail takes you through lush green forests beside Monmouth Creek and up to the clear turquoise Echo Lake. Along the way, you'll spot the beautiful Echo Falls, hidden in among the rocks.
With such incredible beauty, you would think that this trail would be really busy. However, to reach the Echo Lake Trail, you must cross the Squamish River with a kayak, canoe, SUP, or boat. There are also Echo Lake boat shuttles that will taxi you across the water. This river crossing definitely reduces the number of people who hike the trail!
If you decide to explore this trail, be prepared for a challenging hike. The trail loop is 7.7 km long in total, but you gain about 900 m in elevation. You'll definitely be scrambling up the trail at times! You should expect the Echo Lake Trail to take you about 4 hours to complete.
The Echo Lake hiking trail is worth the effort. You'll see unique rock formations, awesome views of the Howe Sound and Squamish Valley, crystal clear pools of water, and a gorgeous waterfall. As well, Echo Lake has crystal blue water that's warm for swimming. If you want to stay the night, you can even camp beside Echo Lake!
16. Explore the Cheakamus River and Canyon
One of the best ways to spend a summer day near Squamish is by the Cheakamus River at the Cheakamus Canyon. A Squamish River tributary, the Cheakamus River flows from Garibaldi Provincial Park into the Cheakamus Lake and then rushes through the canyon. The river has something for everyone: rapids perfect for whitewater rafting and kayaking, epic climbing routes over the water, and an excellent hiking trail.
If you're adrenaline-seeking, try climbing at the Chek Canyon. This climbing area has some very difficult climbs but also includes many easier 5.9 and 5.10 sport climbs for newer climbers. One of the best routes at the Chek Canyon is the 3-pitch 5.9 Star Chek, where you can climb over the Cheakamus River. You'll need to hike in to access this climb, however. As well, Conroy's Castle, Main Event, Electric Avenue, the Forgotten Wall, and the Foundation Wall are other great climbing spots in the area.
A great hiking trail to explore is the Cheakamus Canyon Trail, a 10.9 km long trail that links Paradise Valley and the Sea to Sky Highway. On this hike, you'll walk beside the river, past stone walls, through gorgeous forest, beside the serene Starvation Lake, and through the canyon. Along the way, you'll have amazing views of the canyon, Tantalus Mountain range, train tracks, and other jaw-dropping scenery!
17. Hike the Four Lakes Trail in Alice Lake Provincial Park
Located at the northern end of Squamish, Alice Lake Provincial Park is one of the most beautiful nature reserves in British Columbia. With campsites, plentiful parking, and modern facilities available, the park is the perfect place to spend a day – or weekend – away from the hustle and bustle of the town.
If you're after spectacular Squamish places to see, the Four Lakes Trail should be at the top of your list. The park is home to four freshwater lakes. Visitors have the option to take a six-kilometer loop to see them all.
While the walk is relatively family-friendly, there are some slight inclines and rocky patches. Make sure you're wearing appropriate shoes before heading out! For anyone not wanting to go the full distance, Alice Lake is the easiest to access, only 30 meters from a designated parking area.
18. Check Out the Squamish Farmers' Market
Due to the nutrient-rich soil and perfect growing conditions, Squamish farms generate some of the best fresh produce in BC. The Squamish Farmers' Market has been recognized as one of BC's best farmer's markets. It's an absolute must-do for any traveler looking to sample some of the local produce!
If you're in town between April and December, head to downtown Squamish on a Saturday or Sunday morning to the market. At the farmers' market, you'll find everything from fresh fruit and vegetables to eggs from hand-reared chickens. The market has plenty of baked goods, preserves, seafood, and other delicious treats, as well! You can also browse the Squamish Farmers' Market for artwork and homemade crafts, including driftwood art and beautiful paintings from local artists.
As the weather gets colder, you'll find stalls selling winter treats like mulled wine to warm your belly while you browse. The vendors rotate regularly. Your experience will be different each time – all the more reason to visit more than once!
19. Hike the Elfin Lakes Trail
Squamish has some incredible backcountry hiking trails with amazing camping sites. One of the best backcountry adventures near Squamish is the Elfin Lakes Trail in Garibaldi Provincial Park. Featuring two small alpine lakes, this trail has spectacular views of the mountains and valleys around Squamish.
The 22-km long Elfin Lakes hiking trail takes you past the gorgeous Red Heather Meadows and shelter, up along Paul Ridge, and into the spectacular subalpine near Squamish. The Elfin Lakes are the highlight of the trip, with a jaw-dropping backdrop of massive mountains and glaciers. You can swim in the first, larger lake but not the second, which is for drinking water. Here, you can camp on one of the dozen tent pads. Sleep under the stars and wake up to epic alpine views!
You can complete the trail in a single day or as an overnight backcountry camping trip. As a heads up, Garibaldi Provincial Park requires a free day-use permit that you must reserve in advance. You'll also need a backcountry reservation if you stay the night in Garibaldi Park.
20. Play Disc Golf at Legacy Park
Disc golf has exploded in popularity over the last several years, and Legacy Park is Squamish's premier location for a rousing game! A combination of golf and ultimate frisbee, disc golf is a great way to get competitive with friends or play with your kids for a family day out.
Legacy Park is a sprawling tribute to the unique sport and is worth a visit. First opened in 2009, this disc golf course is one of the best things to do in Squamish in summer.  The sprawling grounds have every manner of difficulty, from twisted woodland courses to open-air fields perfect for beginners.
If you decide you need a break, there are plenty of picnic tables and walking trails scattered around the park. Pack a backpack with some snacks, and make a day of wandering around Legacy Park to throw some frisbees!
21. Scuba Dive at Porteau Cove Provincial Park
If you love scuba diving, an excellent place to head year round is Porteau Cove Provincial Park. Only a 20-minute drive from Squamish, Porteau Cove is BC's first underwater park and a scuba diver's paradise! Plus, its warm waters and easy access make it perfect for beginners.
Marked by a series of white buoys, the Porteau Cove Park scuba dive site features sunken vessels, man-made reefs, and even the 'Leaning Tower of Porteau'! You'll be able to swim around the old Granthall and Centennial boat wrecks. Experienced divers can head to the largest shipwreck, a WWII minesweeper called the Nakaya, located in 20-30m (65-100 feet) of water.
While diving, you'll spot many artificial reefs made out of concrete blocks, tires, and a jungle gym of steel H-beams. The artificial reefs were installed in the 1980s and '90s. The structures are now covered in all kinds of marine life like white plumose anemones and colorful starfish.
When you enter the water, it'll take about 10 minutes of swimming to reach the farthest descent line. Immediately, you'll be struck by the beauty of the waters of the Howe Sound and its marine life. Keep a lookout for all kinds of amazing creatures like sea stars, wolf eels, octopi, six-gill sharks, lots of fish, and unique-looking nudibranchs!
22. Go Horseback Riding in Callaghan Valley
For a unique way to experience Squamish's breathtaking landscape, try your hand at horseback riding! Callaghan Valley has many trails and pathways perfect for seeing the countryside from a saddle.
You can choose to ride on a gentle trail ride through the forest. Or, ramp up the horseback riding experience with a multiple-day ride across the subalpine backcountry of Callaghan Valley that was designed to test your mettle. Most tour companies offer saddlebag lunches. They'll also tell you some of the local histories of the mountain men and ranchers that lived in Squamish in decades past.
No matter your skill level, a horseback tour is sure to thrill most travelers. If you love horses, these tours are a must-do on your trip to Squamish. If you have younger children, you can also opt for a half-day tour of the farms and meeting with the different horses for a fun family outing.
23. Mountain Bike Down Squamish's Trails
Squamish is the perfect location for adrenaline junkies and is home to some of the best mountain biking trails in BC. Stretching from one end of Squamish to the other, the web of mountain bike trails has everything from gnarly technical rides to easy summer pedals for beginners. Don't have a mountain bike? Rent one here!
Experienced mountain bikers can choose to tackle rock slabs, steep inclines, and jagged tracks sure to get the heart racing. If you're new to the sport, you can take this intro to mountain biking course with a private guide to show you the ropes.
If you don't feel like taking on the winding trails, hire a bike from Squamish town center and take a leisurely ride through the beautiful dense forests at your own pace. For a full day out, pack a lunch and stop off for a picnic by one of the tributary streams of the Squamish Estuary.
24. Drink Local Craft Beer on a Patio
A visit to Squamish wouldn't be complete without paying a visit to some of the quality craft breweries or cideries that BC is so well-known for. With new incredible producers each year, Squamish is fast becoming known as one of the premier stops for craft beer-lovers in Canada.
If you're looking for a way to relax after a long day of exploring, stop by one of the local institutions like Howe Sound Brewing Co. You can enjoy a cold beer on a sunlit patio overlooking the gorgeous rocky landscape of Squamish. Or, head to one of the many other tasting rooms in the city to enjoy all kinds of delicious beverages!
For the more serious beer tasters, Squamish is part of the BC Ale Trail. Visit every brewery on the list to complete your beer passport! Also, you can enjoy the one-day Squamish Beer Festival in summer that features numerous regional breweries and cideries. This is a great way to enjoy the craft beer scene around Squamish!
25. Explore Murrin Provincial Park
Only 15 minutes from Squamish, Murrin Provincial Park has lots of things to do and is the perfect place to head for a summer afternoon. The park has something for everyone, with the beautiful Browning Lake, an excellent beach with great swimming, awesome hiking trails, and granite crags perfect for climbing.
If you're looking for a hiking trail with a great payoff and lots of variety, try the Murrin Loop Trail and the Jurassic Ridge Trail. This 2.4 km long trail is a moderately difficult hike with sections that involve scrambles, ladders, and ropes. The Jurassic Ridge section is the most challenging. However, you'll be well rewarded when you reach the upper Quercus Viewpoint! The trail has terrific views of the Howe Sound and Squamish Valley.
The park is also a favorite of rock climbers. The granite crags are perfect for both beginners and experienced climbers. There are routes of all grades on these climbing walls, with many trad, sport, and top-rope climbs. There are also many bouldering problems. Popular spots include the Sugarloaf, Petrifying Wall, Bog Wall, among others.
When you're done climbing and hiking, head down to the beach at Browning Lake for some relaxation. There are picnic tables for you to enjoy a well-deserved lunch. Or, cool off with a refreshing swim in the lake!
Where to Stay in Squamish: Best Hotels and Accommodations
Are you trying to decide where to stay on your trip to Squamish? Here are some of the best hotels and accommodations in Squamish that you'll love. If you're looking for a more complete guide to Squamish accommodations with reviews of the best hotels, click here.
One of the best luxury hotels in Squamish is the Executive Suites Hotel and Resort, located nearby the Squamish River. If you want to be impressed by your hotel, you should definitely pick this one!
At this gorgeous hotel, you can get a spacious studio, one or two-bedroom suite. The rooms are comfortable and quiet. Each suite comes equipped with a full kitchen (fridge, stove, dishwasher, microwave, kitchen accessories, & coffee maker), as well as a separate dining area. Some suites even have in-suite laundry and a fireplace! Plus, your room will have a large balcony, often featuring scenic mountain views.
If you like swimming, the hotel has an outdoor pool that's heated year-round. As well, there's a hot tub to soak away the soreness from your day's adventures. There's also a 24/7 fitness center if you didn't get enough of a workout through the day! Overall, this hotel is fantastic and super relaxing to stay at!
Click here for more information & the latest prices!
If you're looking for a mid-range priced hotel, the Sandman Hotel and Suites Squamish is a great option. With spacious rooms and lots of amenities, this hotel has everything you need for your stay – all for a great price! The hotel has a pool with a fun waterslide and a hot tub, which is perfect for families. They also have a full workout room and provide a continental breakfast.
In your spacious room, you'll be well supplied with a very comfortable bed, free wifi and a small kitchenette with a microwave, refrigerator, and coffee machine. As well, the staff is very friendly and the hotel itself is quite clean and quiet. Overall, you get great value for the price!
Click here for more information & the latest prices!
If you're traveling on a budget, a stay at the Squamish Adventure Inn won't break the bank! This spot has great value with lots of amenities and a fantastic location. The staff is quite accommodating and friendly. Plus, the hostel has a fun vibe and gorgeous surroundings!
At this budget-friendly hostel, you can stay in a private room or a dorm bed. The private rooms are somewhat small but have en-suite bathrooms and private entrances. The dorm rooms are spacious with comfortable beds. It's the perfect spot to crash after a long day of climbing and hiking!
This hostel is super conveniently located near the Sea-to-Sky highway, Squamish's downtown, and many tourist attractions. However, if you don't have a vehicle, they offer a daily shuttle service to nearby attractions and Whistler.
Click here for more information & the latest prices!
Squamish Weather in Summer: What to Expect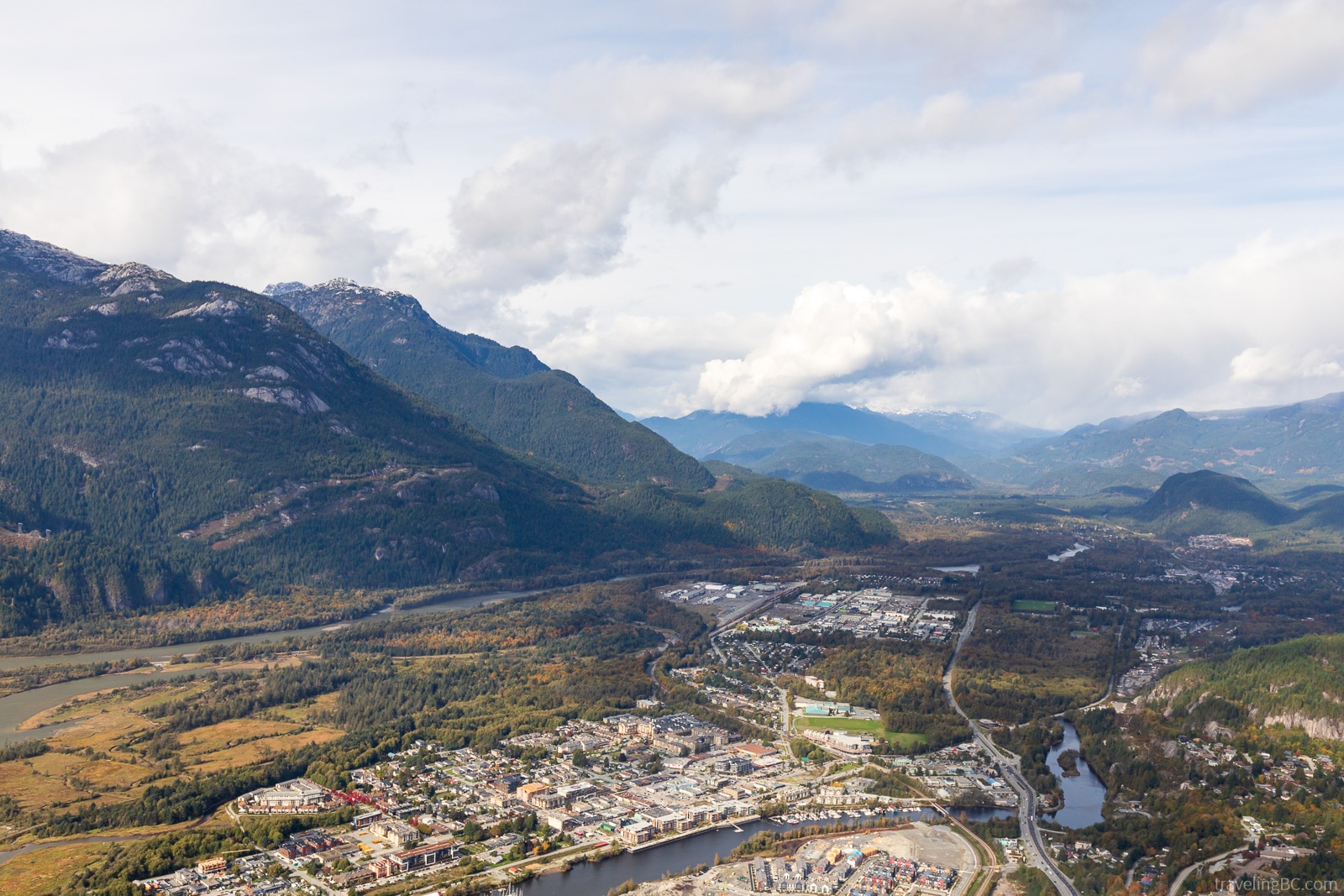 Squamish has warm, sunny summers with lots of daylight and wind. Summer temperatures average in the low 20s or high teens, perfect for spending time adventuring outdoors! Summer weather is clearer than the rest of the year, with the least amount of precipitation. However, you can still expect to get a handful of rainy days!
Summer is the best time to head to Squamish for watersports. The wind blows across the Howe Sound in the summer due to the warm weather, with winds at speeds that are perfect for kiteboarding!
The best months to visit Squamish are July and August. These months are the driest and warmest. On average, temperatures reach a high of about 23°C (73°F), although the overall average is around 17°C (63°F). Average precipitation during July and August is around 43mm per month of rainfall, with only 5 or 6 rainy days a month.
Final Thoughts
Squamish is truly one of the best places to head in BC during the summer for outdoor adventures, with almost unlimited things to do, places to see, and fun-filled activities. You definitely won't get bored hanging out in Squamish, rain or shine!
If you were looking for more things to do in the Lower Mainland, check out these articles:
Top Travel Tips & Resources for Squamish