One of the most spectacular parts of British Columbia, Whistler is an ideal winter destination for your next family holiday. It is a winter wonderland of activities and adventures that will surprise and delight the whole family. You'll have no end of things to do in Whistler during winter!
Whistler is the perfect place to visit in winter. It offers glistening white snow which is ideal for skiing, snowboarding, tobogganing, and more. There's also plenty of kid-friendly winter outdoor activities off the slopes, like snowshoeing and skating.
The pedestrian-only Whistler Village is perfect for winter strolls and is packed with fun indoor activities, like axe throwing and escape rooms. It is also home to unique shops, selling everything from tasty candies to local souvenirs, which will enthrall every member of your family, from the very young to the young at heart.
If you're trying to narrow down the best family-friendly things to do in Whistler in winter, we've got you covered! In this guide, we'll share with you the best things to do, places you must see, and family-friendly winter activities you have to add to your Whistler, BC itinerary. Enjoy!
Family-Friendly Things to Do in Whistler in Winter
Snowshoeing and Nordic Skiing
Known for its amazing snow, there's no better way to experience Whistler than by hitting the trails on some snowshoes or Nordic skis. Head through gorgeous alpine forests on glistening white snow with your whole family.
As you make your way across the white snowy trails, you'll be surrounded by towering snow-laden trees and soaring mountain peaks, which are home to a variety of native wildlife. At the end of the day, you'll all be happy and exhausted!
With no experience needed, this is an excellent Whistler winter activity for families who want a break from downhill skiing or snowboarding. Guided snowshoeing tours are available through winter. We recommend the Whistler Snowshoeing Adventure, which offers three tours that vary in length from around 2 to 3.5 hours. The tours are easily customized for smaller travelers, although the minimum age is 6 to 8 years old (depending on the tour).
Want to head out on your own? Once you strap on your snowshoes or Nordic skis, you'll be able to explore Whistler's many snowy trails.
Don't know where to go? Here are some of the top places to go snowshoeing and cross-country skiing around Whistler:
The Treehouse Playground
The Treehouse Playground is an inclusive playground in Whistler Village. With ropes to climb on, a rolling slide and plenty of passages to navigate, this multi-level playground is a great place to let your kids run wild, while you sit back and relax.
With a treehouse theme, this playground is a unique place to stop on your travels through Whistler. Even the tiniest of travelers will love exploring the playground. Your children can play on the rocking boat, get pushed on the swings, and climb around the twisted tree branches.
Close by are Blenz coffee shop and Purebread bakery, which serve delicious treats and hot coffees, the best accompaniment to a day in the park. Sip on a hot beverage while keeping an eye on your playing children!
Note: The Treehouse Playground isn't maintained through the winter. Parts of the playground can get slippery so use at your own risk!
Skiing or Snowboarding
Whistler has some of the most magnificent mountains in the world, perfect for skiing and snowboarding. Here, you'll find exhilarating downhill runs, a beautiful alpine backcountry, plenty of chairlift choices, and a full day of fun!
Whether it's your first time on skis or you've been carving the slopes for years, Whistler is a welcoming place to enjoy a family-friendly winter getaway. Both Whistler and Blackcomb Mountains offer a variety of difficulties, from easy gentle slopes for beginners to difficult downhill runs for thrillseekers.
For young children and beginners, the Magic Chair on Blackcomb Mountain is the perfect place to head. This chairlift leads to the Yellow Brick Road green run, a designated slow zone. It's a great option for anyone needing to build their confidence on the slopes, no matter their age!
The Whistler Ski School is great for anyone looking to improve their technique or learn the basics of skiing and snowboarding. They offer a variety of camps and lessons that will help you and your family members learn new snow skills, taught by expert instructors. They even have programs specially designed for kids and teens.
Children under 12 get free gear rentals in Whistler, so long as its paired with a paid adult rental. If your kids are older, don't waste time waiting in line… treat your family to a Whistler Ski Rental Package. You'll have your equipment delivered and fit right in your room – at a time that is most convenient for you!
Outdoor Skating
Skating is an excellent family-friendly activity in Whistler for kids of all ages and abilities. You and your family will make ever-lasting memories by enjoying a day (or night) of outdoor skating and hot chocolate in Whistler.
Grab your scarf, mitts, and toque, lace up your skates and take a turn (or two) on the ice, surrounded by towering mountains and snowy scenery.
There are many great places to skate, but the best outdoor skating rink is at Whistler Olympic Plaza. Here, you'll find a magnificent outdoor rink surrounded by colorful lights, nearby the Olympic Rings from the 2010 Winter Olympics. Admission is quite cheap ($2 fee or $8 with rentals), and first come first served.
If you're looking to get indoors, Meadow Park Sports Centre is a fun family-friendly destination, year-round. This large multi-purpose facility has an NHL-sized ice surface and skate rentals. It hosts regular drop-in hockey games, casual public ice skating, and disco skates! After skating, your family can also head to their leisure pool with a mini-lazy river and toddler pool.
Winter Ziplining
Thought ziplining was a summer sport? Think again!
Winter ziplining in Whistler is an unforgettable experience. Get your family's adrenaline pumping as you fly high above Whistler's pristine winter landscape.
As you whizz through the air, enjoy spectacular views of the mountains, spot local wildlife, and be amazed by the grandeur of the old-growth forests. You'll soar over frozen rivers and across snow-covered valleys, zipping along at speeds up to 100 kilometers per hour.
With the option to fly solo, with a buddy, hands-free, or even upside-down, your heart will be pounding as you uniquely experience Whistler. Ziplining tours and adventures are available throughout the year and typically last 2.5 hours.
For those who want to experience the thrill side-by-side with a family member, try the Whistler Superfly Zipline. You'll head up Rainbow Mountain in a 4×4 and then zipline down the slopes between Rainbow and Cougar Mountains on side-by-side lines with a partner.
Other great options are the Eagle or Bear Tours through Ziptrek EcoTours. On these tours, you'll cross ziplines of varying lengths and explore networks of canopy bridges around Whistler Mountain. Whichever tour you choose, you and your family will love this high-flying adventure!
Visit a Cultural Centre or Museum
Looking for an indoor, family-friendly activity in Whistler? Head to a cultural center or museum to learn with your kids about the rich history, culture, and art of British Columbia!
One of our favorite indoor places in Whistler to head for a day of learning is the Squamish Lil'wat Cultural Centre. Visiting this cultural centre is one of the best things to do in Whistler to learn about the Squamish and Lil'wat Nations, whose traditional territories Whistler stands on.
The Squamish Lil'wat Cultural Centre celebrates and shares the two First Nations' cultures with the world. There are several unique exhibits and they have live demonstrations of weaving and carving, as well as other cultural activities.
The centre also offers hourly guided tours that include a traditional welcome song, an educational film, and an exhibit tour. It only costs $7 for a child (6 – 18 years), and is free for children under 5!
Another excellent museum in Whistler is the Audain Art Museum, which displays all kinds of beautiful pieces of art. Located in Whistler Village, the Audain Art Museum is a great place to spend an interesting, educational, and inspiring afternoon with your family. The best thing about this gallery is that all children (0-18 years old) get in free!
Stretching a massive 56,000 square feet, the Audain Art Museum showcases the private art collection of Michael Audain as its permanent exhibit. This display includes approximately 200 works of art by notable Canadians, including Emily Carr, Jack Shadbolt, and E.J. Hughes. They also rotate through special exhibits several times a year. Each time you visit, you can see something new!
Tubing and Tobogganing
Tubing and tobogganing are two activities perfect for travelers of all ages. And, no trip to Whistler would be complete without trying one (or both) of them!
Feel the wind in your hair and the spray of snow on your face as you slide and spin down a snowy hill. Even adults can join in the fun!
The bubly Tube Park is by far the best place to head in Whistler with your family for some tubing. Located in the Base 2 Zone on Blackcomb Mountain, this tube park has seven tubing lanes, varying from gentle rides to exhilarating slides.
There's a magic carpet lift that takes you and your tube back up from the bottom again — no walking up the hill! And, there's even a sound system that plays family-friendly music throughout the park, to add to the fun.
For tobogganing with smaller kids, we like the free Whistler Snow Zone in Whistler Olympic Plaza. This winter wonderland at the heart of Whistler Village offers hours of entertainment for families. Here you can take your kids sledding on the small tobogganing hill, build snowmen, have snowball fights, and make snow angels. After, warm up by the outdoor fireplace and enjoy a hot chocolate from a nearby cafes.
Whistler Olympic Park, which is home to an excellent network of snowshoeing and cross-country ski trails, is also a great spot to head for some tobogganing. With a day or season pass, you'll have access to a fun tobogganing hill. The hill is quite large and you'll be laughing the whole way down!
Bring your own toboggan equipment (saucers, carpets or toboggans) — they don't have any gear rentals (other than snowshoes and skis)! You can get sliding down the hill quite fast so helmets are recommended.
Vallea Lumina
Vallea Lumina is one of the most unique, family-friendly activities in Whistler. Head into the mystical forest at Vallea Lumina with your family for an unforgettable multimedia evening walk, uncovering all kinds of enchanting wonders among the trees. Your children will love this colorful adventure!
As darkness falls, you and your family will set out on a marvelous journey, following a 1-1.5 km trail through a magical old-growth forest. Throughout the walk, your senses will be ignited by a glittering light show, holograms, theatrics, videos, and curious, cryptic radio transmissions that lead you along the path.
Vallea Lumina is an incredible and mind-blowing adventure that is fun for all ages. At the end, you'll be treated to a cozy log cabin with fire pits and Adirondack chairs. Here, you can warm up and enjoy the spectacular starlit views of the surrounding Cougar Mountains with your family.
Head to the Movies
Catch the latest Hollywood blockbuster or a lesser-known indie flick at the Whistler Village 8 Cinema. A quaint and charming underground cinema, this Whistler landmark has been entertaining and dazzling families for decades.
Well-known for its friendly staff and tasty snacks, the Whistler Village 8 Cinema is a welcoming place where you and your kids can enjoy an afternoon or evening of entertainment. Tired from hours of adventuring and chasing around your children? A movie is a great way to end the day!
Take a break from the snow, grab a tub of popcorn, and cuddle up in the theatre as you laugh and are amazed by movies at this delightful Whistler cinema.
Axe Throwing
Axe throwing is a fun-filled indoor activity that's a great choice for older kids, teens, and adults. Whether you hit a bullseye or not, you and your family will have a fantastic time bonding during this adrenaline-pumping recreational activity.
Our recommendation for the perfect introduction to axe throwing is the One Hour Axe Throwing Guided Experience at Forged Axe Throwing. On this fun adventure, a guide will teach your family the basics of axe throwing and will set you up for tournament-style play to see who amongst you has the best aim and accuracy.
Kids have to be 10 years old or older to participate in this activity, but they're practically guaranteed to have fun! This is a perfect family-friendly activity for when the weather is bad or you need a break from the snow.
Dog Sledding
Feel the wind in your hair as a pack of specially trained sled dogs pulls you along pristine snow through the heart of the rugged Canadian wilderness. As you sit back and relax, you'll enjoy breathtaking views of the mountains and forests as your sled glides along the bright snowy trails.
An excellent activity for animal lovers, your kids will love interacting with these happy, healthy, and exuberant Arctic sled dogs. On your adventure, you and your family will learn about these unique animals while marveling at their strength and determination. You can even try mushing your own team!
Dog sledding is a truly unique activity that can only be enjoyed for a few months of the year. Tours are available from mid-December to mid-April and are guaranteed to enchant children and travelers of all ages. You can have two adults and a child on the sled, so it's a perfect activity for families of three!
Ride the Peak 2 Peak Gondola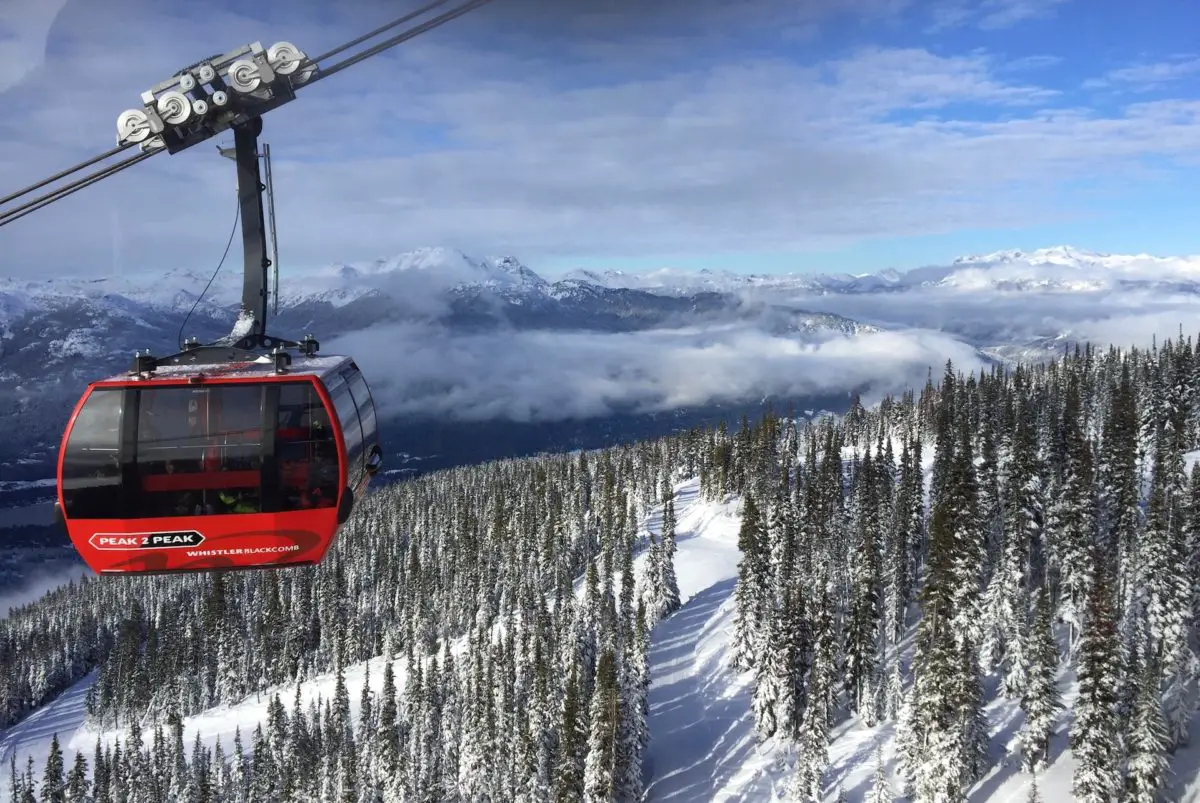 One of the best ways to experience the incredible mountain views in Whistler is on the PEAK 2 PEAK Gondola. This record-breaking gondola offers breathtaking views throughout its 11-minute journey, taking you between the tops of the Blackcomb and Whistler Mountains.
On the PEAK 2 PEAK Gondola, your family will get spectacular views of Whistler Village and the mountain landscape surrounding it. Spot epic snow-covered peaks, frozen lakes, ancient glaciers, and snowy alpine forests. The glass bottom of the gondola will even give you incredible views of the land below!
You'll need to ride either the Blackcomb (18-minute ride) or Whistler Village (25 minutes) Gondolas up to the top to access the PEAK 2 PEAK Gondola. The entire experience, there and back, will take about 2 hours. Don't forget your camera!
Note: you won't be able to access the Cloudraker Skybridge or Raven's Eye in the winter.
Sleigh Ride
There is nothing more magical than taking a horse-drawn sleigh ride through a snowy forest on a cold winter's night. If your kids love horses, a Whistler sleigh ride is a great way to spend the evening.
This hour-long Whistler sleigh ride will take your family around the forests of Blackcomb Mountain. As you glide around the scenic mountainside, you'll be amazed by the twinkling lights, the clear dark skies, and the magnificence of Whistler.
Cuddle together with your family on the padded bench seats and cozy up under a blanket as huge Percheron horses gently pull your sleigh across the glistening snow. Listen to the horses' jingling bells and enjoy the sparkling lights of the distant city as you go!
Your sleigh ride will take you on forest trails to a rustic cabin with a crackling wood fire. Here, your family can warm up mid-trip, holding their hands over the fire and sipping from mugs of delicious hot chocolate.
Visit the Candy Shop
Whistler is home to several amazing candy shops. What better way to treat your family than with a stop for some delicious treats?
With candy and sweets as far as the eye can see, a visit to the Great Glass Elevator Candy Shop is a must for any child (or kid at heart) visiting Whistler. Located in Whistler's Marketplace, this amazing candy store is a huge 1,000 square feet of tasty chocolates, jellybeans, sweets, and other specialties.
The Great Glass Elevator Candy Shop is also home to an excellent collection of nostalgic candies, freshly popped popcorn, and a sprawling wall of bulk candy ready to be mixed and matched to your heart's delight. With sweets from Canada, the US, and the UK, there's something that will tease the tastebuds of every visitor.
For those craving a chocolate treat, the Rocky Mountain Chocolate Factory is another great spot to stop. This shop has a large selection of premium chocolate confections, as well as fudges and candied applies. Plus, they are right by the Whistler ski lifts, making it the perfect end-of-the-day stop after skiing.
Snowcat Tours
Have you ever looked at the machines they use to groom mountain ski runs and thought, that looks fun? Well, you're in luck!
Snowcat tours are offered every winter in Whistler, letting you and your family explore Whistler's backcountry in comfort, style, and warmth.
The massive snowcat machines have been specially designed to travel over Whistler's rugged terrain. They are an easy, fun, and exciting way to explore Whistler.
On a snowcat tour, these unique machines will take your family through the pristine powder snow to Whistler's backcountry and up the impressive Blackcomb Mountain. Your driver will navigate wide mountain trails to secret lookouts where you can your family can get unforgettable views of the mountains.
If you love fondue, the snowcat tour is also a great choice. When you arrive at the Crystal Hut (6000 feet up on Blackcomb Mountain!), you'll find a delicious meal of fondue waiting for you and your family. You'll have a lot of fun in the snowcats and leave the tour full and happy!
Family Après Event
Whistler is all about the après-ski (literally translated to "after ski") traditions of revelry and decadence. These celebrations usually involve drinks at a pub so they aren't exactly child friendly… but don't worry, Whistler hasn't forgotten about hosting some family-friendly events too!
Every Monday and Wednesday in the Whistler Olympic Plaza, you'll be able to join in the celebrations at the Whistler Family Apres. This event is a great way to end a day of skiing, snowboarding, and snow adventures in Whistler.
Once you've finished your runs, make even more memories by enjoying activities and entertainment at the Whistler Family Apres, created with kids in mind. This family-friendly event is the epitome of holiday joy thanks to sparkling lights, hot chocolate, delicious treats, and a myriad of outdoor activities, like tobogganing, mini hockey, and snowman-building.
At the Whistler Family Apres, your kids will be enthralled by all kinds of entertainment, from storytelling to fire spinning. There are live bands, circus performers, face painting, and more.
Free for the whole family, the Whistler Family Après event is the perfect way to cap off a brilliant day in Whistler. There are outdoor fireplaces to stay warm, and lots of yummy baked goods to be eaten from the nearby cafes.
Ice Fishing
Whistler is home to many lakes that are excellent for ice fishing excursions. And, even if you have no experience, your family can head out on a fully-guided ice fishing tour to try to catch a fish!
Ice fishing tours typically last up to three hours. Your knowledgeable guide will take you to one of the local lakes in the area that is stocked with rainbow trout, swimming under a thick layer of ice. They'll provide you with all the gear you need to reel in a big one. All you'll have to do is sit back, relax, and enjoy the experience!
From your seat in the middle of the frozen lake, you'll enjoy Whistler's breathtaking natural beauty while spending some relaxing time fishing with your family. The tour also provides a big insulated tent with a propane heater to keep you warm. You aren't guaranteed to catch a fish, but it's a lot of fun drilling through the ice and giving it your best shot.
You and your family will feel like your world's away on this amazing winter adventure. This is the perfect opportunity to have that parent-child bonding moment over fishing that you may have always dreamt of!
Snowmobiling
Snowmobiling is a fun recreational activity that your whole family will adore. Hop aboard and experience Whistler's rugged landscape in a safe and exciting way. Throughout the trip, you'll be surrounded by snowy old-growth forests and beautiful mountains as you zip along Whistler's sprawling network of trails.
One of our favorite tours is the 2.5-hour Snowmobile Family Tour. Designed for families and small groups, you will experience Whistler's backcountry trails on Cougar Mountain with a professional guide. They'll lead you through the wilderness, point out local wildlife, and will take you to some of the best viewpoints in the area.
Another excellent option is the Callaghan Cruiser Snowmobile Tour. This three-hour adventure will have you zipping through the Callaghan Valley in Whistler's backcountry until you reach the NorthAir gold mine site. You and your family will be amazed as you explore this abandoned snow-covered mine by snowmobile.
Keep in mind that for snowmobile tours, drivers must have a valid driver's license. This means that young children won't be able to drive their own snowmobile. However, children between 5 to 12 years old ride for free with an adult driver!
Passenger Bobsleigh
Live out your Olympic dreams by racing down a twisting and turning bobsleigh track. Whistler is home to the fastest bobsleigh track in the world and is one of the few places where non-athletes can experience the thrill.
Bobsleigh is one of the most unique activities available in Whistler and is one that is sure to thrill and excite all members of your family. At the Whistler Sliding Centre, you'll jump into a real bobsleigh and race down the tracks with a Passenger Bobsleigh Experience.
You'll reach speeds up to 125 km/hr as your professional pilot guides you down the track. Along the way, try to enjoy the awesome views of the Olympic bobsleigh track surrounded by mountains — although you'll be going quite fast!
No experience is needed — you'll be taught everything you need to know before you go. The Passenger Bobsleigh is limited to ages of 14 years or older, so it's a good choice for families with teens. Any teen will have to double up with an adult as well, for the bobsleigh slide.
Escape Room
Escape the cold for a fun and interactive afternoon at Whistler's Escape Room. A gaming experience brought to life, your family will have to work together to solve puzzles, clues, and riddles to escape from different scenarios around the room.
Visitors of all ages will love putting the puzzle pieces together to escape the room as fast as possible. An adult will have to accompany any children under 12, but if your kids are older, they can even try to solve the puzzles themselves!
One of the best things about the escape room is that it's designed for all levels and interests. We recommend the beginner-friendly Pirate Ship room if you're visiting with younger children. There are also plenty of harder options, including the Buried Cabin, Pinball Machine, and the Rabbit Hole escape room, that's perfect for fans of Alice in Wonderland.