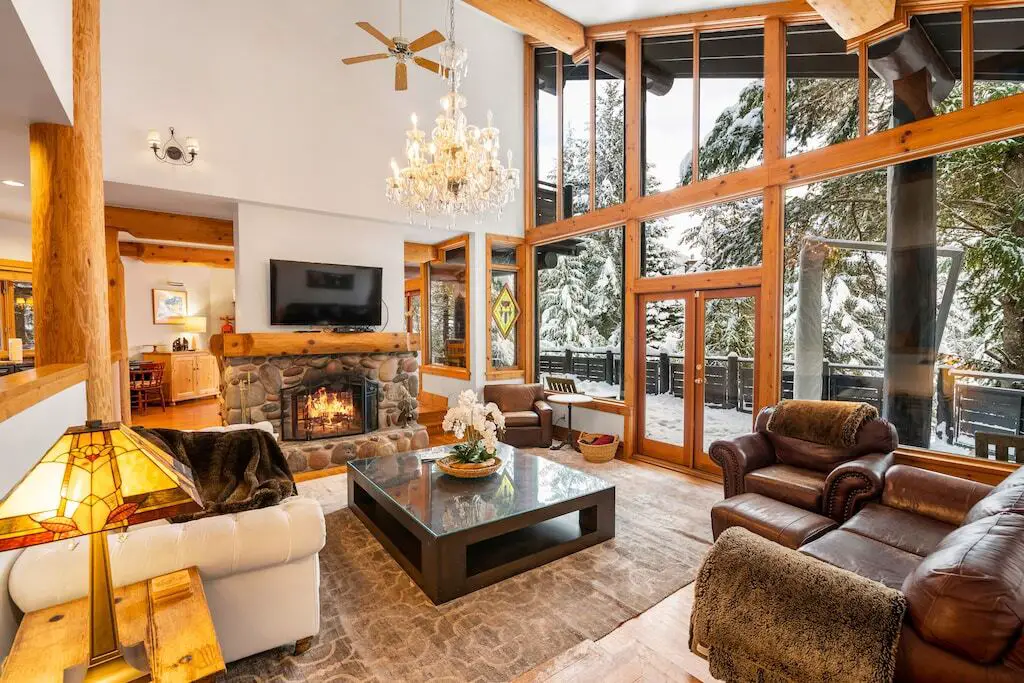 Whistler in British Columbia is the perfect destination for your next group getaway. This world-class mountain town welcomes visitors of all ages year-round to enjoy its spectacular alpine vistas, beautiful natural attractions, lively shops, and first-class restaurants. And, there are many luxury chalets perfect for large groups to choose from!
With a variety of things to do, Whistler is one of the best places to head with a large group of travelers. Whether you're traveling with a big family or lots of friends, there are many luxury chalet accommodations that will fit your entire group.
Looking for the best chalet for your group holiday in Whistler? From mountainside ski chalets to large fairway-facing homes, there is an impressive list of top places to stay in Whistler. Here are some of the top Whistler chalet vacation rentals for families or groups.
Disclaimer – This post contains affiliate links. We may receive a commission if you make a purchase through these links, at no extra cost to you. Thank you for your support! Learn More.
Best Whistler Chalets for Group Getaways
Mountain-Modern Chalet
The Mountain Modern Chalet is a spectacular property, inside and out. No matter the weather, you'll enjoy making the most of your surroundings by lounging in the hot tub, taking a few shots on the putting green (right in the backyard!), soothing sore muscles in the barrel sauna, or roasting marshmallows around one of the two outdoor fire pits.
A stunning mountain chalet, this luxury property offers a range of places to sleep, thanks to its 10 comfortable bedrooms. There are also 10 full bathrooms and a 20-person dining room table, making it the perfect destination for big groups of family and friends looking to escape the city in luxury.
At this fabulous chalet, you'll be close to the best outdoor activities and adventures in Whistler. This retreat is a short walk from Whistler Village and Lost Lake, and several restaurants are close by. There's a storage space in the chalet for outdoor gear like skis and other notable amenities include board games, a meditation area, an indoor sauna, and a steam room.
Northwood Chalet Whistler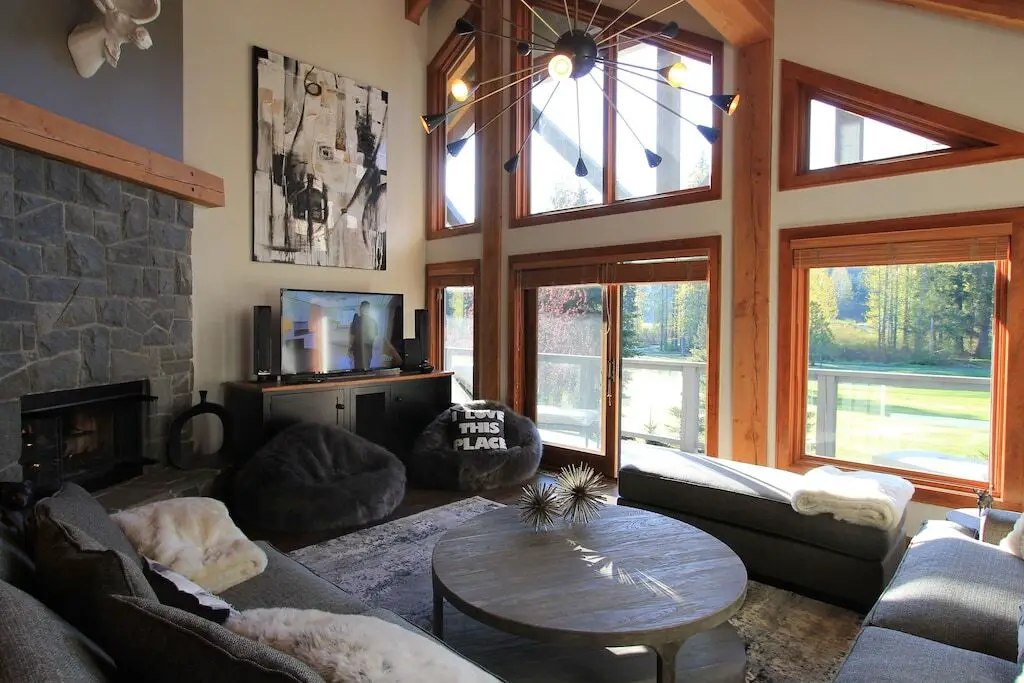 Northwood Chalet Whistler is found in the prestigious Green Lakes Estates neighborhood, located right beside the fairway of the Nicklaus North Golf Course. With its 5 bedrooms, this amazing property comfortably sleeps up to 10 adults, making it one of the best Whistler VRBOs properties for groups and people who love golfing.
After a day of outdoor adventures, you can unwind in front of one of the two fireplaces, prepare an all-star meal in the chef's kitchen, or try your luck at a game of pool, foosball, or ping pong.
A great location north of Whistler, this property is perfect for groups who are looking to explore Whistler. The chalet is close to the Scandinave Spa Whistler and Green Lake. You'll also find the shops at Whistler Marketplace, including the Great Glass Elevator Candy Shop, and Whistler Medal Park a short drive away.
Sitka Alpine Log Cabin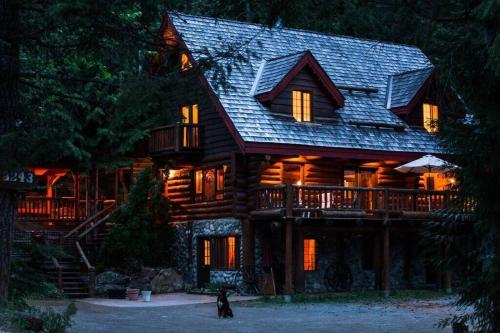 Tucked away in the Whistler wilderness is the Sitka Alpine Log Cabin, a beautiful chalet-style retreat not too far from Green Lake. This sprawling vacation home surrounded by lush forests is the perfect place to relax after a day of skiing, hiking, or biking.
Spread across three floors, this rustic retreat has six luxurious bedrooms and four bathrooms. It sleeps up to 14 people, making it great for big groups. Plus, there's lots of parking outside if you all have vehicles!
The property has a rustic feel but is very well maintained, with a responsive host. Here, you will love curling up in the living room to watch a movie on the flat-screen TV, preparing an apres-ski feast in the full-sized kitchen, or sitting in front of the crackling fire while the snow falls outside. 
To help you make the most of your winter wonderland getaway, this property has amazing outdoor amenities with incredible views. There's an outdoor covered hot tub to relax in and two patios for hosting a potluck.
Nicklaus North Luxury Chalet
The Nicklaus North Luxury Chalet is a golf lover's dream. This 4-bedroom Whistler chalet is on the golf course with classic fairway views. It's also nearby the beautiful Green Lake and Whistler Village is just a few minutes away.
With plenty of living space, this exceptional accommodation is a top Whistler chalet for groups. There are four rooms to choose from, each with its own private bathroom with heated floors. And, if you need an extra bed, there's also a sofabed in the living room.
Modern and chic, this Whistler property has incredible amenities. Enjoy a glass of wine and watch the snow fall from the private, covered hot tub. Or, wake up and enjoy a morning cup of coffee on one of the two private patios!
Lorimer Ridge Lodge
The huge Lorimer Ridge Lodge is a sprawling west coast home that is perfect for your next group getaway. With a private, secluded property nestled in the mountains, this massive luxury chalet is a favorite among groups looking for a cozy mountain retreat.
This charming accommodation has 10 spacious rooms with private bathrooms, queen or twin beds, and heated floors. In the main area of the house, you'll love cozying up in front of the river rock wood-burning fireplace or having a movie night on the 60″ HD TV. There's also a full kitchen with a huge dining table for large groups of guests.
The Lorimer Ridge Lodge offers unbeatable access to the best activities in Whistler, but it also has plenty of activities right at the chalet. Play a board game or round of pool in their games room. At night, soak in all of Whistler's natural wonders by relaxing in the outdoor hot tub, enjoying the private dry sauna, or sitting out under the stars in the lush backyard.
Luxury High End Chalet
This Luxury High End Chalet is one of the top places to stay in Whistler for families looking to be close to Whistler Village. The neighborhood is very family-friendly, and the hosts prefer renting to families. A modern mountainside retreat, this property has an open-concept floor plan with 4 bedrooms and a rec room perfect for kids.
This chalet expertly mixes traditional log cabin décor with contemporary amenities. It has a full kitchen and an open dining room, with plenty of space. With floor-to-ceiling windows in the living room, you'll be bathed in light as you enjoy your morning cup of coffee.
Outside, there is a large patio with a table where you can enjoy BBQ meals and good times. After a day of hitting the slopes, rest up by soaking in the private hot tub. There's also a heated garage where you can store your gear after a day in the mountains.
Luxury Slopeside Chalet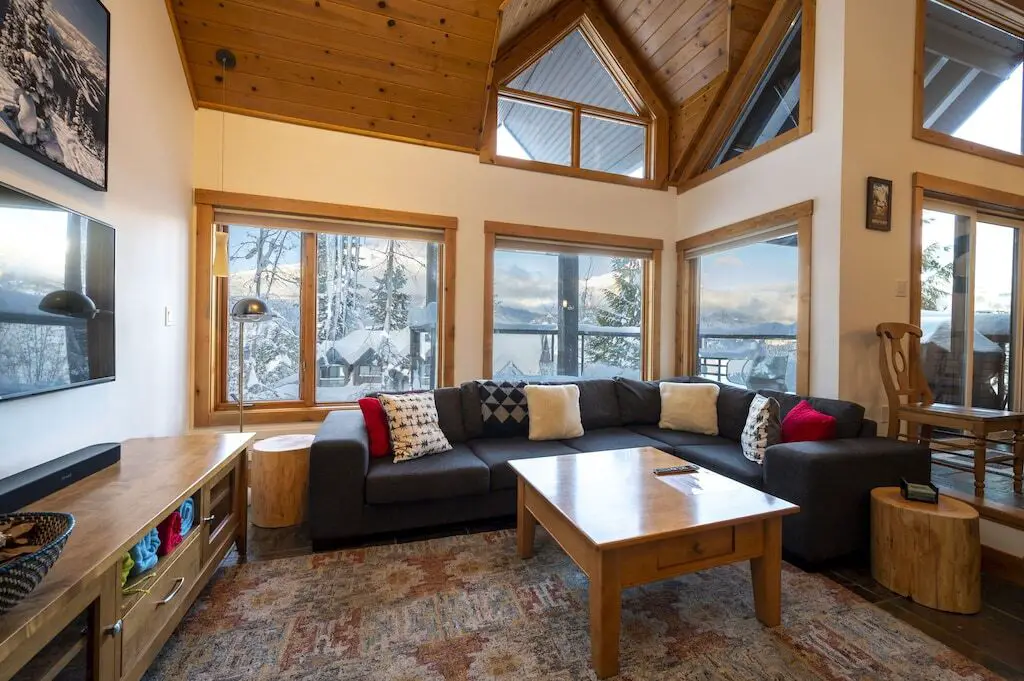 With its convenient mountainside location, the Luxury Slopeside Chalet is one of the best places to stay in Whistler for a group ski getaway. This ski-in/ski-out chalet is near the Whistler Village Gondola, Blackcomb Excalibur Gondola, Fitzsimmons Express, and Village Run. Right beside Whistler Village and Skier's Plaza, it's perfect for anyone looking for a slopeside chalet with a prime location.
The 4 bedrooms in this spacious mountain retreat have new, comfortable beds and are tastefully decorated. The house has an exquisite gourmet kitchen, perfect for preparing group meals. The living room has a wood-burning fireplace where you can gather in the evening.
This excellent accommodation has a variety of amenities that can be used year-round. From lounging in the hot tub to cooking on the barbecue, you'll absolutely love taking in the views of Rainbow Mountain as you enjoy this Whistler oasis.
Alta Lake Chalet
The Alta Lake Chalet is a top Whistler vacation rental that's perfect for groups seeking a luxurious experience. With vaulted ceilings and traditional alpine décor, you'll feel immediately at home in this inviting property. Whether you're lounging in the movie room or hanging out on one of the private decks, you're guaranteed a getaway full of memories by staying at this beautiful property.
This spacious lodge sleeps up to 16 guests, with 11 bedrooms and 13 full bathrooms. It has excellent indoor amenities, including a private spa with a sauna, hot tub, steam room, and yoga studio, where you can relax after a day on the slopes. There's a professional-grade kitchen for making gourmet meals, with a 16-seat dining table.
This property is close to Alta and Nita Lakes, as well as the Whistler Golf Club. The Blackcomb Excalibur and Whistler Village Gondolas are nearby, which can shuttle you to the top of the mountain for skiing in the winter and hiking and biking in the summer.
Blueberry Hill Chalet
A mix of rustic and modern, Blueberry Hill Chalet is one of the best Whistler vacation accommodations for groups wanting to feel like they've escaped the city… in luxury. From the vaulted ceilings supported by huge logs to the stone fireplace, your group will love staying at this massive Whistler lodge.
This property comfortably sleeps up to 14 people, with 10 beds and 4 bathrooms. It boasts a large living room, professional-grade kitchen, large deck with comfortable seating, and massive dining room with seating for your whole group. And, you'll be able to enjoy stunning forest views while sitting out under the Whistler night sky in the private hot tub.
A 25-minute walk from Whistler Village and surrounded by trees, this beautiful chalet is perfect for outdoor adventurers. Amazing mountain trails surround the property, such as the popular Valley Trail. Alta Lake is quite nearby too, so you can easily visit the beautiful Blueberry Beach Park or Rainbow Park.
White Gold Chalet
Bright and modern, the White Gold Chalet is another ideal Whistler property option for your family's next adventures. This spacious accommodation has 6 large bedrooms with a total of 14 beds, making it a great option for big groups who don't mind sharing a room. With top-of-the-line furnishings, you and your family will absolutely adore staying at this incredible Whistler chalet.
This unique property is spread across two floors. Each floor has its own living space, so if you're visiting with more than one family, you can each have your own space. With a cozy fireplace and comfortable sectional couch, this is the perfect property to curl up after a long day exploring the mountain.
Close to Fitzsimmons Creek and the beautiful Lost Lake, these awesome accommodations are great for anyone looking to explore the natural side of Whistler. Nearby, you'll find White Gold Park, the Valley Trail, and the Centennial Trail. Whistler Village and all its amenities are only minutes away, too.