When it comes to an action-packed and fun-filled family vacation, there's no better destination than Whistler, British Columbia. This mountain paradise offers amazing kid-friendly adventures year-round – from hiking, biking, and swimming in the summer, to skiing, snowboarding, and tobogganing in the winter. You'll want the best family-friendly Whistler hotel so you can be right near all the fun!
If you're planning the perfect family-friendly vacation, Whistler has a wide range of top accommodation options to choose from. Whether you're looking for a cozy family-sized suite or a hotel with a pool, there's something for everyone.
Can't decide on the best place to stay in Whistler for your family retreat? Here are the best kid-friendly hotels in Whistler, BC worth visiting on your next getaway!
Best Family-Friendly Hotels in Whistler
Pan Pacific Whistler Village Centre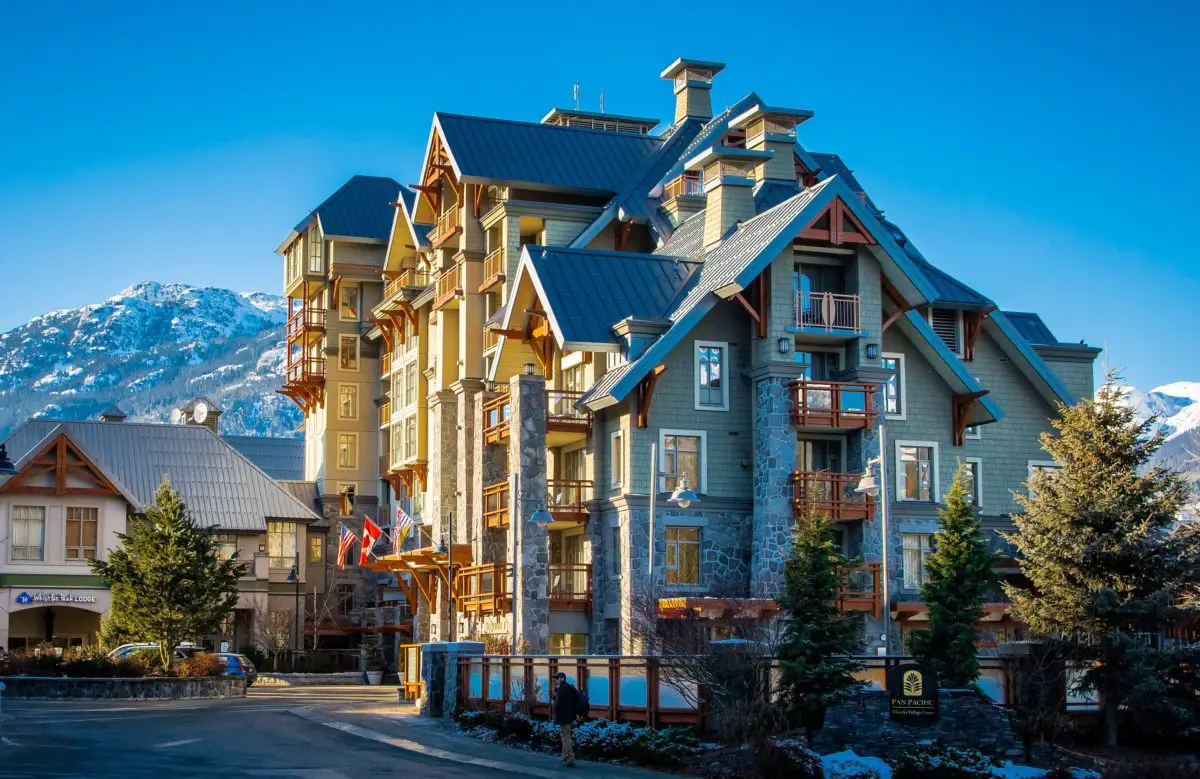 One of the best family-friendly hotels in Whistler is the Pan Pacific Whistler Village Centre Hotel. Just outside the heart of Whistler, this hotel is close to everything, from the slopes of Blackcomb and Whistler Mountains to the local restaurants and shops, like the famous COWS Whistler ice creamery and the Cool As A Moose Souvenir shop. Your family will be delighted with all the things there are to do in this area!
This charming boutique hotel has great amenities for families including a large, heated pool, perfect for swimming year-round. They even provide pool diapers for infants!
If you want some alone time for a date night, the hotel offers babysitting services. And, in the morning, your family can enjoy a full and complimentary continental breakfast. It's super convenient when you're trying to get out to the slopes!
The Pan Pacific Whistler Village Centre has excellent accommodations that can fit families of various sizes. Their large suites have kitchens and dining rooms where you can gather, laugh, and play games around the fireplace after a day on the mountain. If you need a crib or high chair, just let them know!
Four Seasons Resort Whistler
The Four Seasons Resort Whistler Hotel is a favorite among families looking for a comfortable place to stay. Your family will absolutely love relaxing in this mountain oasis!
With large residences, this hotel is great for families of all sizes. Each rustic room has a full kitchen and a gas-burning fireplace, perfect for cozying up after a day of hitting the slopes. If you need any children's equipment, the hotel can provide cribs, high chairs, night lights, and even soaps for babies. And, they even have items to ensure your room is child-proofed!
Your kids will love splashing and playing in the heated swimming pool while you relax in one of the hot tubs. The hotel also offers an art class and seasonal playroom, in case your kids need something extra to do.
Any pet family members are also taken care of here. Indulge your furry friends with the hotel's pet amenities, including a dog bed, water bowl, and tasty treats!
This luxurious hotel is a wonderful choice for a weekend of family fun and adventures with hiking, biking, skiing, and snowboarding nearby. Set at the center of Whistler's Upper Village, this hotel is also close to interesting attractions like the Squamish Lil'wat Cultural Centre, and the Valley Trail is just steps from your front door.
The Westin Resort & Spa
For a fantastic ski-in ski-out, kid-friendly hotel in Whistler, try the Westin Resort & Spa. This incredible hotel is at the base of Whistler Mountain, making it quite easy to hit the slopes with your family. It's a short distance to the gondolas, as well as other attractions like the Rocky Mountain Chocolate Factory shop and the Whistler Mountain Bike Park.
With its luxurious residential-style suites, the Westin Resort & Spa is a great base for a truly unforgettable family vacation. At the end of a long day of skiing, your family can cozy up in the spacious and comfortable living room to enjoy a movie in front of the roaring fire.
The hotel is also ideally located for other outdoor adventures, not just skiing and snowboarding. Whistler's famous Lost Lake is a 35-minute walk away, and you'll find a range of activities, like RZR and ATV tours, nearby too.
Fairmont Chateau Whistler
The Fairmont Chateau Whistler is a luxury hotel that is perfect for families that want to see and experience the very best of Whistler. With its central location, guests can explore the vibrant and lively pedestrian-only Whistler Village, or visit local tourist attractions like Lost Lake, which is just a four-minute drive away.
Each room at the Fairmont Chateau Whistler is comfortably laid out, so you and your family will feel right at home in these excellent accommodations. Enjoy views of the mountains right from your room, comfortable beds, flat-screen TVs, and high-speed internet. The rooms fit up to four people, but you can also request a connecting room if you have a larger family.
Onsite, there are fun amenities, like a heated lap pool with underwater music. There are also tennis courts where you can teach your kids to hit a ball in the summer. Also, if you need it, the hotel has a babysitting service to take care of your children while you head out for some time alone.
Delta Hotels by Marriott Whistler Village Suites
The Delta Hotels by Marriott Village Suites has an unbeatable location in Whistler, great for exploring the Village and the outdoors. It's close to the Valley trail and is a short stroll from the Blackcomb Mountain Gondola and Whistler Ski Lift.
Bright, two-bedroom suites make the Delta Hotels by Marriott Whistler Village Suites one of the best places to stay in Whistler for small families. With a full kitchen and private balcony, your family can bond over their shared adventures in these comfortable and luxurious rooms.
Need a place where the kids can stretch their legs? A stay at this awesome hotel includes great, family-friendly amenities like an indoor/outdoor swimming pool. Also, the fun and inclusive Treehouse Playground is a two-minute walk away!
In the evening, you can enjoy a delicious meal at one of the on-site restaurants at the hotel. Feast on Canadian beef and sizzling sides at Hy's Steakhouse, or pop into the nearby El Furniture Warehouse (yes — it's an actual restaurant) for tacos, wings, and tasty treats.
Nita Lake Lodge
Nita Lake Lodge is your best bet for a classic family holiday that truly feels like you've left the city behind. This stunning hotel is on the shores of Nita Lake and is surrounded by lush West Coast forests.
At Nita Lake Lodge, you'll be close to all the best tourist attractions in Whistler, like Nita Lake, Alpha Lake, and Whistler Mountain. Whistler Village and Lost Lake are just a short drive away.
Accommodations at Nita Lake Lodge are ideal for families. The rooms are comfortable and spacious, and each studio has a kitchenette. With rustic décor and cozy features, you and your family will feel perfectly at home in nature.
The hotel also offers free kayak, bike, paddleboard, and canoe rentals in the summer, so you and your family can make the most of your waterfront location.
Pan Pacific Whistler Mountainside
The Pan Pacific Whistler Mountainside is a luxurious 4-star hotel perfect for a family of outdoor explorers and adventure enthusiasts. Guests can explore Blackcomb Mountain and Whistler Village with ease from this central location. Right beside the ski lifts, it's one of the best ski-in ski-out hotels in all of Whistler.
With a variety of room sizes available, Pan Pacific Whistler Mountainside is one of the best places to stay in Whistler for families. Choose from cozy studios to two-bedroom suites to stay with your family. The suites are modern and practical with comfortable beds and private balconies, where your family can rest, relax and watch the sunset after a day of hijinks and adventures.
A stay at the Pan Pacific Whistler Mountainside hotel also includes amenities like an outdoor heated saltwater swimming pool, where your kids can swim to their heart's content. They have family games you can use, as well as other useful amenities like cribs, high chairs, children's robes, and baby-sitting services.
First Tracks Lodge
Whether you're a family of 3 or a house of 10, the First Tracks Lodge has room options that will satisfy your needs. This charming property has luxurious rooms in a range of sizes, which is why it is one of the top family-friendly accommodations in Whistler.
At the base of Whistler Mountain, these accommodations offer incredible views of Whistler and the valley. The hotel has a convenient location right beside the Creekside Gondola, which takes you soaring to the top of Whistler Mountain, making it a great ski-in/ski-out hotel option. Also, this hotel is close to the Valley Trail, Nita Lake and Alpha Lake, which are amazing destinations for summertime family adventures.
Located in Whistler Creek, there's a short drive to get to Whistler Village from this hotel. However, you'll be nearby plenty of other attractions like Nita Lake and Alpha Lake, which are both amazing destinations for summertime family adventures. First Tracks Lodge is also a short walk from the colorful Confetti Whistler ice cream shop and it's nearby the Samurai Bowl Whistler, where you can dine on fresh, flavorful Japanese fare.
Summit Lodge Boutique Hotel
The Summit Lodge Boutique Hotel is a charming property that does not disappoint! This hotel is in the heart of Whistler Village North and by staying here, your family will have the best restaurants and shops right at your doorstep.
This boutique hotel has spacious rooms where you and your family can comfortably lay their heads after a day spent exploring the mountains. The property also has an outdoor swimming pool, where the kids can splash and play, and a hot tub for parents to relax in after a long day.
The nearby La Cantina Tacos restaurant serves a range of delicious, made-to-order tacos, burritos, and quesadillas. After dinner, why not pop into the Great Glass Elevator Candy Shop and experience a world of colorful sweets and treats that will delight the senses!
This hotel is also a great place to stay for outdoor enthusiasts. The Whistler BMX Park is five minutes away, and activities like dog-sledding, snowshoeing, and ziplining can be arranged through the front desk.
Sundial Boutique Hotel
A fantastic kid-friendly place to stay in Whistler is the Sundial Boutique Hotel. Steps from the ski lifts, this charming property is close to popular attractions like Whistler Bike Park and Lost Lake, and there are plenty of shops and restaurants nearby.
For a boutique hotel, the Sundial does not scrimp on luxury. Many of its rooms have hot tubs on private balconies, giving you the feeling that you're in your private oasis. Your kids will also love curling up and watching their favorite cartoons on the 50″ flatscreen Smart TVs.
In the evening, enjoy a delicious meal at nearby restaurants like The Mexican Corner Restaurant, Il Caminetto, or Misty Mountain Pizza. For an after-dinner treat, visit the nearby Rocky Mountain Chocolate Factory to indulge in delicious handmade chocolates.
Hilton Whistler Resort & Spa
For a comfortable family getaway, consider a stay at the Hilton Whistler Resort & Spa. Centrally located in Whistler, this hotel is a short walk to Pasta Lupino, a kid-friendly restaurant famous for its delicious and hearty Italian dishes. It is also minutes from the Blackcomb Excalibur Gondola, which will shuttle you to the top of the mountain where you can enjoy amazing views and activities.
The two- and three-bedroom suites at the Hilton Whistler Resort and Spa are great for families. Each has a full kitchen, where you can enjoy meals together, as well as a wood-burning fireplace, where you can cozy up and laugh about your day.
The hotel has many great amenities that your family will love, including a large outdoor swimming pool, which can be used year-round. The fun and exciting Whistler Mountain Bike Park is also just steps from the hotel's front door.