Whistler is a spectacular all-seasons destination that's perfect for a couples getaway. Nestled away in the Coastal Mountains of the Lower Mainland, it is an energetic outdoorsy community offering world-class skiing and snowboarding, vibrant shopping, gourmet dining, hiking and biking trails to get your adrenaline pumping, and luxurious spas where you can rest, relax and recharge. There's no better place for a romantic vacation and the hotels are no exception!
If you're planning a honeymoon or a romantic getaway, Whistler has an incredible selection of top hotels and resorts for you to choose from. From charming boutique hotels to luxurious resorts, treat your significant other to an incredible vacation in among the snow-capped mountains.
With so many fantastic places to stay in Whistler, picking the best hotel or resort for your romantic vacation can be hard. Luckily, we've narrowed down the choices to find you the best romantic places to stay in Whistler for couples. Whether you're looking for a relaxing spa date, a golf weekend for two, or an unforgettable gourmet getaway, one of these hotels will be the perfect destination for your romantic vacation in Whistler, British Columbia.
Disclaimer – This post contains affiliate links. We may receive a commission if you make a purchase through these links, at no extra cost to you. Thank you for your support! Learn More.
Best Romantic Hotels for Couples in Whistler
A charming and luxurious hotel, the Westin Resort & Spa overlooks the beautiful snowy mountains of British Columbia. This four-star retreat offers incredible views, spacious suites, and is close to Whistler's best restaurants, shops, and outdoor attractions. Overall, the Westin Resort & Spa is one of the best hotels in Whistler for a romantic retreat for couples.
One of the most romantic hotels in Whistler, the Westin Resort & Spa is the perfect destination for a relaxing trip with your lover. The hotel's spacious suites are equipped with full kitchens, soaker tubs, and fireplaces perfect for setting the tone for a romantic night in. If you want to pamper yourself, the hotel has a full-service spa, indoor and outdoor pools, and hot tubs.
In the evening, enjoy an outstanding meal at one of the hotel's two restaurants. The Grill & Vine specializes in dishes inspired by the Whistler wilderness and has an unbeatable ambiance. For a nightcap, head to the FireRock Lounge to sip artisanal cocktails and enjoy an eclectic menu of delicious tapas.
The Fairmont Chateau Whistler is a top destination for couples looking for a romantic getaway in the mountains. It is an all-season hotel that offers luxurious accommodations in a stunning alpine setting. Here, you and your paramour will get the perfect combination of rest and relaxation and the buzz of Whistler Village.
One of the best ways to relax at the hotel is by visiting the Vida Spa. An oasis dedicated to balancing your inner calm and outer vitality, the spa has 15 treatment rooms and offers everything from massages, facials, and esthetics to body wraps and ayurvedic, and it has a eucalyptus steam room.
The hotel also has three incredible restaurants with seasonally inspired menus. The Wildflower served locally inspired dishes for breakfast and dinner. The hip and casual Portobello is famous for its made-to-order sandwiches, full-service bar, and variety of local craft beers on tap. The Grill Room is a AAA/CAA Four Diamond rated restaurant that serves steak and seafood and has a warm and relaxing environment, perfect for a romantic dinner for two. After dinner, be sure to visit the Mallard Lounge for cocktails and iconic views.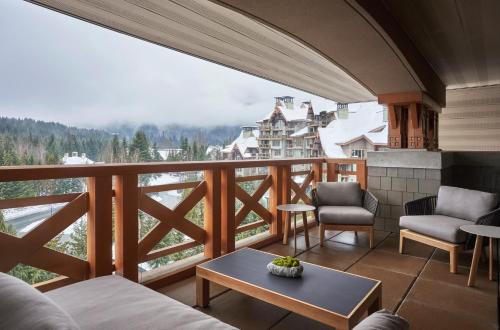 Tucked away in Whistler's Upper Village is the Four Seasons Resort Whistler. One of the most romantic hotels in Whistler, this contemporary resort is surrounded by ski runs and glaciers, as well as stunning lakes and hiking trails.
At the Four Seasons Resort Whistler, you'll be close to all the best tourist attractions in town. There are hiking, biking, and walking trails nearby that take visitors to frozen waterfalls, around giant ancient cedars, and along alpine trails that lead to stunning views and unforgettable panoramas. The resort is also ideally located for strapping on the skis (or boards) and hitting the slopes. 
After a long day of adventures, you and your partner can sit back and relax in one of the resort's chic and spacious rooms. Outfitted with wooden interiors, each suite has a gas fireplace, a sitting area, and amazing views of the mountains or forests.
The resort offers many amenities including a heated outdoor pool, hot tubs, an elegant on-site restaurant, and a welcoming and vibrant tavern.
The Summit Lodge Boutique Hotel is the pet-friendliest hotel in Whistler. It has a laissez-faire attitude, quirky décor, and is one of the best places to stay if you're looking to relax with your lover.
Situated on the forested edge of Whistler Village, this hotel is within walking distance of some of Whistler's top attractions, including the Blackcomb Excalibur Gondola, the Whistler BMX Park, and the Nicklaus North golf course. Guests can also organize other activities nearby, like dog sledding, snowshoeing, heli-skiing, and ziplining.
The Summit Lodge Boutique Hotel has 81 spacious rooms and suites with unique and colorful décor, fully equipped kitchenettes, fireplaces, and private balconies. There are also on-site amenities including an outdoor heated pool, a hot tub, and the Lotus Spa, where you can indulge in a serene massage or aesthetic beauty treatment.
If you're looking to tease your tastebuds, the Summit Lodge Boutique Hotel is home to the Elements Urban Tapas Parlor, one of the most popular breakfast spots in Whistler Village. There is also Sachi Sushi, a casual Japanese restaurant that serves mouthwatering rolls and sashimi and has a diverse sake, beer, and wine list.
The Pan Pacific Whistler Mountainside is one of the best resorts in Whistler for couples. Set in Whistler Village, this hotel is a short walk from Whistler and Blackcomb's gondolas. At its doorstep, you'll also find a variety of shops and dining, as well as breathtaking mountain views. This hotel manages to give couples the perfect balance of downtown cool with a luxurious and calming atmosphere.
This romantic resort has 121 suites each with a fireplace and private balcony. Floor-to-ceiling windows give you and your love the perfect frame for stunning views of the valley and mountains. Add to this the flat-screen satellite TVs and full kitchens, and you'll find that you and your lover will never want to leave.
After dark, enjoy staring at the stars and drinking in the views as you luxuriate in one of the resort's two hot tubs or heated outdoor pool.
The Sundial Boutique Hotel is surrounded by spectacular vistas and lush forests, while also being close to the heart of Whistler Village. A charming boutique hotel, it is the perfect destination for a Whistler romantic getaway and is one of the best Whistler hotels for couples.
These relaxing accommodations in Whistler have a variety of spacious and luxurious rooms. Each suite comes with a full kitchen and a fireplace, and lets guests gaze out over the mountains and surrounding valley. A nighttime soak in the rooftop hot tub is without a doubt one of the most romantic things to do in Whistler.
At the Sundial Boutique Hotel, you'll be close to the best tourist attractions in Whistler. Right in the Village, this hotel is just steps from the Whistler Blackcomb Gondola, the Whistler Bike Park, the Scandinave Spa, and the Whistler Golf Course.
The hotel also has two restaurants and one bar on-site. Black's Restaurant serves West Coast-inspired dishes any time of day, whereas Black's Pub is perfect for a nightcap or an apres-ski. Looking for something a little different? Sushi Village serves fresh and delicious Japanese cuisine.
Located in the center of Whistler Village, the Delta Hotels by Marriott Whistler Village Suites is one of the top Whistler hotels for couples. It is close to popular local attractions and is just steps to fantastic boutiques, delicious restaurants, stunning ski slopes, and adventurous bike trails.
A stay at the Delta Hotels by Marriott Whistler Village Suites includes amenities like free Wi-Fi, access to a 24-hour fitness center, a heated indoor/outdoor pool, three hot tubs, and a relaxing dry sauna. The rooms come with full kitchens, flat panel TVs, fireplaces, and luxurious bedding, and are pet-friendly so even furry members of your family are welcome.
In the evening, you and your partner can enjoy a delicious meal and handcrafted, artisanal cocktails at Hy's Steakhouse. If you're looking for something a little more casual, the Brickworks Public House serves pub-style fare and has a great selection of wine, beer, and specialty cocktails.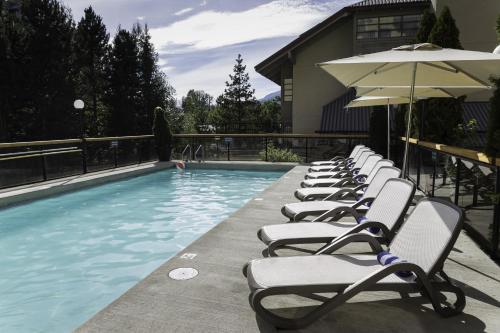 The Crystal Lodge is a stunning Whistler hotel located at the heart of the Village. Just steps away to ski hills, shops, restaurants, and spas, this hotel offers guests the perfect mix of downtown amenities and a relaxing atmosphere. As well, these accommodations have modern and spacious rooms with a cozy mountain feel.
With plenty of amenities, you'll have everything you need at the Crystal Lodge. This hotel has a heated outdoor pool and hot tub, contemporary fitness facilities, a hot rock spa, and ski, snowboard, and bike valet.
The Crystal Lodge offers a truly exquisite hotel experience thanks to its spacious rooms and historic charm. The hotel has a variety of room sizes available, from cozy Crystal single rooms to deluxe three-bedroom penthouse suites. Each room comes with free Wi-Fi, a mini fridge, and a lounge area.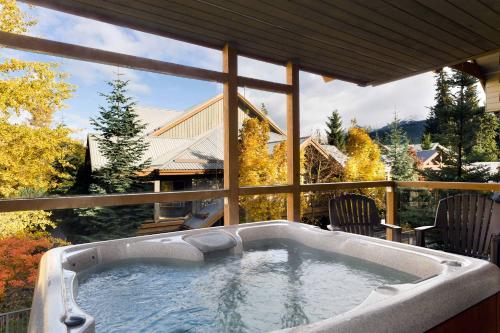 Offering spectacular views of the mountains and the forest, the Glaciers Reach by Allseason Vacation Rentals is a unique option for a Whistler honeymoon getaway. Accommodations include one and two-bedroom vacation homes with private spa tubs and rooms that open onto balconies and patios. Each is outfitted with a full kitchen, separate dining area, and luxurious spa-like bathrooms.
Ideally located in Whistler Village, this 3.5-star property is a short walk from the Blackcomb Excalibur Gondola and is adjacent to the Whistler Marketplace. Here you'll find a variety of restaurants, liquor and grocery stores, as well as a Starbucks, perfect for that morning caffeine kick.
This property is the perfect place to treat your partner to an affordable romantic Whistler getaway. Here you can enjoy all the perks of Whistler – from its stunning natural surroundings and relaxing amenities to its world-class restaurants and exquisite cocktail lounges – without breaking the bank.
Top Travel Tips & Resources for Whistler, BC