Whether you're visiting Whistler in the winter or the summer, there's no better way to cap off a day in the mountains than a relaxing soak in a private hot tub. You'll feel completely at ease as you sit in the warm waters, with the crisp mountain air swirling around you.
Our favorite way to end a long day on the slopes is by sitting in the hot tub. But, with a shared hot tub, you'll never know if you'll return from adventuring to find it empty or full of people. Sharing isn't always bad but sometimes it's nice to not have to worry about someone else interrupting your peace!
Luckily, there are plenty of amazing Airbnb and VRBO vacation rentals in Whistler that are the best places to stay if you're looking for a private hot tub. You'll never have to worry about the hot tub filling up with strangers. And, you can even enjoy a drink or two in the privacy of your own accommodations!
If you're not sure where to stay in Whistler with a private hot tub, look no further. We'll share the best Whistler vacation rental accommodations with private hot tubs around town. Whether you're looking for an affordable condo or a luxurious chalet, we've got you covered with these top Whistler accommodations!
Best Whistler Vacation Rentals with Private Hot Tubs
From penthouse condos to magnificent mountainside cabins and chalets, these top Airbnb and VRBO vacation rentals are the ideal place to rest and relax after a day in the mountains.
Read on for the best Whistler vacation homes with private hot tubs!
Mountain-Modern Chalet
With 10 bedrooms and many luxurious amenities, the fancy Mountain Modern Chalet is one of the top places to stay in Whistler if you're looking for the best of the best. We don't say that lightly — it's clear that the owners have put a lot of thought into designing this incredible vacation home!
The Mountain-Modern Chalet is the perfect place to live out your dream holiday. Located in the White Gold area, this modern retreat is close to the mountains and plenty of things to do around Whistler. Plus, there are many amenities around the house for you to enjoy!
In the backyard, you'll find amenities designed to help you relax. Soak in the covered hot tub, enjoying the home's forest surroundings and mountain views. There's also a private barrel sauna and cool pool, where you can alternate between hot and cold. And, they also have a meditation area, putting green, and outdoor fire pits.
The features don't end there though! Inside, you'll find a massive dining table, a spacious living room with huge glass doors, two indoor fireplaces, ski equipment storage, and a top-of-the-line kitchen. Overall, you'll feel at the peak of relaxation staying at this spectacular modern mountain chalet!
Taluswood Ridge Townhome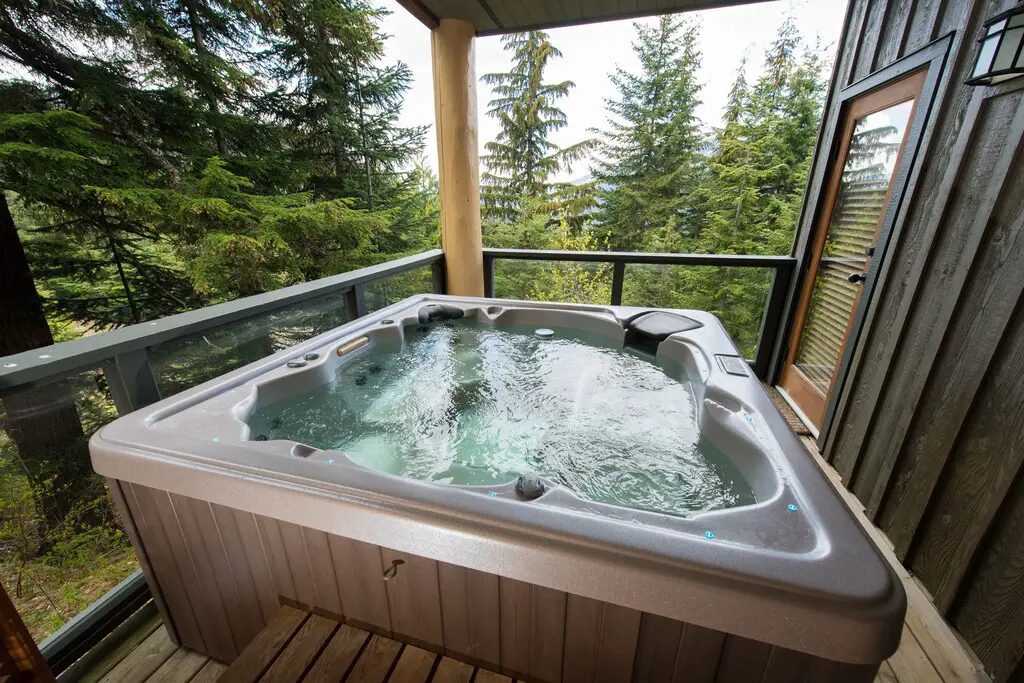 Located in Whistler Creekside, the Taluswood Ridge Townhome is a top place to stay in Whistler for skiers and snowboarders. It has ski-in/ski-out access and is a short walk to the Creekside Gondola. With Nita and Alpha Lakes not far away, this is without a doubt one of the best year-round rentals in Whistler!
This slope-side townhouse offers deluxe accommodations, perfect for family getaways or weekends with friends. There are four bedrooms which either have a king-sized bed or twin beds, as well as a pull-out queen sofa bed. Plus, there is a spacious living room, dining room, and fully-equipped kitchen!
When you're ready to relax, head out to the covered deck and enjoy a soak in the hot tub. From your private whirlpool, you'll feel like you're in the middle of paradise!
Mountain Modern Ski-in/Walkout Condo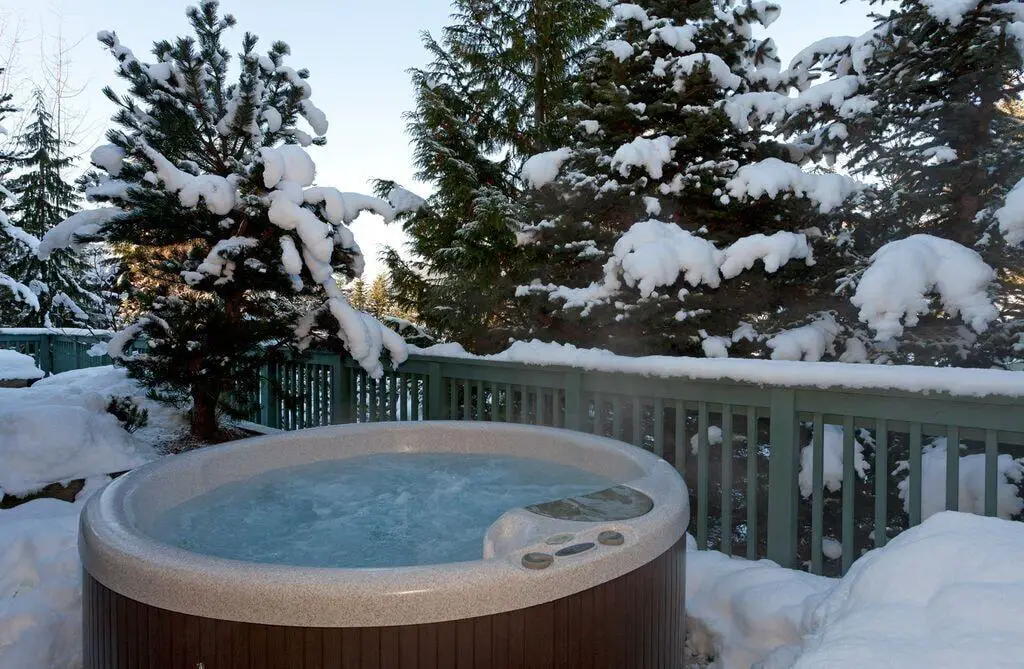 Surrounded by lush forests, the Mountain Modern Ski-in/Walkout Condo in Arrowhead Point is an amazing getaway. Perfect for couples, this VRBO has two bedrooms, a spacious living room with incredible views, and a comfortable eat-in kitchen.
This condo is one of the top places to stay in Whistler for skiers. It is just minutes from the Valley trail and offers ski-in/ski-out access to Blackcomb Mountains. Step into your boots and in minutes you'll be carving your way down the runs.
At night, give your body a break by lounging in the private outdoor hot tub. Set on the condo's deck, this hot whirlpool will let you sit out under the night sky and take in amazing mountain views.
Lake Placid Lodge Penthouse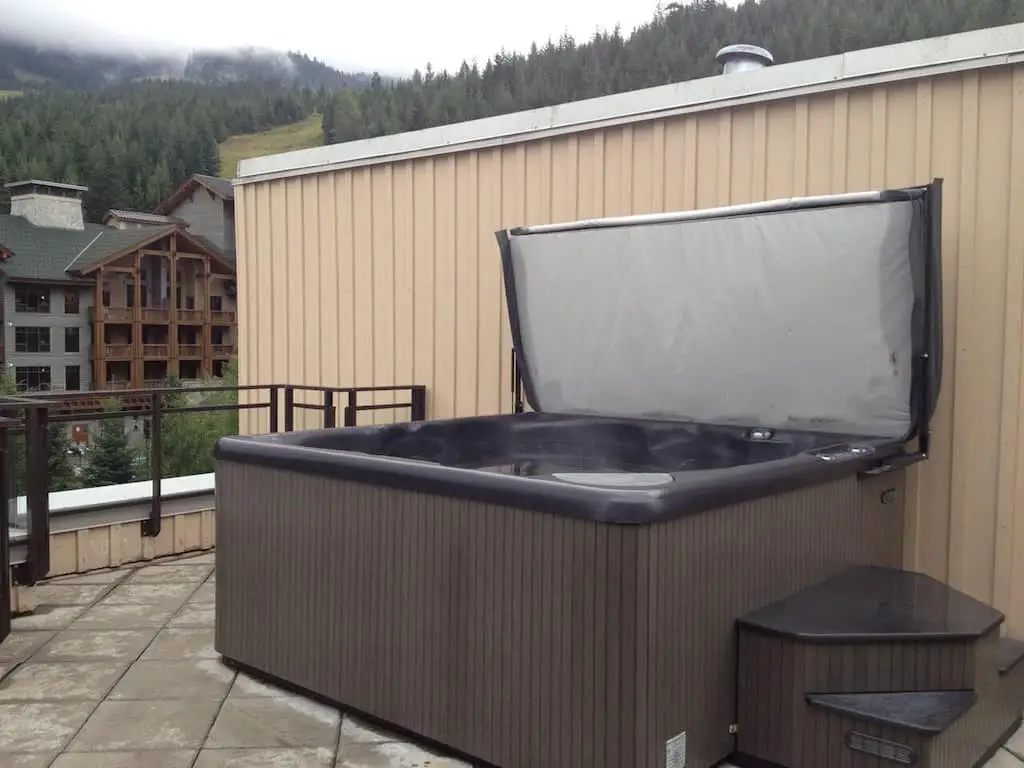 Enjoy a vacation living the high life at the stunning Lake Placid Lodge Penthouse. Steps from the Creekside Gondola, this 3-bedroom condo is the perfect spot for anyone who loves hitting the slopes for some skiing or snowboarding.
Great for couples on a romantic getaway, this awesome penthouse boasts a private rooftop hot tub. During the day you can watch the skiers zip down the mountain or at night, watch the sunset with a glass of wine in the privacy of this mountainside oasis. Without a doubt, this is one of the best Whistler vacation rentals with a private hot tub.
Additionally guests of the Lake Placid Lodge Penthouse have access to a great variety of amenities within the building, including a communal swimming pool, hot tub, and sauna. And, you'll even get underground parking so you don't have to worry about clearing the snow off your car!
Ultimate Mountain Luxury Townhome
The Ultimate Mountain Luxury Townhome lives up to its description as an incredible luxurious retreat. It is a modern home with four bedrooms, comfortable living areas, a professional kitchen… and of course, a private hot tub on the patio!
One of the best Whistler vacation rentals with a private hot tub, this is a great place to stay if you're looking for a relaxing getaway. Here, you'll be able to enjoy the large private hot tub on the deck, complete with magnificent mountain views. There's also an incredible outdoor living space with a gas fireplace, table, chairs, and a built-in BBQ.
Inside the home, you'll find four comfortable bedrooms with modern fixtures and spa-worthy bathrooms. There are multiple fireplaces, storage spaces for outdoor equipment, laundry machines, and even a spacious garage. From the luxurious living room to the open concept kitchen, you'll feel right at home in this amazing mountain townhome.
Arrowhead Point Townhouse
The Arrowhead Point Townhouse is one of the best Whistler VRBOs for someone who's looking for more affordable accommodations with a private hot tub. While not too pricey, you'll have a full 2-bedroom, 2-bathroom townhouse with its own hot tub and a location that even offers ski-in/ski-out in the winter!
A ski-in/ski-out property, this townhouse is super close to the Blackcomb Ski Resort and gondolas, as well as Whistler Village. Start your day by skiing to the lifts and at the end of the day, ski right back to your townhouse and jump in the private hot tub!
With two bedrooms, this townhouse comfortably sleeps up to five or six people. The rooms have a queen-sized bed or a double with single bunkbeds. There is also a spacious kitchen and living room for you and your guests to enjoy.
From the covered deck, you'll be able to spend your nights basking in the glorious glow of Whistler from the privacy of your own spa whirlpool. Relaxation and great views — sign us up!
Northwood Chalet Whistler
Tucked between the mountains and trees, the five-bedroom Northwood Chalet Whistler in Green Lake Estates is an incredible place to stay for a summer getaway or winter ski weekend in Whistler.
Located on the prestigious Nicklaus North Golf Course, this vacation rental is a favorite of golfers. If you stay here, you'll be right beside the first Fairway!
One of the best Whistler VRBO chalets with a private hot tub, a stay at this rustic retreat will have you feeling worlds away. The outdoor hot tub is outfitted with LED lights and can seat up to seven.
After your soak, relax in the outdoor covered living room. With two gas fireplaces and comfortable sectional sofas, you'll be able to enjoy Whistler's natural environment throughout the year. And, you'll find that the indoors is just as comfortable, with lots of bedrooms, bathrooms, comfortable seating, and a spacious, fully-equipped chef's kitchen.
Luxury Slopeside Chalet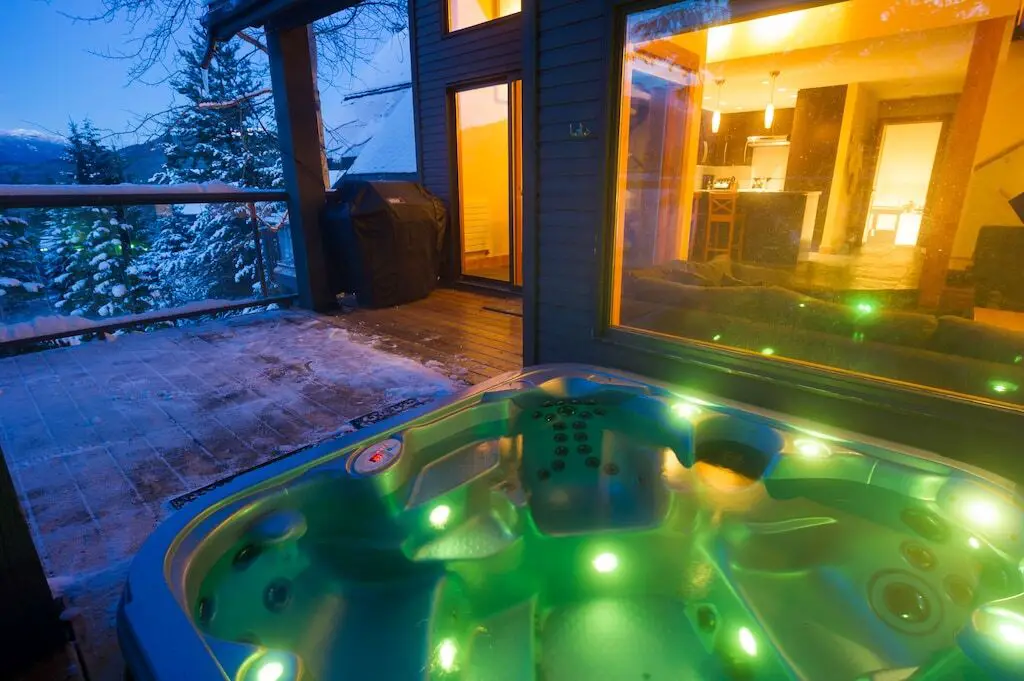 The amazing Luxury Slopeside Chalet is nestled in the wilderness, with a super convenient location. Just above Whistler Village, this luxury chalet is close to the Skier's Plaza, Village Run, the Gondolas and many other things the town has to offer.
Thanks to its great central location and spacious interior, this Whistler accommodation is ideal for families or friends looking for the perfect ski-in/ski-out holiday. If you love hitting the slopes, you won't find much better than this.
There are four comfortable bedrooms and four full bathrooms. Between queen-sized suites and a room with bunk beds, you'll be able to fit the whole family in this expansive house.
Outside, there are amenities including a barbecue and a large deck with a whirlpool. Rest your muscles by taking a soak in the private Jacuzzi while taking in the views of the village, the mountains, and the forest. 
Lorimer Ridge Lodge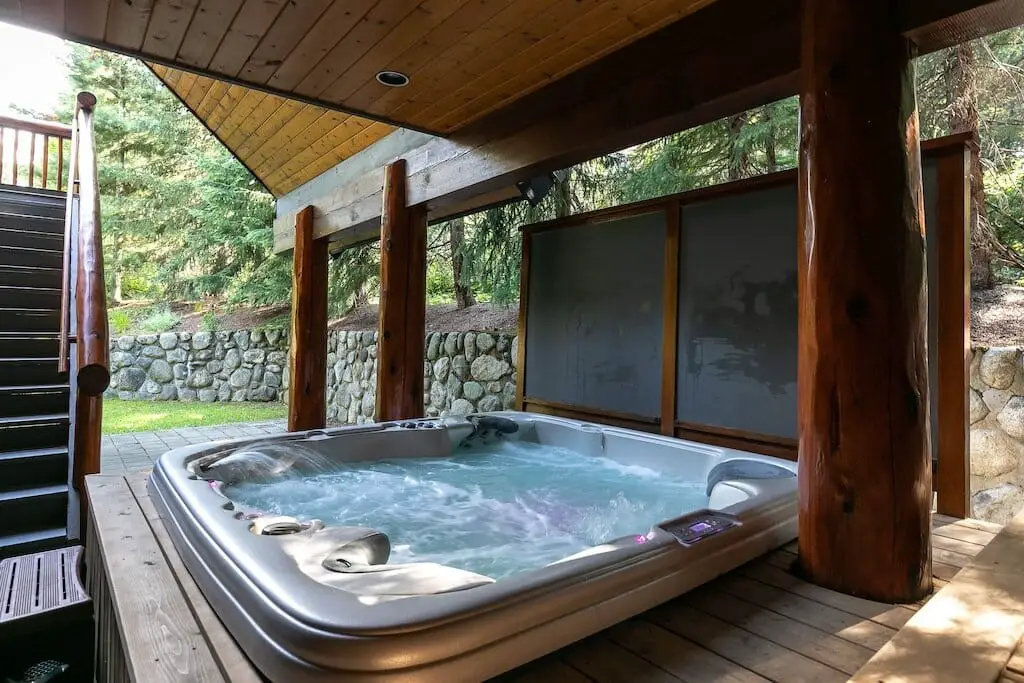 For an unforgettable group vacation in Whistler, there's no better place to stay than Lorimer Ridge Lodge. With 10 bedrooms, 22 beds, and 11 bathrooms, this detached holiday home is the perfect place to bring the whole family or all of your friends.
This house is full of amazing features, but one of the best is its incredible spa features. Located within the property is an amazing sauna where you can relax in the dry heat. There's also an outdoor hot tub located on the covered deck where you can enjoy a tranquil evening, staring out at the Whistler views no matter the weather.
At Lorimer Ridge Lodge, you'll be close to the best activities and attractions that Whistler has to offer. This great home is a short distance from Whistler Village, Alta Lake, the ski slopes, and more. But, there's also plenty of things to do at this vacation home, including billiards in the games room and late-night moves on the large-screen TVs.
Alta Lake Chalet
Atla Lake Chalet is a spectacular 11-bedroom alpine chalet with spacious indoor and outdoor living spaces and large windows where you can admire the mountain views.
Nestled in nature, this chalet is the perfect place to get away from the hustle and bustle of city life. Here you'll enjoy peace and tranquility thanks to the surrounding forest and mountain atmosphere.
Following a day in the mountains, retreat to your private spa — the best part about this Whistler VRBO. This chalet boasts a sauna, hot tub, and steam room where you can recharge. Outside, there are two small pools – one hot and one cold – as well as comfortable loungers where you can sit out under the stars and get lost in the moment.
Glacier's Reach Townhouse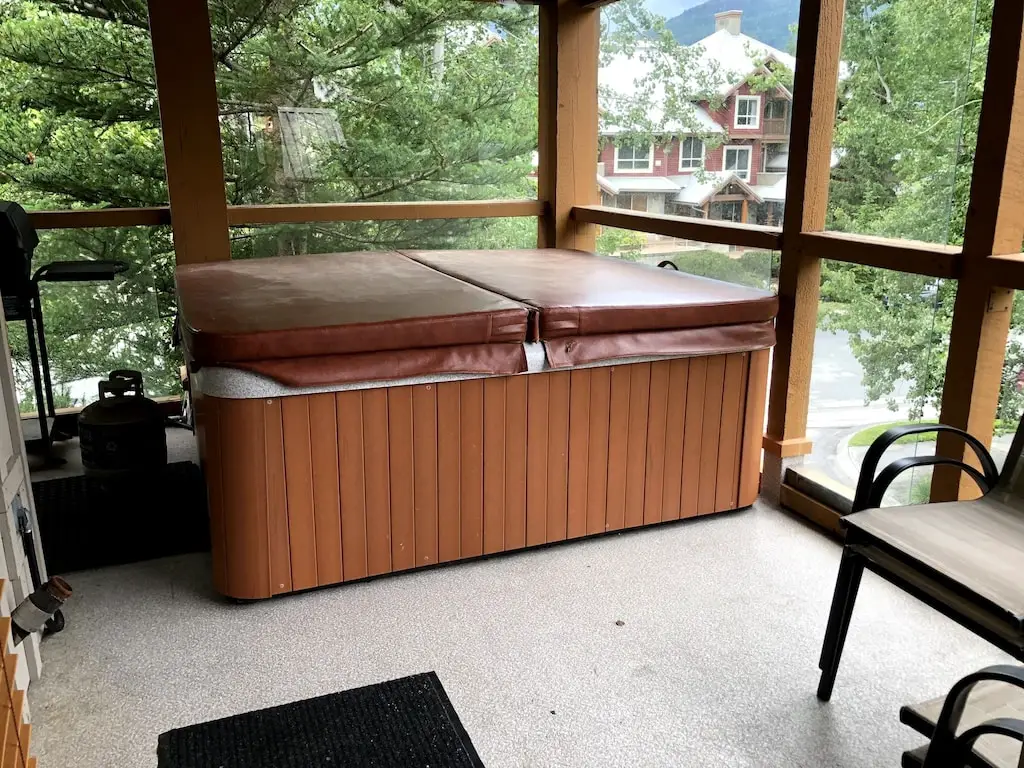 The Glacier's Reach Townhouse is centrally located in Whistler and is a great affordable VRBO option with a private hot tub. It has incredible mountain views and is within walking distance of Whistler Village and Blackcomb Gondolas.
This comfortable townhouse has two bedrooms with a queen or bunkbed. There's also a futon if you need an extra bed. This makes this vacation rental perfect for small families and groups of friends. There's also an open concept living room and well-equipped kitchen.
Apres-ski, enjoy a night of rest and relaxation in the private hot tub. Located on a covered deck, you can sit out, breathing in the cool mountain air, no matter the weather. There's also a communal heated pool where you can swim a few laps and a modern fitness center.