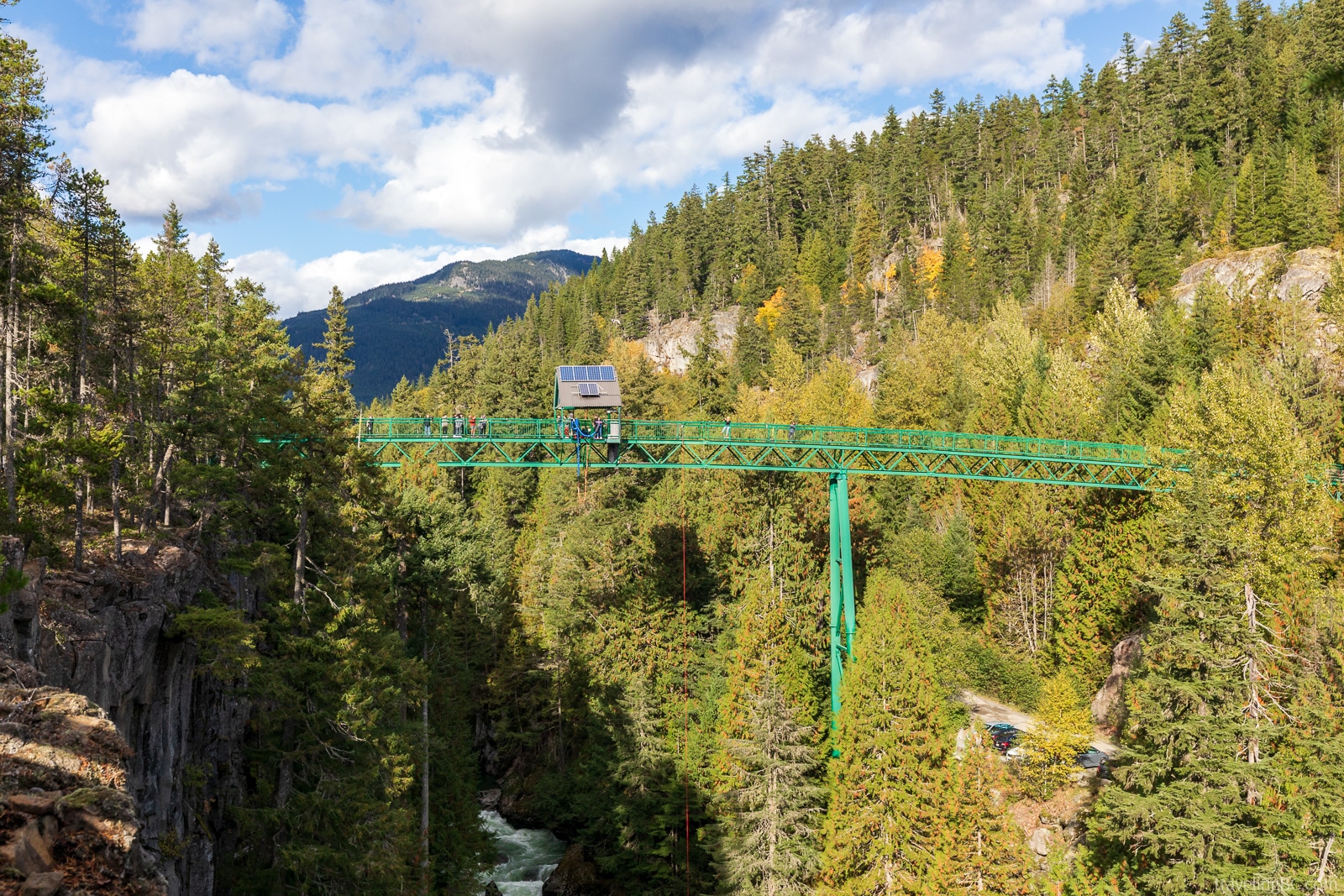 Whistler is one of the most incredible year-round travel destinations for adrenaline junkies in Canada. Not only is this stunning mountain town one of the largest, world-class ski resorts in North America, but it's a hub for adrenaline sports and extreme activities at any time of year, even during the summer.
From mountain biking and bungee jumping to whitewater rafting and rock climbing, this exhilarating destination seriously has it all. And, the excitement doesn't stop when the snow melts. There are plenty of adrenaline pumping, exhilarating things to do during summer in Whistler, too!
In this article, you'll discover the best things for adrenaline junkies to do in and around Whistler during summer. These recommendations range from ziplining and mountain biking to ax-throwing, glacier climbing, and off-road adventures. With this list of adrenaline activities, you'll be ready to plan your heart-pounding summer vacation to Whistler in no time!
Disclaimer – This post contains affiliate links. We may receive a commission if you make a purchase through these links, at no extra cost to you. Thank you for your support! Learn More.
Top Whistler Summer Activities for Adrenaline Junkies
Whistler, British Columbia is an adventure traveler's dream. This stunning mountain community is perfectly designed for adrenaline junkies to get their hearts pounding thanks to numerous exhilarating activities. Whether you're looking to zipline or bungee jump, explore on two or four wheels, or are keen to fly over the mountains, here are some exciting things to do during summer in Whistler that will satisfy the needs of any adrenaline junkie!
1. Ziplining
For those who want to enjoy the crisp alpine air and incredible scenery, ziplining is one of the best summer things to do in Whistler. Step into your harness and in no time, you'll be flying along a steel cable while enjoying amazing views of mountain vistas.
We highly recommend the Eagle or Bear Zipline Tours from Ziptrek. These 2 to 3-hour tours will have your adrenaline pumping as you fly above the valley and cross treetop suspension bridges over the forests of Blackcomb and Whistler Mountains. The Eagle Tour takes you over the Fitzsimmons Valley, starting 1000-m high on Whistler mountain at the Olympic Station. The Bear Tour crosses Fitzsimmons Creek and old-growth forest on a series of long ziplines, suspension bridges, and boardwalks.
Looking for something a little more epic? The 1.5-hour Whistler Sasquatch Zipline takes you on a 7,000-foot (over 2 kilometers!) descent of Blackcomb Mountain along North America's longest zipline. Take in the views and keep your eyes peeled for wildlife as you zoom down the mountain at top speeds. Keep in mind you won't be able to ride this zipline in winter, making the Sasquatch Tour one of the best adrenaline-pumping activities in Whistler to try during summer!
Want to combine several different adventures into one? The 2.5-hour Whistler Superfly Ziplines tour includes a 4×4 climb of Rainbow Mountain before you zip down reaching speeds up to 60 miles/hour between Rainbow and Cougar Mountains. This Whistler adventure is perfect for couples looking for things to do together — you'll get to zipline down side-by-side!
2. Helicopter Tour
Whistler is one of the most spectacular destinations in Canada and what better way to take in the views than by helicopter. Soar through the air high above snowcapped mountain peaks, massive glaciers, verdant alpine meadows, and old-growth forests. Be blown away by the unbeatable bird's eye views you can only get from a helicopter tour!
One of our favorite helicopter tours is the Whistler Helicopter Tour, which offers the ultimate alpine aerial adventure. Up to 45 minutes long, this amazing tour takes you past glistening glaciers and snow-covered peaks, flying around Whistler and Blackcomb Mountains, and over Whistler Village.
You'll pass over the gorgeous backcountry of Garibaldi Provincial Park, getting stellar views of Garibaldi and Cheakamus Lakes, the Black Tusk, and Rainbow and Cheakamus Glaciers. The helicopter will also cross beside Blackcomb Mountain's Peak 2 Peak Gondola, giving you a new perspective of this stunning mountain peak. And, when the weather's good, you'll even have the chance for a landing on the snowy top of Rainbow Mountain!
Looking for something a little more romantic? We suggest the Private Whistler Helicopter Tour, which includes all the best of the above but just for you and your partner (or whoever you wish to bring along, up to 5/6 people). It's pricier but worth it for those special occasions like anniversaries or honeymoons!
3. Off-Road Buggy Adventure
One of the best ways to experience the mountains is to get out of Whistler Village and off the beaten path. And there's no better way to do that than by hopping in a 4×4 off-road buggy. These turbocharged machines can tackle any terrain. No matter where you want to explore, these 4×4 off-road buggies will get you there!
One of our favorite 4×4 adventure activities is the Whistler Odyssey Tour. This three-hour tour puts you in the driver's seat and takes you on a comprehensive guided tour of Whistler's wilderness. You're guaranteed to have a blast!
In this thrilling off-road adventure, you'll explore the beautiful backcountry of the Callaghan Valley. Cross rugged terrain, climb mountain backroads and explore single-track trails surrounded by forest, with stops along the way to take in the views and spot a wild animal or two. If you're lucky, you might spot a bear!
4. Glacier Sightseeing by Floatplane
If you're looking for an incredible aerial experience, look no further than the exciting Glacier Sightseeing Floatplane Tour.
Haven't flown in a floatplane before? Here's your chance! You'll take off from the scenic Green Lake, just north of downtown Whistler. The lake is named after the color of its waters, so you should definitely shoot some photos before taking off!
Throughout this 30-minute flying adventure, you'll soar high above the rugged landscapes of Whistler and see unparalleled views of British Columbia's dramatic Coast Mountain Range and stunning wilderness. As you fly past spectacular glaciers and over beautiful turquoise alpine lakes, your pilot will explain the geography of the region.
This is one of the top things to do in Whistler for photographers, nature enthusiasts, and anyone heading to Whistler in the summer. This mile-high adventure gives you a bird's eye view of the gorgeous West Coast terrain. You'll want to have your camera handy through the tour — at almost every moment, you'll be treated to unbeatable views!
5. Backcountry ATV Tour
Rev your engines because a summer ATV tour is one of the top adventure activities in Whistler to explore the backcountry. These off-road recreational vehicles are perfect for exploring the rugged terrain of Whistler. Head onto the trails for a unique view of the region!
The Whistler ATV Bushwacker Tour is one of the best extreme off-roading tours in Whistler. This two-hour adventure takes you through the stunning forests, trails, and tracks of the Brandywine Valley. These small group tours wind throughout the backcountry, stopping along the way for impressive views of Whistler, Blackcomb, Sproatt, Rainbow, and Black Tusk Mountains.
Or, get your adrenaline pumping on the Call of the Wild ATV Tour. This private tour follows a 4-kilometer (2.5-mile) trail through the Callaghan Valley wilderness. Splash through rivers and streams, cross rough terrain, and drive up to viewpoints with unforgettable views of mountain vistas. It's perfect for adrenaline junkies, adventure seekers, and anyone who loves spending time in the great outdoors!
For those who want to explore Blackcomb's alpine area, a great off-road option is the Mountain Explorer ATV Tour. For two hours, you'll zip around rugged mountain terrain, starting from Eagle Lodge. Follow your guide around Blackcomb's trails and stop to admire Whistler's unique natural landscape along the way.
Don't worry, you don't need any ATV experience for these tours — just a driver's license! Your tour guides will provide a safety lesson and all the gear you'll need.
6. Whitewater Rafting
Some of the best whitewater rafting spots in British Columbia are found around Whistler. From heart-pounding rapids to family-friendly runs, there's something for adventure seekers of all ages and abilities in Whistler.
On a whitewater rafting trip, you'll not only get your adrenaline pumping but you'll have the chance to see Whistler's landscapes from a completely different vantage point.
For those looking to try this thrilling summer activity, we recommend booking the Whistler Whitewater Rafting Tour that'll take you down one of the region's stunning rivers. On this two-hour adventure, you'll experience a taste of the natural beauty and wild intensity that the Pacific Northwest has to offer.
You'll twist and turn as you navigate the rapids of the Green River or for those who want something more intense, the Elaho-Squamish River. Your expert rafting guide will teach you about whitewater rafting techniques while providing great insights into the Whistler wilderness.
7. Summer Bobsleigh
Thought bobsleigh was a winter sport? Think again!
Summer bobsledding is one of the most unique Whistler things to do that'll get your adrenaline up. And, the non-profit Whistler Sliding Centre is one of just a handful of tracks worldwide where you can take part in this thrilling activity, year-round.
Sign up for the 1.5-hour Summer Bobsleigh experience, which starts with a tour of the 2010 Olympic Winter Games venue. You'll even get to walk the track before you begin bobsledding, learning about this cool Olympic sport. All of the proceeds go towards supporting this awesome facility and helping the athletes train.
When you're ready, you and your team will hop into a bobsleigh on wheels and fly down the run, guided by an expert pilot. You'll reach thrilling, heart-pounding speeds of up to 90 km/hr (55 miles/hour)!
As you zip along, try to take in the views of Whistler and the Olympic course that you won't get anywhere else — although this might be difficult at such adrenaline-pumping speeds!
8. Axe Throwing
Looking for an exciting and unique activity in Whistler? Axe throwing is one of the best indoor things to do in Whistler in both summer and winter.
While it might not get your adrenaline pumping in the same way as activities like bungee jumping or whitewater rafting, you'll definitely feel the excitement when you hit the target with your axe!
For the best experience, we recommend the one-hour Axe Throwing Guided Experience at Forged Axe. Close to Whistler Village and available every day of the week, this experience can easily be added to any Whistler itinerary. Plus, it's indoors so it's a great option when the weather isn't great!
After a quick safety demonstration, you and your group can start aiming for a bullseye. Full of excitement, this is one of the most fun indoor activities in Whistler. No matter whether you're looking for a family-friendly adventure, a team-building activity, a night out with friends, or a fun date idea, you'll have a blast!
9. Whistler Via Ferrata Tour
Via Ferrata is an activity that is sure to get your heart pumping, palms sweating, and adrenaline rushing. Translating to the "Iron Path," Via Ferrata is an experience where you rely on metal rungs, ladders, and permanently fixed safety wires to navigate tricky, steep, and rocky terrain.
For an experience you won't soon forget, try the Whistler Via Ferrata Tour. Not for the faint of heart, this four-hour experience is one of the best rock climbing tours in Whistler. You don't even have to be an experienced rock climber to try this activity!
Suitable for climbers of all levels, this challenging tour will take you on an ascent of 7,087 feet to the mountain summit, starting from the top of the Whistler Village Gondola. With the aid of safety cables and metal rungs, you'll climb high and enjoy spectacular views of Whistler Mountain and the surrounding valleys.
10. Mountain Biking
With plenty of off-road trails and mountainous terrain, Whistler is ideal for a mountain biking adventure. It has steep tracks and winding forest trails that are perfect for exploring on two wheels. If you want to see Whistler's wilderness while getting an adrenaline rush, mountain biking is one of the best things to do in summer!
If you have a mountain bike and some off-roading experience, there are plenty of trails to be biked throughout the region. Check out this trail map for some of the best mountain biking spots in Whistler.
Want more downhill runs? Spend a day at the Whistler Mountain Bike Park. The ultimate downhill experience, this park is divided into four zones of trails, jumps, and more. There are more than 4,900 vertical feet of lift-serviced trails. Tickets are needed and bike equipment is available to rent.
If you aren't experienced, we recommend trying the guided Whistler Mountain Bike Tour. Over three hours, you'll explore Whistler's rugged wilderness on a route customized for your group. You'll jump rocks and spin on trails as you see amazing views, with the potential to spot some local wildlife.
For a tamer experience, sign-up for the eBike Adventure in Whistler (this tour isn't mountain biking). On this three-hour guided tour, you'll zip through old-growth forests and pedal past streams. Your guide will share the best places to eat and drink in Whistler, and if there's time, the tour might even include a stop at a delicious bakery.
11. 4×4/Jeep Tour
Exploring Whistler by Jeep is another one of the exciting things you can do in Whistler in the summer. These powerful off-roading machines can tackle any terrain, taking you to new and exhilarating heights.
The Blackcomb Glacier Safari by 4×4 is a great option for first-time visitors to Whistler. A two-hour tour of Blackcomb Mountain, this excursion takes you right towards the summit! Along the way, you'll enjoy stunning views of Whistler, Coast Mountains, and the Horstman Glacier.
Want to add a little romance to your adventure? The Blackcomb Sunset Jeep Tour is for you! On this private two-hour tour, you'll get to marvel at the breathtaking views of Whistler Village and the Coast Mountains under the brilliant colors of an alpine sunset. Soak in the peaceful atmosphere and spectacular scenery as you watch the sunset bathe the mountainous landscape in color!
12. Rock climbing
Home to hundreds of routes of varying heights and difficulties, Whistler (and the nearby Squamish) is a climber's paradise. Whether you're rappelling for the first or the hundredth time, you'll never get bored of rock climbing in Whistler.
If you have your own gear, head out to one of Whistler's incredible crags and boulders for a day of climbing. Cal-Cheak near Brandywine Falls Provincial Park has a great mix of sport climbing and bouldering, with ice climbing in the winter. For bouldering, Creekside and Brio Boulders are good spots to head. Other climbing spots include Nordic Rock, Soo River Bluffs, Storybook Crag, and a few others you'll have to find on your own!
Not an experienced rock climber? No problem! The Half and Full Day Whistler Rock Climbing tours are great options for adventure travelers. On your private tour, your guide will provide you with all the gear you need and introduce you to some of the local rock-climbing crags in Whistler (or the nearby Squamish). They'll guide you through the process as you perfect your top-roping techniques on single-pitch routes with a variety of difficulties to choose from.
13. Bungee Jumping
There aren't many activities more exhilarating than bungee jumping, and Whistler is one of the most iconic places to take the plunge.
Home to the highest year-round bungee jumping venue in BC, Whistler is the perfect place for first-timers and experienced jumpers to participate in this extreme sport. You'll leap down from a bridge suspended more than 160 feet above the Cheakamus River, surrounded by old-growth forests and basalt column cliffs.
Before you jump, take in spectacular views of Black Tusk and enjoy the peace and calm of the valley. When you're done, make sure to check out the epic waterfall at the nearby Brandywine Falls Provincial Park!
14. Whistler Sky Walk
Step to the edge and be amazed by the incredible mountain views you can only see from Whistler's Sky Walk. The best way to experience it is on the Whistler Sky Walk tour. You'll need to set aside two to three hours for this activity, but we promise it will be worth a place on your itinerary.
The tour kicks off with a Peak 2 Peak gondola ride to the top of Whistler Mountain. There, you'll meet your guide who will help you clip into your cables before you set off on your journey. As you pass by cliff tops and walk along suspension bridges, your guide will share commentary on the unforgettable lake and valley vistas from the top of Whistler Mountain.
This summer activity is a great option for families looking for adrenaline-pumping but kid-friendly (8 years and older) things to do in Whistler.
15. Glacier Walking Tour
Stepping onto a glacier that's thousands of years old is like stepping back in time. These incredible natural wonders are only be found in certain parts of the world and thankfully, Whistler is one of them. Whether you've walked a glacier before or this is your first time, you're going to want to add this Whistler adrenaline adventure to your bucket list.
The Whistler Glacier Discovery Tour is one of the best adventure activities in Whistler that gives you a chance to see the glaciers up close and personal. This two-hour walk lets you explore the surface of the beautiful Horstman Glacier on Blackcomb Peak in Garibaldi Provincial Park.
Depending on the time of year, your guide will walk you along the snow slope, across a glacial moraine lake, and through a wildflower meadow. A popular tour for travelers of all ages, everyone in your family will love exploring this natural wonder.
Top Travel Tips & Resources for Whistler, BC