While Whistler is known for incredible outdoor adventures, sometimes the weather just doesn't cooperate. When you can't explore the outdoors, the best thing to do is head inside and take some time to enjoy the indoor attractions that Whistler has to offer!
During bad weather or when you just want a break from the outdoors, take some time to enjoy the best indoor things to do, places to see, and attractions in and around Whistler, BC!
Best Indoor Things to Do in Whistler, BC
Audain Art Museum
If you'd like to experience the beautiful artwork of British Columbia, we recommend visiting the Audain Art Museum. This 56,000-square foot gallery features a wide assortment of art pieces, from Indigenous carvings to gorgeous paintings. Even the building itself is a masterpiece, with unique architecture surrounded by beautiful Whistler scenery.
Our favorite piece of artwork in the Audain Art Museum is The Dance Screen (The Scream Too), the centerpiece of the museum's permanent art collection. Carved by Chief 7idansuu (James Hart), this absolutely stunning cedar carving represents the importance of salmon to the Haida people.
Explore the museum on your own or join a Docent-led public guided tour to learn more about the exhibits. Enjoy all of the thought-provoking exhibits such as a visual depiction of British Columbia's history, complete with a collection of ancient First Nation masks. 
Budget travelers will be glad to learn that this venue is quite affordable, too. With a low admission price, this is one of the best budget-friendly indoor things to do in Whistler when its raining or too cold outside!
Squamish Lil'wat Cultural Centre
The Squamish Lil'wat Cultural Centre celebrates the rich cultures of the Squamish (Sḵwx̱wú7mesh) and Lil'wat (Lil̓wat7úl) people, whose shared unceded traditional territories Whistler is located on.
One of the best indoor things to do in Whistler, this world-class First Nations facility features unique Indigenous exhibits, cultural activities, workshops, and events. Learn about the history and cultures of the Squamish and Lil'wat people while exploring the beautiful building, which is designed like a longhouse and Istken (earthen house).
Within the Squamish Lil'wat Cultural Centre, you'll find beautiful art, carved totem poles and canoes, and other cultural artifacts from these two First Nations. Listen to Salish songs and stories, enjoy modern Indigenous cuisine at the Thunderbird Café or browse for First Nations art, jewelry, and other souvenirs at the gallery and gift shop.
Visit the Restaurants
With amazing eats on every corner, there's no doubt that visiting some of the best restaurants in Whistler is among the top indoor things to do!
Ask anyone who's dined their way around this Lower Mainland town and they'll tell you that Caramba! is one of the best Italian restaurants in Whistler. Fans of fine dining should also check out the upscale Araxi Restaurant & Oyster Bar, one of the best high-end restaurants in Whistler.
Traveling with the kids? They'll no doubt enjoy munching on a wood-fired slice of pizza at Pizzeria Antico or some comfort food at 21 Steps. After, grab some ice cream at COWS Whistler for a treat!
Can't decide where to go? If you're into gourmet eating, treat yourself to a Fine Dining Dinner Tour of Whistler's most coveted restaurants, complete with learning how to saber a champagne bottle and a tour of the wine cellars. In addition, committed foodies will no doubt enjoy this Hidden Gems Dinner Tour that'll take you through some of Whistler's culinary delights. 
Axe Throwing
Whether traveling alone, with friends, or with family, this axe-throwing experience certainly takes the cake if you're looking for the top indoor activities in Whistler! 
Not only will you get to live out your lumberjack fantasies, but you'll also get to indulge in an exciting Canadian activity. And there's no better place to work on your throwing skills than at Forged Axe!
This axe throwing venue is located just a quick drive from Function Junction. During the hour-long experience, you'll receive a safety briefing and a short training session, followed by lots of fun-filled axe throwing!
Distillery Tour
If you enjoy drinking spirits or are simply curious about the distillery process, we would totally recommend this 2-hour guided distillery tour. 
You'll tour Montis Distilling and learn about their products before sampling some of their best spirits. If you like gin, vodka, or other spirits, we believe should be on your list of top indoor things to do in Whistler! 
During the tour, you'll also get to explore the lively neighborhood of Function Junction, which houses plenty of craft breweries, galleries, and cafes. Also, the tour includes a food and drink deal at The Raven Room, a popular cocktail bar.
Peak 2 Peak Gondola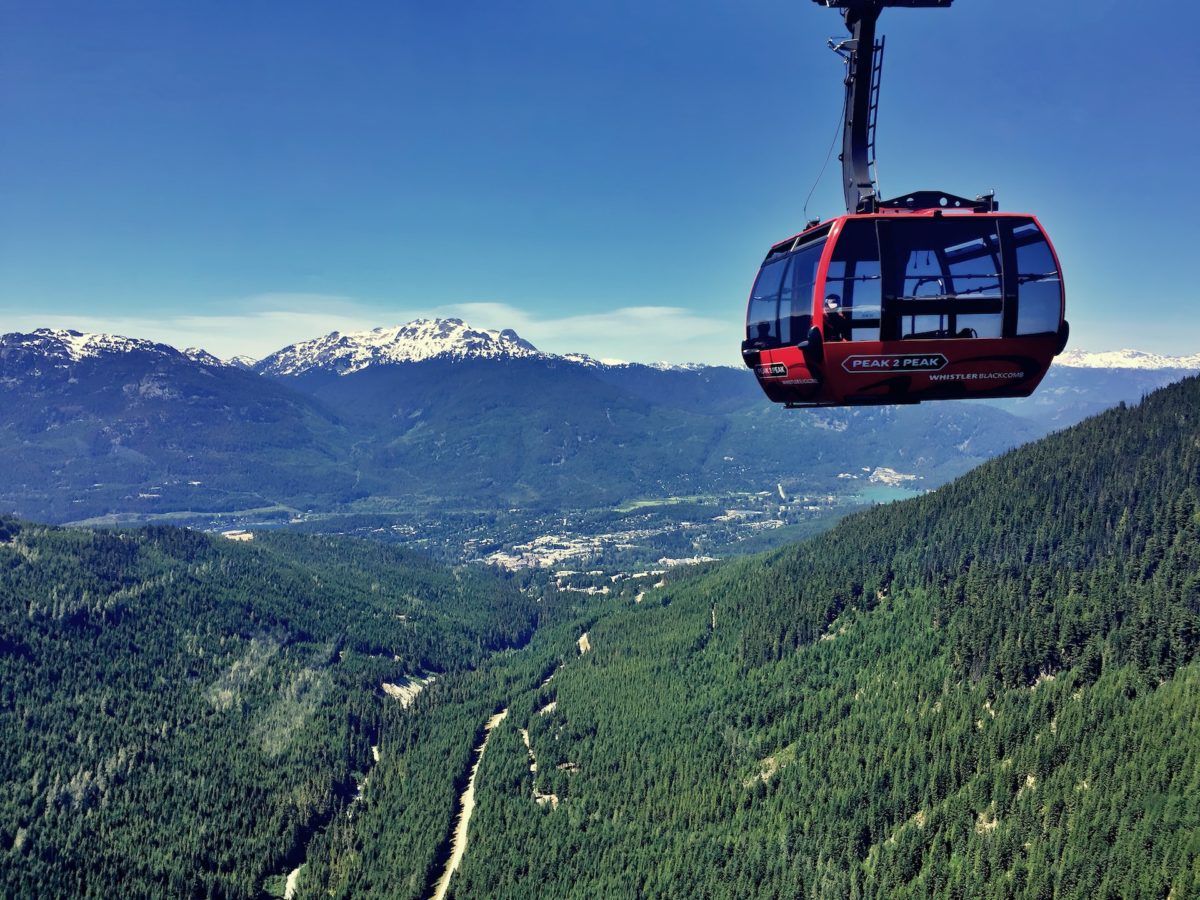 Okay, while not an indoor activity per se, the Peak 2 Peak Gondola gets our vote since it's among the most fun things to do in Whistler! 
Spanning the distance between the Blackcomb Mountains and Whistler, this record-breaking gondola will treat you to some of the most awe-inspiring sights in British Columbia. Make sure your camera is ready to go since there'll be tons of unique photo opportunities along the way.
Expect spectacular views of ancient glaciers, volcanic peaks, coastal forests…the works! Tickets cost between $60 and $82, depending on the season, and kids aged 6 or under can ride for free. Enjoy seeing the scenic outdoors of Whistler without really being outside!
Check Out the Breweries and Bars
Whistler is home to a number of excellent breweries, bars, and pubs that are worth checking out. If you're looking for something to do indoors, there's nothing better than grabbing a drink with friends!
For those who enjoy craft beer, there are several options around Whistler. Both Whistler Brewing Company and High Mountain Brewing Co. are just south of Whistler Village, with many great craft beer options on tap. Or, try High Mountain Brewing Co., right by the Whistler Olympic Plaza.
If you'd like to go bar hopping in Whistler, there are plenty of excellent venues dotted across town. Join Bar Hop Whistler to visit four of the fun-filled bars around town, with drink tickets and express entry included.
Go Shopping
Shopping may not exactly spring to mind when one thinks of Whistler but the truth is, there are lots of excellent shops dotted across town. 
Whistler Village features a variety of shops carrying all kinds of items. Whether you're looking for handcrafted items, local artwork, unique souvenirs or just everyday goods, there are plenty of stores to browse!
Browsing for fresh produce, artisan food, or even handcrafted souvenirs? Then, there's no better place than the Whistler's Farmer's Market, open Sundays from May to October. Market stalls are under canopies, so while it's not exactly indoors, it'll keep you dry when it's raining!
Be sure to check out the town's shopping malls as well. Creekside Village and the Rainbow Plaza are especially popular among tourists and locals alike. 
Escape! Whistler
Are you looking for the best indoor things to do with a group in Whistler on cold or rainy days? Why don't you head to Escape! Whistler, a fun-filled escape room center located on Mountain Square!
Meticulously crafted to deliver a real-life gaming experience, Escape! Whistler offers six rooms, each with a specific theme. Players need to solve riddles and puzzles together to escape from various scenarios. This would be the perfect activity for families and friends. 
Meadow Park Sports Centre
As far as entertainment goes, the Meadow Park Sports Centre boasts a plethora of exciting activities for kids and adults alike.
A sport enthusiast's dream come true, this place features gym facilities and a semi-Olympic, six-lane indoor swimming pool. There's also a leisure pool — perfect for families. Sore after a day on the slopes? Head to their hot tub, steam room or sauna for some relaxation!
One of the sports center's highlights is undoubtedly the NHL-sized ice rink that you can enjoy in all seasons. Those who love skating or ice hockey will love it here.
Visiting the Meadow Park Sports Centre is quite budget-friendly and a great way to pass a few hours. While it might not be the most touristy destination, it's still loads of family-friendly fun!
Visit the Spa 
There's nothing better than unwinding in a gloriously warm sauna after trudging through the rain or snow all day. The good news is that Whistler is home to plenty of excellent spas, including Scandinave Spa Whistler which is known for its thermal baths, complete with Nordic waterfalls and outdoor fireplaces.
You may also wish to check out The Spa At Nita Lake Lodge, Aviva Wellness Massage Spa, and the Hilton's Taman Sari Royal Heritage Spa.
Village 8 Cinemas
As far as the best indoor things to do in Whistler are concerned, you really can't go wrong with a trip to Village 8 Cinemas! 
An absolute landmark in Whistler, this underground cinema offers the ideal setting for all ages, but especially for parents with children. After all, there's nothing better than to kick back in comfort while enjoying the latest blockbuster after having chased after the kids all day!
Don't pass on the popcorn! Village 8 is especially renowned for its delectable snacks! 
Whistler Museum
Want to learn about the history of Whistler? Head to the Whistler Museum!
The Whistler Museum showcases exhibitions, events, and education programs centered around the town's history, the 2010 Olympic Games, and life in the mountains.
An excellent venue for a weekday afternoon spent inside, this museum also houses archival records, including old photographs, maps, and movies. Depending on when you're visiting, you can even catch an event or a special exhibit!
There's no fixed admission fee to visit the Whistler Museum. The museum is open by donation ($5 is recommended). 
Flightseeing Tour
For something different, consider a flightseeing tour that'll help you explore Whistler from a whole new perspective! While technically not indoors, this is a great way to stay out of the cold weather while still enjoying the outdoors.
With this floatplane tour, for instance, you'll be treated to a bird's eye view of Whistler's rugged landscape, complete with lush forests, snow-capped peaks, majestic glaciers, and endless lakes shimmering under the sun. 
Feeling particularly daring? Try this mountain and glacier helicopter tour that'll let you see Whistler and Blackcomb mountains from the air, as well as Garibaldi Provincial Park. It also includes a mountain landing! 
Jeep Tour
There's nothing quite like a jeep tour to get that adrenaline pumping while staying out of the cold or wet weather! Luckily enough, travelers will be spoilt for choice when it comes to these fun-filled tours. 
Chasing adventure? The Blackcomb Glacier Safari may be exactly what you need! With this 2-hour guided expedition, you'll be able to see the Coast Mountain Range as well as the incredible Horsman Glacier up close! 
Speaking of views, romance and adventure meet in this Blackcomb Sunset Jeep Tour which is perfect for admiring the glorious alpine sunset from the mountainside.
And after your jeep tour, you can always prolong the fun by indulging in more exciting activities for some serious adrenaline rush in Whistler! 
Visit Squamish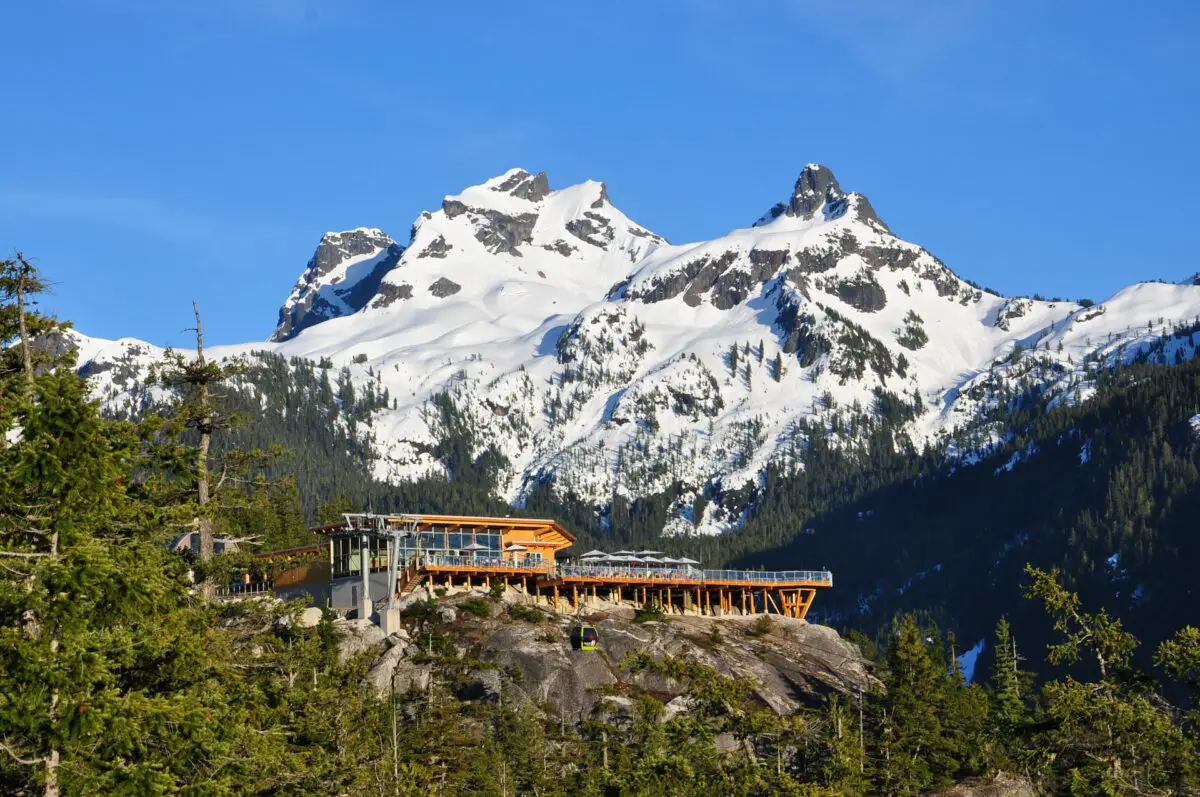 Still got itchy feet after exploring the top indoor things to do in Whistler? In that case, you can always hop on a bus to Squamish, a pretty mountain town located a little over an hour away. 
Brimming with lush scenery, this town is home to the Britannia Mine Museum, an award-winning nonprofit organization famous for its underground copper mine tour. 
If you enjoyed Whistler's Peak 2 Peak Gondola, you'll definitely relish in the amazing views from Squamish's Sea to Sky Gondola!
If you fall under Squamish's spell and want to spend a few days over there, you'll be glad to learn that the town offers heaps of exciting things to do in summer and there are plenty of amazing places to stay! 
Top Travel Tips & Resources for Whistler, BC