Are you heading to Squamish and wondering where to stay exactly? Squamish is an awesome mountain town, known fondly as the "adventure capital of British Columbia". You'll have plenty of things to do in Squamish, from rock climbing the Stawamus Chief to hiking the many wilderness trails in the nearby Garibaldi Provincial Park. At the end of the day, you'll want to return to one of the best hotels in Squamish so you can get a good rest and be ready to go again the next day!
Luckily, this beautiful mountain city has plenty of excellent hotel and lodging options. But, with all these wonderful places to stay, it may be hard to decide which is the best hotel for you in Squamish.
In this article, we'll help you find the best accommodations for your ultimate Squamish vacation. We've done all the research so you don't have to. No matter what your budget is, we'll help you pick the best hotel so you have an amazing experience!
Whether you're looking for a luxury hotel resort with a pool in Squamish, a cheap hostel room to crash at the end of the day, a cozy boutique hotel, or a wilderness cabin retreat, we've got you covered. Read on to discover the best accommodations in Squamish!
Best Hotels in Squamish with Reviews
Don't have time to read through all of our hotel reviews? Here's a quick overview of the best hotels and accommodations in Squamish:
Executive Suites Hotel and Resort – Most Luxurious
Squamish Adventure Inn – Most Budget-Friendly
Sunwolf Riverside Cabins – Best Forest Retreat
Sandman Hotel and Suites – Most Family-Friendly
Mountain Retreat – Best Mid-Range
Squamish Highlands Bed & Breakfast – Best Customer Service
Howe Sound Inn & Brewing Company – Best Downtown Location
Below, we go into more detail on the best places to stay in Squamish. These are the top hotels, hostels, cabins, and B&Bs that you're sure to love on your next trip to Squamish! For each Squamish hotel, we provide information and reviews, including pros and cons, so you know exactly what to expect.
NOTE: Covid-19 protocols may impact some of the services and amenities that these Squamish accommodations provide to travelers. Contact the hotel before booking if you have any concerns!
Address: 40900 Tantalus Road, V8B 0R3 Squamish, Canada
Looking for a luxury hotel for your ultimate Squamish vacation? One of the best hotels in Squamish is the Executive Suites Hotel and Resort and for good reason. This gorgeous hotel is near the Squamish River and is surrounded by majestic coastal mountains. If you're looking for a hotel that'll impress you, this is definitely the one!
This gorgeous hotel has either studio, one- or two-bedroom suites to choose from. There are also there are accessible and dog-friendly rooms available, too. Each condo-style room features a private balcony with scenic views and a full kitchen with everything you need to cook a tasty meal. Some suites even include in-suite laundry and a fireplace!
All of their modern guest rooms are spacious, clean, and very quiet. You'll have an amazing sleep in their incredibly comfortable beds and wake up more refreshed than ever. If you want to unwind more, head down to their hot tub to relax after a day of outdoor adventures. Also, they have a year-round heated swimming pool and 24/7 fitness center for those who want a bit more activity in their day!
The hotel has an excellent location near the Sea-to-Sky Highway. It's also right beside the Squamish Valley Golf Club, perfect if you love golfing. If you have a vehicle, they have underground parking. Also, there's Norman Rudy's Pub right at the hotel, if you want a bite to eat. You'll be very happy with a stay at the Squamish Executive Suites Hotel and Resort. Overall, this hotel is fantastic and super relaxing to stay at!
What We Like
Beautiful location with scenic views & great hospitality
Each suite has a private balcony and fully equipped kitchen (fridge, stove, dishwasher, microwave, utensils & coffee machine)
Some suites have in-suite laundry and a fireplace
Year-round swimming pool & 24/7 fitness center
Underground parking & a convenient location
What We Don't Like
More expensive than some of the other Squamish hotels
The outdoor pool isn't well heated (the hot tub is fine though!)
Address: 38220 Hwy 99, V8B 0A5 Squamish, Canada 
If you don't mind hostel-style accommodations, staying at the Squamish Adventure Inn is a great way to save some money! This affordable hostel is located right beside the water, surrounded by incredible scenery. Enjoy the beautiful mountain and water views while relaxing on their garden patio.
This budget hostel offer either dorm-style beds or private rooms, with some of the lowest rates in all of Squamish. The shared dorms (either co-ed or female) have between 3-6 beds, each with a shelf, reading light, and secure locker. Alternatively, they have private rooms with a double-sized bed and a communal bathroom. If you don't mind spending a bit more, you can book a hotel-style room with a private bathroom or a studio suite with a kitchenette and ensuite washroom.
You get great value with the Squamish Adventure Inn. There's a fully equipped, self-catered kitchen and a coin laundry. Wi-Fi, parking, and morning coffee/tea are free. Plus, they have an awesome lounge area to relax in, with a fireplace and lots of beanbag chairs!
Conveniently nearby the Sea-to-Sky Highway, you can get all over Squamish in only a few minutes from this hostel. The Sea to Sky Gondola (book your ticket here) are pretty much just around the corner! Also, they offer a shuttle to nearby tourist attractions and Whistler. As a bonus, you can get some awesome discounts through this hostel on tourist experiences, as well as cheap gear rentals. Overall, if you're trying to stay within a budget, the Squamish Adventure Inn is the perfect choice for you!
What We Like
Very affordable accommodations with a fun vibe
Great location right beside the water & close to many tourist attractions
Access to laundry, full kitchen facilities, and equipment storage
Indoor lounge and outdoor sitting area with gorgeous surroundings
Offers a shuttle to tourist attractions and Whistler
Cheap gear rentals & deals on tourist experiences
What We Don't Like
Hostel-style dorms with a lot of self-service (e.g. make your own beds)
Rooms can be noisy at times
Some private rooms don't have a private entrance & are accessed through the dorms
Beds aren't the most comfortable & sometimes the rooms aren't well cleaned
Not pet-friendly
Address: 70002 Squamish Valley Road, V0N 1H0 Brackendale, Canada 
Surrounded by nature, the Sunwolf Riverside Cabins are the perfect escape. These private, eco-friendly cabins are hidden in the lush forest beside the Cheakamus and Cheekye Rivers. The cabins are in Brackendale, a 15-minute drive from downtown Squamish. Even so, you aren't too far from the city!
You can choose between different cabin styles. All of the contemporary, spacious cabins are surrounded by wilderness and come with a wood-burning stove. Additionally, they have a communal firepit, picnic tables, lawn games, and an excellent restaurant.
The riverside cabins have everything you need for a wonderful vacation. Each studio-style cabin rental has a comfortable queen bed. Some of the lodges have very thoughtful touches too, like heated floors and plenty of books.
For couples, there is a 550-square foot cabin (fondly called the Logger's Shack). Hidden in among the trees, this cabin is perfect for a relaxing romantic getaway! Sleep in a queen bed in the loft and wake up to beautiful forest views. Also, if you need an extra bed, there's a hide-a-bed in the living room.
Lastly, their spacious 1000-square foot Fisherman's Cottage is perfect for families. This cottage features a queen bed loft with amazing river views, a huge queen master bedroom with an en-suite bathroom, and bunk beds for four. At the end of a long day, you can relax in front of the fireplace or have a BBQ on your private patio. This cottage is beautiful, cozy, and very family-friendly!
Overall, the Sunwolf Riverside Cabins are some of the best rustic cabins near Squamish, BC. If you love being in nature, you'll be happy with your stay here. Keep a lookout for bald eagles fishing near the water. And, if you want to view the river from a different perspective, try this Cheakamus River white-water rafting adventure!
What We Like
Gorgeous location with a wilderness feel, only steps away from the river
There's a communal fire pit (bring your own wood), picnic tables and lawn games
The on-site restaurant (Fergie's Cafe) has delicious food
Very pet-friendly cabins – any pet is welcome & they provide a bed, pet bowls, towel & a treat for your pet!
The cabins are eco-friendly, clean, cozy and spacious
What We Don't Like
No internet available
Location isn't great without a vehicle & you get some noise from the highway and airport
The lofts aren't great for people with mobility limitations (accessed via stairs or a ladder)
The restaurant is a bit pricey & has limited selection
The riverside cabins are close together & could be better stocked with supplies
Address: 39400 Discovery Way, V8B 0R5 Squamish, Canada
The Sandman Hotel and Suites is a great place to stay if you're heading to Squamish with the whole family. Even if you're heading solo or part of a couple, this hotel is an excellent choice.
This hotel has something for guests of all ages. This is one of the best hotels in Squamish with an indoor pool and waterslide. Your kids will have a blast playing on the fun waterslide while you enjoy soaking in the nearby hot tub. Also, for parents, there's a full workout room if you aren't already exhausted from all the hiking!
If you have a pet, bring them along too – there are pet-friendly guest rooms available. Also, you don't have to worry about finding something for you and the kids to eat in the morning here – they provide a full continental breakfast!
The rooms at the Sandman Hotel and Suites Squamish are spacious and their beds are quite comfortable. You also have a few extras in the room like a small fridge, microwave, and coffee maker. At the end of the day, you can relax and watch a show with their free Wi-Fi. As well, the rooms are pretty quiet and the staff is quite helpful if you need something. Overall, this is a great family-friendly option for the price!
What We Like
The pool and waterslide are a lot of fun & the hot tub is decently hot!
Full workout room
Comfy beds and spacious rooms with a small kitchenette
Continental breakfast included in your booking
Very family-friendly, including pet family members
What We Don't Like
Continental breakfast has limited options
The hotel is not super close to downtown Squamish
Area around the hotel is still under development so limited nearby amenities
Lighting in the room isn't great
Address: 38922 Progress Way, V8B 0K5 Squamish, Canada
Vacations get expensive quickly so it's nice to save some money with a hotel that balances quality and price. For a mid-range priced hotel, Mountain Retreat is an excellent option. With lots of amenities and excellent rooms, you'll have everything you need for a wonderful stay at this hotel. Best of all, you get to stay at this hotel for a great price!
With 87 rooms to choose from, this hotel has something for everyone. Pick from either a standard room (2 deluxe queen beds), bedroom suite (king-sized bed), or executive suite (spacious room with a king bed and queen sofa bed). For families, they have a larger suite with a king bed in its own bedroom, two queen sofa beds in the living room, and a full kitchenette. They also have wheelchair-accessible and pet-friendly rooms – just ask!
Mountain Retreat is a great place to stay while you're in Squamish. Each room has plenty of amenities, including a fridge, microwave, coffee machine, air conditioning, and TV. The beds are pretty comfortable, although the pillows are a bit too big for our liking. Also, the rooms have excellent views of the mountains around Squamish.
The hotel itself also has many amenities to enjoy. Swim in their indoor heated pool while your kids play on the waterslide. After a long day, soak in the hot tub to relax your muscles. If you don't want to miss a workout, they have a fitness center as well. Also, there is a restaurant attached to the property so you don't even have to go far to get a meal!
What We Like
Great value with lots of amenities
The pool and waterslide are a lot of fun & the hot tub is the perfect way to relax
Convenient on-site restaurant with decent meals and beer & wine store
Goods views of the mountains
Free parking that is covered
What We Don't Like
Hotel is older and could use to be updated
The pillows are quite large which could be uncomfortable for your neck
The staff aren't the most friendly, but they will help you if you ask
Address: 1012 Glacier View Drive, V0N 1T0 Squamish, Canada
One of Squamish's coziest, most welcoming hotels is the Squamish Highlands Bed & Breakfast in the Garibaldi Highlands. This charming B&B has two extremely friendly hosts, Gloria and James. They work hard to ensure that your stay at their house is amazing!
At this excellent Squamish bed and breakfast, you can choose from either a one-bedroom suite or a deluxe queen room. Both guest rooms have incredible views of the Pacific Ocean and mountains. The bedrooms are designed with many thoughtful touches, including fun patterned bedding and paintings. Also, the beds are quite comfortable and clean. The guest rooms have private en-suite bathrooms and if you stay in the deluxe room, you even get a jacuzzi tub!
One of the best things about the Squamish Highlands B & B is the breakfast. The hosts put a lot of work into making food that is both delicious and visually appealing. You'll be absolutely blown away by the delicious breakfasts served at this B&B. The food is definitely one of the highlights of this place!
Overall, this is probably one of the best B&B experiences that you'll ever have. You won't regret a stay at the Squamish Highlands Bed & Breakfast during your travels!
What We Like
Extremely welcoming hosts who go above and beyond to make your stay amazing
Delicious breakfasts with amazing presentations
Incredible mountain & ocean views from both rooms
Close to many hiking trails & quiet location
Rooms are comfortable & spacious, with many thoughtful touches
WiFi works great
What We Don't Like
Not many rooms available so you have to make a reservation further in advance
The B&B isn't very accessible – the driveway is steep & there are many stairs
Not pet-friendly
The hosts live on-site, which may bother some people
Not within walking distance of downtown Squamish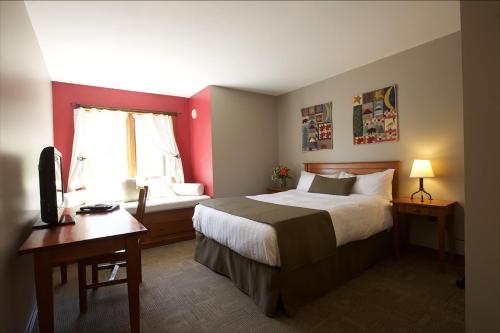 Address: 37801 Cleveland Avenue, V8B 0A7 Squamish, Canada
If you're a fan of craft beer, you should stay at the Howe Sound Inn & Brewing Company. This excellent hotel is located right above the Howe Sound Craft Brewery. Plus, you're located right in downtown Squamish. You'll be super close to everything that the city has to offer. Overall, this hotel has one of the best locations in Squamish!
No other hotel in Squamish will be this close to one of the local breweries. You'll have plenty of beers to taste. Best of all, you don't need to cab back to the hotel at the end of the night! Also, all of the guest rooms at the inn get room service with food right from the Brewpub. You don't even have to leave your bedroom!
You can book a room with either queen or double-sized mattresses. Queen daybed view rooms look out at the epic Stawamus Chief and Mamquam Mountain Range. Also, each room comes with the standard hotel amenities, including complimentary toiletries, a coffee machine, flat-screen TV & a mini-fridge. They also have some pet-friendly rooms, if you want to bring your dog with you on the trip!
What We Like
Excellent location in downtown Squamish
Staff are very friendly & checking in to the hotel is very easy
Conveniently located above a brewery with many tasty beer options – perfect for craft beer lovers!
Room service right from the brewpub and the food is delicious
Sauna & massage services are a great way to relax at the end of the day
Pet-friendly rooms (although the patio is not pet-friendly)
What We Don't Like
The hotel needs better sound proofing & you may hear noise from the brewery
The building & bedding are old and could use updating
There is only street parking (free)
No air conditioning in the room
Other Hotels & Accommodations in Squamish
Not all of the hotels made the cut for the list of the best hotels and accommodations in Squamish, Canada. While these places aren't necessarily bad, they just aren't as amazing as the best Squamish hotels. However, in case you didn't find what you're looking for above, here are some other hotel options in Squamish.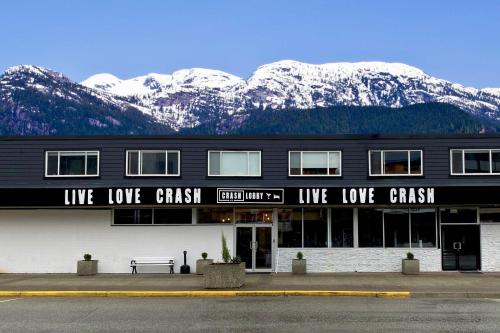 Address: 38005 Cleveland Avenue, V0N 3G0 Squamish, Canada
The Crash Hotel is a great affordable accommodation option in Squamish, with unique rooms, many amenities, and a convenient location. Each room is uniquely decorated with beautiful wallpaper art, giving the hotel a funky, cool vibe. The rooms are spacious and clean.
The hotel is in downtown Squamish and is right above the Goat Bar and thrift shop. You don't have to go far to get a drink! However, the hotel can get noisy because of the bar. However, this hotel is perfect for anyone who loves partying!
What We Like
Fun party vibe and unique rooms with funky wall art
Very convenient and central location
Stocked mini-bar, coffee & tea provided
Perfect for someone who likes to party
What We Don't Like
Street parking only (free)
Can get noisy if your room is near the on-site bar
Some of the fridges have a bright light that you can't turn off
May be better suited to young adults who like partying
Address: 40330 Tantalus Way, PO Box 310, V0N 1T0 Squamish, Canada
The Sea to Sky Hotel offers rooms with beautiful mountain views and all you need for a great holiday. The rooms come with all the standard amenities, including a fridge, microwave and coffee maker. Also, there's a fitness centre and hot tub in the hotel that you can use!
The hotel has a convenient location in the Garibaldi Village Mall area, nearby the golf course. It's only steps away from a liquor store, grocery store, and many restaurants. Plus, there is a connected restaurant with yummy meals!
What We Like
One of the least expensive hotels in Squamish
Beds are comfortable
Very convenient location with free parking and lots of shops, restaurants & tourist attractions nearby
Friendly staff and some go above & beyond for you
What We Don't Like
Mixed guest reviews on cleanliness
If your room is on the highway side, you'll probably hear traffic noise
Older hotel building with some things needing maintenance
Address: 37947 Cleveland Avenue, V8B 0A3 Squamish, Canada 
The August Jack Motor Inn is an affordable hotel option with a convenient downtown location in Squamish. This hotel has decent value for what you get. Each room is clean and spacious. Plus, each room has a kitchenette. The staff are welcoming and friendly. However, the building needs to be updated, especially the carpets. Overall, this is one of the cheaper options in the city so keep that in mind if you decide to book this spot!
What We Like
The rooms have a kitchenette
The rooms & hotel are generally clean
Good price for what you get
Staff are welcoming & accommodating
Great location in downtown Squamish, close to restaurants & stores
What We Don't Like
The building & furnishings are older
WiFi can be unreliable
No air conditioning
Some things (like kitchen appliances) need maintenance
Address: 37991 Second Avenue, V8B 0A8 Squamish, Canada
If you only need a cheap hotel room to crash, Hotel Squamish will work in a pinch. The building is older but this hotel has some of the cheapest rates per night in Squamish. The hotel amenities and accommodations are pretty simple. However, this family-owned hotel does provide most of what you need for a decent stay, like a fridge, WiFi & TV. Just keep in mind that you get what you pay for!
What We Like
One of the cheapest hotels in Squamish
Convenient downtown location
What We Don't Like
The rooms get quite noisy from the nearby bar's loud music
The building is old, needs updating and requires some maintenance

Rooms are tiny with mixed reviews on cleanliness

There is limited street parking
Stairs to access rooms make the hotel inaccessible (no elevator)
No pet-friendly rooms available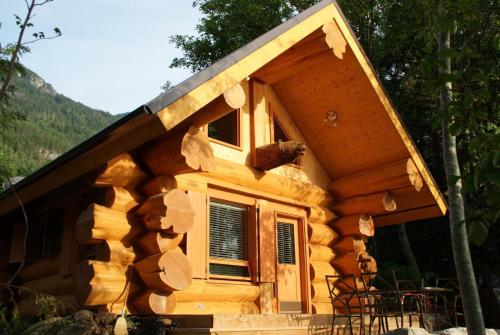 Address: Porteau Cove Provincial Park, off Highway 99, V7G 1L3 Furry Creek, Canada
The Porteau Cove Olympic Legacy Cabins are two beautiful log cabins made for the 2010 Winter Olympics near Furry Creek. Only a few steps from the ocean in Porteau Cove Provincial Park, these cozy cabins are perfect for scuba divers and beachgoers. These cabins are also the closest accommodations to Vancouver (about 40 minutes of driving away).
Both oceanfront cabins feature a beachside patio with a BBQ and a bear's head wood carving. The cabin's interior is also very cozy and comfortable. Each rustic cabin has a loft bedroom, a double/single bunk bed, a full kitchenette, and a lounge area. Plus, you get internet access and complimentary parking right beside the cabins!
What We Like
Oceanfront log cabins right beside the beach, with a propane fire (bring your own propane though)
Great for scuba divers, paddleboarders, kayakers and beachgoers
Patio facing the water with a picnic table and BBQ
Very quiet with only one neighboring cabin
Cozy and comfortable cabins with internet and TV
What We Don't Like
20-minute drive from downtown Squamish
Loft is accessed by a ladder (inaccessible for people with mobility limitations) and also the ladder opening is close to the sloped ceiling (awkward for taller people to access)
The cabins aren't very spacious (best for 2 people) & don't have A/C or fans for hot days
Mixed reviews on cabin cleanliness & you have to bring your own bedding, pillows and towels (part of their Covid-19 protocols)
Not pet friendly
Where Exactly to Stay in Squamish?
Want to see exactly where the best hotels are in Squamish, BC? Check out this map that shows the top hotels in Squamish! You can also click on the location to see more information about each accommodation.
Best Campgrounds around Squamish
Don't want to stay at a hotel? Here are some of the best campgrounds that you can stay at around Squamish:
Stawamus Chief Provincial Park – Perfect for rock climbers, right beside the Stawamus Chief
Klahanie Campground – Amazing location by the Howe Sound, Shannon Falls & the Chief
Alice Lake Provincial Park – A great family-friendly option
Paradise Valley Campground – Private campsites with lots of amenities
Squamish Valley Campground – Beautiful forest campsites by the Squamish River
Mamquam River Campground – Very welcoming & well-maintained campground
Porteau Cove Provincal Park – Perfect for scuba divers
Top Travel Tips & Resources for Squamish