Looking for the best gift ideas for rock climbers and boulderers? You don't want to gift them stuff they won't use, but luckily, there are plenty of awesome rock climbing gifts that won't just take up space on a shelf.
Even so, rock climbers can be difficult to buy for, especially if you aren't a climber yourself. To help you with your shopping, we've compiled a list of our top favorite gift ideas for rock climbers to help you pick the best present for your loved one — or for yourself!
Fun, Unique and Cool Gifts for Rock Climbers
Does your rock climbing loved one enjoy fun, unique, cool, or just downright quirky gifts? If so, here are a few ideas for fun gifts that your loved one might not buy themselves but will appreciate!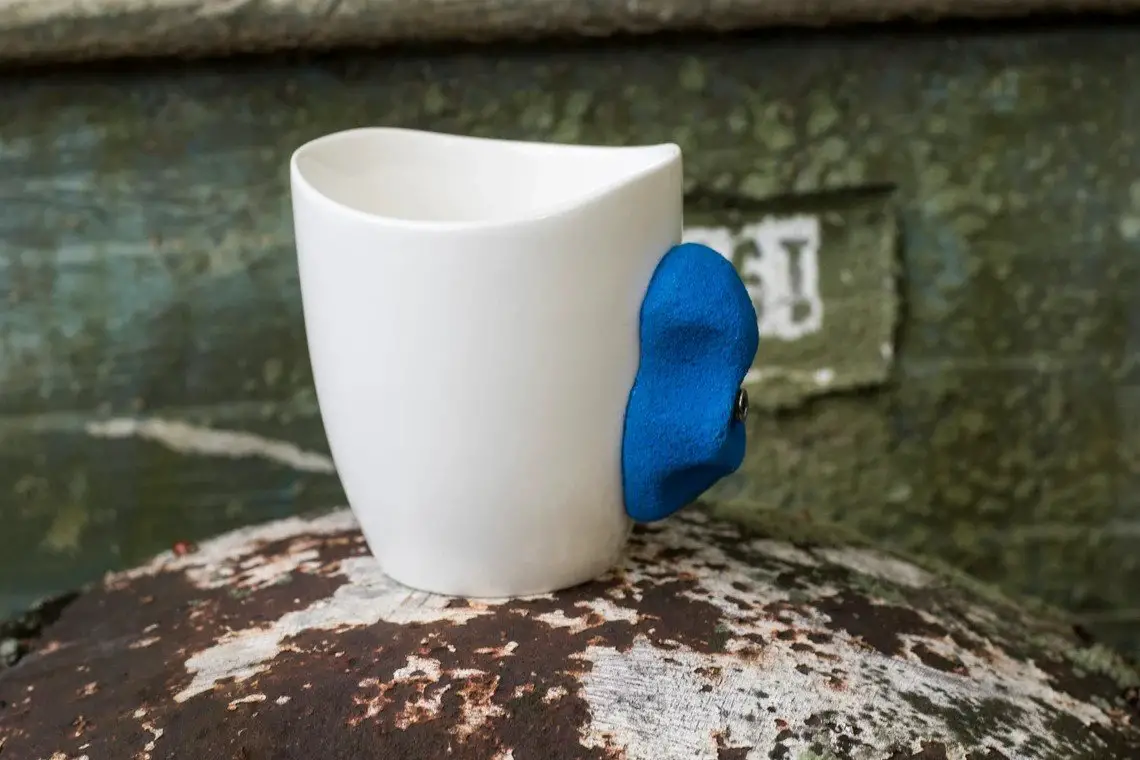 A rock climbing mug with a rock hold for a handle is one of the best gift ideas for a rock climber or boulderer who can't stop thinking about the sport. They'll be able to practice their pinch hand holds while drinking a mug of coffee. All of their rock climbing obsessed friends will be jealous!
With a colorful climbing hold as a handle, these mugs are a lot of fun to use. Just tell your gift recipient to practice using it with a cold drink the first time, just in case!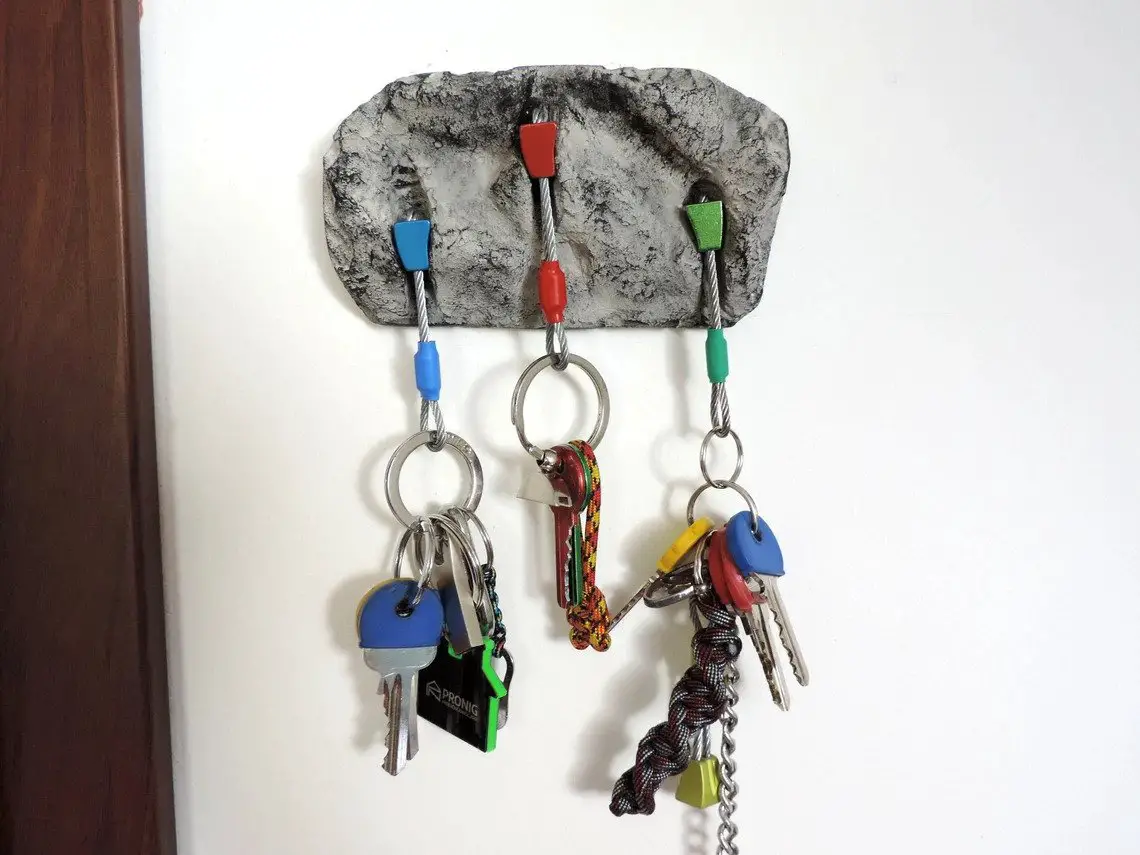 Does your gift recipient need a spot to hang their keys? If so, they'll love this keyholder for rock climbers!
This rock climbing keyholder is a quirky and fun spot to hang multiple sets of keys. It's designed to look just like a rock with the keys hanging from the crevices on steel climbing nut keychains.
Both fun and practical, this is one of the best gifts or stocking stuffers out there for rock climbers — especially those into trad climbing — looking to decorate their home!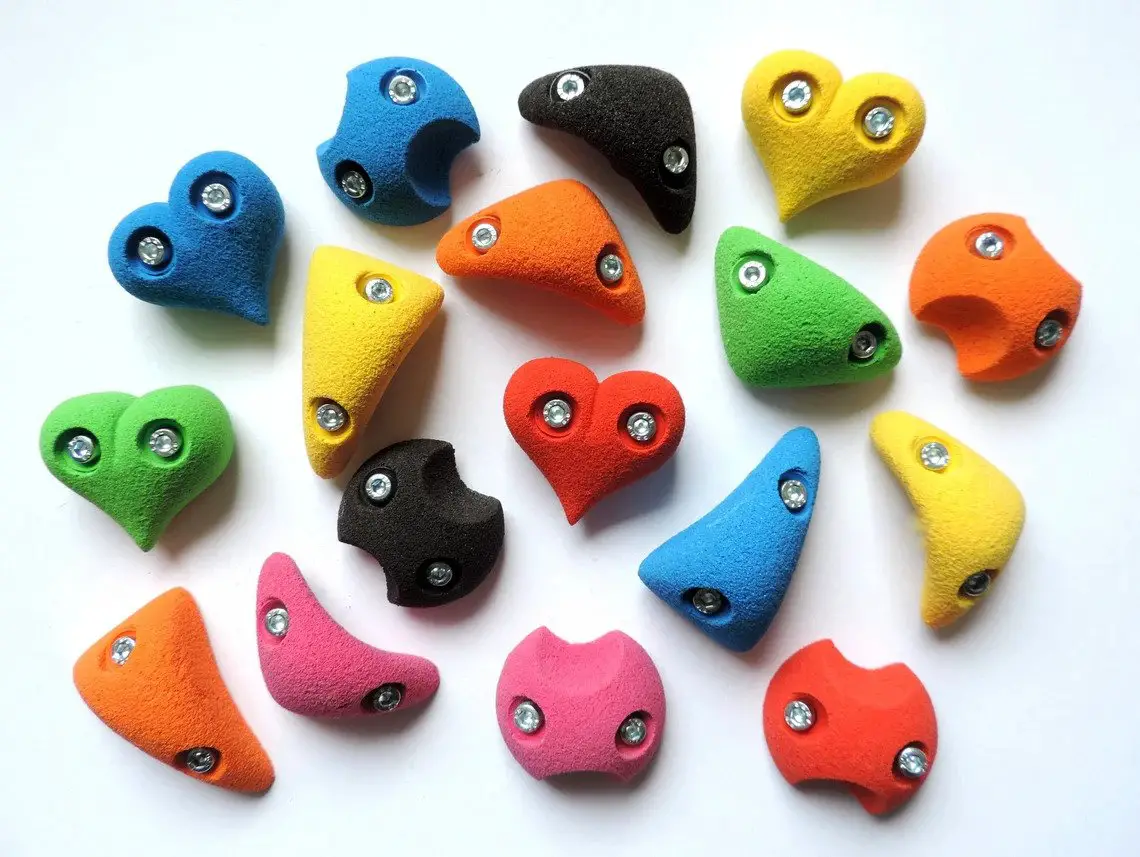 Everyone always needs more magnets for their fridge or freezer. And these climbing hold magnets will make your gift recipient's fridge look just like a climbing wall!
This set of climbing hold magnets is perfect as a small gift or stocking stuffer for anyone who loves rock climbing — especially indoor rock climbers and boulderers. You can personalize the shapes and colors of the set also, allowing your recipient to design their ideal climbing route!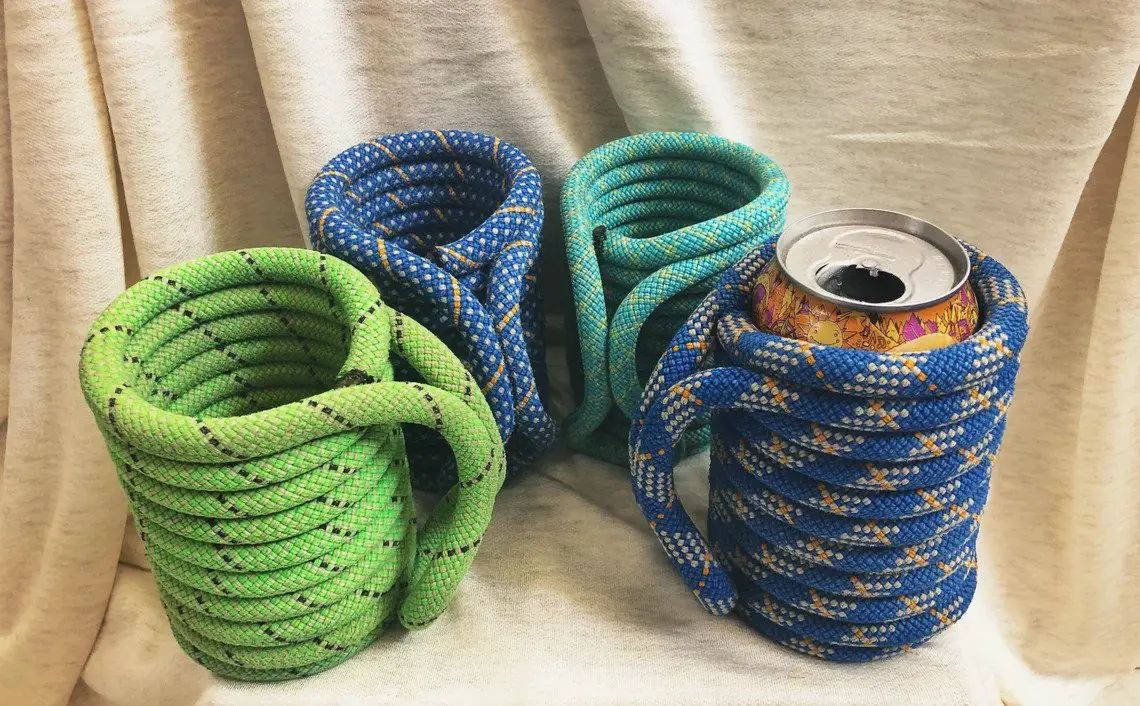 Beer and climbing go hand-in-hand. So, why not combine the two by gifting an upcycled can cozy made out of recycled climbing rope?
These recycled can cozies are a creative way to use up spent climbing rope. You could even DIY this gift if you're creative and have some old climbing rope laying around. If you go this route, this gift would be a cheap but creative gift idea for rock climbers, especially those into sport or trad climbing!
Whether you buy or make your own, your gift recipient will love this present. But, even better — fill the cozy with their favorite brand of beer or soda!
Best Gifts for Rock Climbers Under $25
Buying gifts on a budget? Or just need some inexpensive presents as stocking stuffers? If you're looking for the best gifts for rock climbers under $25, here are some ideas!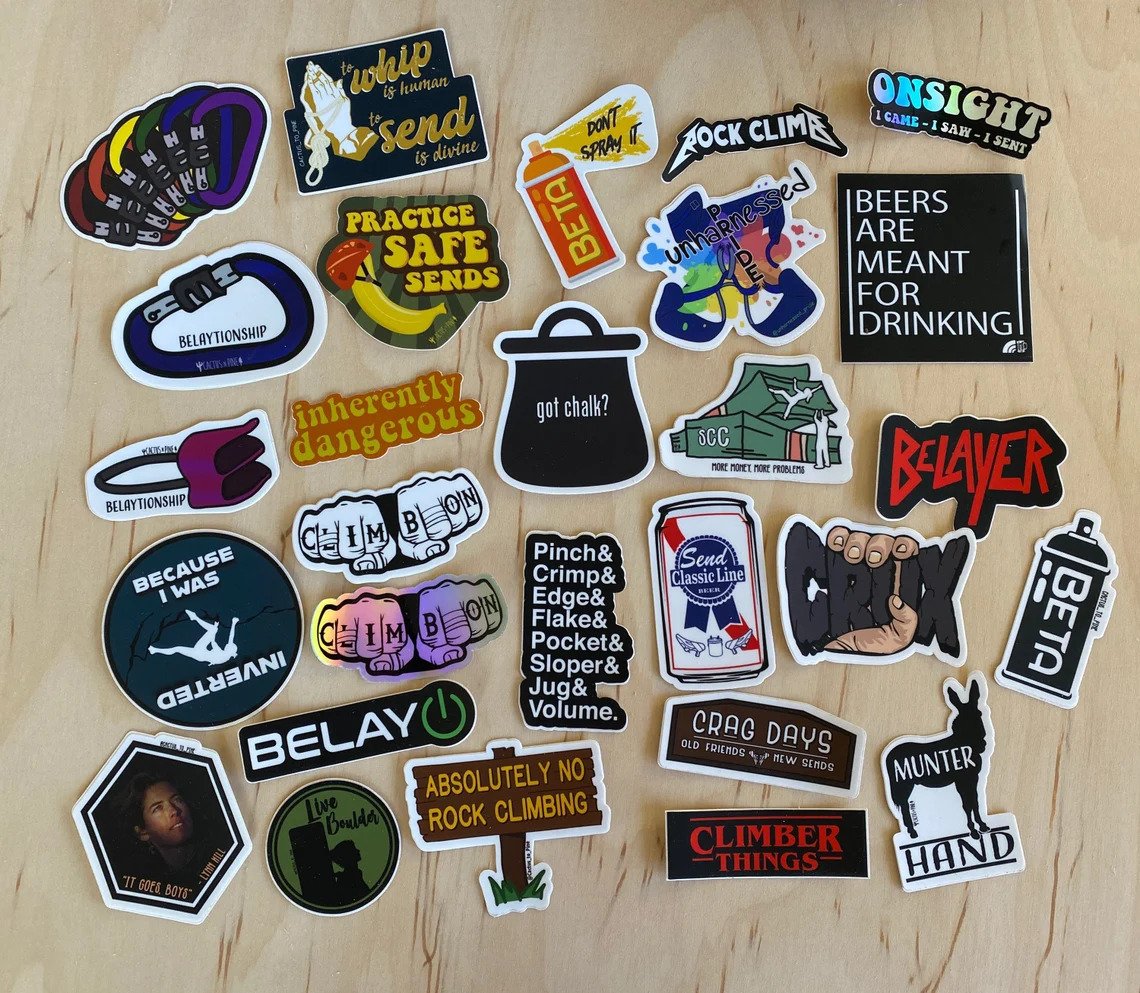 Rock climbing-themed stickers, enamel pins, and embroidered patches are one of the best gifts under $25 — they're usually even under $10 or $15. They make great gifts or stocking stuffers for rock climbers who enjoy decorating their possessions, like bags, laptops, or clothing.
Here's an awesome rock climbing sticker pack with plenty of options to choose from. We also love this cat sitting in a chalk bag or this climbing goat sticker. Climbers can put the stickers on their water bottles, coffee mugs, the back of their laptop — you name it!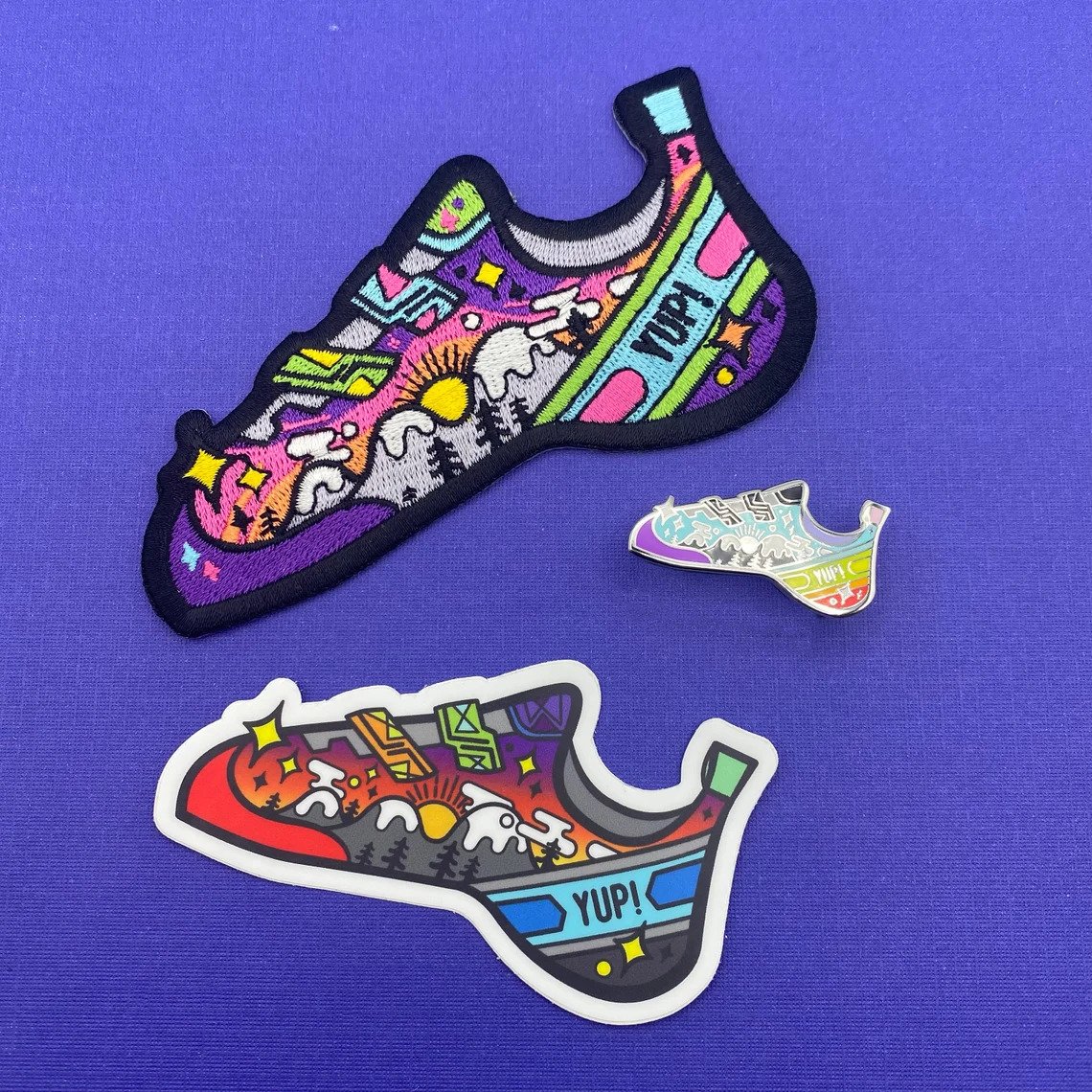 Does your gift recipient prefer enamel pins or embroidered patches? If so, there are lots or pins and patches to choose from!
For someone who loves decorating their things with fabric patches, check out this colorful climbing shoe patch. If you like the design, it also comes as a sticker or pin.
For people who enjoy pins, we really love these Dyno Rex or Send Sloth enamel pins. These pins will get plenty of compliments at the climbing gym!
Climbing is hard on skin and one way to reduce cracks and splits from climbing is to start with well-moisturized hands. So, why not gift your loved one some hand balm that's specially formulated for rock climbers to help them care for their skin!
A high quality lotion like Climbskin Hand Repair Cream will go a long way in keeping hands healthy and happy when climbing. The balm helps relieve and prevent dry and cracked skin, rehydrating without getting greasy.
This lotion is meant to be applied before climbing, which helps to prevent cracks and sweating. Even though it's in a small container, Climbskin will last for several months, even if it's being used a few times a week.
If you're looking for the best gifts under $20 for rock climbers, there are also cheaper hand balm options out there, like climbOn All Purpose Lotion Bars. ClimbOn works great and is a few dollars cheaper than Climbskin.
Personalize your gift recipient's keys with a climbing keychain!
These rock hold keychains make an excellent, affordable gift for indoor climbers, boulderers, and anyone who enjoys the look of the colorful climbing wall holds. These handmade keychains bring a splash of color to a set of keys, while also being durable, lightweight, and cute!
For trad climbers, another great option is a climbing nut keychain. These keychains are designed like a stopper, which is a form of passive protection used when trad climbing. These climbing nut keychains come in five different colors: red, blue, green, yellow, and black.
Ripped skin, blisters, cracks… Climbing is hard on hands, there's no doubt about that! Some of the top gift ideas for climbers under $10 or $20 are hand care items to keep their hands and nails healthy and in the best condition possible.
One way for climbers to prevent injuries is to use a hand and finger file. We like using this double-sided Climbskin file, which is designed specifically for climbers. But really, any skin file should work. Files are useful for filing down any tears, splits, or blisters that might rip open when climbing.
Nail clippers also are quite useful for climbers. They'll keep fingernails short enough that you aren't scratching them on the wall.
Clippers also help snip off flappers, remove hang nails, and cut off rough skin that might get torn while climbing. They make a great small, inexpensive gift or stocking stuffer if your rock climber doesn't already have them!
Almost every climber uses chalk when climbing. Chalk helps improve grip on holds by reducing moisture from sweat, and whether you have chalk or not can often play a role in whether you make — or break — an ascent.
We usually use Friction Labs Premium Sports Chalk when climbing. Our favorite is the "Gorilla Grip", which is chunky but not too chunky — so you don't waste too much of it when crushing it onto your hands. They also have fine ("Unicorn Dust") or super chunky ("Bam Bam") textured chalk, if you prefer a different consistency.
Chalk is one of the best gifts you could get any rock climber, whether they boulder, top rope, sport or trad climb. Almost everyone uses it and they'll always need more eventually. If you can't think of something to get a rock climber, this is one of the best gifts you could buy them — and as a bonus, it's under $25!
Best Gift Ideas for Beginner Rock Climbers
Buying a gift for a beginner rock climber? If they are still renting out gear, you're in luck — beginners are often easier to buy for because they haven't collected all the equipment they need yet.
Help your loved one build the best set of rock climbing gear by gifting them some of the basics. Below, we provide some of the best gift ideas for beginner rock climbers!
Most rock climbers used chalk and of course, you need something to put it in! A great gift for any climber — beginner or not — is a new chalk bag (and some more chalk).
There are plenty of traditional-style chalk bags out there, but we prefer something a bit more fun — like this shark chalk bag. It's adorable but functional, and will get your gift recipient plenty of compliments at the crag or climbing gym!
Every climber needs a good pair of rock climbing shoes. While the gyms have rentals, who wants to fit into a set of used shoes! Also, if your gift recipient wants to climb outdoors, they'll need their own pair eventually anyway.
We recommend La Sportiva Tarantulace Rock Climbing Shoes for beginner climbers. The Tarantulaces are a well-rounded, inexpensive entry-level climbing shoe. They don't have significant camber (curled shape) which advanced climbers want for technical climbs, but this makes them much more comfortable to wear. It also makes them better for long multi-pitch climbs when climbers likely want a more neutral shaped shoe.
Overall, La Sportiva Tarantulace shoes are perfect for beginners and casual climbers. For this reason, they are also one of the pairs of climbing shoes most commonly spotted around climbing gyms.
Is your loved one learning roped climbing, like top rope, trad, or sport climbing? A climbing harness is one of the most important pieces of climbing gear to help them get started. With a brand new harness, that's one less piece of gear that they'll have to rent from the climbing gym!
For beginners, we recommend a Petzl SAMA Harness. It's versatile, comfortable, and quite affordable, making it a top choice for a useful gift for a beginner rock climber.
A belay device is one of the top presents for rock climbers who are learning top roping, trad or sport climbing. This is an essential piece of gear for roped climbs.
A Petzl GriGri Plus Belay Device is one of the best and most popular belay devices out there, and for good reason. It's easy to safely use, functions smoothly, and features active assisted breaking, making it one of the top choices for beginner (and even advanced) climbers. While slightly more expensive than some other belay devices, the GriGri provides a lot of peace of mind and is definitely worth the extra money!
Keep in mind — if your gift recipient only climbs at an indoor climbing gym, they might not need a belay device. Most climbing gyms already supply belay devices on their ropes (although some other gyms don't). Ask your giftee first!
Protecting your noggin' with a helmet is essential when rock climbing. You never know when you might take a whipper and hit your head on something. Bad out-of-control falls happen and sometimes rocks, ice, or other debris falls down the wall, becoming safety hazards. Ideally, you'd never have any of these accidents happen but if they do, it's better to have the helmet than not!
Our rock climbing helmet of choice is the Black Diamond Vapor Helmet. Ventilated, lightweight, and comfortable, all while offering excellent head protection, this makes an excellent gift for outdoor rock climbers to keep them safe.
Practical Gifts for Rock Climbers
Does your loved one prefer practical gifts? If they don't want extra unused things laying around the house, try getting them one of these practical rock climbing gifts!
Rock climbers always need more clothes suited to climbing. It's easy to destroy clothing at the crag or climbing wall. Also, many rock climbers don't like spending money on anything but gear and gym passes. So help them out and get them some new climbing shirts or pants!
Climbing pants need to have a good range of movement. How else are you supposed to perform a heel hook or other moves without any freedom to move!? Some of the best pants for climbing are prAna Halle (women) or prAna stretch zion pants (men). Designed for climbers, these pants offer lots of mobility and comfort — in almost any sport!
Generally, any T-shirt or tank top will work for climbing. A climbing-themed t-shirt like this problem solving one would make a fun gift!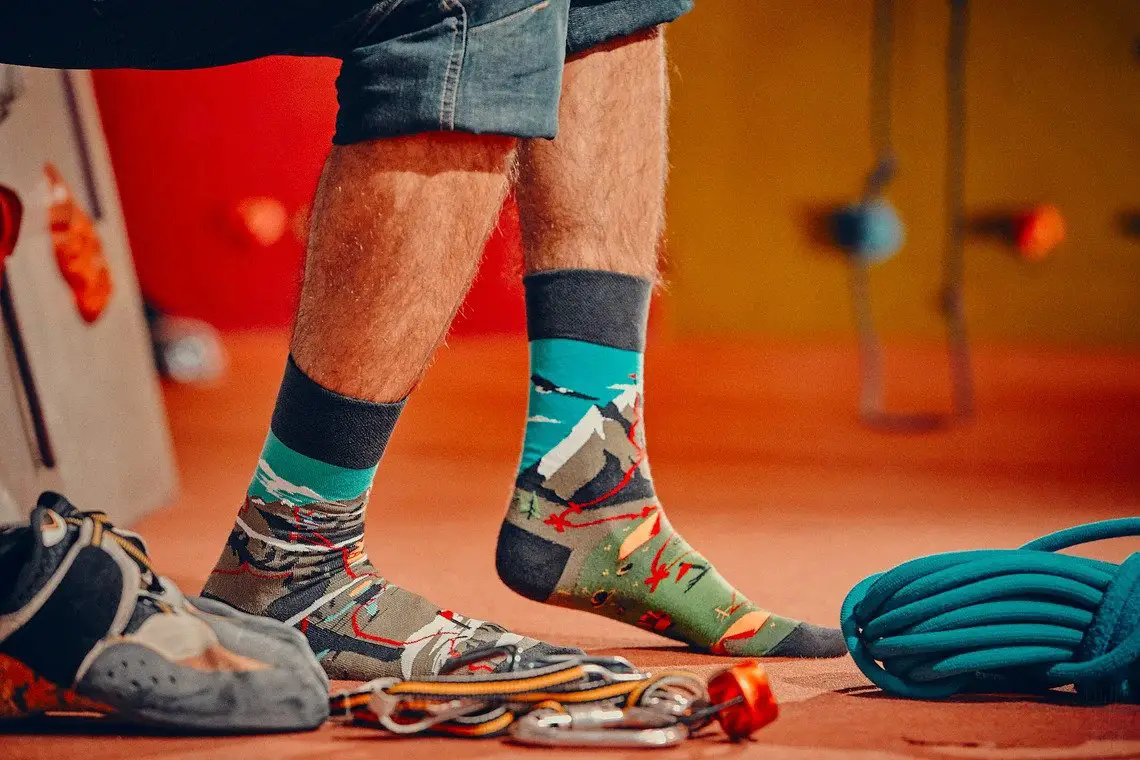 When we were kids, getting a pair of socks as a gift was disappointing. As adults, we get excited to receive socks — especially if they have a fun design!
Many rock climbers don't climb in socks, so you don't need to get your giftee some special climbing-appropriate socks. But socks with a fun pattern like these climbing and hiking socks would make a fun addition to their wardrobe!
For climbers who need to hike to their project, hiking socks (like Smartwool socks) also make great gift. And for ice climbers, a pair of well-insulated socks would likely be appreciated!
Climbing tape protects a climber's skin from rips or other injuries that occur during a climbing session. Tape is also useful for making gloves for hand jams when crack climbing outdoors.
If your gift recipient is always complaining about torn skin or enjoys crack climbing, we highly recommend getting them a roll of climbing tape as a small gift!
Is your gift recipient just starting roped climbing? Or is their rope starting to get old? If so, a brand new climbing rope would likely be appreciated by any sport or trad climber!
The Mammut 9.5 Crag Classic is a good choice for a climbing rope gift. It is durable, handles well, and isn't too expensive. The rope also comes in three different sizes (60, 70 and 80 m) — you might want to ask them which size they need before buying it.
A sports watch that tracks rock climbing sessions is a great gift idea if you want to splurge for your loved one's present. Measuring each climbing session provides lots of motivation to improve and keeps your workouts on track!
A Garmin Fenix 7 is one of the best sports watches out there for climbing and other activities like running, swimming, and hiking. While there are cheaper options out there, this watch has everything you'll ever need from a watch: sports tracking, GPS capabilities, topographic maps, health monitoring, solar-powered charging, and more.
If you find the price tag too much, we highly recommend checking out some of the earlier Fenix models. We use a Fenix 6 which still has a lot of the same capabilities but at a much lower price tag.
Top Gift Ideas for Sport Climbers
Is your giftee into sports climbing? While sports climbing doesn't require as much equipment as trad, there are still many pieces of gear and other gifts that would be greatly appreciated by someone who loves this style of climbing. Here are some of the top gift ideas for sport climbers!
Does your gift recipient ever complain of a sore neck after belaying? If so, a good pair of belay glasses would make a great gift for them!
Belay glasses use prism lens to allow you to watch your partner without having to crane your neck to see straight up. This is a great gift idea for people who like roped climbing, like top roping or lead climbing.
The Push: A Climber's Search for the Path is an inspiring climbing memoir written by the legendary rock climber, Tommy Caldwell.
This book tells Caldwell's journey, starting as a climbing-obsessed teen to becoming one of the best known climbers out there. He details his life through hardships like being held hostage in Kyrgyzstan or losing his finger, to the culmination of his climbing career — the first free climb of El Capitan's Dawn Wall.
Captivating and motivating, this book is an inspirational read about overcoming life's obstacles to achieve your goals and dreams. It's an excellent read for anyone — rock climber or not!
Crack climbing requires jamming your hands into cracks in the rock. Some hand jams are quite painful, leading to sore, beat up hands after a climbing session. Save your gift recipient a lot of pain by gifting them some crack gloves to protect their hands when outdoor climbing!
Ocun crack gloves are some of the best gloves out there for crack climbing. The thick suede and rubber do an amazing job of protecting hands in jams, while also being sticky to improve friction and keep your hold better. They do get in the way of some smaller hand holds, but they're reusable and work just as good as tape gloves — if not better!
A sport (or trad) climber never has too many quickdraws in their gear collection. Quickdraws attach climbing rope to an anchor, making them essential for outdoor roped climbs.
Petzl Djinn Axess quickdraws are one of the best draws, especially for beginners. They are durable and reliable, even if you take a lot of falls. While the Djinns are on the heavier side, they are also more affordable than many other options out there.
While quickdraws are often sold individually, we recommend gifting a 6-pack. Most average-length sport routes require at least 12 quickdraws, although longer routes will need more. A 6-pack is perfect for short sport climbs, or for adding to your giftee's current quickdraw collection to get them up the longer pitches.
One of the best ways to prolong a climbing rope's lifespan while keeping it organized is to use a rope bag. With a rope bag, you're able to keep your rope dry, clean, out of harmful UV rays, and best of all, untangled. They allow you to pack all of your gear — not just your rope — into a manageable duffel or backpack-style bag for improved ease of transport.
A DMM Classic Rope Bag is one of the best climbing rope bags out there. The rope tarp is spacious and works on all kinds of surfaces, even uneven ones. It will fit all of your gear plus more, and is carried comfortably as a backpack (unlike the duffel bags that'll make your shoulder sore).
Climbing slings (also called runners) are loops of webbing with a variety of uses. Commonly, slings are used by leading trad climbers to keep the rope as straight as possible and reduce drag. They are also useful when equalizing a belay anchor, racking equipment, tethering, and more.
Mammut's Contact Sling is a great choice for a climbing sling. Quite inexpensive, it's perfect as a stocking stuffer or small gift for a trad climber. The sling is lightweight and thin, but has a breaking strength of 22 kN (which is impressive). Overall, it's one of the best climbing slings out there!
Top Gifts for Trad Climbers
Is your gift recipient into trad climbing? Building a trad rack is expensive and there's always more gear to add to a rock climber's collection. Here are some of the top gifts for trad climbers to help them send their climbs!
Does your gift recipient fear falling and find that it's holding them back? Are they trying to improve their climbing? The Rock Warrior's Way: Mental Training for Climbers by Arno Ilgner focuses on the mental side of climbing, making it a great book for anyone looking to push past that mental barrier.
This climbing book helps with training mindfulness and getting outside your comfort zone. For those who experience the fear of the fall or the frustration from not sending, this is an excellent read on climbing's mental aspect.
Climbing nut removal tools are an essential piece of trad climbing gear, not just for the follower. Whenever you need to remove a nut wedged in a crack, a nut tool comes in handy. With one of these, you won't have to abandoned stuck gear ever!
The Wild Country Pro Key is a well designed climbing nut removal tool and is one of the best gifts for a trad climber who doesn't already have one. This nut tool has a leash, in case you drop it while climbing. It's sturdy, maneuverable, and the end is wide enough that hitting it with your hand doesn't hurt as much!
Building a rack for trad climbing costs hundreds of dollars and a set of camalots is one of the more expensive pieces of gear to buy. Climbing cams are pricey so any trad climber would greatly appreciate one or two as a gift.
Black Diamond Z4 Camalots are a good gift for a trad climber. They're well made, lightweight, and with a wide range and excellent holding power. These cams are easily placed but don't move when they're in position. Overall, the Z4s are some of the best cams out there for trad climbing!
Nuts, hexes, tri-cams, tube chocks, and other pieces of passive protection (known as 'passive pro') are a vital part of a trad climbing rack. These passive pro don't have any moving pieces, wedging in cracks to keep climbers from falling.
Passive pro isn't as expensive as some other trad equipment, making them one of the best options if you want to buy relatively inexpensive gear gifts for a trad climber's stocking.
Stoppers are sold individually or in a set. If you don't mind spending a bit more, we recommend buying a full Black Diamond Stopper Set. The set comes with nut sizes #1 to 13, which are handy to have in all kinds of climbing situations.
Have you ever had rope burn? It sucks! Belay gloves (also called rappel gloves) protect the skin on your hands from abrasions while belaying or rappelling. This keeps the belayer more in control and allows for longer climbing sessions without feeling the hurt!
A pair of Petzl Cordex Belay Gloves are one of the best presents for anyone who loves roped climbing. They are full-fingered gloves made out of a soft, premium leather that protects your skin while also being lightweight, breathable, and comfortable to wear. As an added bonus, they also keep your hands warmer on chilly days!
Sport and trad climbers always could always use more carabiners. Whether you're using them to attach to a rope, connect to your belay device, build an anchor, or just to hold your gear together, carabiners are one of the most important pieces of gear a climber can have.
Petzl Pro Attaches are awesome screw-lock carabiners that are designed to reduce rope drag and close securely. Alternatively, if you're looking for a standard non-locking carabiner, CAMP Photon wire carabiners are some of the best carabiners that you can give as a gift to a rock climber. They're full-size but lightweight, and also cheaper than most other competitors!
Best Gifts for Boulderers
Boulderers don't need as much gear as other styles of rock climbing, but there are still plenty of gifts that they'd love — especially if they're just starting off! Here are some of the best gift ideas for boulderers!
32. Bouldering Crash Pad
Outdoor bouldering requires crash pads, which protect the climber in case of a fall. If your gift recipient wants to try outdoor bouldering or needs an extra mat (they always do), they'll love receiving a bouldering crash pad as a present.
If you want to go all out on your loved one's gift, get them a Metolius Magnum Crash Pad. This bouldering mat has a huge surface area, so it provides lots of protection for falls. Despite the size, it isn't too awkward to carry around due to its narrow design.
Don't want to gift a full-sized bouldering pad? A Petzl Nimbo Slider Crashpad would be a great gift alternative for a boulderer. This slider mat is perfect for sitting starts when bouldering and to fill in the spaces between two crash pads.
While it may not seem like it, a climbing brush is a vital piece of equipment for boulderers (and other rock climbers). You need a brush to clean off holds that are dirty or caked with chalk, to improve the friction. If you boulder outdoors, it's also respectful to remove your chalk spots and tick marks after the session.
While a toothbrush works to clean holds, it has a small surface area and the bristles don't last long (they're made for teeth, not rocks). We recommend gifting a brush that's specially designed for rock climbing, like a BetaLabs Bouldering Boars Hair Chalk Brush. It comes in a pack of two and has a big brushing surface to clean off holds effectively.
Ever tried bouldering in the dark? It's actually a lot of fun! A headlamp allows you to climb later into the evening (or early in the morning). You won't have to head back as soon as it starts to get dark, too!
Even if you don't plan on bouldering in the dark, it's important to have a headlamp in case the sun goes down faster than expected and you still have to hike out. For outdoor climbers, a headlamp is an important piece of safety gear that shouldn't be forgotten.
A Black Diamond Spot 400-R Headlamp works great for outdoor climbing, and other outdoor adventures like hiking and camping. The light it produces is strong, making it easy to see in the dark. The battery is rechargeable and lasts a long time. And it's quite lightweight!
Okay, a hammock isn't bouldering gear. But, having a hammock set up near your project is amazing!
In between climbs, you get to relax in the hammock — assuming you aren't spotting a friend. A hammock is a great way to enjoy some outdoor peace and relaxation during a day of climbing.
A Sea to Summit Pro Hammock works great for lounging in between bouldering. It's also great as a camping hammock, if your loved one wants to try sleeping in a hammock (or just setting it up for relaxing around camp).
Music makes a fun addition to any climbing session, getting you into the right headspace and rhythm. Wireless earbuds (like AirPods) are best for bouldering. You don't have to worry about catching the cords on anything!
Earbuds are great to have for both indoor and outdoor boulderers, but not so much for trad, sport, or top rope climbers. It's not a good idea to be listening to music when climbing with a partner because it'll impair your communication.
Outdoor climbers could be gifted a portable speaker, but many people consider playing music at a crag as inconsiderate. If you're getting a gift for a climber who climbs at busy spots or indoors, a pair of earbuds is best!
Best Gifts for Outdoor Rock Climbers
Outdoor climbers need a lot of gear so there are many options for what to get them. Many of the gifts from the sport, trad, and bouldering sections above would work for outdoor climbers, but here are a few more ideas!
Alex Honnold is one of the most well-known rock climbers out there, famous for his 3000-foot free solo (climbing without any safety gear) ascent of Yosemite's El Capitan. He's lived an incredible life and is one of the world's biggest climbing celebrities.
Alone on the Wall by Alex Honnald and David Roberts details seven of Honnald's incredible climbing achievements, from El Sendero Luminoso in Mexico to the Fitz Traverse in Patagonia. The updated versions also include two chapters on his epic El Cap climb.
Climbing outdoors has safety risks and is often at crags out of cell service. But what if something goes wrong and you can't call for help?
For this reason, it's important to have a safety device that'll help you contact rescue services in case of emergencies, like bad falls. You never know what could happen!
Our favorite satellite communicator is the Garmin inReach Mini, which allows you to send and receive messages from anywhere in the world. In case of emergencies, the SOS button alerts the International Emergency Response Coordination Center, who put you in contact with local rescue personnel. It's a great way to keep your loved one safe when they climb outdoors!
Want to splurge on your loved one's gift? A GoPro HERO11 is a fun way for them to record their outdoor climbing sessions and any other outdoor adventures.
GoPros are a cool way to record climbs and other outdoor activities. Nobody wants to climb while carrying a bulky camera, but GoPros are lightweight, durable, and take amazing rock-climbing videos. Get awesome video of an adventure, record beta, get amazing shots at the top, and more!
The only downside is that the GoPro HERO11 is definitely not a cheap rock climbing gift. This is only a good gift idea for someone who you want to really treat!
Climbing packs (also called crag backpacks) are incredibly useful to have. You'll be able to stuff all your gear into the pack — quickdraws, slings, climbing shoes…. you name it!
One of the best climbing backpacks is a Osprey Mutant 38 Climbing and Mountaineering Backpack. We love most Osprey gear and this backpack is no exception. It's comfortable to wear, versatile (use it for almost any kind of climb, as well as other activities), and will accommodate all of your gear easily!
If your gift recipient is looking for a bag that'll work better as a follower backpack, we recommend a Black Diamond Rock Blitz 15. It's quite lightweight at only 14.2 oz. While it doesn't work as well as a haul bag, it's streamlined and durable, allowing you to climb without it getting in the way.
Staying warm and protected from the elements is important if you're climbing outdoors. Climbers should all have puffy and hardshell jackets to keep them warm and dry when doing outdoor adventures.
Puffy jackets keep climbers warm and cozy in cold weather. While you might warm-up when climbing, it's easy to cool down when resting or belaying. Being chilly will quickly ruin the fun of a climbing session! Down jackets are great because they trap in your body heat, while also compressing down for storage in a pack when you are climbing and aren't using them.
A great puffy down jacket is the Mountain Hardwear Ghost Whisperer/2 Hoody (men's/women's). It has 800-fill down insulation that'll keep you warm but also makes it super lightweight and packable.
Hardshell jackets are good for climbers who need protection from the wind and rain. More durable than puffy jackets, hardshells won't rip if they catch on the rocks. They are usually layered overtop of a puffy jacket, so you get the best of both worlds.
An Arc'teryx Beta AR (men's/women's) is a premium hardshell jacket that will withstand the conditions it's put through when rock climbing. Waterproof, durable, and well-fitted, it's one of the best hardshell jackets for climbers. The only downside is that it's on the pricy side. If you're trying to stick to a budget, an Outdoor Research MicroGravity (men's/women's) is a great choice for a more budget-friendly hardshell jacket.
First aid kits are essential for outdoor climbs. You never know what will happen when climbing outdoors — often everything goes fine but sometimes, accidents happen!
Having a well-stocked first aid kit also isn't just for disasters. Sometimes you'll rip open a blister or get a scrape that's bleeding everywhere. It never hurts to be prepared!
If your rock climber giftee doesn't already have one, a premade first aid kit is one of the best gifts to keep them safe when rock climbing. You can also personalize these prepackaged kits with supplies like climbing tape, making the kit more useful for injuries common when climbing.
43. Topo or Guidebook
Is your gift recipient planning on traveling somewhere to climb like Squamish or Red Rock? Or do they live near some good outdoor climbing spots but don't know the routes? If so, you should gift them a climbing guide book for the area.
Here are some guide books for some of the top climbing spots in the world:
On multi-pitch or alpine climbs, you often won't be able to hear your partner, even if you're yelling. And rope signals (like certain patterns of rope tugs) are often confusing.
Walkie talkies solve the issues of communication, so you don't have to yell at each other. Lack of communication is often a cause of climbing accidents, so you'll be safer when using radios too!
Motorola T600 radios are great for outdoor adventures. They'll generally survive being dropped and have good range. These radios are also pretty waterproof in case it rains. They are a bit chunky though, although they only weigh 8.4 oz.
Approach shoes are used by rock climbers when getting to and from their main climb. Climbers often must hike and scramble their way to their climbing spot. While hiking shoes sometimes work, they're heavy and don't work well on technical rock sections. On the other hand, while climbing shoes are great for gripping slippery rocks, they aren't made for walking.
Approach shoes find a happy medium between hiking and climbing shoes. Like a hiking shoe, they are comfy to walk in. And with grippy soles like a climbing shoe, they're good for scrambling up rocky sections, where the hard rubber soles of a hiking shoe won't provide good grip.
For a rock climber who might not treat themselves to new shoes but who's often doing long approaches to their climbs, some La Sportiva TX4 approach shoes would be a great gift. They have Vibram rubber soles for a sticky grip on rock surfaces, and are quite durable.
46. Camping Gear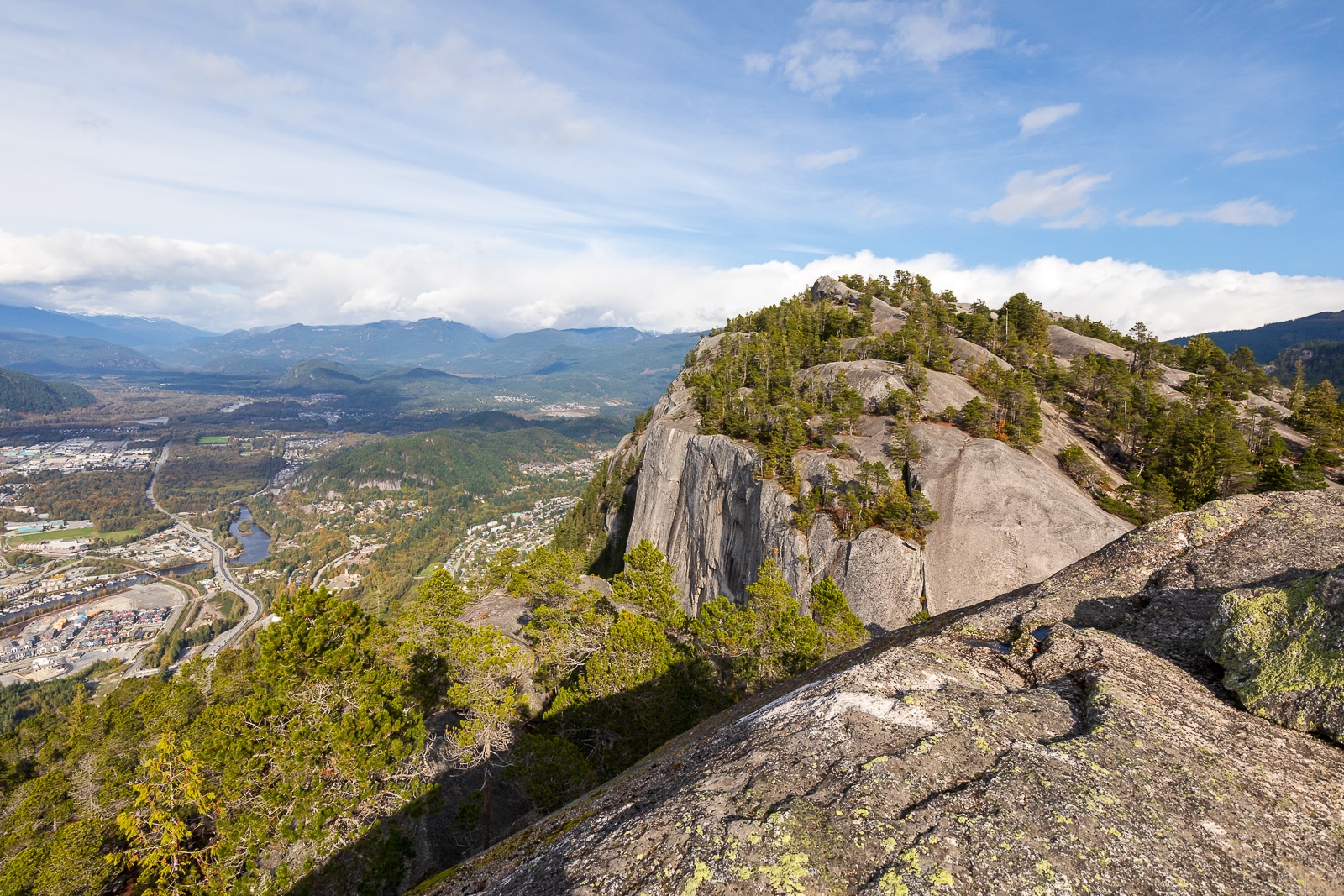 Many incredible climbing locations have campgrounds nearby to set up a tent as your home base. For example, Squamish in British Columbia, Canada has a campground right at the base of the Stawamus Chief, a perfect camping spot for climbers.
Other areas, like the Sierras of Nevada, USA, have lots of amazing backcountry climbs where you hike in, set up camp, and climb as much as your heart desires.
For climbers who enjoy camping (which most do), camping gear would likely be appreciated as a gift. From tents to water filters, there are lots of options for camping gear to buy as a gift. Here are some ideas:
Best Gifts for Indoor Rock Climbers
Indoor climbers are hard to buy for sometimes, because they don't need as much gear as people who climb outdoors. Even so, there are some awesome gifts they would appreciate!
Have you ever had a cloud of chalk puff up into your face? It's not a pleasant experience. Luckily, chalk balls like this Friction Labs Magic Chalk Ball help prevent these unpleasant chalk clouds.
For an indoor rock climber, a chalk ball is one of the best inexpensive gifts to give if they don't have one already. Chalk balls get filled with chalk, instead of having the chalk loose in your chalk bag. As a result, chalk balls significantly reduce the mess that loose chalk causes in a climbing gym.
Chalk balls prevent chalk from flying everywhere after a fall or when re-chalking your hands. They also reduce the amount of chalk wasted from spills, falls, or over-chalking your hands. Overall, they are highly recommended for indoor climbers!
48. Gym Pass
Every indoor climber has to pay for a gym pass and those fees add up over time. One of the top gifts for someone who climbs indoors regularly is a punch pass or monthly membership (or even annual membership for the big spenders) to their favorite rock climbing gym.
A climbing gym pass or punch card is also an awesome option for someone who is thinking about trying climbing. This will give them a chance to try the sport!
A high quality reusable water bottle is a useful gift for any rock climber. One of our favorite water bottles is a Hydro Flask. It's well insulated, so your drinks stay cold for almost a full day. It also will keep hot drinks warm for about 12 hours. The bottle is pretty leakproof and is made out of stainless steel — so it can survive some drops!
Best Gifts for Ice Climbers and Mountaineers
Ice climbing and mountaineering requires a whole extra set of gear than classic rock climbing. While there is some overlap, there are lots of top gear gifts that you could get for an ice climber or mountaineer, especially if they're new to the sport. Here are some ideas!
Every ice climber or mountaineer needs a good pair of insulated gloves. It's easy for your fingers to get cold and that will ruin the winter fun quickly!
With excellent insulation and waterproofing, CAMP Geko Ice Pro Gloves are one of the top insulated gloves for climbers out there. They are a technical glove that is designed for alpine climbing in cold weather. The goatskin leather on the palm provides good grip, while the gusseted knuckles maintain dexterity and comfort. Overall, these are some excellent gloves!
Ice axes make a great gift for outdoor adventurers who like to brave the cold and ice to continue having fun. They are used with a variety of activities, including mountaineering, scrambling, ice climbing, and sometimes even hikes.
There are different ice axe styles out there, each designed uniquely with certain activities in mind. For example, an ice-climbing axe (aka ice tool) like a Black Diamond Reactor Ice Tool has a shorter handle, bent shaft, and a specially-designed head.
This differs from a classic mountaineering ice axe (like a Petzl Summit Evo Ice Axe), which has a straight or curved shaft and a classic curved pick. So, make sure you know what style of ice axe your giftee wants before buying one!
Crampons are intense-looking pieces of winter gear that provide traction when walking on ice or snow.
Petzl VASAK Crampons make a great gift for any classic mountaineer. Their modular design makes them highly versatile — change them up depending on what kind of adventure they're being used on. They provide awesome traction, while also limiting snow build-up on winter adventures.
When adventuring through the mountains, there's always a chance for an avalanche. One way to protect your loved ones is to gift them some avalanche gear to keep them safe in the backcountry.
There are several pieces of essential avalanche safety equipment. An avalanche transceiver sends out a beacon for help if the victim is buried under snow to help them be located faster. Snow probes are used to determine exactly where a buried victim is, and a snow shovel is needed to dig out the avalanche victim.
A gift of avalanche gear goes a long way in keeping your gift recipient safe in avalanche country!
A good pair of mountaineering boots is a mainstay for any classic mountaineer or ice climber. These boots are designed to be used for mountaineering and ice climbing, paired with crampons. They provide warmth to prevent frostbite, and stiffness for sure footing.
One of the best pairs of mountaineering boots are the La Sportiva G5 Evos. They are warm, easy to take on and off, and good for climbing. The only downside is that they are expensive — although all mountaineering boots are!
There's nothing better than warming up after a climb with a hot drink. A travel coffee mug (like this Contigo mug) is a good gift to keep a climber nice and toasty. It'll keep your drinks hot for up to 7 hours, making this is a great gift for any outdoor climber who goes out in colder conditions.
Keep your loved one warm by gifting them some reusable handwarmers for their ice climbing, mountaineering, and other winter adventures.
Zippo refillable hand warmers do a great job of keeping your hands warm in cold conditions. These handwarmers fill with lighter fluid and keep you warm with flameless heat. The 6-hour version is probably best for climbers due to the size, but there is also a larger 12-hour version.
Another great option are these Hotsnapz hand warmers. They heat up after you snap a metal disk inside them. These hand warmers provide heat for about 30-40 minutes and recharge after you boil them for 10-15 minutes.
Best Training Gifts for Climbers
Looking for the best gift for a rock climber that's obsessed with training? Here are some gift ideas for a loved one who is working hard to improve their climbing!
For the climber who's serious about training, a hangboard is one of the best ways (other than just climbing) to strengthen their fingers and hands. A super effective training method, hangboards are great for advanced climbers, as well as beginners looking to improve their grip.
These training devices are installed right in your home, so they don't have to be at the crag or climbing gym to train. There are also portable hangboards for those who might want to practice in different locations.
Slacklining and rock climbing pretty much go hand-in-hand. Some people say that slacklining even has a lot of benefits for rock climbing, such as improved balance, coordination, and body awareness. Whether or not this is the case, slacklining is lots of fun and a great recovery activity for rest days!
A Slackline Industries Aggro Line is a complete slacklining kit with a ratchet, main line, backup line, and tree protection. It's easy to set up and the line is quite long at 100 feet. One of the best slacklines on the market, this would make a great gift for someone who wants the best performance from their gear.
Building up your hand and finger strength with a grip exerciser (like this Gripmaster) helps with climbing and preventing injuries. These strength trainers work some muscles that might not be normally worked out, which can help with climbing.
However, grip strengtheners aren't the most effective training method for climbers. Climbing generally requires static (i.e., not moving) hand and finger positions, whereas grip exercisers train your muscles through movement.
Beginner's will definitely notice some improvement from using grip trainers, but advanced climbers are likely better off with a different training device, like a hangboard. Regardless, a grip exerciser is a fun gift for someone who's into strength training and rock climbing!
After a good rock climbing session, you'll usually be sore and taking the time to recover is quite important. One way to recover faster from a hard workout is by using a massager on your muscles. Climbing can get you pretty sore, so a massager is a well-needed gift for a rock climber.
There are a few different recovery tools that rock climbers can use. Foam rollers work by increasing circulation, reducing tension, and alleviating muscle knots. They are effective when used on muscles like your hamstrings and calves.
A Thera Cane Massager works wonders on muscle knots. It is a deep pressure massager that works well on sore muscles, especially in hard to reach spots.
And, if you're looking for a fun stocking stuffer or small gift idea, get your loved one some acupressure rings. These massagers roll up and down fingers, improving blood flow and reducing aches.