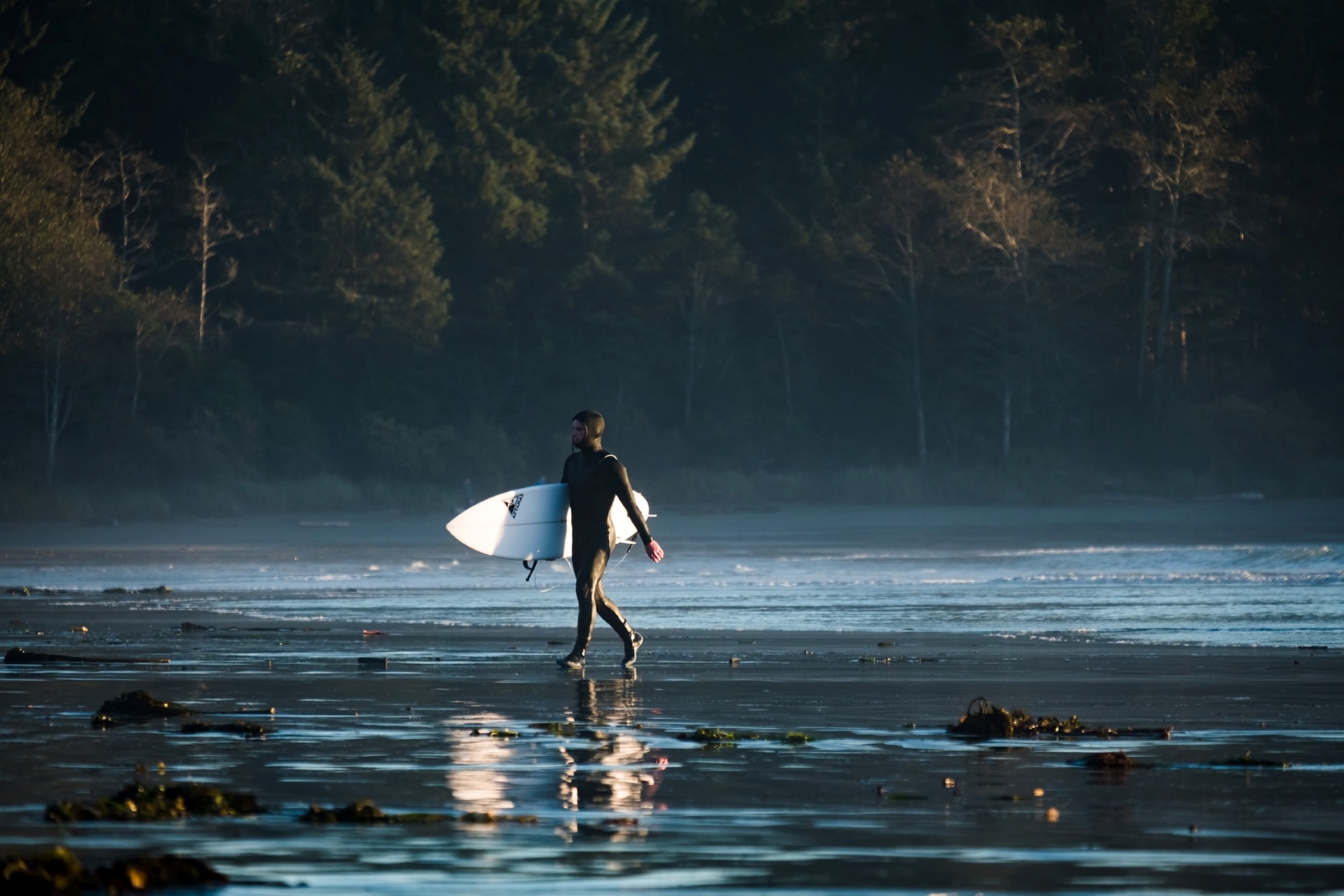 British Columbia is one of the few places in Canada where you can go surfing. Not only that, some of the best surfing in Canada is in BC, with Tofino on Vancouver Island known as Canada's surfing capital. However, unlike some of the tropical surfing destinations, the Pacific Ocean around British Columbia is quite chilly. Being prepared with cold water gear for surfing the ocean conditions around the coast of British Columbia is essential.
To help you figure out what surf equipment you need, we've compiled a list of the essential, must-have gear for surfing in British Columbia. This equipment list covers all the essential gear that you need for British Columbia surfing. These cold-water surf gear and accessories are also applicable to surfing the chilly waters around the Puget Sound, the coast of Washington in the United States, or anywhere with cold water surfing. With the right surf gear, you won't even feel the cold!
Disclaimer – This post contains affiliate links. We may receive a commission if you make a purchase through these links, at no extra cost to you. Thank you for your support! Learn More.
Essential Surfing Gear Checklist for British Columbia
A surfboard with fins is definitely the most essential piece of gear you'll need for surfing in British Columbia (or anywhere). Board choice is quite important when surfing. You want a surfboard that suits your surfing style and experience level, as well as the waves that you'll be riding. There are many types of surfboards like versatile shortboards, beginner-friendly longboards, hybrid surfing boards, wave-catching funboards, and small yet fun fishboards. Whichever style you choose is up to you, but if you're starting off, pick one of the easier boards to learn on!
For beginners, it's not a bad idea to start with a long soft-top surfboard. Both buoyant and stable, a soft-top surfboard is an excellent way to learn how to ride the waves. Ideally, rookies shouldn't start with a traditional fiberglass surfboard until they get the hang of the sport. You don't want to have to worry about damaging your surfboard when learning! It's also a good idea for beginners to pick a longboard, with a length around 8 or 9 feet. A longer surfboard makes it easier to catch waves with speed, so you don't get frustrated when starting off!
Best Beginner Surfboard: Wavestorm 8′ Surfboard
The water around British Columbia is cold so you'll want a thick, hooded wetsuit that covers your full body to keep you warm. The wetsuit traps a thin insulating layer of water against your skin, preserving your body heat. Without a wetsuit, you won't be able to stand being in colder water for very long. You don't want to cut a day of surfing short because you're frozen!
Most people surf in a 5/4 mm hooded wetsuit. The numbers 5/4 mean that the neoprene on the body of the wetsuit is 5 millimeters thick, while the arms and legs are only 4 mm. This wetsuit thickness will keep you warm in both the summer and winter. It'll also give you enough flexibility in your arms and legs for moving around while surfing.
Some people like surfing in 4/3mm wetsuits in the summer. However, you'd likely freeze with this neoprene thickness in the winter! Also, you might even want a 6/5/4 (6 mm torso, 5 mm legs, and 4 mm arms) in really cold waters like at North Beach in Haida Gwaii. You should pick a wetsuit that fits the conditions that you'll be surfing in the most, as well as one that matches your cold tolerance. Also, pick a wetsuit size that fits you snugly – not too loose and not too tight!
Best Cold Water Wetsuit for Surfing: XCEL Infiniti 5/4mm Hooded Fullsuit Men's / Women's
Warm neoprene surf booties are essential gear for surfing around British Columbia if you don't want your toes to fall off from the cold water! A good neoprene thickness for surfing boots is 3 to 7 mm. Surf booties will protect your feet from the cold, as well as from sharp rocks or barnacles. As well, the booties have rubber on the bottoms for traction on your surfboard.
When picking a pair of surfing booties, you need to choose the right size for your feet. Too large and your booties will fall off or fill up with cold water. Too small and your surf booties will hurt your feet. Pick the right size and your feet will stay comfortable and warm all day!
You can choose between various surf boot styles. The main bootie styles are round toe, split toe, or hidden split toe. Round toe booties are better insulated but may move around on your foot more. They need to fit snugly to work well. Split toe surf boots have the big toe separated from the other toes. This wetsuit boot style provides more traction but less insulation, especially for your big toe. The last choice is a hidden split toe bootie, which compromises traction, insulation, fit, and comfort.
Best Surf Booties: O'Neill Heat 7mm Round Toe Booties
When you're surfing, you want a good pair of neoprene surfing gloves so your hands don't go numb from the cold. Neoprene gloves will keep your hands warm in the cold water around BC's west coast. As well, the thick neoprene will protect your hands against any harmful objects.
A good pair of cold water neoprene surf gloves should have an anti-slip rubber lining on the palms to improve your grip. You don't want to have slippery surf gloves! There are different styles of surf gloves to choose from, including finger wetsuit gloves or mitten-style surf gloves. The mitten-style surfing gloves will keep your hands warmer but the finger gloves give you more dexterity. As well, you can choose between 2 to 5 mm gloves.
Best Surf Gloves: XUKER Wetsuit Gloves (3mm or 5mm)
While surfing, you don't want your board to get away from you if you wipe out. A good surfboard leash will keep your board connected to you, no matter what. It's worth investing in a high-quality leash, as it prevents your surfboard from being washed away by the waves, which can be quite dangerous for you and other surfers!
One end of the surfboard leash attaches to the deck of the surfboard's tail, while the other end has a cuff that attaches to your ankle or calf. A good leash should be strong, so it doesn't break when your surfboard pulls against it. Depending on your skill level, board type, and wave size, your surf leash cord should be between 5 to 7 mm thick. As well, the surf leash should be about as long as the board you're using. An excessively long line will slow you down in the water, while surfboard leashes that are too short will trip you up or pull your surfboard into you during wipeouts.
Best Surfboard Leash: Dakine John John Florence Kainui Surf Leash
When surfing in cold water like the Pacific Ocean around British Columbia, surf earplugs are essential gear for protecting your ears. Without earplugs, you risk the cold water and wind exposure causing ear infections and a condition called exostosis, commonly known as "surfer's ear". Exostosis causes abnormal ear bone growths, resulting in reoccurring ear infections, plugged ears, earaches, and hearing loss. The condition is only reversible with surgery. Trust us, you don't want to experience surfer's ear!
Surf earplugs are one of the best ways to prevent surfer's ear from occurring (wetsuit hoods also help). When picking earplugs for surfing, you need a pair that effectively blocks water and wind from entering your ear canal. As well, it's important that surf earplugs are comfortable to wear and don't muffle your hearing. High-quality earplugs are often worth the investment. Cheap earplugs may do the trick but often, they muffle your hearing too much especially under a wetsuit hood.
Best Surfer's Earplugs: Creatures of Leisure SurfEars Water Out Sound in Ear Plugs
Surfboard wax is applied to the deck of your surfboard to help you grip the board while surfing. Without wax, you won't be able to balance on your board as well and may even slip off! Your surfboard should have a base coat and then a second coat of surfboard wax.
When selecting surf wax, you can't just pick any wax. Surfboard wax is formulated for different water temperatures: cold, cool, warm, or tropical. The difference between these grades is the wax hardness. In warm water, you need a hard wax that won't melt off your board. In cold water, you don't want the wax to harden too much so you need a softer wax for it to stay grippy. You should use cold water surf wax when the ocean temperature is under 15°C (60°F). The water temperatures around BC are below this threshold, between about 8-13°C (46-55°F).
Best Cold Water Surfboard Wax: Sticky Bumps Cool/Cold Water Surfboard Wax
Best Base Coat Surf Wax: Sticky Bumps Surf Wax BASE
When you invest in a surfboard, you should use a bag to keep it safe while traveling or during storage. A surfboard bag protects your surfboard against physical damage and sun degradation. As well, the handle on the surf bag makes it easier to carry and travel with your surfboard. Plus, the bags often have pockets for carrying any surf accessories and other surfer gear that you're bringing along.
When you're picking a surfboard bag, the most important consideration is the size of the bag. Surfboards are all different sizes and shapes. You need to pick a bag that fits your board properly. As well, you should look for a surfboard bag with reinforced foam padding and water-resistant, durable materials.
Best Surfboard Bag: Dakine Daylight Surfboard Bag-Noserider
At the end of a surfing session, you'll need a towel to dry off. Ideally, you should have a beach towel that is both absorbent and quick drying. A microfibre towel is a good option for these reasons and is also quite packable.
Alternatively, you can use a surfer's poncho to dry off, as well as to create some privacy while you're changing. Surf ponchos (also called a surf robe or towel poncho) are made out of soft microfiber or 100% cotton material, just like a towel. These hooded towels are one size fits all. Additionally, you can wear the surf poncho for changing into your wetsuit underneath, without having to awkwardly hold your towel for privacy!
Best Surf Poncho: Sun Cube Surf Poncho
Many surfers wear a swimsuit, while others like to surf with nothing underneath their wetsuit. You can wear whatever makes you most comfortable! Keep in mind that bulkier clothing, like boardshorts, may be uncomfortable to wear under the wetsuit.
Alternatively, you can wear a well-fitted rash guard under your wetsuit, which will protect your skin from wetsuit chafing. A rash guard isn't always necessary when wearing a wet suit, but it can be a huge relief if your skin is starting to get irritated. As well, rash guards are vital for skin irritation prevention and sun protection when surfing without wearing a wetsuit.
Best Rash Guard for Surfing: O'Neill Long Sleeve Rash Guard
When surfing, it's important that you pay attention to what the ocean is doing, especially with the tides. Timing your surfing with the tides is key for a perfect surf session. Luckily, with modern technology, tracking the tides can be done right from your wrist!
A surf watch, also known as a tide watch, is an essential piece of gear for surfing in BC. These incredible watches don't just tell the time! Tide watches provide all the information you need to plan your surfing on the fly while out on the ocean. A surf watch will tell you low and high tide times, as well as sunrise/sunset times, moon phases, and ocean condition data like wave height and wind speed. Some tide watches also monitor your activity levels and even allow you to text and make phone calls right from your wrist!
Surf watches are an amazing piece of technology. However, if you don't want to invest in a surf watch right off the bat, you should at least wear a waterproof watch to keep track of time.
Best Surf Watch: Garmin Instinct Solar Surf Smartwatch
The west coast of British Columbia is famous for its rain, especially in some of the best surfing spots like Tofino and Haida Gwaii. You don't want to get soaked after you've dried off after surfing and are trying to warm up! A good waterproof raincoat shell will keep you dry while also functioning as a wind blocker.
If you plan on hanging around BC's coast for any length of time, you should invest in good-quality rain gear for weather protection. Don't cheap out on a rain jacket – we promise you'll regret it! You'll find out quickly that the cheap rain jackets aren't very waterproof and replacing low-quality raincoats will end up costing you in the long run.
We highly recommend the Arc'teryx Beta AR Jacket, which we love and use almost daily during the rainy season. This high-performance, durable rain shell has breathable but very waterproof Gore-Tex material. If you aren't convinced, just look around at what the locals are wearing!
Best Waterproof Raincoat Shell: Arc'teryx Beta AR Jacket Men's / Women's
You don't want to catch a chill before or after you get in the water. A warm insulated puffy jacket will make a huge difference in staying warm. A puffy jacket is lightweight but warm. They layer well underneath a waterproof shell or can be worn as your main jacket on dry days. Most are water-resistant but won't be able to handle a downpour.
You can choose between a puffy with down or synthetic insulation. Down jackets are lightweight and very warm, but more expensive. Synthetic insulated jackets are warm, affordable, and stay warm, even when wet.
Best Puffy Insulated Jacket: Arc'teryx Atom LT Hoody Men's / Women's
The water is chilly in British Columbia and some of the best surfing is in the winter, so it's important that you stay warm before and after surfing. You should always have a set of warm clothes with you, especially on cold winter days. A good pair of merino wool socks, a warm beanie, and a thick fleece sweater will make a huge difference in how toasty you feel!
You should wear layered clothing so you can add or remove layers, based on how you feel. On hot summer days, warm clothes aren't as necessary. However, in the winter or on rainy days, warm clothes are essential and shouldn't be forgotten!
Best Wool Socks: Smartwool Crew Socks
Best Warm Beanie: Carhartt Knit Cuffed Beanie
Best Fleece Sweater for Women: Columbia Women's Benton Springs Fleece Jacket
Best Fleece Sweater for Men: Columbia Men's Steens Mountain 2.0 Full Zip Fleece Jacket
While you're on the water, you'll need to protect your face and any other exposed skin from harmful UV rays. You can get a sunburn even on cloudy days, as the water will reflect the light back onto your face. You should bring a bottle of eco-friendly, waterproof sunscreen to protect your skin.
Make sure to choose a broad-spectrum sunscreen that is waterproof and won't run into your eyes when you're wet. Also, it's important to choose sunscreen with ocean-friendly ingredients. Protecting your skin from the sun is important, but so is protecting the environment!
Best Sunscreen for Surfing: Sun Bum Original SPF 50 Sunscreen Lotion
A great way to warm up after a long session of cold water surfing is to drink some warm tea, coffee, or soup. However, you don't want to have to worry about heating up water when you're on the beach. An insulated travel mug that keeps your beverage hot is convenient and a great way to warm up fast!
Best Travel Mug: Contigo Autoseal West Loop Vacuum-Insulated Stainless Steel Travel Mug
While a waterproof surf camera is definitely one of the optional surfing accessories, capturing your surfing adventures on video is a lot of fun. Plus, watching the videos is a great way to improve your surfing technique! If you want to film yourself while surfing, you'll need a durable waterproof surfing camera. The camera needs to be able to handle being splashed and dunked underwater.
You'll need a surfboard mount to connect the waterproof camera to the front of your board. Also, you should get a sturdy case for the surf camera to protect it from any physical damage.
Best Waterproof Surf Camera and Surfboard Mount: GoPro HERO10 Black and GoPro Surfboard Mount
Surfing in BC: Where Are the Best Spots?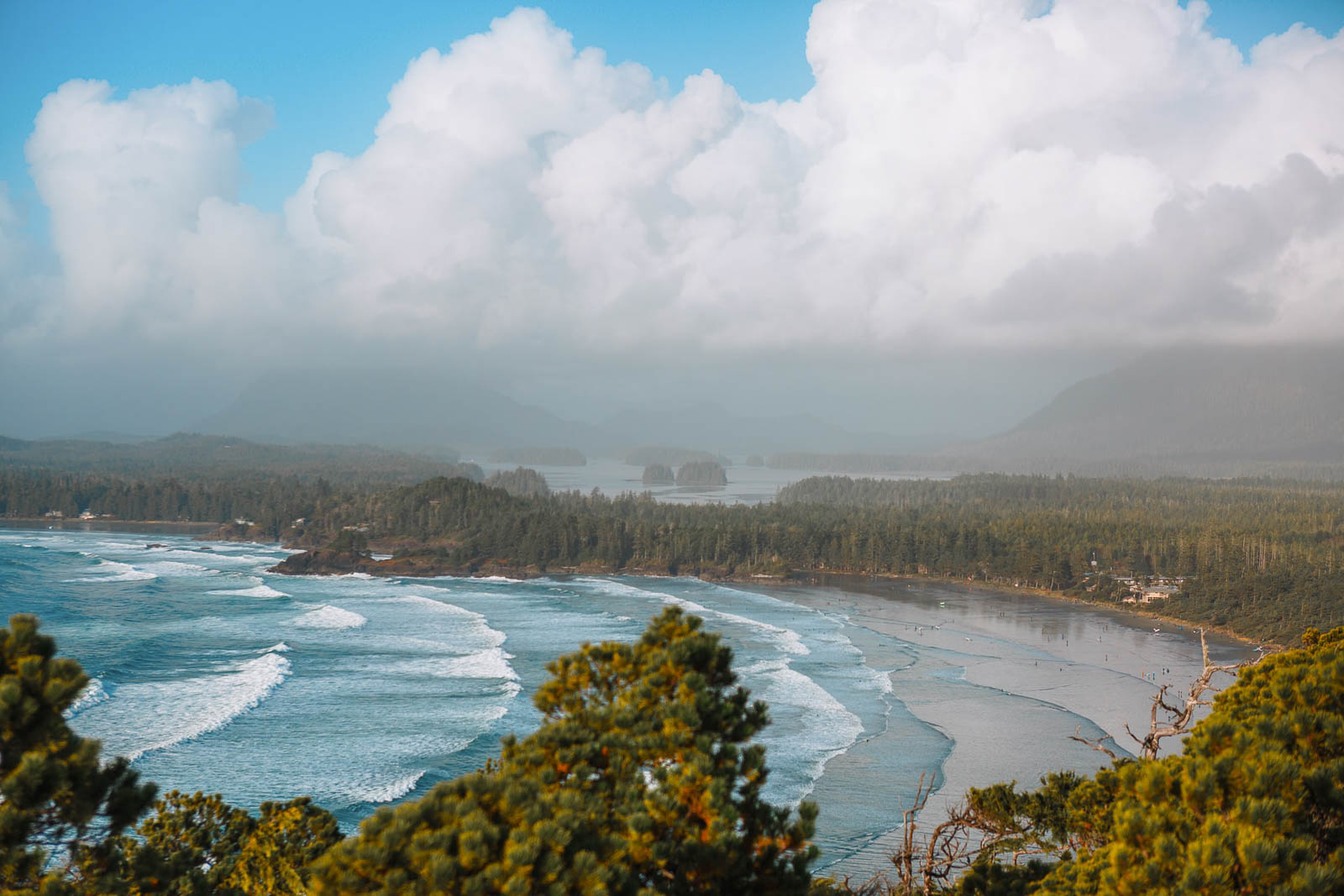 There are many excellent surfing spots in BC with swells that create the perfect waves for all skill levels. However, most of the surfing in British Columbia is around Vancouver Island and the remote archipelago of Haida Gwaii. Unfortunately, there aren't any surf spots around Vancouver and the coastal mainland. These areas are better suited for other water sports like windsurfing or kite surfing.
Tofino and the nearby Ucluelet are the most popular, top-rated surfing spots on Vancouver Island. These spots have year-round, world-class surfing, with excellent ocean conditions, a thriving surfing culture, and many surf shops. Cox Bay, South and North Chesterman Beach, and Long Beach are all amazing beaches in Tofino with great beach break surfing opportunities.
Locals also head to Jordan River Regional Park, Sombrio Beach in the Juan de Fuca Provincial Park, Pacific Rim National Park near Bamfield, Raft Cove Provincial Park, and Nootka Island. Lastly, if you want to venture further to the remote shores of Haida Gwaii, you'll find excellent surfing at North Beach in Naikoon Provincial Park. It's a bit of a trek to get to Haida Gwaii, but you'll be well rewarded with empty beaches and riding waves all to yourself!
Top Travel Tips & Resources for BC
Travel Insurance – If you're travelling internationally, travel insurance is a must for any trip. Being covered by insurance is especially important when you're going to an adventure-filled place like British Columbia. If you injure yourself while adventuring, you want to have insurance! We recommend using SafetyWing for international travel insurance. They are affordable and have great policies for travellers, digital nomads, and remote workers. Also, SafetyWing provides COVID-19 coverage, which many other insurance companies don't cover.

Car Rental – We find the best deal on vehicle rental prices using RentalCars.com. They compare the prices for different car rental companies so you can find the best deals out there!

Accommodations – We prefer booking all of our hotels, hostels, and other accommodations through Booking.com because they have a flexible cancellation policy. Also, there are lots of different options on their platform, from hotels to vacation homes. Alternatively, Expedia and Hotels.com are good for booking accommodations. For vacation home rentals, VRBO is an excellent choice (they have lower fees than Airbnb, many of the same properties, and are more ethical).

Flights – You can find many good flight deals on Google Flights or Kayak. If you fly at less popular times (e.g. mid-week or red-eye flights), you can save some money.

Tours – Get the most out of your vacation by taking a guided tour! This is a great way to see the city, adventure to exciting new locations, and learn about the local culture. Viator or GetYourGuide are great options for booking tours.