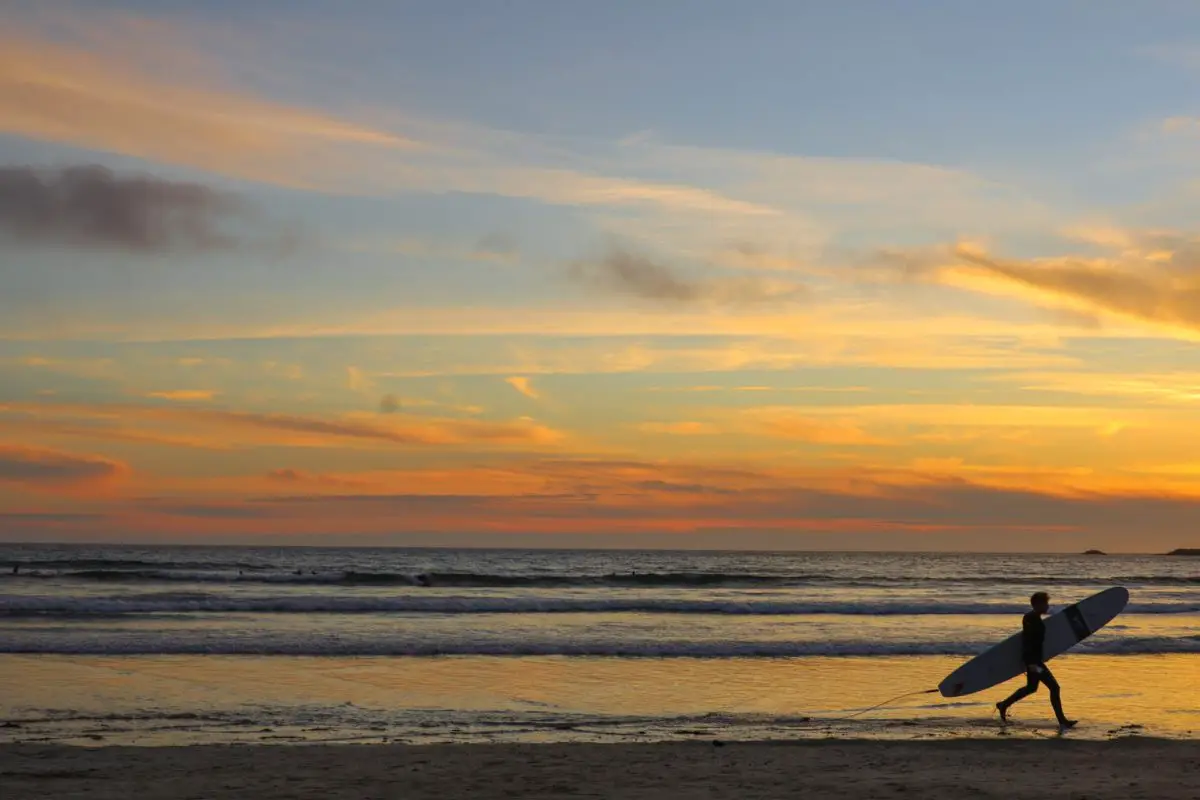 Did you know that British Columbia is one of the best places in the world for cold-water surfing? BC is home to some of the most beautiful coastline in the world, and there are plenty of great waves to catch if you know the best surf spots.
If you're looking for some of the best surf spots in British Columbia, you've come to the right place. We'll share with you some of our top favorite places to surf in BC. So, if you're looking for an adrenaline rush and want to experience some of the best waves in the world, read on!
Disclaimer – This post contains affiliate links. We may receive a commission if you make a purchase through these links, at no extra cost to you. Thank you for your support! Learn More.
Best Surfing Spots in British Columbia
If you're looking for the best waves, we've got you covered with this list of some of the top surfing destinations BC has to offer.
Tofino
One of the best spots for surfing in British Columbia is Tofino, a small oceanside surf town in the Clayoquot Sound region on the west coast of Vancouver Island. World-renowned for its cold-water surfing conditions, Tofino has some of the best waves in Canada. With incredible beaches and a laidback atmosphere, the town is a popular tourist destination.
Tofino has a wide variety of beautiful sandy beaches that offer good waves for surfing, no matter what your skill level. Some of the best surfing spots in Tofino include Cox Bay, Long Beach, and Chesterman Beach. These beaches offer a variety of waves for surfers of all experience levels, so you're sure to find a spot that's perfect for you.
Cox Bay features consistent beach breaks on 1.5 km of crescent-shaped, white sand beach that lays between Sunset Point and Cox Point. With large swells, Cox Bay Beach is more suitable for experienced surfers.
Chesterman Beach is an incredibly popular beach with 2.7 kilometers of gorgeous sand. With beginner-friendly waves, most of the surf lessons are taught here. Even so, the waves are a lot of fun for experienced surfers too. North and South Chesterman are connected in a "W" shape, with Frank Island in the middle.
Long Beach in the Pacific Rim National Park Reserve is perfect for newcomers, with a forgiving sandy seafloor for wipeouts. Plus, it makes up one of the longest beaches in Tofino, with 16 km of sand! Watch out for the rip current near Lovekin Rock that'll pull you far from shore.
In addition to surfing, Tofino offers plenty of other things to do and places to see. There are plenty of excellent hiking trails in the area, such as the Tonquin Trail, Cox Bay Lookout (a must-do hike in Tofino), and the Canso Bomber Ruins Trail. Or, head out on an exciting whale watching tour or a day trip to the fabulous natural geothermal pools at Hot Springs Cove in Maquinna Provincial Park.
You can also go kayaking or fishing, or take a stroll through the town's charming streets. And of course, no visit to Tofino would be complete without trying the local food. The town has a growing food scene, with plenty of great restaurants and cafes to choose from.
Overall, if you're looking for a great place to surf, eat, and enjoy the beach lifestyle, Tofino is definitely worth a visit. And, if you want to arrive in style, try flying to Tofino in a seaplane!
Where to Stay in Tofino, BC
If you're looking for the best places to stay in Tofino, there are plenty of great options to choose from. Whether you're looking for a budget-friendly hostel or a luxurious resort, Tofino has something to fit your needs. Here are some of the best places to stay in Tofino:
Ucluelet
Ucluelet is a small town to the southeast of Tofino. While Tofino draws most of the crowds, Ucluelet (or "Ukee" to the locals) still has world-class waves and beautiful beaches. Ukee is a favorite spot for seasoned surfers looking for a less busy surfing experience.
If you're looking for an exciting and more challenging surfing experience, Ucluelet is the place to go.
Florencia Bay is just a short drive northwest of Ucluelet. This protected bay has smaller beach breaks, making it a good surf spot for windy days. Keep an eye out for the rip current in the center of Florencia Bay near Lost Shoe Creek, as well as submerged rocks.
Wickaninnish Beach connects to the south side of Combers and Long Beach, creating 16 km of incredible sandy beach. With sandbar breaks, you'll have a lot of fun here! Watch out for the strong rip current along the south side of the beach, as well as transient rip currents along the middle.
Both Florencia Bay and Wickaninnish Beach are in the Pacific Rim National Park Reserve, so the beaches won't be lined with houses like near Tofino. As well, on the edge of Wickaninnish Beach, you'll find the Kwisitis Visitor Centre, a great place to learn about the west coast and its people.
Ucluelet also has a lot to offer beyond surfing. Explore the calm waters of Ucluelet Harbour with a kayaking tour. Walk the Wild Pacific Trail to check out the Rocky Bluffs, Ancient Cedars, Artist Loops, Brown's Beach, Amphitrite Lighthouse, and Big Beach shipwreck. Or, head out for a day of beachcombing at Terrace Beach or Little Beach. There is also some excellent whale watching around Ucluelet, with chances to spot humpback whales, orcas, sea otters, and so much more.
Where to Stay in Ucluelet, BC
Are you trying to decide on where to stay in Ucluelet? Check out our recommendations for the best hotels and places to stay in Ucluelet:
Jordan River
Don't want to head up island to surf? If you're looking for a good surf spot in southern Vancouver Island, check out the waves at Jordan River. Only a short drive from Victoria, Jordan River Regional Park is a popular spot for both local and visiting surfers.
Jordan River has surfing year-round, but the best waves typically occur in the winter between September to March. However, the waves can be unpredictable, so it's always a good idea to check the Jordan River surf report before you go. You might need to extend your trip if the conditions aren't quite right.
Make sure to have good surfing etiquette while at Jordan River. Some of the locals get quite territorial here – there just isn't as much space in this spot as there is near Tofino!
Unlike the beaches in the Pacific Rim area, Jordan River is rocky with reef and point break surf. You have to be careful about rocks under the water, as well as currents. If you're new to surfing, it might be best to wait to surf at Jordan River until you have a bit more experience under your belt.
If you want to make a weekend out of it, the Jordan River Regional Park Campground is a great place to stay. The campground is right next to the beach, so you can fall asleep to the sound of the waves and wake up early to catch the best waves.
After surfing, if you have some time to kill, check out Sandcut Beach. This hidden gem is only a short drive from the Jordan River Campground. Sandcut Beach features two awesome waterfalls that pour right onto the beach and also offers incredible views of the Strait of Juan de Fuca.
Overall, if you're looking for a great place to surf in British Columbia, Jordan River is definitely worth a visit.
Where to Stay near Jordan River, BC
If you plan on surfing at Jordan River, you're probably wondering where to stay nearby. While there aren't any hotels right at this surf spot, you can camp nearby at the Jordan River Regional Park Campground. The campsites are right next to the beach so you can grab your surfboard and hit the waves first thing.
If you don't want to stay at the Jordan River Regional Campground, here are some options:
Sombrio Beach
The beautiful, rugged Sombrio Beach is located in the Juan de Fuca Provincial Park, about a two-hour drive from Victoria. With great waves, Sombrio is considered one of the best spots for surfing in the Juan de Fuca Provincial Park, as well as southern Vancouver Island.
While there are rideable waves year-round, the best time of year for surfing at Sombrio Beach is the winter (about October to March). Expect the water to be chilly!
Even though Sombrio has some underwater hazards (reefs and rock), the reef and beach breaks are often beginner-friendly. And, with the right conditions, it's also a great place for more experienced surfers to ride the waves.
Sombrio Beach is a favorite among surfers looking to escape the crowds at the Pacific Rim beaches. However, it's also quite popular with beachgoers, hikers, and campers. This means the beach itself can get quite busy in the summer, although there aren't always many people out riding the waves.
Sombrio Beach is one of the stops on the Juan de Fuca Marine Trail, a 47-km long backpacking trail that goes from China Beach (another decent surf spot) all the way to Botanical Beach near Port Renfrew. Also, on East Sombrio Beach, there's a beach cave with V4+ bouldering, as well as a hidden waterfall – follow a small creek up into the woods to find this incredible spot!
Where to Stay near Sombrio Beach
If you like camping, the best place to stay near Sombrio Beach is…. on the beach itself! As part of the Juan de Fuca Marine Trail, you can camp along Sombrio Beach. There are backcountry campsites, bathrooms, and food caches. If you prefer front-country camping, you can also stay at China Beach Campground (about a 30-minute drive away from Sombrio).
Your other option is to stay in a Port Renfrew hotel, about 20-25 minutes away. In winter, you can also surf on Pacheedaht Beach in Port Renfrew. Here are some of the best hotels in Port Renfrew:
Haida Gwaii
Haida Gwaii is a hidden gem for surfing off the coast of British Columbia. Not many people know about this incredible archipelago, but those who do often come back for its epic waves, remote wilderness, and stunning scenery.
North Beach near Masset is the best spot for surfing on Haida Gwaii. As the name implies, this surfing spot is on the northern edge of Graham Island, Haida Gwaii. The nearby Agate Beach also has some awesome swells.
Located in the beautiful Naikoon Provincial Park, North Beach has kilometers of sand that's so flat you can drive a vehicle across it. North Beach is neighbored by the stunning Tow Hill and gorgeous Rose Spit. On clear days, you can even see all the way to Alaska. Well known for its dramatic landscapes, North Beach is a perfect place to take in the beauty of Haida Gwaii while catching some waves.
If you're tired of the crowds at Tofino, you'll probably love surfing on Haida Gwaii. Even with perfect conditions, you'll often be the only person out riding the waves. If you don't live on Haida Gwaii, it's a bit of a trek to get to these awesome waves. But, we promise they're worth it!
There are other decent surf spots around Haida Gwaii, but the northern edge of Graham Island is the best. You can try East Beach near Tlell or Bonanza Beach at Rennel Sound near Queen Charlotte.
Be prepared for the cold, however. Haida Gwaii has some of the coldest waters you'll ever surf. You'll probably need a 6/5 wetsuit or at least a 5/4. If you can stand the cold, Haida Gwaii is definitely worth a visit for any surfing enthusiast.
Where to Stay in Haida Gwaii, BC
If you're planning on surfing North Beach or Agate Beach, the best place to stay is definitely the Agate Beach Campground. Open year-round, this first-come, first-served campground is located right on the beach and has incredible views of the surrounding landscape.
Alternatively, if you're looking for accommodations, here are some options:
Final Thoughts
When you're ready to hit the waves, be sure to check out these amazing locations if you want to find the best surfing in British Columbia. With a variety of great waves and beautiful beaches, BC is the perfect place to catch a wave. So grab your board and head to one of these great spots for an unforgettable surfing experience.
Top Travel Tips & Resources for BC
Travel Insurance – If you're travelling internationally, travel insurance is a must for any trip. Being covered by insurance is especially important when you're going to an adventure-filled place like British Columbia. If you injure yourself while adventuring, you want to have insurance! We recommend using SafetyWing for international travel insurance. They are affordable and have great policies for travellers, digital nomads, and remote workers. Also, SafetyWing provides COVID-19 coverage, which many other insurance companies don't cover.

Car Rental – We find the best deal on vehicle rental prices using RentalCars.com. They compare the prices for different car rental companies so you can find the best deals out there!

Accommodations – We prefer booking all of our hotels, hostels, and other accommodations through Booking.com because they have a flexible cancellation policy. Also, there are lots of different options on their platform, from hotels to vacation homes. Alternatively, Expedia and Hotels.com are good for booking accommodations. For vacation home rentals, VRBO is an excellent choice (they have lower fees than Airbnb, many of the same properties, and are more ethical).

Flights – You can find many good flight deals on Google Flights or Kayak. If you fly at less popular times (e.g. mid-week or red-eye flights), you can save some money.

Tours – Get the most out of your vacation by taking a guided tour! This is a great way to see the city, adventure to exciting new locations, and learn about the local culture. Viator or GetYourGuide are great options for booking tours.