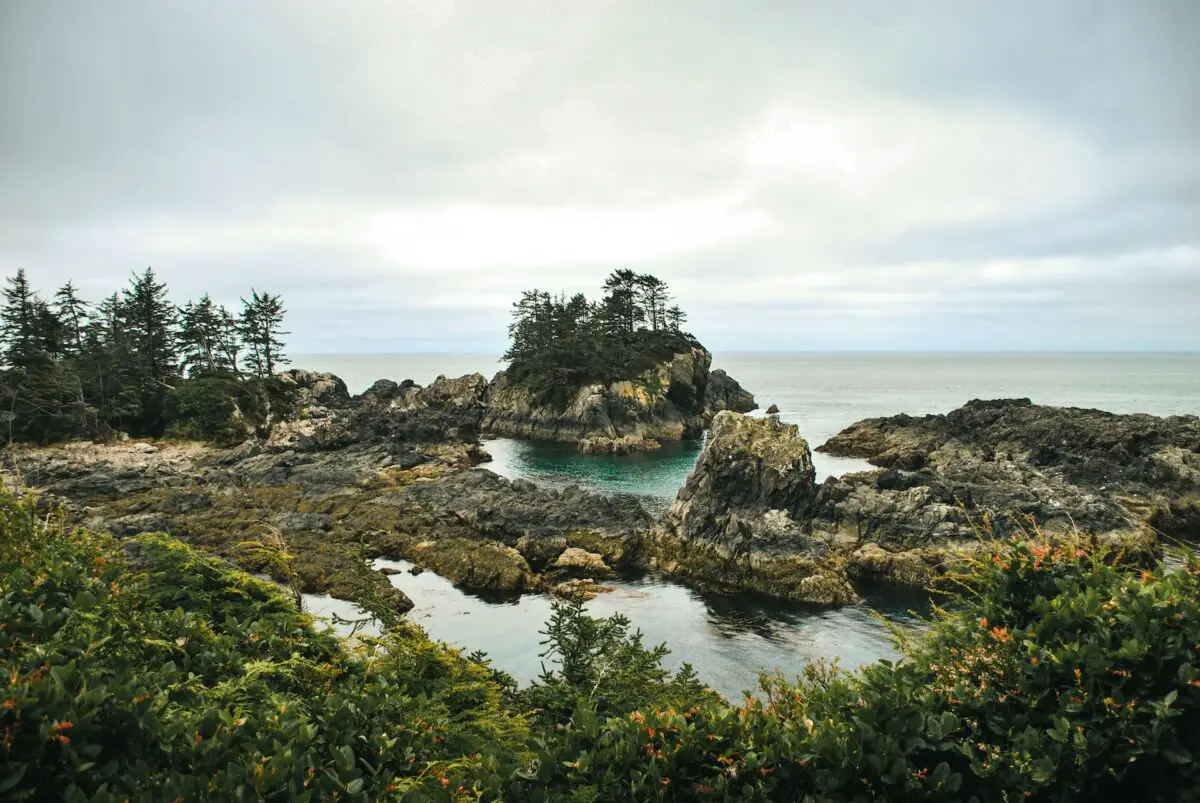 Ucluelet (also known as Ukee by locals) offers some of the most spectacular natural beauty that British Columbia has to offer. This charming seaside town is located on the western coast of Vancouver Island and features expansive sandy beaches, world-class surfing, and spectacular views.
While often overlooked for the nearby popular Tofino, some of the best things to do in the area are found around Ucluelet. From catching the best waves on Wickaninnish Beach to exploring the local coastal hiking trails, here are the top things to do, places to see, and activities in Ucluelet, BC to add to your itinerary.
Disclaimer – This post contains affiliate links. We may receive a commission if you make a purchase through these links, at no extra cost to you. Thank you for your support! Learn More.
What Are the Best Things to Do in Ucluelet?
Walk the Wild Pacific Trail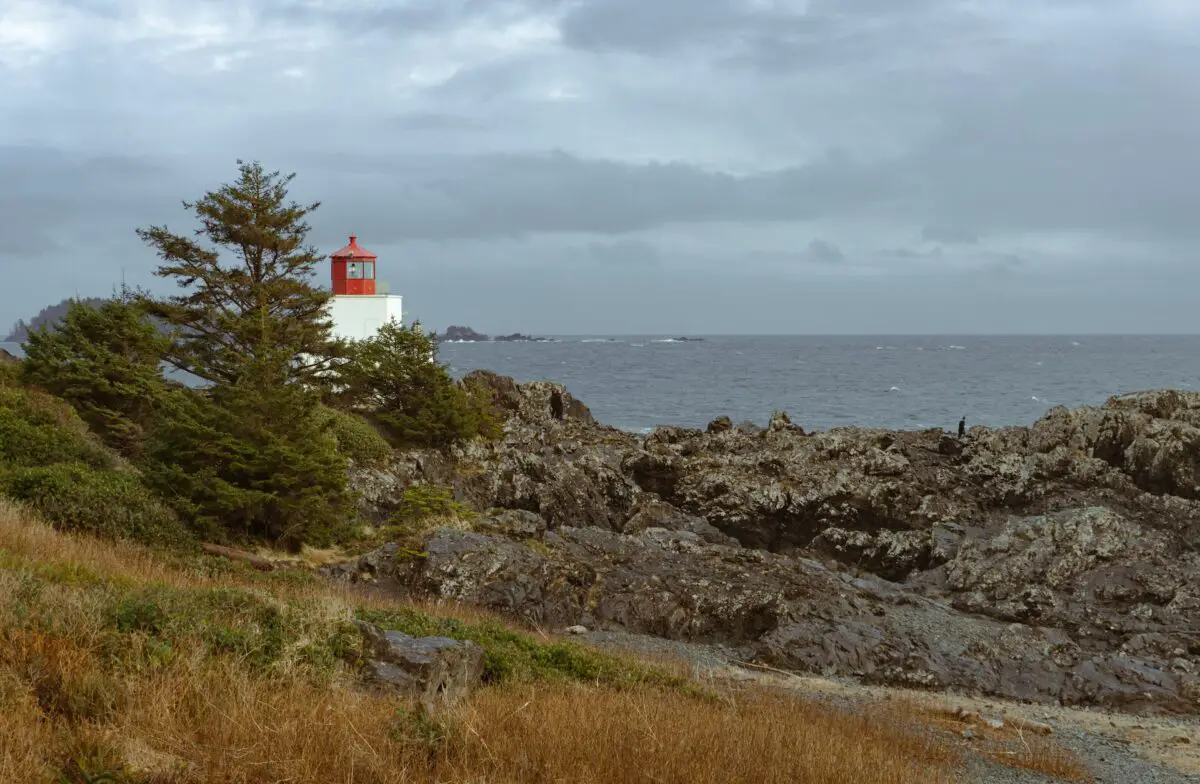 The Wild Pacific Trail is a beautiful pathway that winds its way along the coast of Ucluelet, offering stunning Pacific Ocean vistas and views of Vancouver Island's coastline.
Perfect for an afternoon walk, the Wild Pacific Trail is a popular destination for hikers and nature lovers. Along the trail, you'll find a mix of old-growth forests, rocky beaches, and tide pools.
Make sure to spot Amphririte Lighthouse, a historic building constructed in 1906. Stop at Shipwreck Point Lookout by Big Beach, where you'll see the remains of an old shipwreck. Look hard – it is difficult to spot!
Also, make sure to walk the Ancient Cedars Loop. Here, you'll find two massive 800+ year old red cedars.
Whale Watching Tours
Whale watching tours from Ucluelet are an excellent way to view some of British Columbia's most magnificent marine creatures. The tours start in March and are offered all the way through to mid-October.
On these ocean adventures, you'll have opportunities to spot all kinds of species. In the spring, thousands of gray whales pass by the shores of Ucluelet on their migration. Humpback whales frequent the region's waters, most commonly spotted in June through September. Orcas and porpoises are also spotted off the coast.
Not only that, but you'll also have the chance to see other animals like sea otters, seals, bald eagles, sea lions, and even coastal black bears!
Most of the whale-watching tours are about a half-day long. You'll cruise around the ocean of the Barkley Sound looking for whales and other marine species in a cabin cruiser boat or for the adventurous, an open zodiac boat. Keep your eyes peeled – although the keen guides will usually spot the whales first!
Go Surfing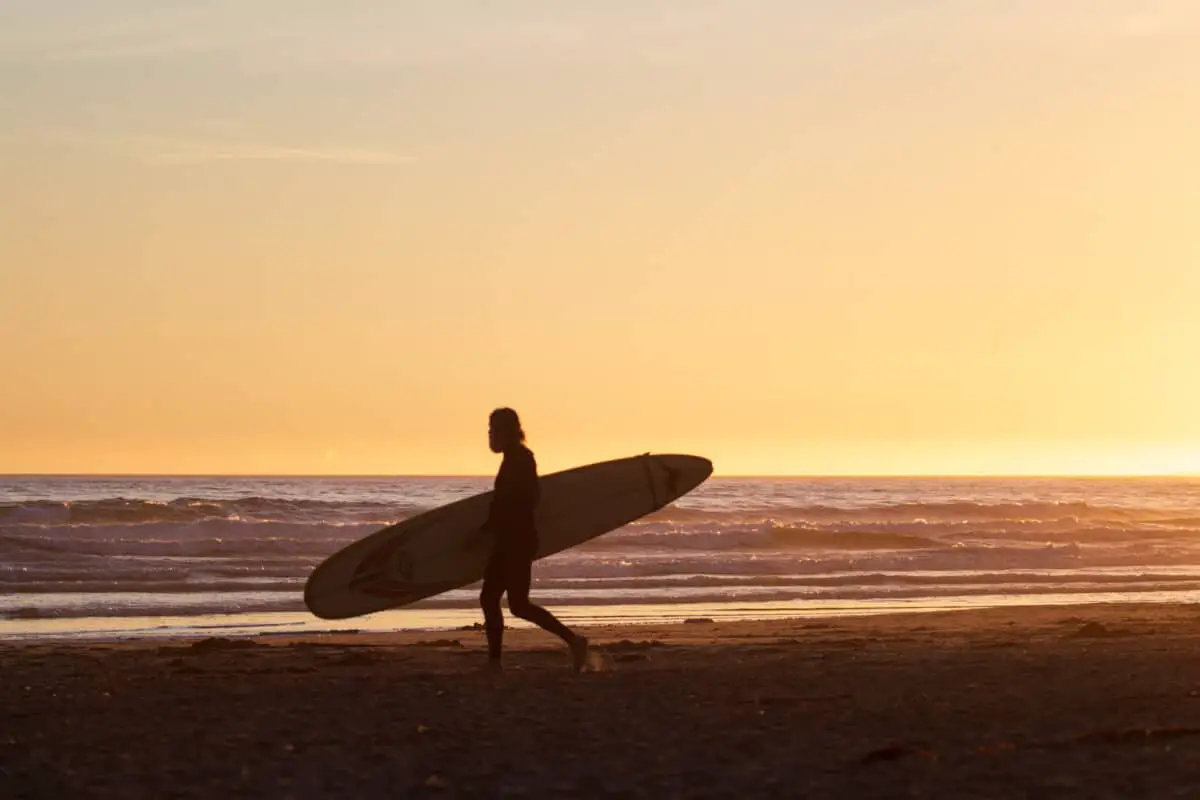 Some of the best beaches for surfing in BC are found between Ucluelet and Tofino. While Tofino is the famous surf town, it takes less than an hour from Ucluelet to reach all the best world-class surf beaches along the peninsula. With amazing waves and beautiful beaches, you can't visit Ucluelet without trying surfing!
The best beach for surfing near Ucluelet is Wickaninnish Beach, part of Long Beach in Pacific Rim National Park Reserve. Here, you'll find kilometers of sandy beach with perfect waves almost constantly rolling in.
If you don't mind going a bit further, other excellent beaches along the coast for surfing include Cox Bay Beach (one of the best surfing beaches near Tofino), North and South Chesterman Beach, and Mackenzie Beach. These beaches are closer to Tofino but are definitely worth the drive!
Don't know how to surf? Don't worry! There are plenty of awesome surf schools in the area that will patiently teach you to stand up on your surfboard and catch the waves.
Additionally, you don't need to bring your own gear – there are lots of gear rental shops in both Ucluelet and Tofino where you'll be able to rent a surfboard and wetsuit for a day (or more)! But, if you plan to pick up surfing as a hobby, check out our article on the most essential surf gear you'll need!
Ocean Kayaking
One of the best ways to see Ucluelet is by ocean kayak. From the water, you'll see the area with a whole new perspective and get to explore some spots that aren't accessible by land.
With sheltered waters, the Ucluelet Inlet is one of the best places to go sea kayaking around town. Another great spot is Toquart Bay near Secret Beach. Or, if you're really adventurous, try a multi-day trip to the Broken Group Islands, an unforgettable way to experience the wild West Coast.
Not experienced with kayaking or don't have your own gear? Try this half-day Ucluelet Harbour kayaking tour. You'll launch at the harbour and explore around the Ucluelet Inlet with an experienced kayaking guide.
Head to the Beach
The coast between Ucluelet and Tofino is home to some of BC's best and most beautiful beaches. From breathtaking sandy beaches that stretch on endlessly to small pocket beaches lined with tidepools, you'd be missing out if you didn't head to the beach on a trip to Ucluelet!
Some of the best beaches around Ucluelet are in the Pacific Rim National Park Reserve, just 15-minutes northwest of town. Within the park, the closest beaches to Ucluelet are Florencia Bay and Half Moon Beach, perfect for beachcombing, tide pooling, and sunbathing. For surfers, Wickaninnish Beach – part of the popular Long Beach – is the best option nearby Ucluelet.
You don't have to go far from town to see beautiful beaches. Closer to Ucluelet, you'll also find several gorgeous sand or pebble beaches, including Terrace, He-Tin-Kis, Wya, Ucluth, and Big Beaches. Each of these beaches is unique and worth checking out!
For those who want to venture further, both Cox Bay Beach and Chesterman Beach have jaw-droppingly beautiful scenery. These are two very popular surf spots near Tofino, and about a 35-minute drive from Ucluelet.
The beaches offer plenty of things to do… not just surfing. From sunbathing to oceanside strolls, there's something for everyone!
Paddle the Broken Group Islands
The Broken Group Islands are a cluster of over 100 islands and islets in the Barkley Sound. Located to the southeast of Ucluelet between the Loudoun and Imperial Eagle Channels, this set of Canadian islands is a popular paddling destination due to its breathtaking scenery and sheltered waters.
Exploring the Broken Group Islands Unit is best done by ocean kayak. Paddling through the Broken Group takes you through a maze of islands, by sea caves and beaches with white sand, and past culturally significant sites for the local First Nations, with chances to spot marine wildlife like whales along the way.
Most kayakers will take a water taxi with their gear to the islands, or launch from Secret Beach near Ucluelet. Paddling straight from Ucluelet to the Broken Group isn't a great idea due to the open waters of the channels.
For those who don't know the area or are inexperienced with kayaking, the best way to visit is with a Broken Group Islands kayaking tour. You'll go with an experienced tour guide who knows their way around the islands. They'll make sure you know the fundamentals of ocean kayaking, help you to safely navigate through the islands, and will show you all of the best spots.
Storm Watching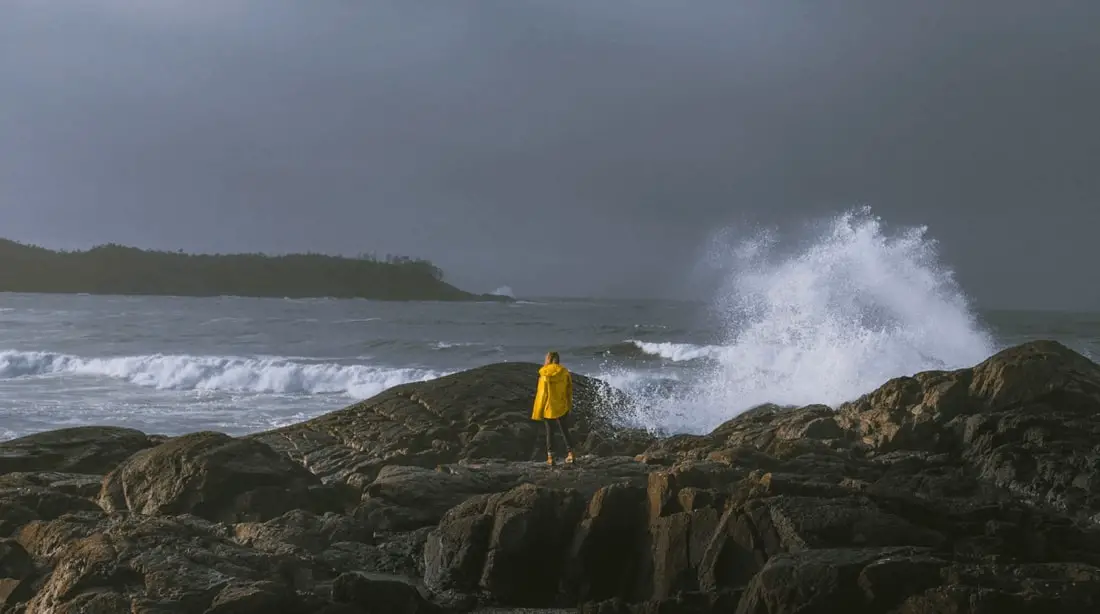 Winter in Ucluelet means one thing – storms! During this time of year, wild storms roll in from the Pacific Ocean and hammer the coastline, forming gigantic waves that can only be handled by the pro surfers. Don't let this stop you from visiting Ucluelet though – watching these storms is an incredible experience!
One of the best things to do in Ucluelet during the winter months is storm watching. From November to February, you'll get to experience the raw power of these coastal storms. The waves get up to 30 feet high, crashing into the coastline with unimaginable strength.
If you're brave, venture out to the beaches during stormy weather – just make sure to wear appropriate rain gear and don't get too close to the ocean in case of larger-than-expected waves. However, in our opinion, some of the best storm watching is done indoors (or in an outdoor hot tub).
One of the best indoor storm watching spots around Ucluelet is the Kwisitis Visitor Centre on Wickaninnish Beach, a First Nations educational facility. The centre has large oceanfront windows, offering excellent front row seats to all the action.
Want to watch storms right from your hotel room? We highly recommend staying at the Black Rock Oceanfront Hotel. They have a number of oceanfront rooms available where you can watch the storms. Make sure to book one of the ocean-facing rooms early!
Ucluelet Aquarium
The Ucluelet Aquarium displays some of the amazing marine diversity that the coastal waters of the Pacific Ocean around Ucluelet and Tofino have to offer.
Colorful starfish, octopi, anemones, fish, and other wonderful species fill the tanks here. All of the animals are captured from the local waters for a season before being released back into their natural habitat. There are also touch tanks so you even get to handle some of these incredible animals.
Because it's indoors, a visit to the Ucluelet Aquarium is one of the best things to do on a rainy day (although it's great in any weather). Also, kids have a blast here so it's a great option if you're looking for activities that are family-friendly!
After visiting the aquarium, why not head out for some tide pooling? Head to beach with a sea life field guide and try to find some of the marine animals you just learned about!
Explore Downtown Ucluelet
Walking through Ucluelet's downtown is a must for anyone who wants to get a feel for this small coastal town's charm. Packed with artwork, rustic buildings, and surf vibes, downtown Ucluelet embodies the unique culture that's developed in the region and is lots of fun to explore.
Downtown Ucluelet isn't that big, making it easy to get around on foot. You'll find a variety of cute cafes with baked goods, gift shops featuring local goods, and restaurants with great food. You'll also find the Ucluelet Aquarium at the harbour.
Explore Tofino
When visiting Ucluelet, you'll only be about a 45-minute drive away from Tofino. You don't want to miss adding a visit to this world-class surf town onto your Ucluelet itinerary!
Tofino is known for some of Canada's best surfing spots, incredible storm watching, and massive sandy beaches. The town itself is packed full of awesome restaurants, unique cafes, art galleries, and other quaint shops, all with a laid-back atmosphere.
There's plenty of things to do in Tofino, like the tour to Hot Springs Cove, visiting Meares Island, and eating at the original Tacofino. The seaside town also offers many unique activities, like hiking to the Canso Bomber Crash Site or visiting sea caves on Chesterman Beach.
Don't have a car? You can also bike between Tofino and Ucluelet with the multi-use pathway (MUP) and ʔapsčiik t̓ašii (pronounced ups-cheek-tashi) trails.
Enjoy a Scenic Seaplane Flight
Get a bird's eye view of the stunning coastal scenery of Ucluelet with a scenic seaplane flight. If you thought the landscape of Ucluelet was beautiful from the ground, you'll find it even more spectacular from the skies!
Seaplane tours take off right from the ocean at the Ucluelet Water Aerodrome. Board one of the floatplanes, take off right from the water, and soar above the beautiful peninsula and waters of Ucluelet. The experience is breathtaking and unforgettable!
Top Travel Tips & Resources for Ucluelet, BC