With seemingly endless sandy beaches, rainforest hiking trails, natural hot springs, dreamy sunsets, and the best surfing in all of Canada… it's hard to not fall in love with Tofino, BC.
Located on Vancouver Island's western edge, Tofino is a small town that packs a big punch when it comes to natural coastal beauty. If you're looking for fun things to do on the island, Tofino is one of the best places to head — especially if you love being outdoors!
Tofino captured our hearts from the moment that we first visited. We live in Victoria so we're used to beaches — but Tofino is just something else. We keep going back every year because it's just so beautiful!
From surfing some of the best waves in Canada to exploring the massive Pacific Rim National Park, there's never a shortage of top things to do in the West Coast paradise of Tofino.
Below, we cover the best things to do and see, must-see attractions, and hidden gems in Tofino, BC. Whether you're a first-time visitor or a seasoned traveler, our guide will help you find the most unforgettable experiences in this stunning coastal town. Get ready to fall in love with Tofino, one of the most beautiful destinations in all of Canada!
Disclaimer – This post contains affiliate links. We may receive a commission if you make a purchase through these links, at no extra cost to you. Thank you for your support! Learn More.
Best Things to Do in Tofino
1. Surf the Waves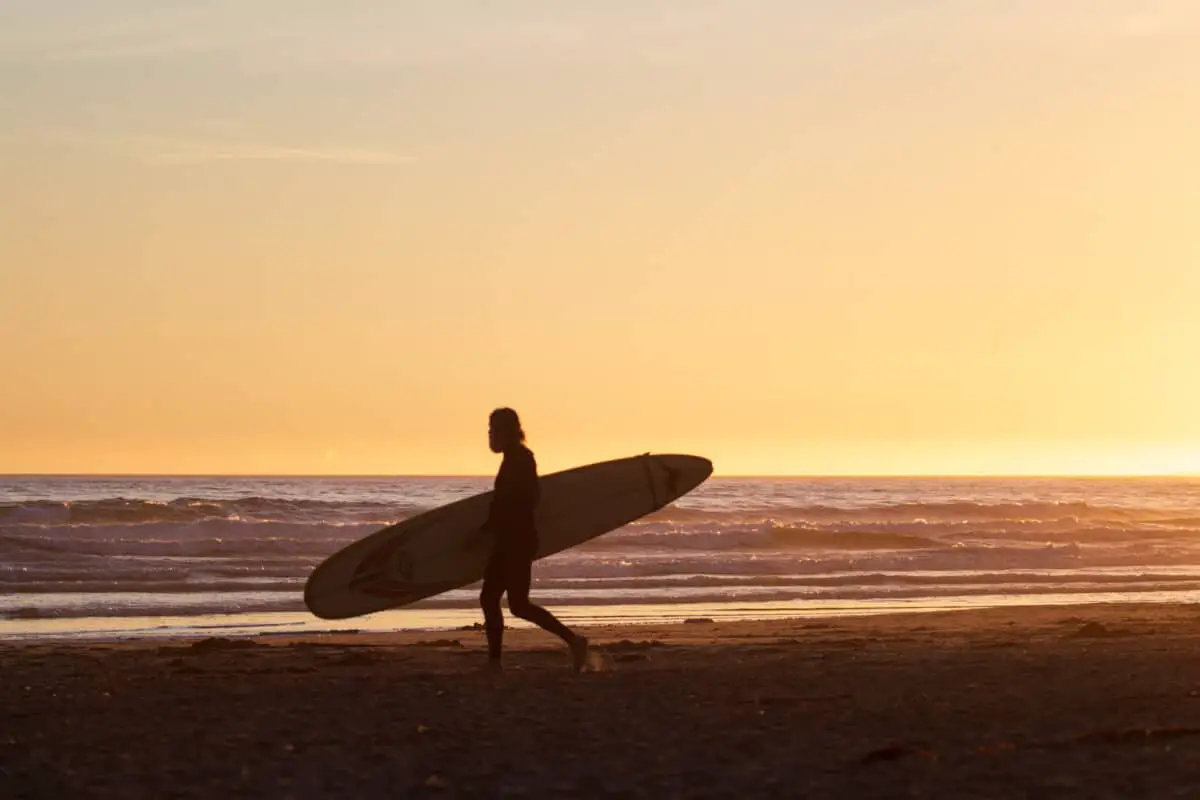 Known as Canada's surfing capital, Tofino is famous for having some of the best cold-water waves in the world.
Tofino's reputation is well-deserved: the beach break waves here are consistently good year-round and the sandy beaches are massive and forgiving to wipeouts. Plus, there are surfing opportunities for every skill level, from the beginner-friendly waves of North Chesterman Beach to massive winter swells at Cox Bay.
Surfers from all over the globe travel to Tofino to ride the world-renowned waves at Cox Bay Beach or surf at the massive Long Beach in Pacific Rim National Park Reserve. When visiting Tofino, surfing is definitely one of the best things to do — you don't want to miss out on this fun-filled experience!
Don't worry if you've never surfed a day in your life, though — there are plenty of surf schools ready to teach you the ropes. Beginners have plenty of gentle waves and whitewash to practice on. Also, there are lots of spots to rent a surfboard and wetsuit if you don't own your own cold-water surf gear.
Some of the most popular surf spots in Tofino are Cox Bay, Chesterman Beach, and Long Beach. All of these beaches are incredibly beautiful and offer excellent beach break waves that'll have you out on the water until the sun goes down.
For those wanting to stay as close as possible to the surf, we recommend staying at Pacific Sands Beach Resort or Long Beach Lodge Resort. Both hotels are right on Cox Bay Beach so you can enjoy direct access to the ocean!
2. Relax at Hot Springs Cove
Hot Springs Cove is a must-visit for anyone seeking relaxation while experiencing the natural beauty of the West Coast.
With a number of geothermal pools surrounded by rugged coastal rock and lush rainforest, Hot Springs Cove near Tofino features some of the most beautiful naturally heated pools in all of Canada!
These geothermal hot springs are located in Maquinna Marine Provincial Park, northwest of Tofino by 27 nautical miles. To get there, you either need to take a 1.5 hour boat ride or 20 minute seaplane flight — or combine the two for a fantastic "Sea to Sky" experience!
When you arrive at Hot Springs Cove, you'll have a 1.5-km walk along a rainforest boardwalk to reach the hot springs. Once there, choose between seven different pools that vary in temperatures, from the hot inland springs to the cooler oceanside pools.
A breathtaking place to visit, Hot Springs Cove is definitely worth a visit from Tofino. Remote and rustic, these half-day tours provide an unforgettable experience!
3. Go Storm Watching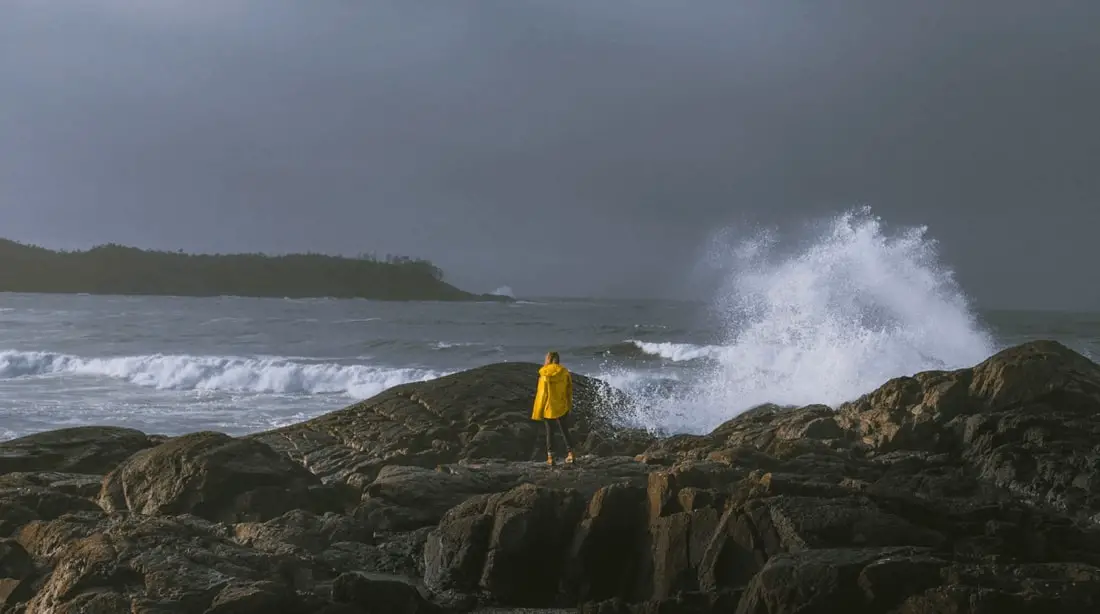 Storm watching is one of the best things to do in winter in Tofino.
From October to March, powerful storms regularly roll in off the Pacific Ocean, hammering the exposed coastline between Tofino and Ucluelet with epic, gigantic waves. Many people visit Tofino in winter just to watch these impressive displays of nature's power.
The best way to experience these storms is from the comfort of a cozy hotel room with an ocean view. Here are some of Tofino's best hotels for storm watching!
Not staying at an oceanfront hotel? You can safely watch storms from the observation deck at the Kwisitis Visitor Centre on Wickaninnish Beach. Or, put on some rain gear and brave the stormy weather with a walk on Cox Bay, Chesterman, or Long Beaches.
The winter weather in Tofino can be unpredictable… but that's part of the appeal! There's something exhilarating about being out in the elements and feeling the power of the storm. Just be sure to stay away from the water when the waves are high!
4. Walk Long Beach in Pacific Rim National Park
Expansive and beautiful, Long Beach is one of the crown jewels of Vancouver Island's western coast. Part of the Pacific Rim National Park Reserve, Long Beach is a must-see destination in Tofino.
As the name implies, Long Beach holds the title for the longest beach in all of Vancouver Island. The Long Beach Unit, which includes Schooner Cove, Wickaninnish, Combers, and Florencia Bay, spans over 16 kilometers!
Want to take a long walk on the beach? Head to Long Beach! The beach truly feels endless — perfect for those who love walking alongside the ocean.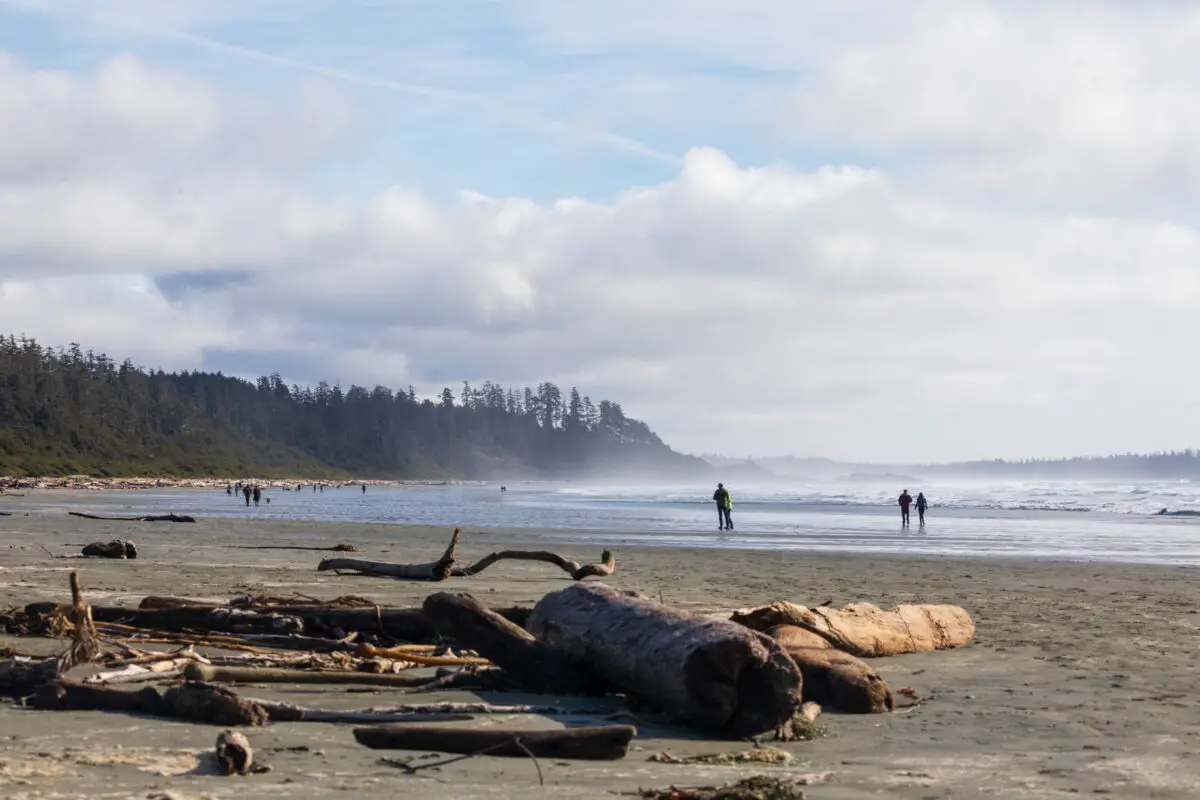 For an 8-km adventure, walk between Incinerator Rock and Green Point on Long Beach. Along the way, stop to watch the surfers, go beachcombing, or sit on some driftwood and take in the beauty of the white sand, ocean mist, and waves.
The beach where Tofino's surf culture was born, Long Beach is also quite popular for surfing in summer. Also, if you're lucky, you can score a campsite at Green Point Campground to stay close to the waves!
5. Hike the Cox Bay Lookout Trail
The Cox Bay Lookout Trail is a hidden gem and one of our favorite spots to visit in Tofino.
Starting at Cox Bay Beach, this hiking trail is unmarked, muddy, and almost straight uphill — so why the heck do we consider it one of the best things to do in Tofino?!
Well, at the top of the Cox Bay Lookout, you'll find some of the most spectacular views in all of Tofino. Trust us, these views really can't be beat!
The Cox Bay Lookout offers panoramic views of the crescent-shaped Cox Bay Beach, the Esowista Peninsula, Clayoquot Sound, and beyond. You'll even be able to watch the waves roll in to Cox Bay from far out in the ocean!
You'll need a good pair of hiking boots and determination to get to the top of this short but steep 2.6-km trail — but it's oh-so-worth it!
6. Go on a Whale Watching Tour
Tofino is a great place to go whale watching!
For an unforgettable experience, join one of the whale watching tours departing from Tofino daily, from March through October. You'll have the opportunity to spot some incredible marine animals in their natural Pacific Ocean habitats.
From huge humpbacks to the iconic orcas, there are many whale species to spot around Tofino. Transient orcas hunt seals in the waters of the Clayoquot Sound. In spring, thousands of grey whales (over 20,000!) migrate past Vancouver Island, on their long journey to Alaska. Later, through the summer, about 6,000 humpback whales also swim through Tofino's waters.
With some luck, you might also see smaller cetaceans, like harbour porpoises and Pacific white-sided dolphins. And, there's a myriad of other marine species in the area so you're bound to see other animals like sea lions, harbour seals, sea otters, and seabirds like tufted puffins and bald eagles.
The wildlife viewing tours cruise around the ocean in a zodiac, open, or closed boat to find the whales. They usually have a guarantee to see whales, with a 95% success rate. You may even be able to see the whales breach or spy hop out of the water!
7. Hike to the Canso Plane Crash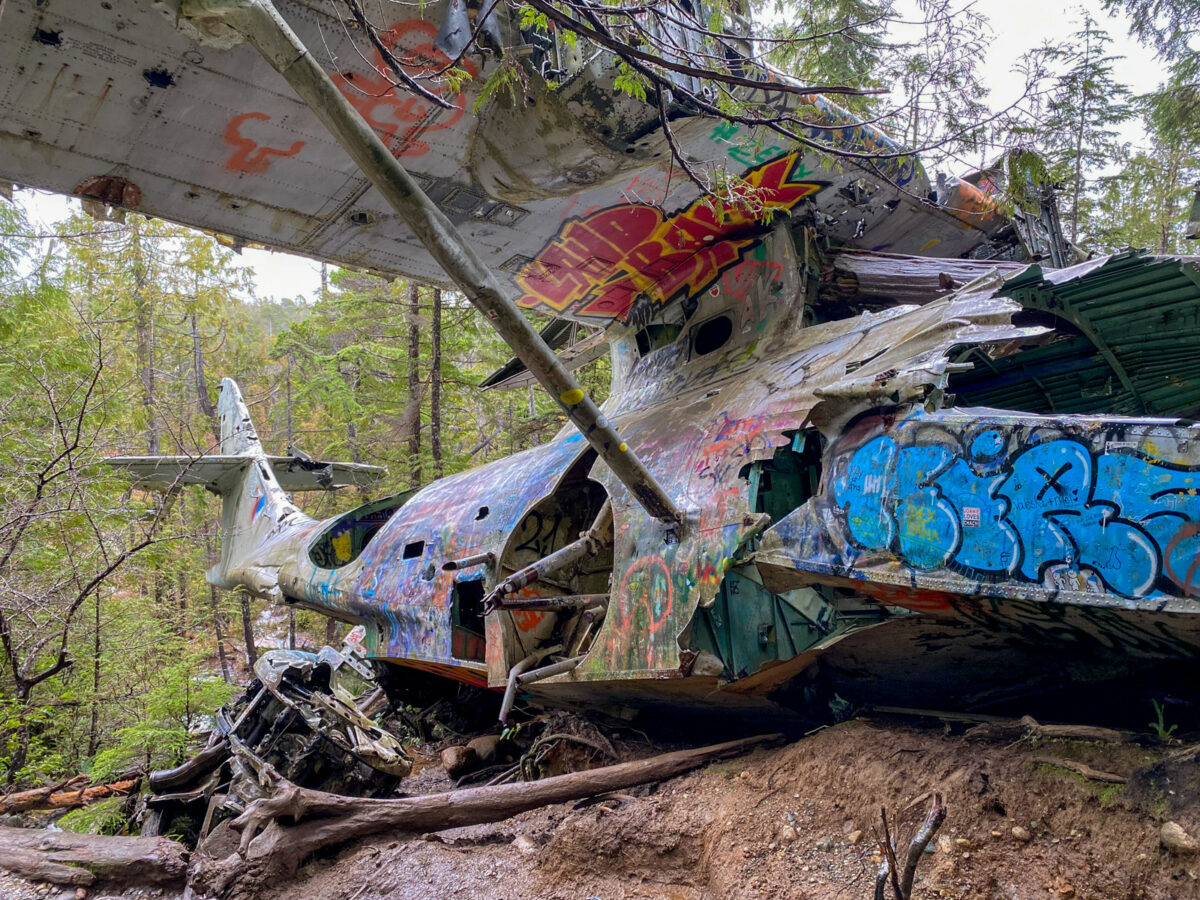 Hiking to the Canso Plane Crash Site is one of the most unique things to do in Tofino.
In 1945, a Royal Canadian Air Force Canso 11007 plane crashed into the forest near Tofino after its engine failed. Despite carrying explosives, everyone on the flight survived. 
Now, the crash site is a popular spot to visit and explore the ruins of the old WW2 plane. Despite how long ago the crash was, the plane's remains are surprisingly intact!
The hiking trail for the Canso Bomber crash site starts near Radar Hill. Make sure to stop at the first parking lot that's close to the highway (don't go all the way to Radar Hill). Then, you'll follow the multi-use pathway south along the Pacific Rim Highway until you find a trail that heads into the forest.
On the way to the crash site, you'll come across an abandoned building. If you're brave, you can walk through it — or go around it, if you don't feel comfortable!
The path then takes you into a bog — this is where the trail gets muddy! But soon, you'll spot your first glimpse of the plane. You can go right up the plane and explore the crash site!
8. Explore the Town of Tofino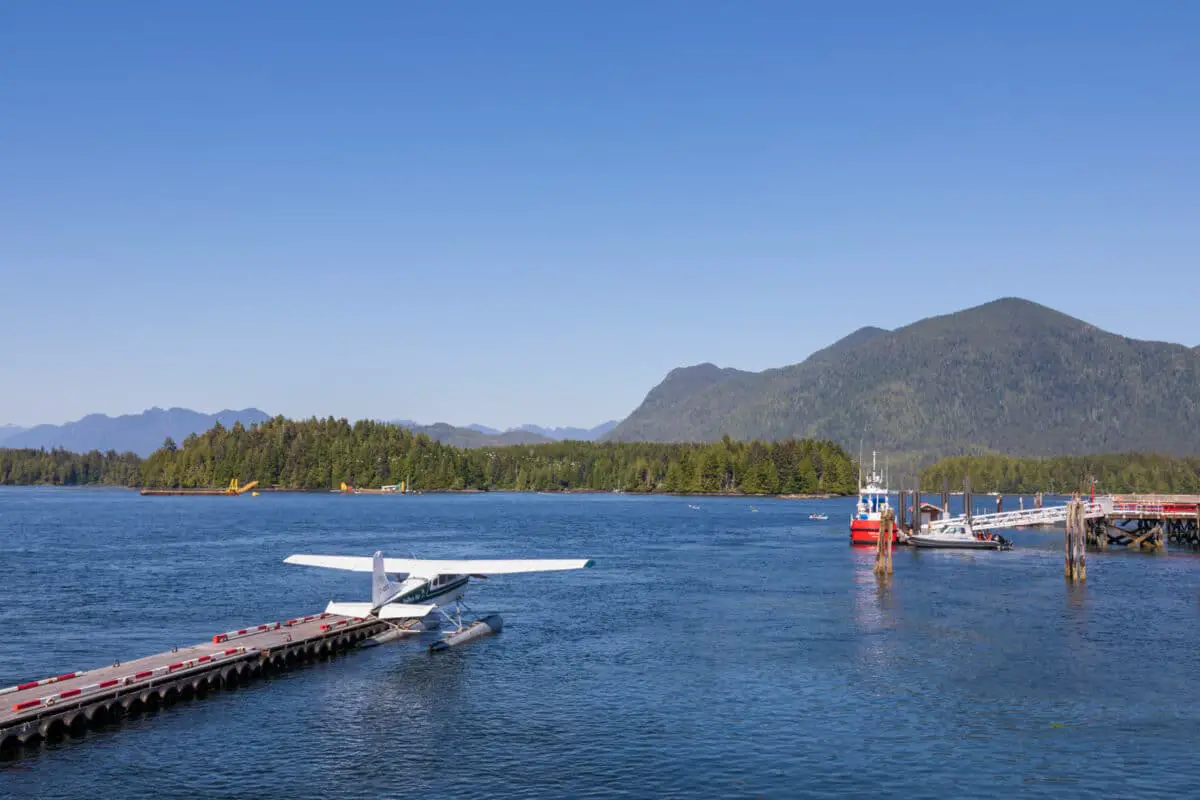 With its distinct bohemian feel and laid-back atmosphere, exploring the town of Tofino is a must-do when visiting this beautiful coastal destination.
Walking through Tofino's quaint streets, you'll discover an array of eclectic shops, cafes, art galleries, and restaurants — all with a surfer vibe, of course. While the town isn't too big, there's lots to see and plenty of things to do!
Those looking for a bite to eat can indulge in fresh seafood and other delicious local dishes at one of the town's amazing restaurants. Souvenir stores scattered through town offer visitors the chance to take home a piece of Tofino's laid-back lifestyle.
For any art enthusiasts visiting Tofino, the Roy Henry Vickers Gallery is one of the best places to check out. Designed like a traditional Northwest Coast longhouse with a painted eagle on its façade, this beautiful gallery really stands out from the rest of town. Inside, you'll find the stunning works of renowned Canadian artist, Roy Henry Vickers, as well as other West Coast artists.
After exploring the gallery, continue your adventure to the marina, which is always buzzing with boats of all sizes coming and going.
Those wishing to explore further can book tours from town that'll take you out onto the water for wildlife viewing, relaxation at hot springs cove, fishing adventures, or a visit to Meares Island. For a breathtaking view of the coastline, try one of the floatplane tours!
9. Eat at the Original Tacofino Food Truck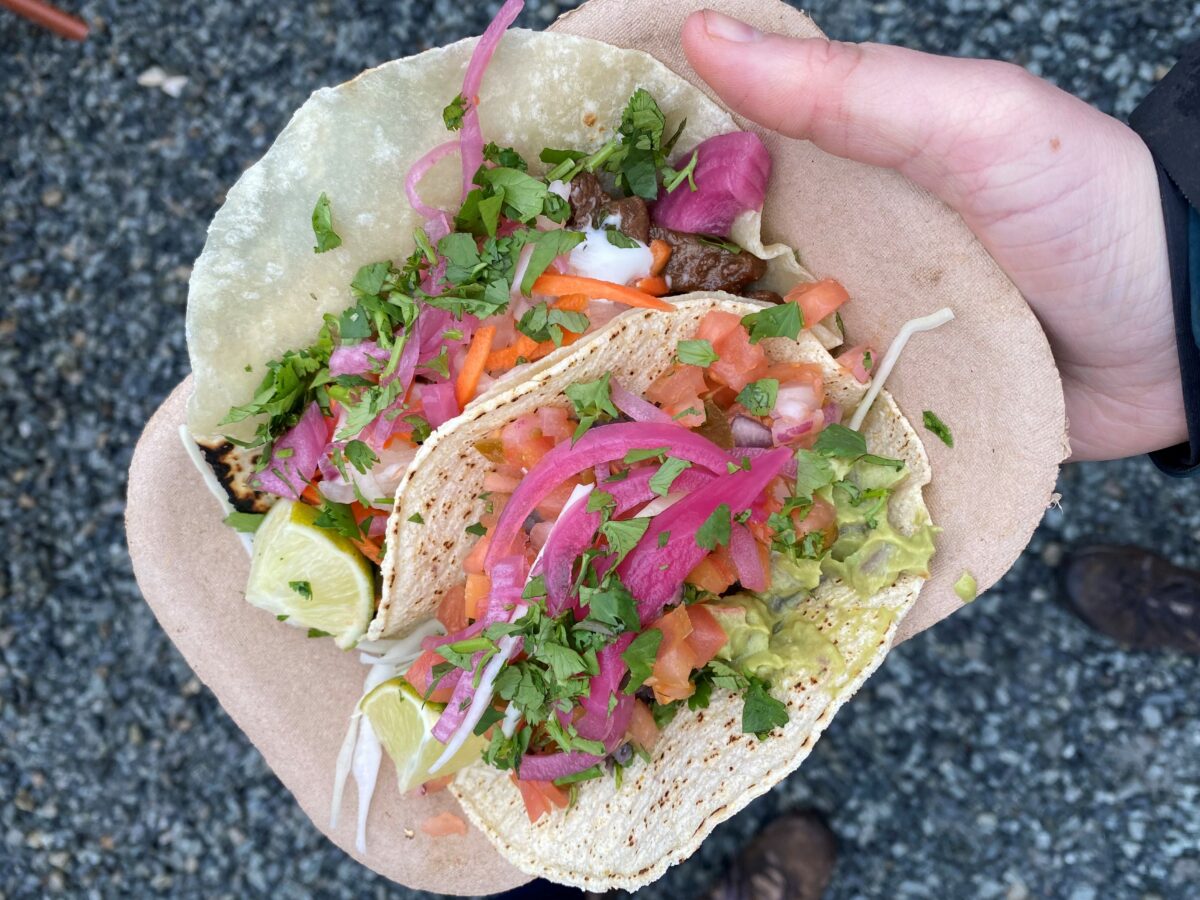 The original Tacofino — a Mexico-inspired restaurant with a West Coast feel — is unsurprisingly located in Tofino. In our opinion, any trip to this surf town is incomplete without stopping at this quirky eatery.
You'll find the original restaurant based out of a food truck that's absolutely plastered in stickers and parked in the back corner of a surf shop parking lot. To us, the entire experience just screams authentic surf town vibes.
While famous for its fish tacos, Tacofino offers a variety of other delicious tacos and menu items, such as burritos and gringas (like a large fried/grilled taco-turned-quesadilla).
When we visit, I almost always get the beef and vegan tacos, while my partner enjoys the tuna ta taco or vegan burrito. No matter what you get, you'll probably enjoy it though!
Complete with only a few outdoor picnic tables, Tacofino is more of a takeout-style dining experience. It's perfect for grabbing a bite to eat at the nearby Chesterman Beach or one of the other beautiful beaches around Tofino.
An incredibly popular place to eat, the line at Tacofino does get pretty long at times. Be prepared for a bit of a wait. But we guarantee it's worth it!
10. Kayak the Broken Group Islands
Part of the Pacific Rim National Park, the Broken Group Islands are one of the most breathtaking spots to go kayaking in all of Canada.  
Beautiful and remote, the Broken Group Islands are a cluster of over 100 islands between Ucluelet and Bamfield. The ocean around the inner islands is sheltered and calm, offering incredible sea kayaking opportunities through awe-inspiring marine wilderness. 
Kayaking the Broken Group Islands requires planning and experience. You can paddle from Secret Beach in Toquart Bay, take a water taxi from Ucluelet, or go as part of a guided kayaking tour. 
Want to explore the Broken Group but don't feel like you have enough experience? Join this 3-day Broken Group Islands kayaking tour! You don't need much experience and they supply the kayak gear, camping equipment, and food. Starting from Ucluelet, your guide will take you safely through these magical and remote islands for a once-in-a-lifetime experience!
For those who aren't quite ready for a full expedition to the Broken Group Islands, try one of the easier paddling locations around Tofino. We recommend the calm waters of the Tofino Harbour or try this guided Ucluelet Harbour kayaking tour.
11. Join a Bear Watching Tour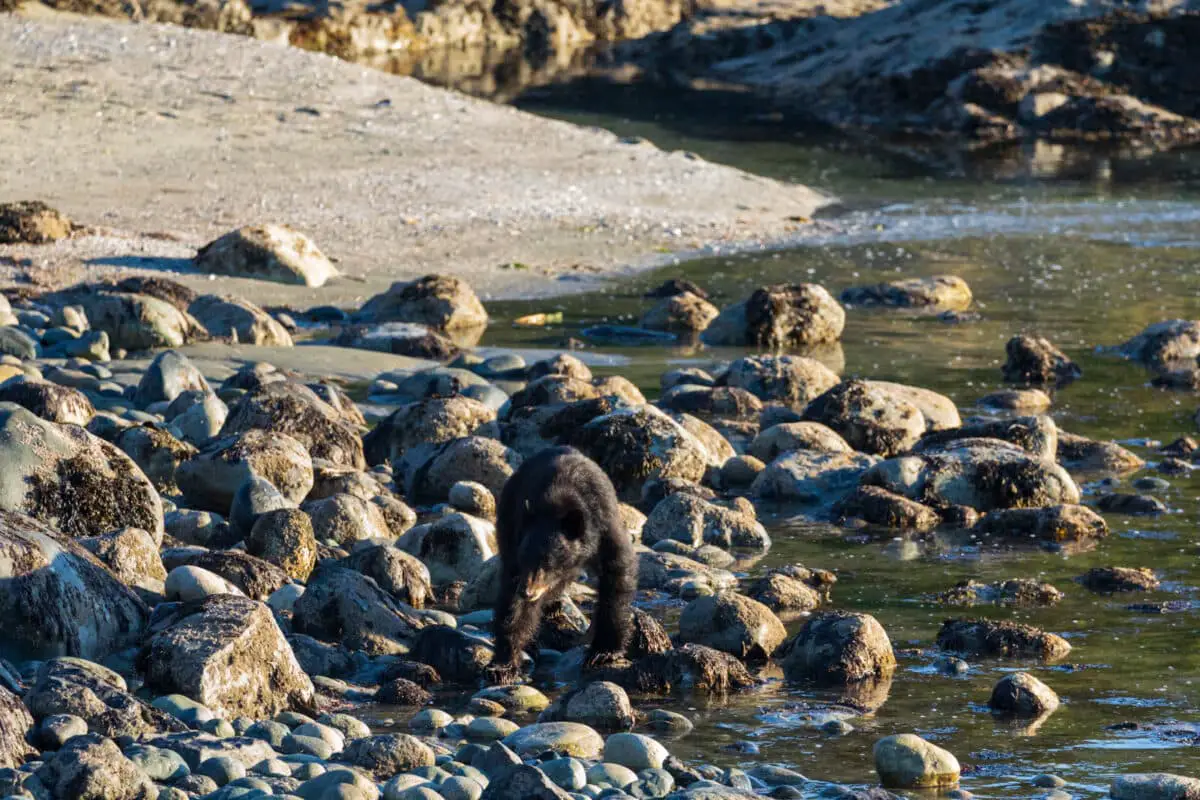 Did you know that Tofino is a great place to spot black bears? 
From April to October, join a bear-watching tour to see wild black bears along the shoreline of the Clayoquot Sound. 
Bear watching tours are about 2.5 hours long. You can choose to go in an open or semi-closed boat.
During low tide, the black bears emerge from the rainforest to feed on crabs, fish, and other marine foods. The tours are timed with the tides to give you the best opportunity to see bears. You might also spot other wildlife along the way, like whales, or if you're lucky, sea wolves!
Even if you don't go on a tour, there's a chance you'll see bears in the wilderness around Tofino and Ucluelet. We've seen them on the edge of Wickaninnish Beach, foraging among the rocks. It's a good idea to bring bear spray when you're going on hikes! 
If you visit Tofino in fall, you might also spot black bears fishing for salmon at the Thornton Creek Hatchery near Ucluelet. The best time for spotting bears at the hatchery is during October.  
12. Walk the Tonquin Trail
Looking for an easy but rewarding walk around Tofino? Try the Tonquin Trail!
Only 3 km long, this coastal hiking trail is well worth the effort. Despite its length, the trail stops at multiple beaches and offers breathtaking ocean views along the way!
Starting right in town, the Tonquin Trail winds through the lush rainforest and along the stunning coastline. The path takes you to the sandy Tonquin Beach, followed by the smaller Third Beach. For those willing to go a bit further, the trail was also extended in 2017, now crossing Tla-o-qui-aht traditional territory to the beautiful Middle Beach.
The Tonquin Trail is well-maintained and easy to follow, making it fairly accessible for all levels of hikers (there are some stairs though). Most of the trail is gravel through the forest, but there are boardwalks and viewpoints. There is parking for the trail at the Tofino Community Hall.
13. Watch the Sunset on North Chesterman Beach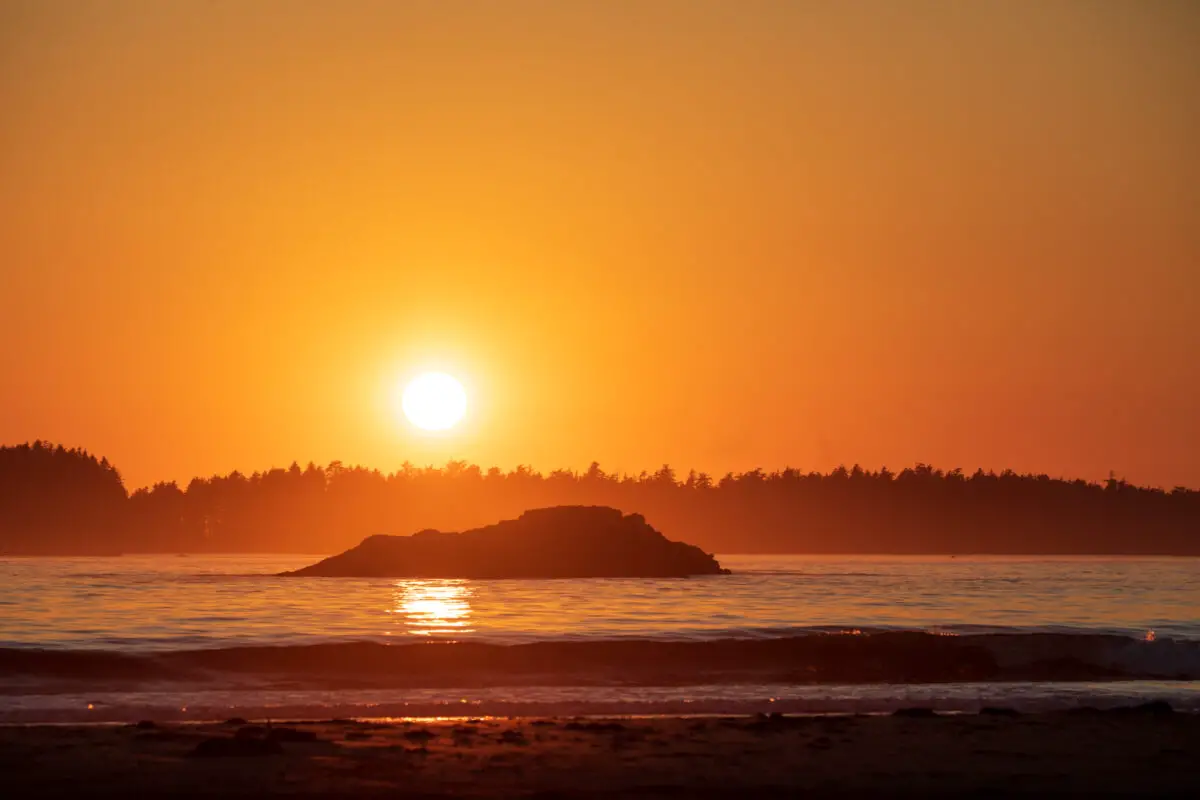 Our favorite way to end a day of fun in Tofino is by watching the sunset on North Chesterman Beach.
Sunset absolutely transforms the coast, with the sun casting its last golden rays over the ocean and turning everything into hues of reds, oranges, and pinks. Combined with the soothing sound of the waves and the gentle sea breeze, it's a truly magical experience!
We highly recommend bringing a blanket, snacks, and something to drink to fully enjoy this special moment. You can also warm up around a beach fire here — just follow these rules. And, if you enjoy surfing, you can even catch a few last waves as the sun sets!
North Chesterman Beach is not the only place to catch the sunset around Tofino. The town is full of other great spots to watch the sun go down.
Head to Cox Bay or Long Beach to watch surfers catch their last waves of the day while the sun sets behind them. MacKenzie or Middle Beach also are spectacular sunset-watching spots (we loved watching the sunsets from the balcony at Middle Beach Lodge).
For those closer to Ukee, catch the last rays of the day at Wickaninnish Beach or Florencia Bay!
14. Camp at Green Point Campground
Camping in Tofino is a treat. There's nothing like falling asleep to the sounds of waves as you're cozy in your sleeping bag.
For those traveling on a budget, camping is a good way to make a vacation in Tofino more affordable, too.
The best place to go camping in Tofino is Green Point Campground. It's the only campground along Long Beach in Pacific Rim National Park.
Located on an oceanside bluff, Green Point offers excellent access to Long Beach and Combers Beach. It's the perfect place to stay if you want to spend lots of time surfing or exploring the beach!
Green Point Campground is open from May to mid-October. There are 94 drive-in sites, 20 walk-in, 1 group walk-in, and 1 Parks Canada oTENTik site.  
Reservations are highly recommended. The campground is quite busy through most of the summer! 
15. Visit the Kwisitis Visitor Centre on Wickaninnish Beach
Standing on the edge of the sprawling Wickaninnish Beach, the Kwisitis Visitor Centre is a magnificent sight to behold.
From its unrivaled vantage point, the centre features unobstructed views of the expansive Pacific Ocean. Moreover, the Kwisitis Visitor Centre offers an exhilarating storm-watching experience, with its observation deck providing a front-row seat to witness the dramatic waves crashing onto the shore.
Inside, you'll find that the educational facility is a treasure trove of information about the rich cultural heritage and natural wonders of Tofino and Ucluelet. Best of all, it's free to visit!
Learn about the history and culture of the Nuu-chah-nulth peoples, with stories and replicas of a First Nations longhouse and traditional whale hunt. Get your photo in front of a whale tail, and learn how to identify the tracks of some of Tofino's animals, like bears, wolves, and cougars. There's also a First Nations Gift Shop and restaurant.
Note: The inside of the Kwisitis Visitor Centre is currently closed due to infrastructure upgrades, but the outdoor observation deck is still open. Click here for details.
16. Water Taxi to Meares Island
Just off the northwest coast of the peninsula, Meares Island forms the beautiful backdrop to Tofino. From this scenic island, the peaks of Lone Cone and Mount Colnett rise above the waters of the Clayoquot Sound.
Opitsaht — a small Tla-o-qui-aht community — sits on the southwest end of Meares Island. Due to the conservation efforts of the Nuu-chah-nulth peoples in the "War of the Woods" against old-growth logging, the island is covered in undeveloped rainforest and home to some of BC's oldest Red Cedar trees!
Visitors can take a water taxi to explore the beautiful Meares Island. The water taxi ride itself is short (only about 10 minutes long) but exciting! You'll start from the Tofino Harbour, passing by ecologically-important mudflats and some of the many small islands that dot the Clayoquot Sound.
Once you arrive on Meares Island, we highly recommend checking out Big Tree Trail. This walking trail features some of the oldest trees in British Columbia. Don't miss the Hanging Garden tree, a massive Western Red Cedar that's over 2,000 years old!
For those seeking a more challenging adventure, the hike up Lone Cone is a must-do. The 3.6-kilometer trail takes hikers through old-growth forest and up to the summit of the mountain, offering panoramic views of Tofino, Vargas Island, and the Clayoquot Sound.
Note: The Lone Cone Hike is currently closed indefinitely. Check here for details!
17. Explore Ucluelet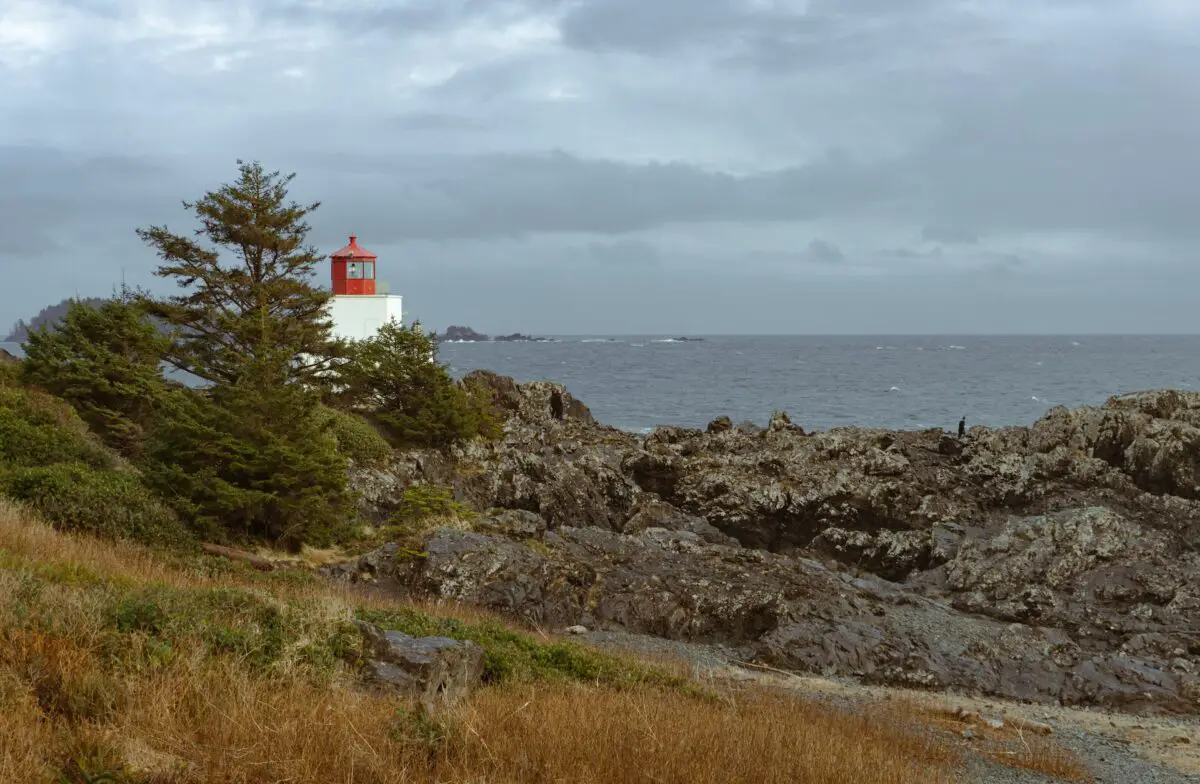 One of the best things to add to your Tofino itinerary is a visit to Ucluelet, the small fishing village south of Tofino.
Known as Ukee by locals, Ucluelet is only separated from Tofino by 40 kilometers (25 miles). You can drive between the two towns in about 30 to 40 minutes. There's even a multi-use pathway to bike between Tofino and Ucluelet, if you don't have a vehicle!
While Tofino is the most famous of the two towns, Ucluelet is still pretty amazing and worth a visit. Ukee boasts a more laid-back atmosphere than its neighbor Tofino and has plenty of fun things to do.
One of the must-visit attractions is the Wild Pacific Trail, a stunning 8-km (5-mile) trail showcasing much of Ucluelet's coastline. Along with breathtaking ocean views, the trail takes you through ancient Sitka spruce and giant red cedar forests, along beautiful beaches, and past the charming Amphitrite Lighthouse.
Ukee is also nearby the beautiful Florencia Bay and Wickaninnish Beach in Pacific Rim National Park. We really enjoy heading to Florencia Bay for some sunbathing!
Related Articles: Best Things to Do in Ucluelet
Top Travel Tips & Resources for Tofino, BC