When you're camping, the last thing you want is to be shivering all night long in your sleeping bag. Sleeping bags provide essential insulation and warmth for sleepers in cold weather environments, but they can only do so much on their own. Whether you're backpacking or car camping, sooner or later you'll need to know how to stay warm in a sleeping bag so you don't freeze at night in your tent.
With the proper knowledge and preparation, you can boost your sleeping bag's ability to keep you warm and comfortable on those chilly nights. Here are our top tips for how to increase the warmth of your sleeping bag and stay warm when camping. With this guide, you won't feel as cold at night when camping!
How to Stay Warm in a Sleeping Bag: Top 15 Tips
When you're out camping, the last thing you want is to be uncomfortable. One of the most important things to staying comfortable while camping is being warm – especially at night. So, how do you increase your sleeping bag's warmth if you're getting cold at night? How can you stay warm when camping, even in cold weather?
If you're having trouble keeping warm in your sleeping bag, don't worry! These top tips will help increase your sleeping bag's warmth and keep you warm when camping. Enjoy!
1. Choose the Right Sleeping Bag
When it comes to staying warm, choosing the right sleeping bag is essential. Not all sleeping bags are created equal – some are much warmer than others. Sleeping bags have a temperature rating that tells you how low of a temperature the bag is meant to keep you warm in.
Usually, your sleeping bag will provide a comfort rating, which is the temperature that a cold sleeper or the average woman can sleep through the night without waking. Sleeping bags also provide a lower limit rating, which is the temperature that a warm sleeper or the average man can sleep through the night. Pay attention to these sleeping bag temperature ratings so you know what climate your sleeping bag can handle!
If you're planning on camping in cold or cool weather, make sure to choose a sleeping bag that has a temperature rating lower than the lowest temperature you anticipate being in. If you get cold easily, you should base your decision on the comfort rating, not the lower limit. Also, many sleeping bags advertise an extreme or risk rating – however, you don't want to be using your sleeping bag in these temperatures!
If you're camping in cold weather, select a multi-season winter sleeping bag that is rated for cold weather camping. Likewise, if you're backpacking in a hot climate, choose a lightweight bag that will keep you cool and comfortable. A bag that's too warm will make you sweat, causing you to lose heat. On the other hand, a bag that's too cool will leave you cold at night. You need to find the perfect balance so you feel comfortable sleeping.
Down insulation is warmer than synthetic insulation by weight. However, either type of insulation will keep you warm. Also, pick a sleeping bag with features that help seal in the heat, like a hood.
2. Use a Warmer Sleeping Pad
If you find yourself constantly cold in your sleeping bag, one of the most important ways to make your sleeping bag feel warmer is to use a better sleeping pad. A good quality, insulated sleeping pad will help keep the cold ground from sapping heat away from your body. The insulation of your sleeping bag is only as good as the insulation underneath it!
Without a good sleeping pad, the ground will absorb your heat, making you feel a lot colder. To stay warm at night, you should use a closed-cell foam pad or self-inflating sleeping pad with good insulating properties underneath your sleeping bag. With a thin sleeping pad, you're not going to stay as warm as you would with a better insulating sleeping mat. But, how do you tell if your sleeping pad is a good insulating barrier?
The answer is the R-value. The R-value is a measure of a material's resistance to heat flow. The higher the R-value, the better the insulation. Low R-values won't keep you as warm.
Most camping sleeping pads have an R-value of 2 or 3. Some winter pads have R-values of up to 10. If you use multiple backpacking sleeping pads, the R-values add together. Here are the R-values that you should use based on the season:
When choosing a sleeping pad, pick one that's suitable for the temperature range you'll be using it in. For example, for camping trips in temperatures below freezing, invest in a pad that is rated for winter camping. The Therm-a-Rest NeoAir Xtherm is one of the best ultralight sleeping pads for winter camping, with an R-value of 6.9.
If you don't plan on winter camping, one of the best three-season sleeping pads out there is the Therma-a-Rest NeoAir Xlite Sleeping Pad. This backpacking sleeping pad has an R-value of 4.2, so it's great for most camping conditions. It's warm, lightweight, comfy, and also has a small packed size!
Or, if you are a side sleeper, one of the best sleeping pad options is the Nemo Tensor Insulated. It's very comfortable for side sleepers and is effective down to 2 to 7°C (35 to 45°F).
3. Add a Sleeping Bag Liner
If you're camping in cold weather, using a sleeping bag liner will help you stay warmer. Sleeping bag liners fit inside your sleeping bag and help you regulate your temperature better. Not only does a sleeping bag liner help keep you warm, but it can also protect your sleeping bag from dirt, dust, and moisture.
Sleeping bag liners are made of synthetic fabrics (e.g. CoolMax polyester), Thermolite, fleece, cotton, wool, or premium silk. They can also include a layer of bug repellent. This insect shield is great if you're camping in areas with lots of mosquitoes or other biting insects.
There are a variety of different liners available on the market, so choose one that best suits your needs. If you're camping in a cold climate, you'll want to choose a liner made from a material like Thermolite that will keep you warmer. A good quality Thermolite liner, like the Sea to Summit Reactor Insulated Sleeping Bag Liner, can add up to 25°F to your sleeping bag's comfort temperature!
When you're choosing a sleeping bag liner, make sure to get one that's the right size for your sleeping bag. Sleeping bag liners come in regular, long, extra long, and women's specific sizes. Many liners are designed for mummy-shaped sleeping bags, but they can also be used in rectangular or semi-rectangular bags.
4. Make Use of Your Sleeping Bag's Features
Sleeping bags have a variety of features that can be used to increase their warmth. Make use of these features to help keep your body heat inside the bag or to ventilate the bag if it becomes too warm.
Mummy-shaped sleeping bags have insulated hoods to keep your head warmer. The hood cinches down so only your face is exposed. Many hoods on mummy sleeping bags also feature a pillow or you can fit a backpacking pillow inside the hood. If you don't have a hood, use a hooded sleeping bag liner or a knit hat instead.
Sleeping bags often have draft collars, draft tubes, and extra insulated fabric that seal in heat (e.g. Nemo Disco Sleeping Bag). A draft collar (aka yoke or neck baffle) is a piece of insulated fabric that prevents cold air from entering near your head. Draft tubes run along the inside of your sleeping bag and prevent warm air from escaping through the zipper. If your sleeping bag lacks these features, it'll lose more heat than the ones that do.
Foot boxes can also be zipped closed or opened to regulate temperature (e.g. Kelty Cosmic Sleeping Bag). If you're cold, close the foot box to trap in all of the heat. Or, open the foot box to release heat if you're overheating. Remember, you shouldn't get too hot because any sweat will end up making you cold again!
Some sleeping bags even have straps or sleeves that hold your sleeping pad in place (e.g. Big Agnes Anvil Horn). They prevent you from rolling off your sleeping pad onto the cold ground.
Experiment with the different features your bag has to see what works best for you. By taking advantage of your sleeping bag's design, you'll stay warm all night long.
5. Wear Thermal Base Layers
One of the easiest ways to make your sleeping bag feel warmer is to wear thermal underwear (aka long johns or base layers), a type of underclothing designed to keep you warm. Even if you're not the type to normally sleep in long johns, when camping in cold weather, it's worth a shot.
Thermal base layers are made of a thin but warm material – usually, merino wool or synthetics like polyester. They are typically worn under your clothes. A wool base layer works by trapping your body heat close to your skin. This helps to keep you warm, even when it is cold outside.
Layering up with some quality thermal merino base layers will help trap in your body heat. Thermal underwear will make a world of difference when trying to sleep through the cold night. You can choose between short-sleeve or long-sleeve tops, as well as full-length or crop base layer bottoms.
If you're cold, layer up, starting with long johns. Then, add extra clothing, like a shirt, fleece jacket or sweater, and finally a puffy coat if necessary. It's a myth that you'll be warmer if you sleep naked in a sleeping bag.
Long johns are also a good choice for camping because they are lightweight and take up very little space in your bag. Wool base layers are easy to pack along and can make a big difference in your comfort level by helping you to conserve body heat when camping in cold weather.
Great thermal underclothing options are Smartwool Merino 250 Base Layer Tops (Men's / Women's) and bottoms (Men's / Women's). Made from 100% Merino wool, these thermal underclothing shirts and pants keep you warm but are also quite soft on the skin. They are definitely worth the price!
6. Pack a Hot Water Bottle or Heat Packs
If you find yourself struggling to stay warm at night while camping, another way to add extra warmth to your sleeping bag is to pack a hot water bottle or hand warmers. You can put the hot water bottle or hand warmers into your sleeping bag to stay extra toasty all night long!
A water bottle (like a Nalgene bottle) filled with hot water is a great way to keep warm when camping. Just fill it with hot water before you go to bed, and it will help to keep you warm until it cools down. This will help to keep your core temperature up and make it easier to fall asleep.
Make sure the water bottle doesn't leak before you use it in your sleeping bag. Insulated water bottles won't work for this trick. A Nalgene, plastic bottle, or stainless steel water bottle will work well.
You can also use hand warmers or heat packs to help keep your body temperature up. Just put them in your sleeping bag before you go to bed. These warm packs will help to keep you comfortable, and the heat will last longer than a bottle of hot water.
You can use disposable air-activated hand warmers (e.g. HotHands). Or, for a more eco-friendly solution, stick with reusable heat gel packs. Reusable heat packs activate when a metal disc is snapped and can be reused after reactivating them in boiling water. These heating packs are convenient, easy to use, and lightweight.
7. Wash Your Sleeping Bag
Sometimes all your sleeping bag needs is a good wash to make it warmer. This might be the case if your sleeping bag is well used, starting to feel dirty, and doesn't feel as warm as it once was.
Oils from your skin, dirt, and dampness will cause the sleeping bag insulation to clump instead of staying fluffy. Without being able to expand the insulation with air, your sleeping bag won't be able to trap heat as effectively. Washing your sleeping bag can help with this problem.
But how are you supposed to wash your sleeping bag? Well, each bag is a bit different, depending on the materials. Some sleeping bags require hand washing while others can be machine washed and dried.
Follow your sleeping bag's instructions for washing and drying. Often, bags can't be machine washed and will need to be hand-washed instead. Or, your bag may require special cycle settings (e.g. low heat) on a front-loading washing machine and dryer for cleaning. You can add a couple of clean tennis balls to the dryer to help keep your sleeping bag from clumping.
Don't use too much soap on your sleeping bag. It will be hard to get it out of the insulation. If your sleeping bag is insulated with down feathers, you'll need a special down cleaner so you don't ruin the insulation.
8. Use a Good Quality Tent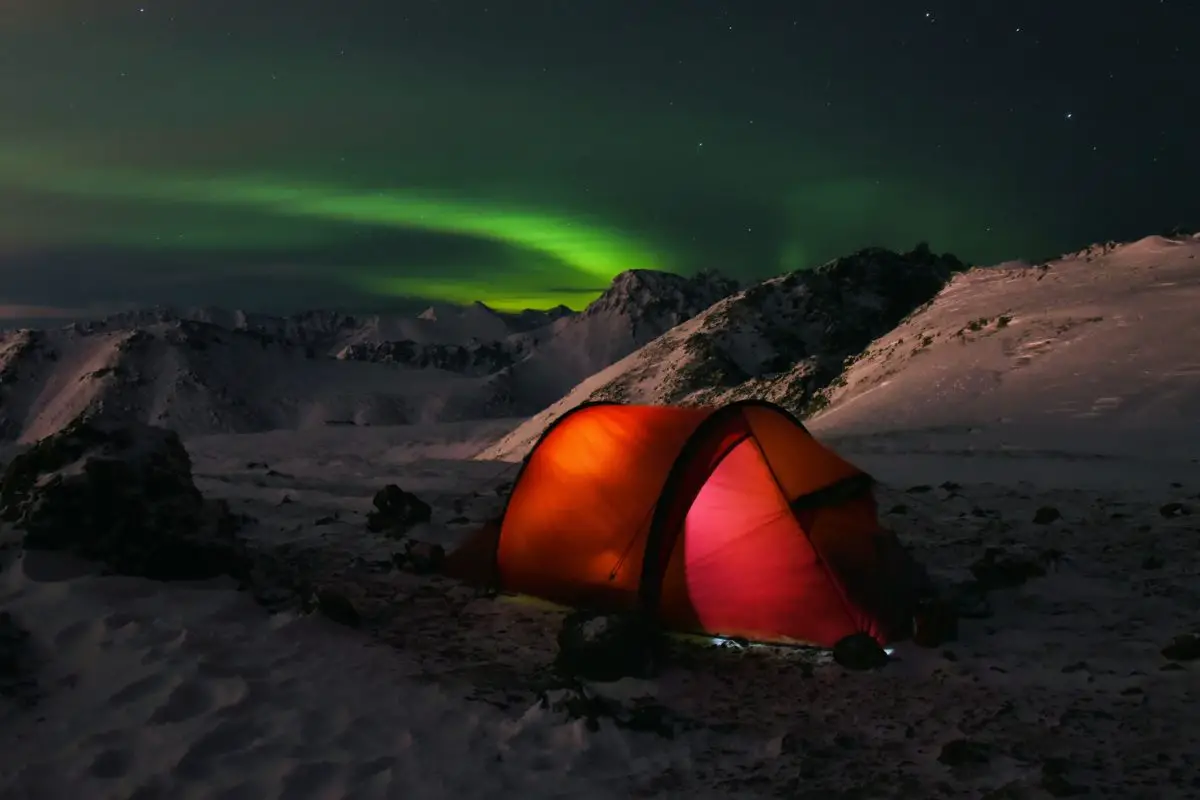 When camping, it's important to have a good quality tent to stay warm. If you're using a cheap tent or one that's not in good condition, you might find yourself getting colder at night.
Your tent should keep you warm, dry, and comfortable, even in bad weather. If you're planning a camping trip, be sure to invest in a good quality lightweight tent, like a Big Agnes Copper Spur HV UL, MSR Elixir 2-Person Backpacking Tent, or MSR Hubba Hubba. You'll be glad you did!
You should use a four-season winter tent (like the Nemo Kunai Tent) if you plan on camping in cold weather. Three-season tents will stay about 5°F warmer than outside. Winter tents trap more heat inside and are up to 10-25°F warmer inside. Winter tents also are sturdier, heavier, more windproof, and limit condensation buildup.
Using a waterproofed tent is also important for staying warm. If your sleeping bag gets wet from a leaky tent or from water soaking through the floor, you'll get cold fast. If your tent's waterproofing is failing, you should use a seam sealer, add more urethane coating or apply more durable water repellent (DWR).
You need to waterproof your tent if it leaks, the water-repellent coating is peeling, or if water doesn't bead on the fabric's surface. Also, make sure to always use your tent's fly and footprint for weather protection, even with a sunny forecast.
Tents also get wet from condensation. All camping tents trap air inside, which means they also collect moisture. Humid air will turn into condensation on the tent body through the night. To reduce condensation in your tent, pick a good campsite on dry ground, keep wet items outside of the tent, and take advantage of your tent's ventilation system (e.g. open up rainfly vents and tent windows).
9. Use an Emergency Blanket
Another way to increase the warmth of your sleeping bag is by using an emergency blanket (aka Mylar blanket, survival blanket, space blanket, or thermal blanket). An emergency blanket is a lightweight Mylar foil sheet with a shiny surface that reflects heat back to your body. Mylar blankets reduce your heat loss and help you survive outdoors longer. These heat sheets don't weigh much at all, so they're great for backpacking, camping, and first aid safety.
Typically, Mylar space blankets are survival gear used for first aid emergencies, like preventing hypothermia or treating shock. However, emergency blankets also work very well for keeping you warmer in situations where your sleeping bag isn't doing a good enough job. Because these reflective emergency blanket sheets don't weigh much, it really won't hurt to pack one or two of these Mylar thermal blankets into your first aid kit.
If you do use an emergency Mylar thermal blanket, you can place it either inside your sleeping bag around your body or over the sleeping bag. If the space blanket is around your body, it will be more effective. The reflective surface will keep you from losing too much heat.
You can also use an emergency blanket to make a thermal pad. Place the emergency blanket between your sleeping bag and sleeping pad to conserve as much heat as possible. While the space blanket doesn't replace a sleeping pad or sleeping bag, it might help if you are quite cold at night.
10. Eat Before Sleeping
If you're looking to increase the warmth of your sleeping bag while camping, eating a big dinner or snack before bed is a great way to do it! Food fuels your metabolism. It will help keep you warm throughout the night as you digest your food.
The extra body heat from digestion will help keep you warm throughout the night. Plus, you'll have extra energy for adventuring the next day! Don't forget to pack your favorite camping snacks and meals – they'll help keep you cozy all night.
Foods like whole grains and other complex carbohydrates (e.g. potatoes) are a great choice to keep your metabolism going strong. Protein-rich foods like meat and cheese are also a good idea, as they'll help you stay fuller longer. Even better, eating a hot meal will give you an extra boost in staying warm before bedtime.
So make sure to eat before bed and you'll stay nice and toasty all night long! We love Backpacker's Pantry and Mountain House dehydrated meals. These freeze-dried meals are filling with plenty of calories per serving, lightweight, and very tasty! These dried meals make for a great warm meal before bedtime in the backcountry. Plus, they can cook right in the pouch, which is very convenient and requires little clean-up.
Alternatively, you can make your own backpacking meals and dried food with a dehydrator. This way, you can control exactly what ingredients and nutrients you get in the backcountry. Dehydrating is a great way to make backpacking adventure meals, as well as emergency food supplies.
11. Use a Double Sleeping Bag
When camping, one of the best ways to keep warm is by sleeping in a double sleeping bag with your significant other. By sharing body heat, you'll be able to stay warm without having to use extra blankets or clothing, which can take up valuable space in your backpack.
Snuggling up with your partner in a sleeping bag can keep you both warm and comfortable throughout the night. You can use a double sleeping bag made for two people or zip together two individual sleeping bags. If you choose to join together individual sleeping bags, make sure that your sleeping bags are designed for being zipped together.
By sharing a sleeping bag, you can take advantage of each other's body heat to stay warm throughout the night. Plus, double sleeping bags are usually larger and more comfortable than individual bags, so you'll be able to sleep more soundly in nature.
If you're looking for a romantic way to spend a night under the stars, cuddling in a double sleeping bag is the perfect solution. Plus, you'll stay extra warm in two-person sleeping bags!
A Kelty Tru.Comfort 20 Doublewide sleeping bag is a great choice for a two-person sleeping bag. This double sleeping bag is packed with features that allow you and your partner to individually regulate your body temperature, all while sharing a spacious double bag. It's warm but lightweight. You'll need a double sleeping pad underneath, as well. We recommend a KLYMIT Double V Sleeping Pad, which is very packable, lightweight, and extremely comfortable!
12. Use a Tent-Safe Heater
Camping can be a lot of fun, but when the temperatures start to drop at night, it can be tough to stay warm. A tent-safe heater can be a great way to keep warm and comfortable while you're camping. While bringing along a tent-safe heater may not be feasible when backpacking, it is a great option when you're car camping!
There are a lot of different kinds of tent-safe heaters on the market, so it's important to do your research before you purchase one. You can use heaters powered by either propane or electricity. Portable propane heaters may be more convenient for camping because electric tent heaters will need a power source. Also, make sure your tent is well ventilated if you're using a gas tent heater!
Make sure to read the reviews and find a heater that is safe to use in a tent. Tent-safe heaters are still a potential fire hazard so you'll want a heater with an oxygen depletion sensor and an automatic shut-off in case of overheating or falling over. Don't run the tent heater all night and keep it away from the tent walls.
With a little bit of planning, you can stay warm and enjoy your camping trip with propane or electric-powered tent heaters. A great option for a tent-safe heater is the Mr. Heater Buddy Portable Radiant Heater. This heater runs on propane fuel. It shuts off automatically if the unit falls over, if oxygen levels are low, or if the pilot lit is blown out.
13. Wear Wool Socks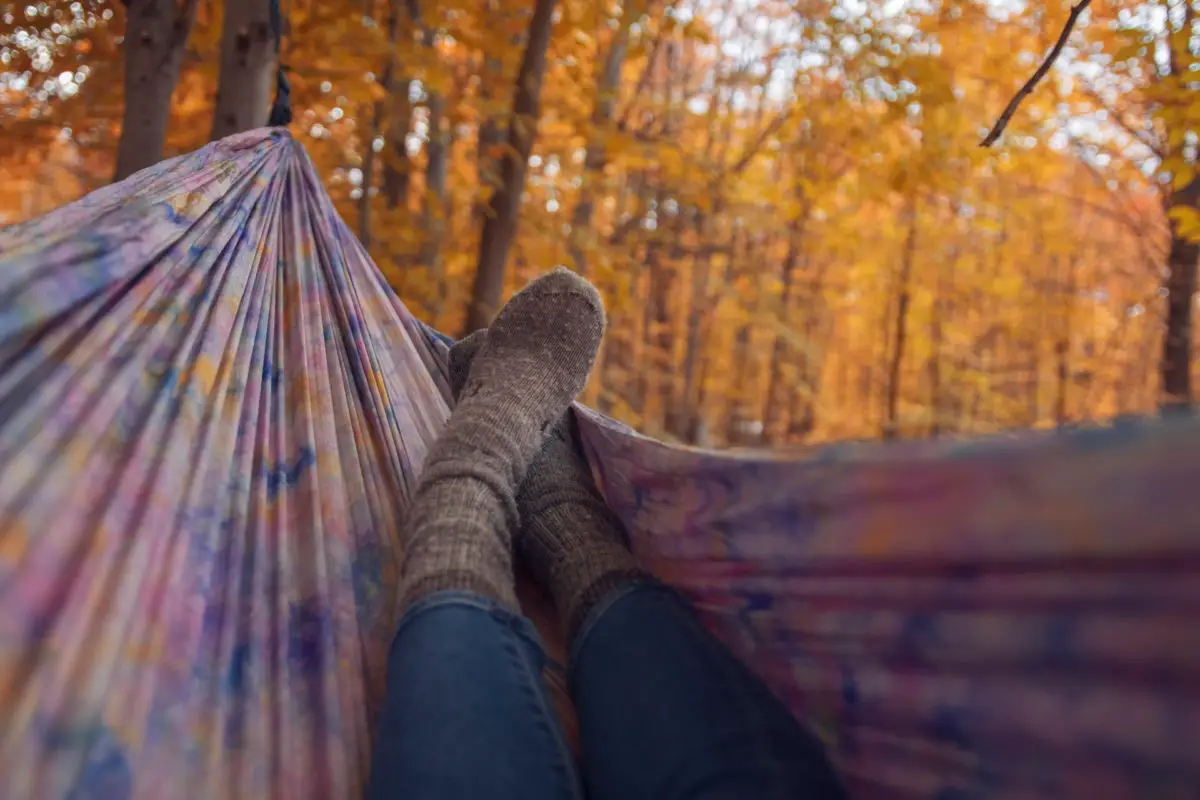 Keeping your feet at a good temperature is one of the best ways to stay warm when camping. So, you might be wondering how to keep your feet warm in a sleeping bag. A good pair of wool socks is a great way to keep your feet warm in a sleeping bag and on outdoor adventures.
Merino wool socks are an amazing way to keep your feet warm. Cotton retains moisture, which is a problem when you're trying to stay warm. When your feet are wet, they are more likely to get cold in cotton socks. Also, cotton doesn't retain any of its insulating abilities when it gets wet.
Wool, on the other hand, will help your feet stay dry and warm. Socks made out of wool can absorb a lot of moisture before they even start to feel wet. Even if wool does get wet, it still retains its insulating properties. Plus, wool socks are fast-drying, anti-bacterial, and odor-resistant. And, Merino wool is soft and not scratchy feeling at all. For these reasons, Merino wool socks are perfect for outdoor adventures!
Some of our favorite camping, hiking, and everyday use socks are the Smartwool PhD Crew Socks (Men's / Women's). These high-quality Smartwool Merino wool socks are comfortable, durable, breathable, and warm. These hiking socks keep your feet feeling cozy while also looking good!
Or, if you tend to wear through your hiking socks, try Darn Tough Merino Wool Boot Socks. Darn Tough socks are guaranteed for life – if they start to develop holes or wear through, Darn Tough will replace them without asking any questions!
14. Choose the Right Campsite
When camping, it's important to choose a campsite that will help you stay warm and dry. But, how do you find a good camping spot?
Avoid wilderness sites that are exposed to the wind, rain, or have poor water drainage. Look for a spot that has level ground, but good drainage. This means you should avoid spots at the bottom of a slope, where water run-off may pool. You don't want to wake up to a flooded tent! Low spots also can be chillier and get more condensation.
Try to place your tent in a spot that gets some sun during the day so you can take advantage of the heat. This will help dry out your tent so you can stay warmer at night. Also, set your tent up so it'll be hit by the rising sun and warm up as early as possible. You should also take advantage of the sun to dry out your camping gear, like your sleeping bag, during the day.
Exposed ridges and open areas will get more wind which will cool you down a lot. Look for campsites that are sheltered from the wind with a natural windbreak. This could be beside boulders or trees. However, make sure to check for any unsafe trees before setting up your camp space.
15. Don't Overheat
When camping, it's important to stay warm. However, if you get too hot while sleeping, it can be just as bad as being cold. Here's why:
Your body regulates its temperature by sweating. When you sweat, the sweat evaporates, which cools your body. Not only that, but when you're too hot, your blood vessels dilate in an effort to cool you down. This means that more blood is close to the surface of your skin, which makes you more likely to lose body heat.
In other words, if you heat up too much, you might end up being colder later in the night. So, it's important to stay at a good temperature when camping. Regulate your body warmth by shedding clothes or opening your bag's zipper or foot box.
Time to Get a New Sleeping Bag?
If you're cold at night no matter what and can't figure out how to make your sleeping bag warmer, it might be time for a new sleeping bag. After a lot of use, a sleeping bag's insulation packs down and won't retain heat as effectively. While washing your sleeping bag or following our other tips may help, it can only go so far if your sleeping bag is falling apart or poorly insulated.
Sleeping bags should last at least five years. However, if well taken care of, good quality sleeping bags could last up to 10 to 15 years. If your sleeping bag is starting to come to the end of its lifespan, investing in a new one is probably a good decision. A good sleep system is a worthwhile investment so you can have a comfortable warm night.
How to Choose a Sleeping Bag
There are a few things to keep in mind when trying to determine if you need a new sleeping bag. First, consider how often you use your current sleeping bag. If you don't use it often, then it might not be worth replacing it. Additionally, check the condition of your sleeping bag. If it's starting to show signs of wear and tear, then it might be time for a new one. Finally, think about your budget. A new, warm sleeping bag is an investment, so be prepared to spend the money if necessary (here are some budget sleeping bags under $100). In conclusion, there are a few things to keep in mind when trying to decide if you need a new sleeping bag.
Check your current sleeping bag's temperature rating before buying a new one. If you found that you were getting cold with its temperature range, you might want to buy a sleeping bag with a lower comfort rating. You can upgrade your sleeping bag to one that's got a better temperature rating with thicker insulation.
Top Travel Tips & Resources