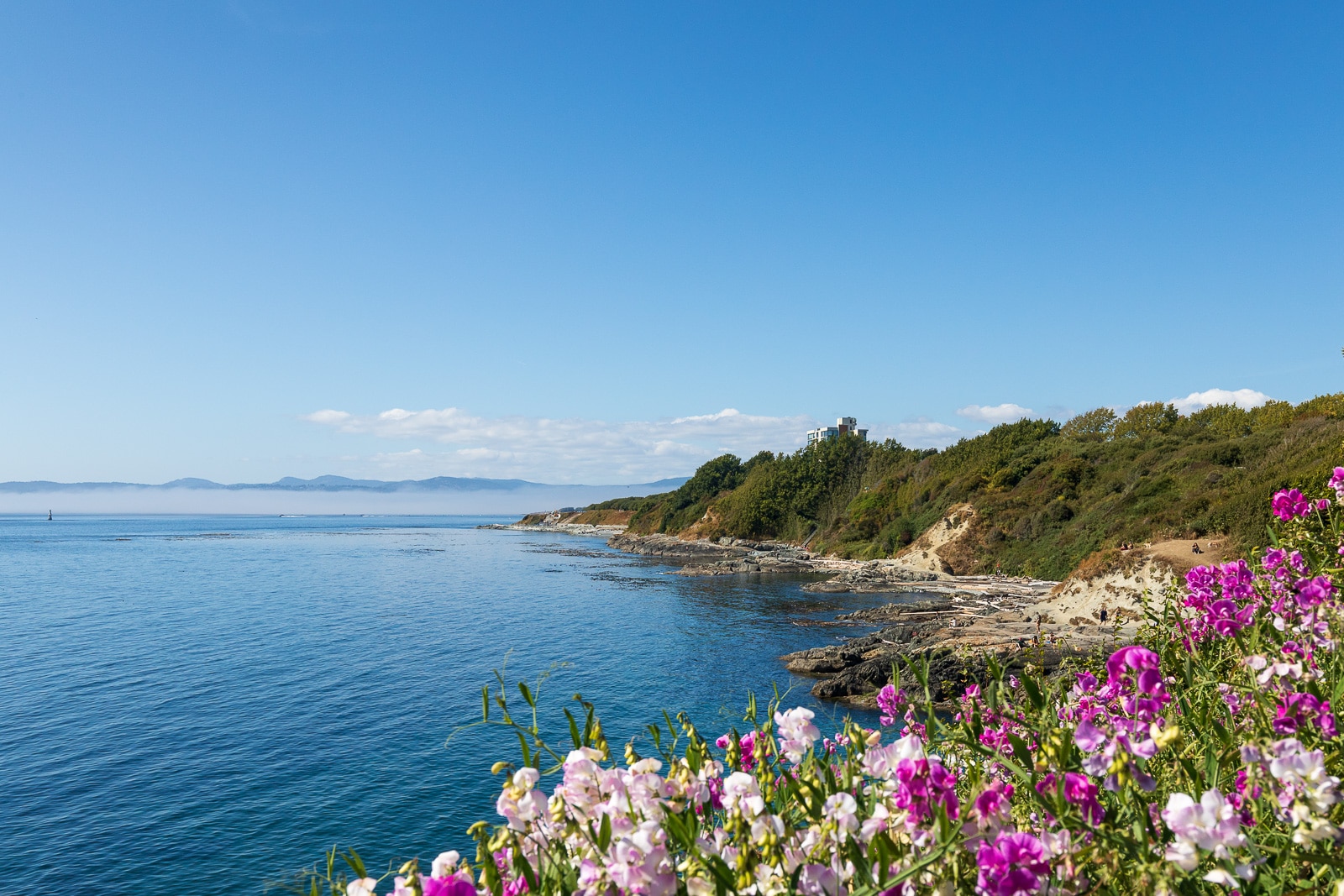 When it comes to romantic vacations, there's no better place than Victoria, British Columbia. The charming city of Victoria sits on the southern tip of Vancouver Island and offers scenic walks along the coast, beautiful beaches, gourmet dining, and so much more! And, if you're planning a honeymoon getaway or just trying to spend some time with your loved one, Victoria has an array of amazing romantic hotels from which to choose.
With so many amazing places to stay in Victoria, choosing the best hotel accommodations for your honeymoon getaway or romantic vacation trip can be hard. Luckily, we've sifted through all the options to find you the best most romantic hotels in Victoria so you can have an unforgettable time together on a romantic vacation or honeymoon with your new spouse.
Whether you're after a luxurious weekend getaway or something more relaxed, one of these hotels will be perfect for your romantic vacation in Victoria, British Columbia. From the best boutique hotels on the beach to cozy bed and breakfasts, the coastal city of Victoria has options that are sure to please every couple!
Disclaimer – This post contains affiliate links. We may receive a commission if you make a purchase through these links, at no extra cost to you. Thank you for your support! Learn More.
Best Romantic Hotels for a Honeymoon Getaway in Victoria, BC
Here are the most romantic hotels in Victoria, British Columbia worth visiting on your next vacation or special event celebration!
The Oak Bay Beach Hotel is one of the best hotels for a honeymoon vacation or romantic getaway in Victoria. Set on the rugged coastline of Vancouver Island, you'll get breathtaking ocean views right from your luxurious guest room. This four-star retreat is the perfect place to spend time away with your significant other.
This romantic resort features a beachfront patio and pools, spa services, and beautiful gardens. Treat your lover to a rejuvenating massage at the Boathouse Spa. Then, enjoy views of the picturesque Mount Baker over the Juan de Fuca Strait while relaxing in the heated waterfront mineral pools. It won't get much better than this!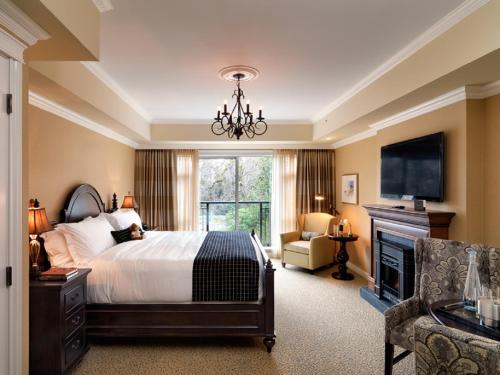 In the evening, enjoy a delicious meal in the Oak Bay Beach Hotel's intimate Dining Room restaurant. Or, for a more relaxed atmosphere, head to the Snug Pub for a drink or FARO for handcrafted pizzas.
Also, if you're looking for a special place to host an event, this luxury hotel is an excellent option. With both indoor and outdoor venues, you can host large events such as weddings, receptions, and special occasions such as anniversaries.
Address: 1175 Beach Drive, V8S 2N2 Victoria, Canada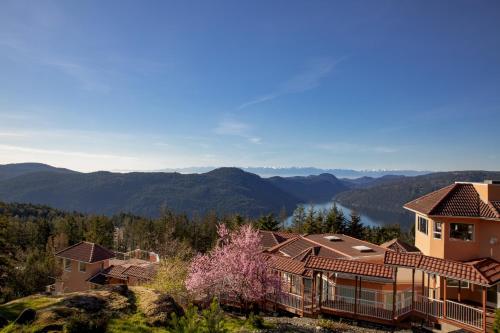 Villa Eyrie Resort is a favorite among honeymooners and travelers looking for an intimate couples retreat. This modern, stylish hotel is perfect for a weekend of indulgence and pampering. Here, you and your significant other will get to experience a slice of West Coast paradise. This hotel is unforgettable!
Set on the Malahat mountainside, this absolutely breathtaking hotel is about 25-minutes from downtown Victoria. While not as central as other hotels, the Villa Eyrie Resort makes up for this by offering incredible views, well-appointed guest suites, and a relaxing, intimate atmosphere.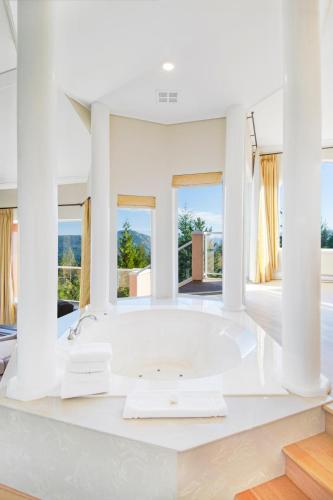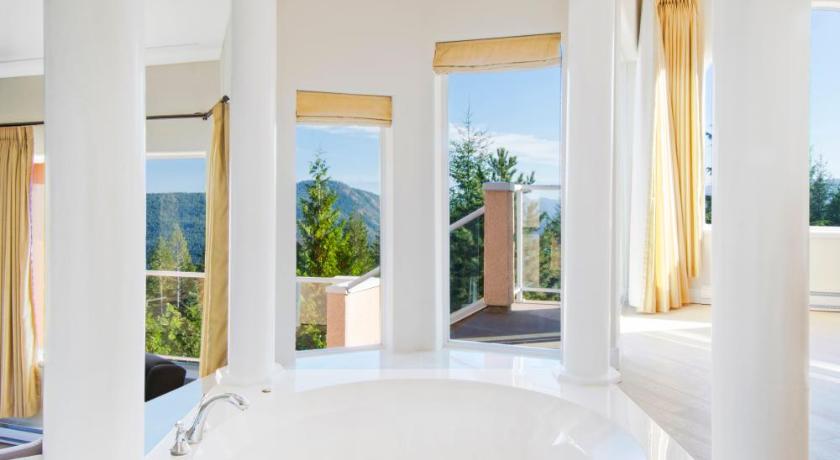 Many rooms at the Villa Eyrie Resort include a spacious balcony, with impressive views of the Saanich Inlet and the Olympic Mountains. In the rooms, the pillow-top mattresses are incredibly comfortable! If you want to treat yourselves, some of the more deluxe suites have massive soaker tubs with forest or ocean views of Finlayson Arm, as well as fireplaces.
The resort offers many amenities including the on-site Tuscan Spa, indoor mineral pool, and Senna Restaurant. They also have the incredible Alpina Restaurant which serves European-inspired cuisine. As well, if you're hosting an event, the hotel makes an excellent venue for weddings or other special occasions!
Address: 600 Ebedora Lane, V0R 2L0 Malahat, Canada
For a classic Victoria couples retreat, your best bet is the Fairmont Empress Hotel. This spectacular hotel is a true jewel of the Pacific Northwest and one of the most romantic hotels in Canada. This award-winning hotel is located on the shores of Victoria's Inner Harbour and offers some of the most iconic views in all of Canada.
The most famous hotel in Victoria, the Fairmont Empress Hotel is a National Historic Site and a tourist attraction on its own. Many tourists visit the Inner Harbour just to see this hotel, as well as try its famous high afternoon tea. A visit to Victoria isn't complete without walking the Harbour Causeway in front of the Fairmont Empress.
At the Fairmont Empress Hotel, you'll be close to all the best tourist attractions in downtown Victoria. Right on the Inner Harbor, you'll wake up to views of the ocean, boats, and the city. You'll be right in the heart of the city, close to attractions like the Royal BC Museum and Fisherman's Wharf. Horse-drawn carriages even pass right in front of the hotel on journeys around the downtown core and Beacon Hill Park – a perfect romantic outing for most couples!
With its elegant rooms and old-world charm, the Fairmont Empress offers a truly intimate hotel experience. The rooms are classy and comfortable, with many features that'll impress. If you're looking for truly unique accommodations, consider staying at The Empress—you won't be disappointed!
Address: 721 Government Street, V8W 1W5 Victoria, Canada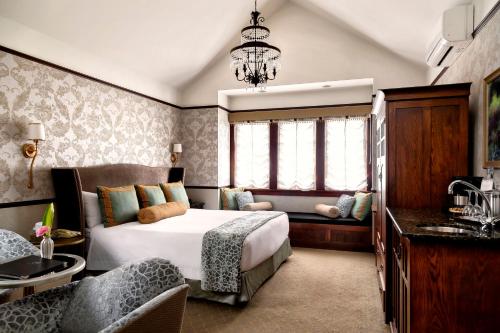 Abigail's Hotel in Victoria is a local hot spot for couples on their honeymoon, with an amazing downtown location. This four-star heritage B&B is the perfect spot if you like to head out for a night on the town with your partner. Guests can also explore Victoria's downtown and access shopping districts or parks like Beacon Hill with ease from this hotel.
These romantic Victoria accommodations have a variety of room sizes available, from cozy entry-level queen-sized rooms to opulent rooms with a king-sized poster bed. The rooms are elegantly decorated, with rich colors that give off a royal feel. Some rooms, like their Rose or Emerald Rooms, feature claw-foot or jetted soaker bathtubs, cozy fireplaces, and marble bathrooms. You'll feel like you're living the life of luxury with a stay at these tasteful accommodations!
If you're looking for a place for a quiet romantic retreat, Abigail's Hotel is an excellent choice. This charming bed and breakfast is adult-only so it's perfect if you want some quiet time just with your partner, away from the kids.
In the mornings, Abigail's Hotel serves a three-course breakfast with a regularly changing menu. They also have a 24-hour library lounge where you can play board games with your partner and order a drink.
Address: 906 McClure Street, V8V 3E7 Victoria, Canada
Offering spectacular views of Victoria's Inner Harbour, the Magnolia Hotel & Spa is a luxurious option for a romantic honeymoon getaway in Victoria. Accommodations range from standard guest rooms to two-bedroom suites with private terraces. If you want the best views of the ocean, Harbour Causeway, and BC Legislative Building, choose their signature Diamond or Corner Room.
The modern architecture of this award-winning hotel is accented by warm woods and elegant furnishings. The rooms have poster beds with soft feather pillows and warm, cozy duvets. Many rooms also have soaker tubs – perfect for a romantic evening with your loved one!
A stay at Magnolia Hotel & Spa includes amenities like complimentary high-speed Wi-Fi, access to a fitness room, and banquet space for special events. The rooms also come with a coffee maker and tea kettle, as well as a minibar fridge that has milk and cream for coffee. In the evening, you can get a turn-down service where they layout your bathrobes and leave chocolates by the bed. This extra care will make you both feel quite special.
The Spa Magnolia is the perfect place to treat your significant other to a calming massage or manicure. At their restaurant, The Courtney Room, you can finish the day with locally-sourced Pacific Northwest cuisine and BC wines. Treat you and your partner to a day of relaxation and fine dining at this luxury hotel!
Address: 623 Courtney Street, V8W 1B8 Victoria, Canada
Hotel Grand Pacific is a luxurious harbourfront hotel that offers guests the finest in comfort and relaxation. Enjoy upscale, contemporary guest rooms with private balconies, fireplaces, and elegant furnishings. As well, these accommodations offer incredible views of the beautiful Inner Harbour and the city of Victoria.
This gorgeous luxury hotel sits on the edge of the Inner Harbour, besides the BC Legislative Assembly and Royal BC Museum. The Hotel Grand Pacific is also only a few minutes away from tourist attractions like Fisherman's Wharf Park, the Ogden Point Breakwater, and Spiral Beach on Dallas Road. Take your partner out for a romantic walk along the water on the Harbour Causeway or a carriage ride through the beautiful Beacon Hill Park!
With plenty of amenities, you'll have everything you need at the Hotel Grand Pacific. They offer a spacious indoor pool and athletic club with a hot tub, steam room, sauna, weight room, squash court, and more! Additionally, the hotel provides free complimentary bikes for exploring the city.
The hotel's Pacific Restaurant offers fine dining with incredible meals like their wagyu beef burger or seafood cioppino. Plus, they serve fondue – there's nothing more romantic than melted chocolate! In the summer months, there is also a gorgeous patio for outdoor dining where you can enjoy the ocean air while indulging in local cuisines and excellent wine.
Address: 463 Belleville Street, V8V 1X3 Victoria, Canada
Romance is all around you in Victoria and the Delta Hotels Victoria Ocean Pointe Resort certainly doesn't disappoint. The coastal property is located directly across from the Parliament Buildings in the heart of the city's downtown district. In the evening, the BC Legislative Assembly looks amazing over the water, lined with white lights.
From your room, you can watch boats pass under the Johnson Street Bridge by the Inner Harbour. Right in front of the hotel, there is the popular Songhees Walkway. As well, you can walk or bike to local attractions like the Gorge Waterway, Selkirk Trestle, the Ogden Point Breakwater, and Beacon Hill Park.
The excellent Delta Hotels Victoria Ocean Pointe Resort offers stylish rooms with comfortable beds and massive showers. If you're looking for upscale accommodations, treat your significant other to a stay in their deluxe harbour view suite, featuring a huge balcony overlooking the ocean. Or, try their two-story loft and presidential suites!
For casual dining and delicious cocktails, you can head to their LURE restaurant, overlooking the water. The four-star property also has amenities like a fitness center, indoor pool, and tennis courts. Or, soak away your worries with your spouse in the relaxing hot tub.
Address: 100 Harbour Road, V9A 0G1 Victoria, Canada
Map of Hotels in Victoria, BC
Top Travel Tips & Resources for Victoria, BC