Galiano Island is one of the many beautiful southern Gulf Islands, only a short ferry ride away from both Victoria and Vancouver. On this spectacular island, you'll find white shell beaches, sandstone formations carved by the ocean, beautiful views of the Salish Sea, all kinds of marine wildlife, and an artistic community of locals. While visiting the gorgeous paradise of Galiano Island, you'll want to stay in the best accommodations possible. But, where are the best places to stay on Galiano Island?
In this article, we've compiled the best places to stay on Galiano Island, including the top hotels, cabins, vacation home rentals, and campgrounds. This comprehensive list will help you decide where to stay in Galiano Island on your next vacation. At the end of the article, we also cover some travel tips for visiting Galiano Island.
Where to Stay on Galiano Island: Best Hotels
If you don't have time to read through our reviews, here are our top recommendations for where to stay on Galiano Island. These are the best hotels on Galiano Island. These top accommodations have everything you need for the perfect vacation!
Don't want to stay at a Galiano Island hotel? Check out the top vacation rental homes and the best campgrounds on Galiano Island below!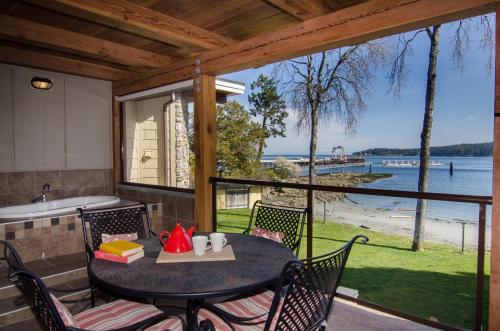 If you're looking for the best beachside hotel on Galiano Island, you can't get much better than the Galiano Oceanfront Inn & Spa! It's one of the best hotels on Galiano Island, for many reasons. All of the guest rooms at this resort are oceanfront. Each suite has a private terrace where you can watch the waves. Also, the inn is only a few minutes away from the Sturdies Bay Ferry Terminal and Bellhouse Provincial Park. Overall, the location is unbeatable!
Designed for a luxurious stay, each waterfront room is spacious and well equipped. Also, the rooms each have a wood-burning fireplace that you can use. If you choose to rent one of their oceanfront villas, you even get an outside heated tub and grilling area to enjoy!
Even if you don't stay at the Galiano Oceanfront Inn, it's worth visiting their Madrona Del Mar Spa for some pampering and to see the famous Kunamokst Mural. This incredible orca mural in the spa's entrance is made out of 221 paintings by over 100 West Coast artists. Afterward, you can relax with a rejuvenating massage!
Additionally, there is the on-site oceanfront Atrevida Restaurant and the Orca Lounge pub. Dine on contemporary West Coast BC cuisine while enjoying ocean views in their restaurant or get room service if you don't feel like going out. The Orca Lounge is a great spot to try some local craft beer. Or, head to their outdoor La Leña Pizza Patio for some wood-fired pizza during the summer.
What We Like
The property is absolutely gorgeous. The oceanfront patios are an amazing spot to watch sunrises over the beautiful gardens. Overall, it's perfect for a beach holiday!
They offer smart car, kayak, and bike rentals for exploring the island.
There are lots of meals to choose from at the on-site restaurants. They also have a good selection of local craft beer and wine.
The Madrona Del Mar Spa is the perfect addition to a relaxing holiday. The spa entrance also features the incredible Kunamokst Mural. It is worth a visit on your Galiano Island trip!
The staff are friendly and helpful (although they are sometimes difficult to find)
What We Don't Like
The Galiano Island ferry terminal can be seen from the hotel rooms. Some people enjoy watching the ferry come and go on its journey between the Gulf Islands, Vancouver Island, and the Tsawwassen Ferry Terminal. However, others find that it tarnishes the ocean view.
The hotel needs to pay more attention to details. Some facilities require more maintenance and cleaning. Also, the staff aren't always available to help with issues.
There is a two-night minimum stay usually
2. Best Boutique Hotel in the Forest: Woodstone Manor
Check the rates for Woodstone Manor
Woodstone Manor is a stunning, modern inn in a secluded 9-acre forested private property on Galiano Island. Set in the woods, these beautiful, quiet accommodations are perfect for the ultimate relaxing vacation. From your hotel room, you can enjoy views of the forest and horses in the pastureland. While this hotel isn't right beside the ocean, it definitely won't disappoint!
With only 12 rooms, this boutique hotel ensures that all of its guests get the best treatment possible. This luxury hotel pays attention to all the little details and provides plenty of creature comforts. The accommodations are very comfortable, with lots of space and a full ensuite bathroom. The rooms have twin, queen, or king beds. You'll have amazing sleep with their comfortable memory foam mattresses. As well, the rooms get quite cozy with a fireplace and robes and slippers that come with the room.
At Woodstone Manor, there is a restaurant, patio, and lounge where you can dine on European and West Coast-inspired cuisine. The hotel primarily uses local, fresh ingredients. The meals can be paired with exquisite wines, hand-selected by the hotel's sommelier. All in all, you'll have one of the most luxurious vacations if you stay at Woodstone Manor!
What We Like
The on-site restaurant has delicious food and wine. In the evening, dining on the patio is quite romantic, surrounded by woodlands. There is also a complimentary continental breakfast and 24/7 available self-serve coffee and tea.
The property is gorgeous and secluded, surrounded by beautiful gardens, forest, and countryside.
It's a very clean and well-managed property with comfortable, well-equipped guest rooms.
If you need to get between the hotel and Sturdies Bay or Montague Harbour, the resort provides free complimentary transportation. Call ahead if you need this service!
The hosts are very hospitable, helpful, and friendly. You'll be treated well at this hotel. They go above and beyond for you!
What We Don't Like
The inn is closed during the off-season.
Expensive but you get good value for the price
You don't get an ocean view, but the woodlands that surround the hotel are still quite beautiful.
Driftwood Village Resort offers cozy, budget-friendly cottages nestled in among two acres of orchard trees. These rustic, heritage cabins come with everything you need for an amazing vacation. All of the spacious cabins come with comfortable beds, a fully-equipped kitchen or kitchenette, a full bathroom, a relaxing living room, and excellent views. Each cottage is furnished with beautiful local art. Some cottages also feature a soaker tub and a covered patio with incredible views of the sea and countryside.
You can pick between different cottage sizes at the Driftwood Village Resort, depending on your needs. For small groups, there are studio, one-bedroom, or queen suite cottages. Or, if you're traveling with a larger party, you can book a two-bedroom cottage or a very spacious bungalow. Even the larger cabins are quite affordable per night, making this one of the best budget-friendly hotels on Galiano Island. Most of the cabins feature a wood-burning fireplace, except for the studio cottages. Also, in the bungalow, you even get a fenced private backyard!
This peaceful Galiano Island resort has an excellent location close to the ocean, with nearby trails for beach access. Popular attractions that are close by include Bluff's Park lookout, Mary Ann Point, Arbutus Point, Matthews Point Regional Park, and Bellhouse Provincial Park. Also, you're only five minutes away from the Sturdies Bay Ferry Terminal, making the Driftwood Village Resort easy to get to!
What We Like
The cabins are quite affordable, with a great value for what you get!
The cottages are close to the Galiano Island ferry terminal so you don't need a car to get there.
Each cabin is quite spacious and is surrounded by beautiful orchards. You might see deer wandering right past your window! You can also pick the cottage size that best suits your needs and budget.
The wood fireplace makes the cabins quite cozy and warm, at any time of year.
Hosts are very friendly and accommodating
What We Don't Like
The property is nearby the ocean but many cottages don't have ocean views
Some of the facilities could be updated, although this does give the cottages a more rustic feel. However, there are also a few more spiders than some people would like!
The cabins don't come that well equipped (for example, kitchen supplies are rather sparse)
Best Vacation Rental Homes on Galiano Island
Below, we list the best vacation home rentals from VRBO and Airbnb on Galiano Island. Here are our quick recommendations for top Galiano Island vacation homes and short-term rental properties if you don't have time to read through the article:
The Waterfront Escape is a breath-taking property on the coast of Galiano Island near Bodega Ridge Provincial Park. With incredible ocean views, any stay at this vacation home will be unforgettable. Cozy up on the couch near the fireplace while watching the sea for marine wildlife. You can also relax in the sun on the outdoor deck's huge daybed. Or, head down to the boho-style boathouse where you can roll up the glass door for some yoga in front of the ocean. There's even an oceanfront outdoor bathtub!
The home is 1400 square feet and sleeps four people in its two bedrooms. There are also 1.5 bathrooms with heated floors. Overall, the Waterfront Escape getaway is perfect for a vacation with friends or a romantic honeymoon getaway. While it's a bit pricy, it's worth every penny. You won't find any other vacation home that's this perfect! It has limited availability so book early to enjoy this gorgeous oceanfront property!
⭐4.9 with 20+ ratings
For those traveling with a big family or lots of friends, the large Family-Friendly Rancher on a Sunny Acreage is a great choice. With three bedrooms and five beds, this huge property sleeps up to eight guests. You'll have plenty of space to spread out! Not only that, this property has a spacious 10 acres that you can explore, with an adorable pond, lush garden, and covered patio. There's even a fruit orchard with delicious pears and apples!
At this beautiful forested property, you have everything you need for an incredible vacation. Spend your day birdwatching from the patio chairs, cozying up near the fireplace, and exploring the acreage. There is a well-stocked kitchen, as well as an outdoor barbeque. The Family-Friendly Rancher also has plenty of outdoor and indoor games, like bocci ball, board games, and rope swings. Also, the family house has an excellent central location. You'll be close to Montague Provincial Marine Park, Bodea Ridge Provincial Park, Cable Bay, Pebble Beach, and excellent Galiano Island restaurants like pilgrimme.
⭐4.9 with 90+ ratings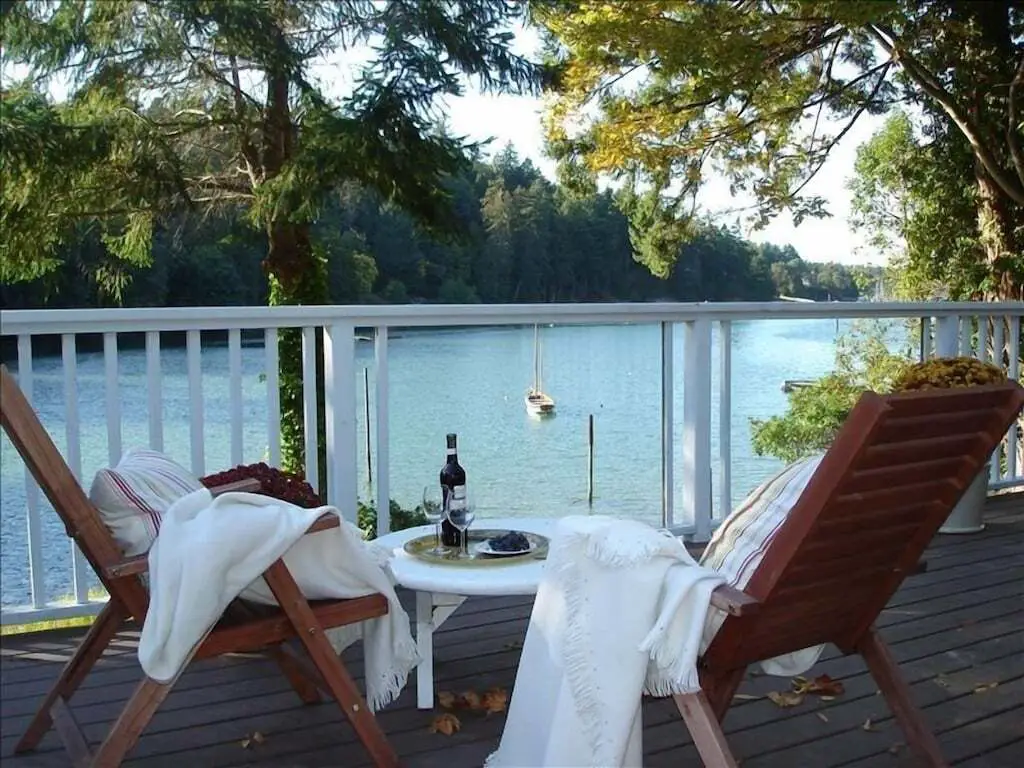 With an oceanfront property that's close to many amenities, Waterfront Staycation Cottage has one of the best vacation home locations on our list. At this cottage, you'll get incredible views of Whaler Bay. Additionally, this charming 2-bedroom cottage is very close to the Sturdies Bay Ferry Terminal. It's perfect for guests traveling without a vehicle! Also, it's only a short drive to some of the best places to see on Galiano Island, like Bellhouse Provincial Park, Morning Beach, Bluff's Park, and Montague Harbour.
The fully-equipped Waterfront Staycation Cottage suite is perfect for couples on a romantic getaway or small families. There are two bedrooms, with one queen and two double beds. The kitchen is fully stocked with all of the supplies that you'll need to cook. You have plenty of space to relax here, with a large living area and a massive deck. Pop open a bottle of wine and blissfully watch the sunset over the ocean from the patio chairs on the deck! On cooler days, you can get cozy in front of the fireplace or take a warm shower in their modern full bathroom.
⭐4.8 with 60+ ratings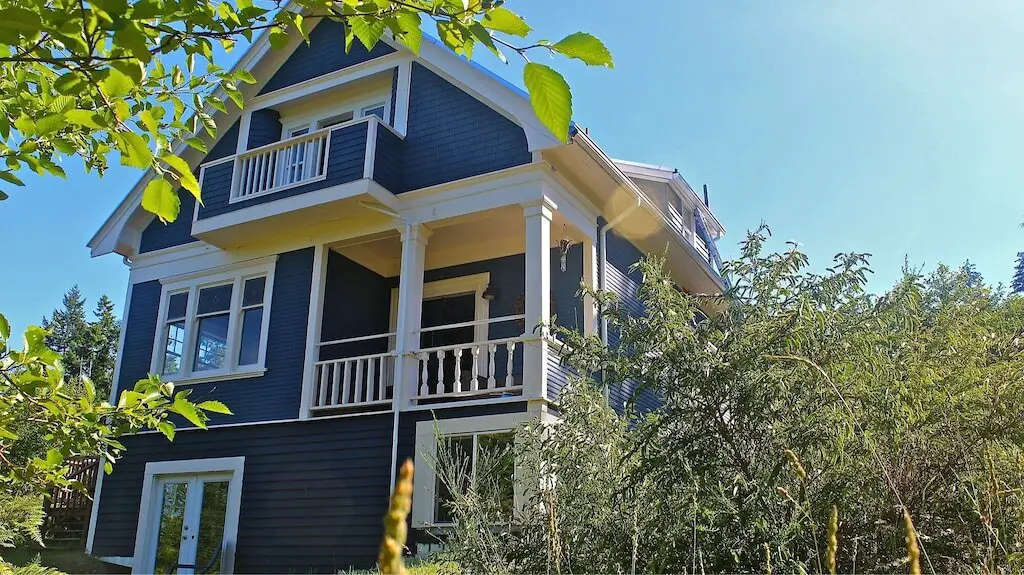 Fireside Cottage is a stunning blue and white heritage house with a lot of history. This historic property was built in 1912 in Victoria. Believe it or not, the entire house was barged over from Victoria to Galiano Island. Not many houses are this well-traveled! This Galiano Island vacation home has plenty of space. There is 1600 sq ft of room, five beds split between four bedrooms, and two bathrooms. Overall, this property is perfect for a family or a group of friends!
The house is packed full of luxurious amenities. Two bedrooms feature claw foot bathtubs, with the other having a walkout balcony where you can enjoy looking over the beautiful yard. Fireside Cottage has lots of space for cooking and dining, with bar seats, a large dining table, and a barbeque. There are also plenty of other features that make this rental property feel like home. You can cozy up on the large sectional couch in front of the wood-burning fireplace. Or, spend the evening around the outdoor gas fire pit, roasting marshmallows!
⭐4.7 with 50+ ratings
Arrow's Run Ocean View Suite is an incredible vacation rental in a beautiful forest oasis. Surrounded by towering trees, you'll feel like you're in remote woodland. However, all the amenities that Galiano Island has to offer aren't that far away! You'll be nearby the beautiful sandstone park of Morning Beach and the shell beaches at Montague Harbour Park. As well, you're just steps away from the beach access to the ocean!
At this beautiful Galiano Island B&B, you can sit out on the balcony and enjoy watching the sunrise over the ocean through the trees. Or, relax in a hammock among the Arbutus trees. If it's raining, you can hang out under their covered patio, sipping tea and reading a book. The insides of this open-concept house are quite modern and tastefully decorated. The Arrow's Run vacation property has two bedrooms with three beds and two full bathrooms. There's a fully-equipped kitchen. Or, you can head over to the nearby popular Hummingbird Pub restaurant for a meal!
⭐4.9 with 50+ ratings
Serendipity by the Sea is a gorgeous log cabin beside the ocean at Whaler Bay. This secluded, peaceful cottage has an amazing view of the ocean from the spacious deck. Wildlife like otters and bald eagles are commonly spotted around the cottage. The property is also an excellent spot for swimming, paddleboarding, and kayaking. The hosts have rental gear (kayaks and paddleboards) available if you need it!
This waterside cottage sleeps two with one comfortable bedroom. There is also one full bathroom with a walk-in shower. If you're traveling with extra friends, there's a second smaller cabin for an additional two guests (for an extra fee). The cozy main cabin has a fully-equipped kitchen with everything you need to cook meals. Also, it has an incredibly convenient location. The cottage is within walking distance of the Sturdies Bay Ferry Terminal. It's also quite close to Bellhouse Provincial Park and Bluffs Park.
⭐4.9 with 20+ ratings
Best Campgrounds on Galiano Island
Don't want to stay at a hotel or vacation home? If you prefer sleeping under the stars, you're probably wondering where to camp on Galiano Island. Here are the best Galiano Island campgrounds: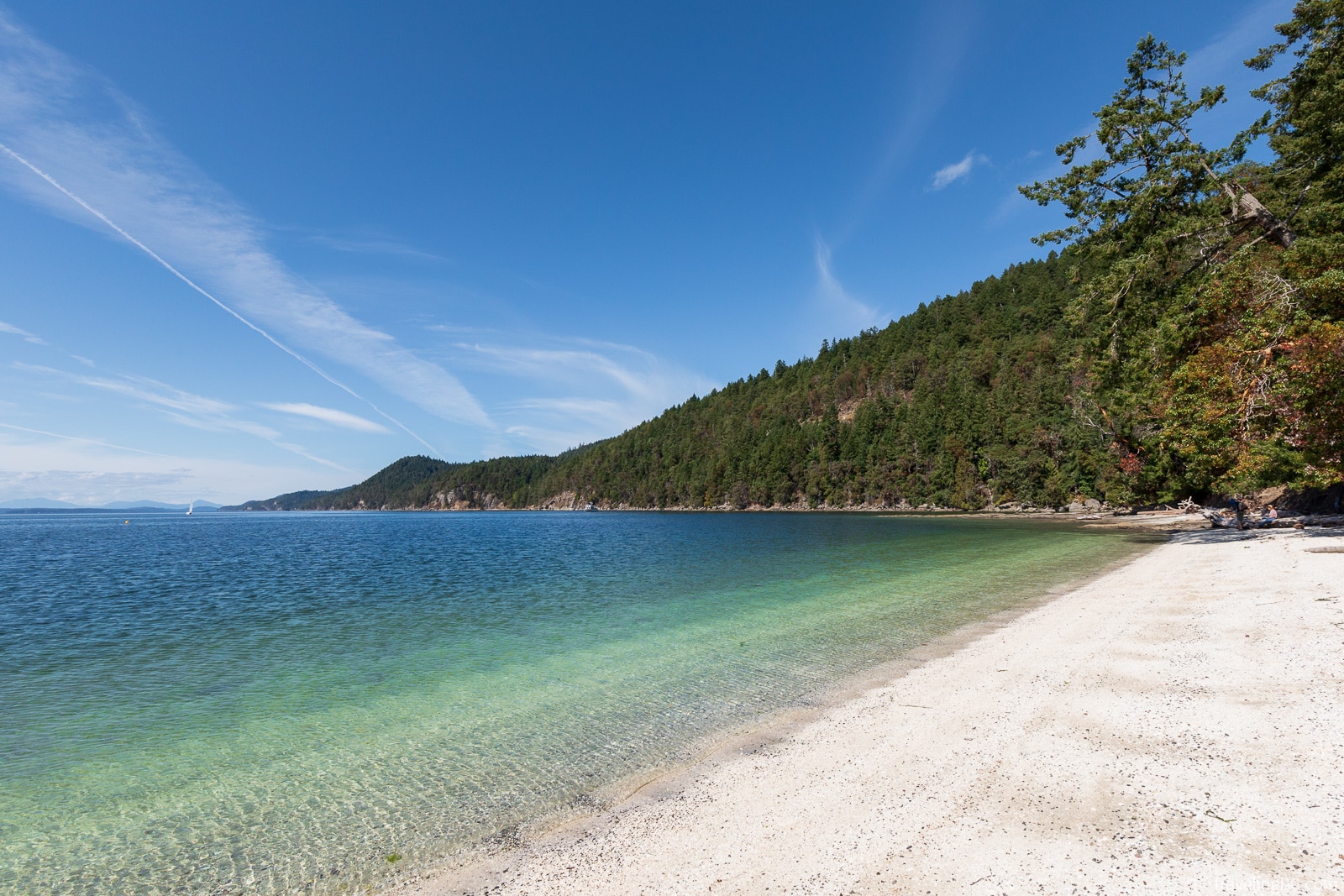 Featuring breathtaking white shell beaches and clear turquoise water, Montague Harbour Provincial Park is a must-see on any trip to Galiano Island, British Columbia. Luckily, there is an excellent front-country campground right in the park. Here, you can sleep under massive trees, steps away from the beautiful ocean. Spend the afternoon lounging in the sun and swimming in the cool ocean!
Montague Harbour Marine Provincial Park has 16 campsites with vehicle access, as well as 28 walk-in forest sites. The campground sites have picnic tables, firepits, and plenty of space. There is also drinking water available through the summer, a walk-in group campsite, and pit toilets. If you plan on boating, there is a boat launch right by the campground. As well, the Montague Harbour dock facilities are nearby.
Dionisio Point Provincial Park features unique sandstone beach formations, wildflower meadows full of color, gorgeous sandy beaches, beautiful bays rich with marine life, and incredible views of the ocean in Porlier Pass. Also, there are fenced shell midden archaeological sites in the park, evidence of use by the Penelakut First Nation.
There are thirty wilderness campsites at Dionisio Point Provincial Park. While these are listed as "walk-ins", the provincial park is boat-access only. Unfortunately, the park is surrounded on land by private property, with no trails for access. You'll need a kayak or a boat to get to the campsites. The campground has a water hand pump, picnic tables, and pit toilets.
Top Travel Tips & Resources for Galiano Island
Getting There: Check out our guides on how to get to Galiano Island from Victoria or from Vancouver.
Travel Insurance – If you're travelling internationally, travel insurance is a must for any trip. Being covered by insurance is especially important when you're going to an adventure-filled place like British Columbia. If you injure yourself while adventuring, you want to have insurance! We recommend using SafetyWing for international travel insurance. They are affordable and have great policies for travellers, digital nomads, and remote workers. Also, SafetyWing provides COVID-19 coverage, which many other insurance companies don't cover.

Car Rental – We find the best deal on vehicle rental prices using RentalCars.com. They compare the prices for different car rental companies so you can find the best deals out there!

Accommodations – We prefer booking all of our hotels, hostels, and other accommodations through Booking.com because they have a flexible cancellation policy. Also, there are lots of different options on their platform, from hotels to vacation homes. Alternatively, Expedia and Hotels.com are good for booking accommodations. For vacation home rentals, VRBO is an excellent choice (they have lower fees than Airbnb, many of the same properties, and are more ethical).

Flights – You can find many good flight deals on Google Flights or Kayak. If you fly at less popular times (e.g. mid-week or red-eye flights), you can save some money.

Tours – Get the most out of your vacation by taking a guided tour! This is a great way to see the city, adventure to exciting new locations, and learn about the local culture. Viator or GetYourGuide are great options for booking tours.