Just off the coast of northern Vancouver Island, you'll find the hidden gem of Alert Bay on the gorgeous Cormorant Island. Even though the community is small, Alert Bay is one of the best places to visit on the North Island, with plenty of amazing things to do!
Home to the 'Namgis people, this beautiful island is an excellent place to learn about the rich culture and history of the Kwakwaka'wakw First Nations. Not only that, the island is a hub for outdoor recreation, surrounded by the wilderness of the west coast of British Columbia. And, while outdoor adventurers will love this remote island, it's also an amazing location for a peaceful vacation relaxing by the ocean.
If you're trying to figure out exactly what the best things to do on Cormorant Island are, we have you covered! In this guide, you'll learn the best things to do, places to see, and activities in Alert Bay. We also cover some travel tips, like where to stay in Alert Bay, how to get there, and what to expect from the weather.
Best Things to Do in Alert Bay on Cormorant Island, Canada
Below, in no particular order, we cover the best things to do, activities, and places to see in Alert Bay, Cormorant Island, BC, Canada. Enjoy!
1. Visit the U'mista Cultural Centre
Visiting the U'mista Cultural Centre is one of the best things to do on Cormorant Island and a great way to learn about the 'Namgis and Kwakwaka'wakw peoples. Alert Bay is part of the traditional territory of the 'Namgis people, one of the Kwakwaka'wakw First Nations who inhabit northeastern Vancouver Island and the coastal mainland of BC. The U'mista Cultural Centre celebrates the Kwakwa̱ka̱'wakw peoples and preserves their rich cultural heritage.
At the U'mista Cultural Centre museum, you'll be able to see the Potlatch Collection, a display of ceremonial objects and masks. These culturally important artifacts were confiscated from the 'Namgis First Nation in 1921 after the people participated in a potlatch, a ceremonial gift-giving feast. Potlatch was made illegal by the federal government in 1883 until 1951. The artifacts were later repatriated, and are showcased at U'mista.
The Alert Bay cultural centre is the oldest First Nations cultural facility in British Columbia. In addition to the museum, they operate an art gallery, gift shop, and group cultural tours.
On Saturdays during July and August, you can also enjoy traditional dances performed by the T'sasała Cultural Group. These beautiful performances take place in the ceremonial Big House. The Culture Shock Interactive Gallery also offers cultural experiences like cedar weaving workshops and storytelling.
2. See the World's Tallest Totem Pole
Towering above Alert Bay is an impressive work of art – the world's tallest totem pole. Held upright by strong cables, the world's tallest totem pole stands 52.7 metres (173 feet) above the village of Alert Bay. While it's not the tallest free-standing pole (the Story Pole in Beacon Hill Park, Victoria, BC holds that title at 127 feet tall), you can barely see the top of this big totem pole!
While erected in 1973, this impressive totem pole was carved in the 1960s by chief carver Jimmy Dick and a team of Indigenous artists. The pole was created from multiple sections that were joined together after carving. For this reason, some argue that the Alert Bay totem pole doesn't deserve to be called the largest totem pole in the world. These critics argue that instead, a 140-foot totem pole carved from one tree in Kalama, Washington deserves the title of biggest in the world. However, the Kalama totem pole wasn't carved by an Indigenous artist so it might not count either.
Unlike most other totem poles which are carved to represent one tribe, the world's tallest totem pole was designed to reflect all of the Kwakwaka'wakw peoples. Some of the figures on the totem pole include Thunderbird and its cousin Kulusł, Whale, Old Man, Wolf, Dzunuk̓wa (a wild woman of the woods), a double-headed serpent with a human head, Bear with a salmon, and Raven holding copper. Sun Man once perched at the top of the pole but unfortunately, a strong wind toppled the top of the pole off in 2007.
3. View the 'Namgis Original Burial Grounds
On Alert Bay's main road (Fir Street/Front Street), you'll spot the hauntingly beautiful totem poles in the 'Namgis Original Burial Grounds. Standing facing the ocean, these sacred poles serve as a memorial of First Nations people who once lived in the Alert Bay area.
While some of the poles are newer, others are naturally decaying. This returning to the earth is part of the tradition for totem poles. You can learn more about the totem poles in the 'Namgis burial grounds from the Alert Bay visitor information office.
When visiting the 'Namgis burial grounds, make sure to be respectful and view the totem poles from the street. Entry into the burial grounds (both the original and current burial grounds) is not permitted.
4. Walk the Alert Bay Ecological Park Trails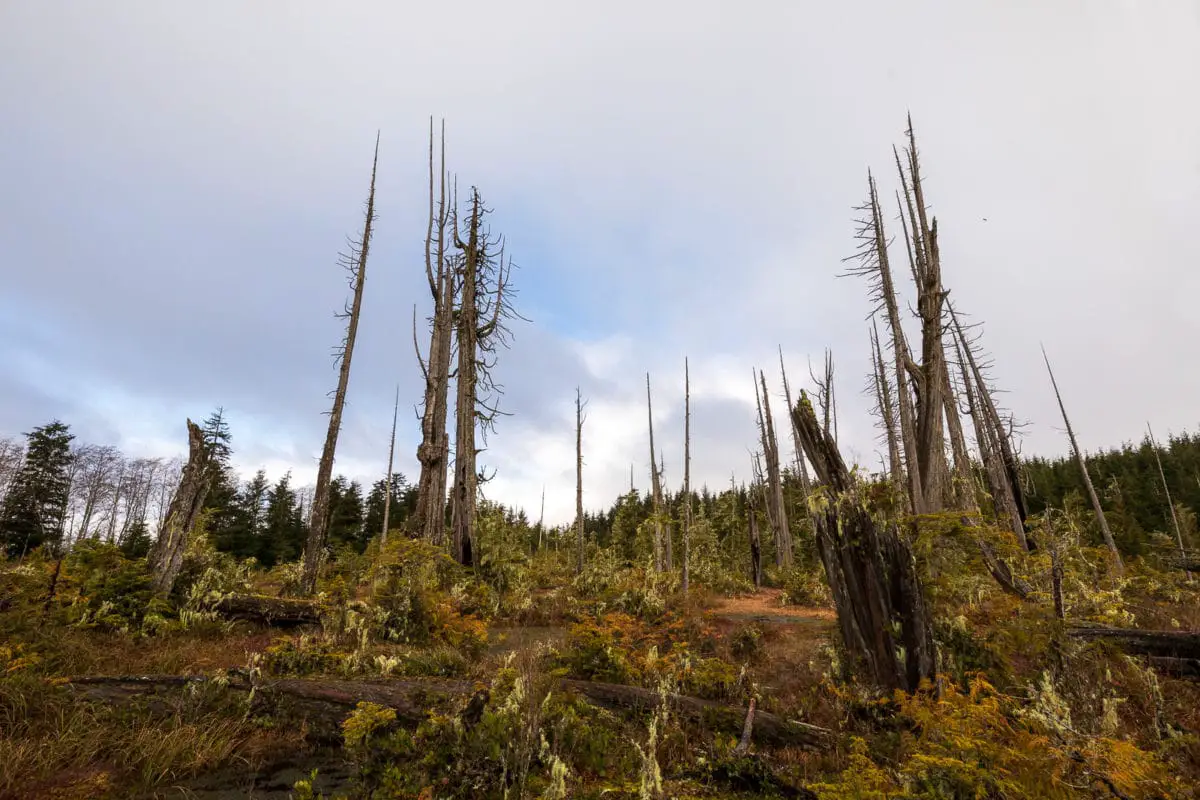 One of the most beautiful places to walk on Cormorant Island is the Alert Bay Ecological Park trails. The Alert Bay Ecological Park encompasses old-growth forest and a beautiful marsh with a boardwalk.
Despite the marsh's nickname of "Gator Gardens", there aren't any alligators in the waters! The marsh was given this nickname for its resemblance to the Florida Everglades, with moss-shrouded trees and pools of swamp water. The marsh at the Ecological Park is an excellent spot if you love bird watching or botany.
There are three short trails in the Alert Bay Ecological Gardens. The trails around the Alert Bay Ecological Park also link up to the John Anderson Big Tree Loop, East Trail, Main Trail, and Dozer Trail. Keep an eye out for culturally modified trees! These trails are an excellent way to explore Cormorant Island.
Other excellent walking trails around Alert Bay are the Gwakawe (North Side) Trail, Gwa'yam (Whale) Trail, Gwa'wina (Raven) Trail, and Matsa (Mink) Trail. Overall, you can explore most of Cormorant Island on foot. Walking around the entire island will only take a few hours!
5. Whale Watching Tours
Home to numerous whale species, Alert Bay is an excellent spot to go on whale watching tours. On Alert Bay whale watching tours, you have the chance to see all kinds of whale species, from massive humpback whales to the speedy Dall's porpoises. You also might see minke whales, grey whales, harbour porpoises, and Pacific white-sided dolphins. However, one of the best parts of whale watching adventures around Alert Bay is the opportunity to see impressive numbers of orcas in their natural habitat!
Alert Bay is referred to as the "Home of the Killer Whale", and for good reason! Home to hundreds of Northern Resident orcas in summer and fall, you have an excellent chance to see these black and white whales on wildlife viewing tours from Alert Bay. Each year, orcas gather to socialize, forage, and scratch themselves on the whale-rubbing pebble beaches at the Robson Bight (Michael Bigg) Ecological Reserve. Bigg's (Transient) orcas also travel through the region. Guests at the Seine Boat Inn and Nimpkish Hotel often even spot these whales from their hotel room!
Seasmoke whale viewing tours depart through the summer (June to September) and typically last 3 to 3.5 hours. The tours take place around the Upper Johnstone Strait, close to Robson Bight and Blackfish Sound. Other marine animals commonly spotted on whale watching tours from Alert Bay are Steller sea lions, sea otters, bald eagles, and harbour seals.
Where to Stay in Alert Bay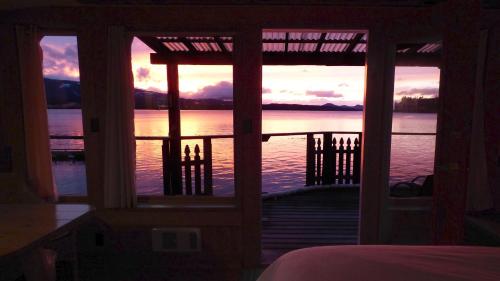 One of the best hotels in Alert Bay is the Seine Boat Inn. This gorgeous, wood-detailed hotel is a stilt house, built right above the ocean. You'll have incredible ocean views and there's even a chance you'll spot orcas right from your room!
The amazing location isn't the only great thing about this hotel. The inn receives raving reviews from guests due to the hotel's cleanliness, well-equipped comfortable rooms, and convenient location on Alert Bay's main road. Not to mention, the hosts provide amazing hospitality and are very friendly!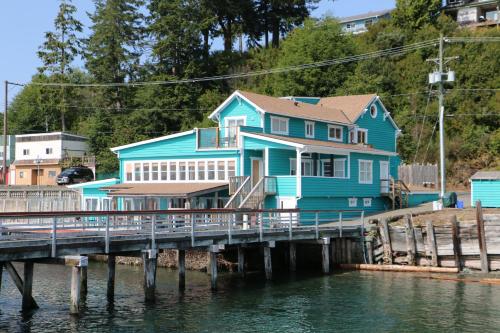 The Nimpkish Hotel is a brilliant turquoise, historic stilt-house near the 'Namgis Original Burial Grounds. The name of this oceanfront Alert Bay hotel is the anglicized word for the 'Namgis people. This lodge is an excellent place to stay the night during your trip to Alert Bay.
This harbourside hotel has loads of character, with a great location on Fir Street (Alert Bay's main drag). There are seven guest rooms to choose from. Each hotel room has different amenities so you can pick whatever room best suits your needs. The hosts are very accommodating and provide a continental breakfast. Additionally, there is a covered deck where you can sit and watch for whales!
How to Get to Alert Bay
Wondering how to get to Alert Bay in British Columbia? Luckily, it's pretty straightforward! All that you have to do is get yourself to the ferry terminal in Port McNeill. You can get to Port McNeill by driving or flying.
Once you're in Port McNeill, all you have to do is take the ferry from Port McNeill to Alert Bay. There are usually 6 ferries per day. If you're traveling in your car, you can bring it across on the ferry for an extra fee. Here are some tips to make traveling on BC Ferries cheaper.
The beautiful Alert Bay ferry route takes about 45 minutes. Along the way, you can enjoy views of the coast of Vancouver Island and Sointula on Malcolm Island!
There are some other less common options for traveling to Alert Bay. You can get to Cormorant Island by boat. Anchor in the harbour or the protected bay. Alternatively, the island is accessible by aircraft, with a small 900-m landing strip in Alert Bay.
Alert Bay Weather
Like most of north Vancouver Island, Alert Bay weather is generally mild. It never gets too hot or too cold. You don't have to worry about overheating or freezing in this mild climate!
July and August are the hottest, sunniest, and driest months of the year. The hottest month is August, with an average high of 19°C (66°F). If you're looking for good weather, July and August are definitely the months that you should visit Alert Bay!
Winters in Alert Bay get wet and cool. January gets the most rainfall, with an average precipitation of 223mm (8.78 inches). Also, December and January get the coldest, with average temperatures between 1 to 5°C (34 to 41°F). Luckily, it never gets too cold in Alert Bay, and days with freezing temperatures are rare.
Top Travel Tips & Resources for BC
Travel Insurance – If you're travelling internationally, travel insurance is a must for any trip. Being covered by insurance is especially important when you're going to an adventure-filled place like British Columbia. If you injure yourself while adventuring, you want to have insurance! We recommend using SafetyWing for international travel insurance. They are affordable and have great policies for travellers, digital nomads, and remote workers. Also, SafetyWing provides COVID-19 coverage, which many other insurance companies don't cover.

Car Rental – We find the best deal on vehicle rental prices using RentalCars.com. They compare the prices for different car rental companies so you can find the best deals out there!

Accommodations – We prefer booking all of our hotels, hostels, and other accommodations through Booking.com because they have a flexible cancellation policy. Also, there are lots of different options on their platform, from hotels to vacation homes. Alternatively, Expedia and Hotels.com are good for booking accommodations. For vacation home rentals, VRBO is an excellent choice (they have lower fees than Airbnb, many of the same properties, and are more ethical).

Flights – You can find many good flight deals on Google Flights or Kayak. If you fly at less popular times (e.g. mid-week or red-eye flights), you can save some money.

Tours – Get the most out of your vacation by taking a guided tour! This is a great way to see the city, adventure to exciting new locations, and learn about the local culture. Viator or GetYourGuide are great options for booking tours.