Hornby Island is a beautiful hidden gem just off the east coast of Vancouver Island. One of the Northern Gulf Islands, this bohemian island features towering forests, seaside cliffs, expansive beaches, abundant wildlife, a vibrant artist community, and so much more.
If you've decided to visit this spectacular Gulf Island, you're in for a treat. There are plenty of things to do and see around Hornby Island, whether you're looking to sample some of BC's best wines, explore the trails, or check out some of the island's art!
Perfect for any nature lover, some of the best things to do around Hornby Island are outdoors. From the stunning blue waters of Tribune Bay to the coastal bluffs in Helliwell Provincial Park, you'll be blown away by the natural beauty of this island.
Planning a trip to Hornby Island and looking for the top things to do on your vacation? We cover the best things to do, sights to see, places to eat, and activities to try when visiting the beautiful Hornby Island. Whether you love spotting wildlife or lounging on the beach, there's something for everyone!
Disclaimer – This post contains affiliate links. We may receive a commission if you make a purchase through these links, at no extra cost to you. Thank you for your support! Learn More.
What Are the Best Things to Do on Hornby Island?
Below, we cover some of the best things to do and places to see on Hornby Island. Enjoy!
1. Tribune Bay Provincial Park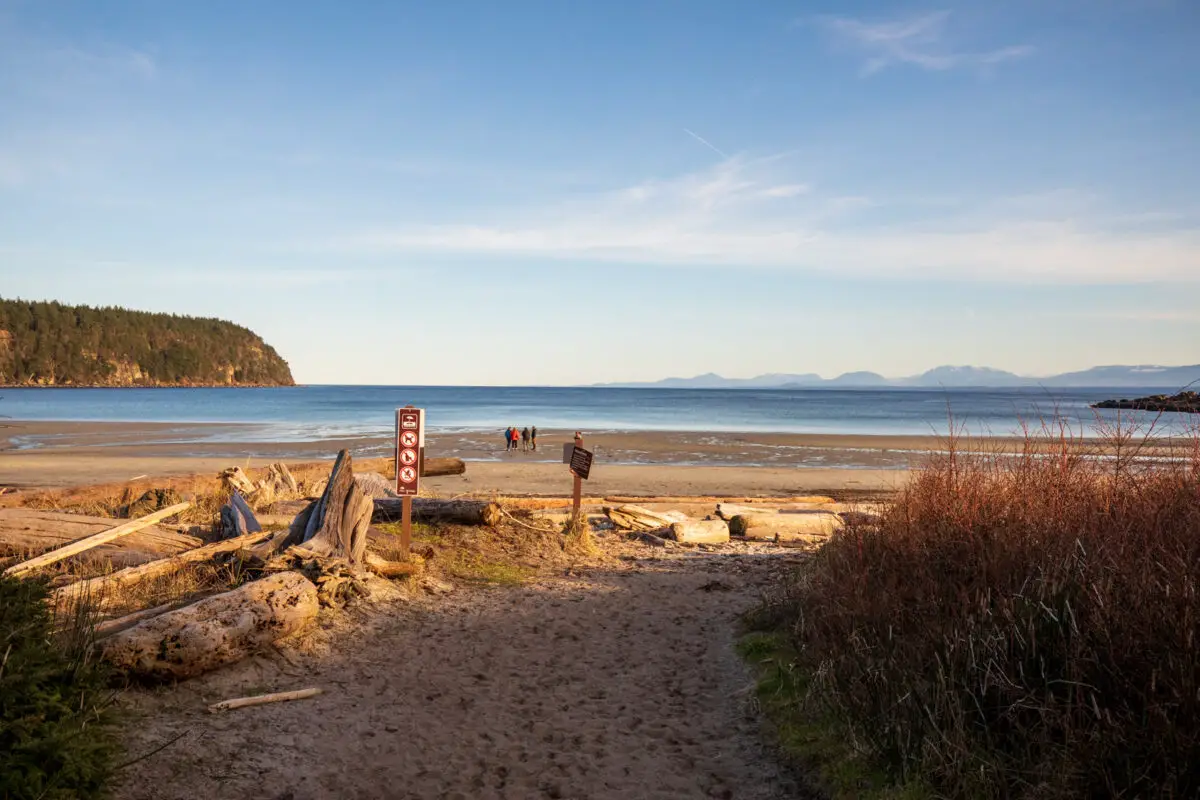 Hornby Island's crown jewel is Tribune Bay Provincial Park, a beautiful protected bay with shallow waters and a sandy beach. This West Coast paradise is even nicknamed "Little Hawaii" for its relatively warm waters and white sands.
Known for aquamarine blue waters, the scenic beach at Tribune Bay Provincial Park is one of the top highlights of Hornby Island. People flock to see this picturesque beach, year-round. It's definitely one of the best sandy beaches around Vancouver Island and is a must-see on any Hornby Island vacation!
With warm waters, Tribune Bay is a popular spot for spending a hot summer day. The sheltered, south-facing beach is great for sunbathing and swimming. And, you'll often spot kayakers and paddleboarders paddling the waters, and boats anchored offshore.
Whether you're looking to lounge on the beach, swim in the saltwater, or head out on the waves, Tribune Bay Beach is the perfect destination. It's no wonder that it is one of the most popular beaches on Hornby Island!
2. Helliwell Provincial Park
For impressive seaside cliffs, rolling meadows, and a gorgeous coastal forest, head to Helliwell Provincial Park. This protected BC park is located on the north side of Tribune Bay. Full of beautiful natural wonders, it's worth taking some time to explore its trails!
Spending an afternoon at Helliwell Provincial Park is one of the best things to do on Hornby Island. The unique ocean cliffs tower above the sparkling water, with incredible views of distant mountain ranges. From the bluffs, you might even spot sea lions swimming past the rugged coastline and beautiful rocky beaches.
The best way to explore the park is the 5-km long Loop Walk. This gorgeous walk takes you through coastal forest, past a totem pole, into an open seaside meadow, and along the rocky bluffs. Along the way, make sure to check out Mushroom Beach and the view of Flora Islet from St. John's Point.
At Helliwell Provincial Park, you can spot all kinds of wildlife, especially during herring spawning season in spring. Look for seal lions, bald eagles, river otters, and even whales. Don't forget to bring binoculars to spot the sea lion colony on Flora Islet!
3. Mount Geoffrey Parks
On the southwest side of Hornby Island, a series of forested benchlands rise up to form the island's only mountain, Mount Geoffrey. The summit of Mount Geoffrey reaches 330 meters (1,080 feet) high, forming the tallest point on this Northern Gulf Island.
Much of Hornby Island is protected by the two parks that encompass the mountain: 1) Mount Geoffrey Regional Nature Park and 2) Mount Geoffrey Escarpment Provincial Park. Together, with the undeveloped adjacent crown land, Mount Geoffrey makes up 25% of Hornby Island!
The parks are home to an extensive system of walking, biking, and equestrian trails that loop around and up to the top of Mount Geoffrey. Test your endurance as you navigate the forest trails that trek along this stunning mountain. From the summit, lose yourself in breathtaking views of Denman Island, Vancouver Island's mountain range, and the Salish Sea.
To get to the summit, we recommend either the Cliff Trail through Mount Geoffrey Regional Nature Park or the Outer Ridge Trail which takes you along the scenic ridgeline of Mount Geoffrey Escarpment Provincial Park. Both trails pass through coastal Douglas fir rainforest, with panoramic ocean views along the way!
4. Viewing the Herring Spawn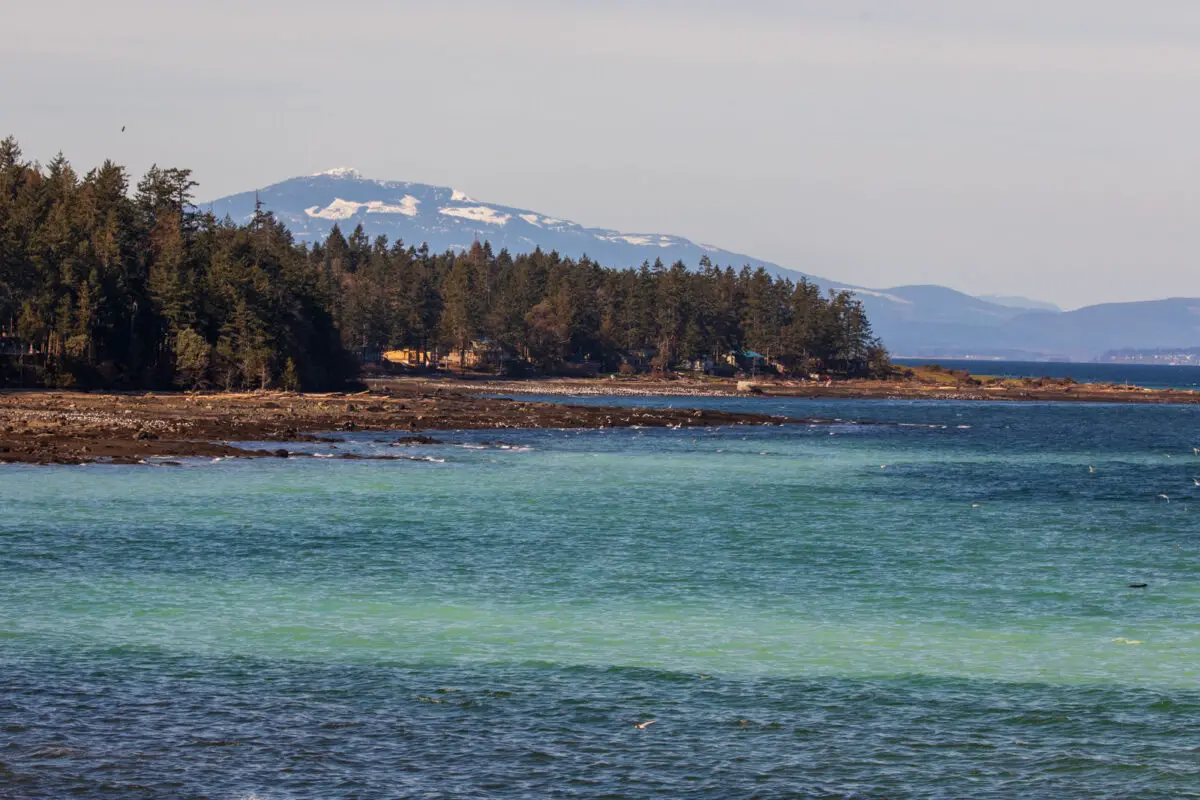 One of the things that Hornby Island is best known for is the massive Pacific herring spawn along its shores in spring. This is a must-see natural event for any nature lover or wildlife enthusiast.
Every year, Pacific herring migrate to their spawning grounds in the shallow coastal ocean waters of Hornby Island. Here, the fish congregate, producing up to 20,000 eggs per female!
This extraordinary event is surprisingly beautiful, turning the waters into a whitish turquoise color (you can guess why). Millions of small, translucent herring eggs wash up on shore. Not only that, animals of all kinds come to feed upon the fish and their eggs.
During this time, you'll spot more wildlife than ever before. Huge packs of sea lions cruise through the waters. Flocks of bald eagles dive for fish and sea birds line the shores eating herring eggs. Even whales are sometimes spotted from shore! For wildlife photographers, this is a prime opportunity to catch some incredible shots of this ecological spectacle.
Many fishing boats also patrol the waters, harvesting herring and roe. Once, major herring spawns occurred all along the Salish Sea, but herring fisheries have unfortunately depleted most of these populations. Now, Hornby and Denman Islands are the epicenter of one of the remaining major spawns.
Every year, Hornby Island celebrates the return of the herring with HerringFest, hosted by Conservancy Hornby Island. During this nature-themed festival, there are boat trips for wildlife viewing, art shows, marine-themed films, and other educational events.
5. Mountain Biking
Across most of Mount Geoffrey, you'll find an impressive network of over 70 km of mountain biking trails. With well-maintained paths, epic clifftop views, fun downhill descents, and a variety of difficulties, you're in for a treat if you decide to bike these trails!
Bring your mountain bike or rent one from the Hornby Island Outdoor Store, and explore the trails. Many of the biking trails are beginner or intermediate, but there are also a couple of advanced ones. Feel the adrenaline pumping as your rush through the coastal rainforest down the mountain!
Most of the trails on Hornby Island were actually developed by cyclists, but are also used by pedestrians and equestrians. Make sure you ride with care to avoid collisions with hikers or horses.
Every year, the Hornby Island Mountain Bike Association hosts the annual No Horses Shootout race on the May long weekend. This race involves mountain bikers ripping through the forest on Chris & Brad's trail and down No Horses trail, going as fast as they can to the finish line. Participate at your own risk or watch as racers zoom past!
For those who don't want to rip down the hills, there are also plenty of cycling opportunities off the mountain. Both Central Road and St. John's Point Road have gravel cycling/pedestrian pathways that are great for biking with kids. Also, the Joe King Skills Bike Park has a pump track and other cycling challenges for everyone to enjoy.
6. Ringside Market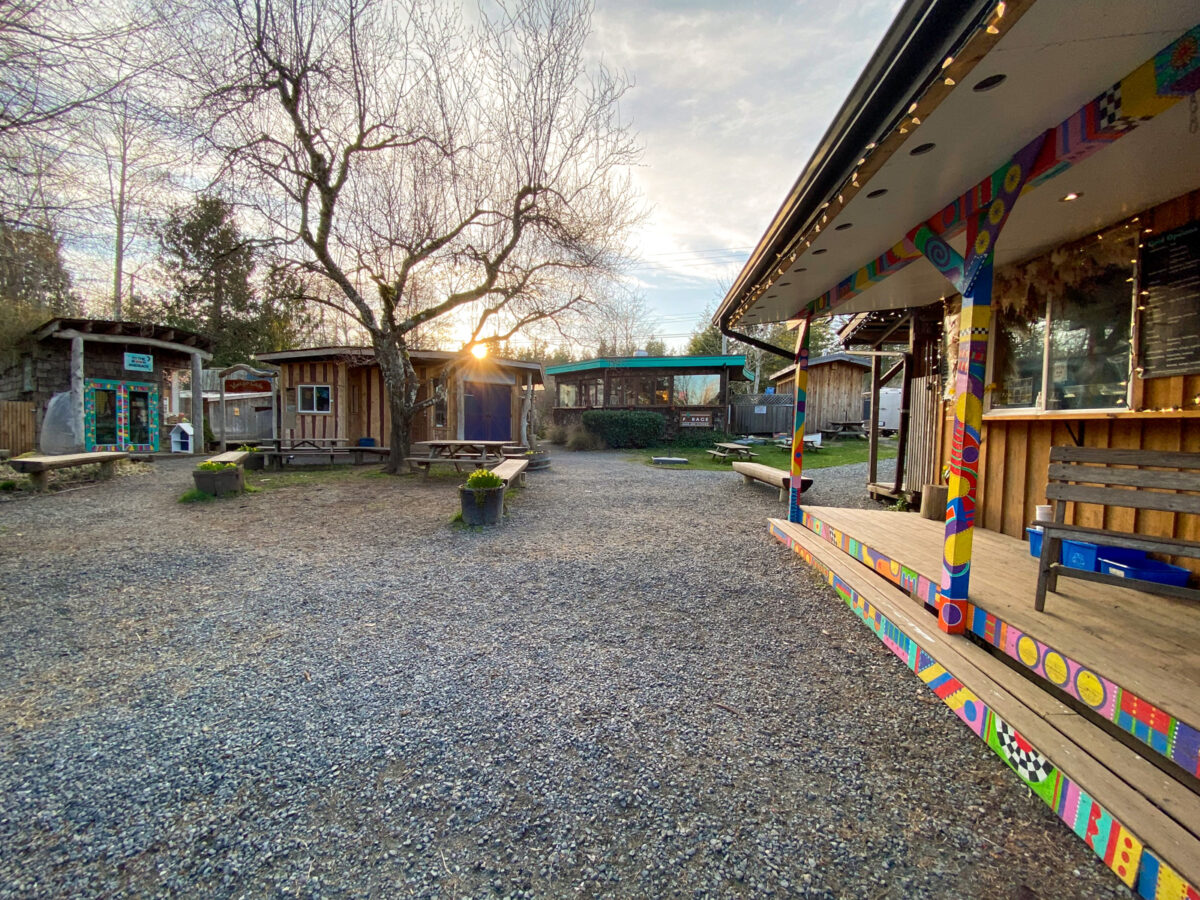 In the small downtown area of Hornby Island, you'll find an eclectic assortment of little cafés, restaurants, and shops. Known as Ringside Market, this charming little square is a gathering place for both tourists and locals who are looking for a drink, food, or some shopping.
Ringside Market is a must for anyone visiting Hornby Island. The market captures the bohemian essence of the community. It features local art and handcrafted items, and often, someone will be playing guitar amongst the colorful wooden buildings.
Here, you'll find several places to grab food or drinks, like the Forage Farm and Kitchen, Vorizo Café, and the Hummingbird Bread Company. Enjoy a delicious ice cream cone or some coffee while enjoying the sun and relaxed atmosphere.
For those who love shopping, Ringside Market is also a great place to browse local stores for a variety of goods. These unique shops feature an incredible display of art, clothing, and wellness products from artists and creatives across Hornby Island.
Overall, Ringside Market is a great place to visit to get a feel for Hornby Island. It won't take up much of your time to visit this market, but it's definitely worth a stop!
7. Wine and Cider Tasting
Not just a haven for artists, Hornby Island is also home to a great number of local wineries and orchards that produce first-class wines and ciders. From sparkling wines to honey mead, your taste buds will love touring the island on a wine and cider sampling adventure.
At Middle Mountain Mead, you can sample artisan, handcrafted mead (aka honey wine) made using honey from their own hives, as well as local flavors like herbs and flowers. They offer complimentary tastings in their tasting room, which is set on a beautiful property overlooking the forest.
For high-quality, small-batch wine, Isla de Lerena Vineyard is one of the best places to visit on Hornby Island. The food lounge pairs its wines with delicious foods and an unbeatable vineyard view.
Hornby Island Estate Winery is known for producing delicious wines, ports, and sherries, using fine bubble technology to reduce sulfites. All of their creations are made from local fruits, right from their orchards!
Lastly, Fossil Beach Farm makes a variety of hard ciders and non-alcoholic drinks. They use a mix of apples from their own orchards and other BC farms, giving a unique taste to their fruit-focused drinks. Sample their ciders, as well as farm-to-table foods, in their tasting room on the farm.
8. Visit the Many Beaches and Community Parks
While Tribune Bay is arguably the best beach on Hornby Island, there are many other beautiful beaches and community parks to explore if you're looking for things to do.
From rocky spits to sandy bays to ocean-carved sandstone, you'll find a variety of different beaches around the island, each with its own unique charm. Most of the community parks are beside a beach, but a couple are inland as well.
For those who don't like to plan ahead, you can drive around most of Hornby Island, looking for coastal spots and parks to spend the day. Otherwise, here are some of the best beaches and community parks around Hornby Island to add to your itinerary of things to do during your trip!
Little Tribune Bay Beach (Clothing-Optional)
Little Tribune Bay Beach is a carefree, clothing-optional beach where you can rest, relax, and escape from the world.
This bathing suit-optional beach is located right next to Tribune Bay Provincial Park, separated only by the unique sandstone formations of Spray Point. You'll find the Wardle Golf Course and Hornby Island Yoga Dome nearby, too.
Similar to the bigger Tribune Bay Beach, this crescent-shaped beach boasts amazing sea views and a tranquil atmosphere. Although, it is important to note that, unlike its neighbor, Little Tribune Bay Beach is clothing optional. So, don't be alarmed if you see other beachgoers in their birthday suits!
Whaling Station Bay Beach
Whaling Station Bay Beach is a spectacular sandy beach surrounded by sandstone shores. Offering incredible views of Texada Island, the Georgia Strait and beyond, this beach is a great spot to spend the day. At low tide, you can even walk all the way to Cape Gurney (the eastern edge of the bay)!
One of the most popular beaches on Hornby Island, Whaling Station Bay Beach is the perfect destination for beachgoers and swimmers of all ages and levels. This shallow, sandy bay is known for its calm, relatively warm waters where you can swim, splash, and play. Not only that, but it's also a beautiful spot to kayak and paddleboard!
Located just north of Helliwell Provincial Park, this gorgeous bay is also a haven for nature enthusiasts and wildlife. From the shores, you'll often see bald eagles and other seabirds flying, fishing, or sitting perched on nearby trees. And, when the tide goes out, the expansive beach becomes the perfect spot for beachcombing and tide pooling.
Sandpiper Beach Community Park
Sandpiper Beach Community Park is a delightful little park with an open lawn. Adjacent to the park, you'll find a long stretch of pebble beach and water-carved sandstone formations where people like to stack rocks.
The south half of the park is covered in second-growth fir trees and blackberry brambles, perfect for picking berries in August. Wildflowers grow along the edges of the trees and the coastline. Sandpiper Beach Park is a great spot for picnics, tide pooling, beachcombing, and evening beach fires.
Fossil Beach (Boulder Point)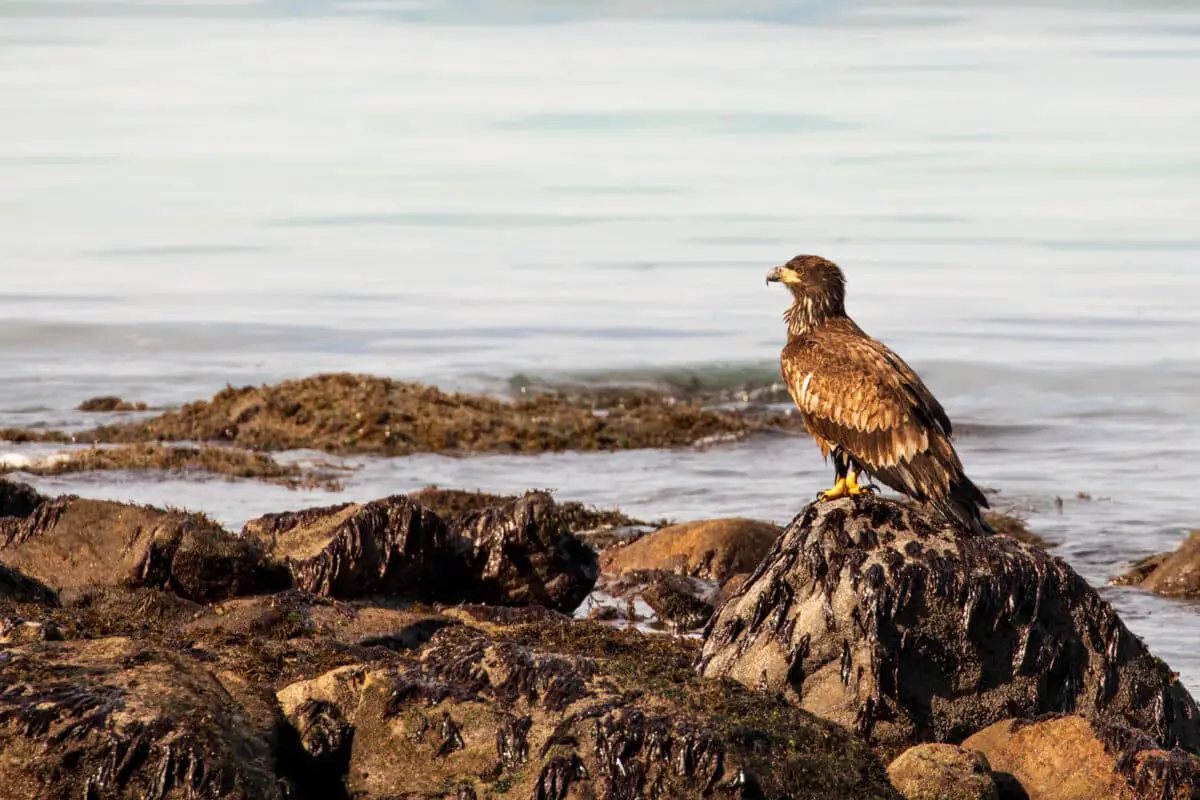 Fossil Beach (Boulder Point) is one of the many beautiful spots on Hornby Island. You are able to access this beach on a small woodland path to the left of Fossil Beach Farm's entrance. Bring boots — the trail can get muddy!
This rocky cobble beach is a great place to visit if you're keen to spot local wildlife, especially during the herring spawn. Animals like majestic bald eagles, playful river otters, and shy crabs feast on the fish and other food morsels trapped in the tiny tide pools between rocks.
When the tide is out, Boulder Point is a great spot to go tide pooling. Here are some of the best seashore field guides to help you identify creatures that you find in the tide pools! Also, some people have even found fossils on the beach, like ammonite and baculite!
During calm weather, Fossil Beach is also an incredible place to bring your paddleboard and explore the shores. You'll be amazed by how much wildlife you can see as you glide along the waves.
Grassy Point Community Park
Located on the north side of the island, Grassy Point Community Park is a favorite amongst tourists and locals alike.
Here, you'll find a grassy area that stretches out to the sea, where wildflowers bloom in the spring. The rocky Galleon Beach lies adjacent to the park and along Grassy Point's shoreline, you'll find neat rock formations and plenty of tide pools!
Grassy Point Community Park is one of the best spots on Hornby Island to watch the sunset over the distant coastal mountains. Cap off an amazing day of exploration with an evening picnic or fire on Galleon Beach, while enjoying the ocean being lit up by the setting sun.
Phipps Point
Phipps Point features a very rocky beach bordered by several colorful arbutus trees and is located near Bradsdadsland Campground. A cement pier stretches out into the ocean, giving you awesome views of Denman Island and the stunning mountain range of Vancouver Island.
This beautiful spot is often overlooked by tourists. But, with easy access and some excellent ocean vistas, we think this viewpoint is worth a stop, even if it's just for a few minutes.
Wander around the beach, tide pooling and beachcombing. Some people like swimming here, especially on hot days. During the herring spawn, the pier is a good spot to walk out and watch for fish swimming in the cloudy water, too.
Shingle Spit
Shingle Spit is one of the first beaches you'll come across on Hornby Island when you arrive on the ferry from Denman Island. This long, V-shaped beach stretches out into the ocean, providing spectacular views of the mountains over Denman Island.
This is a good spot for hanging out on the beach, whether you want to swim or just sunbathe. It's also common to see paddleboarders or kayakers pass by Shingle Spit. And, if you want to watch the ferries come and go, this is the place to do it!
9. Kayaking and Paddleboarding
For a new perspective on the island, pick up a paddle and explore around Hornby on a standup paddleboard or in a sea kayak. You can bring your own equipment or pick up rentals from Ford's Cove or the Hornby Island Outdoor Sports Store.
The waters around Hornby Island are usually calm, which makes the conditions perfect for exploring by boat or board. Paddle into sheltered bays and secret coves, past fabulous rock formations, and explore diverse intertidal zones, full of marine life.
As you glide along the waves, you'll have the incredible opportunity to take in the beauty of the island, while also enjoying the marine animals that live beneath the waves. Keep your eyes peeled for whales and sea lions!
Some of the best spots to paddle around Hornby Island are Tribune Bay and Whaling Station Bay. There is also excellent kayaking around the bluffs at Helliwell Provincial Park. If you're starting off near Ford's Cove, try paddling to Norman Point, where you'll find Sand Dollar Beach and the small Toby Island.
10. Hornby Island Farmers' Market
For handcrafted souvenirs, foods, and other treats, a visit to the Hornby Island Farmers' Market is a must! This cool little market features booths mixed in among the trees and is a fun way to spend a couple of hours.
This bustling local market showcases the best hand-made, home-baked, and home-grown goods from people who call the island home. Don't miss your chance to see, sample, sip, and experience the incredible products that make this island so unique!
The Hornby Island Farmers Market is a summer staple of the island. It typically opens around the long weekend in late May and runs through September. Hours vary throughout the summer (usually 10:30 – 1:00 pm on Saturdays), so make sure you look them up before popping by.
Visiting Hornby Island when the Farmers' Market isn't running? Don't worry! You'll still find a lot of local goods at Ringside Market or farm stands around the island.
11. Scuba Diving and Snorkeling
British Columbia has some of the best diving in North America, and Hornby Island is no exception. If you love the water, scuba diving and snorkeling are some of the best things to do when visiting Hornby Island.
Thanks to calm waters, gentle currents, and some rare species, Hornby Island is a popular diving destination in BC. Year-round, the island offers some incredible cold-water diving opportunities, with a variety of different things to see through the seasons.
With a diverse marine ecosystem, you'll be mesmerized by the colorful marine life on display. Strap on your mask and dive deep beneath the waves. You'll have the opportunity to see everything from seals and fish, to eels and urchins. If you're lucky, you might even spot a giant Pacific octopus!
You'll need prior training to go scuba diving here, but almost anyone can go snorkeling around the island. Some of Hornby Island's best snorkeling is at Spray Point, in between the Tribune Bay Beaches.
For scuba divers, there are plenty of options around the island. Ford's Cove has a great wall dive, just offshore from the marina. Norris Rocks is a prime spot to encounter sea lions, rock fish, and ling cod. Lastly, Flora Islet in Helliwell Provincial Park is probably one of the best scuba diving sites in BC because it's one of the only places in the world to see rare, gigantic six-gill sharks!
12. Dine at a Hornby Island Restaurant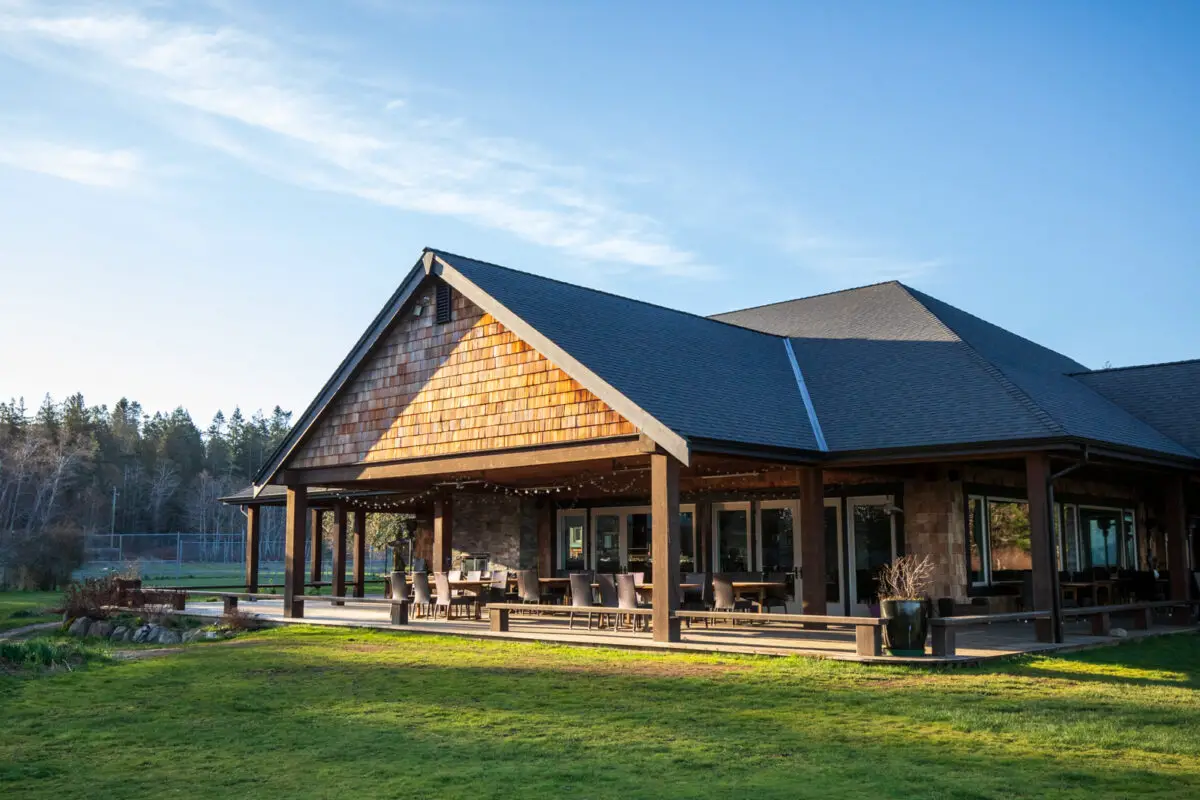 One of the best ways to experience Hornby Island is by indulging in its local cuisine. Many of the restaurants on the island serve farm-to-table meals, with locally brewed drinks.
Known for its local ingredients and flavors, the Forage Farm & Kitchen serves delicious meals designed around Hornby Island's seasonal produce. With charming patio seating and delicious cocktails, a visit to this Hornby Island restaurant will be an experience you won't soon forget.
In addition to some incredible wine, the Table restaurant at the Isla de Lerena vineyard produces some delicious entrees. Set in a rustic building, this food lounge has an awesome atmosphere and is a great place to stop for dinner on a Friday or Saturday night!
For those seeking a pub-style experience, the Thatch Pub is a great choice. Calling itself the only watering hole on Hornby Island, this unique building is cantilevered over the beach, providing beautiful ocean views while you drink beer and enjoy some pub food.
Other great culinary options on the island include the VORIZO Café, which serves decadent Mexican fare and artisan baked goods, and the Breeze Restaurant and Lounge, where you can sample west coast dishes with a relaxed waterfront view. There is also the Hornby Island Bakery & Pizzeria for some comfort food, and some smaller food shops around Ringside Market.
13. Fishing Charter
Are you a fan of fishing? Well, you're in luck!
Hornby Island is an awesome spot for sport fishing, with plenty of good places to try your luck. Some of the good spots around the island are outside of Flora Islet, near Heron Rocks, or by Tribune Bay.
Charter a boat and an experienced guide will take you out on the open ocean where you can drop a line and fish for everything from salmon to ling cod. Each boat is equipped with new technologies and top-of-the-line gear, guaranteeing an incredible and unforgettable fishing experience.
Even if you aren't the biggest fan of fishing, you can still charter a boat for some sightseeing or wildlife viewing excursions around the island. One of the best ways to see the herring spawn is by boat, getting you up close to all of the action!
14. Discover Hornby Island Art
Hornby Island is a haven for artists and creatives. For a small island, it is home to an incredible number of painters, potters, sculptures, photographers, musicians, metal workers, and other artisans.
Without a doubt, experiencing the art of this bohemian community is one of the best things to do on Hornby Island. As you explore the island, you'll be overwhelmed with the number of studios to visit and pieces of art to take home with you as a souvenir of your visit!
The best way to see as much of the island's art as possible is to download the Hornby Arts Map. This easy-to-use guide will help you navigate the island's rich cultural scene.
The map shows the locations of the Hornby Island artist studios, providing information on the artist and how to visit their studio. The guide also shows the locations of art pieces found throughout the island, like painted murals and the Jeffery Rubinoff Sculpture Park.
15. Find the Giant Can of Tomato Soup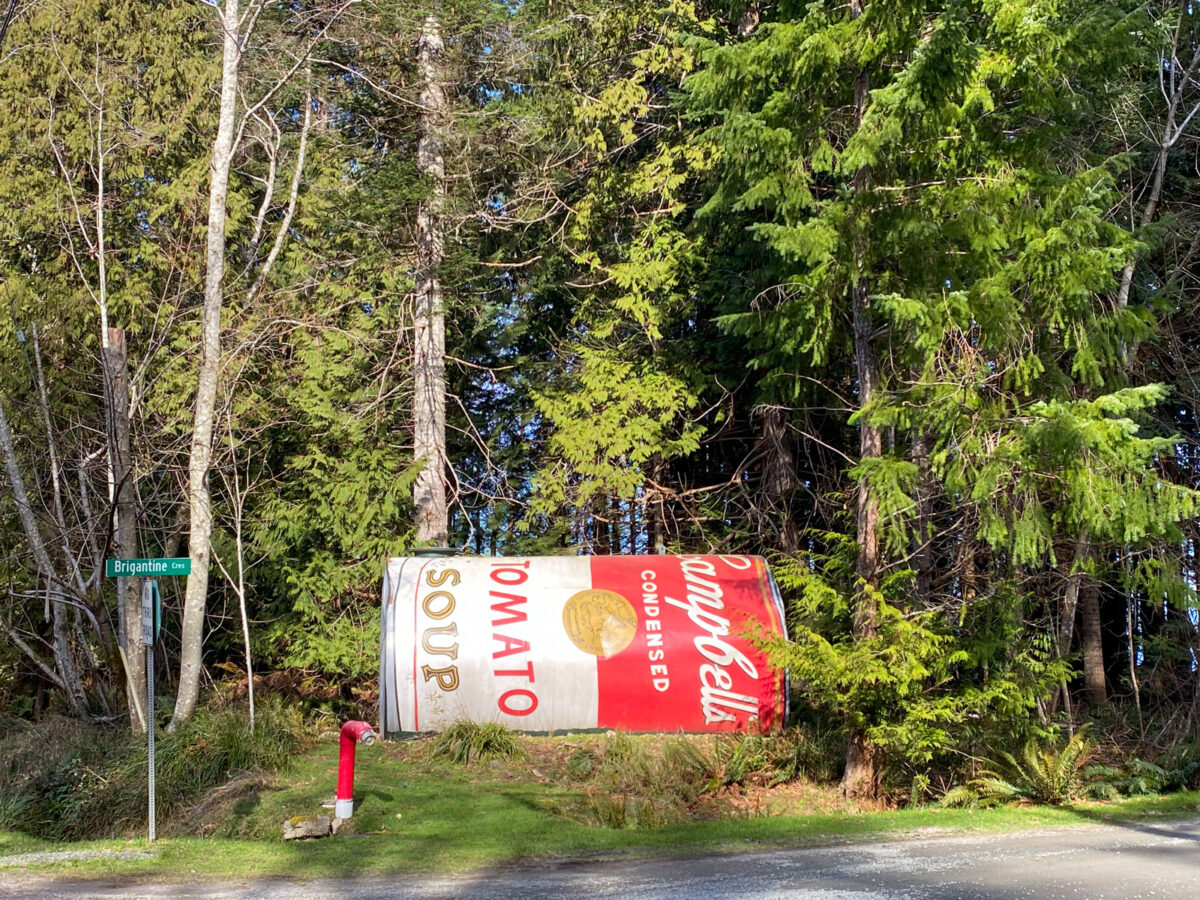 Take yourself on an adventure and wander the island until you find the giant can of tomato soup, tucked away in the Hornby Island wilderness.
Inspired by the iconic artwork by Andy Warhol, the Hornby Community Arts Council commissioned local painter Roberta Pyx Sutherland in 2012 to transform a rusted, dented water tank into this amazing work of art.
What was once an eyesore — a water reservoir used by the fire department, the tank is now a humorous, colorful display. A great photo op, you'll want to make the trek to find this Hornby Island gem.
Can't find the giant can of tomato soup? Try looking near Hidden Beach Community Park!
16. Sandstone Formations at Ford's Cove
Some of the most distinct natural features found on Hornby Island are the sandstone formations. Found around the island, these coastal rock structures are formed by the ocean waves carving the sandstone into unique shapes and honeycomb patterns.
A good example of this phenomenon is found at Ford's Cove. The sandstone coastline here is easily accessed from the general store at low tide.
An incredibly fascinating place to explore, walk along the sandstone to get up close and personal with this natural art display. Even better, grab an ice cream cone from Ford's Cove Store for your walk!
Not planning a stop at Ford's Cove? You'll also be able to find the ocean-carved sandstone around Hornby Island's coast.
Other spots with sandstone formations include Heron Rocks, Helliwell Provincial Park, Grassy Point, and Dunlop Point. Not only that, you'll be able to find unique examples of these rock formations on the other Gulf Islands, like Galiano Island.
17. Hornby Island Glamping
Experience the nature of Hornby Island in a luxurious way — by glamping!
Glamping (or luxury camping) allows you to experience sleeping in the outdoors with all the comforts of a hotel. For those who don't want to sleep on the ground or don't have their own camping equipment, glamping is a great opportunity to spend some extra time surrounded by nature.
On Hornby Island, there are a couple of places offering glamping in yurt tents: Fossil Beach Farm and Isla de Lerena Vineyards. Both offer spacious yurt tents set in beautiful coastal forests, with comfortable queen-sized beds and shared bathrooms.
These Hornby Island getaways are perfect for those seeking tranquility and an escape to nature. At Isla de Lerena, sip your morning coffee in their pond-side gazebo. And, those staying at Fossil Beach Farm are only steps away from the ocean!
Not only that, you'll be glamping right at the farm or vineyard. This means you'll be able to take advantage of their tasting rooms and restaurants. Overall, glamping is one of the top activities on Hornby Island for travelers who love to eat, drink, and be surrounded by unbeatable nature!
18. Hornby Island Natural History Centre
Looking for kid-friendly things to do on Hornby Island? Check out the Hornby Island Natural History Centre!
This educational center is the perfect place to visit to learn about the animals, plants, and geology of the region. They have an exhibit of naturally-found wildlife specimens, artifacts, and fossils. From shell middens to herring life cycles, the centre offers plenty of learning opportunities, perfect for the young aspiring scientist!
The Hornby Island Natural History Centre also offers a variety of programs and events. During the summer, they host Nature Field Trips with activities like birdwatching and plant identification, as well as an Expert Speaker Series, featuring nature-focused talks on topics like herring conservation.
Outside the centre, there is also an Ethnobotanical Native Plant Demonstration Garden being established. Here, you'll find culturally-important plants used by the K'ómoks and Pentlatch First Nations, such as Blue Camas and Nootka Rose.
19. Hornby Festival
From celebrating the return of the herring at HerringFest to enjoying some local live music, Hornby Island certainly has some great festivals for a little island. Celebrations usually happen during the summer months on Hornby, when the island comes alive with tourists.
One of their most popular festivals is simply known as Hornby Festival. This ten-day annual music event is held in late July/early August and has been running for decades. From groovy rock-and-roll to folk music, there's something for everyone at this fun, family-friendly festival.
The Hornby Festival is held at Rosemuir Farm and the Hornby Community Hall. However, there are also festival events held across the island in less traditional venues, like Grassy Point, Sandpiper Beach Meadow, and Ringside Market.
Whether you're young or old, listen to local music and dance your heart away into the evening!
20. Explore Denman Island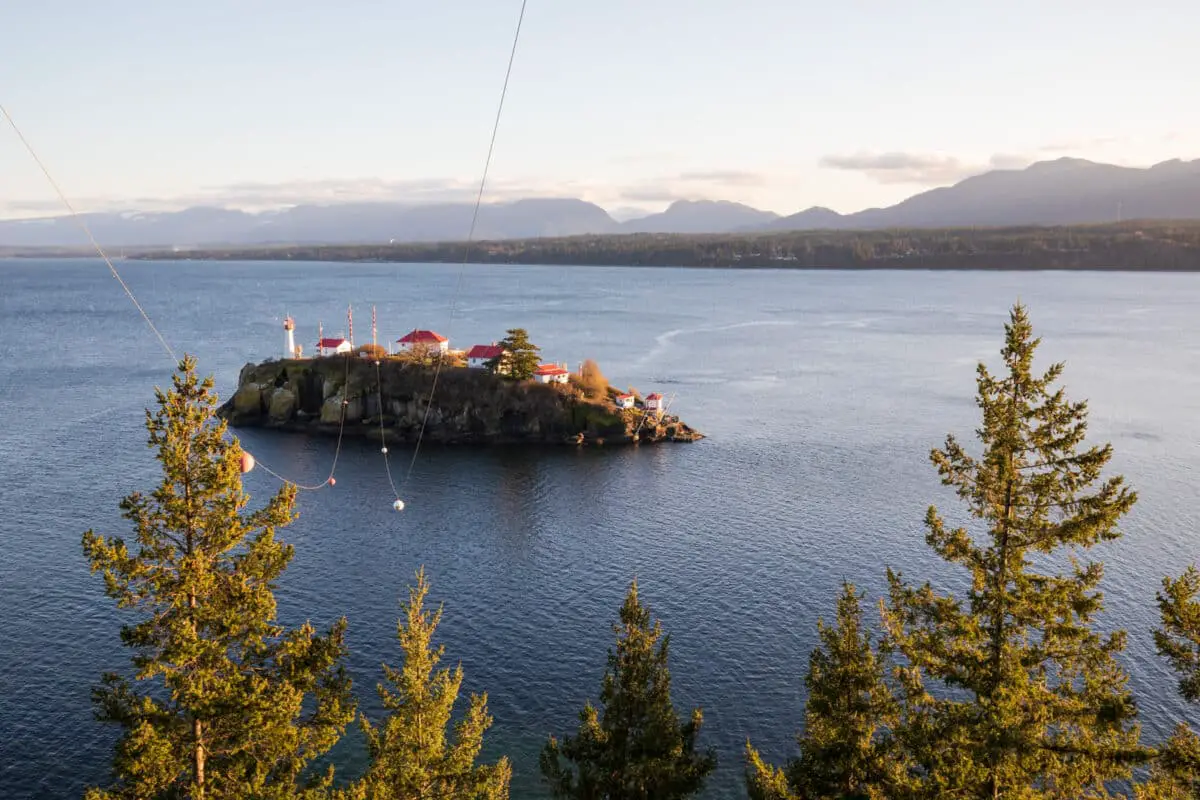 Denman Island is a long island that sits between Vancouver Island and Hornby Island. The ferry from Buckley Bay first takes you to Denman, where you drive across the island (often in a rush) to catch the next ferry to Hornby.
So, technically, exploring Denman Island isn't really something that you can do while on Hornby Island. But, while many people simply overlook this island on their journey, we think exploring Denman Island is of the best things to add to your Hornby Island trip itinerary.
One of our favorite stops on Denman Island is the Chrome Island Lighthouse at Boyle Point Provincial Park. From this vantage point, spot the red-and-white lighthouse buildings on the small island, surrounded by the beautiful waters of Baynes Sound. During herring spawn, you'll spot eagles flying over and herds of fishing sea lions in the ocean below!
Other great stops on Denman Island are the hiking trails in Fillongley Provincial Park, beachcombing at Morning Beach Park, walking around Central Park, and checking out the small downtown area.
Other Things to Do on Hornby Island
Still need some more ideas on things to do around Hornby Island? Here are a few other options!
Check out the free store at the Hornby Island RecycleDepot

Visit Joe King Park for disc golf, tennis, pickleball, and other athletic activities

Learn some blues music with a class at the Hornby Island Blues Workshop

Join a yoga class, get a massage or try some sound bathing at one of the wellness retreats on the island

Go skimboarding at Tribune Bay Beach