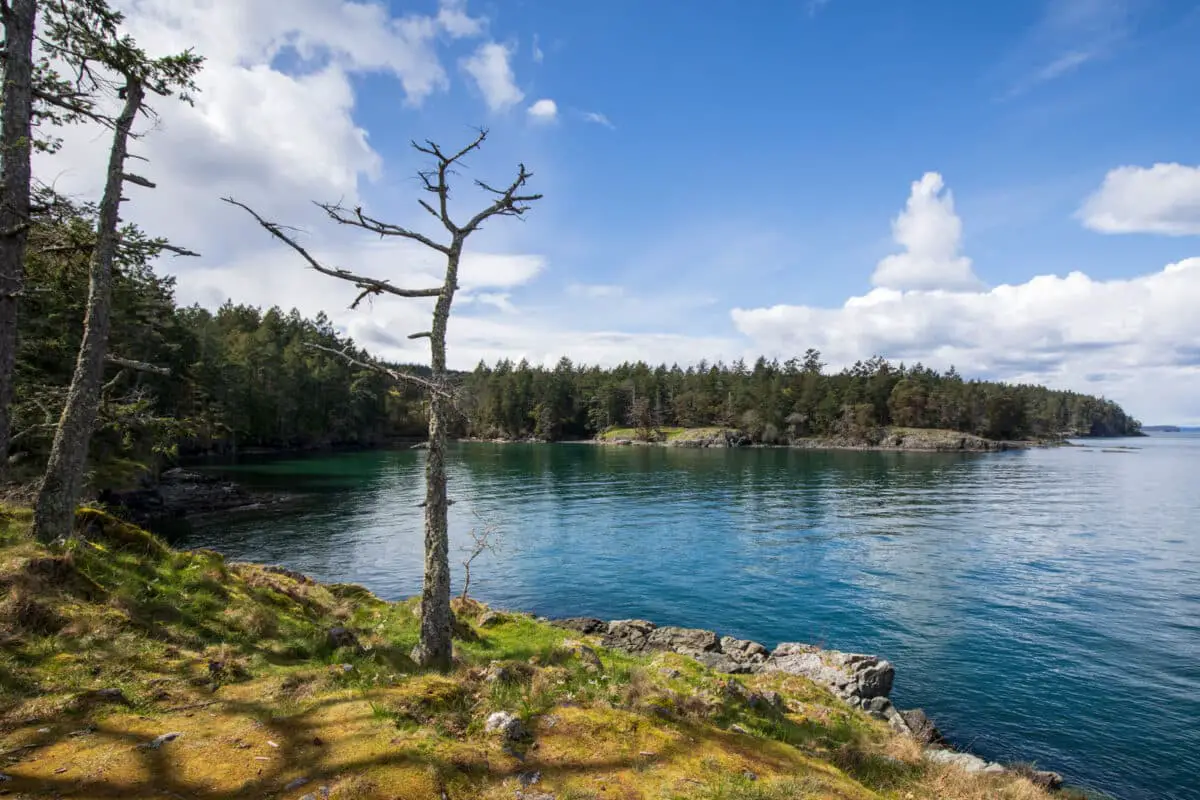 Looking for the best things to do on Salt Spring Island? Read on!
Just a short ferry ride away from both Victoria and Vancouver, you'll find Salt Spring Island — the largest and most populated of the Southern Gulf Islands in British Columbia.
Known for its rolling pastoral lands, farm-to-table food scene, breathtaking coastline, and vibrant bohemian community, Salt Spring Island is a must-visit coastal destination. From culinary experiences to outdoor adventures, this island really has it all!
We love visiting Salt Spring Island over and over again. It feels like there's always more to see!
Below, we'll guide you through the best things to do, top places to see, and fun activities on Salt Spring Island (also known as Saltspring Island). Our recommendations are based on our experiences exploring the island and we hope you enjoy these activities as much as we have.
Disclaimer – This post contains affiliate links. We may receive a commission if you make a purchase through these links, at no extra cost to you. Thank you for your support! Learn More.
Best Things to Do on Salt Spring Island
With rolling pastoral hills, gorgeous coastlines, and seemingly endless places to explore (for an island), Salt Spring Island is one of the best Gulf Islands to visit in BC.
Below, we cover the best things to do, places to see, and activities to try on Salt Spring Island. Enjoy your trip to this beautiful island paradise!
1. Go to Mount Maxwell's Summit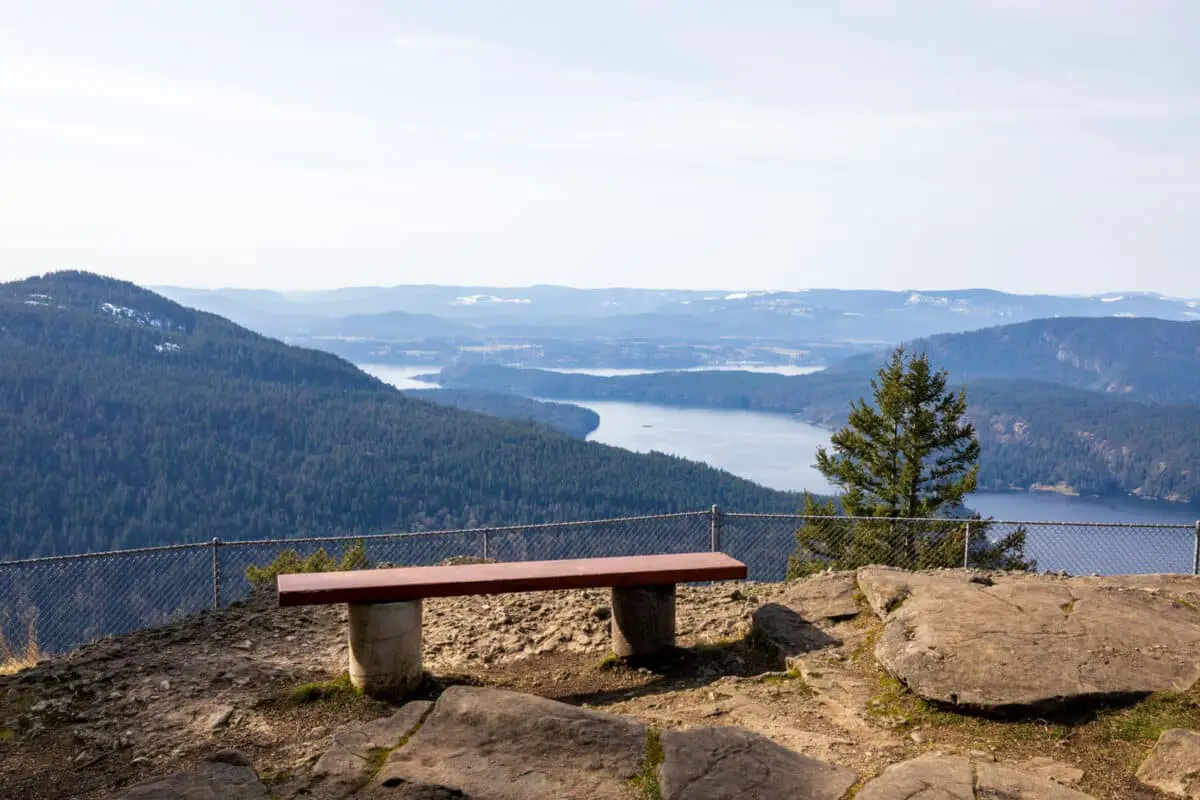 One of the tallest points on Salt Spring Island, Mount Maxwell's Baynes Peak towers over much of the island. The mountain is protected by the 231-hectare Mount Maxwell Provincial Park and features epic coastal vistas.
Located on the edge of Burgoyne Bay, the peak offers spectacular views of Mount Bruce, Sansum Narrows, Vancouver Island, and the other surrounding islands. The summit also gives you a bird's eye view of some of the farms on Salt Spring Island!
Visiting the top of Mount Maxwell is definitely one of the best things to do on Salt Spring Island. When we first saw the jaw-dropping views from the top, we were blown away. It's one of our favorite things to do on the island!
You can hike or drive up to the summit (or bike, if you're determined). The road is rough, potholed, and best handled by a 4×4 vehicle with high clearance. During winter, the mountain can get plenty of snow that obstructs the road so you may need to park and walk the rest of the way up.  
2. Shop at the Salt Spring Market 
Salt Spring Island is home to a diverse community of small-scale farmers, creative artists, and talented artisans. While many sell their wares in road-side stalls, the best way to see many of these local goods is at the Salt Spring Market.  
This delightful local market is held every Saturday in Centennial Park in Ganges Village. The market runs from April to October every year. It is open 9am – 4pm, rain or shine.  
The Salt Spring market features over 100 vendors, selling everything from fresh produce, artisanal cheeses, and baked goods to handmade jewelry, pottery, and clothing. 
All of the vendors make, bake, or grow their own goods on Salt Spring Island! 
If you're on Salt Spring Island on a Saturday, visiting this lively market to shop for island-made products is one of the best things to do! But if you do miss the market, follow the Salt Spring Studio Tour to find local vendors or visit some of the local stores and farm stands.
3. Escape on a Weekend Getaway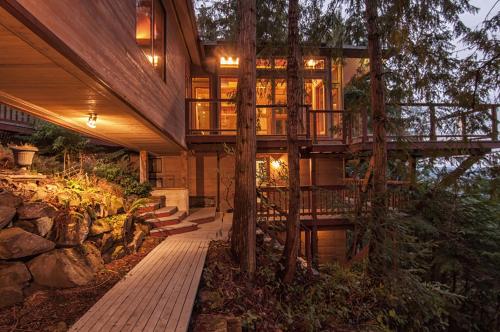 Salt Spring Island is the ideal destination for a weekend getaway. Unwind, recharge, and fully experience the laid-back island vibes at one of the top cabins, B&Bs, or guest houses on Salt Spring Island. Here are our top picks:
Cusheon Lake Resort is perfect for a lakeside log cabin getaway. Enjoy breathtaking views of Cusheon Lake from the balcony of your rustic cabin. There's even a hot tub to enjoy after a long day of adventuring!

Wisteria Guest House, on the edge of Ganges, features a 1-acre English garden with a terrace and a variety of guest accommodations. Their cottages are cute and colorful!

The Sanctuary immerses you in the tranquility of the coastal forest. Wake up to the sounds of nature from your beautifully designed guest room.
4. Walk Around Ganges
Ganges is the charming village that serves as the central hub for Salt Spring Islanders. The town has a distinct Gulf Islands feel — laid-back, artsy, and full of character.
To experience a slice of Salt Spring island life, walking around Ganges is one of the best things to do. The bohemian town has lots to offer, from cute local shops selling artisanal products to oceanside restaurants serving fresh seafood.  
The village is also home to the Salt Spring Island Market, which showcases local produce, baked goods, and crafts, offering a delightful shopping experience.
Browse through the shops or market to discover unique handcrafted items, taste locally produced foods, or just watch the boats come and go from the Ganges Harbour! 
5. Sunbathe at Beddis Beach
Want to spend the day by the ocean? If so, check out Beddis Beach! 
One of Salt Spring's most popular beaches, Beddis Beach is small but beautiful. The white shell beach is located on the east side of the island at the end of Beddis Road.  
If you want to enjoy the sun on Salt Spring Island, visiting Beddis Beach is one of the best things to do. Visit earlier in the day for the best sun!
The beach is a mix of sand, crushed shell, and small pebbles. It's the perfect for destination for a picnic or settling against a driftwood log to read a good book. Some large trees provide shade on those really hot days, too.
At low tide, you'll find tide pools along the beach's rocky edges. It's best to visit this beach when the tide is out so there's more space. And, you can go tide pooling, as a bonus!  
If you're brave, try swimming at Beddis Beach. But be forewarned! The water is quite cold, even in summer.
Salt Spring Island isn't really known for its beaches, although Beddis Beach is definitely worth a visit. If you're looking for spectacular Gulf Island beaches, check out Hornby Island!  
6. Tour the Farm Stands
When you're driving around Salt Spring Island, you'll probably notice all of the cute farm stands set up beside the roads.  
These charming farm stands are a hallmark of Salt Spring Island's agricultural landscape, offering a chance for visitors to purchase locally grown, produced, or handcrafted goods.  
The farm stands on Saltspring Island vary in size and offerings, but visitors can typically find a range of seasonal vegetables, fruits, eggs, honey, and handmade preserves.
Some stands also offer freshly baked bread and pastries, kombucha, artisanal cheeses, flowers, and locally raised meats (including pepperoni sticks and sausages). We've even seen raw wool being sold!
Often operating on the honor system, these stands simply have their goods set out, without anyone from the farm attending them. There is a small box for money and some farms accept e-transfers. The farmers trust that you'll be honest (and you should be)!
7. Bike Around Salt Spring Island
Biking is a great way to explore the Gulf Islands and Salt Spring Island is no exception!
Only 182.7 km2 (70.5 square miles) in size, most of Salt Spring Island is easily accessible by bike. From rolling farmland to scenic shoreline, there's no shortage of stunning scenery to enjoy along the island's network of quiet country roads.
Biking is the perfect way to experience the island's unique culture. It's much easier to stop at the roadside farm stands, local galleries, vineyards, and more along the way.
Not only that, biking will save you some money on the ferry! There's no extra fee for a bicycle (unlike a vehicle), so you just pay the passenger fee. Unfortunately, BC Ferries doesn't have a good spot to store bikes but usually you can lean it off to the side somewhere. Just ask one of the employees if you're unsure.
Cyclists get off the ferry with the foot passengers but once you're on the island, we recommend waiting to the side until the traffic has passed. It gets a bit hectic while all the cars unload!
One downside to biking is that the Gulf Islands are pretty hilly. An e-bike is almost necessary! Luckily, there are e-bike rentals on the island, if you don't own one already.
Another thing to watch out for on Salt Spring Island (and any of the Gulf Islands, really) is that drivers often go quite fast. Combined with narrow roads, limited bike infrastructure, and drivers that don't give you enough space, biking isn't always the safest. You likely won't have a problem but make sure you bike safely and wear a helmet!
8. Explore Ruckle Provincial Park
Ruckle Provincial Park is one of the best and most beautiful places to visit on Salt Spring Island.
The park boasts over 7 km of breathtaking coastline, with a mix of sheltered bays, small coves, and rocky headlands. The Ruckle Park shoreline trail between Grandma's Bay and Yeo Point offers spectacular views over the waters of the Swanson Channel. We highly recommend walking this trail, even if you just do a section!
Watch for marine animals off the coast of Ruckle Park. We've spotted sea lions swimming past Beaver Point and Bear Point. Occasionally, orcas are spotted from shore as they swim past the island, but we haven't been lucky enough yet to see them.
With over 15 km of hiking trails, Ruckle Provincial Park has lots more to explore than just the coastline. Walk through coastal Douglas fir forest to destinations like Merganser Pond or Beaver Point Park.
The trails also take you past the Ruckle Heritage Farm, one of the oldest farmsteads in British Columbia. Established in 1872, the farm was once run by the Ruckle family but the land was donated to BC Parks in 1972.
Ruckle Park also features the largest provincial campground in the Gulf Islands. The campground is primarily walk-in, but there are a few RV-accessible campsites too. Here, you'll get to wake up to the gentle ocean breeze in a coastal seaside meadow!
9. Walk the Fernwood Dock
On the northeastern edge of Salt Spring Island, you'll find a 400-foot government wharf pier with red railings known as the Fernwood Dock.
Extending into the Trincomali Channel between Salt Spring and Galiano Islands, the dock offers incredible views of the Salish Sea, Wallace Island, and Galiano Island. This scenic spot is located at Fernwood Point Beach, just off Walkers Hook Road, and is definitely worth a stop!
Amazing scenery isn't the only thing that this spot offers — Fernwood Point Beach is also a great spot to look for sea life!
The sandy beach and rocks at Fernwood Point Beach are home to all kinds of marine creatures, from sea stars and anemones to moon-snails and kelp crabs. Around the dock, you'll also have the chance to see live sand dollars. This is the only spot on the island to see them (they look like black discs). Watch where you step!
10. Swim at a Lake
On a hot summer's day, cool off at one of the swimming spots around Salt Spring Island. There are a few lakes to choose from. Alternatively, if you're brave, you can also swim in the ocean — but be prepared for very cold water!
Cusheon Lake, just south of Ganges, is one of the best places to go swimming on Salt Spring Island. There is a public access spot beside Cusheon Lake Road and a small dock (that could use some repairs).
Another large and beautiful lake for swimming is St. Mary Lake, on the north side of the island near Vesuvius. The public access spots are off North End Road and at the end of Tripp Road.
The lakes themselves are spacious but they have limited parking and beach space. They get quite busy in the summer. You need to arrive early or late in the day to get a parking spot.
Forgot your swimming suit? Head to Blackburn Lake! Unlike Cusheon and St. Mary Lakes, this swimming spot isn't as family-friendly. Blackburn is known for being clothing-optional!
Those who don't mind the cold ocean water can try swimming at Beddis Beach. The water here is shallow and family-friendly. The beach is a mix of sand and white shell. Expect the ocean to be quite cold though, even in summer.
11. Explore the Hiking Trails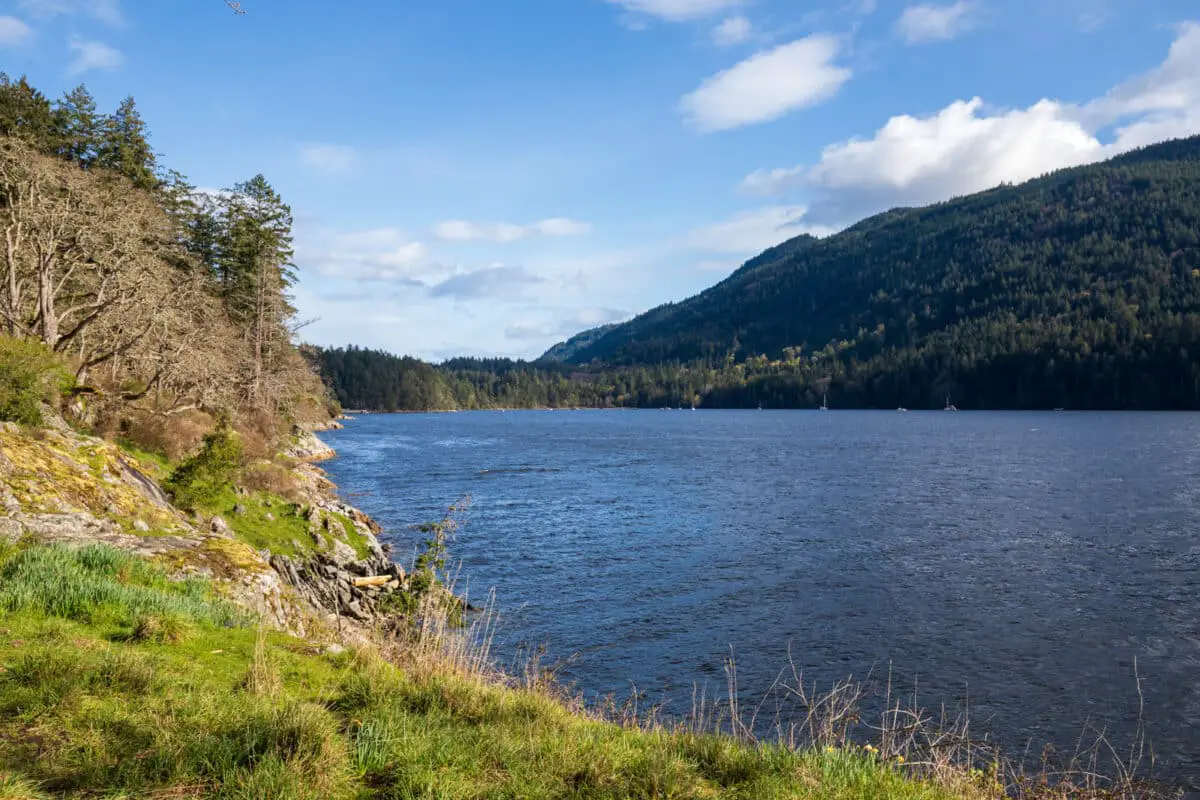 Saltspring Island has many short but beautiful hiking trails to explore. The trails usually take no more than an hour or two, but are highly rewarding!
Our favorite coastal hike on Salt Spring Island is in Ruckle Provincial Park. Following the coastline, the trail takes you past the campground and an active farm site, alongside King's Cove and Grandma's Bay, and to scenic viewpoints (like Beaver, Bear, and Yeo Points).
Another great coastal hike is Daffodil Trail, which follows alongside Burgoyne Bay and features blooming wildflowers in spring. For a longer adventure, add on a hike up to Baynes Peak (Mount Maxwell) from Burgoyne Bay Provincial Park.
For those seeking a good workout, hike to the summit of Baynes Peak, Mount Erskine, Bruce Peak, or Mount Tuam. Bruce Peak is Salt Spring Island's highest mountain at 709 m (2,326 ft), followed by Mount Tuam at 602 meters (1,975 ft).
Despite being shorter, Baynes Peak and Mount Erskine are more popular for hiking, with maintained trails and impressive views over Vancouver Island.
Give Bruce Peak or Mount Tuam a try if you're looking for something off the beaten path. The trail to Bruce Peak follows a service road, while Mount Tuam's trail is challenging and poorly marked. Both have buildings at the top, taking away from the natural beauty, but you'll find spectacular views too!
The inland trails on Saltspring Island are lots of fun, too. Channel Ridge has an extensive network of forested trails to explore, complete with a good sunset-watching spot and views of St. Mary Lake and Stuart Channel. Take a picture of the map before you start — the trails are only marked with numbers!
At Peter Arnell Park, Bryant Hill Park, and the Andreas Vogt Nature Reserve, you'll find forested trails with Garry oak or arbutus trees. Duck Creek Trail, near Vesuvius Bay, features a cute creek and some grasslands.
12. Sea Kayaking
One of the best ways to explore Salt Spring Island is by kayak! There are many beautiful spots to go kayaking around the island, but our some of our favorite destinations are around Ganges Harbour.
In the middle of the Ganges Harbour, there's a chain of small islands that you can explore by kayak. Accessible only by boat, Chocolate Beach on Third Sister Island is one of the most beautiful sandy beaches around Saltspring!
Many of the smaller islands around Saltspring are fun to kayak to, as well. Russel Island, at the Fulford Harbour's entrance, has a beautiful beach. Wallace Island, between Galiano and Saltspring, is a bit more of an adventure to get to but very beautiful!
There are several outfitters on Salt Spring Island that offer kayak rentals and guided tours. The tours are a great option if you don't have your own gear, have limited sea kayaking experience, or just don't know where to go!
Looking for a completely unique kayaking experience? Try one of the bioluminescence kayaking tours from Salt Spring Island in summer! Appearing like glowing fireflies in the water, this phenomenon happens when phytoplankton in the ocean are disturbed. The phytoplankton light up when you paddle through them. These tours happen at night but are super cool!
13. Hike Up Mount Erskine
If you're looking for a memorable experience on Salt Spring Island, then hiking up Mount Erskine should be at the top of your list!
At 448 meters (1470 feet) tall, Mount Erskine is one of the highest points on Salt Spring Island. Much of the mountain is protected by Mount Erskine Provincial Park. The hike to the top is very worthwhile!
From the peak, you'll overlook Vancouver Island and the narrow channel, known as Sansum Narrows, that separates it from Saltspring. Look for landmarks like Crofton, Chemainus, and Mount Arrowsmith on Vancouver Island.
The Mount Erskine Loop is a 3.9-km hiking trail that starts from Trustees Trail and takes you to the summit through Douglas-fir forest. This is the recommended route for hiking to the top.
Alternatively, you can start at Collins Road, where the trail takes you through Lower Mount Erskine Nature Reserve before entering Mount Erskine Provincial Park. The trail from Collins Road starts quite steep, however, with a scramble up a hill with roots.
14. Play Disc Golf at Mouat Regional Park
Mouat Regional Park is a small recreational area just outside of Ganges. Here, you'll find hiking trails through the forest, but the best thing to do here is play disc golf!
Disc golf (or frisbee golf) is similar to a traditional game of golf, but uses a disc (like a frisbee) that's thrown to a target.
The Hart Memorial Disc Golf Course is an 18-hole, par-3 course that's located in Mouat Park. It spans 5-acres, in an open forest where the campground used to be. Watch out for walkers when you throw your discs!
The park is also home to the Salt Spring Lions Commemorative Bike Park. There are also some hidden gems scattered throughout the park, like fairy doors and faces carved into trees.
15. Taste Local Wines and Ciders
As you explore Salt Spring Island, you'll probably discover vineyards and orchards scattered around the rolling rural landscapes.
With a mild climate and fertile soil, these small-scale wineries and cideries produce some of BC's best libations and visiting them is one of the best things to do on Salt Spring Island. If you're a fan of wine or cider, we recommend stopping for a drink (or two)!
One of the standout wineries on the island is Salt Spring Vineyards, known for their dry and crisp fruit wines. Their tasting room is surrounded by vineyard and garden. We LOVE their blackberry dessert wine but all of their wines are amazing!
As for cideries, Salt Spring Wild Cider shouldn't be missed. They produce delicious ciders from locally-grown heritage apples and pears. You'll find their bottles of cider sold all around BC, but if you stop at their cider house (a renovated horse barn), you can sip craft cider while enjoying views of their orchards.
Be sure to add a stop at one (or all) of these top-notch wineries and cideries to your itinerary when visiting Salt Spring Island.
Top Travel Tips & Resources for Vancouver Island, BC