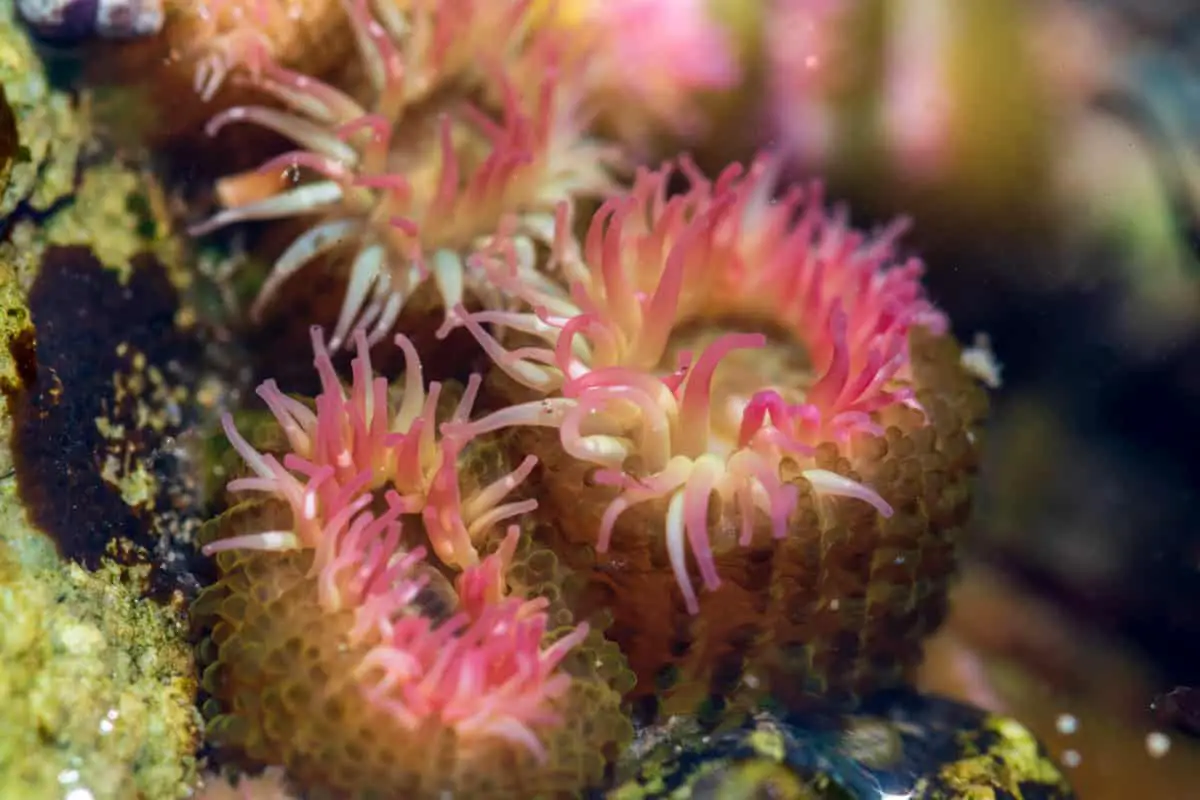 The Pacific Northwest is home to some of the richest, most diverse waters in the world. From saltwater shores to tiny tidepools, this part of the world is bursting with plant and animal life.
With so many seashore species, you might be wondering how to go about identifying all these common and unusual animals. Thankfully, there are comprehensive field guides for the Pacific Northwest that you can use to identify what you see at the beach.
We cover the top seashore and tidepool field identification guides for the Pacific Northwest coast, from Alaska through BC, Washington, Oregon and all the way to the northern coast of California.
These excellent, well-researched guidebooks have amazing photos or illustrations, and encyclopedia-worthy details that will help you identify almost any seashore creature. Whether it's a colorful anemone or a unique nudibranch, these books will help you figure out exactly what species you're looking at in the tidepools!
Disclaimer – This post contains affiliate links. We may receive a commission if you make a purchase through these links, at no extra cost to you. Thank you for your support! Learn More.
What Area Is Considered the Pacific Northwest?
All of the field guides listed in this article focus on the Pacific Northwest (aka PNW or Cascadia) of North America. But, what area exactly is considered the Pacific Northwest, and what US states or Canadian provinces does it include?
The Pacific Northwest stretches from California all the way up to Alaska. As the name implies, it includes the states and provinces that border the Pacific Ocean.
The coastal PNW includes the states of Washington, Oregon, California, and southeastern Alaska. In Canada, British Columbia is also included as part of the Pacific Northwest. We've included seashore field guides that cover these coastal regions!
Top Seashore Field Guides for the Pacific Northwest: Seashells, Beachcombing, Tide pooling, and More!
Don't have time to read the entire article? Here are the books that we consider the best seashore field guides for the Pacific Northwest. Whether you're heading out on a coastal hike, for a day of beachcombing, or are off tide pooling on a vacation, these are your perfect guide to the shores and beaches of the Pacific Coast.
The New Beachcomber's Guide to the Pacific Northwest by J. Duane Sept is our top pick from this list of the best seashore field guides for the Pacific Northwest region. Packed with information, this up-to-date, comprehensive book is a great choice for anyone who enjoys beachcombing and tide pooling.
This 416-page book is divided based on taxonomic groupings. It covers all kinds of intertidal marine life, including sponges, cnidarians (like sea anemones), marine worms, molluscs, lampshells, arthropods, moss animals (Bryozoa), echinoderms (like sea stars), tunicates, fishes, seaweeds, flowering plants, and seashore lichens. Pretty much anything you can find along the coast!
For each species, the author provides their name(s), identifying features, habitat, where the species is found, and other relevant notes. The easy-to-follow text is accompanied by beautiful photographs, making it simple to identify the wide variety of coastal marine life. This field guide is perfect for beginners, but also works well for more experienced beachcombers.
With additional information on understanding the tides, different intertidal habitats (like sand beaches, rocky shores, and microhabitats), and harvesting shellfish (including some safety precautions), this useful field guide is a must-have for anyone who wants to experience the beauty of the Pacific Northwest's coast. The only downside is that it's a bit big to carry around at the beach!
Marine Life of the Pacific Northwest by Andy Lamb and Bernard Hanby is one of the best seashore field guides that's overflowing with full-color photographs of the ocean life in the Pacific Northwest.
The authors — a marine biologist and an underwater photographer — have dedicated their lives to learning about the ocean. Thanks to their passion for undersea life, this book is one of the most comprehensive guides to Pacific Coast sea life.
With 398 pages, this spectacular book highlights more than 1,400 sea creatures found from Alaska to Southern Oregon. The guide has 1,700 color photos and provides identifying information, including range, habitat, appearance, and usual behaviors.
Covering everything from ribbon worms to feather boa kelp, you'll be an expert on Pacific Coast sea life by the time you reach the last page. It's a must-have for serious marine enthusiasts and biologists, but is also useful for more casual beachcombers or tide poolers.
Big and beautiful, this tome is not the best for taking out into the field. Packed with information, this is a book you'll want to flip through at home or leave in the car before you head out on your adventures.
National Audubon Society Field Guide to Seashore Creatures: North America by Norman A. Meinkoth is the perfect all-encompassing guide for anyone interested in beachcombing and tide-pooling along the continent's coast. With almost 700 species and covering a huge geographical region, this guide is excellent for naturalists exploring either coast of North America.
This comprehensive, 816-page guide covers everything from sea stars to mollusks, making it easy to identify the many different types of marine life found around the Pacific Northwest and beyond. The book is split into a section of beautiful color photographs and a section of text detailing each species' description, habitat, and range.
Detailed illustrations and up-to-date information make this seashore identification book an essential must-have for identifying North American coastal invertebrate species. Not only that, it also covers useful information on tides, waves, habitats, water temperature, salinity, and more.
Fylling's Illustrated Guide to Pacific Coast Tide Pools by Marni Fylling is an excellent field guide to throw in your bag on your next adventure. Small but packed with information, this concise guide will help you identify the creatures that call tide pools home throughout the Pacific Coast intertidal zone.
A beautifully illustrated field guide, this book introduces readers to a spectacular and curious world of marine wildlife, from giant green anemones and sunflower sea stars to orange-tipped, opalescent sea slugs. It also introduces tide pool habitats in general and gives an overview of the major groups and most common creatures, like mollusks, arthropods, echinoderms, algae, and more.
Thanks to its full-color illustrations and stunning imagery, you'll have no problem identifying the creatures in front of you on your next tide pooling adventure. A bonus is that it's small enough to bring out on your beach explorations, although that does mean it is missing some of the rarer species.
One of the reasons this book ranks among the best field guides for the Pacific Northwest is that the author's passion for the intertidal zone is palpable on every page. With each description, you'll be able to sense the author's respect and reverence for nature. Overall, this engaging book is perfect for the casual tide pooler!
Pacific Reef and Shore: A Photo Guide to Northwest Marine Life by Rick M. Harbo is one of the best compact seashore field guides to intertidal plants and animals of the Pacific Northwest out there. It details the most commonly found species found along the west coast, from the Aleutian Islands in Alaska to Point Conception in California.
For more than 300 common intertidal plants and animals, you'll find comprehensive descriptions of their identifying features, habitat, size, and ecology, along with brilliant photographs. It covers the seaweeds, sea grasses, invertebrates, and vertebrates that you're likely to encounter in the Pacific Northwest. A few hours with this book and you'll be an intertidal expert!
Updated in 2017 with new species and more details, this book is an excellent choice for coastal adventurers who want to learn more about the local flora and fauna. Its compact size also makes it easy to take along with you on any adventure, and it's also pretty affordable too.
Seashore of the Pacific Northwest by Ian Sheldon is just what any beginner beachgoer needs for a day out in their favorite coastal area. Covering a wide range of common Pacific Northwest species, you'll be able to identify all kinds of coastal invertebrates, fishes, mammals, and seaweeds with this book.
Inside, you'll find full-color illustrations of 150 marine species commonly spotted on Pacific Northwest seashores. Additionally, each species has a description of identifying features, their habitat, and other aspects of their biology and ecology. The quick photo reference guide at the start of the book also makes it quick to identify any animals you find.
One shortcoming of this 192-page book is that it does miss some species you might encounter. The book aims to cover a wide variety of species in a small 192-page package, so it can't fit in all of the species. However, it's still a great reference guide and small enough to bring to the beach!
Looking for a field guide that's more region-specific? Check out Ian Sheldon's Seashore books for Southern California, Northern and Central California, and British Columbia.
Whelks to Whales: Coastal Marine Life of the Pacific Northwest by Rick Harbo is a full-color guide to sea life in the Pacific Northwest that's a must for beachcombers, boaters, divers, and snorkelers. It's a compact and concise guidebook, packed with excellent information, description, and photos.
This 248-page book covers the length of the coast of the Pacific Northwest, from Alaska and BC through Washington, Oregon, and Northern California. With its range of information and descriptive photos, this is one of the top Pacific Northwest field identification guides.
Covering over 400 species, the animals in this book range from the usual to the obscure, from Pacific geoduck clams to glassy sea squirts. The book is divided by taxonomic groups, and sections are color coded. For each species, the author provides a detailed description, including size, range, habitat, and other facts, as well as a photo of the species.
Revised in 2010, this field guide is slightly out of date, but most of the information holds true today. The descriptions of the sea life are well written and are easy for any beachcomber or tide pooler to use.
Seashore Life of the Northern Pacific Coast by Eugene Kozloff is an older but still quite useful guide to sea life in the northern regions of the Pacific Northwest. Expanded from the author's previous book on the Puget Sound, Strait of Georgia, and San Juan Archipelago, this 424-page guide covers the coast from California's Monterey Bay to the shores of Vancouver Island.
With over 650 species, this is one of the most comprehensive guides to the plants and animals that live throughout the rocky shores, beaches, and bays of the region. It has 299 color illustrations as well as nearly 400 black and white photos and line drawings that will help you identify what you see.
For each species, the author describes the size, color, activities, and oddities of the flora and fauna. It also discusses the geology and geography of the area, giving you a holistic view of what makes the Pacific Northwest such a special place to explore.
Not exactly written for beginners, this guide might be a bit too advanced for the casual beachcomber. The book is text heavy and not as easy to use as some of the other guides. It is perfect for someone looking to expand their knowledge, but if you're a beginner looking for an easy-to-use guide, you might want to look elsewhere on this list.
Looking for a small, compact field guide to bring on your outdoor adventures? A good option is Pacific Intertidal Life: A Guide to Organisms of Rocky Reefs and Tide Pools of the Pacific by Ron Russo and Pam Olhausen. Only 64 pages long, this book is great for beginners who want a reference to use while at the beach.
A handy book for those looking for an introduction to tide pools, this field guide covers a range of intertidal organisms along the coast from Alaska to Baja, California. For each creature, there is a short description about identifying features and their environment.
This easy-to-use reference has illustrations that will help you identify the living things you find throughout the intertidal zone. One downside though is that the book is entirely in black-and-white. If you prefer color images to help you identify species, look elsewhere!
Top Pamphlet Seashore Field Guides for Beachcombing and Tide Pooling
Prefer a pocket-sized pamphlet that you can bring into the field?
Here are some of the top options for seashore field guide brochures that will help you identify the most common species around the Pacific Northwest!
Written by one of the best marine writers in the Pacific Northwest
Only covers the Salish Sea (the ocean between southern BC and northwestern Washington)
70 colour photographs
Water resistant
Pocket-sized pamphlet (37.0 in x 9.0 inches)
12 page field guide brochure made by Duraguide
Waterproof and sturdy
Includes a variety of common coastal invertebrates, as well as shorebirds, fishes, and marine mammals
Covers species from coastal Oregon to British Columbia
Eight-fold pamphlet
Over 70 color photographs
Covers common coastal species, including invertebrates, fishes, and seaweeds
Includes seashore species from the waters between Washington and BC