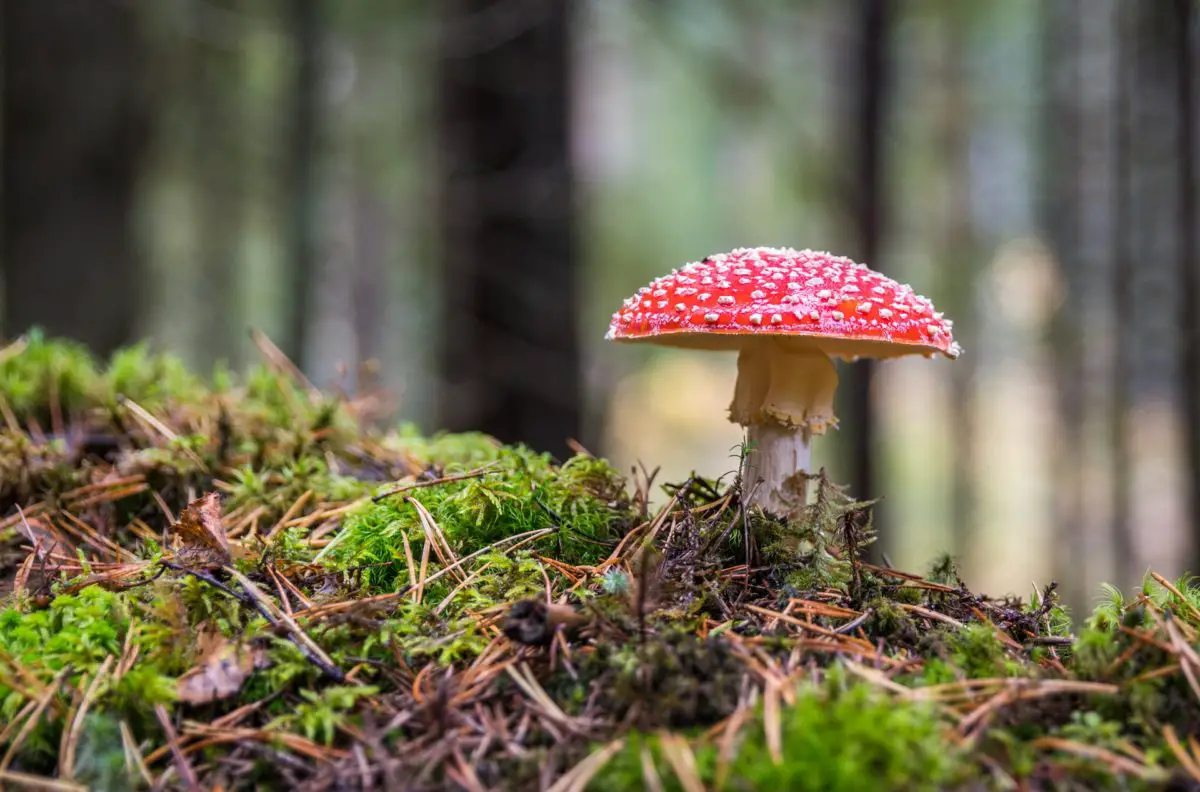 Many unique-looking mushrooms grow in the Pacific Northwest. With so many species, you might be wondering how exactly to identify all of these diverse mushrooms! Luckily, there are many top mushroom field guides for the Pacific Northwest that you can use to identify these cool fungi.
This article covers the best mushroom identification field guides and foraging books for the Pacific Northwest, from northern California to British Columbia to southeastern Alaska. We've included a list of the best Pacific Northwest mushroom identification field guides. As well, we cover the top region-specific guidebooks for British Columbia, Washington, Idaho, Oregon, Montana, Wyoming, California, Alaska and the Yukon.
These excellent reference books have gorgeous illustrations and comprehensive lists of identification features to help you identify any mushroom species. Whether it's a tasty morel or toxic Amanita, these books will help you figure out exactly what you're looking at!
Disclaimer – This post contains affiliate links. We may receive a commission if you make a purchase through these links, at no extra cost to you. Thank you for your support! Learn More.
Where Exactly Is the Pacific Northwest?
The field guides presented in this article all focus on the Pacific Northwest (also known as the PNW or Cascadia). A question that may arise is "Where Exactly is the Pacific Northwest?". Or, "Which provinces and states does the Pacific Northwest include?"
In general, the Pacific Northwest stretches up from northern California to southeastern Alaska, along the Pacific Ocean. In Canada, the PNW includes British Columbia and sometimes the Yukon. The main US states in the PNW are Washington state, Idaho, Oregon, western Montana, northern California, western Wyoming, and southeastern Alaska.
However, the exact definitions of the Pacific Northwest region vary. Some people don't consider California, Montana, Alaska, and the Yukon as part of the PNW. Others don't even include Canada! However, we've included field guides for all of these locations to keep this article as comprehensive as possible.
Top Mushroom Field Guides for the Pacific Northwest
If you have to pick one field guide, All That the Rain Promises and More: A Hip Pocket Guide to Western Mushrooms by David Arora should be the one. Don't let the cover of this book turn you away. This is one of the best mushroom identification field guides for western North America out there!
This incredibly popular book is fun yet informative. It's packed full of excellent information and color illustrations. The author also included plenty of funny stories, entertaining pictures, and tasty recipes. Plus, the book is pocket-sized. You can bring it almost anywhere!
For 200 western mushrooms, you'll find a list of the key features and useful traits. Each species also has useful information on where to find them, edibility, notes, and full-color photographs. However, the book was written in the nineties, so some classifications are outdated. Even so, this book is a lasting masterpiece and an excellent resource.
Ideally, this book should be paired with David's Mushrooms Demystified book, the significantly more comprehensive (but much less portable) version of this book. Even by itself though, this book is one of the most highly recommended mushroom field guides out there.
Mushrooms of the Northwest: A Simple Guide to Common Mushrooms by Teresa Marrone & Drew Parker is an excellent pocket-size field guide that'll help you identify over 400 species of common wild mushrooms. This 296-page book covers the USA-side of the Pacific Northwest, including Washington, Oregon, and Idaho.
The mushrooms in this book are categorized by basic shape and then color. You'll be able to reference species quickly by appearance using this perfect visual guide. For each species, the authors provide a description, habitat, season, identifying features like spore print, similar-looking species, and at least one full-color photograph. They also include sections on the top edibles and top toxic mushrooms, as well as a handy resource list and glossary.
This field guide was published in 2019, so it contains up-to-date information. The book is well-written and easy for everyone from beginner mushroom hunters to use! It may be too basic for people who are more advanced at identifying mushrooms, though.
For an excellent mushroom field guide, check out Mushrooms of the Redwood Coast: A Comprehensive Guide to the Fungi of Coastal Northern California by Noah Siegel and Christian Schwarz. Written by two mushroom identification experts, this book is one of the best comprehensive regional mushroom identification guides out there. While this reference book covers coastal California, it is still an amazing resource for naturalists across the Pacific Northwest.
This user-friendly field guide covers over 750 species from Monterey County to the Oregon border. Each mushroom has a beautiful full-color illustration to help you identify it. The book provides identifying features (cap, gills, stipe, flesh, odor, taste, spores, and even microscopic traits), season, habitat, edibility, look-alikes, and notes. The book also covers fungi ecology, foraging, and identification advice like making spore prints.
With 608 pages, this awesome book isn't the best for bringing into the field. As well, some species may be missing if you aren't in California. However, it's still an incredible resource for the PNW and is more up-to-date than some of the other field guides out there.
Mushrooms Demystified by David Arora is one of the best, most comprehensive mushroom identification reference books for North American species. This is a complete mushroom field guide for the more advanced forager or mycologist, although beginners will learn a lot by reading it. This book also pairs well with David's smaller book, All That the Rain Promises and More.
If you're serious about learning mushroom identification, you should pick up a copy of this book. With over 2000 species, this book covers everything that you need to know about the mushrooms of North America. For each species, mushroom authority David Arora provides lists of identifying features, edibility, and other comments. As well, the author provides great information in detailed chapters on mushroom ecology, collection, identification, foraging, cooking, and more!
While there are 950 black-and-white photographs, not every mushroom has a picture to help identify it. Also, the book uses lots of Latin names, taxonomic keys, and scientific language. It may not be that easy to use for the average person and can be better suited to experienced mushroom hunters. The book was also published in 1986, so some classifications are outdated. However, it's still one of the best reference guides for anyone interested in identifying mushrooms!
Mushrooms of the Pacific Northwest by Steve Trudell & Joe Ammirati is an excellent reference book for identifying PNW mushrooms. Covering 460 common mushroom species, this Timber Press Field Guide is a great resource for any mushroom enthusiast. You'll be able to identify everything from a western cauliflower mushroom to a king bolete to a golden chanterelle!
With 352 pages and over 500 full-color photographs, this book is packed with useful information! In this book, you'll find information on species identification, mushroom foraging, and fungi ecology. For each species, it provides a description of the species, season, habitat, and a photograph.
There are a couple of problems with this book. It doesn't always include species look-alikes or edibility. The species descriptions are written in full paragraphs, so you can't quickly scan each account. Also, it lists species by their scientific names. This may make it difficult for beginner mycologists to use. While this field guide isn't perfect, it's still a great resource for those who are more familiar with scientific language!
If you're looking for a more general field guide, the second edition Peterson Field Guide To Mushrooms Of North America by Karl McKnight, Joseph Rohrer, Kirsten McKnight Ward & Kent McKnight is an excellent choice. With this field guide, you'll be able to identify 685 species of North American mushrooms, across both Canada and the USA.
The book is beautifully illustrated with watercolor illustrations showing the key features of each mushroom species, like the upturned scales on a shaggy mane mushroom. It also has a gorgeous illustrated glossary. However, some of the colors in these drawings may be more pastel than the colors of the real specimens. If you prefer photographs, you may want to choose one of the other field guides.
This is an excellent field guide for anyone, from beginners to more advanced mycologists. This field guide uses a five feature identification system, based on gill color, gill attachment, cap and stalk color, and stalk diameter. Using the key features and locator keys, you'll be able to quickly find your mushroom of interest. The system does take a bit to get used to, but once you do, you'll find it quite handy!
A Field Guide to Edible Mushrooms of the Pacific Northwest by Daniel Winkler is the smallest field reference guide on this list. If you want a good mushroom guidebook that you can literally fit into your pocket, this is the best option for you!
Unlike the other guides on this list, this one is actually a folding pamphlet covering tasty wild mushrooms and dangerous look-alikes. If you're looking for a full book, check out one of the other field guides in this article.
Despite its size, this guide helps you identify over thirty common, easily recognized edible mushrooms. Each species has a full-color photograph. As well, the book lists identifying features, edibility, and look-alikes. The author really manages to fill this pamphlet with useful information! This pamphlet is perfect for any mushroom enthusiast who needs a lightweight, compact field guide.
Location-Specific Mushroom Field Guides
Below, we cover the field guides that specifically focus on one state, province, or territory. These field guides are listed in no particular order. These books are great if you want a regional-specific identification guide for a location in Canada or the United States. However, the field guides listed above for the broader Pacific Northwest will often be just as good (or better) than these location-specific guides.
British Columbia
There are two excellent field guides specifically written for British Columbia. These books will help you identify the mushrooms you find on Vancouver Island and mainland British Columbia. You'll be able to identify species like the pacific golden chanterelle, morels, and other wild edible mushrooms. If you have to choose one, we highly recommend Mushrooms of British Columbia by Andy MacKinnon & Kem Luther, which is pretty much the modern version of David Arora's famous book!
Washington
There are only two mushroom identification field guides specifically for Washington state. Both of these field guides focus on edible mushrooms. If you want to be able to identify non-edible mushrooms, you should choose one of the Pacific Northwest field guides listed above.
Oregon
If you want a mushroom identification guide for Oregon, you don't have much to pick from. There is one field guide that focuses on Oregon and it mostly just covers identification of edible mushrooms. If you want a more comprehensive guide book, we recommend picking one of the mushroom field guides for the Pacific Northwest listed above, as they will cover both edible, inedible and toxic species.
California
If you're looking for an identification field guide for California mushrooms, you have two books to choose from. We highly recommend picking up a copy of Mushrooms of the Redwood Coast by Noah Siegel & Christian Schwarz because it is very comprehensive, well-written, easy to use for beginners, and useful across the Pacific Northwest. The other guide on California mushroom species is also quite comprehensive, but more difficult for beginner mushroom hunters to use.
Idaho, Montana & Wyoming
There aren't any mushroom field guides specific to Idaho, Montana, or Wyoming that we can recommend. Any Idaho, Montana, or Wyoming-specific field guides available are too outdated and are difficult for the average person to use for mushroom identifications. A good quality Pacific Northwest field guide will work perfectly for identifying species in these states. Alternatively, you could use a field guide that focuses on the Rocky Mountain region like the following books:
Alaska
There are a couple of Alaska mushroom field guides to choose from. We recommend Alaska's Mushrooms: A Wide-Ranging Guide. However, more species are covered in Mushrooms and other Fungi of Alaska by Judy Hall Jacobson. The Pacific Northwest field guides will also work quite well for Alaska.
Yukon
Field guides specific to the Yukon in Canada are lacking. Check out one of the best Pacific Northwest mushroom field guides mentioned above instead. These should have all the information that you need to identify Yukon mushrooms. Mushrooms and other Fungi of Alaska also refers to species found in the Yukon.
Mushroom Foraging Field Guides for the Pacific Northwest
There are many edible mushrooms along the west coast, in the Pacific Northwest. However, there are also many toxic, inedible mushrooms out there. You need to know exactly what you're doing when you eat wild mushrooms and other wild food to stay safe.
These foraging guides explain the fundamentals of mushroom foraging. They cover some common Pacific Northwest edible mushrooms like chanterelles, boletes, oyster mushrooms, puffballs, and chicken of the woods. However, these books shouldn't be used alone. These foraging guides should be combined with one (or more) of the comprehensive identification guides listed above.
Equipment Checklist for Mushroom Foraging
Identification Guides – Use more than one field guide if you plan on eating mushrooms
Paper bags – Keep mushrooms from spoiling fast
Field notebook – Handy for taking notes for identification & recording foraging locations
GPS device, Phone map, or paper map
Weather appropriate gear
Bear spray – Important when foraging in areas with large predators
Final Thoughts
These top mushroom field guides help you identify the diverse species found in the Pacific Northwest. These guides all are very detailed and useful in their own ways.