Port Hardy is full of incredible outdoor adventures. You'll want to pick one of the best hotels in Port Hardy to be your home base at the end of the day. You might be wondering where is the best place to stay in Port Hardy. Luckily, we've got you covered!
In this article, we'll help you discover the best accommodations in Port Hardy. We cover everything from the best luxury hotels to budget-friendly hostels to cozy log cabins. Whether you need a hotel for your vacation or to crash after a long Inner Passage ferry trip, there's something for everyone on this list. No matter what you're looking for or what your budget is, we help you find exactly what you need!
With this guide, you'll discover the top Port Hardy accommodations, with honest hotel guest reviews to help you choose the best place for you to stay. For each hotel, we cover exactly what we like and what we don't like. We've done all the research so you don't have to! Read on to learn where exactly the best place to stay in Port Hardy is!
Quick Recommendations for the Top Port Hardy Hotels
If you don't have time to read through all of our reviews, check out this list of the best hotels and accommodations in Port Hardy:
Best Hotels in Port Hardy with Reviews
Below, you'll learn more about the best hotels and places to stay in Port Hardy. These are the top hotels, cabins, hostels, and inns that we're sure you'll love on your Port Hardy trip!
We provide hotel information and reviews, including what we like and what we don't like about each hotel. You'll know exactly what to expect with each of these accommodations!
NOTE: Covid-19 protocols may impact some of the services and amenities that Port Hardy accommodations provide to travelers. Contact the hotel before booking if you have any concerns!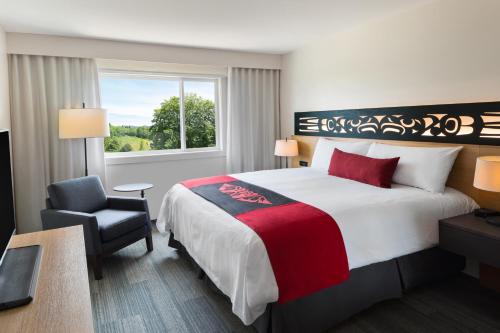 Address: 9040 Granville Street, V0N 2P0 Port Hardy, Canada
The Kwa'lilas Hotel is one of the best hotels in Port Hardy and for good reason. One of the most modern, luxury hotels in Port Hardy, these indigenous-owned accommodations will definitely impress you!
The hotel stands on the traditional territories of the Kwakiutl people and was beautifully designed to celebrate First Nations culture. Even the hotel itself is a work of art. The building is designed in the form of a traditional big house and filled with First Nations decor. Every guest room is decorated with stunning indigenous artwork, including beautiful throw blankets and wall art.
Kwa'lilas means "place to sleep", a name given to the hotel by Gwa'sala-'Nakwaxda'xw elders to represent a restful sleep after a long day of adventuring. The hotel lives up to its name, with quiet rooms and incredibly comfortable queen or king-sized beds. The hotel staff is welcoming and friendly. They work hard to make sure you have a relaxing stay at these beautiful accommodations in Port Hardy!
What We Like
One of the most modern, well maintained hotels in Port Hardy, with stunning indigenous decor
Comfortable, spacious, clean & quiet rooms with wheelchair accessible and pet-friendly options for guests if needed
Friendly, caring staff who go above & beyond for you
Convenient location close to the grocery stores, shops and restaurants in downtown Port Hardy, as well as Highway 19 that leads to Port McNeill and the rest of Vancouver Island
There is the Kwa'lilas cafe, nax'id' pub and ha'me' restaurant on-site serving authentic local cuisine and refreshing drinks. Also, they have a gift shop
What We Don't Like
Free WiFi isn't the most reliable but you will find that this is the case with most Port Hardy hotels
Doesn't have scenic ocean views like some of the other hotels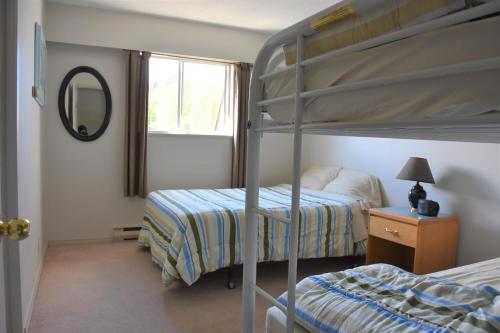 Address: 8635 Granville Street, V0N 2P0 Port Hardy, Canada
The rooms at the North Coast Trail Backpackers Hostel are some of the most affordable, budget-friendly accommodations in Port Hardy. This excellent hostel is right beside the beach, only steps away from the water. With plenty of amenities and an amazing location, you get great value when staying here!
At this hostel, you can choose between dorms or private rooms. The dorm rooms have bunk beds, with 3 or 6 comfortable beds per room. If you don't mind paying more per night, the private rooms have more space and privacy. Even so, their private rooms still are more affordable than many other options in Port Hardy!
The North Coast Trail Backpackers Hostel is a great place to crash after a long day of outdoor adventures. It's also one of the best places to stay the night before taking the Cape Scott water taxi to hike the North Coast Trail (one of the best hiking trails on Vancouver Island). The hosts are quite friendly and accommodating, which is handy if you're backpacking. You also have access to a well-equipped kitchen, dining area, free parking, and a common area lounge where you can enjoy board games, table tennis, or shuffleboard!
What We Like
Very friendly & accommodating hosts that work hard to make sure your stay is pleasant
The perfect spot to stay the night before heading to the North Coast Trail and Cape Scott Provincial Park. They also have a drying room, secure gear storage and laundry facilities for when you return from your outdoor adventures
Convenient downtown location that's close to the beach and many Port Hardy amenities
The rooms are budget-friendly and clean
There's a communal kitchen that has everything you need to make a meal
What We Don't Like
Hostel-style accommodations may not be ideal for everyone
Not very accessible for people who can't use stairs & no pets allowed
WiFi is weak in certain spots in the hostel
The building is older and the rooms can be noisy if you have loud hostel neighbors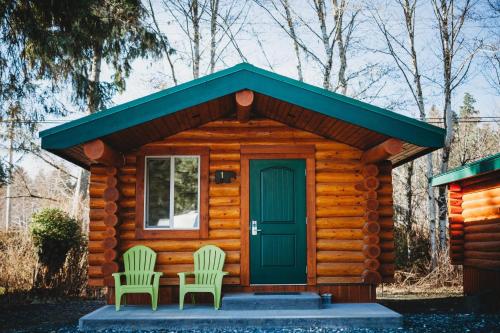 Address: 8080 Goodspeed Road, V0N 2P0 Port Hardy, Canada
If you're looking to vacation in your own log cabin, the gorgeous Port Hardy Cabins will be perfect for you. These cozy lodges are right beside the Quatse River and estuary. They offer amazing north island wilderness views and wildlife spotting opportunities just steps away from your room. Also, they have a convenient location that's between the ferry terminal, airport, and Port Hardy.
With the Port Hardy Cabin rentals, you get an entire cabin all to yourself. The accommodations are equipped with either two queen beds or one queen with a futon bed. With each cabin, you also have a private kitchenette, bathroom with a shower, and TV. From your window, you can enjoy garden and courtyard views. Or, if you want to enjoy the outdoors, sit on the colorful lawn chairs on your patio!
If you're looking for a peaceful, relaxing stay, the Port Hardy Cabins are a great choice. These 4-star guest houses are run by welcoming staff, who keep the facilities clean and well managed. This is a great place to bring kids and the cabins are also pet-friendly! Overall, these modern cottages are quite comfortable and have everything you need for an excellent vacation.
What We Like
They have BBQs under a gazebo and fire pits that you can use
Great location in between Port Hardy, the BC Ferries terminal, and the airport
The cabins are clean, comfortable, well equipped, and each have a kitchenette
What We Don't Like
The cabins back onto the highway, although there is a tree barrier. You might hear some highway noise outside, but it's not noticeable inside the cabins.
The cabins are quite close together and don't offer a lot of privacy between them if you want to sit on your patio.
Address: 6435 Hardy Bay Road, V0N 2P0 Port Hardy, British Columbia, Canada
One of the best oceanfront hotels in Port Hardy is the Glen Lyon Inn. With rooms featuring incredible views of the ocean and harbor, you'll love a stay at this hotel. As a bonus, the rooms at this hotel don't even cost that much!
Every guest room at the Glen Lyon Inn has a breathtaking view over the ocean. Enjoy watching bald eagles fishing and seals swimming, right from your room's balcony! The comfortable rooms are all spacious, with all the standard hotel amenities (microwave, coffee maker, fridge, TV & Wi-Fi). Also, you can take it up a notch with the Honeymoon Suite, featuring a jacuzzi tub that overlooks the ocean – perfect for romantic evenings with a glass of wine!
This excellent mid-range priced hotel has a great location, only a few minutes of driving from downtown Port Hardy. The property is also quite close to tourist attractions like whale watching and bear viewing tours. The front desk staff is welcoming, helpful, and very friendly. Also, there's an on-site restaurant which is convenient if you don't want to venture far for food.
What We Like
The rooms each have a balcony with incredible views of the harbour and ocean
There's an on-site restaurant with tasty food. Also, the restaurant will cook your freshly-caught fish for you!
The honeymoon suite is perfect for romantic getaways with a private jacuzzi tub that has ocean views
Amazing value for a mid-range priced hotel
Spacious rooms that are well cleaned and comfortable
What We Don't Like
The building is getting outdated and needs some upgrades
WiFi isn't very reliable
Address: 6555 Hardy Bay Road, V0N 2P0 Port Hardy, Canada
The Quarterdeck Inn & Marina Resort is one of the best mid-range priced hotels in Port Hardy. If you're looking for a place with great value but don't want to compromise on comfort and quality, you'll be happy at this hotel. With an oceanfront location, you get pretty good value at this hotel.
This fantastic marina resort offers awesome views over the marina and ocean, all for a reasonable price! The rooms and hotel have all the amenities that you'll need, including a continental breakfast. Also, you're also near restaurants and shops in Port Hardy, with only a short drive or walk to the downtown area.
With their oceanfront rooms, you get a comfortable bed, flat-screen TV, mini-fridge, coffee machine, and Wi-Fi. If you want more space, you can book one of their suites, which each have a kitchenette, cozy fireplace, and jacuzzi tub. They also have dog-friendly rooms available, if you're traveling with your pet. All in all, The Quarterdeck Inn & Marina Resort is pretty good for such an affordable price!
What We Like
The staff are extremely friendly and very helpful
Exceptional views over the water and marina
There's a continental breakfast included
What We Don't Like
The building is getting old and could use upgrading
The rooms don't have a balcony, which would be nice for sitting outside and enjoying the scenic views
Other Hotels and Accommodations around Port Hardy
Not every hotel in Port Hardy can be amazing. Some of the accommodations in the city didn't make the cut for our list of the best Port Hardy hotels.
In this section, we cover the accommodations that didn't make the cut, just in case you didn't find exactly what you're looking for on our list of the best places to stay in Port Hardy. These runner-up hotels are not necessarily bad, but they certainly aren't as great as the top accommodations listed above!
Address: 303 Harbour Road, V0N 2P0 Coal Harbour, Canada
While the Inn on Stephens Bay isn't on our list of the best Port Hardy hotels, it's still an excellent place to stay. The only reason we didn't rate this B&B higher is that it doesn't have the most convenient location. It's actually in Coal Harbour, about 20 minutes away from Port Hardy. The B&B isn't a far drive from town but if you don't have a vehicle, the location isn't ideal.
However, if you don't mind the location of the Inn on Stephens Bay, you're in for a treat! This amazing bed & breakfast features cozy, quiet oceanfront suites with incredible views of Stephens Bay. Spot wildlife right from your balcony or sit in the jacuzzi tub enjoying scenic ocean views. Additionally, they serve delicious breakfasts and the rooms are meticulously cleaned. You won't regret a stay here!
What We Like
Great hospitality – very welcoming and friendly hosts that go above and beyond
Delicious continental or American breakfasts (accommodating for allergies or a special diet), room service & some suites have a private kitchen
The suites are very clean, comfortable and have a private balcony with ocean views
The hosts have kayaks that you can borrow
What We Don't Like
In Coal Harbour, about a 20-minute drive from Port Hardy
No elevator to access the upper suites, only stairs
Not family-friendly (this is an adults-only B&B) and not pet friendly
Address: 4030 Byng Road, V0N 2P0 Port Hardy, Canada
The Airport Inn is the closest hotel to the Port Hardy airport. If you need to catch a flight, this is a convenient place to stay the night. Keep in mind though that none of the hotels in Port Hardy are that far from the airport if you have a vehicle!
This roadside hotel is simple and offers enough amenities for an overnight stay before your flight. With affordable rooms, the Airport Inn is very budget-friendly. However, the hotel is quite dated and some of the rooms smell musty. Also, the heaters don't work that well. Overall, this 2-star motel might work for a one-night stay before traveling but we're not sure the convenience is worth it!
What We Like
Very close to the airport
Offers a continental breakfast (summer only)
Budget-friendly
What We Don't Like
The hotel is getting quite dated and could use renovations
Relatively far from downtown Port Hardy
Heaters don't work well
Some rooms smell mildewy
Address: 7370 Market Street, V0N 2P0 Port Hardy, Canada
The North Shore Inn is a decent option if you need a budget-friendly place to stay. This 3-star Port hardy motel offers affordable guest rooms with beautiful ocean views. The rooms are spacious and also come with a fridge, TV and sitting area. However, the building and furnishings are getting old and outdated. The hotel isn't the cleanest, as well. However, if you keep in mind that you get what you pay for, you may be happy with a short stay at this motel!
What We Like
The ocean views from the balcony are excellent
The rooms are spacious
Budget-friendly guest rooms
What We Don't Like
The building is quite old and needs an upgrade
No elevator so the hotel isn't very accessible
They advertise a restaurant but it has been closed for a long time
Limited WiFi
Address: 8405 Byng Road, V0N 2P0 Port Hardy, Canada
The Pioneer Inn by the River is an affordable 2-star motel on the edge of the Quatse River and the forest. Not too far from the Port Hardy ferry terminal and airport, this motel might work if you need somewhere to crash the night before traveling. However, the motel is old and in desperate need of repairs. As well, the restaurant is closed and some of their facilities are unuseable, like the BBQs.
Overall, the accommodations are pretty basic and could use upgrading. If you want to pay for a bare-bones hotel room, the Pioneer Inn would be sufficient for a night's sleep. We recommend booking somewhere else if you plan on staying in town for more than one night, though.
What We Like
Inexpensive rooms with a seating area, microwave, coffee machine, and work desk
Convenient location for the ferry and airport
There is on-site fishing and laundry facilities
What We Don't Like
Older building that needs maintenance and upgrading
Dimly lit, small rooms with no air conditioning
No elevator
Staff are friendly but speak limited english
Address: 6305 Jensen Cove Rd, Port Hardy, BC V0N 2P0
The Ecoscape Cabins are another great option if you want to stay in a cabin in Port Hardy. A stay here will make you feel like you're in the wilderness, but you'll still be conveniently close to Port Hardy and all of its amenities. As well, these lodges are close to the ferry terminal, so they are a great place to stay after a long trip.
Each self-contained cabin is quite modern, clean, and cozy. As well, all of the Ecoscape Cabins have access to wifi and a communal fire pit, outdoor kitchen, and BBQ. Depending on which cabin you choose, you may also have a private BBQ, firepit, and kitchen (or kitchenette). As well, they pride themselves on being environmentally friendly, using eco-friendly insulation, recycled building materials, power-saving appliances, and more!
What We Like
Eco-friendly, peaceful & clean cabins with all the things you need for a great stay
Very close to the Port Hardy ferry terminal
They have many amenities that will make your stay quite enjoyable, like a BBQ, kitchen, and fire pit with wood provided
What We Don't Like
The loft access isn't great for people with mobility limitations
WiFi isn't super reliable
The location isn't convenient for accessing amenities in Port Hardy
Address: 7050 Rupert St, Port Hardy, BC V0N 2P0
The Providence Place Inn is a 2-star hotel centrally located in downtown Port Hardy. The rooms at this hotel are budget-friendly, but you can get nicer accommodations for a similar price at other hotels. The inn is pretty basic and rather outdated. The rooms have a TV, but it is old and not flat-screen. As well, some of the rooms smell mildewy. However, if you don't expect too much out of the Providence Place Inn and just need a place to crash for the night, you might be happy with your stay.
What We Like
Budget friendly accommodations
Close to downtown Port Hardy
Very friendly front desk staff
What We Don't Like
The hotel needs refurbishing and updating
There is a TV in the rooms but it's old and not a flat-screen
Some of the rooms smell musty & could use a better cleaning
Where Exactly to Stay in Port Hardy, BC?
Do you want to see where exactly the best hotels, hostels, and cabins are located in Port Hardy, BC? Here's a map that shows the top accommodations in Port Hardy! Click on each location to see more information about the accommodations.
Best Campgrounds around Port Hardy
If you don't want to stay at a hotel, check out this list of the best campgrounds around Port Hardy:
Cape Scott Provincial Park – Incredible hike-in backcountry camping (our favorite spot is San Josef Bay)
Quatse River Regional Park Campground – Tent sites & RV spots with hookups, right beside the Quatse River in Port Hardy
Port Hardy RV Resort – Tenting & RV sites by the Quatse River and Estuary (these campsites are also part of the Port Hardy Cabins)
Raft Cove Provincial Park – Remote backcountry camping with a short hiking trail access
God's Pocket Marine Provincial Park – Remote island backcountry camping, boat or floatplane access only
Top Travel Tips & Resources for Port Hardy