Only a 45-minute ferry ride from Port McNeill, Alert Bay on Cormorant Island is an excellent weekend getaway. As the oldest community in North Vancouver Island and part of the 'Namgis First Nation traditional territory, Alert Bay is an incredible place to learn about the rich culture of the Kwakwaka'wakw peoples. Plus, there are plenty of things to do in Alert Bay if you love being outdoors. When you visit Cormorant Island, you'll want to pick one of the best hotels so you can enjoy all that Alert Bay has to offer!
We'll help you find the best Alert Bay hotels for your North Vancouver Island vacation. For each hotel, we provide a review of what we like and don't like about the accommodations, so you know exactly what to expect. These Alert Bay hotels are the best on Cormorant Island and we're sure that you'll enjoy your stay.
Disclaimer – This post contains affiliate links. We may receive a commission if you make a purchase through these links, at no extra cost to you. Thank you for your support! Learn More.
Best Hotels in Alert Bay, Cormorant Island
Don't have time to read through this article? Here are the three best hotels and accommodations in Alert Bay, Canada:
Below, you'll learn more about what makes these hotels and accommodations the best in Alert Bay and Cormorant Island. We hope you love these top places to stay in Alert Bay and enjoy spending time on the island!
NOTE: COVID-19 protocols may impact some of the services and amenities that Alert Bay accommodations provide to travelers. Contact the hotel or accommodations before booking if you have any concerns! As well, Alert Bay is a small, remote community. It's important to follow COVID-19 health protocols to ensure the safety of the island's residents.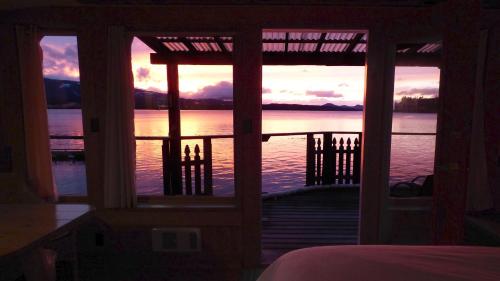 Seine Boat Inn is one of the best Alert Bay hotels on Cormorant Island and for good reason! This charming harbourside inn has everything you need for an incredible vacation, plus breathtaking ocean views. You're guaranteed to be impressed with this beautiful Alert Bay hotel.
Right on the main street in Alert Bay, the Seine Boat Inn has a very convenient central location. Everything you might need is within walking distance. The building is a stilt house, meaning that it sits overtop the water on wooden beams called pilings. These Alert Bay accommodations are literally right on the beach. You'll have the best view of the ocean possible, especially on the second floor. Some guests are even lucky enough to spot orcas off the balcony!
While the building is aged, the interior is updated. The building once was a dry goods store in the 1940s but was later renovated into a gorgeous, wood-detailed hotel. The guest rooms are beautiful, spacious, and well equipped. The hosts keep the inn impeccably clean and well maintained. Not to mention, the hosts have incredible hospitality. You won't want to leave after staying at the Seine Boat Inn!
What We Like
Unbeatable ocean views, with rooms and balconies right over the water
Convenient location on the main road (Fir Street) in Alert Bay
The deck is filled with beautiful flowers
The rooms are well equipped and beautifully accented with wood
There's a BBQ on the deck that you can use to make your dinner
Great WiFi
Amazing hosts with incredible hospitality
What We Don't Like
No air conditioning
The shower may feel too small if you're tall
Limited privacy between suites on the balcony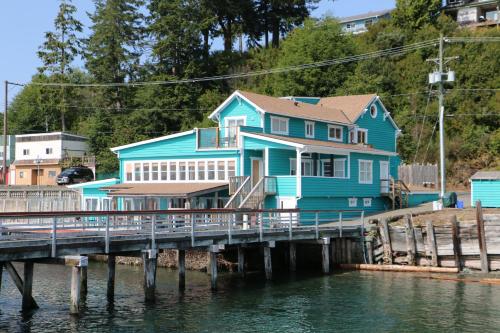 Nimpkish Hotel is an amazing, colorful oceanside inn on the main drag in Alert Bay. You may have seen the word "Nimpkish" around Northern Vancouver Island – this is the anglicized name for the 'Namgis people.
Right on the water, this hotel is full of character and offers incredible views of the Broughton Strait. It's also only a short walk from the Alert Bay ferry terminal and the hauntingly beautiful totem poles of the 'Namgis original burial grounds.
This hotel has seven guest rooms available, each uniquely decorated with different ocean-related themes. As well, each room comes with different amenities like a fireplace or soaker tub. Whether you need a kitchenette, a pet-friendly room, or a private balcony, you can pick a guest room that best suits your needs. All of the rooms have cable TV and access to free WiFi.
There are also two common areas that are available to guests: a sunroom and a covered deck. The sunroom has all the kitchen supplies that you need to make yourself a snack. After, relax in the sun on the deck, enjoying a cup of tea while you watch for whales!
What We Like
Includes a delicious continental breakfast and tea/coffee
The sunroom has kitchen supplies like a microwave
The deck is great for enjoying the ocean and relaxing in the evening
Incredible ocean views and a great location
Lots of choices for different guest room set-ups
Hosts are very friendly and keep the hotel clean
What We Don't Like
Some rooms are said to be wheelchair accessible but have stairs or inaccessible showers
The rooms aren't very spacious
Orca Inn is an affordable historic hotel in Alert Bay, perfect for travelers who're looking for something more budget-friendly. The building has a rich history that runs all the way back to the 1930s when the building was built. Now, this hotel provides simple, cheap accommodations that will work well for a home base during your vacation.
While not right on the ocean like other hotels on this list, the Orca Inn is just across the street from the water. Rooms on the Fir Street side have excellent ocean views. The location of this hotel is pretty great too, not too far from the grocery store and tourist attractions!
This inn has an on-site restaurant and pub, so you can enjoy delicious local food and live music in the evenings. Don't worry though – the Alert Bay pub closes early usually. You'll still be able to have a great sleep!
What We Like
The owner is friendly and helpful
Free parking
Some continental breakfast items provided in the morning
Budget-friendly rooms that are comfortable, cozy, and clean
Restaurant with live music during the busy season and great atmosphere
What We Don't Like
Aged building with poor soundproofing
Internet doesn't work well
Rooms are quite simple, awkwardly designed, and lack some basic amenities like a TV, kettle, and coffee maker
While it's cheaper per night than some of the other hotels, the price feels high for what you get
The pub/restaurant has irregular hours and is often closed
Exactly Where to Stay in Alert Bay, BC?
Wondering exactly where to stay in Alert Bay, BC, Canada? Find out where the accommodations that we listed above are located with this useful hotel map!
Type the name of the property that you're interested in into the search bar to see its location in Alert Bay, British Columbia. You can then click the location marker for more information. You'll also be able to check the availability of the guest rooms, more reviews, and to see the latest hotel prices in this North Island destination!
What to Do in Alert Bay
While Cormorant Island is small, there are still plenty of things to do in Alert Bay! The village of Alert Bay is a great place to immerse yourself in west coast life and learn about First Nations culture and history on Vancouver Island. Visit the U'mista Cultural Centre's museum to learn about the Kwakwa̱ka̱'wakw people and see the Potlatch collection. Or, check out the traditional big house and marvel at the impressive height of the world's tallest totem pole.
Alert Bay is also a hub for outdoor recreation, with everything from fishing to boating to scuba diving! Several whale watching and wildlife viewing tours depart from Alert Bay. Spot impressive pods of Northern resident orcas or diving humpback whales around Upper Johnstone Strait. You can also cross over to the Broughton Archipelago Marine Provincial Park, an incredible set of islands famous for kayaking and grizzly bear viewing. As well, Blackfish Sound has excellent salmon fishing and huge halibut.
Alternatively, if you're looking for something more laidback, take a stroll through the gorgeous Alert Bay Ecological Park to view the forest and the "gator gardens" (a gorgeous mossy marsh with a boardwalk and no actual alligators). Or, just relax on one of the Alert Bay beaches and enjoy watching the ocean waves.
If you aren't sure what to do, check out our article: Best Things to Do in Alert Bay. Or, head to the Alert Bay visitor centre once you arrive for more recommendations and tourist information.
How to Get to Alert Bay
Getting to Alert Bay is easy. All that you have to do is get to Port McNeill! There are regular scheduled BC Ferries sailings from Port McNeill to Alert Bay (usually 6 per day). You can bring your car along on the trip, or just take the ferry as a foot passenger. You can use a BC Ferries Experience Card to make the journey cheaper.
The Alert Bay ferry service takes about 45-minutes and is incredibly scenic! On the way, enjoy views of the Vancouver Island Coast. You'll also pass by Sointula on the beautiful Malcolm Island, another one of BC's awesome little islands worth checking out!
There is also a small 900-m long local airstrip in Alert Bay. Or if you arrive by boat, Alert Bay has a small craft boat harbor or you can anchor in the protected bay.
Top Travel Tips & Resources for BC
Travel Insurance – If you're travelling internationally, travel insurance is a must for any trip. Being covered by insurance is especially important when you're going to an adventure-filled place like British Columbia. If you injure yourself while adventuring, you want to have insurance! We recommend using SafetyWing for international travel insurance. They are affordable and have great policies for travellers, digital nomads, and remote workers. Also, SafetyWing provides COVID-19 coverage, which many other insurance companies don't cover.

Car Rental – We find the best deal on vehicle rental prices using RentalCars.com. They compare the prices for different car rental companies so you can find the best deals out there!

Accommodations – We prefer booking all of our hotels, hostels, and other accommodations through Booking.com because they have a flexible cancellation policy. Also, there are lots of different options on their platform, from hotels to vacation homes. Alternatively, Expedia and Hotels.com are good for booking accommodations. For vacation home rentals, VRBO is an excellent choice (they have lower fees than Airbnb, many of the same properties, and are more ethical).

Flights – You can find many good flight deals on Google Flights or Kayak. If you fly at less popular times (e.g. mid-week or red-eye flights), you can save some money.

Tours – Get the most out of your vacation by taking a guided tour! This is a great way to see the city, adventure to exciting new locations, and learn about the local culture. Viator or GetYourGuide are great options for booking tours.