Galiano Island is located between Vancouver Island and the mainland of British Columbia. It's one of the easiest Southern Gulf Islands to access and can be reached by a short ferry journey from Vancouver or Victoria.
Boasting fantastic hiking trails, beautiful provincial parks, and jaw-dropping scenery, this incredible island isn't a destination that you want to miss.
We live in Victoria so we've visited Galiano several times. As such, we know all of the best places to visit on Galiano Island and soon, you will too! 
Below, we're going to cover the very best things to do and places to see on Galiano Island, based on our own experiences and adventures. To ensure you have the best time, we'll share some of our insider tips too, so you have a fantastic experience in this incredible destination.
Best Things to Do on Galiano Island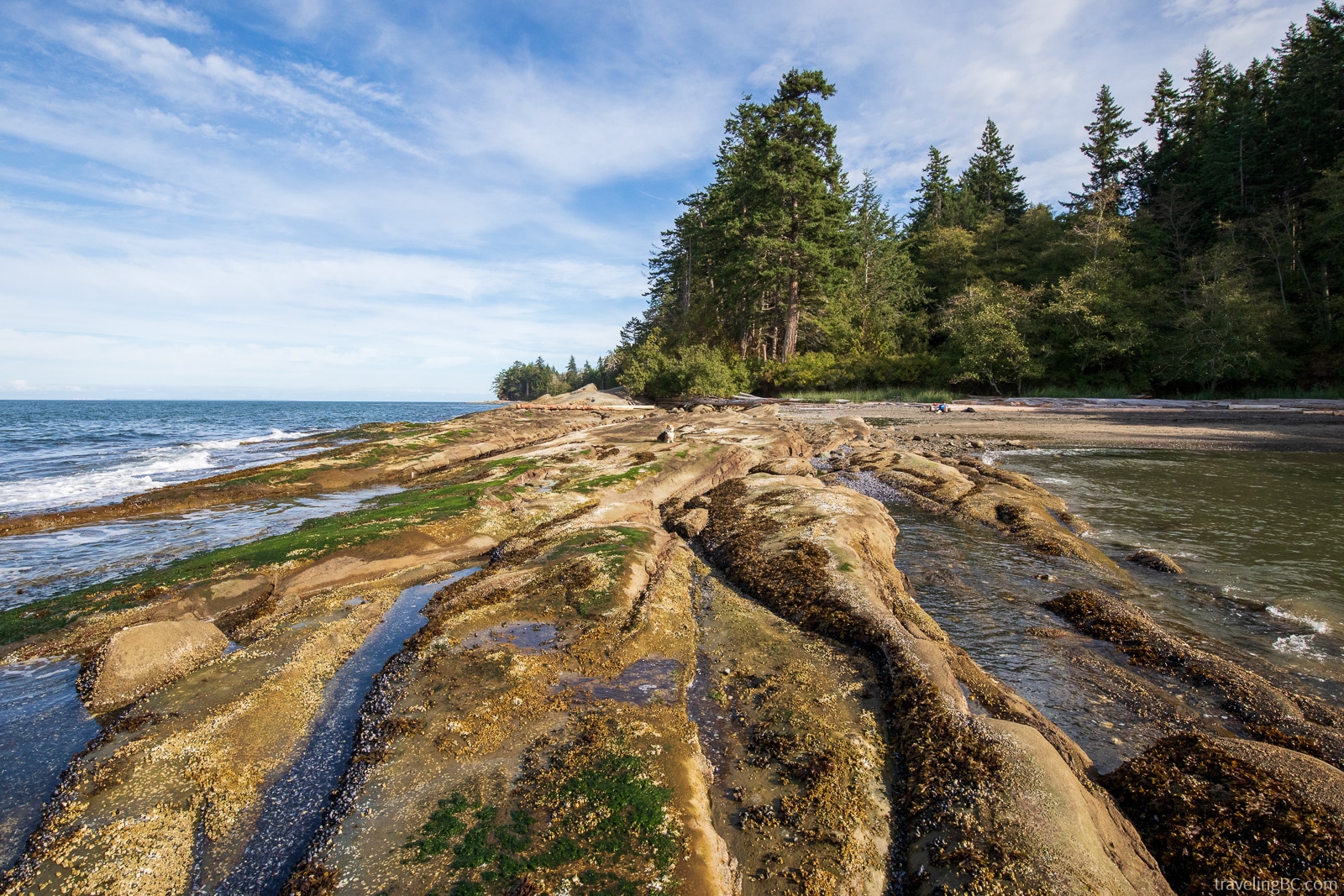 With ample hiking trails, beautiful provincial parks, and endless activities on offer, there's no shortage of things to do on Galiano. Below, we cover the best things to do, places to see, and activities to try on Galiano Island. Enjoy your trip to this beautiful island paradise!
1. Visit Montague Harbour's White Shell Beach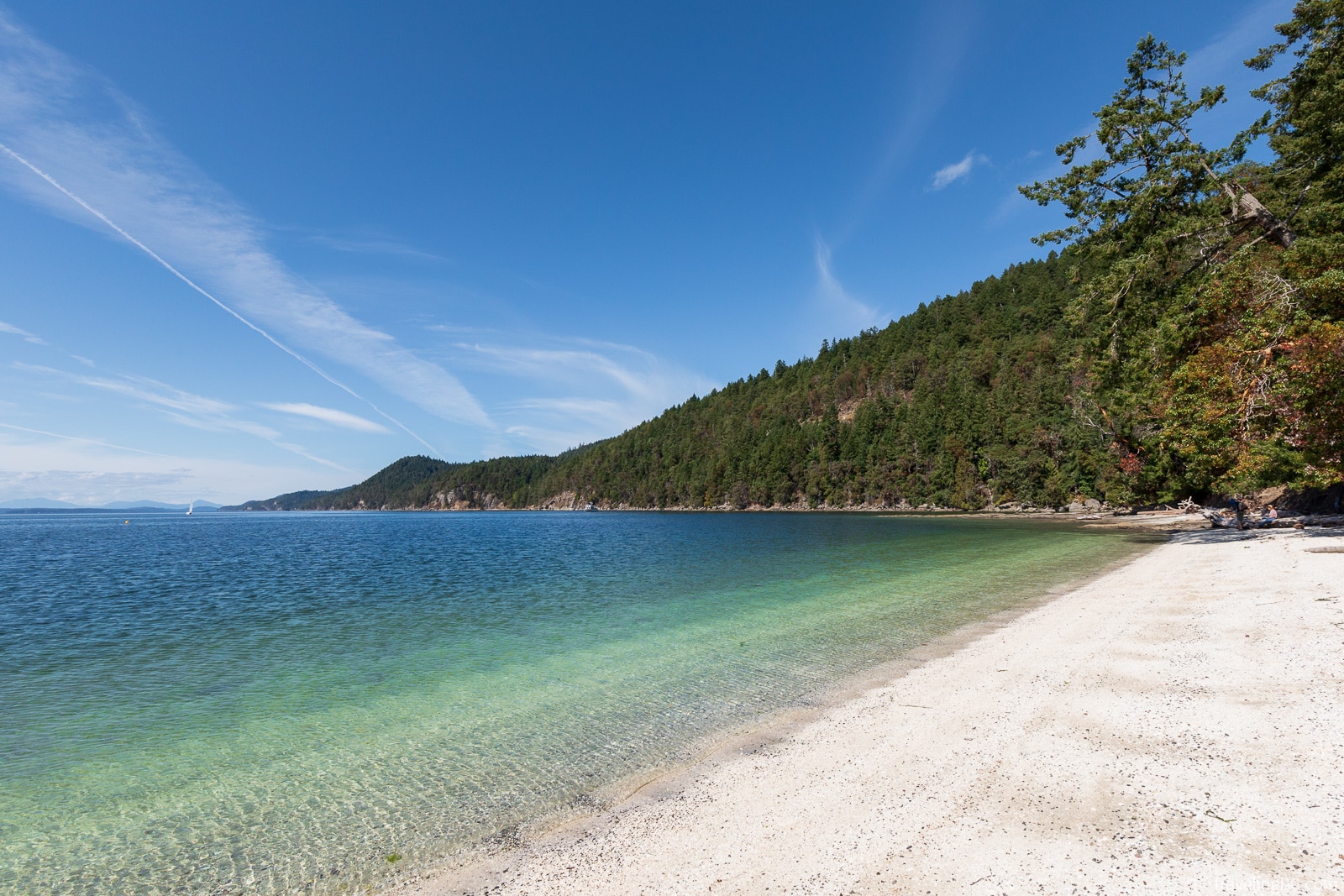 First up on our list of the best things to do on Galiano Island is visiting the beautiful Montague Harbour Marine Provincial Park! Covering an impressive 102 hectares, this incredible destination was the first marine park in the Gulf Islands. It's probably our favorite spot on the island — and for good reason!
Known for its beautiful white shell beaches, coastal forest, tidal lagoons, and sheltered waters, this provincial park has a lot to offer. You'll find it can get busy at times — especially on hot weekends in the summer!
One of the highlights has to be the white shell beach on the northern side of the park. Made of little bits of white sea shells, the beach is a beautiful spot to relax and enjoy some sun.
Here's a fun fact: Montague Harbour's white shell beach is an archeological site known as a shell midden. These middens serve as evidence of First Nations use of the island for harvesting shellfish from over 3,000 years ago!
For those who want to explore past the beach, the Gray Peninsula Loop is one of our favorite walks on Galiano Island. This oceanside trail covers a distance of about 2 km and takes around 30 minutes to complete.
For those wishing to stay overnight, Montague Harbour's campground has a mix of walk-in only or vehicle-accessible campsites. There are also buoys for boaters in the sheltered waters of the harbour.
2. See Active Pass From Bluffs Park
Visiting Bluffs Park is undoubtedly one of the best things to do on Galiano Island. With 139 hectares of protected Douglas-fir forest and impressive shoreline cliffs, the beauty here is unparalleled.
Bluffs Park, aptly named for the majestic shoreline 'bluffs' that it protects, offers some of the best views of ferries sailing through Active Pass, the channel between Galiano and Mayne Islands.
The highlight of this park is definitely the spot known as 'The Viewpoint'. Situated above the bluffs, the viewpoint looks out over Active Pass. On a clear day, you'll be treated to epic vistas of the other Southern Gulf Islands, Vancouver Island, and the Olympic Mountains in the United States.
For those who just want to enjoy the views, you can drive practically all the way to the viewpoint. However, we like to explore the park more on foot by following the hiking trails.
Many of the hiking trails are relatively short (including the one to Mathews Point Park). The Lookout Trail gives the best views, but the others are worth exploring. There's even a short trail that'll take you to a moss-covered japanese charcoal pit kiln built in the 20th century.
Established way back in 1948, Bluffs Park (also known as the The Bluffs Nature Protection Area) is the oldest wilderness park on Galiano Island. Today, the park is looked after by the Galiano Club, a fantastic non-profit community organization.
3. Visit the Kunamokst Mural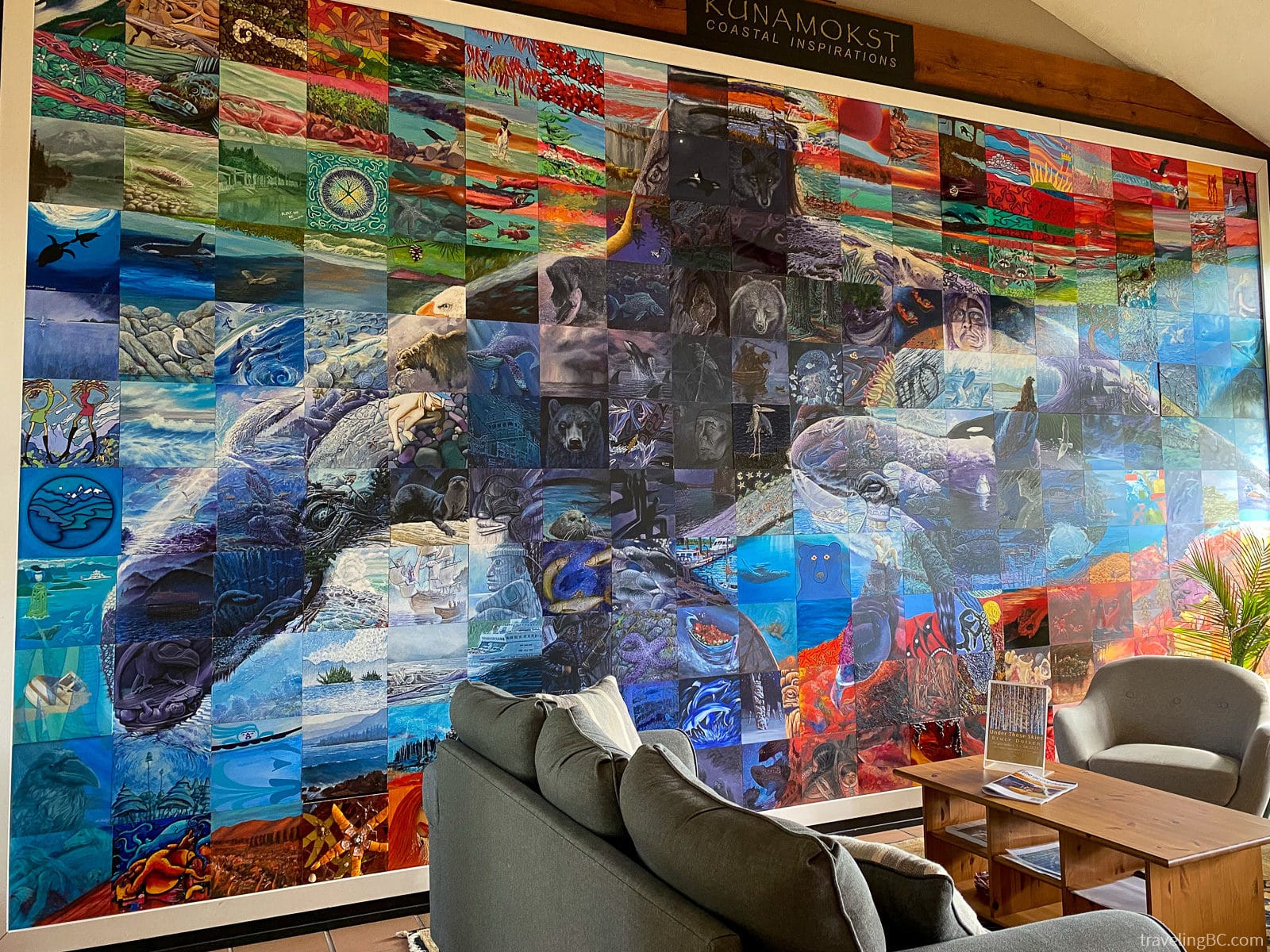 If you're wondering what to do on Galiano Island then we highly recommend checking out the Kunamokst Mural. It's found within the lobby at the Galiano Oceanfront Inn and Spa. Don't worry though, the mural is free to visit — even if you don't go to the inn or spa!
This mural is one of the most impressive pieces of BC art that you'll ever see. At first glance, the Kunamokst Mural seems to simply be a painting of an adult orca and its calf (which is still incredible). But, when you take a closer look the mural is actually made up of 231 original paintings!
The paintings that make up the mural were created by over 190 Canadian artists, including well-known names like Robert Bateman and Roy Henry Vickers. Their paintings were brought together to create this impressive piece of artwork. What's even more interesting is that the artists had no idea what the final piece would look like!
Kunamokst translates to 'together' in Chinook and honestly, there's no better way to describe this piece of art. No trip to Galiano Island is complete without heading here. Make sure to snap some photographs, too! 
4. Go for a Weekend Getaway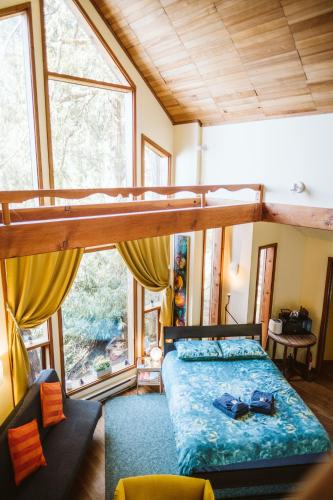 Much of Galiano can be explored with a day trip, but that won't give you much time to really enjoy the island. If you have the chance, we'd recommend staying overnight or preferably for the weekend.
There are so many fascinating things to do on Galiano Island so it's not a place you want to rush. Luckily, you'll find lots of charming cabins and places to stay here!
Escape to the beautiful Serenity by the Sea Retreats for your Galiano weekend getaway. Here, you'll enjoy staying right beside the ocean, surrounded by coastal paradise. Relax in the oceanside hot tub or watch the sunset over the water!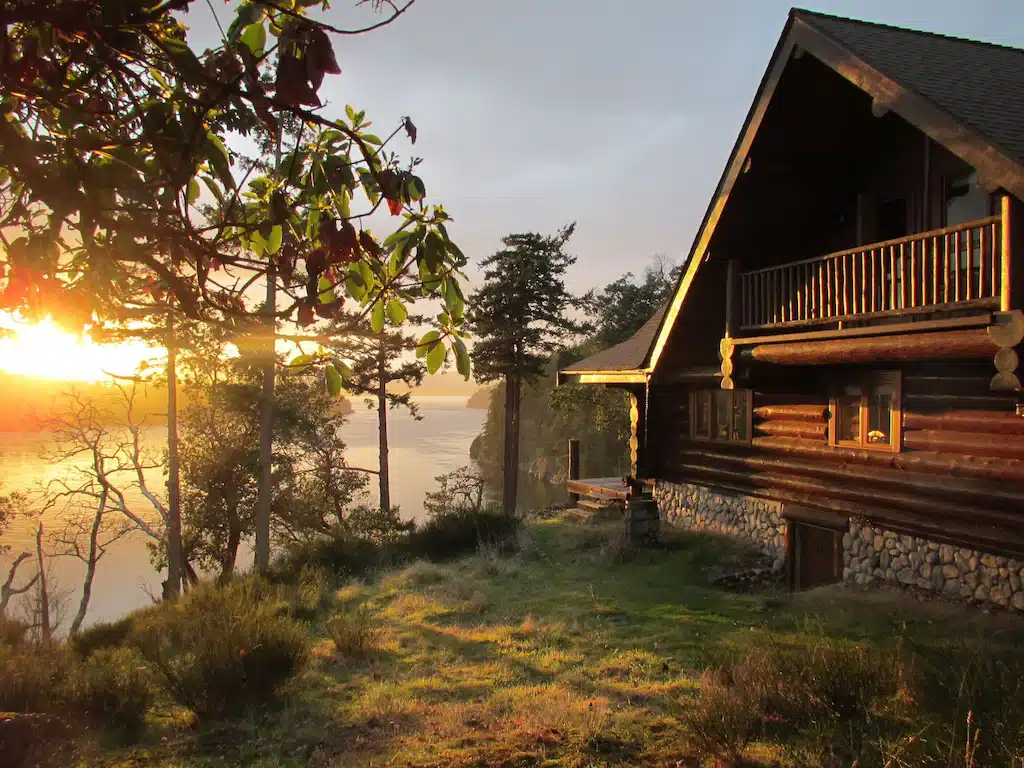 Another options is the InTheBluff's Oceanside Log House which perches on the edge of an oceanfront cliff. It sleeps up to four people with two bedrooms and offers a spacious sun deck area with striking views of Active Pass. Even better, there's an infinity-edge hot tub on the property! 
5. Paddle to Dionisio Point Provincial Park
Known for spectacular rocky headlands surrounded by sandy beaches, sheltered waters, and seaside forests, Dionisio Point Provincial Park is one of the best places to see on Galiano Island.
The only downside? The park is boat access only!
But, don't let that stop you! If you have access to a boat or sea kayak (or can rent one on the island), we highly recommend checking out this quiet and scenic spot. Once you get to Dionisio, you'll quickly find that the effort to get there was well worth the effort!
Perched on the northern edge of Galiano Island, the park overlooks Porlier Pass and protects 142 hectares. From forested uplands and wildflower meadows to ocean-carved sandstone shoreline and colorful intertidal marine life, this park certainly is picturesque!
No matter your interests, you're sure to find something to do here. Popular activities include tide pooling, fishing, boating, kayaking, and even scuba diving. There's also camping at the Parry Lagoon campground, if you want to stay the night.
Wildlife-watching is also a popular activity in this provincial park. Thanks to the park's location beside Porlier Pass, you've got a good chance of spotting animals like sea lions, seals, whales, and otters, among others.
6. Picnic at Bellhouse Provincial Park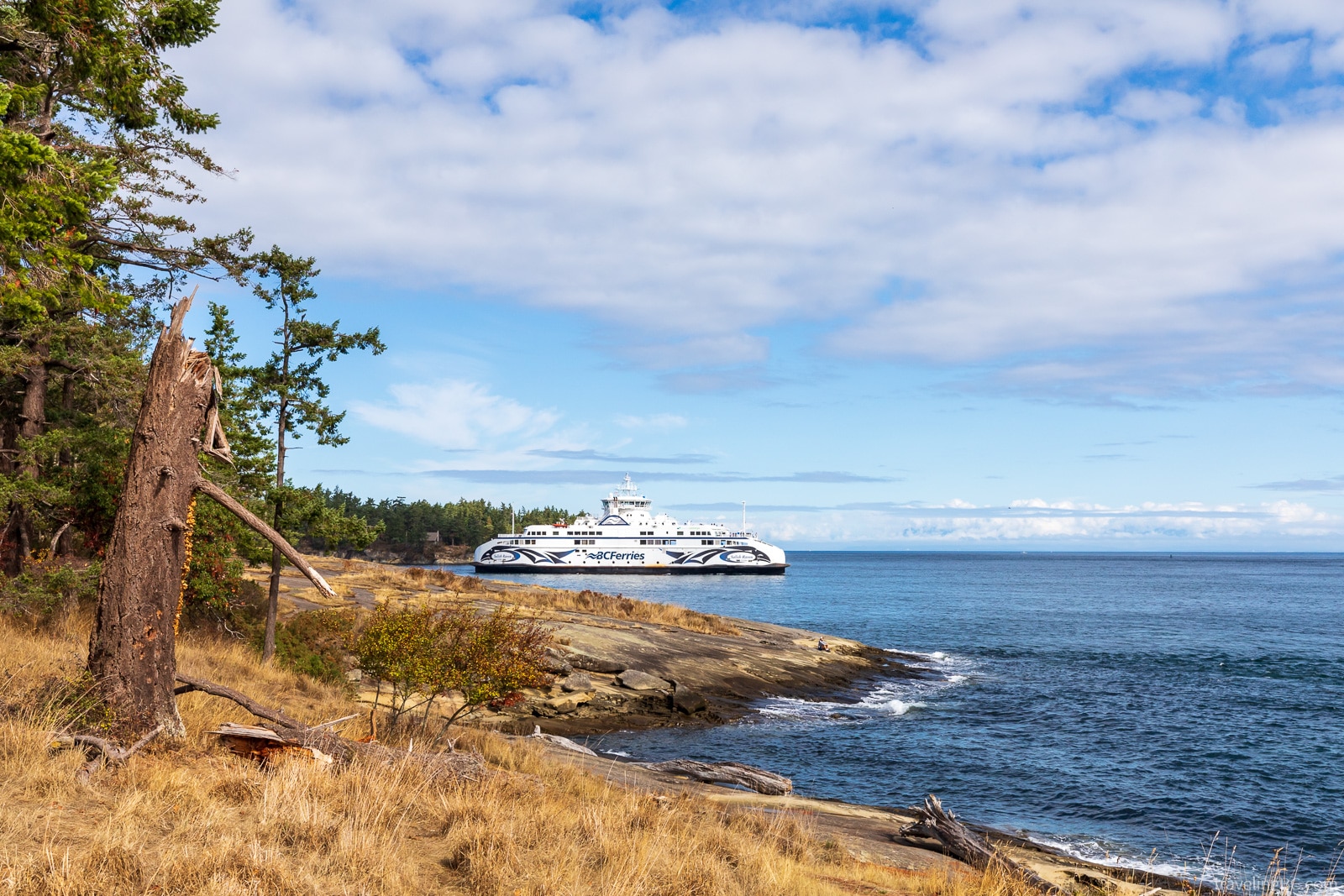 Although much smaller than other parks on the island, don't miss out on visiting Bellhouse Provincial Park. While it only covers an area of 2.5 hectares, the park is located on Burrill Point so the views are pretty striking.
There's a short trail that starts from the parking lot and takes you right to the shoreline through a Garry oak meadow. Once there, find a good spot to settled down and simply take in the views!
When we visit Galiano Island, we really enjoy stopping at Bellhouse Park for a picnic. As you eat, you can watch the ferries cruise around Sturdies Bay and Active Pass.
Better yet, look out for wildlife! Bellhouse Park is one of the best locations for spotting orcas as they move through Active Pass.
After your picnic, make sure to explore the sandstone shoreline around the park. The ocean waves have eroded the rock into honeycomb formations that are quite unique!
7. Bike Around Galiano
Biking is one of the top ways to explore Galiano Island and it's not hard to see why!
Galiano Island is relatively small, with a length of just 27.5 km and a width of 6 km at most. And there's really just one main road to follow, Porlier Pass Road, which takes you all the way from Sturdies Bay to North Galiano.
Thanks to this, many people choose to cycle the entire route of the island. It takes about 1.5 to 2 hours to cycle the length of Galiano (or 3 to 4 hours with a return trip). Of course, you'll want to allow more time than this for stops along the way!
You don't need to cycle across the entire length of Galiano Island either. Just exploring the south side of the island can be a blast! Bellhouse, Montague Harbour, and the Bluffs are all within easy cycling distance from the ferry.
If you're not already convinced, here's another upside for cycling the island: bringing a bike on the ferry is free! This will help you save some money by avoiding the ferry's vehicle fee — all you'll have to pay is the passenger ticket.
With spectacular views and little traffic, Galiano is a cyclist's dream. But, just keep in mind that there are plenty of hills that you'll need to tackle. For this reason, we enjoy exploring on an ebike — but a normal bike works too!
8. Explore Galiano by Kayak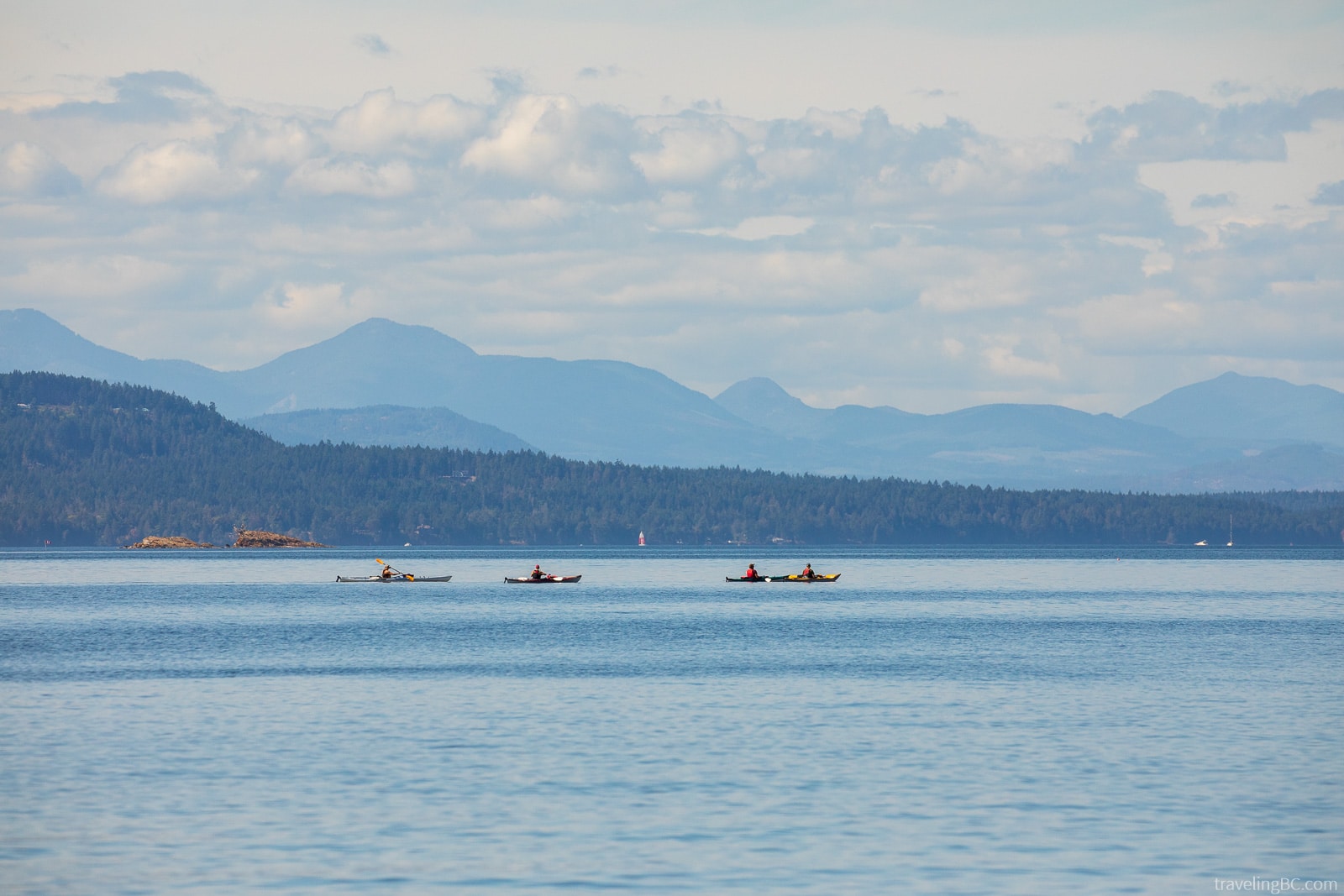 Thanks to its spectacular scenery and abundant marine life, there's no better way to explore the coast of Galiano Island than via sea kayak.
When it comes to sea kayaking you've got two choices if you don't have gear already: either rent a kayak for the day (or a couple of hours) or head out on a guided tour. Tours generally last between 3-6 hours.
If you decide to go with a kayaking tour, there are several to choose from. Guided tours will take you through Montague Harbour, past honeycombed sandstone cliffs and nature preserves, and to spot wildlife like sunbathing seals.
For the adventurous, there are also Bioluminescence Night kayaking tours in summer! These tours feel like you're kayaking through fireflies. Your paddles stir up microorganisms called dinoflagellates and diatoms, causing them to produce a magical blue glow in your wake. This experience feels unreal and is super cool!
If you rent a kayak or have your own, you won't be short of places to go. Montague Harbour is a great option and if you go a little further, you can get to the Ballingall Islets Ecological Reserve. Dionisio Point Provincial Park is also a popular option as it's only accessible by water.
Sea kayaking is definitely one of the best things to do around Galiano Island! Just make sure you do your research before heading out, as some of the areas offer challenging waters. If you aren't experienced with sea kayaking or the area, we recommend sticking with a guided tour.
9. Hike Along Bodega Ridge
If you're wondering what to do on Galiano Island and love hiking, then head to Bodega Ridge Provincial Park!
This incredible provincial park is famous for amazing views from the top of its namesake, Bodega Ridge, the 4-km long ridge that rises above the Salish Sea by 328 meters. The viewpoint is accessed via a hiking trail that'll take about 30-minutes or so, one-way.
Once you're at the top, you'll find breathtaking views of the Gulf Islands region. Bodega Ridge offers sweeping vistas over the Trincomali Channel with a background of Salt Spring and Vancouver Island.
Thanks to the high cliffs found within Bodega Ridge Provincial Park, this is also a popular spot for bird-watching. Often, you'll be able to spot birds of prey like bald eagles, turkey vultures, and even peregrine falcons, so keep your eyes peeled!
The striking views from the top of the cliffs, shoreline sandstone formations, beautiful Douglas fir and Western red cedar forests, and abundant wildlife make this a place you won't want to leave off your Galiano Island itinerary!
10. Relax at the Spa
With so many fantastic things to do on Galiano Island, it's likely that you'll eventually require some downtime. This is especially the case if you plan to hit up some of the island's hiking trails and cycling routes!
Luckily, you'll find Madrona del Mar Spa on Galiano, which is the perfect place to visit if you're looking to soothe aching muscles. The spa is located at the Galiano Inn Oceanfront Inn & Spa (which is also where the Kunamokst Mural is found).
There are a variety of spa treatments available here, including massages, facials, and nail care, so it's up to you what you go for. In terms of massages, there are several options including hot stones, deep tissue, relaxation, and aromatherapy. If you don't mind paying extra, then check out the spa packages as they offer great value for the money!
11. Find Galiano Island's Sea Caves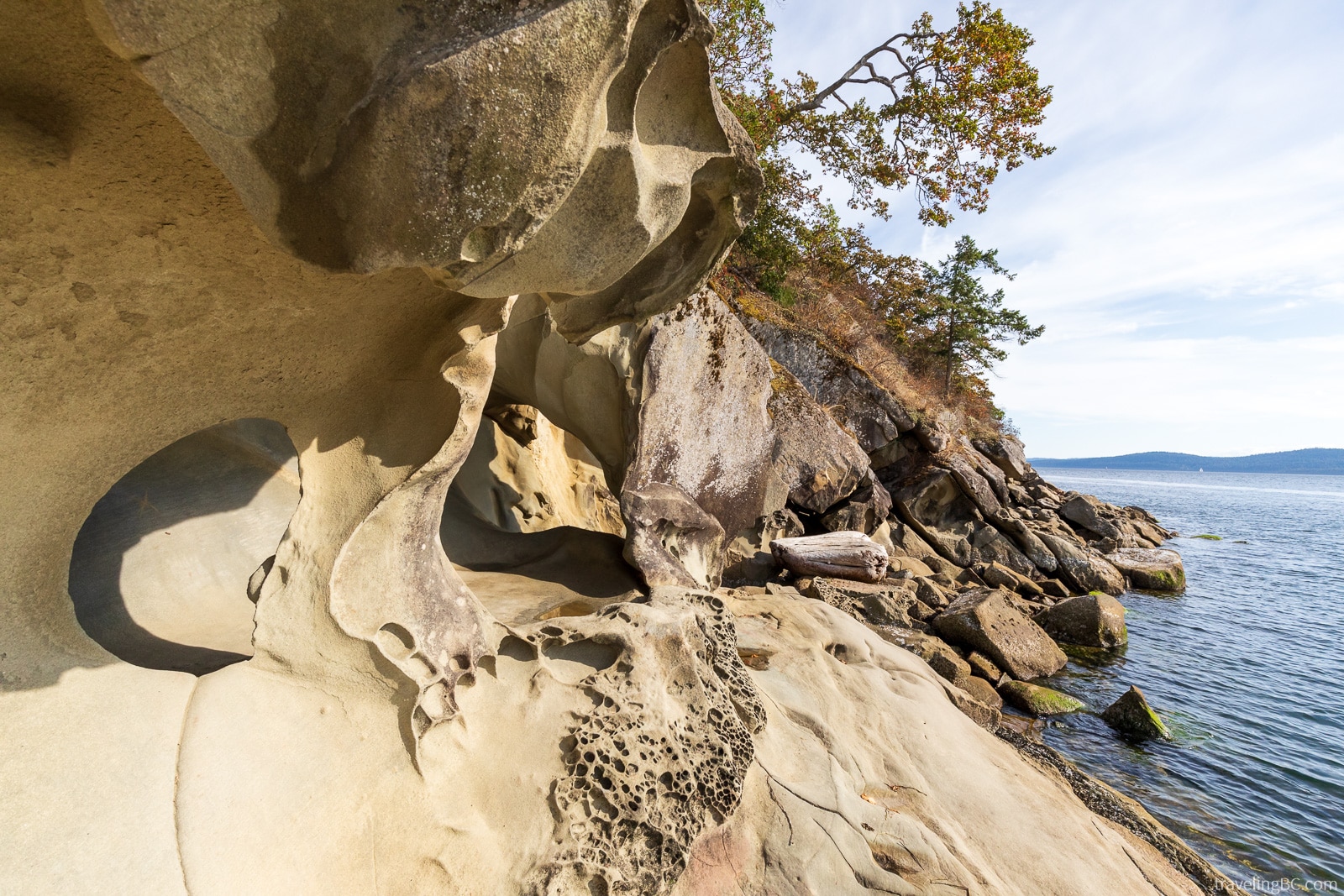 The Southern Gulf Islands are home to some pretty neat sandstone formations and Galiano Island is no exception. You'll often find honeycombed sandstone shores around Galiano (like at Bellhouse Park) but if you're lucky, you might stumble across one of the hidden sea caves!
Eroded over centuries by waves and wind, these sandstone caves are incredibly unique. They are just one example of the impressive shoreline formations found on the island.
One of these unique sea caves is found along the coastline of Retreat Cove and it's one of Galiano Island's hidden gems. Explore the cave's formations while being treated to spectacular coastal views. Just make sure to stay off the private property.
These sea caves are one of the best places to see on Galiano Island so make sure you pay them a visit!
If you're looking for more cool rock formations, check out the Malaspina Galleries on Gabriola Island. This incredible feature looks just like a sandstone wave and can be accessed via a ferry from Nanaimo.
12. Shop at the Galiano Farmer's Market
There's no denying that Galiano Island is a haven for outdoor enthusiasts, but if you're looking for a more 'relaxed' activity, then check out the Galiano Farmer's Market.
All of the main Southern Gulf Islands are known for their farmer's markets. The island communities are full of artists, artisans, and farmers, so it's no surprise that these markets are so popular!
The Farmer's Market on Galiano is located along Burrill Road at Galiano Lions Park. It takes place every Saturday between 10 am – 2 pm. However, it only runs from May Long Weekend until Thanksgiving, so just keep that in mind if you're interested in attending!
Whether you're after local produce, handicrafts, or unique souvenirs, this farmer's market has something for everyone. You'll find plenty of artisans here selling locally-created jewelry, paintings, glasswork, and candles, among other items.
The highlight of the Galiano Farmer's Market has to be the food though! From sweet bakery treats to seafood, you're sure to find something to your liking.
Enjoyed the Galiano Farmer's Market? Check out the Salt Spring Saturday Market next time you're in the Gulf Islands!
13. Explore the Hiking Trails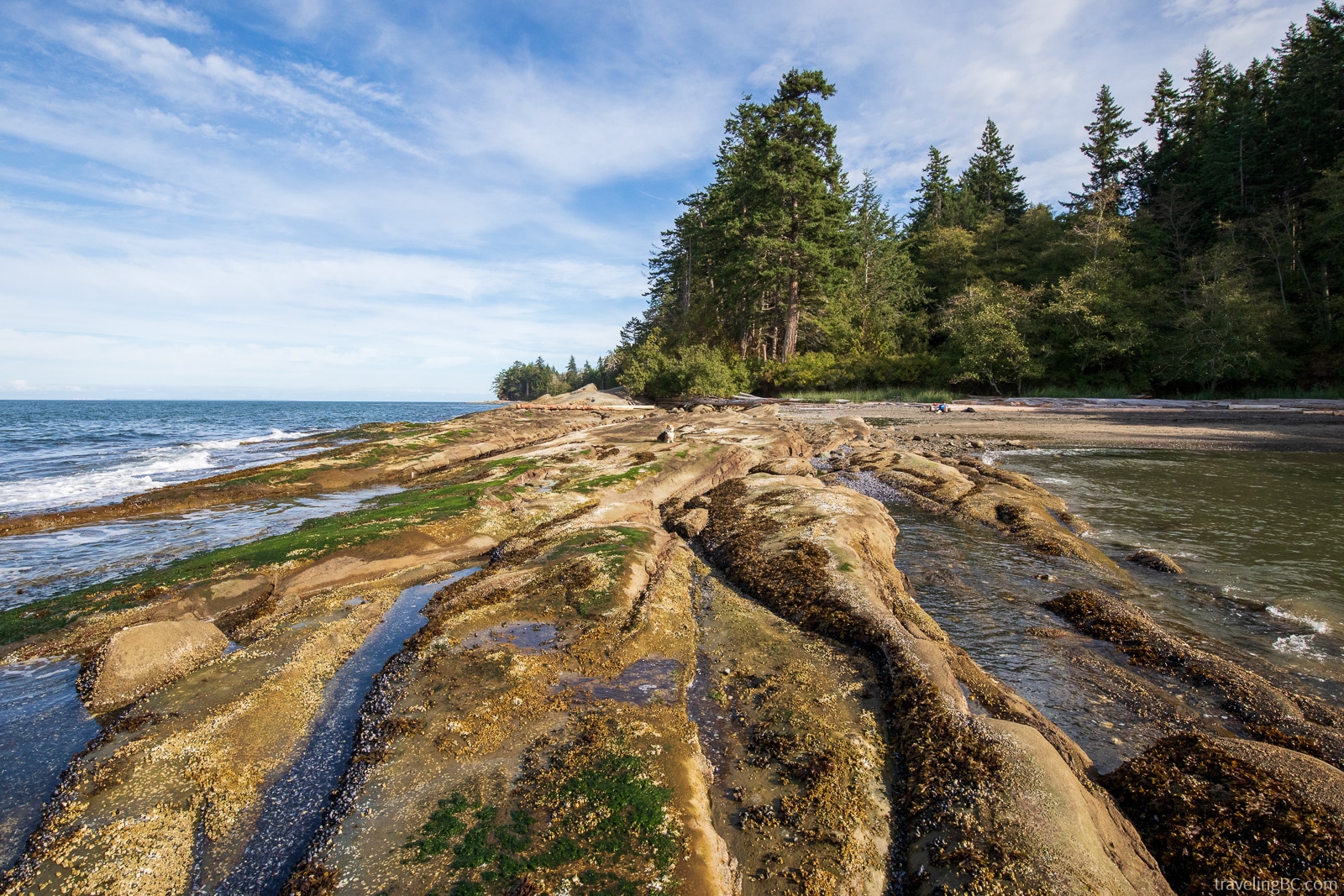 Hiking is one of the top activities on Galiano Island. There are so many fantastic walking trails to choose from. You'll probably need to visit the island a few times to explore all of the best ones!
If you're looking for a good workout, hike to the top of Mount Galiano. At 311 meters, it's the highest point on Galiano Island so the views from the top are incredible. This 6-km hike will take about 2 hours to get to the summit and back.
The trail through Bodega Ridge Provincial Park always makes for a lovely hike. The trailhead is located at the end of Bodega Ridge Road and it's pretty easy to follow. After around 30 to 45 minutes, you'll come to the 328-meter ridge viewpoint that offers stunning vistas of the Trincomali Channel.
Another great option is the Pebble Beach Loop which is found within the 135-hectare Pebble Beach Recreation Site. The 3.1-km loop trail takes you through coastal Douglas-fir forest and along the shoreline, passing by Qw'xwulwis Cable Bay and Pebble Beach.
Of course, there are plenty of other awesome hiking trails for you to try around Galiano Island. Just take a look at the options available and see which one takes your fancy! 
14. Eat at Pilgrimme Restaurant
When you're starting to get hungry, head to Pilgrimme Restaurant which is the perfect place to eat while on Galiano Island. Visiting this award-winning eatery is worth the trip to the island alone!
The restaurant is just a short walk from Montague Harbour and is set in a large cabin in the woods. Boasting a beautiful yet secluded location, delicious food, and a relaxing atmosphere, this isn't a place you want to miss.
Dishes at Pilgrimme are expertly crafted from fresh, locally-sourced ingredients that come straight from BC farms or foraged items right from the island's forests. The tasting menu features 10-12 courses, with spot on wine pairings. Although on the pricier side, you won't regret this upscale dining experience!
With such a reputation, Pilgrimme Restaurant can become booked up very quickly. For this reason, you'll want to make a reservation in advance if you're looking to taste this restaurant's delicious food.
15. Island Hop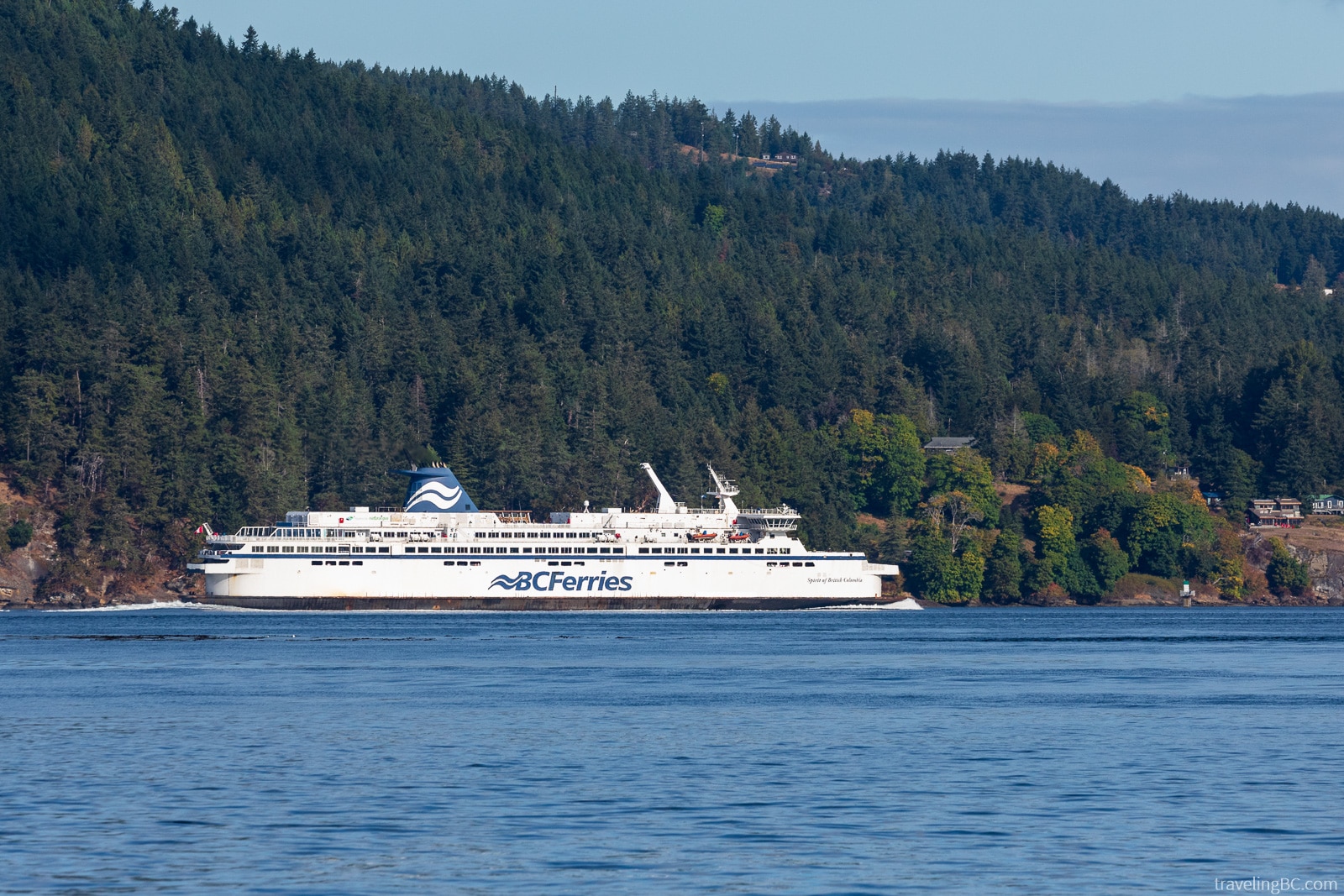 There's no denying that Galiano is one of the most beautiful island destinations in British Columbia. However, if you get the chance, you should take some time to explore some of the other Southern Gulf Islands.
Island hopping by ferry is a great way to experience all that the Southern Gulf Islands have to offer. While there are over 300 islands in the archipelago, there are only seven main ones to visit. Of these, only four are ideal for island hopping from Galiano Island: Salt Spring, Mayne, Pender, and Saturna.
Each island has something special to offer, although all have a Mediterranean-like climate, gorgeous shorelines, and friendly bohemian communities.
Here's a quick overview: Salt Spring is the largest and most populated, known for pastoral lands, amazing wineries, and the Saturday market. Mayne Island, just across Active Pass from Galiano, has rolling orchards, stunning coastlines, and a gorgeous Japanese garden.
While much smaller, Saturna Island is a great place for watching wildlife (especially at East Point). Last but not least is Pender Island, which is actually two islands joined by a bridge. It's known for its natural beauty and is an ideal destination for outdoor enthusiasts.
Likely, you won't be able to visit them all if you're limited on time. See which one catches your eye and add it to your itinerary!
Top Travel Tips & Resources for Vancouver Island, BC