Looking for the best things to do on Saturna Island, BC? You've come to the right place!
With turquoise waters, sandstone shorelines, and excellent whale watching right from shore, Saturna Island is a hidden gem in the Salish Sea.
Situated on the far eastern edge of the Southern Gulf Islands between Vancouver Island and BC's Lower Mainland, Saturna Island is spectacularly beautiful, relatively undeveloped, and feels remote — all while being easily accessed via ferry from Victoria or Vancouver.
Only 31 square kilometers, Saturna Island is often overlooked in favor of its larger and more developed neighboring islands, like Salt Spring and Galiano. But don't let its size fool you: Saturna is a paradise for anyone outdoorsy.
With around half of Saturna protected by the Gulf Islands National Park Reserve and only 350 permanent residents, the island boasts unspoiled wilderness and a bountiful array of wildlife. Each time we visit, we are blown away by its natural beauty!
As residents of the nearby Victoria, we've day-tripped and camped on Saturna Island many times and have discovered some of the best things to do. Below, we share our favorite activities and places to see on Saturna Island, so you can make the most of your visit to this incredible island!
Best Things to Do on Saturna Island, BC
1. East Point Park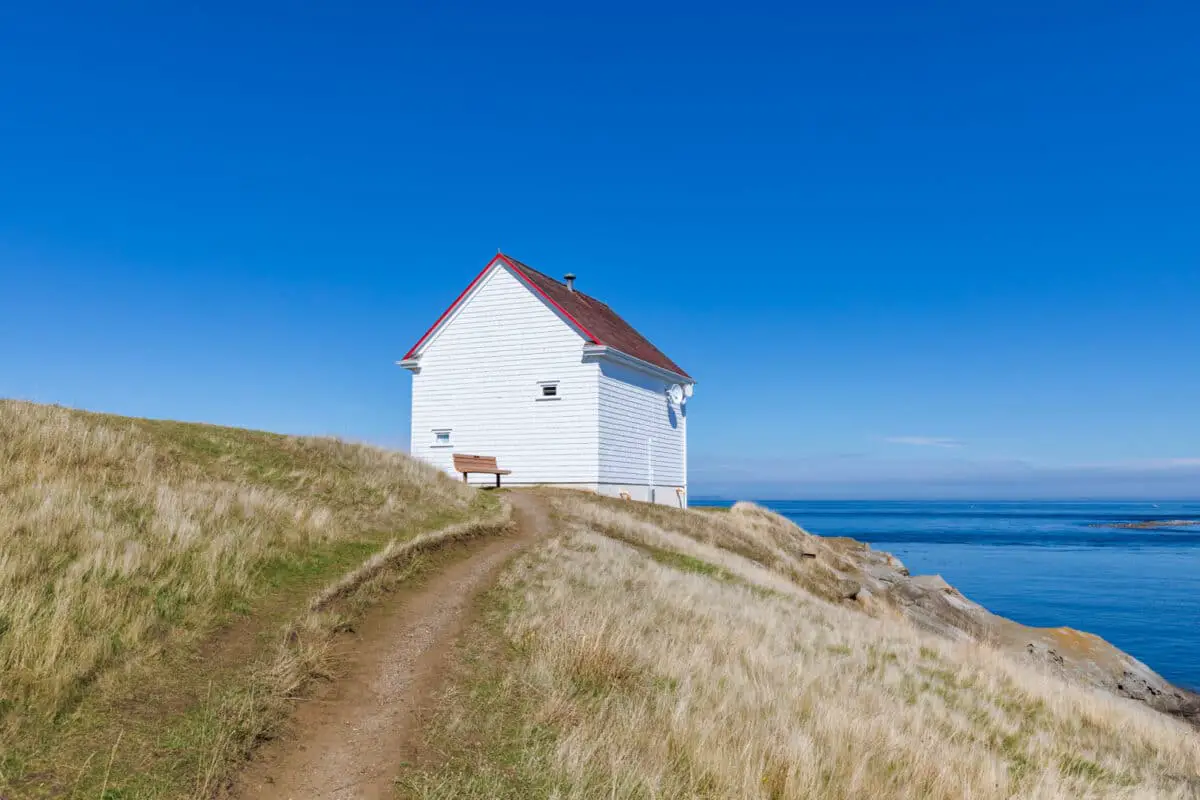 Perched on the easternmost tip of Saturna Island is East Point Park — our favorite spot on the island, by far!
Part of the Gulf Islands National Park Reserve, East Point Park features an expansive meadow of golden windswept grass, complete with spectacular views of the Strait of Georgia and San Juan Islands. The park is surrounded by beautiful sandstone shoreline, ocean-carved into unique honeycomb formations.
Overlooking the ocean is an iconic red-and-white Fog Alarm Building, built in 1938 and now home to the Saturna Heritage Centre. Near the parking lot, you'll also find the East Point Lighthouse, a heritage skeleton light station.
While the entire park is picturesque, we mostly head to East Point Park for one thing — whales!
East Point Park is one of the best places in the Gulf Islands to see whales, right from shore! The nutrient-rich ocean currents flow around the small Boiling Reef islet at the tip of East Point, leading to the perfect conditions that attract all kinds of marine life.
Over our visits, we've been lucky enough to spot Pacific white-sided dolphins from this beautiful point, as well as sea lions, countless seabirds and harbour seals. While we haven't spotted orcas yet, the area is frequently visited by pods of both transients (Bigg's) and southern residents!
2. Winter Cove Park
On the northwestern side of Saturna Island, you'll find the beautiful Winter Cove Park. A tranquil cove surrounded by Douglas fir forests, with wildflowers blooming in spring, this coastal park boasts some of the most scenic views on the island.
Close to the Lyall Harbour ferry terminal, Winter Cove Marine Park is often one of our first stops on Saturna Island. Whether you explore on land or by water, visiting Winter Cove Marine Park is definitely one of the best things to do on Saturna Island!
For incredible views, follow the easy 1.5 km loop walking trail that starts at the picnic tables and takes you along Winter Cove's shoreline. The Boat Pass Trail heads past small beaches and sandstone coastline, meanders through coastal forest, and crosses a saltwater marsh on boardwalks.
The best part of the short hiking trail is at the very northern tip of Winter Cove Park. Here, Saturna and Samuel Islands almost touch, with only a narrow channel of water between the two rocky points, known as Boat Passage. It's quite fun watching the strong tidal currents surging between the Strait of Georgia and Winter Cove!
Winter Cove Park is also a sheltered anchorage with a small boat launch. For this reason, it's quite popular with boaters and kayakers. If you enjoy getting out on the water, this is the place to head!
3. Mount Warburton Pike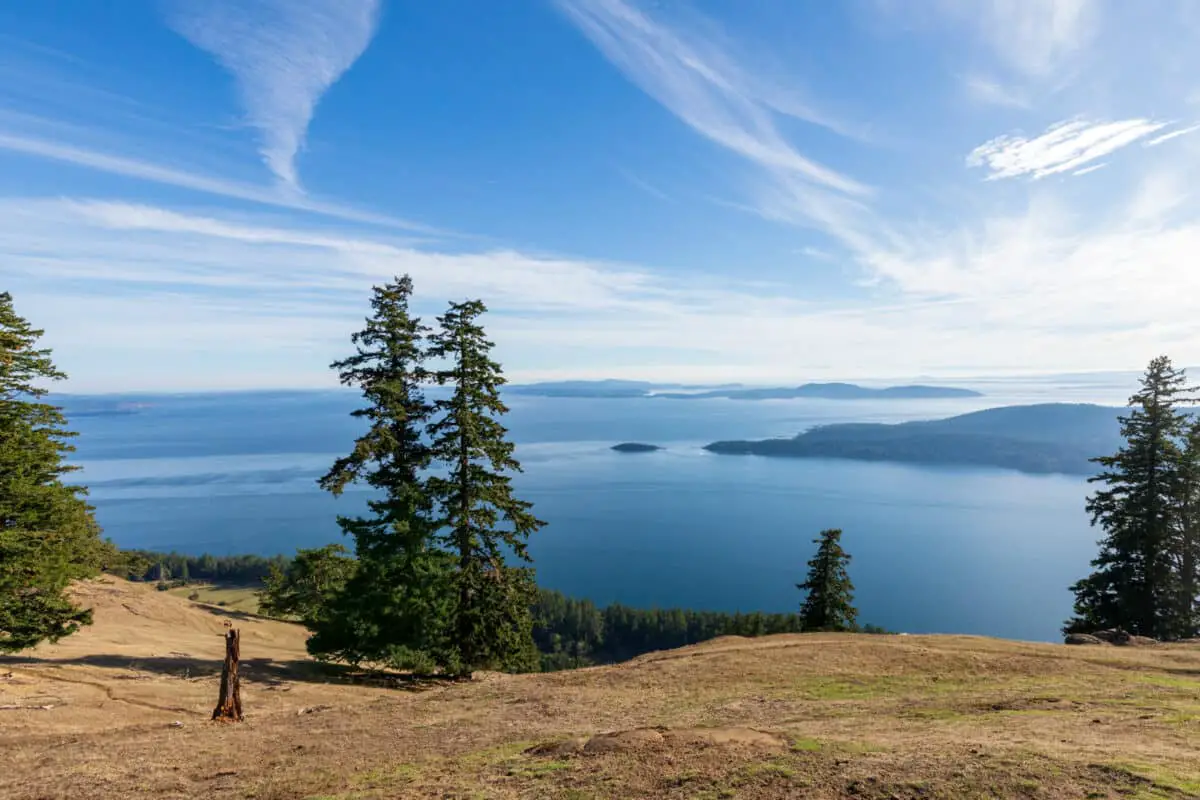 With an elevation of 401 m, Mount Warburton Pike is one of the highest points in the Gulf Islands. While it's only shorter than Bruce Peak on Salt Spring Island, Mount Warburton Pike is certainly the highest point on Saturna!
A visit to the top of Mount Warburton Pike provides awe-inspiring views of the Salish Sea and a number of islands, including North and South Pender, Salt Spring, the San Juans, and Vancouver Island.
Watch for bald eagles and turkey vultures flying above. Also, keep an eye out for the herds of resident feral goats that call Saturna home!
Follow the Brown Ridge Nature Trail along the top of the mountain for some of the best vistas on the island. Wear good hiking boots! Following old goat paths along the windswept grassy ridge, the trail meanders past twisted trees and rocky bluffs, rewarding you with spectacular panoramas along the way!
It's possible to drive to the top of Mount Warburton Pike, but be careful and take it slow! We found the road to be rough with quite a few potholes, but it was quite manageable in a car.
The road gradually winds up the mountain, taking you through the beautiful forest. It is narrow so you'll probably need to pull over when you encounter an oncoming vehicle.
4. Narvaez Bay
Looking for some oceanside camping or hiking on Saturna Island? Head to Narvaez Bay!
Situated in the Gulf Islands National Park Reserve, Narvaez Bay features a seaside campground with 7 reservable campsites accessed by walking an easy 1.7 km trail, biking, or kayaking. While small, the campground makes up for its size with incredible beauty.
The area is surrounded by secluded greenish-turquoise bays and forests of Garry oak, arbutus, and Douglas fir trees. You'll also find an old apple orchard near the campground. Taste some of this wild-grown fruit in autumn!
Hiking trails to Narvaez Bay, Echo Bay, and Monarch Head provide breathtaking Salish Sea views. Visiting Narvaez Bay is undoubtedly one of the best things to do on Saturna Island!
Around Narvaez Bay, you'll see native Columbian black-tailed deer, but also invasive European fallow deer. Originally introduced to James Island, fallow deer have spread through the Southern Gulf Islands.
The deer made for one very interesting September camping trip for us. Deer rut (mating season) is September — December, when they are more active and aggressive. At night, the deer kept rubbing their antlers on trees and loudly barking — a terrifying sound to wake up to! This won't stop us from camping here again but keep this in mind if you stay during autumn!
5.  Boating and Sea Kayaking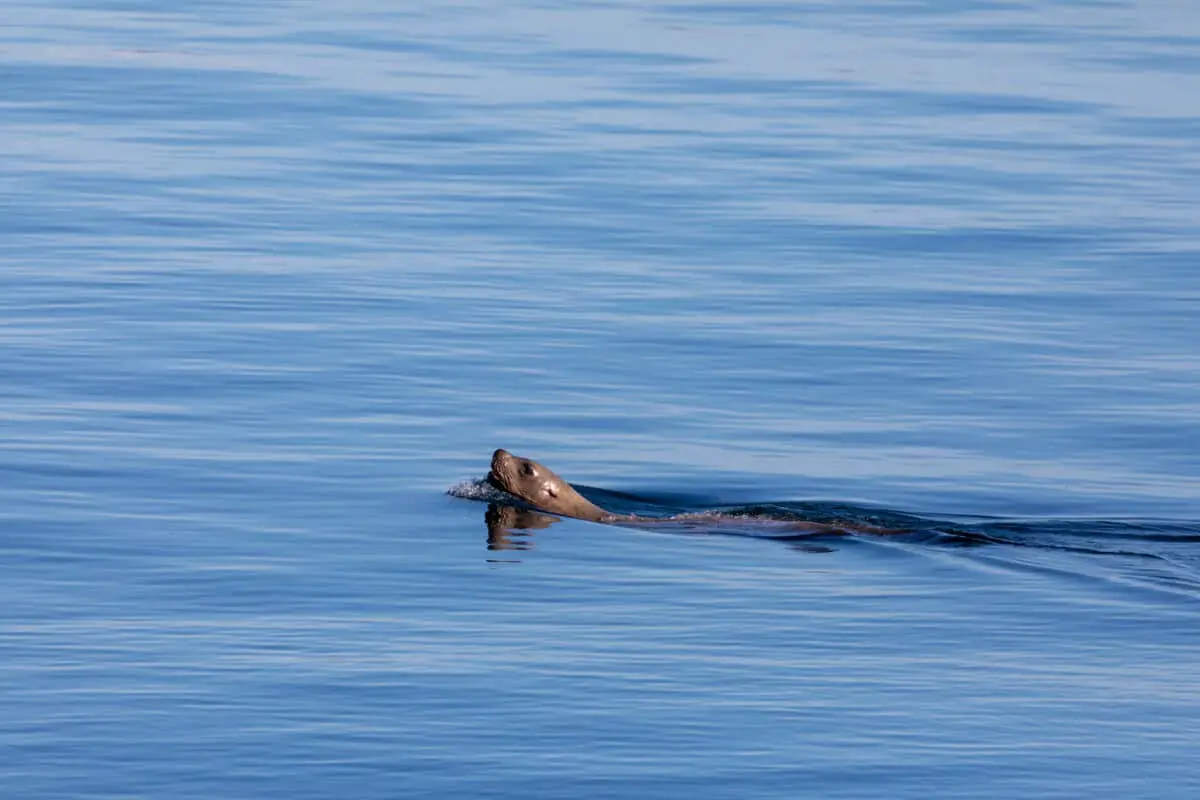 With gorgeous coastlines, protected bays, and many nearby islets to explore, Saturna Island is a great destination for boaters and kayakers. There are also plenty of sheltered anchorages, making this a prime boating destination in the Gulf Islands.
Exploring Saturna by water gives you the opportunity to find hidden gems around the island that those visiting by land likely won't see. If you're lucky, you may even spot orcas or dolphins from your vessel!
Two lovely destinations to explore are Tumbo and Cabbage Islands, just off Saturna's northeastern coast. Surrounded by beaches and sandstone coastline, these quiet islands are great spots to land your kayak and explore. Often, you won't even run into anyone else!
Tumbo Island features an easy 6-km hiking trail that loops through meadow, freshwater marsh, and forest ecosystems. For those wishing to stay overnight, head to the much smaller Cabbage Island, which has unserviced backcountry sites and a beautiful beach.
Winter Cove, Narvaez Bay, and East Point are also quite popular boating destinations. Winter Cove has a sheltered anchorage and fills with boats for the annual Saturna Lamb BBQ on Canada Day. Narvaez Bay is beautiful and there are some really unique sandstone cliffs around Monarch Head to check out. And, if you want to spot whales, you'll have the best luck around East Point!
6. Biking Around Saturna Island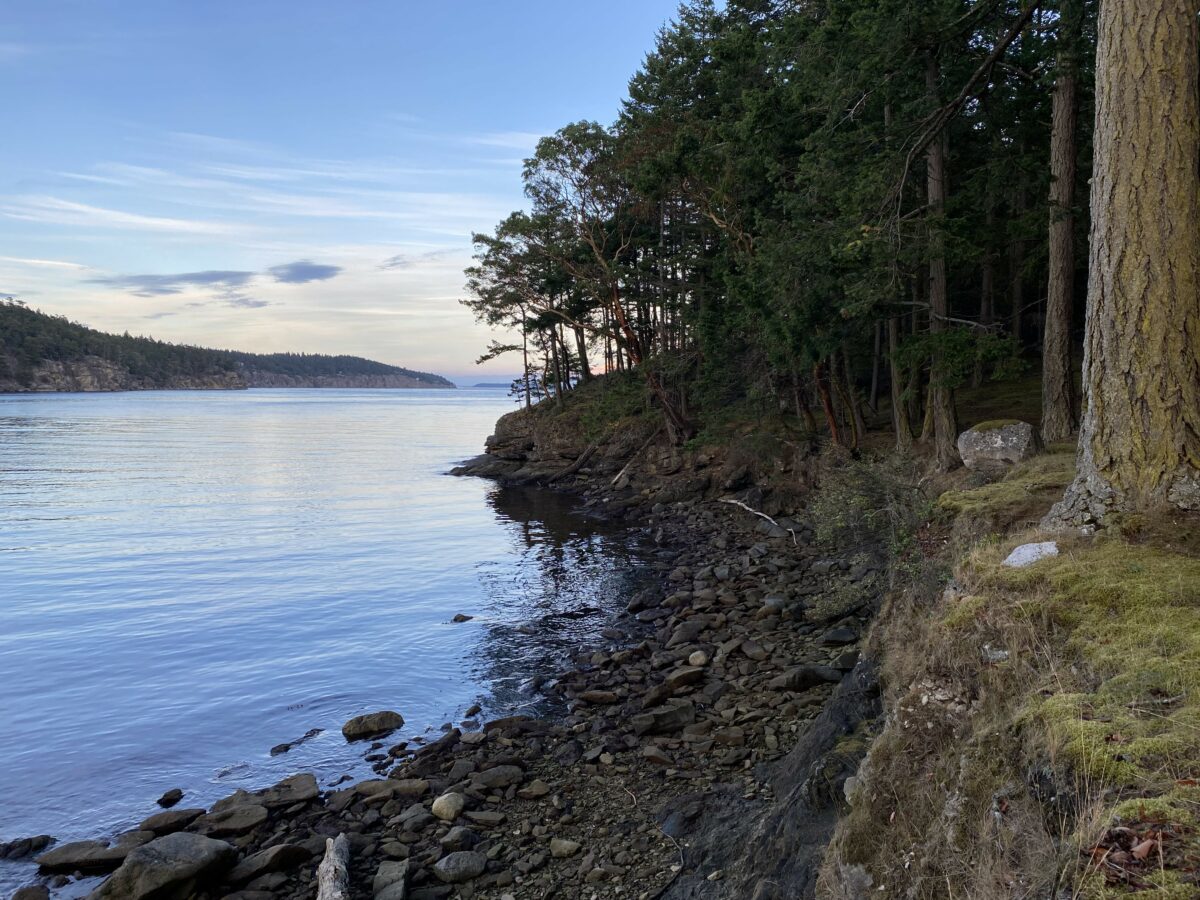 Want to get some exercise in on your island getaway? Try biking (or bikepacking) around Saturna Island!
Saturna Island is relatively small and easily explored via bicycle. Cycling is a fun way to soak up the beauty of the island and is one of the best things to do, especially if you don't own a vehicle!
You can take your bike onto the ferry to Saturna at no extra cost. Not only does this make cycling convenient but it's also a cost-effective option too!
With few roads, it's easy to navigate around Saturna. Also, it is one of the least-visited Southern Gulf Islands, meaning you don't have to worry as much about vehicles. Even so, we do find that some people drive quite aggressively in the Gulf Islands — so watch out!
East Point Road is our favorite road to bike on the island. It's long, relatively easy to bike, and quite scenic!
Top Travel Tips & Resources for Vancouver Island, BC