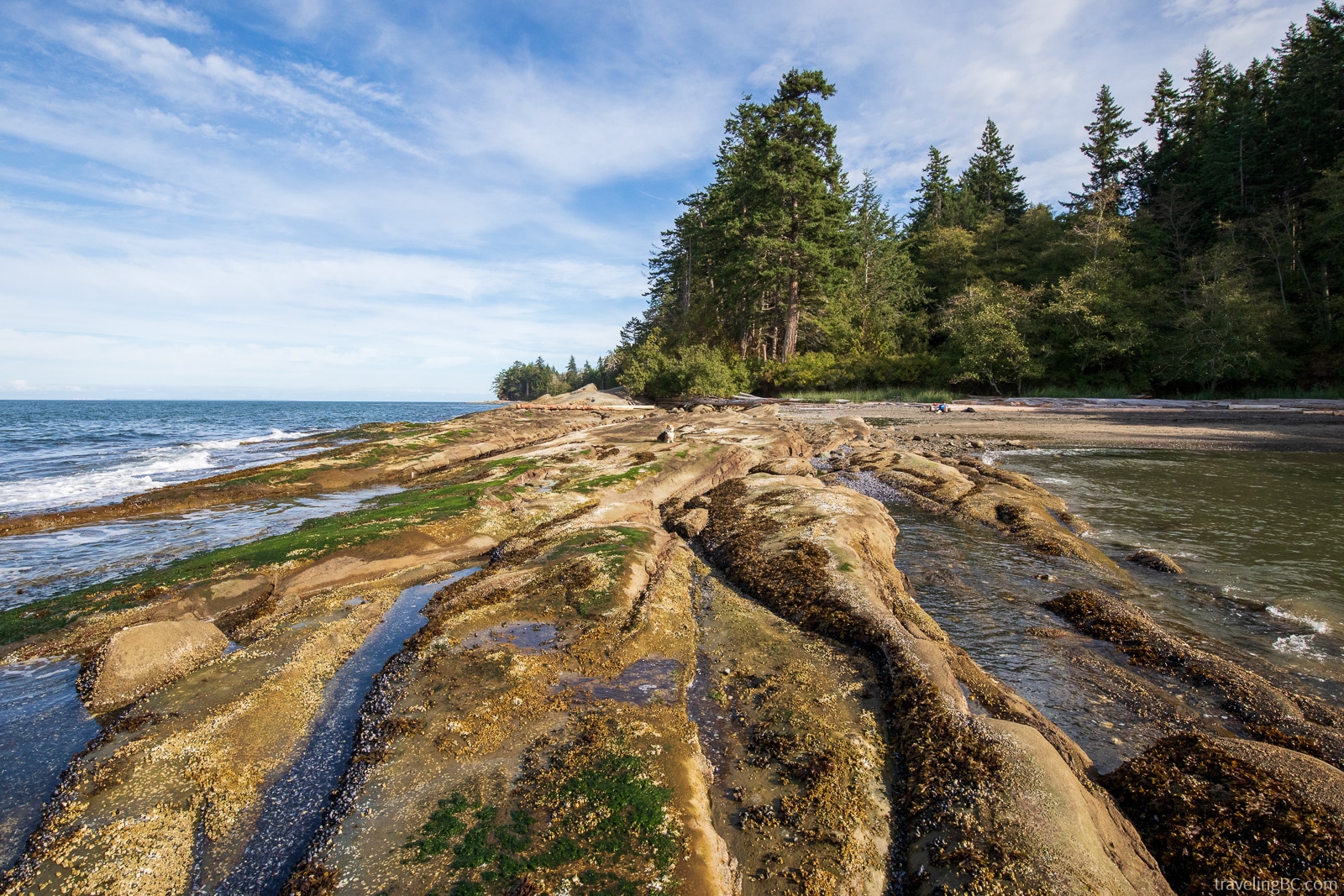 Galiano Island is an incredibly beautiful island, with sandstone coastlines, towering trees, shell beaches, and mountains with amazing views of the Salish Sea. It's so gorgeous that it has rightly earned itself the title of "Gem of the Salish Sea". And, even better, it isn't even that far from Vancouver!
Because Galiano Island is the closest Gulf Island to Vancouver, it is perfect for a relaxing weekend getaway or a day trip. But, don't worry! This guide will cover everything that you need to know to get to this island paradise!
In this guide, we will cover all the options for traveling to Galiano Island from Vancouver, including taking the ferry, flying in a floatplane, and cruising over in a boat. We will provide a walk-through for each trip option so you know exactly how to plan your trip, including prices, directions, trip length, and extra travel tips. If you're heading from Victoria, we also have a guide on how to get to Galiano Island from Victoria.
Disclaimer – This post contains affiliate links. We may receive a commission if you make a purchase through these links, at no extra cost to you. Thank you for your support! Learn More.
Location of Galiano Island
Galiano Island is one of the southern Gulf Islands near Vancouver Island, between Victoria and Vancouver. As a result, it's a popular travel destination for residents of both the mainland and Vancouver Island.
Galiano Island is the closest southern Gulf Island to Vancouver. As a result, it is arguably the easiest Gulf Island to get to from Vancouver.
Galiano Island forms one side of Active Pass, a strait separating Mayne and Galiano Island. All ferries pass through Active Pass on their way between Vancouver and Victoria. On the other side of Galiano, you'll find Porlier Pass, a world-class scuba diving location.
On the north side, Galiano Island is bordered by the beautiful Strait of Georgia. East, you'll find the stunning Mayne Island, home to the historic Georgina Point lighthouse. South, you'll find Salt Spring Island, the largest and most populated Gulf Island. Northwest is Valdes Island, with amazing kayaking.
Distance between Galiano Island and Vancouver
The approximate distance between Galiano Island and Vancouver is 21 km. It's not that far away from the mainland at all! This distance takes about 55 minutes for the ferry to travel, or about 20-30 minutes by floatplane.
How to Get from Vancouver to Galiano Island
To get to Galiano Island from Vancouver, you'll need to either take a ferry, floatplane, or boat. All ways of getting to Galiano will give you amazing views of the Salish Sea!
You will enjoy every minute of your journey, no matter which way you travel! We'll go into more detail below on each method of transportation that you can choose.
Traveling on BC Ferries from Vancouver to Galiano Island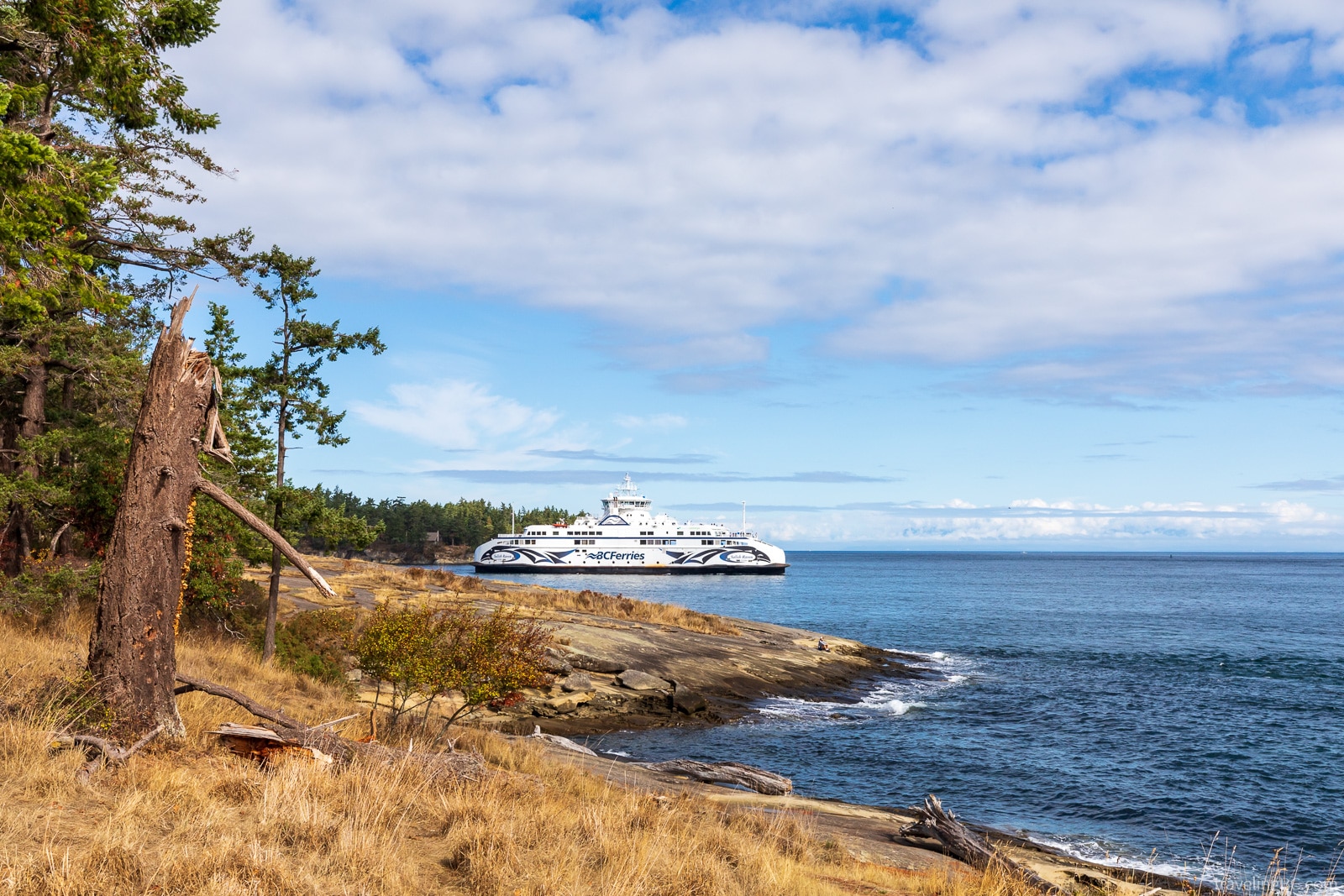 The cheapest way to travel to Galiano Island from Vancouver is by ferry. The Vancouver-Gulf Islands route heads from Vancouver and circles through the Gulf Islands. Galiano Island (Sturdies Bay terminal) is the first stop on the Vancouver-Gulf Islands route.
There are usually one to four sailings between Vancouver and the Gulf Islands each day. The number of sailings depends on the day of the week and the season. Summer usually has more sailings, especially on weekends. You can find the ferry schedule on the BC Ferries website.
How Much Does the Ferry Cost from Vancouver to Galiano Island
BC Ferries has a fare calculator to help estimate ticket costs. We've also provided ticket price estimates below!
If you are a foot passenger, it costs $18.10 for the ferry to Galiano Island. Children between 5 to 11 years old travel for $9.05, and younger children travel for free. The ferry is also cheaper if you are a senior (free Monday to Thursday, excluding holidays) or a student.
If you have a vehicle, the ferry is more expensive. Bringing a standard-sized vehicle onto the ferry costs an extra $68.55 ($60.85 during off-peak times). Larger vehicles (over 20 feet) cost an extra $7.25 per foot. Motorcycles cost $33.40, but bringing a bicycle is free.
The return trip costs foot passengers $8, or $4 for children 5 to 11 years old (free for younger children). A vehicle will cost an extra $16.80, plus $4.05 per extra foot. Motorcycles only add on an extra $16.45.
In total, the fare for a foot passenger without a vehicle will cost about $26. That's pretty affordable! However, we have an article covering tips to save money traveling on BC Ferries, in case you're traveling on a budget and trying to save money!
How Long Is the Ferry Ride from Vancouver to Galiano Island
It will take about one hour to get from Vancouver to Galiano Island by ferry. Typically, there are two to three sailings each day.
If you are using the thru-fare option (connects Vancouver to Galiano Island via Victoria), the trip will be longer than the direct option. The trip from Vancouver to Victoria takes 90 minutes, and from Victoria to Galiano Island is 1-2 hours (depending on whether the route is direct or stops at other islands).
How to Get to the Tsawwassen Ferry Terminal in Vancouver
The ferry to Galiano Island from Vancouver departs from the Tsawwassen Ferry terminal in Delta. We recommend taking public transportation or a vehicle to this terminal, but you can also bike or take a taxi.
It is a 36-km drive from downtown Vancouver to Tsawwassen, about 45 minutes. To get to Tsawwassen from Vancouver, take highway 99 to either highway 17A or 17, where you will exit and head south straight to the ferry terminal.
Alternatively, take the SkyTrain and a bus to get to the terminal. From downtown Vancouver, take the SkyTrain's Canada Line to the Bridgeport station. The ticket costs about $8. There, transfer onto bus route 620, which goes directly to the ferry terminal. There is usually a bus every hour. You don't need to pay a second time to get on the bus, just show them your SkyTrain ticket. It takes about 45 minutes to travel from the Bridgeport Station to the ferry terminal.
Alternatively, you can use the BC Ferries Connector bus. It has several designated pick-up areas around Vancouver, and drops you off at the ferry terminal. Or, you can hire a taxi, which costs about $70.
You can bring your bike on the 620 bus route. However, during peak hours, there might not be space for your bike on the racks. Alternatively, take the bus (route 601/602/603/604) to the corner of 56 Street and Highway 17, where you can bike the remaining 20 minutes to the terminal. This route takes you along the highway, so bike carefully!
Cyclists aren't allowed to bike through the George Massey Tunnel, but you can use the free George Massey Tunnel shuttle service to get through the tunnel. Alternatively, if you want to bike the entire way, you can cross the Fraser River using the Alex Fraser Bridge.
Galiano Island Ferry Reservations and How Early to Arrive at the Tsawwassen terminal
We strongly recommend reserving the ferry both ways, especially if you are driving or on summer weekends and holidays. The Vancouver-Gulf Islands ferry has a limited number of sailings each day and the vehicle decks fill up quickly! You don't want to miss your vacation or get stuck on Galiano because the ferry is full! You can reserve the ferry through the BC Ferries website.
Check-in 30-60 minutes before the departure if you make a reservation. They honor your reservation until 30 minutes before departure. Don't miss the check-in time or you will lose your reserved spot!
If you don't have a reservation, travel is based on order of passenger arrival. Without a reservation, we recommend showing up early (up to two hours in advance). If you show up last, you are last on the boat… and if they've run out of room, you won't get on!
You don't have to worry as much about reserving the ferry if you are a foot passenger. However, foot passenger space can still fill up. Passengers traveling without a car should arrive at least 10 minutes before the scheduled sailing, which is when ticket sales and check-ins close.
Make sure that your planned sailing time is not a cargo sailing. Cargo sailings do not permit foot passengers and have limited space for vehicles.
Direct vs Thru-fare Options to Galiano Island
The direct ferry route takes you straight from Vancouver to Galiano Island, without any stops or transfers. If you can't make a direct sailing, you can use the thru-fare option, which connects Vancouver and Galiano via Victoria (Swartz Bay).
You will first go from Vancouver to Victoria (90 minutes), then from Victoria to Galiano (1-2 hours). The thru-route is useful if the Vancouver-Galiano sailing times don't work for you.
The thru-fare costs the same amount as a direct sailing. All you have to do is inform the ticket agent that you want a thru-fare to Galiano and they will give you a voucher. You must tell them you want a thru fare, otherwise, you will pay extra.
The ticket agent will give you a hanger for your vehicle's rear-view mirror, with instructions for obtaining your ticket between Victoria (Swartz Bay) and Galiano Island. You'll have to give your thru fare voucher to the ticket agent at the Swartz Bay terminal (Victoria), so hang onto it!
You can use the thru fare for your return trip, too. You'll need to show your thru fare voucher to get a Victoria to Vancouver transfer ticket.
Using the thru-fare doesn't guarantee that you will get on the Vancouver-Victoria route, so a reservation is important if you have a vehicle!
Return Ferry Trip
The return ferry trip to Vancouver is easier, as the Sturdies Bay terminal is quite small. The ferry terminal is at the end of Sturdies Bay Road. There is an arrow directing you to the right side of the road, where there is a small ticket building and the vehicle lanes.
At the kiosk, tell them that you are traveling back to Vancouver. Here, you will pay for your return ticket. They will either direct you to the waiting room at the end of the dock (foot passengers), or to a parking lane (vehicles). Then, wait for your ferry and enjoy the trip home, once you depart!
BC Ferries Travel Tips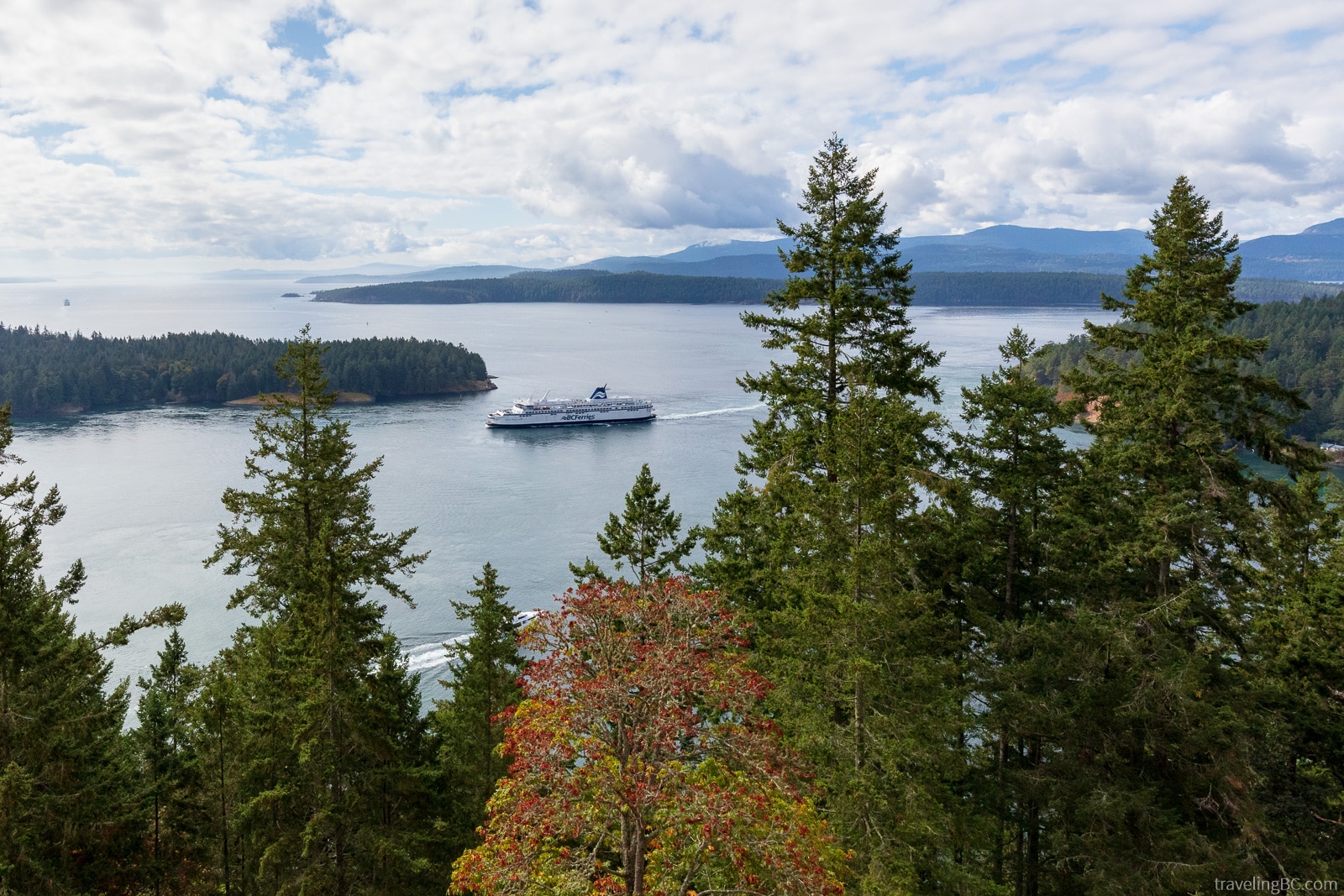 The Tsawwassen ferry terminal in Vancouver is large, with lots of amenities. In the Tsawwassen Quay, you will find a variety of stores, restaurants, bakeries, and cafés, with plenty of seating inside and outside. There are also washrooms, ATMs, payphones, a playground for children, Wi-Fi, and vending machines. If you have a pet, there is a spacious pet area with grass and garbage cans.
The Sturdies Bay ferry terminal is smaller, with fewer services. It has a waiting room at the end of the dock. There is also a washroom and snack kiosk. There are some other nearby food options, a short walk from the terminal. If you have a dog, there is a grassy area behind the parking lanes.
To find more information about the accessibility of BC Ferries, click here.
On the ferry, you'll find a cafeteria and a gift shop. There are lots of choices for seating, including on the upper outdoor decks, all with amazing views. It gets windy on the upper decks, so bring a coat!
Disable your car alarm if you leave your vehicle. If it goes off, you will get called back to your car.
Pets are allowed on the ferry. Pets must stay in your vehicle through the trip or in the pet-friendly room in the middle of one of the vehicle decks.
Flying to Galiano Island from Vancouver
There's no better way to see the Gulf Islands than from above in a seaplane! Lift off from the ocean and marvel at the beautiful coastlines as you fly over the Strait of Georgia and towards the southern Gulf Islands. Arrive in style at Montague Harbour, where you can head out to explore the island or enjoy the gorgeous nearby beaches.
Cost of a Flight from Vancouver to Galiano Island
Surprisingly, flying to Galiano Island from Vancouver isn't that much more expensive than taking the ferry. Seair Seaplanes runs regular scheduled Vancouver-Galiano flights. The standard call-in fare is $147 per person, and cheaper for seniors ($132.63), students ($103.89) and children ($75.14). That is pretty affordable for such a memorable experience!
Chartered flights cost more than booking a scheduled flight. Essentially, you are hiring an entire airplane, with the cost split between passengers. The price depends on the company, location of departure and arrival, aircraft type, and number of passengers. For a price estimate, either call or email the airline. Provide them with a date, time, location of departure and arrival, and whether your trip is one-way or round-trip, and they will give you a quote.
Chartering a flight through Harbour Air from Vancouver costs up to $972, based on a 6-passenger floatplane. It isn't that expensive split between 6 people (about $162) but it's pretty pricey for just one person!
How Long Is the Flight from Vancouver to Galiano Island
Flying to Galiano Island is extremely fast, much quicker than the ferry or a boat. The flight from Vancouver to Galiano Island is about 20-30 minutes. You can watch the ferries slowly making their way over to the Gulf Islands, as you zip by overhead!
How to Book a Flight to Galiano Island from Vancouver
There are a few choices for floatplane airlines that will take you between Vancouver and Galiano, including Seair Seaplanes, Harbour Air Seaplanes, and Gulf Island Seaplanes. Seair Seaplanes has scheduled flights, while the other airlines need to be chartered.
You must call these airlines to book or charter a flight. You can find the company's number on their website. For some airlines, you can also book online through their website or through email. It's easiest to book both legs of your trip at once, so you don't have to worry about making travel plans while you are on your vacation.
With chartered flights, you have a lot more flexibility in your trip. When you call them, you can arrange which airport you want to be picked up from, when you want to depart, and more!
You don't need to fly both ways! If you want, you can always take the ferry home. Then, you'll get to experience the Gulf Islands in multiple ways – from the air, land, and sea!
How to Get to the Vancouver Floatplane Airport
The Vancouver International Seaplane Base is located in Richmond, just south of the Vancouver International Airport. This seaplane base has terminals for both Harbour Air and Seair.
To get to the seaplane base from downtown Vancouver, head south on Granville Street (Highway 99). You will cross over the Fraser River, and then immediately exit right off the highway onto Russ Baker Way. Head south on this road until a right turn onto Inglis Drive. Follow the road until you spot the docks for the seaplanes. If you cross over the Fraser River a second time, you've gone too far!
Both Harbour Air and Seair have complimentary parking at their Richmond terminals. Also, there is a complimentary shuttle from the main airport terminal to the floatplane terminals. You can call to arrange a shuttle pick-up if needed.
Harbour Air also has a Coal Harbour terminal in downtown Vancouver. You can charter a flight departing from this terminal, although it will be more expensive.
Arriving at the Montague Harbour Seaplane Base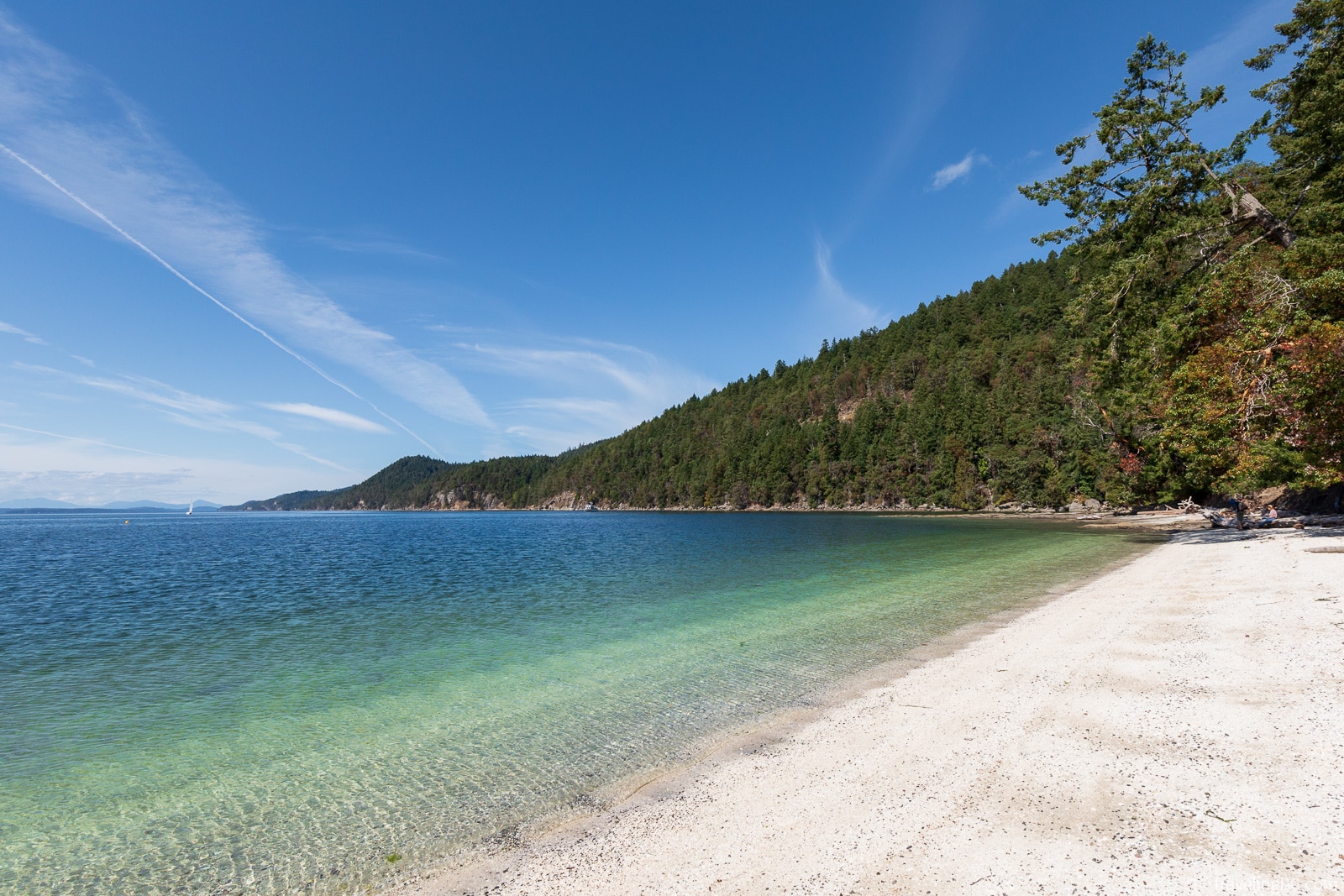 All of the floatplane arrivals to Galiano Island will land at the gorgeous Montague Harbour. This part of the island is really popular for its marina and shell beaches.
If you want to head out onto the water, there are kayak or motorboat rentals at the marina. Nearby, you'll find Montague Harbour Provincial Park, known for its stunning white shell beaches and campground. Also, you can rent a moped at the marina to explore the rest of the island!
Floatplane Tips
At the floatplane office, they will weigh your luggage and ask your weight. Don't be shy about telling them your correct weight. It is important for them to have a weight estimate on such a small aircraft for a safe flight.
Boarding is more relaxed than the typical busy airports. Simply head down the dock and step into your aircraft. Your luggage will be stowed in the floatplane's pontoon – the part of the plane that floats on the water.
Every seat has an amazing view. Your flight will pass by quickly, so try to enjoy the sights as much as possible!
Check-in at least 30 minutes before departure. You will board the plane about 10 minutes before the flight. Don't forget to bring your photo ID!
Sailing a Boat to Galiano Island from Vancouver
Exploring by boat is one of the best ways to see all of the hidden gems around Galiano Island. Many Gulf Island locations are inaccessible without a boat. With a boat, you can explore boat-access only areas like sea caves, Dionisio Provincial Park, and small nearby islands.
Cost to Boat from Vancouver to Galiano Island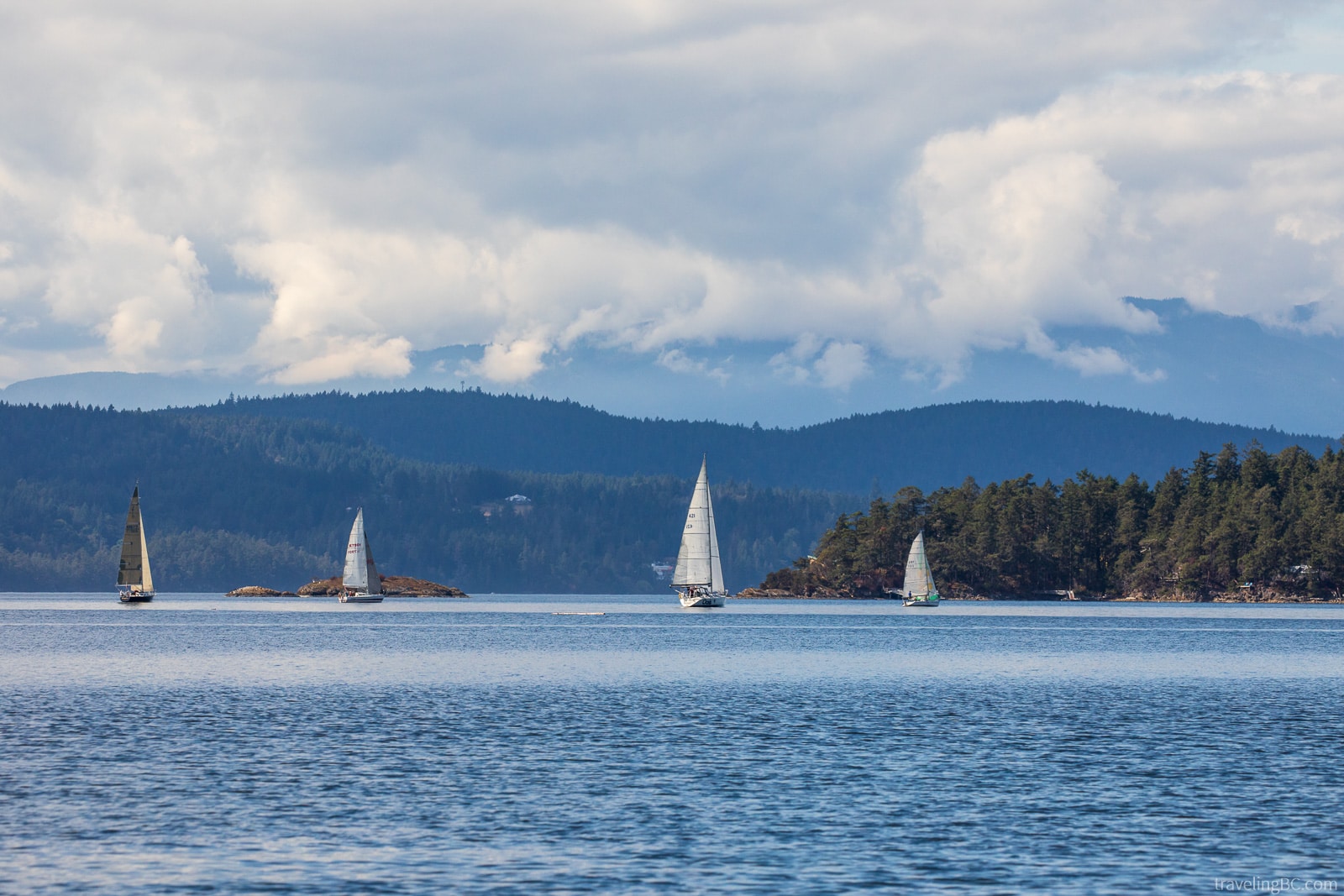 The cost to travel by boat depends largely on whether you own or need to rent a boat.
If you rent a boat, boating will be more expensive. Rental prices vary based on factors like rental company and boat size. Boat rentals cost at least $65 per hour, but likely cost more than this. Larger boats cost more to rent and if you plan on crossing the Strait of Georgia, you need a larger boat. You will also need to pay taxes, gas, and insurance.
If you already own a boat, you will only be paying for fuel and any moorage fees. The cost of fuel varies based on the current price of gasoline and diesel. If you own a sailboat, you'll save on fuel by taking advantage of the wind! Moorage fees depend on whether you are using mooring buoys ($14 per boat/night) or the dock ($2 per meter/night).
How Long Does it Take to Boat from Vancouver to Galiano Island
It takes about 30-60 minutes to cross the Strait of Georgia in a motorboat or at least 2-3 hours in a sailboat. The exact time it will take depends on many factors, including boat size, shape, weight, and engine, the speed you use, your boating experience, and the prevailing marine conditions (waves, winds, currents, etc.).
Crossing the Strait of Georgia by Boat
Crossing the Strait of Georgia is the most dangerous part of the voyage from Vancouver to Galiano Island. Weather conditions change quickly and bad weather makes the ocean risky to travel on.
Crossing the strait requires boating skill and experience. If you are inexperienced, make sure that you have an experienced boater with you. Know how to use your safety gear, and make sure you have all the safety gear needed for the trip, especially a VHF radio. Understand how to interpret and navigate based on nautical charts, tides, and currents.
Preparation beforehand is important. Ensure that your boat can make the crossing. Have a plan that you share with a friend, and check in regularly. Check the forecast before your trip, but keep in mind that conditions change quickly.
Morning is often better for crossing because winds often pick up later in the day. An ebb tide is better to cross to Galiano, and when returning, a flood tide is better. You can enter the Gulf Islands through Active Pass or Porlier Pass. Slack tide is best for going through the passes.
Best Time of Year for Sailing between Vancouver and Galiano Island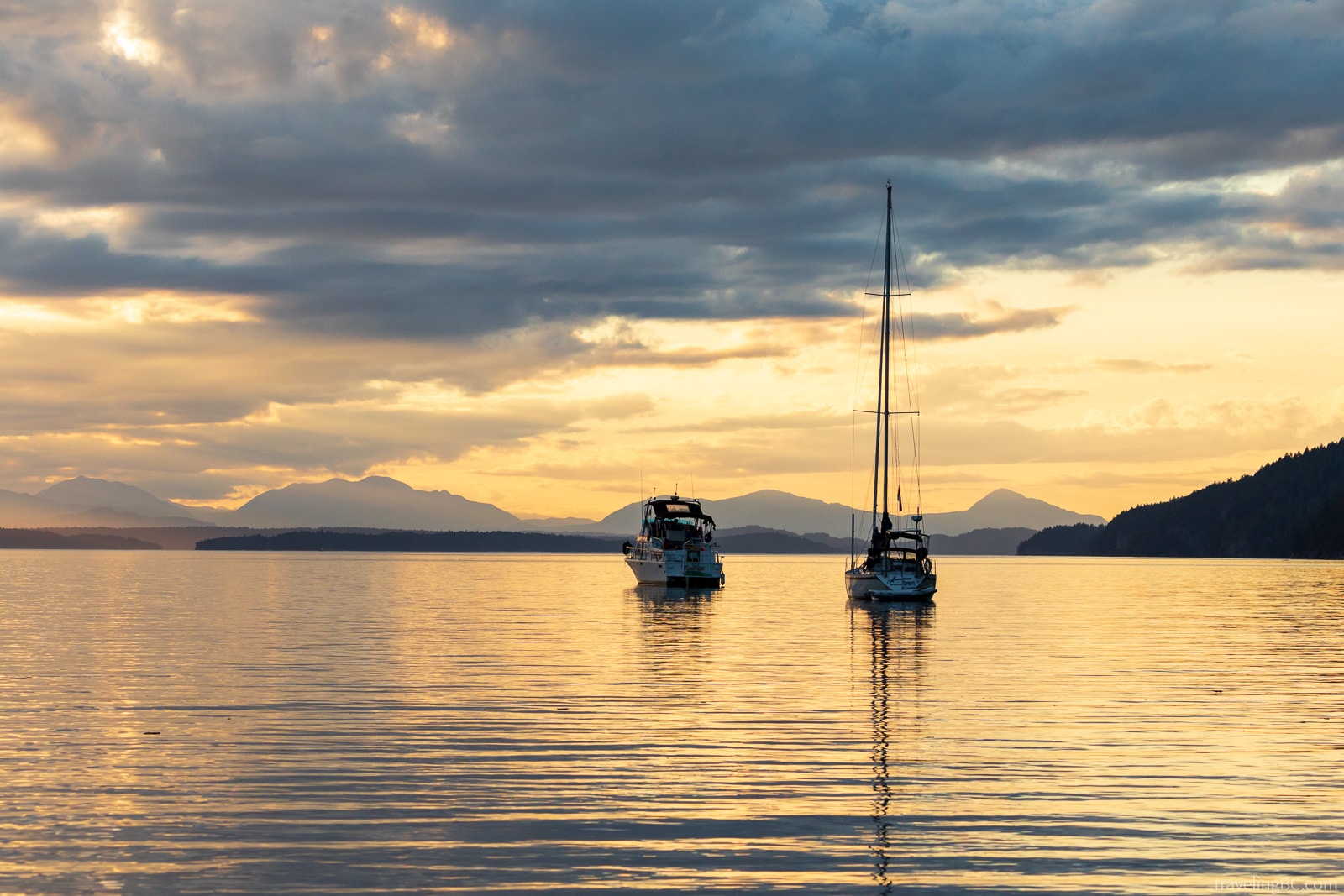 While you can boat around the Gulf Islands in any season, the most popular time is in the summer, particularly during July or August. This time of year has the best weather – warm temperatures, little rain and long sunny days. These are amazing conditions for exploring around Galiano Island!
Spring and autumn are also great times to boat to Galiano Island. You'll find fewer crowds but the weather will usually still be great!
Winter is still an option for boating. Winter will be a much quieter boating experience. Often, you will be the only one out in the winter! During the off-season, there will be fewer boating services available than in the summer (e.g. reduced fuel dock hours).
Winter boating is wetter, windier, and colder. Have a good heating system in your boat and dress for cold weather. Wear clothing like woolen socks, merino wool long underwear, a waterproof jacket shell, and a down jacket.
Renting a Boat from Vancouver or Galiano Island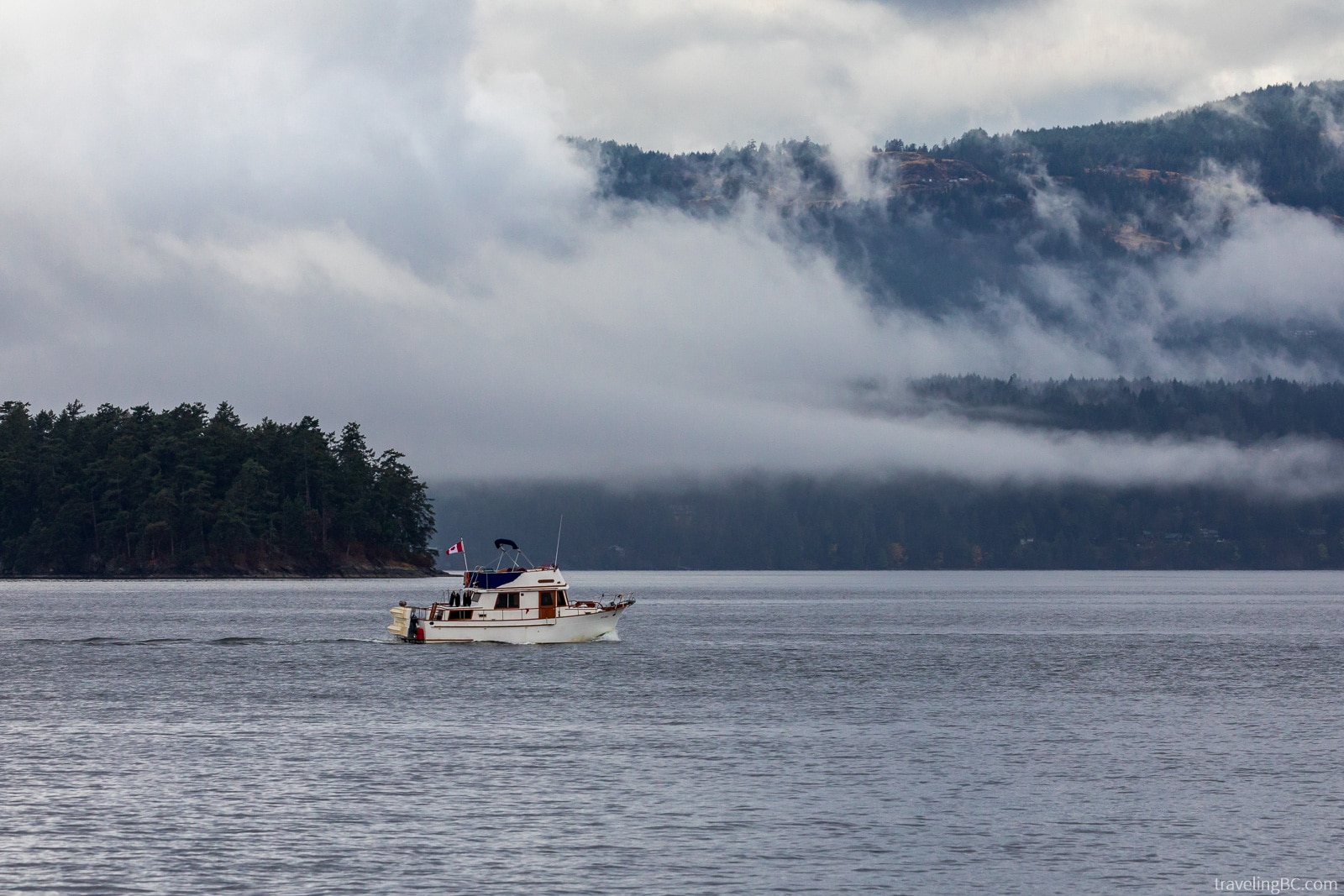 You can rent a boat in Vancouver or on Galiano Island, through a boat rental company or the getmyboat site (like Airbnb for boats)
Boat rental prices depend on boat size and rental duration. Usually, hourly rates are cheaper if you rent the boat for longer (e.g. a full weekend). Rates don't include taxes, fuel, and driver insurance.
Boat rental companies often have a boundary that you aren't allowed to cross. If you rent in Vancouver, you might not be allowed to take the boat all the way to Galiano Island. Discuss this with the company before renting!
If renting a boat in Vancouver isn't an option, you can still rent a boat on Galiano Island. Renting a boat will cost you $65 per hour (3-hour minimum) or $395 per day. You'll need a driver's license. A Pleasure Craft Operating Certificate is recommended, and previous boating experience is necessary.
Moorage and Fuel Docks around Galiano Island
The most popular spot on the island for moorage is the Montague Harbour Marina. It'll cost you $14 per night for a mooring buoy or $2 per meter/night for the dock. You can reserve moorage before you arrive. You can't reserve the mooring buoys. If there isn't space, the harbor is protected from the open ocean for anchoring.
The marina has everything that a boater needs, including a dinghy dock, mooring buoys, fuel dock, general store, power, washrooms, garbage service, restaurant, and even internet! The store has everything from fishing gear, to souvenirs. The fuel dock has diesel and ethanol-free gasoline. During the off-season, the fuel dock is open on Saturdays, 10 am to 2 pm (or by arrangement).
There are also the Sturdies Bay Government docks, and docks at Whaler Bay, Retreat Cove, and Spanish Hills. Guests at the Galiano Inn can use their private, seasonal dock.
Boating in Protected Areas and around Marine Wildlife
When boating, you are sharing the ocean with many marine animals. Protect these animals and their homes, so you can continue to enjoy boating in this part of the world!
You must stay at least 400 meters away from orcas in designated areas! Outside of these areas, you must stay 200m from orcas. Also, you aren't allowed to enter Interim Sanctuary Zones, June through November. These laws protect the southern resident orcas from boats and underwater noise. If the orcas head towards your boat, turn off your engine until they pass safely.
Year-round, stay 100m away from all other marine wildlife. If a whale, dolphin, or porpoise has a calf or is resting, you must stay 200m away. Reduce your speed to less than 7 knots when you are within 1000m of any marine mammals.
Avoid islets and preservation areas by at least 100m. Also, there is restricted fishing in rockfish conservation areas around Galiano Island. Know which conservation area you are in and what you are allowed to harvest!
Much of the Gulf Islands area is protected as part of the Gulf Islands National Park Reserve, created in 2003. Click here for more information if you are boating around the Reserve.
Accommodations on Galiano Island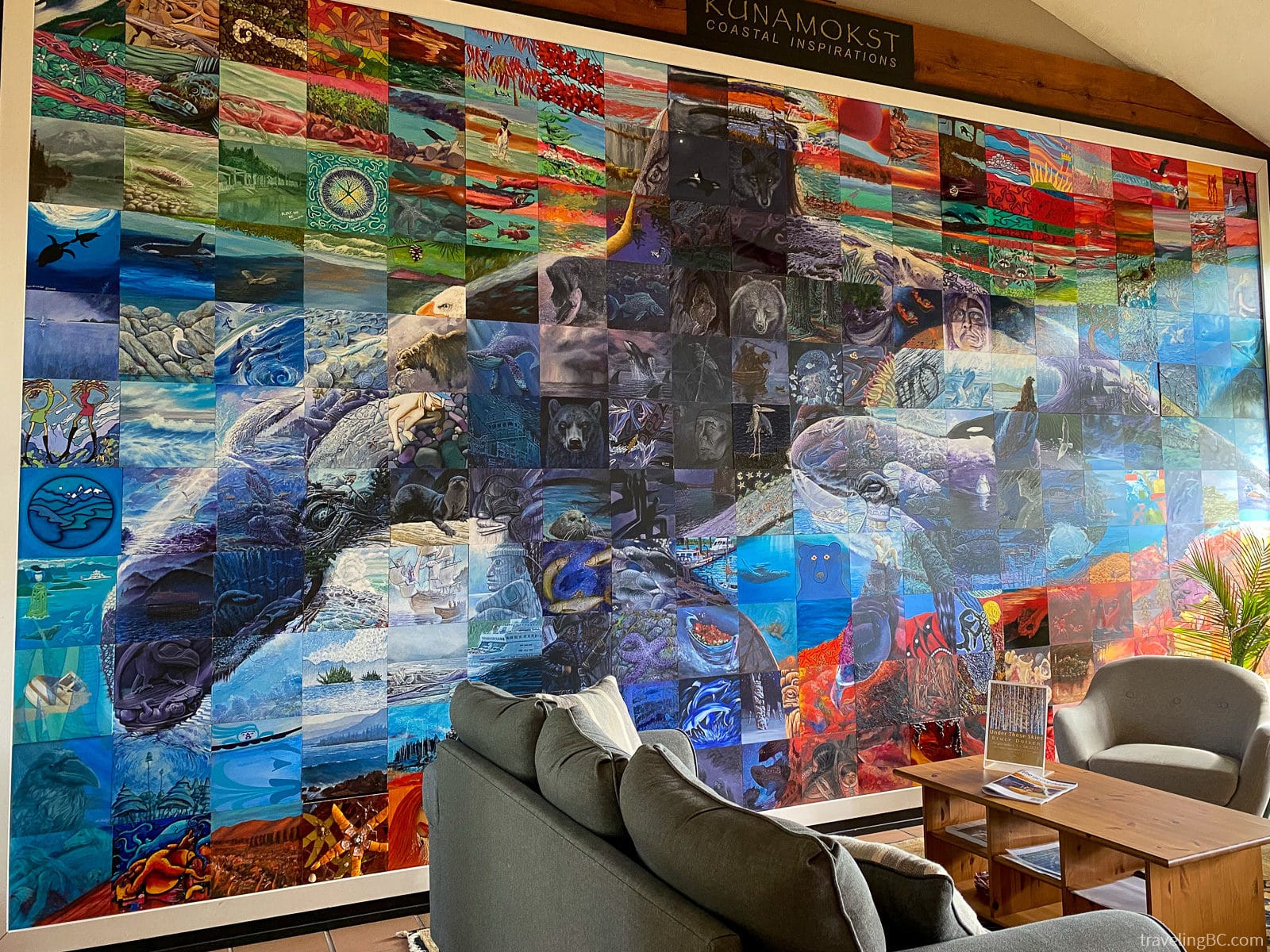 Oceanfront views: For a good view of the ocean, look no further than the Galiano Oceanfront Inn and Spa! They have everything you need for an amazing vacation, including a sauna, restaurant, gym, library, private docks, and best of all, a day spa! You'll return from your trip more refreshed than ever before! They display the famous Kunamokst Mural in their front lobby, which has BC-themed paintings from 200 Canadian artists arranged into an orca and her calf. Words can't describe how beautiful this mural is!
Luxurious forest getaway: If you prefer a more secluded vacation, Woodstone Manor is a great choice. Hidden away in a private forest, this hotel is amazing for a quiet yet luxurious vacation. Every detail about the manor was purposefully selected to maximize guest enjoyment, including the most comfortable beds and fireplaces in almost every room! They also have a restaurant with a patio that is stunning when lit up at night and great for hosting events.
Outdoor adventure: If camping is more your style, Montague Harbour Marine Provincial Park is a great choice. This campground has a large gorgeous beach made of millions of little white seashells, which is one of the top locations on Galiano Island for sunset-watching. You can reserve sites through the Discover Camping website, all through the summer.
Traveling around Galiano Island
Galiano Island is 27.5 km long, so getting around it is easiest with a vehicle or bike. You can bring your vehicle across on the ferry or rent a moped on the island for $115 per day.
Many people love biking across Galiano. It is hilly and a good workout! There are e-bikes that you can rent for only $100 per day.
Unfortunately, there isn't public transportation or taxis around Galiano Island. However, there is the Hummingbird Pub bus, which brings tourists to the pub from the marina or campground.
Summary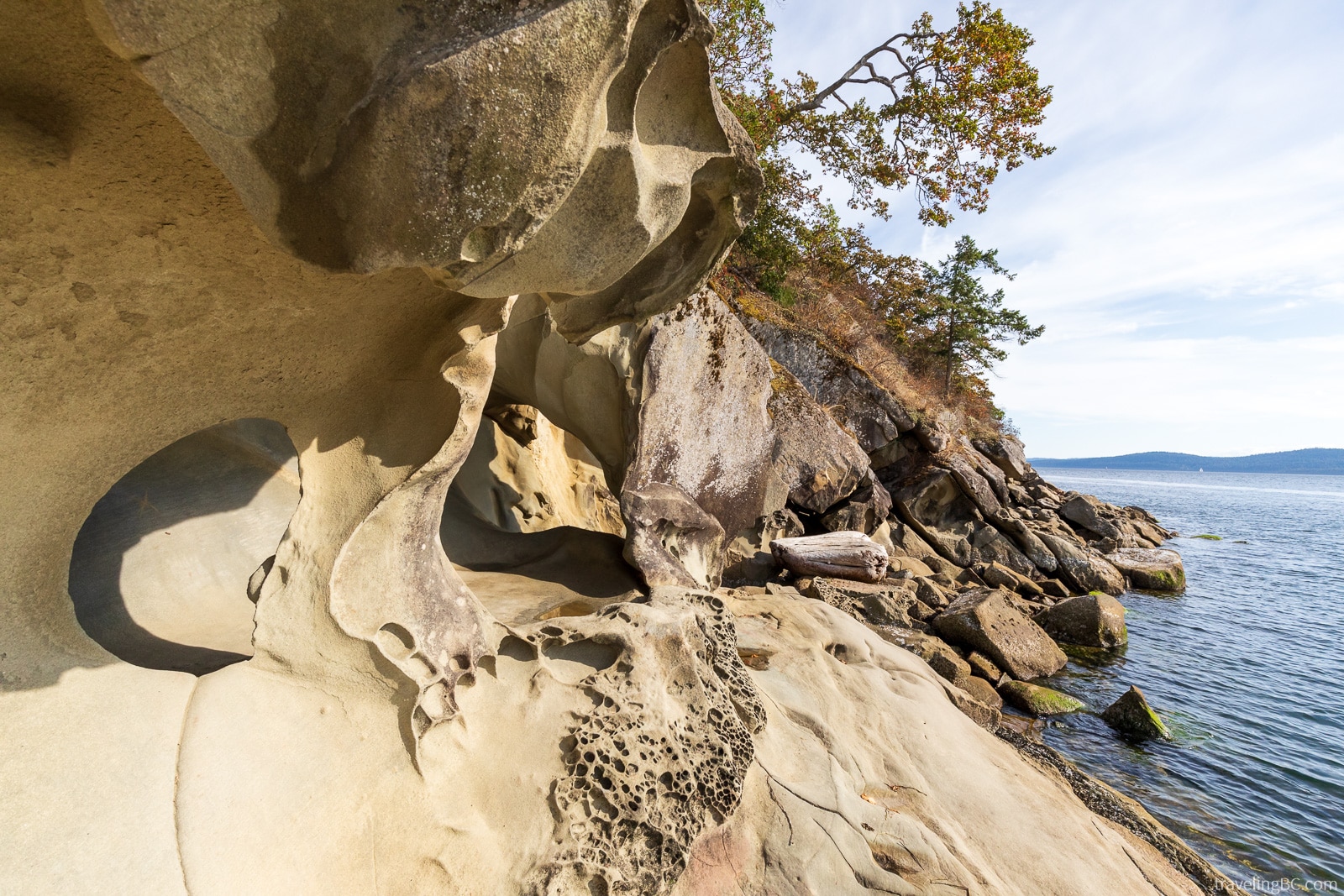 There are many choices for how to get to Galiano Island from Vancouver, including ferry, floatplane, and boat. The cheapest option is taking the ferry, which allows you to bring your car. Flying to Galiano Island gives you an unforgettable aerial experience, but is more expensive than ferrying, although not by much! Flying is also much faster than the other options, giving you more time on the island. If you are more adventurous, you can travel to Galiano Island in a boat, giving you more freedom to explore the Gulf Islands.
All of the options have incredible views of the Salish Sea and the Gulf Islands. You will have an amazing vacation, no matter which option you choose!