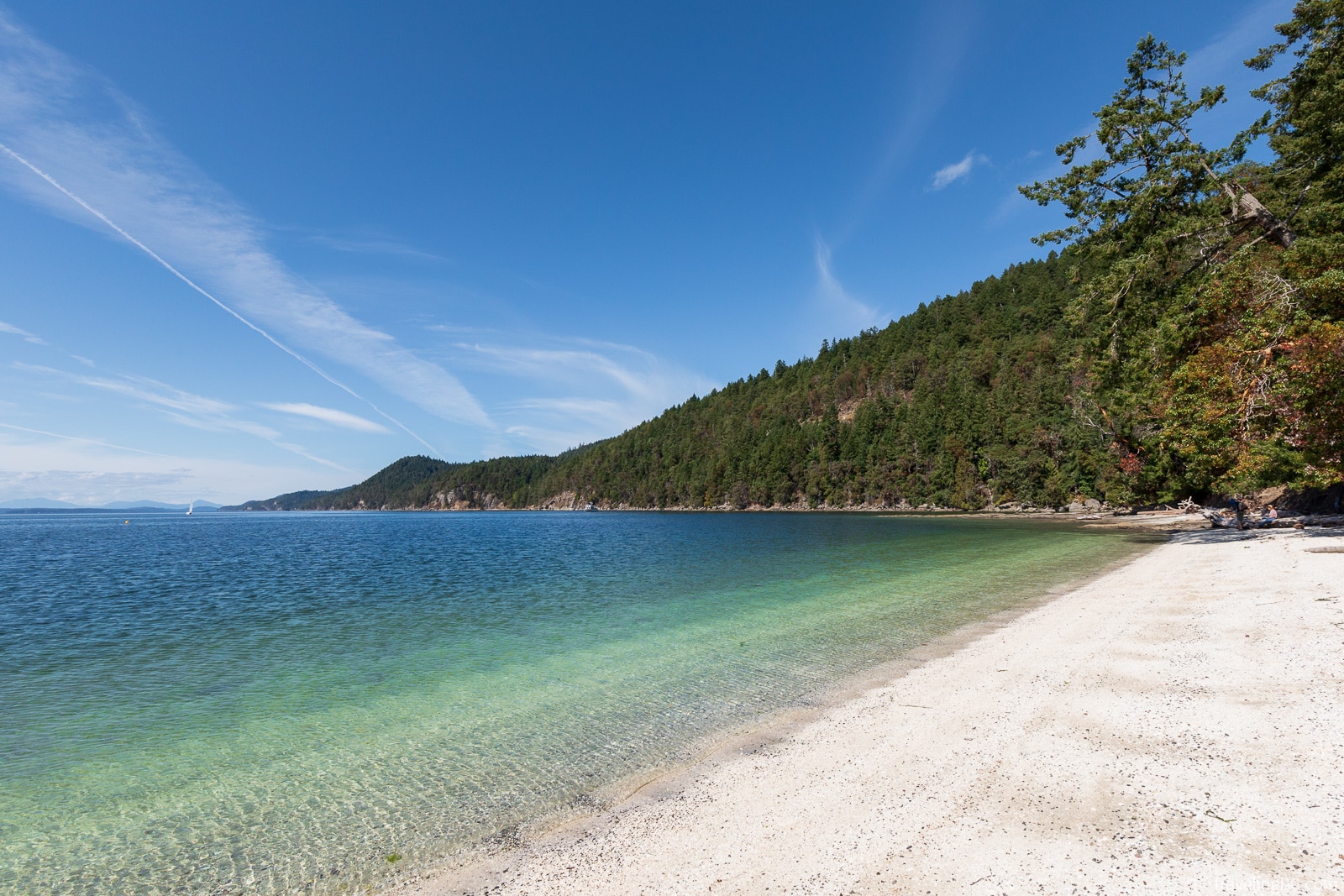 Galiano Island is a spectacular island paradise in the southern Gulf Islands of the Salish Sea, just a short trip away from Victoria and the rest of Vancouver Island. We love this charming, laidback island for its amazing views, beautiful sunsets, stunning hikes, diverse wildlife, artistic vibes, gorgeous shell beaches, old-growth forests, and limited crowds. It's definitely one of our favorite Gulf Islands, and absolutely worth a visit at any time of year.
But, how exactly do you get to Galiano Island? For those who don't travel between Victoria and the Gulf Islands regularly, the trip to Galiano may seem daunting. But, we're here to reassure you that Galiano Island is one of the easiest and most accessible Gulf Islands to travel to!
In this article, we will cover everything that you need to know about traveling to Galiano Island from Victoria. This guide covers the main options for traveling from Victoria to Galiano Island, including by ferry, floatplane, boat, or kayak. We also have a guide covering how to get to Galiano Island from Vancouver, if you're traveling from the mainland!
Disclaimer – This post contains affiliate links. We may receive a commission if you make a purchase through these links, at no extra cost to you. Thank you for your support! Learn More.
Where Is Galiano Island?
Galiano Island is just north of Victoria, in the Salish Sea between Victoria and Vancouver. It is part of the southern Gulf Islands, an archipelago (chain of islands) that stretches from Victoria up towards Nanaimo. It is the closest Gulf Island to Vancouver. Every ferry heading between Vancouver and Victoria has to pass by Galiano Island.
Galiano is bordered by the Strait of Georgia on the north and surrounded by the Gulf Islands on every other side. To the east, you'll find Mayne Island, forming the other side of Active Pass. To the south, there is Prevost Island (boat access only), Salt Spring Island (largest, most populated Gulf Island), and the Secretary Islands (privately owned). To the west, there is Valdes Island (amazing kayaking), Penelakut Island (Mediterranean-like weather), and Thetis Island (incredible scuba diving). There are also many other smaller islands around Galiano.
Galiano Island Map
How Far Is Galiano Island from Victoria
The distance between Galiano Island and Victoria is about 55 km. It'll take about 2-3 hours to drive to the ferry terminal and sail to Galiano by ferry. Alternatively, it takes about 30 minutes to fly in a floatplane from Victoria to Galiano Island.
How to Get from Victoria to Galiano Island
There are several options for getting to Galiano Island. You can either sail with BC ferries, charter a floatplane, travel by boat, or kayak to Galiano. We will cover them all here!
Sailing with BC Ferries to Galiano Island from Victoria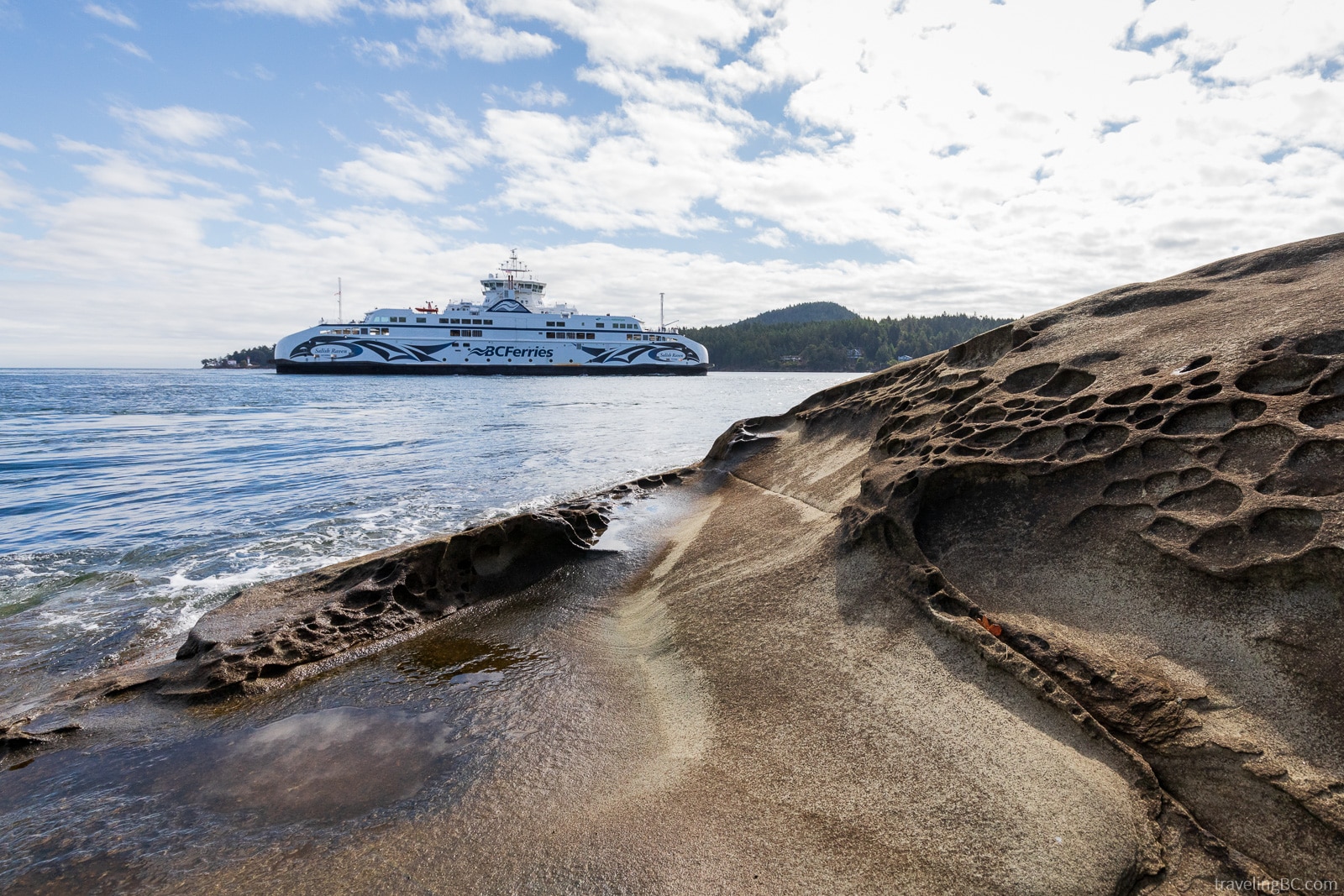 The easiest and cheapest way to get to Galiano Island from Victoria is by ferry. BC Ferries usually operates multiple sailings between Victoria (Swartz Bay ferry terminal) and Galiano Island (Sturdies Bay terminal) each day, making it easy to get between the two locations. You can check out the sailing schedule for BC Ferries to find out when the sailings to Galiano Island are scheduled.
Cost of the Ferry from Victoria to Galiano Island
Traveling to Galiano from Victoria by ferry is very affordable. You can get an estimate of the fare price using the BC Ferries fare calculator. However, we've provided ticket price estimates below, so you don't have to look them up! Also, the ferry ticket price includes your return trip, so you only have to pay once!
For foot passengers without a vehicle, the ferry to Galiano Island costs $11.65 per passenger (12 years or older), $5.85 for children (5 to 11 years old), or free for seniors (Monday to Thursday only) and children under 5 years. If you bring your vehicle, the cost will be your ferry ticket plus $36.40 for a standard-sized vehicle or $18.40 for a motorcycle. Also, there is no extra fee for bringing a bicycle!
If you have a larger vehicle (e.g. a motorhome) or are pulling a trailer or boat, it will cost more depending on the height and length of your vehicle (about $2.75 per foot).
You can only pay at the ferry terminal, not online, because you can't reserve this ferry route. If you have a BC Ferries Experience card, it will give you a discount on the ferry cost! Here are some other tips to save money traveling on BC Ferries, in case you're traveling on a budget.
How to Get to the Victoria Ferry Terminal (Swartz Bay)
When you depart for Galiano Island, you will sail out of the Swartz Bay ferry terminal. While BC Ferries lists this terminal as "Victoria", it is actually located closer to Sidney (although Sidney is part of the Greater Victoria region). You'll need a vehicle, public transportation, or a bike to get to the terminal.
If you are driving, it will take about 30 minutes to get to the Swartz Bay terminal from downtown Victoria. To get there from downtown Victoria, simply get on Highway 17 and follow the highway straight, all the way to the terminal!
Once you arrive at Swartz Bay, there will be signs directing you to different traffic lanes, depending on your destination. You will head to the lane that says Gulf Islands. Here, you will pay for your ferry ticket. The BC Ferries kiosk worker will tell you which lane number to head to – the lane numbers are printed on the road and on signs. If you forget your lane number, it is also printed on your ticket. They will also give you a color-coded paper to display on your windshield, to indicate your destination in the Gulf Islands.
If you don't plan on bringing your vehicle or are just getting dropped off as a foot passenger, you will need to exit before the BC Ferries kiosks, at Lands End Road. Parking at Swartz Bay will cost about $18 per day (short-term parking), and you can park in the lot for multiple days. Check on the BC Ferries Swartz Bay information page before you arrive to make sure that there is parking available.
If you are on foot, you can take a taxi or bus (route 70, 71, or 72) to the terminal. The bus will drop you off right at the foot passenger entrance, where you pay for your ticket. They will direct you to the waiting area.
Lastly, you can bike to the Swartz Bay terminal, via the Lochside Regional Trail. Biking on this trail is much safer than biking on the highway. The trail is well maintained and relatively flat. You can pay for your ticket at the vehicle kiosks or foot passenger entrance.
Galiano Island Ferry Reservations and When to Arrive at Swartz Bay
You can't reserve your spot on this route in advance. The ferry will rarely fill up for foot passengers, but you want to arrive early if you are bringing a vehicle.
If driving, we aim to be at the terminal at least 30 to 60 minutes before departure. Arrive earlier (up to 2 hours) on busier days like long weekends. Loading is based on order of passenger arrival, so you don't want to be the last one there!
Foot passengers are pretty much guaranteed to get a spot on the ferry. Ticket sales and check-ins close 10 minutes before the sailing but aim to arrive earlier than that, in case of delays like bad traffic. You don't want to miss the sailing!
How Long Is the Ferry Trip from Victoria to Galiano Island
In total, it should take you about 2-3 hours to get from Victoria to Galiano Island by ferry. This includes about 30 minutes of driving from downtown Victoria to the Swartz Bay terminal, a 30-minute wait at the terminal, and about 1 to 2 hours on the ferry.
Some of the sailings to Galiano Island are direct, while other sailings stop at the other Gulf Islands along the way. Don't be disappointed if you have a longer ferry ride that "island-hops" – the route is extremely scenic! You can watch islands pass by, including Salt Spring and Pender Island. Also, bring binoculars and keep an eye out for marine wildlife! Whales, seals, sea lions, and bald eagles are commonly spotted from the ferry.
The ferry terminal at Galiano Island is called Sturdies Bay. If you are on foot or biking, you get off the ferry before the vehicles. After, unloading of vehicles from the ferry is quick and only takes a couple of minutes. You'll be off to your adventure in no time!
Return Ferry Trip from Galiano Island to Victoria
The return journey from Galiano to Victoria is incredibly easy. Because your ticket to Galiano Island included the return trip, you do not need to pay again unless you are island-hopping.
To get to the terminal, drive east on Sturdies Bay Road until the road splits, with an arrow directing you to the right side which has a small ticket kiosk and parking lot.
At the kiosk, let them know that you are headed to Victoria. They will send you to the correct lane, and then you just have to wait for your ferry to arrive!
BC Ferries Amenities and Other Tips
The Swartz Bay terminal has a bathroom, waiting room, café, ATM, Wi-Fi, and vending machines. There is also a pet area in front of the vehicle lanes, where you can take your pet for a bathroom break.
The Sturdies Bay terminal has a washroom, waiting area (at the end of the dock), and snack kiosk. There is a grassy area near the parking lanes to take your dog while you wait.
You can find information about BC Ferries accessibility by clicking here.
The Gulf Island ferries are small, but they still have a few services onboard. There are bathrooms, vending machines, a tiny pet area, and a passenger sitting area. You can also head up to the upper deck, which is outside and has great views of the ocean. Disable your car alarm if you leave your vehicle unattended!
You can bring your pets on the ferry, but it is easier if you have a car. There is a pet area in the center of the ferry deck, but it is very small, especially if multiple people are using it.
Chartering a Floatplane from Victoria to Galiano Island
Looking for a slightly more adventurous way to get to Galiano Island? Why not charter a flight in a floatplane?
Flying to Galiano Island is the ultimate way to see the Gulf Islands and Salish Sea. On your flight, you'll get a spectacular aerial view of the ocean and local islands, before landing in the beautiful Montague Harbor on Galiano Island. Watch out for whales on the way!
Cost of a Flight to Galiano Island from Victoria
The cost of chartering a floatplane from Victoria to Galiano Island varies, based on a number of different factors. The price depends on where you depart from, the number of passengers, the size of the plane, the company you use, and whether it is a one-way or round-trip journey. Generally, the cost per person will be cheaper with larger groups, since you will be splitting the flight cost between more people.
To get a cost estimate, you can request a quote from one of the airlines. You can specify the date(s), time(s), number of passengers, and any other relevant details. The airline will then send you an estimate of the flight cost.
How Long Is the Flight from Victoria to Galiano Island
The flight from Victoria to Galiano Island will take less than 30 minutes. It's much faster than any of the other ways to get to Galiano Island, and you'll have amazing views the entire way!
How to Charter a Flight to Galiano Island from Victoria
You can book a seaplane flight from Victoria to Galiano Island through one of the local floatplane operators, such as Harbour Air or Ocean Air. There isn't a regular flight service between Victoria and Galiano Island, so flights have to be chartered privately and will be more catered to your needs! You can also book tours of the Gulf Islands and Victoria region if you prefer to explore the Gulf Islands by air.
To charter a flight, simply contact the floatplane operator and arrange a flight via email or phone. The floatplane operator will give you instructions on the departure location, when to check-in (usually 25 minutes prior to boarding), and any restrictions (e.g. luggage allowance, whether pets are allowed, etc.). You can book either a one-way or return trip.
Floatplane Airport Options in Victoria
When departing Victoria, the most popular floatplane airport is the Victoria Inner Harbour Airport. This airport is located right in downtown Victoria's Inner Harbour, one of the most gorgeous harbor airports in the world. While you wait for your flight, you can enjoy beautiful views of the marina, Legislative building, and the Empress hotel!
You can get to the Victoria harbor airport easily by vehicle, public transportation, taxi, bike, or even water taxi! Harbour Air also operates a courtesy shuttle service. If you choose to drive, there are plenty of parking lots around downtown Victoria, including a paid parking lot located right in front of the airport.
Alternatively, while not as common, you can depart from the Patricia Bay airport near Sidney. To get to Patricia Bay, drive up Highway 17 from Victoria until you see signs for the Victoria International Airport. Follow these airport signs to exit off the highway, head through a couple of traffic circles, and down Willingdon Road. Continue past the Victoria International Airport until West Saanich Road, where you will arrive at Patricia Bay.
Arriving at the Montague Harbour Floatplane Base
All flights to Galiano will land at Montague Harbour. This is a very popular area of Galiano Island and is incredibly gorgeous.
Montague Harbour has lots of amenities, as it is the most popular marina on the island. You can wander around the marina, and enjoy looking at all the different boats. Or, rent a kayak or boat and explore the nearby coastline. You can also head out to the Montague Harbour Provincial Park to relax on one of the white shell beaches near the crystal clear water. There are moped rentals at the marina if you want to explore more of the island.
Traveling by Boat from Victoria to Galiano Island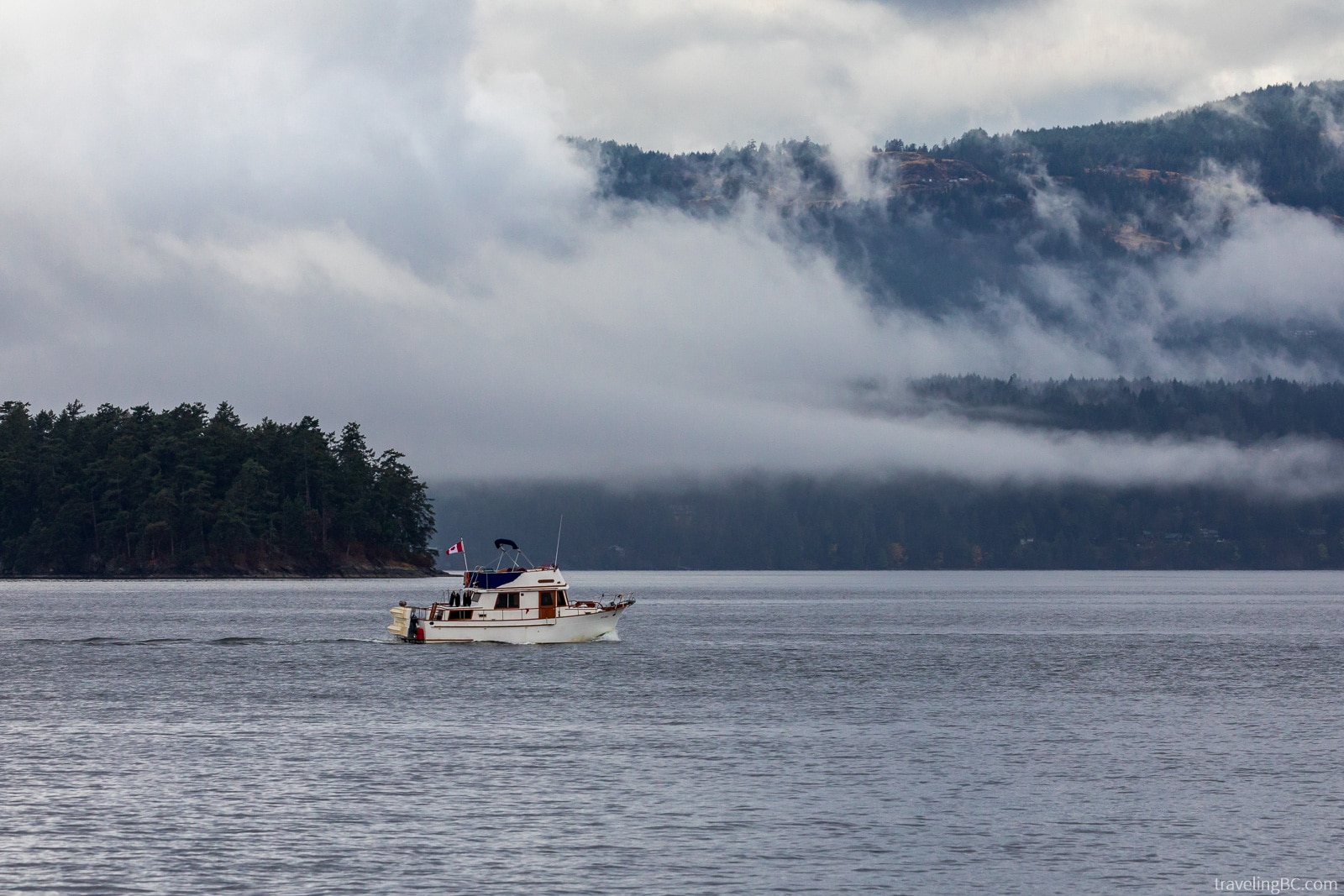 If you own or rent a boat, you can boat from Victoria to Galiano Island. Galiano Island has absolutely stunning coastlines and sheltered waters. Best of all, you can explore all of the areas that can't be accessed by land!
Many areas in the Gulf Islands are only accessible by boat. For example, Dionisio Point Provincial Park on Galiano Island is only accessible by boat but is extremely beautiful with unique ocean-carved sandstone formations. If you boat around the islands, you're sure to find some hidden gems!
Best Time of Year to Boat around Galiano Island
You can boat around the Gulf Islands throughout the year, weather permitting. Every season offers something new!
The most popular time of year is April to October, with the busiest months in July or August. At this time of year, there is warm weather, less rain, and longer days… perfect for hanging out in the sun on a boat and exploring the islands!
While summer is the most popular time of year, the spring and fall are also amazing. There are fewer crowds in the spring and autumn, and the weather is still great. Keep in mind that during the shoulder- or off-season, there will be fewer services (e.g. reduced fuel dock hours) available than during the summer. However, moorage rates are sometimes cheaper and there is usually more guest space!
If you don't mind sailing in the winter, you can have a lot of destinations all to yourself. However, boating in winter requires more caution. Keep in mind that the worst weather can occur in winter, with strong winds and more rain – plan accordingly! Also, make sure that your boat has a good heating system, and dress for the cold weather. Wear clothing like merino wool or synthetic long underwear, wool socks, a warm hat, a thick fleece jacket, and a good waterproof shell.
Renting a Boat from Victoria or Galiano Island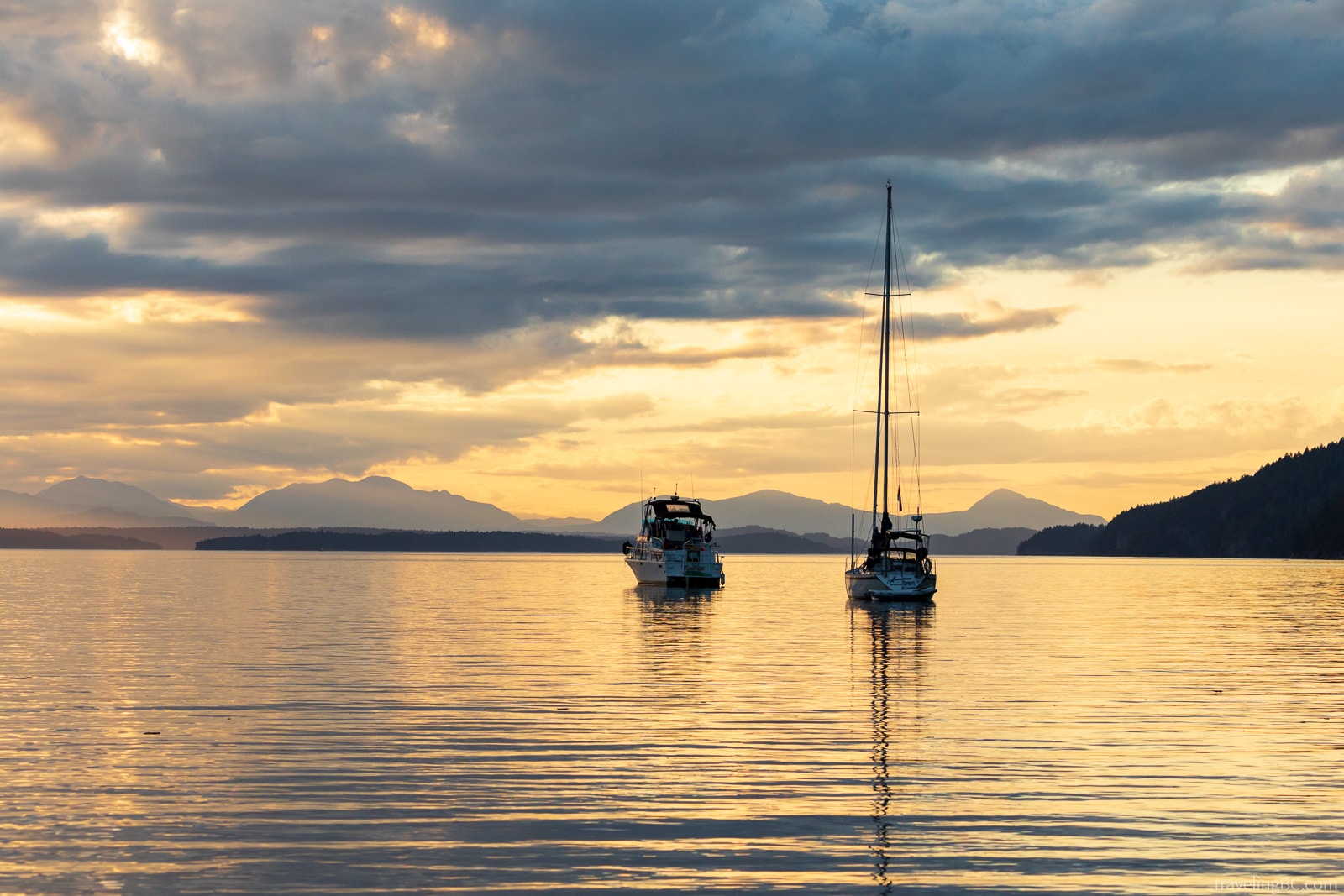 If you don't own a boat, you can rent one in Victoria or Sidney. Generally, it costs between $350 to $600 per day to rent a boat (depending on boat type and not including gas, tax or insurance), which is pretty reasonable if you split the cost between a few people. Renting a boat gives you a lot of freedom to explore the Gulf Islands, not just Galiano.
If you want to rent a boat while you are on Galiano Island, try Galiano Adventures, which has an hourly rate of $65 or a day rate of $395 (not included mandatory insurance, taxes, or gas). You'll need a valid driver's license, some previous boating experience, and a Pleasure Craft Operating Certificate is recommended.
Docks and Moorage at Galiano Island
There is plenty of moorage at the Montague Harbor Marina. Mooring your boat costs $14 per night for a buoy or $2/meter per night at the docks.
The marina has a large dinghy dock, a fuel station, general store, market, internet, power, food options, and garbage service. There is also a nearby campground. The fuel dock is usually open on Saturdays throughout the year, 10am to 2pm. The marina is open between May 1 and September 30 and can get busy during this time. Book ahead! If there isn't space, the harbor is sheltered from the open ocean and good for anchoring.
Protected Marine Areas and Wildlife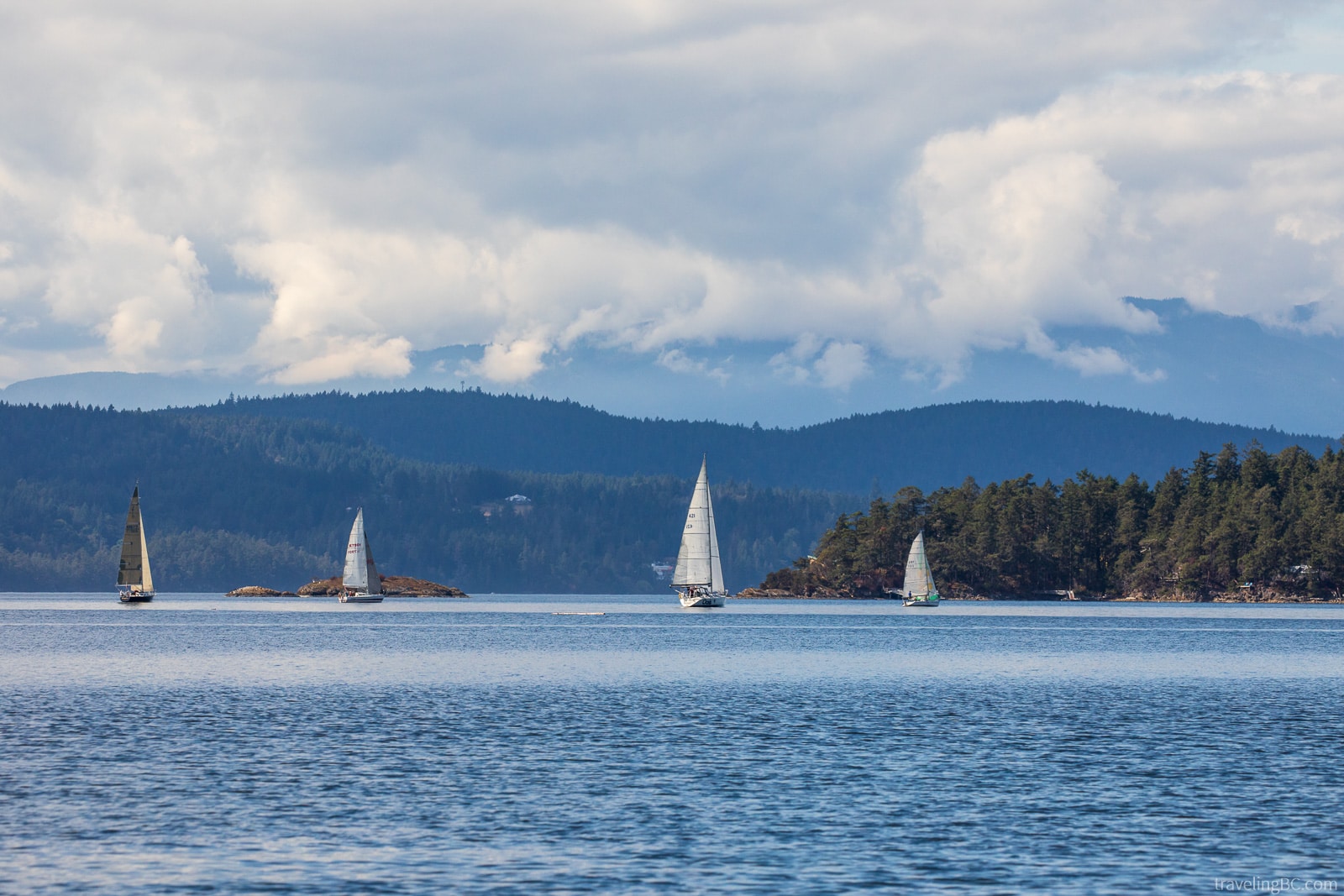 Before you head out on the ocean, make sure you have marine charts. Also, check the marine forecast, tide tables, currents, weather, and any safety alerts. Have a sailing plan with emergency contact information shared with a friend, and keep a VHF marine radio with you in case of emergencies.
If you spot any orcas, make sure to stay at least 400 meters away and cut your engines! Watch out for shallow areas or hidden rocks and reefs!
Click here for information on boating in the Gulf Islands National Park Reserve.
Some places to check out by boat:
-Explore the sandstone cave at Retreat Cove
-Cruise along the Trincomali Channel
-Search for the resident Orcas (J Pod) around Active Pass
-Explore the sandstone formations at Dionisio Point Provincial Park
Kayaking (Advanced Kayakers Only)
Kayaking around the Gulf Islands is an extremely memorable experience and a highlight of any trip. You'll paddle past rocky cliffs, sandstone formations, otters playing in the waves, seals floating in the ocean and you'll even have the chance of spotting whales. While most people kayak around the coast of Galiano Island, it is possible to kayak from Victoria to Galiano Island on the Gulf Islands Marine Trail. However, only the most advanced ocean kayakers should attempt this, as ocean kayaking has a lot of safety risks if done improperly.
If you are not experienced with ocean kayaking, you can sign up for a guided tour around Galiano Island's sandstone coastlines. You can even book a full moon night tour, where you will kayak through brilliant bioluminescence, leaving streaks of light behind you as you paddle.
Safety Risks of Ocean Kayaking
Ocean kayaking requires a great deal of skill. Make sure you are experienced, and go with a group and/or a guide. You must have advanced knowledge of ocean kayaking, including safety and survival skills, re-entry techniques, navigation and planning skills, weather/tide/current interpretation skills, etc. You should also have proper gear, including rescue and safety gear.
If you make a mistake, you can easily put yourself in a lot of danger. The ocean is very unforgiving and it isn't worth the risk if you are unprepared and/or inexperienced.
Gulf Islands Marine Trail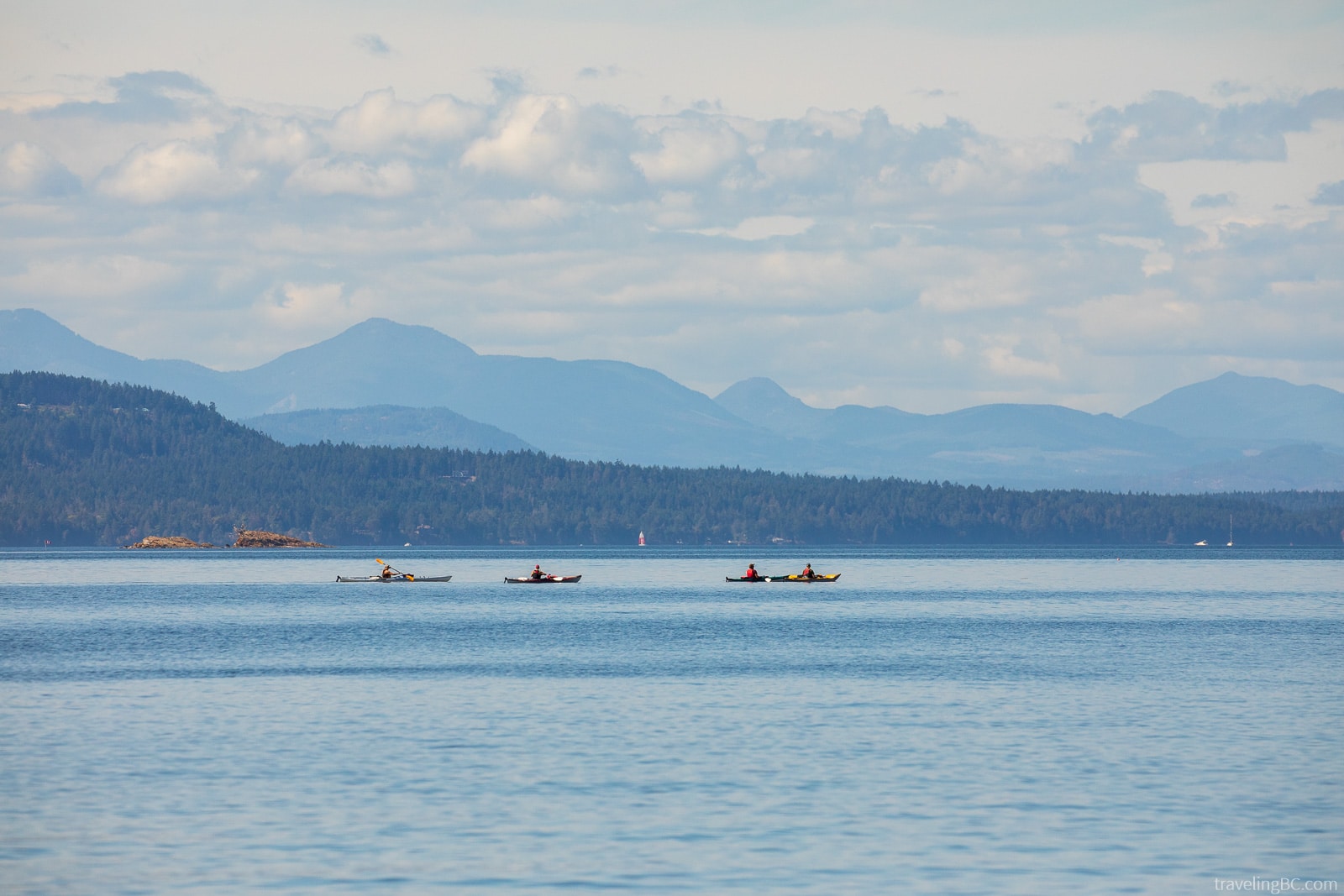 The Gulf Islands Marine Trail is a kayaking route from Victoria to the Gulf Islands. It was opened in 2011, and is part of the BC Marine Trail network.
There are multiple launch spots in Sidney where you can start your journey, such as Tulista Park, Amherst Avenue, Bowden Road, and Barnacle Road. On your way to Galiano Island, you'll pass by multiple Gulf Islands, including Pender Island and Prevost Island. Watch out for shipping and ferry routes! When you arrive at Galiano Island, there are many places you can land your kayak, including Montague Harbor Provincial Park, Retreat Cove, and Sturdies Bay.
Kayaking to Galiano Island is a multi-day trip, so plan out your route and pack accordingly. Here is a map and some planning resources so you can plan out each leg of your trip.
There are campgrounds on many of the islands along the way, including Pender Island and Prevost Island. You'll need to bring all of your camping gear (like a tent and sleeping bag), safety essentials (like a first aid kit, headlamp, and map), a water filter system, food, and plenty of clothing. Make sure everything is packed in a waterproof dry bag! Check in advance whether the campgrounds require a reservation and whether they have a water source (if not, bring water!).
How Long Does It Take to Kayak from Victoria to Galiano Island
Depending on how fast you paddle and how much you explore, it will take two to three days to paddle from Sidney to Galiano Island. If you are a slow paddler or like exploring, give yourself more time for the trip and pack extra food!
Where to Stay on Galiano Island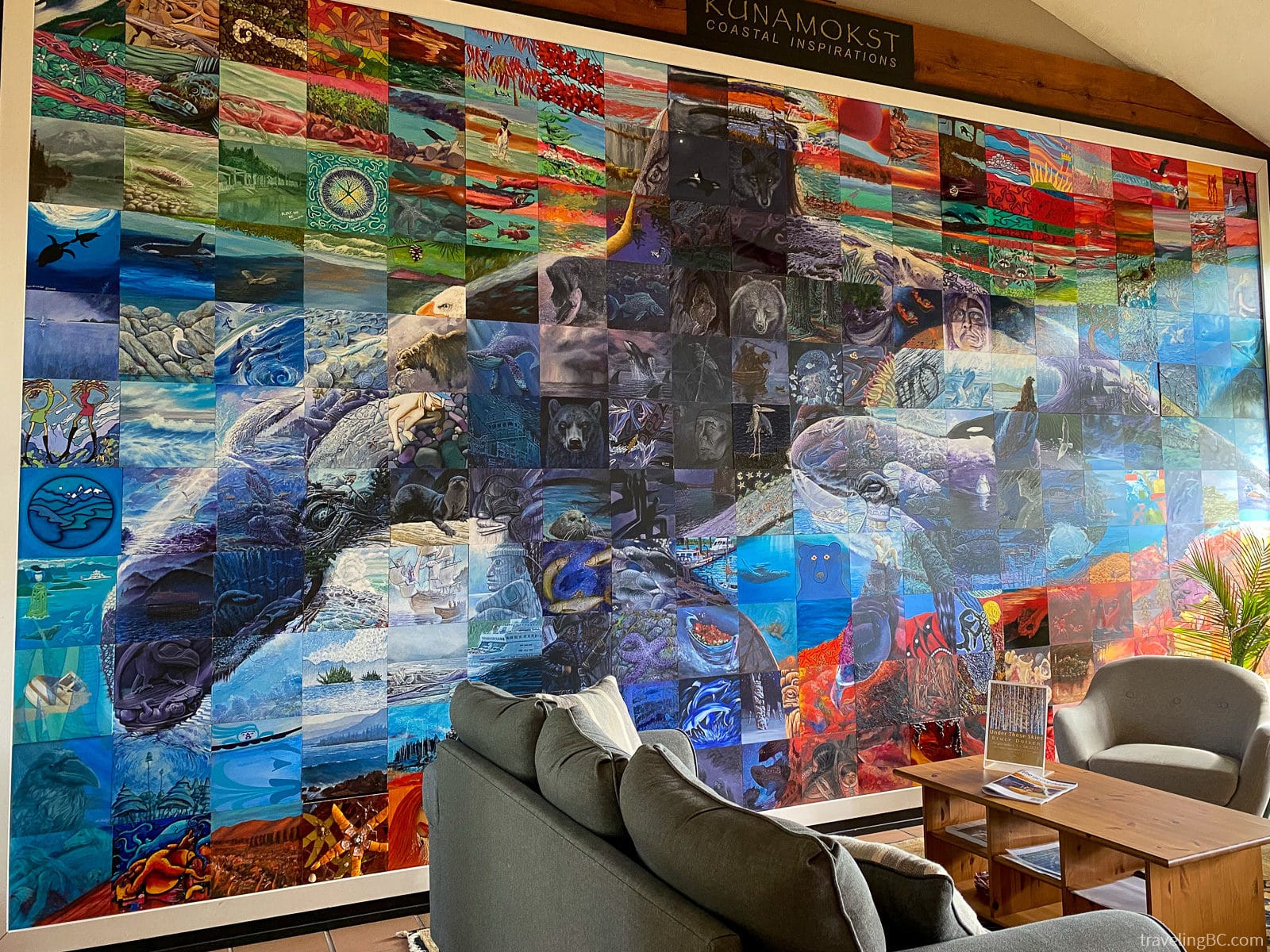 The Galiano Oceanfront Inn and Spa is one of the most luxurious places to stay on Galiano Island. They have everything that you need to make your stay perfect, including a sauna/steam room, restaurant, Internet, pet-friendly rooms, gym, library, and even a day spa! Plus, you can admire the Kunamokst Mural in their lobby, which is a colorful collaborative mural of an orca featuring art from over 190 Canadian artists. Each tile of the mural is a unique original painting, so it might take you a while to take in all of the different parts of the mural!
Woodstone Manor is also an amazing option, located in a private forest and perfect for a secluded get-away. The hotel has a restaurant and patio and is great for hosting events. The manor has spared no expense in making guests have the best experience possible, including super comfortable beds and fireplaces in most rooms!
If you prefer camping, Montague Harbour Marine Provincial Park has a wonderful campground, right beside the ocean and conveniently nearby the marina. The highlight of this campground is its white shell beaches, which are the best place to watch sunsets on Galiano Island. All of the sites can be reserved through the summer through the Discover Camping website.
How to Get around Galiano Island
Getting around Galiano Island is easiest if you have a car because the island is quite long. If you don't have a car, you can rent a moped on the island for $115 a day or $44 for 2 hours.
Biking is a great way to get around the island, as well. The island is hilly, so it will be a workout! If you don't have a bike, you can rent an e-bike on Galiano for 2 hours for $40 or a full day for only $100.
There isn't public transportation, other than the Hummingbird Pub bus. Also, there isn't a taxi service on land, but in the summer, there is a water taxi linking Galiano and Salt Spring Island, which only runs July-August on Saturdays.
Summary
There are plenty of options for getting to Galiano Island, including by ferry, floatplane, boat, and even by kayak! While ferrying is the cheapest and gives you amazing ocean views, flying to Galiano Island will give you spectacular, unforgettable aerial views of the Salish Sea and the Gulf Islands. Boating and kayaking are also great options if you have the gear and experience.
No matter what way you choose, you will have an amazing experience!
Top Travel Tips & Resources for Victoria, BC