With spectacular views of the Salish Sea, the oceanfront hotels in Victoria offer visitors a chance to enjoy the best of British Columbia's natural beauty. From your waterfront hotel room, you can watch the sunset over the Pacific Ocean, spot seals and whales swimming by, or take short walks to explore the nearby beaches.
Victoria is known for its stunning scenery, and its hotels are no exception. From the Inner Harbour to the Saanich Peninsula, there are plenty of options for accommodations that will suit any taste or budget. There is a wide range of incredible places to stay in Victoria, including luxury hotels, gorgeous boutique properties, cosy bed & breakfasts, and family-friendly resorts.
What better way to enjoy the views that Victoria offers than by staying in one of the best oceanfront hotels in the city? We've compiled a list of our top picks for the best waterfront hotels in Victoria, BC, so you can enjoy the views to the fullest. Make sure to pack your camera, because you're going to want to remember this trip for a lifetime!
Disclaimer – This post contains affiliate links. We may receive a commission if you make a purchase through these links, at no extra cost to you. Thank you for your support! Learn More.
Best Oceanfront Victoria Hotels: Top Picks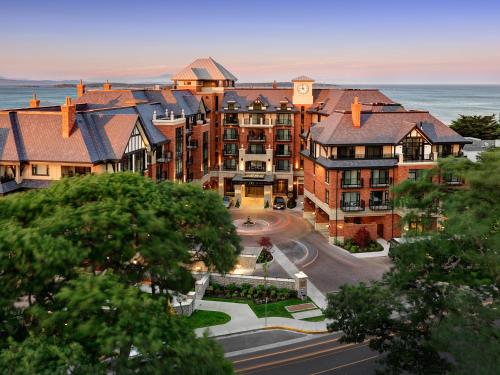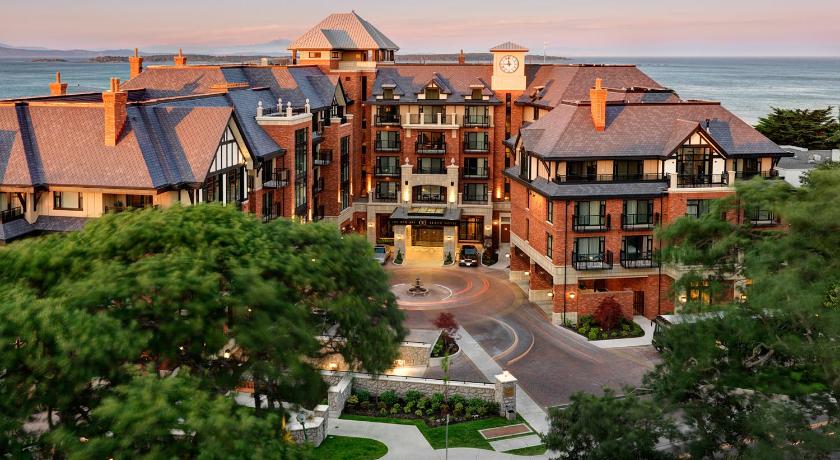 Our top choice for the best oceanfront hotel in Victoria is the Oak Bay Beach Hotel. Nestled on the water's edge of the scenic Oak Bay district, this modern and stylish hotel offers guests stunning views of the mountains over the beautiful Strait of Juan de Fuca.
Not only will you have incredible ocean views from your luxurious room, but there are also waterfront mineral pools to soak in! Swim in the heated pools, relax in the sun on a lounge chair, and take in the stunning scenery of the Salish Sea.
This hotel is also home to the world-class Boathouse Spa, perfect for pampering yourself during your stay. And, if you need a bite to eat, choose from the upscale Dining Room, casual pub-fare at The Snug Pub, or handcrafted pizzas at Faro.
You'll be close to many popular attractions at this hotel like Willows Beach, Craigdarroch Castle, and the Government House gardens. Plus, the hotel is just a short walk from the charming Oak Bay Village shopping centre.
Overall, the Oak Bay Beach Hotel is a great choice for those looking for a relaxing and luxurious experience. You won't be disappointed!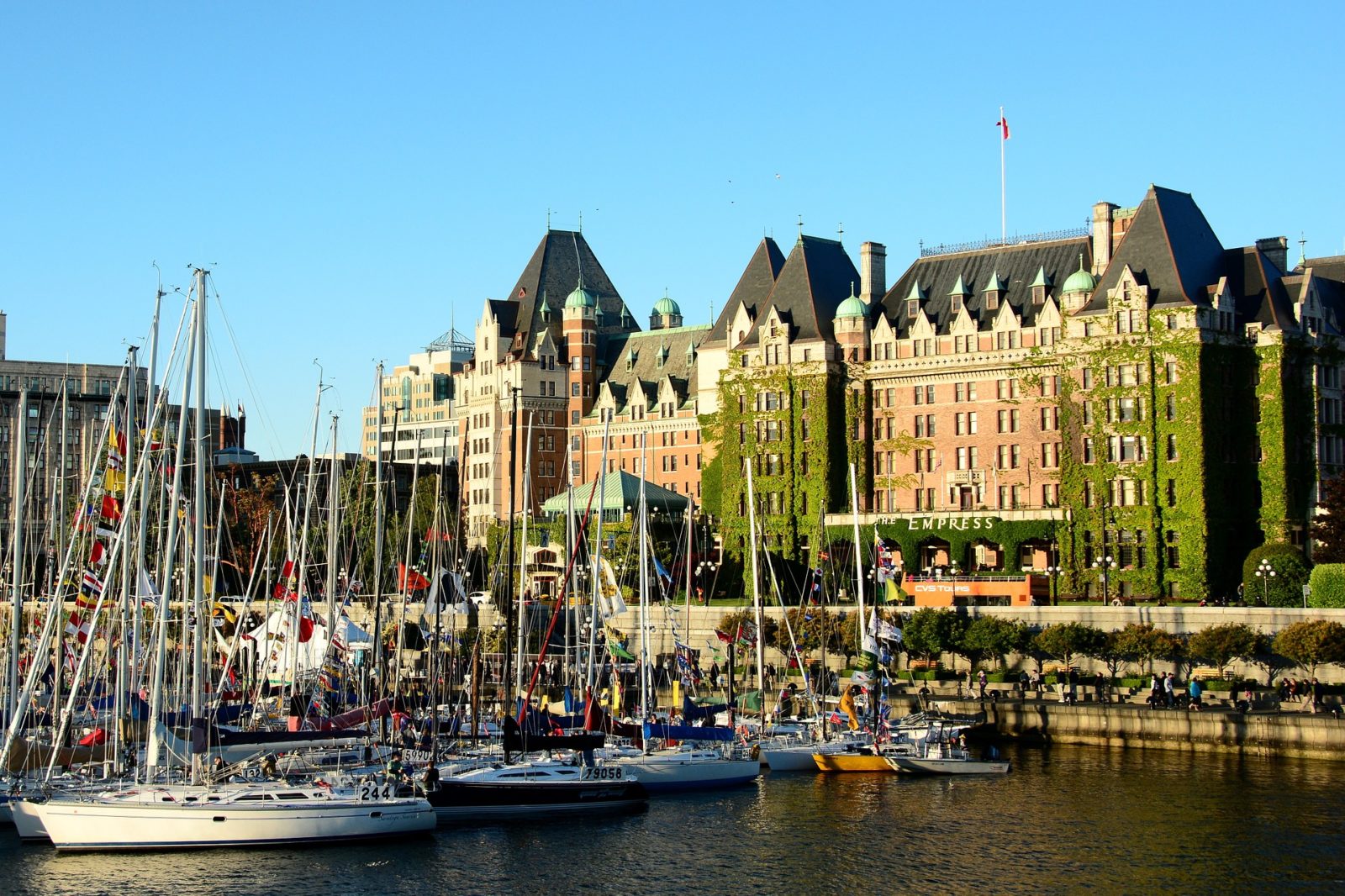 The Fairmont Empress Hotel is an iconic property overlooking Victoria's Inner Harbour. As one of the best oceanfront hotels in Victoria, this luxurious hotel has been a favourite among travellers for over 100 years.
Guests can enjoy stunning views of the water from their hotel rooms, as well as from the hotel's Veranda in front of Government Street. Watch boats sail past and seaplanes taking off from the harbour. There are even adorable water taxis that you can take to explore the area by boat!
With a convenient downtown location, the Fairmont Empress Hotel is within walking distance of many of Victoria's best attractions, like Beacon Hill Park, the Royal BC Museum, the Parliament Building, and Fisherman's Wharf. Plus, as a National Historic Site of Canada, the hotel is worth a visit in itself!
The Fairmont Empress Hotel is a great option for those looking for an upscale experience. The rooms feature modern decor, with a classic touch. The hotel has everything you need, with luxurious accommodations and amenities. Don't miss out on their famous afternoon tea!
The Inn at Laurel Point has breathtaking views of Victoria's Harbour and is just steps away from the city's best shopping and dining. This 4-star seaside hotel is one of the best choices for those who want to be close to all the action.
Even though you're so close to downtown, the hotel feels like a peaceful oasis. The property is surrounded by gardens, with an outdoor sundeck hidden among the plants. Also, there is an indoor pool for a refreshing dip.
Located on the beautiful Laurel Point, this inn is almost surrounded by water. So, this means that many of their rooms have incredible ocean views. And, if you splurge for one of their fancier upper suites, you'll experience breathtaking scenic views from terrace-style balconies. Enjoy your morning coffee sitting outside and watching the boats go by!
With a convenient location, you can easily walk to Fisherman's Wharf Park or downtown Victoria. So, if you're looking for a centrally located hotel with stunning views, the Inn at Laurel Point might be the one.
For a luxurious stay at a boutique oceanfront hotel, check out the Delta Hotels by Marriott Victoria Ocean Pointe Resort. Beside the Victoria Harbour and Johnson Street bridge, you can watch all the comings and goings of the boats in the harbour from your room.
This hotel has a range of different room types to suit your needs, from standard guest rooms to upscale suites with lofts, balconies and kitchenettes. There's something for everyone, including wheelchair accessible and pet-friendly rooms!
During your stay, be sure to enjoy the hotel's on-site LURE restaurant, which offers gorgeous water views as you dine on delicious West Coast foods. You can also take advantage of the hotel's fitness centre, tennis courts, indoor pool, and hot tub.
The Victoria Ocean Pointe Resort is a great choice for those looking for a luxury hotel with spectacular views. Also, it's right in front of the stunning Songhees Walkway – a great way to explore Victoria's coastline.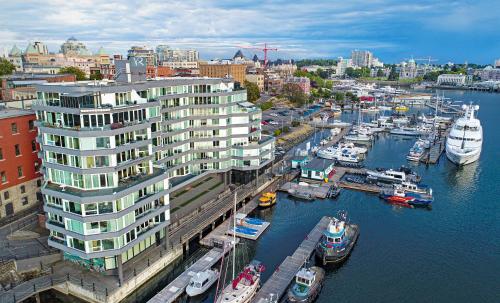 If you're looking for one of the best oceanfront hotels in Victoria, BC, then check out the award-winning Victoria Regent Waterfront Hotel and Suites. These accommodations have an incredible location on Wharf Street, right on downtown Victoria's waterfront. You'll have spectacular views over the harbour from your waterfront guest room.
Every guest room at this hotel features a balcony or patio, complete with a small table and chairs to enjoy the exceptional views. Breathe in the ocean air as you sit outside, soaking in the fantastic scenery.
The central location of this hotel makes it perfect for travellers without a vehicle, as you can walk to all of Victoria's downtown tourist attractions. The small water ferries also stop right outside the hotel, making it easy to get around and explore the harbour area.
Whether you're travelling by yourself or in a group, the Victoria Regent Waterfront Hotel has something for everyone. Choose between their standard king rooms or fully-equipped spacious suites. Additionally, this modern hotel offers all the amenities you need for a comfortable stay. It's earned its spot on our list of the best waterfront hotels in Victoria!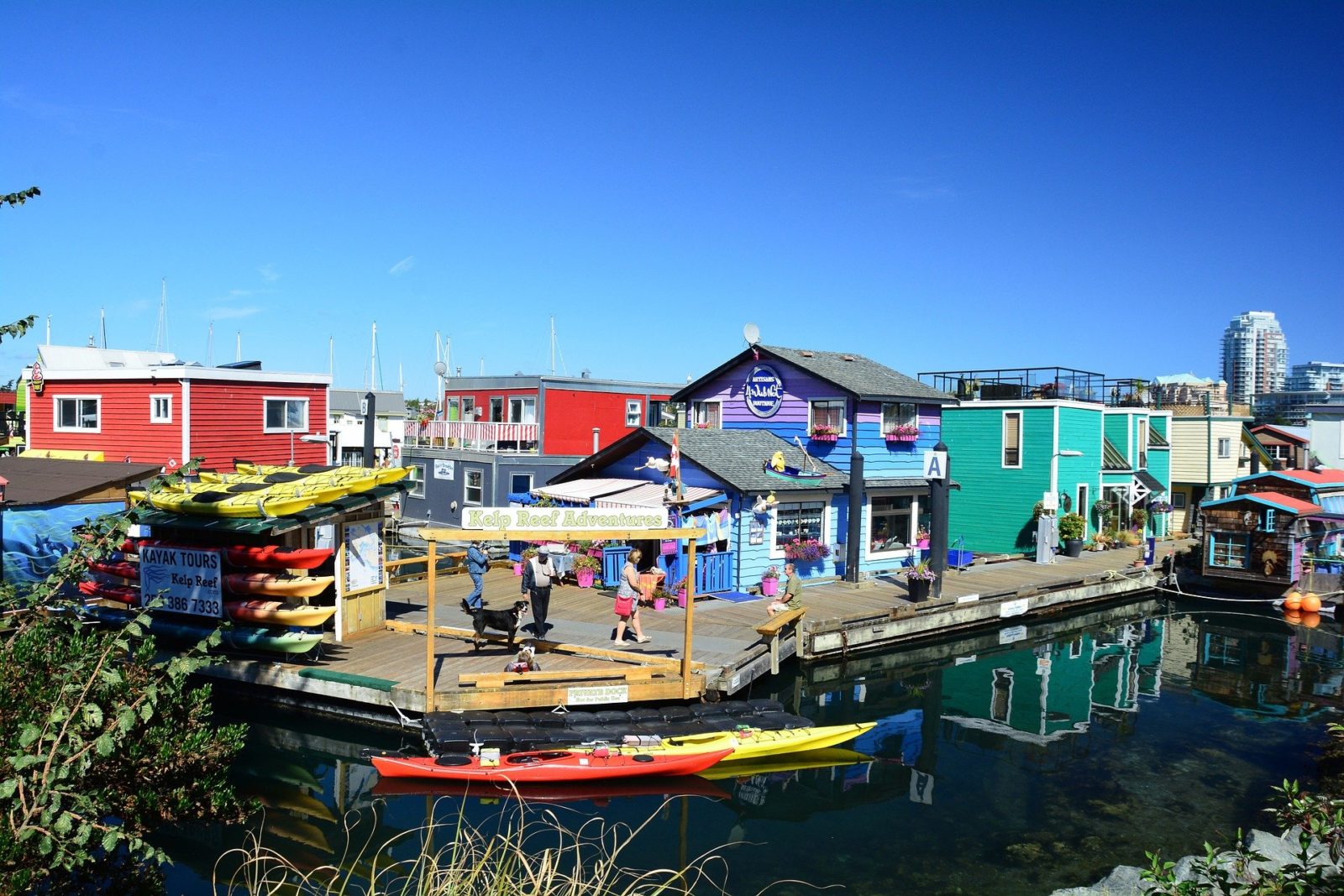 Many hotels offer ocean views from their rooms, but at Fisherman's Wharf Floating B&B, you're literally right on top of the water. As the name suggests, this unique bed and breakfast is a floating houseboat docked at Fisherman's Wharf in the Victoria Harbour.
Wake up to stunning views from your floating home and enjoy a cup of coffee on the private deck. Then, head out for a day of exploring all that Victoria has to offer!
Right at the popular Fisherman's Wharf, this colourful B&B is close to many excellent food kiosks and tourist activities, like whale-watching tours. You're also pretty close to downtown Victoria, the Breakwater, Spiral Beach and Beacon Hill Park.
The Fisherman's Wharf Floating B&B is perfect for anyone seeking unique accommodations in Victoria. And, if you want a seaside hotel, you won't get much closer than this!
Another excellent harbourside hotel in downtown Victoria is the contemporary Coast Victoria Hotel & Marina by APA. Located at the edge of the Inner Harbour, this seaside hotel offers beautiful waterfront views and close proximity to all that Victoria has to offer.
Featuring balconies overlooking the harbour, you'll have a front-row seat to watch seaplanes and boats cruising around the water. If you're adventurous, try taking a scenic seaplane tour above Victoria to get spectacular aerial views of the city and the Pacific Ocean!
The Coast Victoria Hotel features the only indoor-outdoor pool in Victoria that overlooks the harbour. Swim inside on winter days or enjoy the sun on hot summer days. They have lounge chairs for those who don't want to swim, too.
With modern amenities and comfortable beds, guest rooms at the Coast Victoria Hotel provide all that you need for an amazing stay. Try some locally-caught fresh seafood at their award-winning Blue Crab Seafood House. Stick to your workout schedule with their fitness facility. Also, if you arrived by boat, you can dock at the hotel's marina!
Top Waterfront Hotels around Greater Victoria
Don't mind being a bit outside of town? Greater Victoria spans from Sooke in the west to Sidney in the north, and there are plenty of great oceanfront hotels to choose from.
You don't have to stick with choosing one of the hotels right inside Victoria! There are plenty of other excellent oceanfront places to stay around the Greater Victoria region. You'll probably want a vehicle to get around, though. To find the best vehicle rental prices, check out RentalCars.com. They compare prices at different rental companies to find you the best deals.
Here are some of the best oceanfront hotels around Greater Victoria: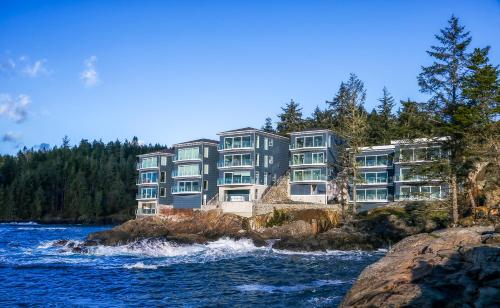 If you're looking for a relaxing getaway with stunning views of the ocean, look no further. The SookePoint Ocean Cottage Resort is an incredible property perched right over the rocky coastline, so you can get the best view of the waves right from your hotel room.
Featuring luxury cottage suites with balconies and beautiful gardens around the property, the SookePoint Ocean Cottage Resort is the perfect place to relax and enjoy the incredible natural beauty of Vancouver Island. The fully-equipped cottages are great for couples, families, or groups, as they offer plenty of space and privacy. The seaside cottages come in various sizes, from studios to 3 bedrooms.
At many hotels, you'll have to request a room with an ocean view. That's not the case at SookePoint – every room at this amazing resort is oceanfront! All guest rooms have balconies and massive windows for the best views of the ocean. Some rooms even have huge walls of opening glass so your entire living area becomes a front-row seat to the Salish Sea!
Whether you're looking for a romantic getaway or a family vacation, the SookePoint Ocean Cottage Resort is a great choice for those looking for an oceanfront hotel on Vancouver Island.
The Prestige Oceanfront Resort is a great choice for those who want to be close to nature. Located in Sooke, you'll be closer to many of the best hiking trails, remote beaches and outdoor attractions near Victoria. You won't have far to travel to get to outdoor attractions like East Sooke Park, the Sooke Pot Holes, and Sandcut Beach.
Right by the Sooke Harbour, guest rooms at this hotel feature amazing scenic views of the Olympic Mountains over the Sooke Basin and the Strait of Juan de Fuca. You can walk out onto their pier to soak in the West Coast scenery.
The hotel boasts spacious, comfortable rooms. There is a large balcony that wraps around the hotel. If you want to go for a dip, they also have an indoor pool and hot tub. Or, spend your day relaxing at the Coastal Tides Day Spa!
Dine at the on-site West Coast Grill restaurant or the sports-themed Vault Lounge. They also have the Road to Sooke Cafe for baked goods and local coffee. Overall, the Prestige Oceanfront Resort is an excellent waterfront place to stay in Greater Victoria.
If you don't need to be within the city limits, Brentwood Bay Resort is a great option for those looking for an oceanfront hotel. This resort is located on Vancouver Island's sunny Saanich Peninsula (part of Greater Victoria) and features stunning views of the Saanich Inlet and the Brentwood Bay marina.
These 5-star waterfront accommodations offer everything you need for an unforgettable vacation. The guest rooms, suites, and villas have modern decor, comfortable beds, and breathtaking views of Brentwood Bay.
One of the highlights of the Brentwood Bay Resort is its oceanfront outdoor pool. Listen to the ocean waves while swimming in the outdoor pool. Or, take in the Vancouver Island scenery while lounging on a deck chair. Also, if you want more privacy, some suites even feature private hot tubs on their patios!
After a day of adventures, try some West Coast cuisine at their Arbutus Room restaurant. Or, enjoy an evening cocktail at The Pub. You'll have plenty of foods to choose from.
During your stay, be sure to check out the nearby Butchart Gardens, one of Victoria's most popular attractions. The Brentwood Bay Resort is located just a short 30-minute drive away from downtown Victoria, making it a great option for those who want to explore the city while still enjoying some peace and quiet.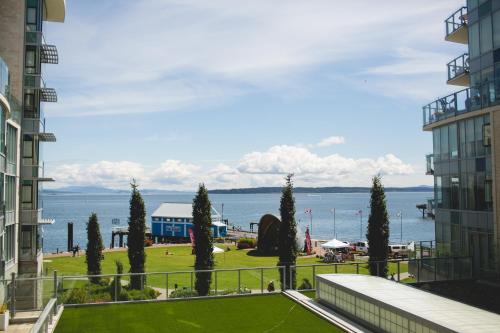 The Sidney Pier Hotel & Spa is located on Sidney by the Sea's gorgeous waterfront at the end of Beacon Avenue, right on the Sidney Waterfront Walkway. Combining modern amenities with a relaxing spa-like atmosphere, this hotel is the perfect place to unwind after a long day of exploring Vancouver Island.
This boutique oceanfront hotel offers some of the best views of the Haro Strait and the San Juan Islands that you'll get in Sidney. Make sure you book a SeaView guest room if you want sea views – otherwise you'll be facing the town of Sidney, which is also quite pretty! If you want a panoramic view of the ocean, book their Signature Pier Suite, which offers picturesque seascape views.
Located in Sidney, you'll be a 30-minute drive from downtown Victoria at the Sidney Pier Hotel & Spa. However, you'll be close to attractions like the Butchart Gardens, Island View Beach, Tulista Park, and the Gulf Islands (like Salt Spring and Galiano). You're also nearby the Victoria International Airport, Swartz Bay Ferry Terminal, and Anacortes Ferry. But, you'll probably want to rent a vehicle to get around (check out RentalCars.com for the best prices).
During your stay, be sure to check out the on-site Haven Spa & Salon. There, you can get pampered with a waterfront full service. You'll leave your vacation more relaxed than ever!
If you want to walk out of your hotel and head right down to the beach, the Sidney Waterfront Inn is a good choice for you. This beautiful beachfront hotel offers direct access to Glass Beach, a unique rocky beach perfect for searching for polished sea glass.
Also, you're only steps away from the Sidney Fishing Pier, one of the best, most popular spots in Greater Victoria for fishing and crabbing. Enjoy watching locals catch red rock crabs or buy a trap and try it out yourself.
You'll get excellent hospitality and a more personal touch at this family-owned and operated oceanfront hotel in Sidney. The reception area is staffed with friendly front desk staff that are always willing to help.
Plus, the Sidney Waterfront Inn offers amazing views and even better rates. One of the best budget-friendly oceanfront hotel options, you won't have to pay a fortune to get a waterfront room at this affordable Greater Victoria inn. Even so, the oceanview rooms and suites have excellent scenic views of the Sidney waterfront!
There are a variety of great oceanfront hotels and accommodations to choose from in Victoria, BC depending on your budget and needs. Whether you're looking for a luxurious stay or something more affordable, you're sure to find the perfect waterfront hotel for you.
Book your stay at one of these beautiful oceanfront hotels and enjoy stunning views of Victoria's coastline. You won't regret it!
Want to spend more time at the beach? Check our other articles:
Top Travel Tips & Resources for Victoria, BC