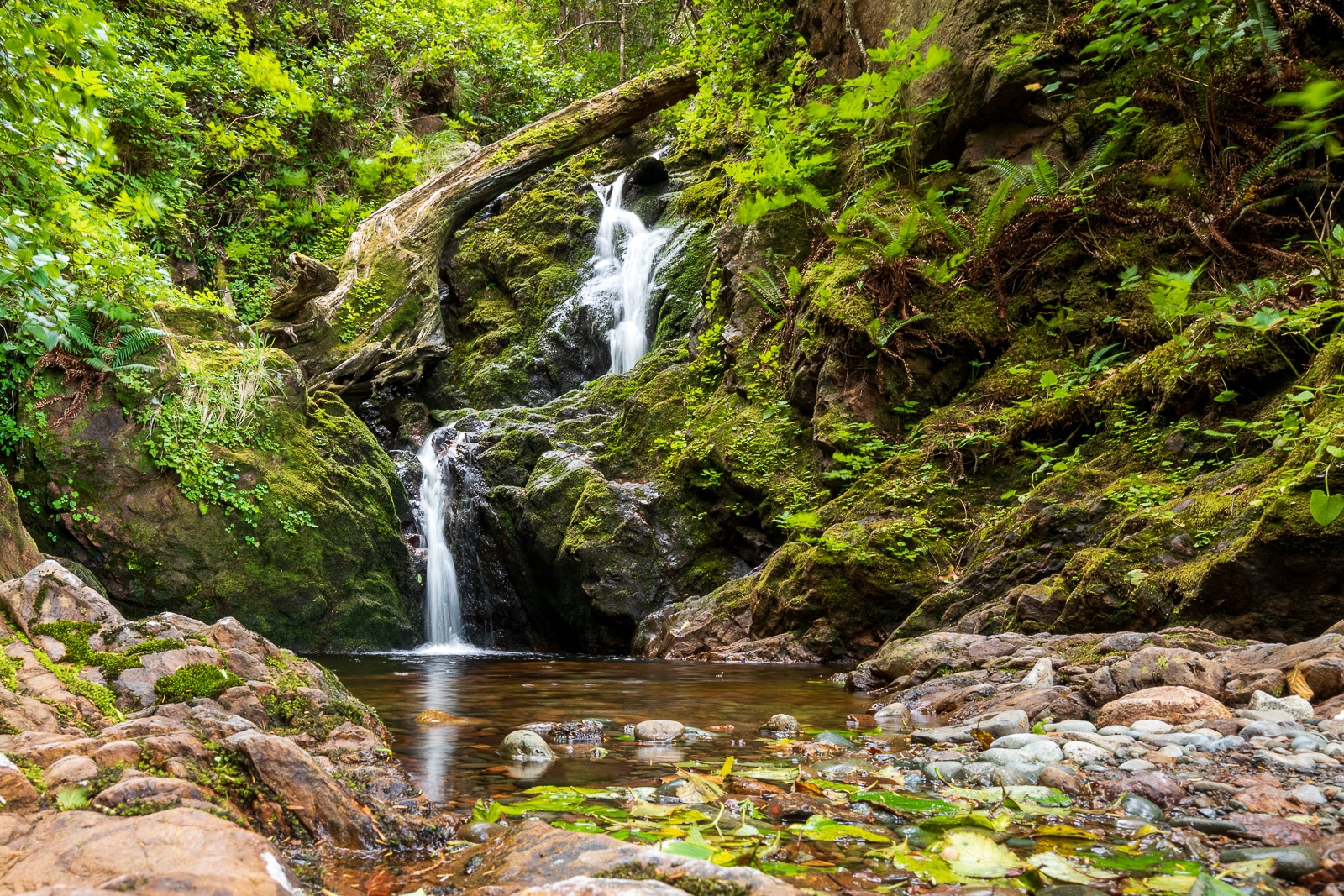 Port Hardy is the gateway to many epic outdoor adventures in northern Vancouver Island. This remote-feeling community has gorgeous secluded beaches, world-class hiking trails, rugged coastline, and incredible wildlife-viewing opportunities. It's one of the best places to experience the wilderness of the west coast of British Columbia!
While often overlooked when planning a trip, Port Hardy and the rest of northern Vancouver Island are both incredible places to head on a vacation. While the town of Port Hardy is small, don't discount it for its size. Here, you'll find some of the best outdoor adventures that you can have on Vancouver island!
In this article, you'll discover the best things to do, activities, and places to see in and around Port Hardy. As well, you'll learn about the best places to stay in Port Hardy, what to pack on your trip, and what to expect from the town and weather. This guide will help you plan out your next amazing Port Hardy adventure!
Disclaimer – This post contains affiliate links. We may receive a commission if you make a purchase through these links, at no extra cost to you. Thank you for your support! Learn More.
Best Things to Do in Port Hardy
Wondering what to do in Port Hardy? Below, in no particular order, we cover the best things to do, activities, and places to see in Port Hardy and the surrounding North Vancouver Island area. These recommendations range from epic backcountry hiking trips to once-in-a-lifetime wildlife encounters. You'll be ready to plan your vacation to Port Hardy in no time!
1. Relax on the Beach at San Josef Bay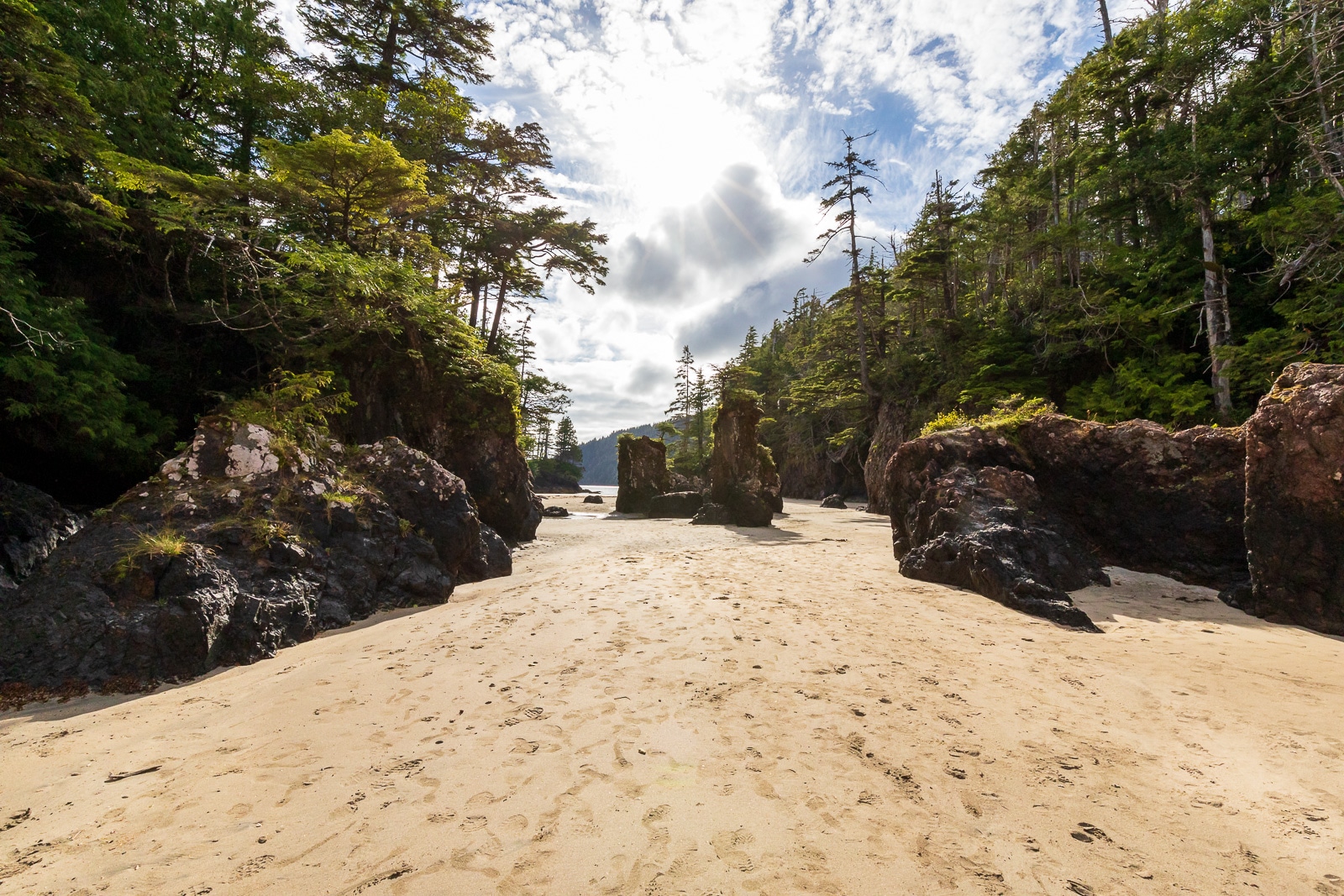 One of the most breathtaking, spectacular beaches on all of Vancouver Island is at San Josef Bay in Cape Scott Provincial Park. With unparalleled beauty, this beach is a must-see for any trip to northern Vancouver Island (and the rest of the island).
Featuring a massive white sand beach, San Josef Bay feels like a tropical paradise. When the tide goes out, the receding water exposes 2.5 kilometers of flat, sandy beach. Long walks on the beach seem to last forever here. You can go beachcombing for a long time until the sand disappears under the high tide again.
At low tide, you can also explore cool sea caves, tidal pools full of colorful intertidal creatures, and unique sea stacks (towers of rock). You'll also be able to get over to the second beach and the beautiful hidden waterfall!
San Josef Bay is about 70 km (1.5 hours of driving along logging roads) from Port Hardy. From the parking lot, it's about 30-60 minutes of walking on an easy 2.7 km forest trail. Yes, it's a bit of a trek to get there! However, it's absolutely worth it. You won't regret heading out to this spectacular beach for a day trip or backcountry camping trip to sleep under the stars near the ocean.
2. Hike the North Coast Trail
If you love multi-day hikes through the coastal wilderness, the North Coast Trail (NCT) in Cape Scott Provincial Park will be perfect for you! This 44-km long epic hiking trail (about 5 to 8 days of hiking) goes between the remote Shushartie Bay and the gorgeous Nissen Bight, exiting with a 16-km hike to the Cape Scott trailhead and parking lot.
The North Coast Trail is challenging but extremely rewarding, immersing you in an incredible wilderness adventure. You'll cross picturesque beaches with sea otters eating urchins in the waves, head through towering lush old-growth forest, watch whales breach as you sit by your tent, and spot black bears foraging in the surf. Many days, you'll even be the only person standing on the beach as you watch the sunset!
One of the highlights of the NCT is being dropped off by the water taxi boat at Shushartie Bay. When we hiked the trail, our boat was surrounded by orcas. It was an unforgettable way to start a hike! We recommend staying at the North Coast Trail Backpackers Hostel the night before you start your trip – the boat leaves pretty early!
While it has a similar feel to Vancouver Island's famous West Coast Trail near Port Renfrew, the North Coast Trail is much less crowded. You'll often feel like you're the only person on the trail! It's just as wet and muddy though. You'll need good rain gear and gaiters!
3. Learn about Indigenous Culture and History
Vancouver Island has been home for the First Nations peoples for thousands of years, and Port Hardy is no exception. Port Hardy lies on the traditional territory of the Kwakiutl First Nations, and the nearby land is also home to the Quatsino and Gwa'sala-'Nakwaxda'xw. With the land steeped in First Nations culture and history, you'd be remiss to not learn about these vibrant people on your trip to Port Hardy.
Around Port Hardy and the nearby Fort Rupert, you'll find totem poles and big houses. There are even petroglyphs in the sandstone near Fort Rupert, although they are quite difficult to find. You can also see First Nations artifacts at the Port Hardy Museum. And, at the end of the day, stay at the Kwa'lilas Hotel (Kwa'lilas means 'place to sleep'), constructed out of Western red cedar and designed after a traditional big house.
There are several First Nations cultural experience tours that you can join. Head out of a Nakwakto Rapids tour that heads through Gwa'sala Nakwaxda'xw territory to see the tidal rapids near Tremble Island at Seymour Inlet. Or, join one of the Indigenous cultural experiences offered at the Kwa'lilas Hotel. You can learn about the process of cedar weaving or listen to an elder's storytelling session.
4. Go on a Whale Watching Tour from Port Hardy
If you're looking for an incredible whale watching experience, look no further than the tours from Port Hardy. These amazing wildlife viewing boat tours take you out onto the ocean near Port Hardy to look for these massive marine mammals.
On a whale watching tour from Port Hardy, you have the chance to spot orcas, humpback whales, Dall's porpoises, Pacific white-sided dolphins, and Minke whales. Look out for the marine mammal-eating Transient orcas hunting for seals, and their cousins, the fish-eating Northern Resident orcas.
There's also the possibility of seeing other marine wildlife, like adorable sea otters floating in colonies, shy harbor seals, and majestic sea lions speeding through the ocean. And, if you love birdwatching, you'll see many sea birds on these tours! Don't forget a good pair of binoculars and your camera!
5. Taste some Local Seafood
With Port Hardy right beside the ocean, you should definitely try some of the local seafood. Most of the town's seafood is freshly caught from the waters around Vancouver Island!
The restaurants in Port Hardy serve all kinds of fish and shellfish, among other tasty foods. You can get delicious meals made of every kind of seafood imaginable. There's sushi, pub faves like fish & chips, calamari, crab cakes, fish tacos, amazing salmon filets, smoked salmon, and more. You won't know where to start!
Seafood isn't the only thing that you can find in the restaurants in Port Hardy. Even if you don't enjoy seafood, you should still try some of Port Hardy's restaurants, bakeries, or coffee shops. You can enjoy artisan coffee, freshly baked sweets, and other treats. After, head out on a walk around Market Street for some shopping!
6. Learn about Fish at the Quatse Salmon Stewardship Centre
Salmon is an important fish species around Vancouver Island, so what better way to spend an afternoon than to learn about this amazing fish at the Quatse Salmon Stewardship Centre! Run by the Northern Vancouver Island Salmonid Enhancement Association (NVISEA), the center focuses on teaching people about salmonids, as well as the enhancement and conservation of these species.
For only $6, you can enjoy the Quatse Salmon Centre's interpretive education gallery from July through September. Learn about the incredible life of salmon, from their origins as a tiny orange egg to their journey through the vast ocean to their struggle back up the river to their spawning habitat.
There is also a salmon hatchery at the Salmon Centre that you can tour. The Quatse River hatchery produces Coho, Pink, and Chum salmon, as well as Steelhead Trout. Also, nearby the center, you can walk the Quatse River Nature Trail & Estuary Trail Loop. This 3.4 km long trail takes you through the forest along the Quatse River.
7. Explore Cape Scott Provincial Park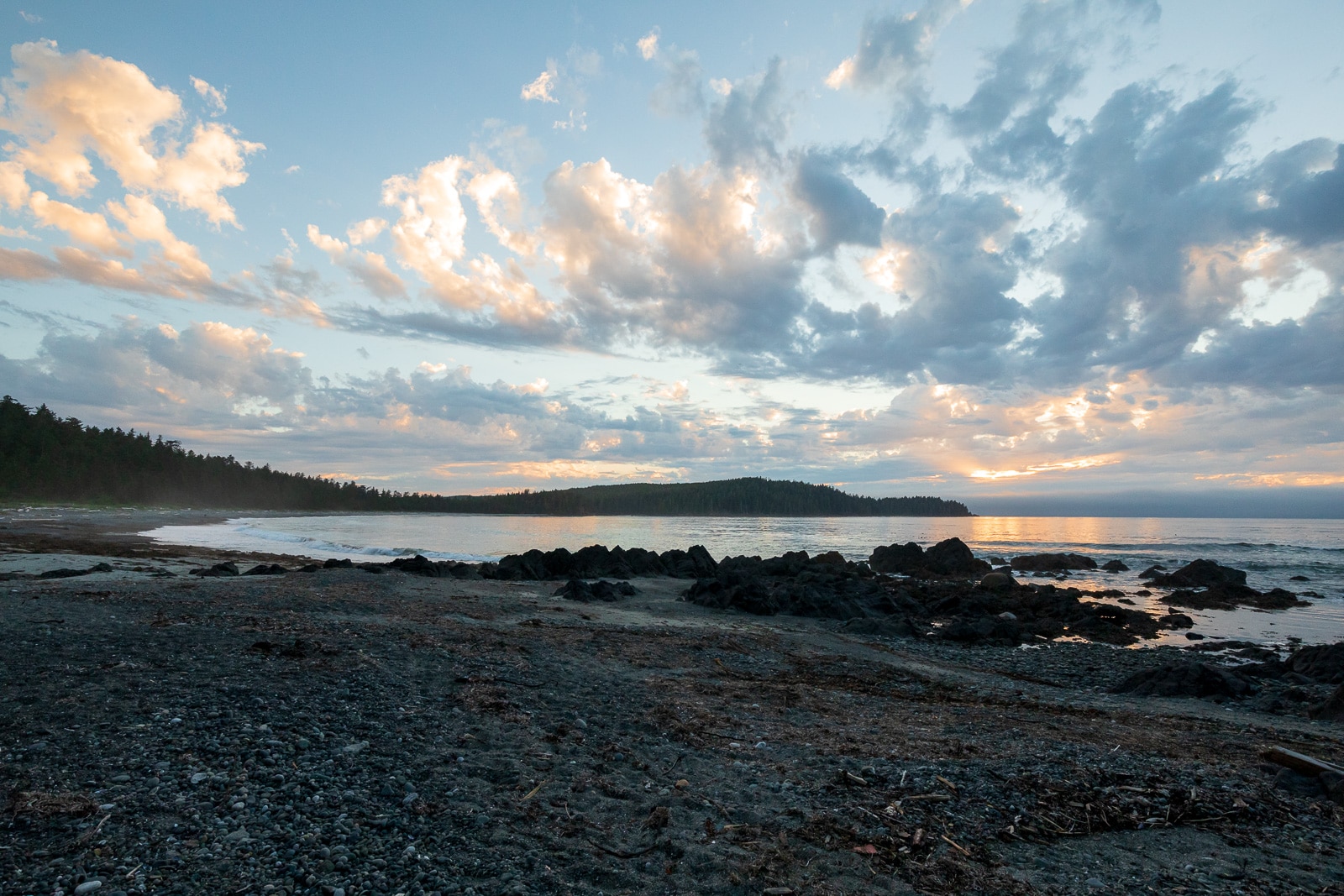 Some of the best hiking and backcountry camping on Vancouver Island is in Cape Scott Provincial Park. This remote protected area is the northernmost provincial park on Vancouver Island. Full of beautiful beaches and excellent hiking trails to explore, any outdoor adventurer will love Cape Scott.
Both the North Coast Trail and San Josef Bay are in Cape Scott Provincial Park, but there are also many other awesome destinations in this protected area. View the beautiful Eric Lake, Fisherman River, Hansen Lagoon, or Guise Bay. Walk the Cape Scott Trail to see the gorgeous beaches at Nissen Bight, Nels Bight, and Experiment Bight. Along the way, you'll spot historical features like the Corduroy Road and building ruins. Head all the way to the Cape Scott Lighthouse, built in 1960 and still in use!
For a panoramic view of Cape Scott, head up Mount St. Patrick. If you're an experienced hiker, you can also adventure to the remote Sea Otter Cove and Lowrie Bay. Or, if you want to explore the water, you can launch a boat at the San Josef River and float down into the bay.
Many of these destinations in Cape Scott Park have camping areas, often with tent platforms, a pit toilet, and a food cache. Make sure to bring a Cape Scott Trail map and check the weather before you head out!
8. Kayak and Scuba Dive at God's Pocket Provincial Park
Some of the best scuba diving and kayaking spots in BC are found in the 2036-hectare God's Pocket Marine Provincial Park. This beautiful remote protected area is located at the edge of Queen Charlotte Strait and the Goletas Channel. The islands (the largest are Hurst Island and Bell Island) sheltered sailers from the open ocean in a protected bay, giving the park its namesake – God's Pocket. These islands are only reachable by boat or floatplane, but it's worth the effort to get there!
Touted as some of the world's best cold water diving by Jacques Cousteau (a famous marine explorer), you don't want to miss scuba diving at God's Pocket Provincial Park. The best diving is at the spectacular Browning Pass by the Browning Wall, which is covered in a rainbow of marine life. As soon as you dive in, you'll see incredible biodiversity. Look for unique nudibranchs, fish of all kinds, swaying anemones, and colorful sponges. At the surface, you'll be surrounded by the rugged beauty of the West Coast.
God's Pocket Provincial Park doesn't just have phenomenal scuba diving – it's also amazing for kayaking, wilderness camping, fishing, boating, and wildlife watching. Exploring these islands by sea kayak is a great way to experience the wild beauty of these islands. There are no designated campgrounds but you can camp at random along the beaches. Or, you can stay at the remote God's Pocket Resort on Hurst Island.
Also, you are almost guaranteed to see some wildlife on your trip to this secluded protected area. The marine park protects an impressive seabird breeding colony and bald eagle habitat. Plus, you'll probably spot all kinds of marine mammals!
9. Head out on a Grizzly Bear Viewing Tour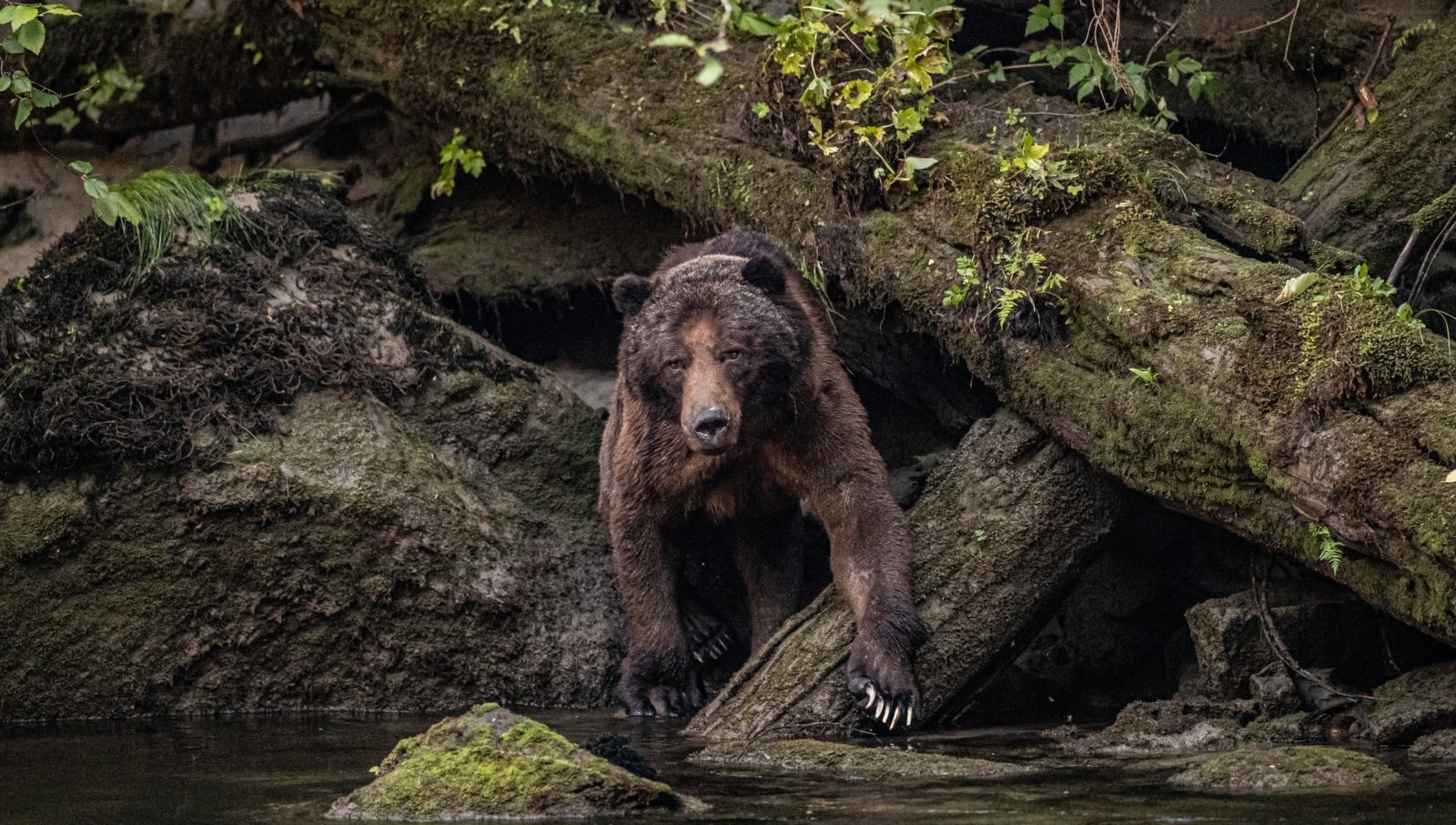 Join in a grizzly bear viewing tour to see these majestic mammals foraging along the coast of BC. While Vancouver Island itself doesn't have a large grizzly bear population, the northern tip of the island is quite close to the Great Bear Rainforest. This temperate rainforest is home to massive brown bears, including the spectacular white Spirit Bears.
Grizzly bear watching tours from the north island cross over to the remote islands, inlets, and estuaries of the Great Bear Rainforest. These wildlife viewing tours allow you to get an incredible look at these wild animals in their natural habitats.
Not only will you get an amazing chance to see grizzly bears along the coast. You'll also have the opportunity to see other wildlife along the way. There's a pretty good chance that you'll see sea lions, whales, seabirds, and sea otters!
If you're looking for the ultimate wildlife watching experience, join one of these Port Hardy grizzly bear tours. The guided nature tours depart from either Port Hardy by plane (usually flying to an overnight bear lodge) or by boat from Port McNeill or Telegraph Cove. Bear viewing is usually done from the spring to autumn, and each season offers a different experience. You won't regret going on one (or many) of these tours!
10. Walk along the Hardy Bay Seawall to Carrot Park
For an easy stroll with scenic views of the ocean, you can walk the Hardy Bay Seawall to Carrot Park. The walk is quite short, only 0.25 km long. Start at the Port Hardy Visitor Information Centre and head north along the shore. Along the way, you'll see the beautiful Japanese Garden, impressive totem poles, and the Cenotaph war memorial. Keep your eye out for wildlife like shorebirds!
On the walk, you'll spot the "Welcome to Port Hardy" and the town's famous wood carrot in Carrot Park. After, walk out onto the Seagate Pier to view the mountains across the water. Or, head north to visit the tide pools at Tsulquate Park.
After you're done exploring, head back downtown to explore the First Nations art galleries and gift shops on Market Street, full of unique handcrafted souvenirs. You should also stop by the Port Hardy Museum and Archives, to learn about the history of the area.
11. Join a Port Hardy Fishing Charter
The rich fish diversity in the cold waters around Port Hardy makes it a choice sport fishing spot for anglers across the globe. Get out on the water with a world-class sports fishing charter from Port Hardy to join in the fun in this premier sport fishing destination. You're guaranteed to make a catch!
While the waters are teeming with fish of all kinds, the area is best known for its excellent salmon fishing. Here, you'll hunt for the elusive Chinook Salmon, struggle with the strong Coho Salmon, or try catching some Sockeye and Chum Salmon as they migrate past.
Alternatively, you can search for massive bottom-dwelling fish, like halibut and lingcod. Halibut fishing charters from Port Hardy are excellent as these fish grow to impressive sizes in the cold waters.
The Port Hardy fishing charters know where the best fish are found. You'll be able to hook the biggest fish possible! These all-inclusive expeditions are quite popular, so book your adventure early. You don't want to miss out on this amazing fishing experience!
12. Visit Raft Cove Provincial Park
Another incredible sandy beach is just to the south of San Josef Bay and Cape Scott, at the beautiful Raft Cove Provincial Park. This 405-hectare protected area is absolutely breathtaking, with a towering forest of old-growth trees and a massive, 1.3 km crescent-shaped sandy beach at the mouth of the Macjack River.
Sometimes river otters can be spotted playing near the river. At low tides, you can walk far along the beach to the north or south of the cove. Near the sandy bay, you'll also find an old trapper's cabin, once used by a Cape Scott pioneer called Willie Hecht.
To access the beach, you'll hike 30 to 45-minute from the road. The Raft Cove trail is done as either a day hike or an overnight adventure. Along with Cape Scott, the Raft Cove hike is one of the best day trips from Port Hardy. As a warning, you'll have to slog through the rainforest to get there and the trails are often full of mud! Make sure to bring good waterproof boots and gaiters to keep your feet and legs dry.
While there's a trek to get to the beach, it's absolutely worth it! The beach is stunning and very secluded. There often won't be too many people. If you prefer paddling, you can also sea kayak to Raft Cove from San Josef Bay. Surfing is becoming more popular at Raft Cove, as well. Make sure to check out Palmerston Beach when you're in the area!
13. Find the Dakota 576 Port Hardy Plane Crash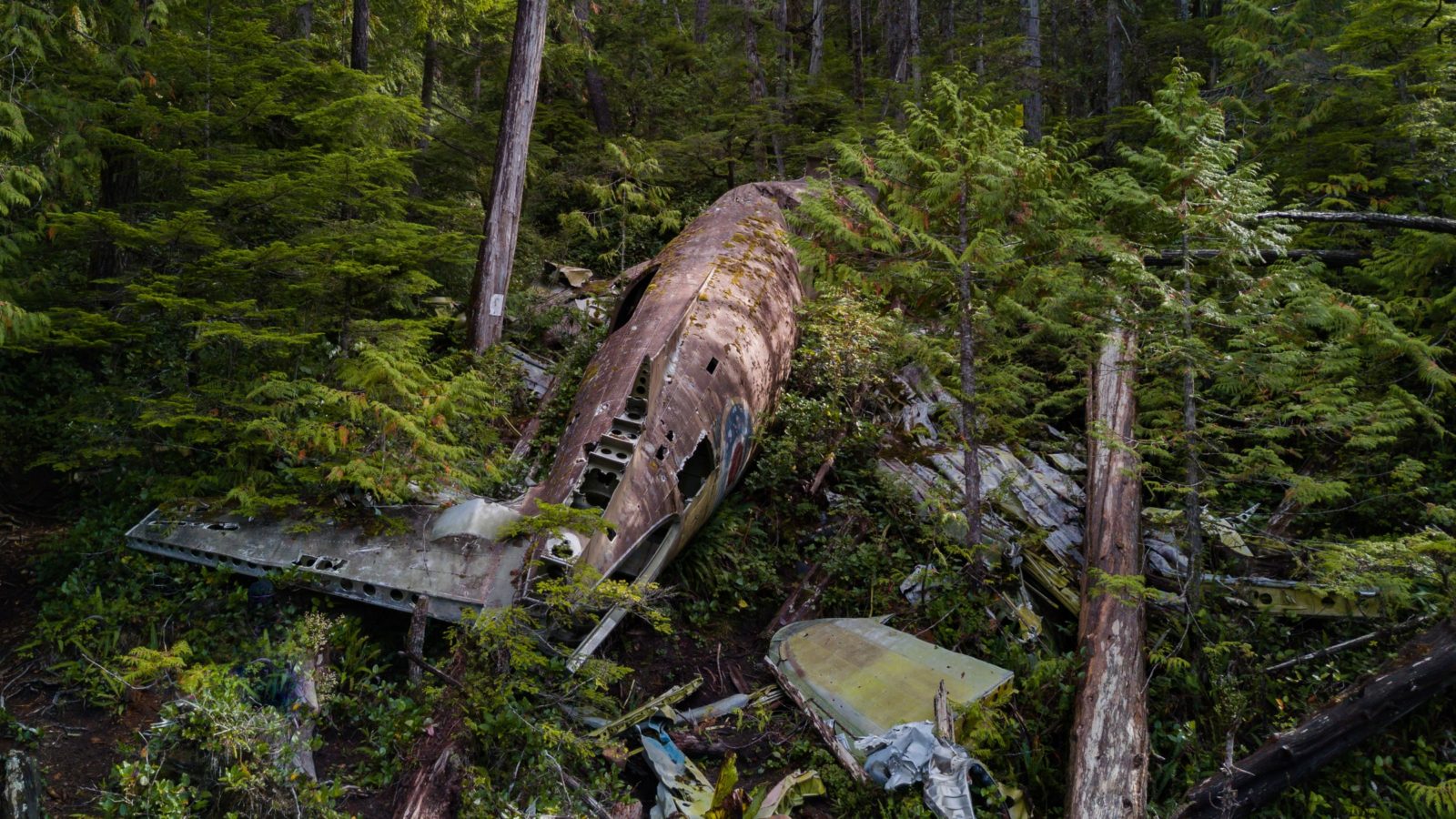 One of the lesser-known attractions around Port Hardy is the Dakota 576 plane crash near Bear Cove. This old Royal Canadian Air Force plane crashed in 1944, in a failed landing attempt when their fuel ran out during a navigation exercise from Patricia Bay.
At first, the pilot couldn't land in Port Hardy because of stormy weather. Then, the plane ran out of fuel and the plane crashed not too far from the airport. Two of the crew members passed away, but one survived. Now, the plane is hidden by the forest around Port Hardy, accessed by a short hiking trail.
It's only a 2 km walk one-way to access the plane's crash site. The 576 crash site trail starts near the Port Hardy Ferry Terminal at Bear Cove and heads into the forest to the aircraft ruins. The terrain is pretty rough, with lots of roots, mud, and some rope climbing sections as well. Bring your good hiking boots!
The Dakota 576 is one of the many plane crash sites you can find around Vancouver Island. If you visit Tofino, check out the Canso Plane Crash Site from WW2.
14. Relax on Storey's Beach at Beaver Harbour Park
If you need a break from all the adventure, relax on Storey's Beach (or Stories Beach) at Beaver Harbour Park. This beach is a great spot to hang out during the summer if you don't want to go too far from town. When the tide is out, it's a lot of fun beachcombing and looking in the tidepools. Also, the beach gets massive at low tide, with lots of sand to walk on and explore.
On a hot day, the sand is a great place to lay down a towel to relax and soak up the sun. The beach and park have lots of amenities, with a covered Rotary pavilion, barbeque pits and tables for picnics, ball fields, and a forest with some awesome hiking trails like the Fort Rupert Trail. You can spend the whole day at this beach and not get bored!
15. Walk the Fort Rupert Trail
You don't have to head far to find great hiking or walking trails around Port Hardy. There are trails of all difficulties, with lots of different things to see. There's something for everyone!
A great hiking trail by Port Hardy is the Fort Rupert Trail. This 4-km long trail crosses from Beaver Harbour Road by Fort Rupert to Bear Cove Highway by Port Hardy. Also known as the Commuter Trail, the Fort Rupert Trail takes you through some of the old-growth forests of the Kwagu'ł territory. You'll also cross some boardwalks beside a beautiful small lake.
If you want a harder trail, try the 12.7-km Tex Lyon Trail. This in-and-out trail heads along the coast of Beaver Harbour, giving you impressive views of the ocean and islands (like Peel & Deer Islands). You'll hike all the way to Dillion Point before turning back. It's quite the trek, so make sure you have good hiking shoes!
Alternatively, if you want something a bit easier, try the Keogh River Trail, Quatse Loop Estuary Trail, Beaver Lake Forest Trail, Hardy Bay Estuary Road, Echo Lake Trail, Glenlion River Walk, or the Glen Lyon Trail. You'll never be bored with all your options for walking trails!
Where to Stay in Port Hardy: Best Hotels and Accommodations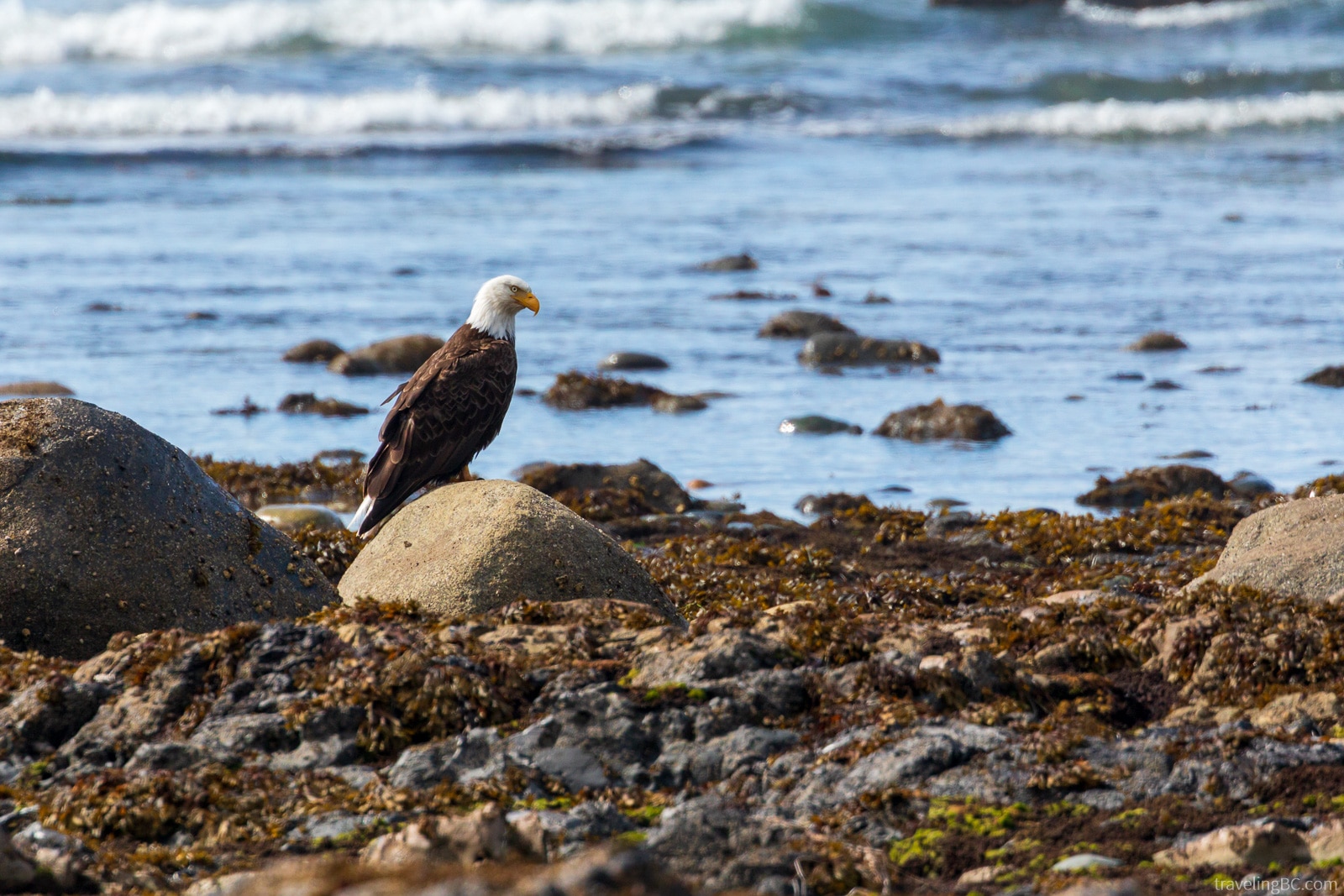 Trying to decide where to stay on your trip to Port Hardy? Here are some of the best hotels and hostels in Port Hardy that you'll love:
If you're looking for luxurious accommodations, look no further than the Kwa'lilas Hotel! This hotel is gorgeous, designed like a Gwa'sala-'Nakwaxda'xw big house and showcasing beautiful Indigenous artwork. It's one of the most modern hotels in Port Hardy. The staff are very friendly and helpful. The rooms are clean, comfortable, and feature views of the mountains. With a great location, you'll be close to everything in Port Hardy. However, the hotel has everything you need, including a restaurant, cafe, and gift shop. The one downside of this hotel is that it doesn't have great internet but they are apparently in the process of upgrading their WiFi.
Click here for more information & the latest prices!
For budget-friendly accommodations, the affordable North Coast Trail Backpackers Hostel is a great choice. Located in the center of Port Hardy, you're only a short walk from most amenities and only a couple of minutes from the beach! The hostel is well equipped, with internet, laundry, a full kitchen, a drying room for wet gear, kayak/bike storage & a full games room. Plus, the hosts are very accommodating and super friendly. It's the perfect spot to stay the night before you head out to hike the North Coast Trail!
Click here for more information & the latest prices!
If you want a cozy stay in a log cabin, the Port Hardy Cabins will be perfect for you. These cute cabins are well equipped with a shower, kitchenette, TV, dedicated internet, and colorful patio chairs. While the cabins are close to the highway, you won't hear any traffic noise. However, there isn't much privacy between cabins and they may be somewhat small for large families.
Click here for more information & the latest prices!
Weather in Port Hardy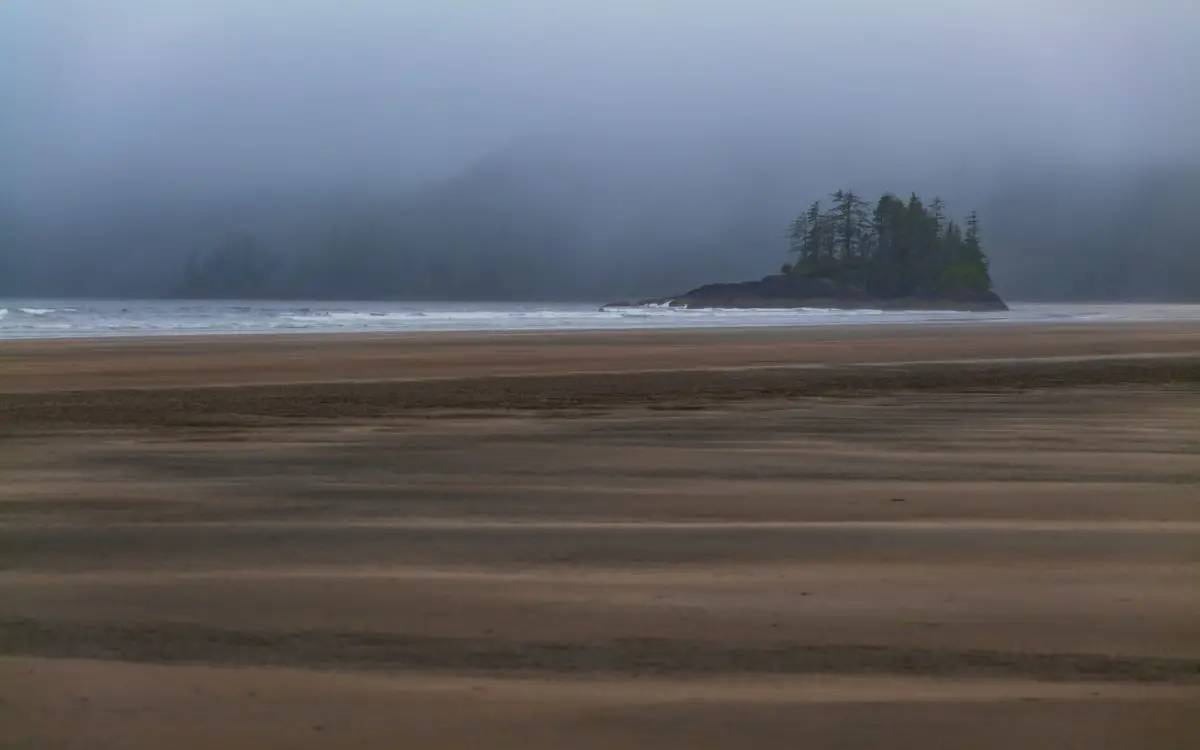 Port Hardy has a cool, wet climate throughout the year. The proximity of the ocean keeps Port Hardy's temperatures quite mild, never getting too hot or too cool. In the summer, average temperatures range between 10°C to 14°C, reaching highs around 18°C. Winter temperatures range from lows of 2°C to highs of 12°C.
You should expect some rainfall on your visit to Port Hardy. Winters are wet, with about half or two-thirds of the days in the month getting some precipitation. Even in the summer, there are no fewer than 7 days of rain per month. While Port Hardy does get some snow in December and January, it doesn't last for too long.
June to July is the best time to visit Port Hardy if you're looking for warmer, drier weather. During these months, the town gets the least amount of rain and the most sun. You should still bring an umbrella though, just in case!
How to Get to Port Hardy
Port Hardy is in northern Vancouver Island, so you may be wondering how to get there. You can travel to Port Hardy by car, ferry, bus, and plane.
If you have a vehicle, getting to Port Hardy is quite simple. From Victoria and southern Vancouver Island, drive up Highway 1 until you find Highway 19, which goes all the way up to Port Hardy. The road is paved and easy to drive! It'll take you about 6 hours to drive from Victoria to Port Hardy.
If you're coming from BC's mainland, you'll need to take BC Ferries to get to Vancouver Island first. Either take the ferry from Prince Rupert and sail over to Port Hardy directly on an incredibly scenic BC Ferries route through the inside passage. Or, take BC Ferries to either Victoria or Nanaimo from Vancouver, then drive up the island to Port Hardy. From the USA, you can take the Coho Ferry that sails from Port Angeles to Victoria.
If you need to rent a vehicle, there is a Budget at the Port Hardy Airport. Alternatively, you can rent a vehicle along the way from Vancouver, Victoria, or Nanaimo.
If you're coming from Campbell River, you can bus to Port Hardy. The bus service runs three days a week, leaving Campbell River at 7 am to go to Port Hardy. On the way back, the bus leaves at 4:30 pm.
You can also fly to Port Hardy (YZT) from Vancouver (YVR) on Pacific Coastal Airlines in about 1 hour and 15 minutes. The flights depart from the Vancouver International Airport and arrive at the Port Hardy Airport. The airport is only a 10-minute drive from the town.
You might not think of visiting Port Hardy when you're on a trip to Vancouver Island, but trust us, it's worth a visit! This charming northern Vancouver Island community is an amazing destination if you love outdoor activities!
Top Travel Tips & Resources for Port Hardy