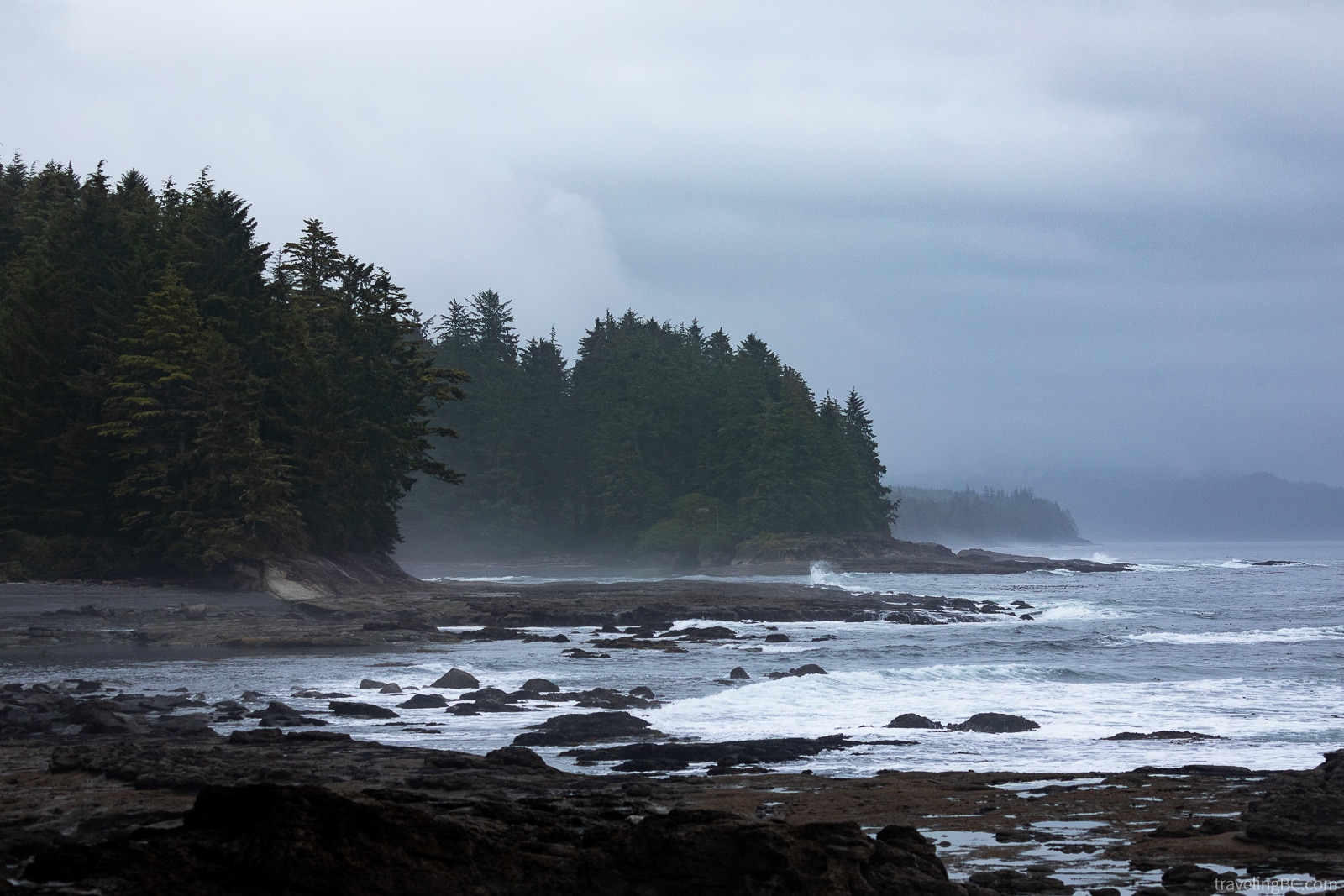 Deciding on where to stay in Port Renfrew? Read on!
Nestled on the southwestern coast of Vancouver Island, Port Renfrew is a small community that's serves as a hub to a wealth of outdoor treasures. From the famous West Coast Trail to the beautiful Botanical Beach and awe-inspiring ancient trees, this is a must-visit destination in BC. Now, the question arises: where should you stay in Port Renfrew, BC?
Look no further, we have you covered! In this guide, you'll find the best hotels, cozy cabins, and top vacation rentals in Port Renfrew so you know exactly where to stay during your vacation. Whether you're looking for an oceanside cottage getaway or planning a short stay in town before heading out on the legendary West Coast Trail, we'll help you discover the perfect accommodations to make your vacation unforgettable!
Disclaimer – This post contains affiliate links. We may receive a commission if you make a purchase through these links, at no extra cost to you. Thank you for your support! Learn More.
Where to Stay in Port Renfrew
1. Wild Renfrew Seaside Cottages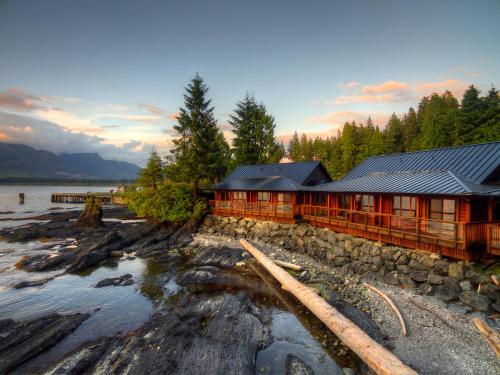 Address: 17310 Parkinson Road, V0S 1K0 Port Renfrew
Wild Renfrew Seaside Cottages is hands down our top pick out of the best places to stay in Port Renfrew. Perched along the edge of the Port San Juan Inlet, right beside the Government Wharf Dock, these cabins have a front row seat to the wild beauty that Port Renfrew has to offer.
From wharfside studios to two-bedroom cottages, there are accommodation options for every group size so it doesn't matter if you're traveling solo, as a couple, or with a group. Each guest suite is wood-finished, with a rustic but modern feel and many thoughtful amenities.
Most of the rooms have ocean views, although some are beach front and others wharfside. Some cabins feature private fire pits on outdoor patios, so you can enjoy the warmth of the fire while looking out over the ocean.
If you're after the ultimate luxury experience, then check out the Viewpoint Penthouse at Wild Renfrew Seaside Cottages. Surrounded by trees and ocean, this suite offers an outdoor deck with a private hot tub overlooking the sea. It sleeps up to six people in two bedrooms (one king bed and two single beds).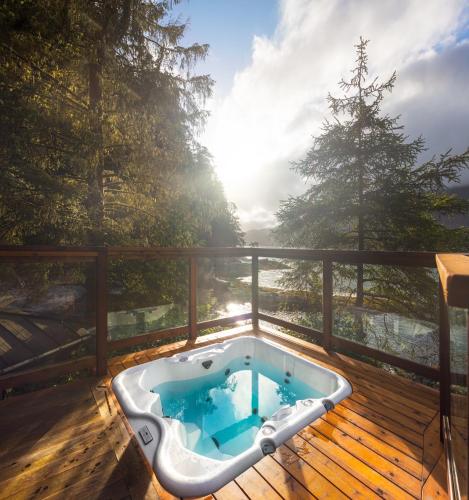 Aside from the fact that the cabins are gorgeous, there are some other key reasons why we'd recommend choosing Wild Renfrew Seaside Cottages.
First of all, the guest suites have access to a private beach — how cool is that?!
Not only that, but you'll be just a 1-minute walk from The Renfrew Pub, one of the most popular dining options in town. 
Better yet, you'll be staying in a great area for wildlife watching, as the cottages are situated right along the coastline. If you're lucky, you might get to spot a whale right from your window!
2. Wild Coast Wilderness Resort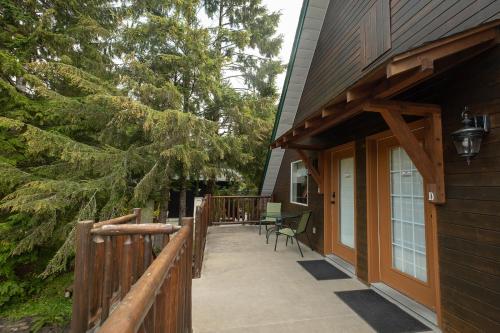 Address: 17268 Parkinson Road, Port Renfrew, BC
Thanks to its breathtaking location, gorgeous cabins, and excellent facilities, the Wild Coast Wilderness Resort offers some of the top accommodations in Port Renfrew. As well, with inexpensive hiker huts, this location is one of the best places to stay in Port Renfrew before hiking the West Coast Trail.
Like Wild Renfrew Seaside Cottages, this resort is also located in the center of town. However, it's surrounded by coastal rainforest, so the views here will take your breath away!
If you're looking to stay at Wild Coast Wilderness Resort then you'll have plenty of options. The private cabins are a great choice for families and groups, as they have two or three bedrooms. They also feature a fully-equipped kitchen, and you'll have access to a BBQ, crab cooker, and fire pit. 
There are also two cozy cottages on the property: the Cotton Wood Cottage and the Sitka Spruce Cottage. Both offer a private deck where you can admire the forest views, a basic kitchenette, and a propane fire pit. 
The Wild Coast Wilderness Resort has a variety of suites available too and these sleep up to four people. There are also small, less expensive hiker huts (see below for more information) which are perfect for those needing a place to stay in Port Renfrew before their backcountry adventures!
On-site, you'll find the Coastal Kitchen which is known for its breakfast dishes, sandwiches, soups, and baked goods. There's even a gift shop if you're looking to pick up a souvenir and the property offers fishing packages.
3. The Hiker Huts at Wild Coast Wilderness Resort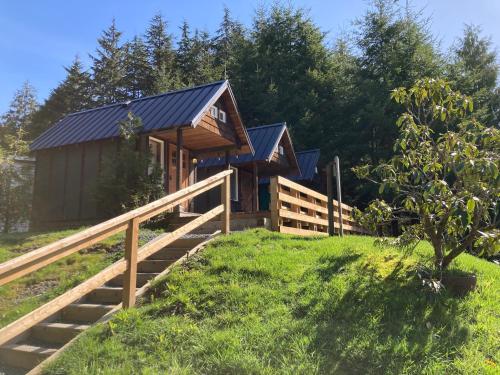 Hiking the West Coast Trail or Juan de Fuca Trail and need a place to stay before or after? Check out the Hiker Huts at Wild Coast Wilderness Resort!
Sometimes all you need is a place to crash before or after a long hike. The Hiker Hut's fit the bill!
These tiny cabins feature two beds (a double bed and a single bed) with clean linens, and a small patio entranceway. There is a shared bathroom and WiFi. However, the huts don't have cooking facilities. Likely, this isn't too much of a problem if you have your backcountry stove or eat at the nearby Port Renfrew Pub.
While definitely on the small side, the Hiker Huts are cozy, warm, and a relatively inexpensive place to sleep. You'll probably find the bed quite comfortable after a week of sleeping on a backpacking mattress!
The Hiker Huts are perfect for backpackers as they are close to both the West Coast Trail and Juan de Fuca Marine Trail. They are also steps away from the Port Renfrew Terminal for the West Coast Trail shuttle bus.
3. West Coast Trail Lodge
Address: 17285 Parkinson Road, V0S 1K0 Port Renfrew
The West Coast Trail Lodge is a budget-friendly hotel option located in the heart of Port Renfrew, just two km from the beautiful Botanical Beach and Botany Bay. Part of the Wild Renfrew Resort, this hotel is home to 20 fully renovated suites that each sleep up to 2-4 people. 
There are three suites to choose from: the Superior King Room, Standard Double Room, or Superior Double Room. Each room is spacious, with either a single King Bed or two Queen Beds. You'll also have a private bathroom, storage for clothes, WiFi, and a TV. Some of the suites are even dog friendly so the whole family can come along! 
The Superior Rooms also feature a basic kitchenette so they're a better option if you don't want to eat out. This way, you can make use of the microwave, mini fridge, toaster, and electric kettle.
While some suites advertise a spacious balcony, its more so just the walkway that goes to each unit. The balcony isn't ideal for sitting and admiring the forest views (in our opinion), but there is a nice garden area with outdoor furniture where you can relax.
While close to both the West Coast Trail and Juan de Fuca Trail, and despite what the name implies, these accommodations aren't the best option for hikers due to the two night stay minimum. For a weekend getaway though, it's an affordable option!
4. Wild Coast Chalets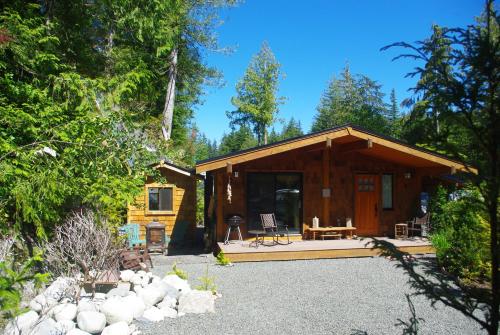 Address: 10/253 – 6574 Baird Road, V0S 1K0 Port Renfrew
Wild Coast Chalets is another great option if you're looking to stay in Port Renfrew. Situated near the Pacific Gateway marina in town, this place offers two eco-friendly one-bedroom cottages: A Wild Coast View, and A Wild Coast Chalet. 
Both cottages sleep up to four people, with one bedroom and a pullout sofa bed in the living area. Additionally, you'll have a well-equipped kitchen, private bathroom, cable TV, and WiFi. You'll have everything you need for the perfect stay, no matter which cottage you choose!
When picking one of the two cottages, we highly recommend staying at a Wild Coast View. As the name suggests, a Wild Coast View offers spectacular ocean views of Port San Juan. You'll also have a large outdoor deck, propane fire pit, BBQ, and sun loungers where you can relax outside and enjoy the vistas. 
A Wild Coast Chalet is the other cottage to choose from. Here, you'll have a sunny garden which you can enjoy. Although you won't have sea views from this cottage, you'll have plenty of amenities including an outdoor deck, BBQ, and fire pit. 
On-site, you'll find a fantastic viewing platform that offers jaw-dropping views of Pacific Rim National Park and the surrounding waters. While here, keep your eyes peeled for wildlife! 
There's also a large wooded area on the property, which has picnic benches. The Pacific Gateway Marina and Government Dock are just a short walk from your chalet too.
Wild Coast Chalets feature some of the best cottages in Port Renfrew so make sure you check them out! 
5. Port Renfrew Vacation Rentals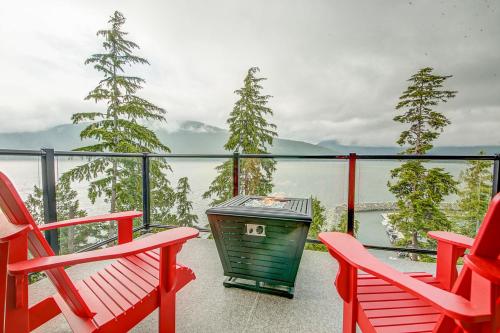 Address: 6596 Baird Road, Port Renfrew, British Columbia, Canada V0S 3E1
You'll feel right at home when staying at one of Port Renfrew Vacation Rentals cottages. They offer eight different condo options to choose from, sleeping up to 4-10 people and featuring all of your everyday conveniences — but most with a view!
Most of the cottages are situated along the water's edge, perched about 100 feet above the ocean. From your balcony, you'll have breathtaking views of Port San Juan and Pacific Rim National Park.
There's one cottage (#231B) that only features mountain views. However, when it comes to ocean views, you've got plenty of options.
#231 and #231A are both large cottages overlooking the water, with #231 sleeping up to 10 people and the latter sleeping up to 6. This makes them both a great choice for large groups.
For the best ocean views, you'll want to pick one of the other oceanfront cottages: #210, #218, #220, #226, and #228. These all offer a private deck or balcony overlooking the water. The properties have fire tables and patio chairs so you can sit outside, enjoying an evening fire and the sunset over the ocean. 
Many of the properties also offer floor-to-ceiling windows, a gas BBQ, and laundry facilities. You'll also have a fully-equipped kitchen so you can cook your own meals.
Port Renfrew Vacation Rentals have so much to offer, especially as they have both affordable and more luxurious options available. Not only that, but you'll be within walking distance of the Gateway Marina, Bridgeman's Bistro, The Renfrew Pub, Coastal Kitchen, and Tomi's Cafe. You certainly won't be short of amenities in the surrounding area! 
6. Pacheedaht Campground
Address: 305 Pachidah Rd, Port Renfrew, BC V0S 1K0
If you're wondering where to stay in Port Renfrew and you're on a budget, then Pacheedaht Campground is probably your best option — especially if you love camping! 
Pacheedaht Campground is located within a lush forested area next to the sandy, 2-km long Pacheedaht Beach. The campground itself is pretty big, with plenty of sites to choose from. Many of the campsites are located on the beach itself, while others are found near the lagoon. 
Camping at Pacheedaht Campground basically means you'll be steps away from the Gordon River Trailhead of the famous West Coast Trail. The WCT Information Centre is nearby and so is the Gordon River ferry service, making it the perfect place to stay for hiker starting (or ending) their West Coast Trail adventure.
Aside from the scenic camp sites, there are also small bunkhouses (or sleeping barrels) that you can rent out. They're basic but are the perfect option if you're looking for a bit more comfort!
The facilities at this campground are also pretty basic, as they have pit toilets. However, hot showers are available and there's WiFi too. However, the highlight has to be the views and that's the main reason why people stay here. If you're looking to be at one with nature (and save a bit of money) then this is where you'll want to stay in Port Renfrew!
Just make sure you secure your food while staying here. There's a local cat population that'll steal your food if it's left out unattended!
Top Travel Tips & Resources for Vancouver Island, BC