If you're looking for an unforgettable waterfront vacation, Victoria is the perfect destination. There are plenty of amazing oceanfront hotels to choose from, but sometimes it's nice to have a little more space and privacy. That's where this list of the top oceanfront vacation homes in Victoria comes in!
There are tons of beautiful homes right beside the water, each with its own unique features and amenities. These top oceanfront VRBO and Airbnb vacation homes offer the perfect base for exploring everything that Victoria has to offer. Plus, they come complete with all the comforts of home so you can really relax and enjoy your time away.
So whether you're looking for a luxurious seaside penthouse or a cozy beach bungalow, here are the top oceanfront vacation home rentals in Victoria!
Disclaimer – This post contains affiliate links. We may receive a commission if you make a purchase through these links, at no extra cost to you. Thank you for your support! Learn More.
Best Oceanfront Vacation Homes in Victoria: Top 15 Picks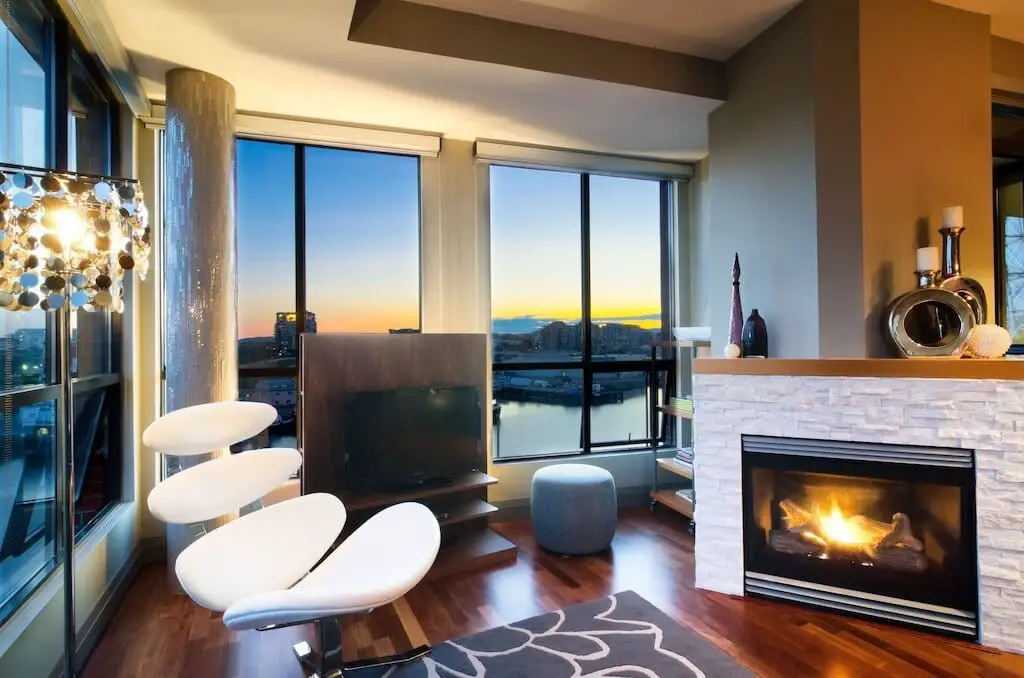 Want to experience a life of luxury? Stay at the Pied-à-Terre Harbour Penthouse at the Mermaid Wharf building!
Perched at the southwest top corner of the Mermaid Wharf building, this 1-bedroom 1-bath condo has spectacular views of Victoria's Upper Harbour and the Johnson Street bridge. With an excellent central location, you're just steps away from all the best shopping, dining, and attractions in downtown Victoria.
With stylish décor and two balconies, you'll really be treating yourself at this sophisticated vacation home! This amazing condo features a full kitchen, gas fireplace, in-suite laundry, underground parking, and high-speed internet. There's even a private rooftop deck with incredible ocean views, accessed using an in-suite ladder or the building's elevator!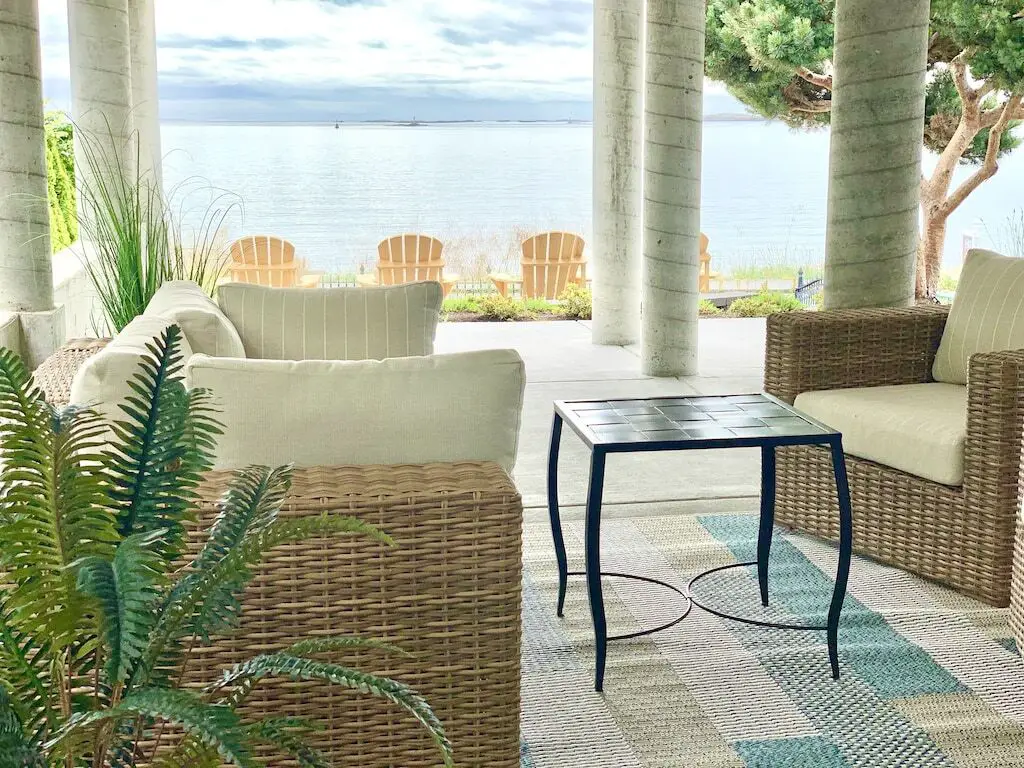 Do you love sunbathing on the beach? If so, then the Esplanade Beach Suite should be one of your top choices among the oceanfront vacation homes in Victoria. At this beautiful VRBO property, you'll be steps away from Willows Beach, one of the best sandy beaches in all of Victoria.
With 2-bedrooms, 2-bathrooms, and 1400 square feet of space, you'll have plenty of room to spread out. There's a huge master bedroom with an ensuite bathroom, a fully-equipped kitchen, and lots of living space with ocean views. But you'll probably be spending all your time at the beach anyway!
One of the best features of this beachfront vacation home (other than its amazing location) is the sheltered waterfront patio. Sit under the covered deck when it's raining or lounge on the patio chairs in the sun on clear days. Enjoy the ocean views in any weather!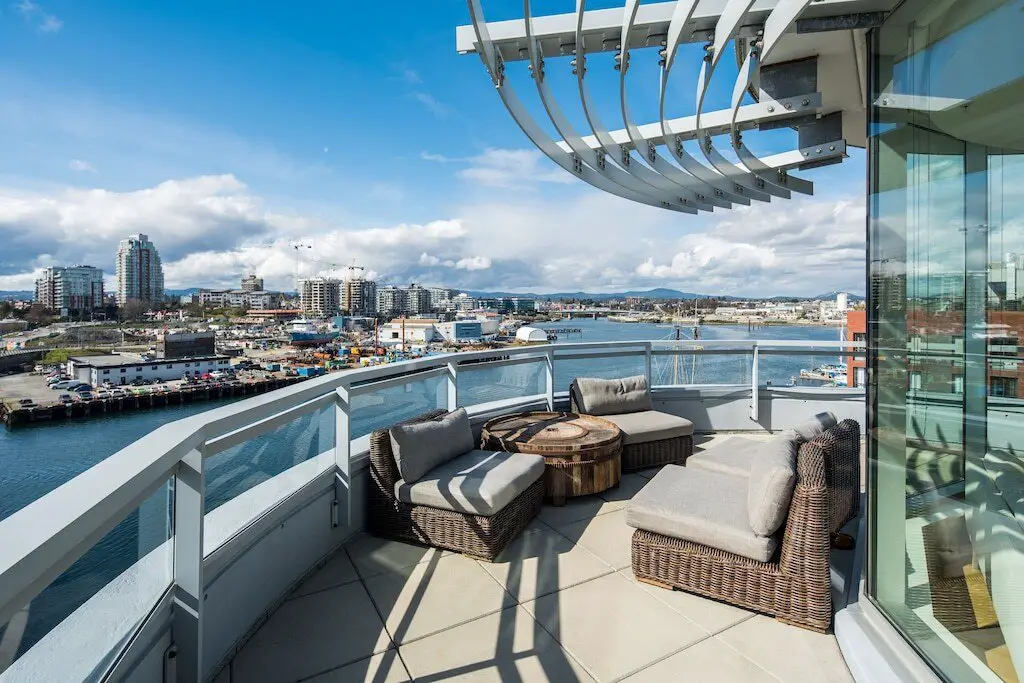 The Penthouse at the Janion is one of the best oceanfront vacation homes in Victoria, offering breathtaking 270-degree views of the Upper Victoria Harbour. Even better, the condo has a wrap-around balcony – perfect for sipping your coffee in the morning and watching boats cruise by.
If you want to treat yourself to a luxurious vacation, you won't do much better than this upscale penthouse. There are two bedrooms, each with ensuite bathrooms and one with a master king bed. The living room is huge and features floor-to-ceiling windows for the best ocean and city views.
This incredible penthouse is very modern and stylishly decorated on the inside. As a bonus, it also has a very convenient downtown location. You'll never want to leave!
The 2-bedroom, 2-bathroom Oceanfront Penthouse is the perfect place to enjoy stunning ocean views in downtown Victoria. Beautifully decorated and well-equipped, this stylish suite has all the amenities you'll need for a wonderful stay.
Located beside the Inner Harbour, you'll be near all the action at this oceanfront Victoria vacation home. The harbor taxis stop right outside the building and you're right across the bridge from the Galloping Goose, an amazing biking trail for exploring Victoria. Or, head downtown for tourist activities like whale watching or guided food tours.
While there is a balcony, our favorite feature of this beautiful penthouse condo is its private rooftop patio. Here, you'll get breathtaking views of the harbor. At night, the patio is lit up with cute outdoor lights and is the perfect place to watch the sunset or sit under the stars!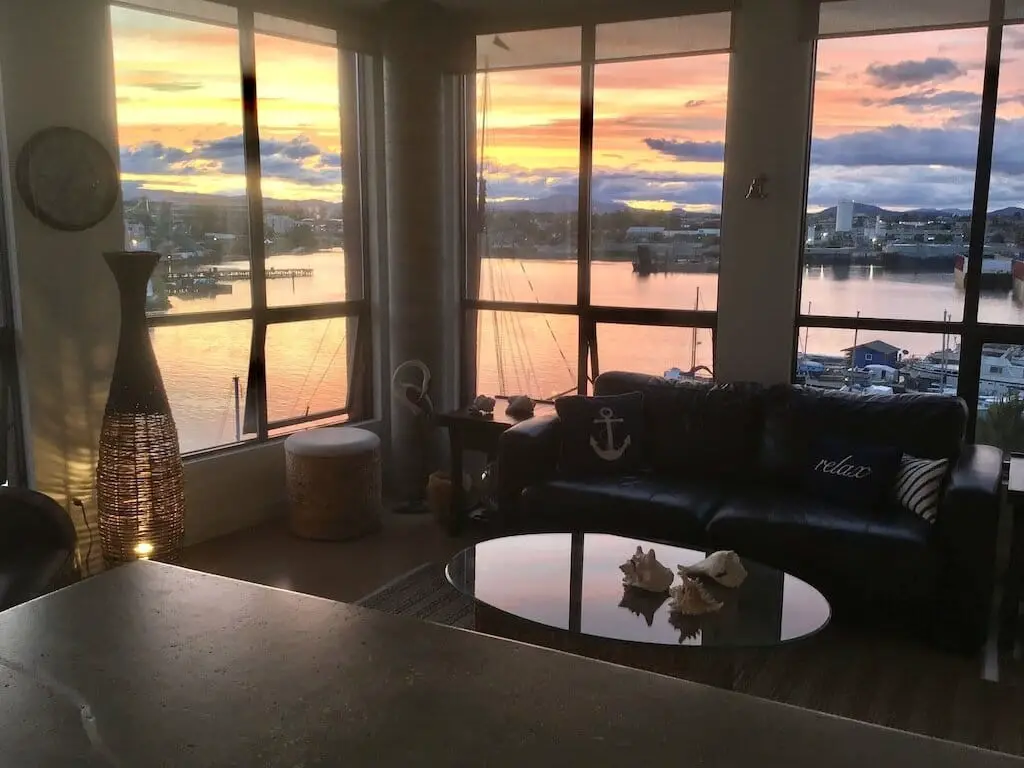 The Nautical Waterfront Condo is one of the best places to stay if you want to explore Victoria's vibrant downtown scene. And, after a day of exploring, you'll find this 1-bedroom condo is perfect for relaxing while enjoying the views.
With such a convenient location, you'll be within walking distance of everything! The historic Chinatown is just next door and you can easily walk to the Royal BC Museum, Parliament Buildings, and Inner Harbour. Jump on a hop-on hop-off bus tour to explore anything that's not within walking distance.
Clean and comfortable, this stylish vacation condo has all you need for an awesome vacation. The host is responsive and keeps the condo immaculately clean. As a bonus, the condo is nautical-themed, with beach and ship decorations to match the views. Overall, this vacation rental is a great place to stay!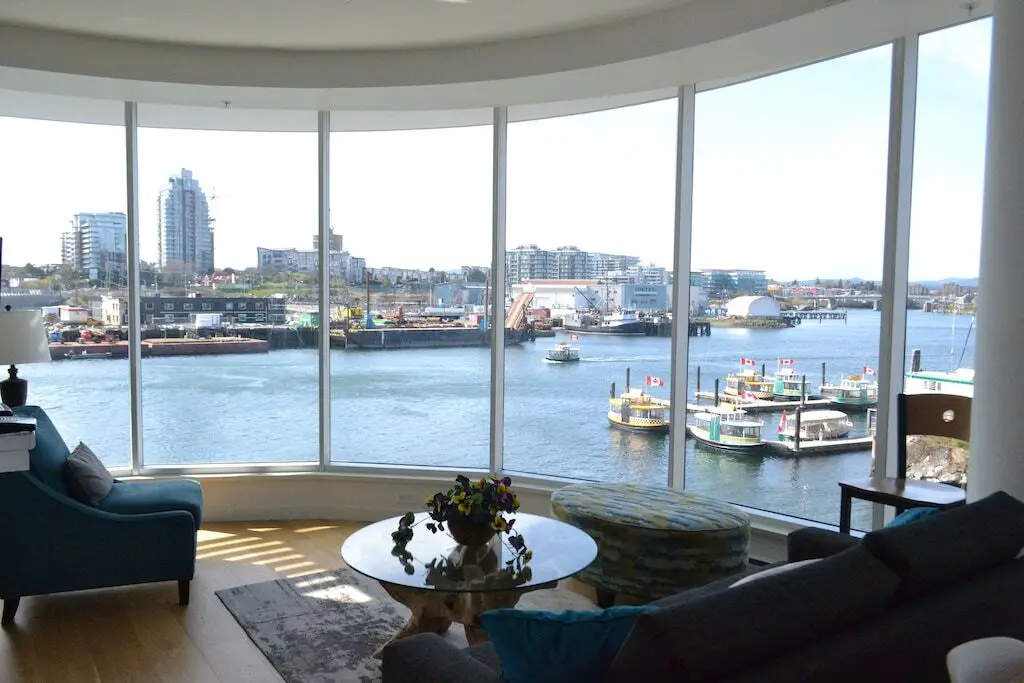 The Janion Studio Suite is a well-appointed studio vacation rental property with beautiful views of Victoria's harbor. Enjoy watching the water taxis cruise around and ships sail by on the calm waters. You won't even need the flatscreen TV in the suite for something to watch!
The full-sized windows in the living space allow for truly unforgettable views of the waterway. There is a balcony if you want to be outside to experience the fresh ocean breeze. And, if you want to explore the area, the studio's downtown location places it close to many of Victoria's best attractions.
This vacation rental property is small but it should be perfect for a solo traveler or couple who doesn't need much space. With upscale decor and plenty of amenities, you'll definitely enjoy your stay at this condo!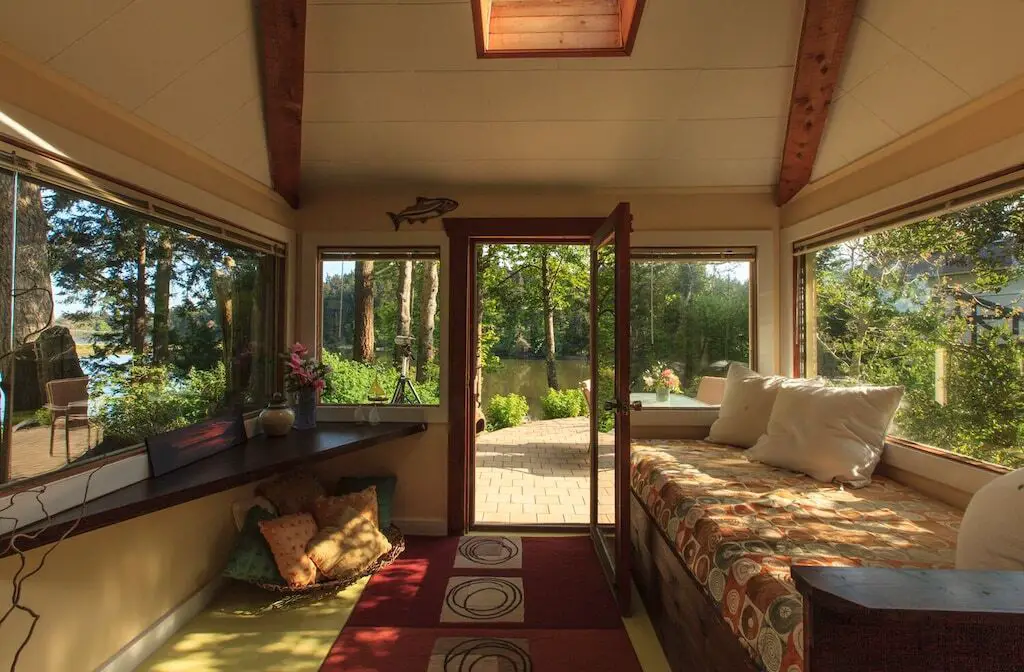 Beachwood Cottage is a breathtaking hidden gem on the edge of the beautiful Albert Head Lagoon in Metchosin. With peaceful scenery and a waterfront backyard, this charming cottage is perfect for anyone wanting to enjoy the water and soak in the sun. You can even launch a kayak right from the backyard!
This quaint 1-bedroom cottage's private yard backs right onto the lagoon. Technically, it's not quite oceanfront. But, the ocean is just on the other side of the lagoon, so we think it still counts! There is a beautiful brick patio with a table where you can dine outside. Or, simply sit and enjoy the views!
At this cottage, you'll be about a 20-minute drive from downtown Victoria. Even so, you'll be closer to many of the best outdoor attractions that the Greater Victoria region has to offer, such as Witty's Lagoon, Fort Rod Hill, and one of our favorites, Esquimalt Lagoon.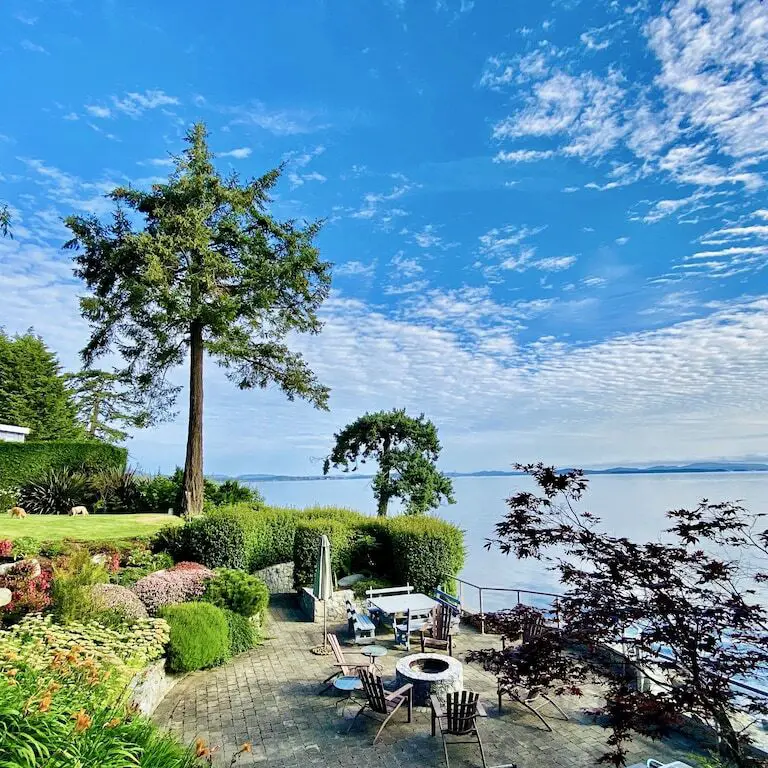 Heron's Retreat in North Saanich offers a beautiful 1.3-acre beachfront property with a 1-bedroom self-contained suite. If you're looking for a peaceful, relaxing place to stay for your vacation, you've found it!
For couples or solo travelers, this suite is a great choice. The suite has one bedroom with a queen bed and a bathroom with a bathtub and a 5-way rain shower. Also, there is a well-equipped kitchen and barbeque that you can use to create delicious home-cooked meals.
The best feature of this beautiful seaside cottage is the patio right in front of the ocean. Spend your afternoon sitting in the sun watching the waves and your evening sipping wine beside the fire. You can also borrow their kayaks or canoes if you want to explore the water.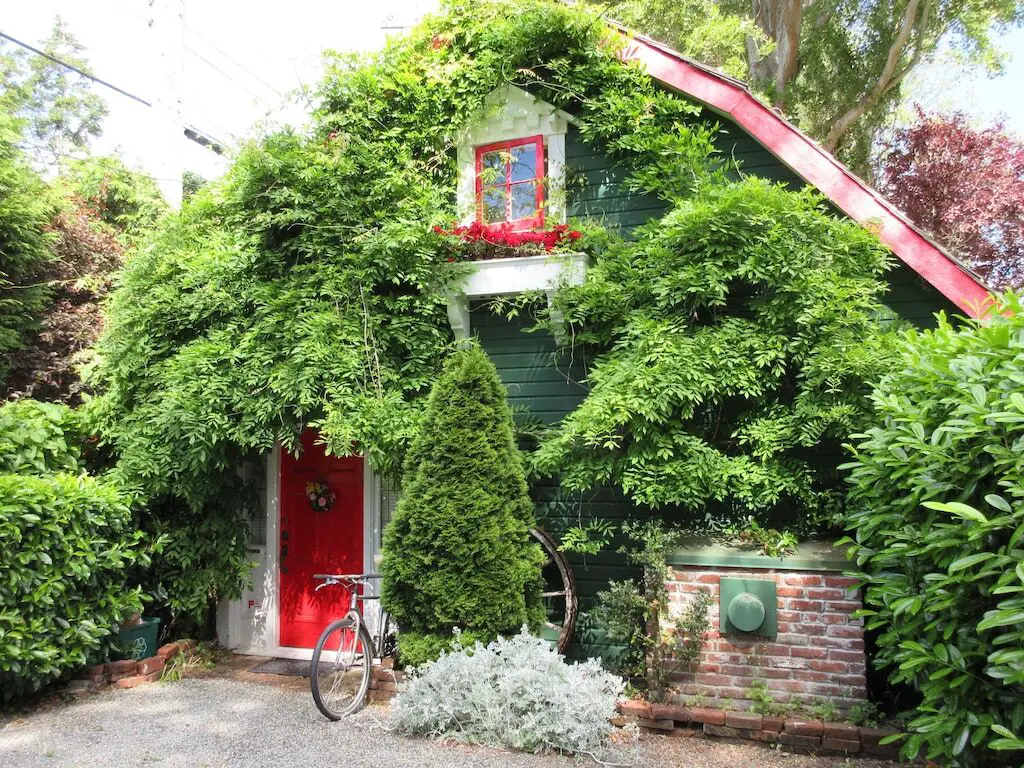 Staying at the Sunrise Garden Cottage is like living in a West Coast paradise. A heritage building built in 1908 on 10 Mile Point, this beautiful VRBO property is one of the best oceanfront places to stay in Victoria.
The stunning red door of this heritage building opens into a spacious living area with rustic decor. Decorated with antiques, this vacation house has an older but unique style. There's even a clawfoot bathtub!
Our favorite part of this amazing vacation rental is the seaside garden, complete with a vine-covered shed. Sit in the peaceful gardens surrounded by lush vegetation, or find the oceanfront lawn chairs for a breathtaking view of the Salish Sea. If you want to be surrounded by nature while still in Victoria, this is the best place to stay!
Sitting right at the edge of Cordova Bay Beach, the beachfront walk-up Ocean Gypsy Suite has breathtaking seascape views. Soak in the sun in the massive sunroom and watch for marine wildlife like seals and whales!
With two bedrooms, this retro-modern beachfront property is perfect for a romantic getaway or a family vacation. The suite is well equipped and very comfortable. Also, the hosts are pretty responsive and keep the suite immaculate.
The best part about this vacation home is its proximity to Cordova Bay Beach, one of the best sandy beaches in Victoria. Spend the day at Cordova Bay Beach and then fall asleep to the calming sound of waves!
The James Bay Oceanfront House is a bit of a splurge, but it's totally worth it! This gorgeous oceanfront vacation house has it all, from some of the best ocean views in Victoria to a massive amount of living space. Coupled with a convenient location and lots of style, you'll be swooning over this elegant seaside property.
With 5 bedrooms and 4 full bathrooms (plus 1 half), this oceanfront home is perfect for families or large groups of friends. You can sleep up to 12 people in this massive house! Four of the bedrooms feature king beds (the other has a queen-sized bed), each with a jacuzzi tub, fireplace, and deck space.
If you want to spend time outside, choose from one of the many balconies or sit on the porch watching the ocean through the palm trees. Or, for a better view, head up to the spacious roof and look down at the Dallas Road waterfront and nearby breakwater.
Our favorite part about this beautiful house is the private hot tub on the roof. Spend the evening under the stars soaking in the hot water and breathing in the fresh sea air. You'll never want to leave!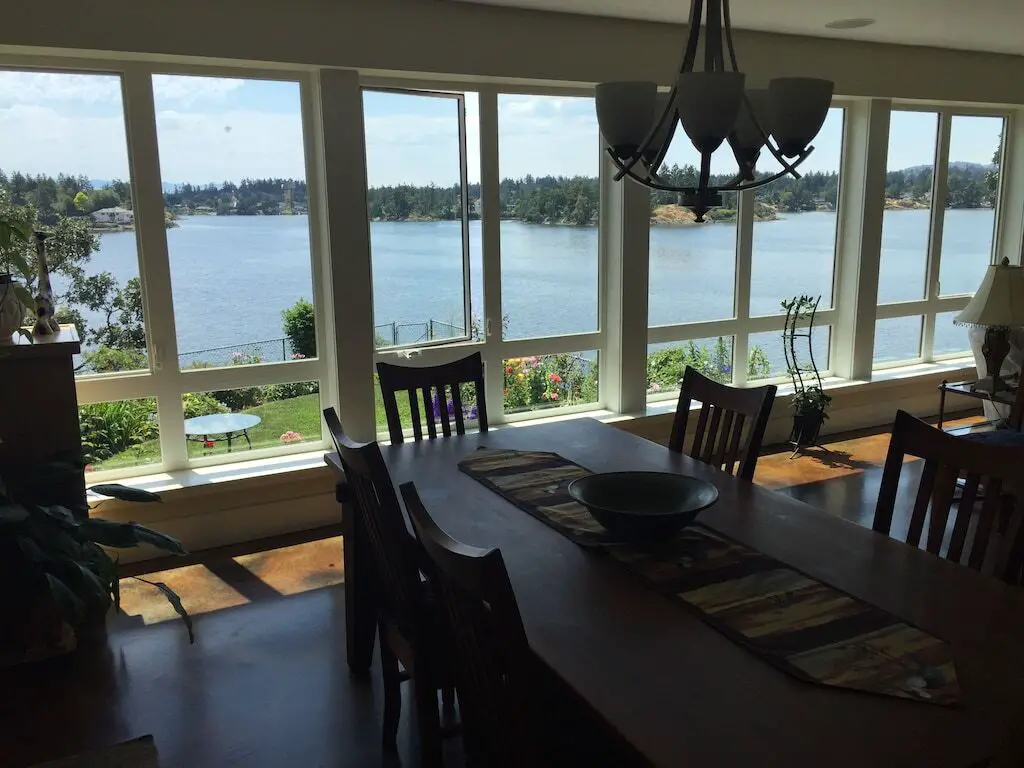 The Waterfront Eco Home backs onto the beautiful Portage Inlet, a basin that connects to the rest of the Pacific Ocean via the stunning Gorge Waterway. This spectacular property gets breathtaking views over the tranquil water, creating a peaceful, serene atmosphere.
In the summer, the backyard of this suite fills with color from the blooming flowers. Enjoy the mix of floral scents and ocean breeze while you sit outside in the sun. Or, jump in a kayak right from the backyard and explore the beautiful calm waters of the stunning Portage Inlet and Gorge Waterway!
Inside the house, you'll find a modern, stylish, and well-cared-for interior. There are two bedrooms and two bathrooms, as well as a full kitchen. Nearby, you'll find attractions like Thetis Lake Regional Park and Swan Lake Nature Sanctuary.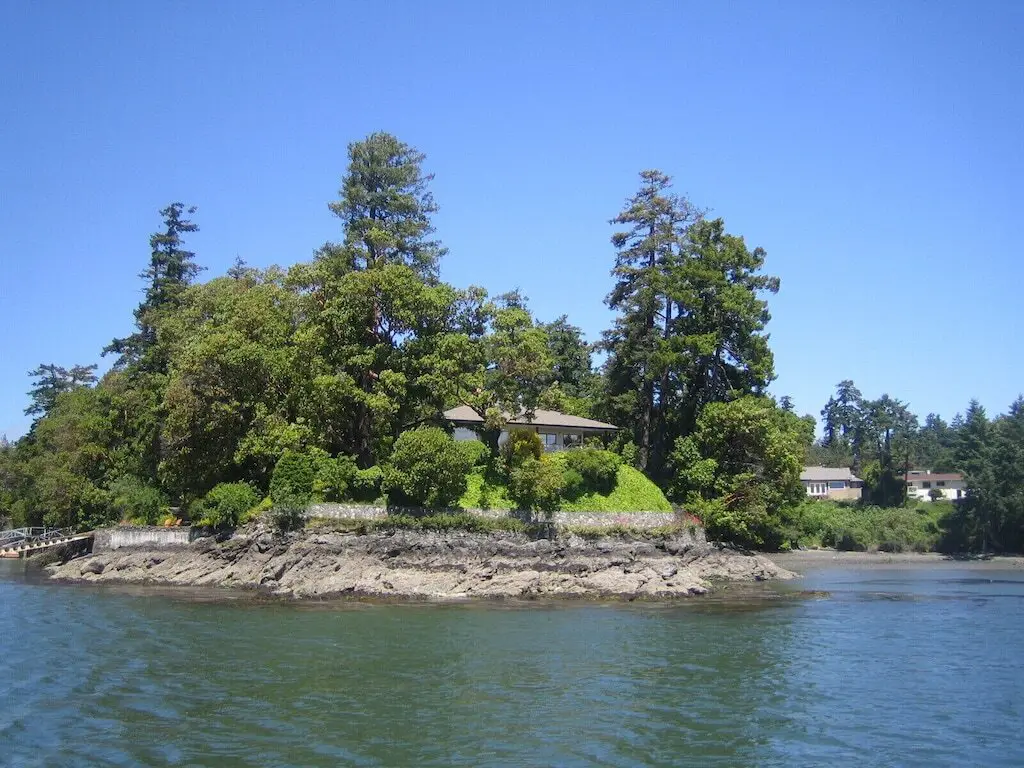 Perched on the edge of a rocky shore, you'll find the Chimera Oceanfront Suite in View Royal. This quiet, beautiful vacation home is right beside the ocean, offering unparalleled views of the Esquimalt Harbour.
With large arbutus trees, lush gardens, and gorgeous ocean views, you'll feel surrounded by nature at this walkout suite. There's also a deck in the back where you can sit in the sun and watch the ocean. Here, you can forget your worries while you look for seals!
Perfect for small families, this suite has two bedrooms – one with a queen bed and the other with a queen and twin-sized bed. There are also two bathrooms, in case one of you needs more time to get ready in the morning. Also, the suite has a newly renovated kitchen and in-suite laundry.
If you want to walk out onto the beach from your vacation home, the Cordova Bay Oceanfront Suite is perfect for you. Walk to the edge of this property and you'll immediately step onto the soft sand of the beautiful Cordova Bay Beach. The ocean is only about 40 steps from the back door!
This 1-bedroom suite is perfect for a romantic couple's getaway or a solo traveler wishing to treat themselves. There is one queen-sized bed and a bathroom. You'll also be able to use the fully-equipped kitchen to make meals.
Spend the day enjoying ocean views from the patio by the beach or the covered deck. On stormy days, cozy up in the living room and watch the ocean waves through the massive windows. One of the top oceanfront vacation homes in Victoria, you won't regret a stay at this beautiful suite!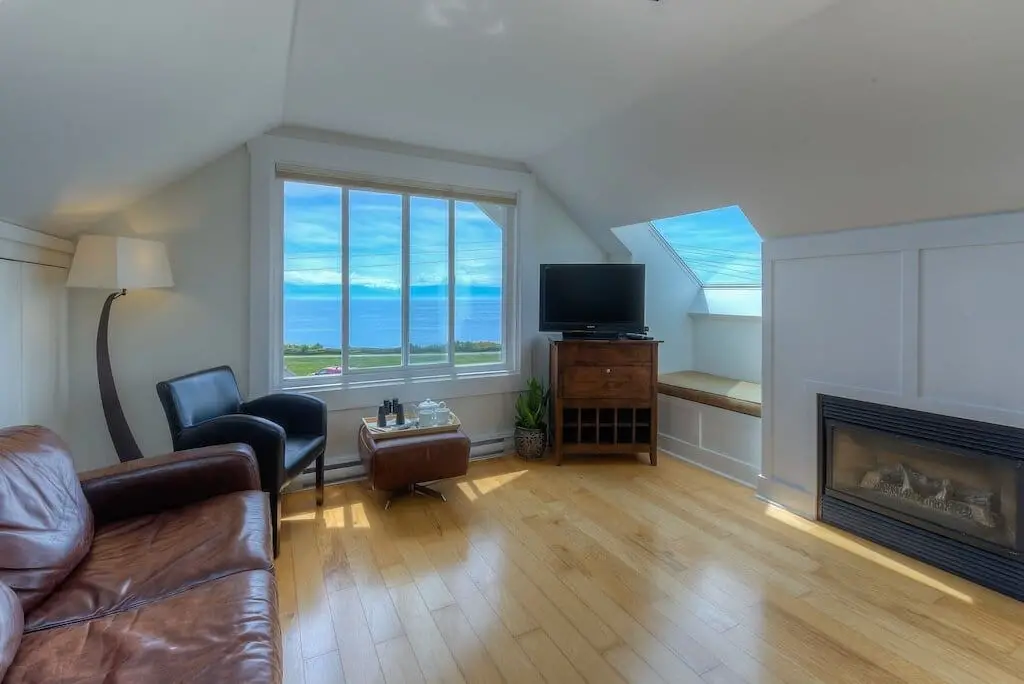 The Oceanfront Townhouse is located on the stunning Dallas Road waterfront, between the popular Beacon Hill Park and Clover Point. Only steps away from the rocky Spiral Beach, you'll be impressed with the views of the Olympic mountains over the Pacific Ocean from this beautiful townhome. Watch for kite surfers and paragliders who commonly play in the ocean breeze!
With 1 bedroom and bathroom, this charming townhouse is perfect for couples or solo travelers. It comes with all the amenities you need for a comfortable stay, including a full kitchen, laundry facilities, and a gas fireplace. There's also a sofa bed if you're traveling as a small family and need an extra place to sleep.
Enjoy amazing views of the Juan de Fuca Strait, right from your living room. Also, one thing we really like about this townhome is its reading nooks with large skylights providing plenty of light. The only downside is that it requires monthly rentals only due to bylaws.
Top Travel Tips & Resources for Victoria, BC