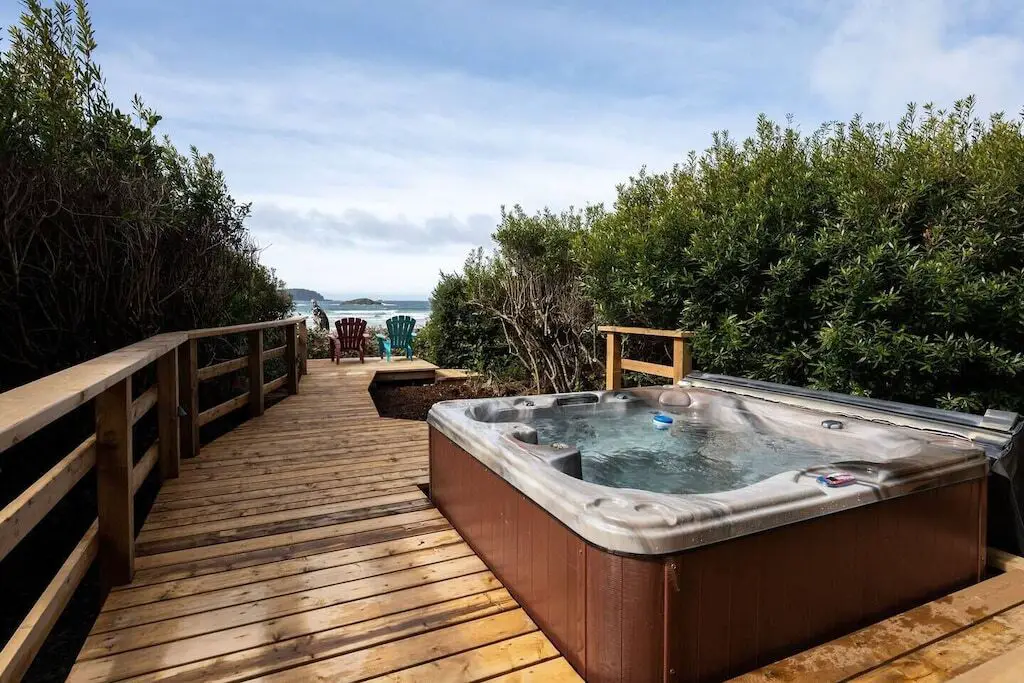 Vacations in Tofino are all about the water – surfing, kayaking, beaches, you name it. But unlike the tropics, the water around Tofino is quite cold. So, why not book one of the best vacation rentals in Tofino with a hot tub to relax in at the end of each day?
Spending the day surfing the waters of Tofino can be cold! Tofino is a surfer's paradise but the water is definitely freezing. What better way to warm up after a day of riding the waves than a hot tub?
If you're looking for the best vacation rentals in Tofino with hot tubs, you're in the right place. This travel guide has the top cabins, cottages, beach houses, and other vacation rentals on VRBO and Airbnb with hot tubs in Tofino.
All of these top Tofino VRBO and Airbnb vacation rentals have at least one thing in common: hot tubs. They are also some of the best places to stay in Tofino. So, if you want to relax and rejuvenate on your west coast vacation, book one of these amazing rentals!
Disclaimer – This post contains affiliate links. We may receive a commission if you make a purchase through these links, at no extra cost to you. Thank you for your support! Learn More.
Top Tofino VRBO and Airbnb Vacation Rentals with Hot Tubs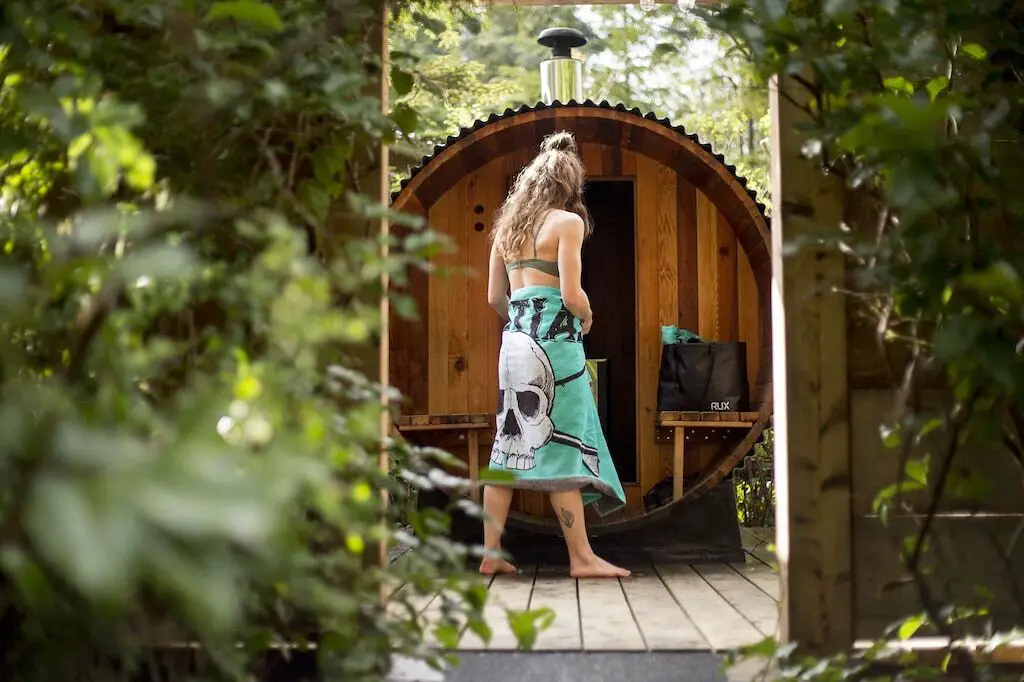 For those looking for a vacation rental in Tofino with more than just a hot tub, the Waterfront Luxury Retreat should be your top pick. Not only does this luxurious 3-bedroom property feature a hot tub, but it also has a wood-heated sauna. You'll leave your vacation relaxed like never before!
Secluded and surrounded by nature, this spectacular property is pretty much a wilderness retreat. Massive windows give amazing views of the natural scenery around the property. Sit in the hot tub surrounded by forest after a day of surfing. In the evening, relax in the hammock under the stars near the outdoor fire pit.
This spectacular property is nearby Chesterman Beach and Cox Bay, right beside the beautiful Jensen's Bay. The bedrooms are spacious, modern, and incredibly comfortable. There's a gourmet kitchen and even a wood-burning stove to lounge beside indoors.
Want to stay at a cabin with a hot tub practically on the beach? If so, Surfside Lodge is the best place to stay in Tofino for you!
This amazing Tofino VRBO features a hot tub that's mere steps away from Chesterman Beach. Relax in the hot tub then cool off in the nearby ocean! There's also a beachfront fire pit for evening hangouts and lawn chairs to sit on while watching the waves. Also, the terrace overlooks the ocean and is a great spot for eating dinner or drinking coffee in the morning.
With three bedrooms, this oceanfront property is great for families and friends. The interior is full of comfy places to relax, and the suite is well-equipped with everything you need for an incredible vacation. Plus, the location also makes it perfect for surfers. They even have spaces to store your surfboard and dry your gear!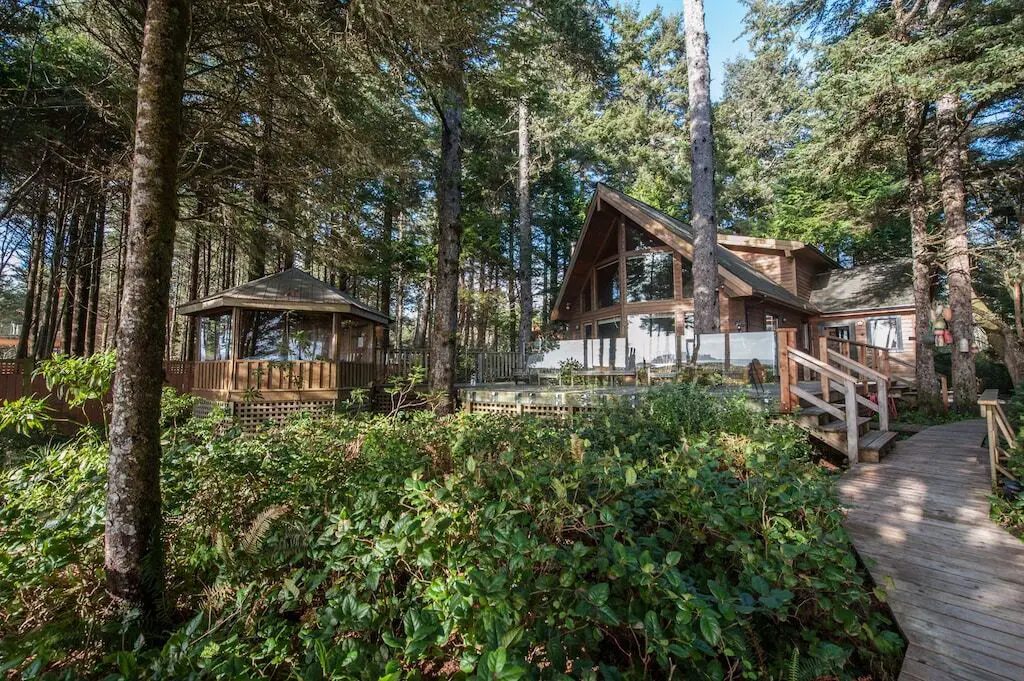 Directly beside Chesterman Beach, the Tofino Beach House is by far one of the best vacation rentals in Tofino with a hot tub. This two-bedroom cabin is perfect for those who want to get away from it all, with beautiful ocean views and a secluded location surrounded by lush forest.
The incredible hot tub is surrounded by trees, making you feel immersed in nature. It even has a great view of the ocean! Additionally, this amazing vacation home offers a massive deck with lots of outdoor seating. And, the wooden walkway takes you straight to the beach, where you'll find a private fire pit area for evening hangouts.
If you want to get cozy indoors, there's a wood-burning stove in the living room. The house is well-equipped and filled with unique decor, like a full kayak frame hanging from the ceiling. There are three beds and three bathrooms, so it's the perfect getaway for couples, families, or friends!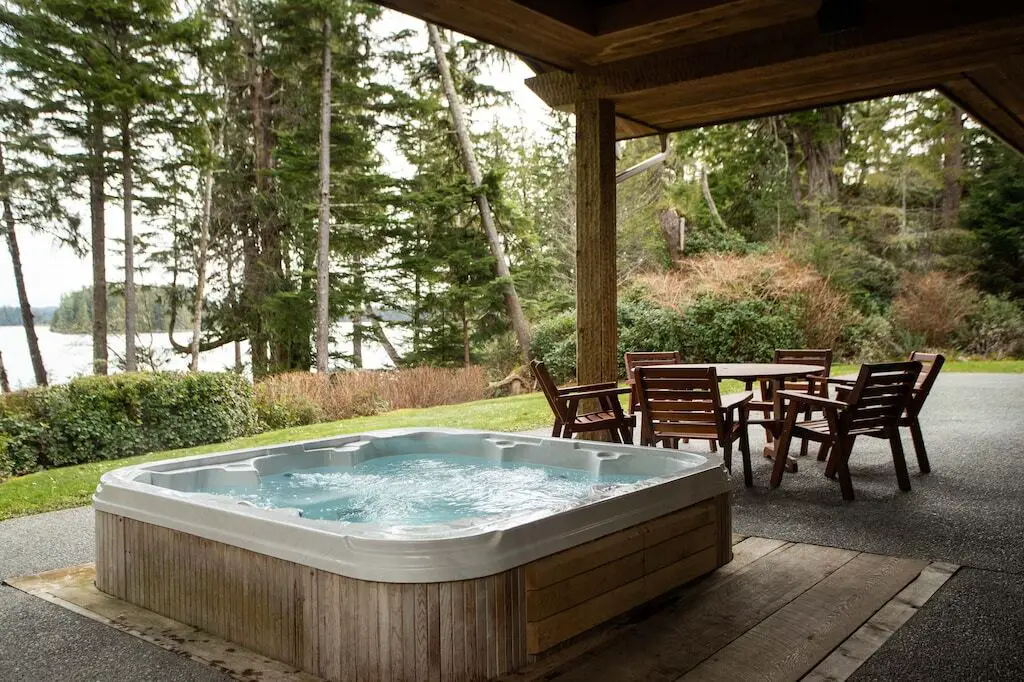 One of the best VRBO vacation rentals in Tofino, Clayoquot Calm features a waterfront hot tub with incredible ocean and forest views. Right beside the Browning Passage of Clayoquot Sound, relax in the 5-person hot tub or sit on the patio and enjoy the serene ocean waters.
Don't just want a hot tub? There's also an indoor cedar sauna, games room with a pool table, and 1-acre of private forested land. This west coast VRBO is within walking distance of the Tofino village. Plus, it's not too far from Chesterman Beach and Mackenzie Beach!
This 3-bedroom, 3-bathroom suite is perfect for groups. The rooms are spacious and there are lots of couches for relaxing. Also, the well-equipped kitchen is great for those who want to enjoy a homemade meal.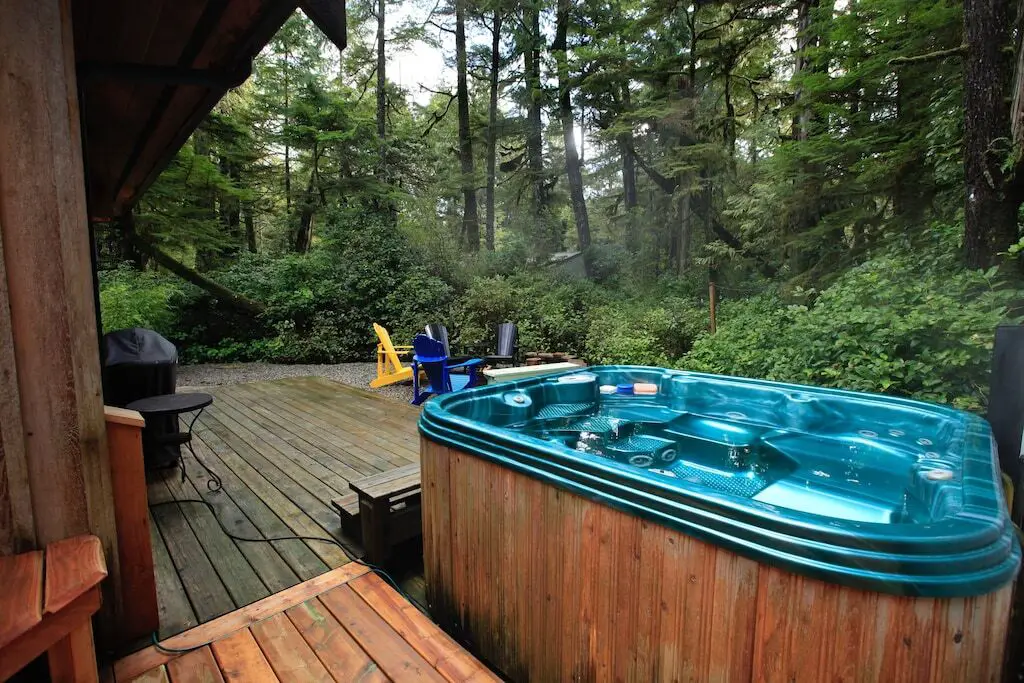 West Coast Hideaway is a cozy two-bedroom vacation home with a fantastic hot tub on the deck. The house and hot tub are surrounded by tall old-growth trees. After a long day of adventure, relax in the hot water and enjoy incredible views of the stars and forest. There's even an outdoor shower for rinsing off after!
Close to Cox Bay, this vacation rental is a great place to stay if you want to be nearby the beach. There are two bedrooms, each with a queen-sized bed. If you need an extra place to sleep, there's also a sofa bed. And, they're even dog-friendly, so bring your furry friends!
While the exterior has a rustic, cottage-like feel, the interior is quite modern. The kitchen has lots of counter space and features new, high-quality appliances. Also, there's a wood-burning stove in the living room. Or, hang out around the outdoor fire pit!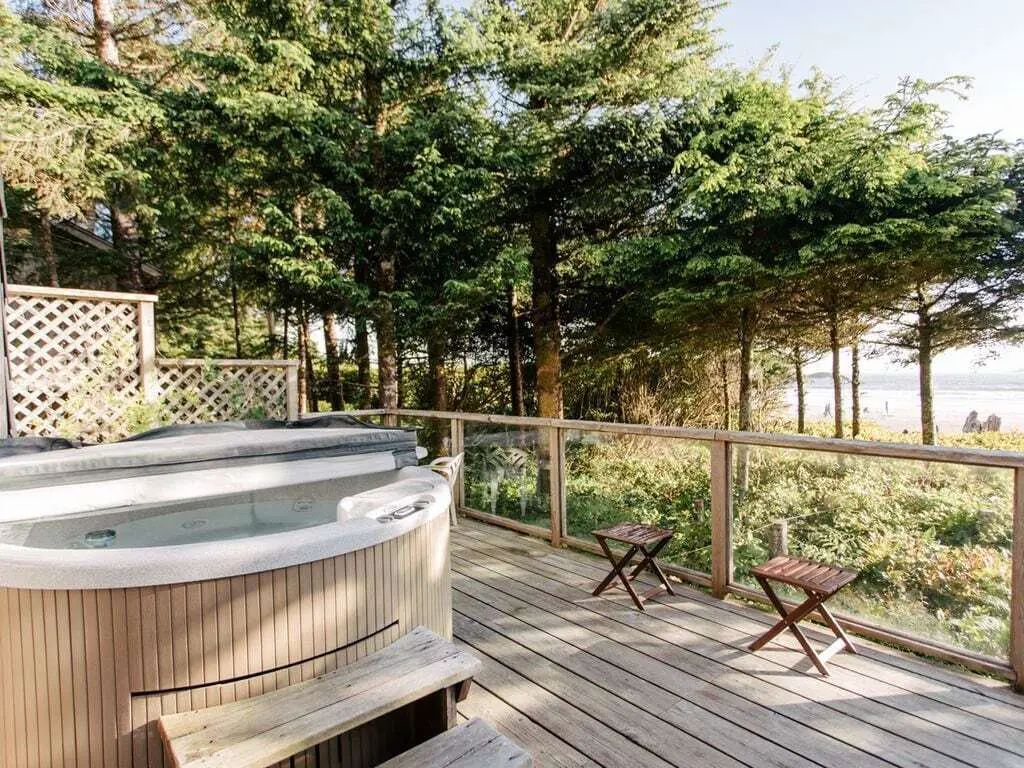 Looking for a charming cabin right beside the beach? Michel's Cabin fits the bill! This awesome vacation rental has a hot tub sitting on the patio that overlooks the ocean at North Chesterman Beach. It's got a prime location!
This rustic VRBO property has a cabin in the woods feel, all while being located in a quiet Tofino residential neighborhood. The cottage has a beautiful wood interior and a well-stocked kitchen. There's a fireplace indoors to relax by, as well as lots of deck space outdoors.
This is a great place to stay in Tofino if you're traveling with family or a group of friends. There is a loft bedroom with three beds (a queen and two twin beds), accessed via steep stairs. As well, there is a double bed in the sunroom and a futon in the living room.
On the edge of the Tofino Inlet, you'll find Tofino View House. This lovely 1-acre property features a beautiful house with an oceanfront hot tub.
Nestled beside a unique pile of boulders, the hot tub features incredible views of Clayoquot Sound, Meares Island, and old-growth forest. If you're returning from the ocean, the hot tub is a great way to warm up. There's also an outdoor shower to wash off the seawater!
The house has a rustic-looking exterior but a modern interior with wood framing and Douglas fir flooring. It's packed with amenities, from the wood-burning fireplace to the huge BBQ.
The gourmet kitchen is a highlight of this excellent Tofino VRBO, with top-quality appliances and lots of counter space. Another amazing feature is the bathroom's gigantic bathtub and spacious shower with three showerheads. There are also heated floors in the bathroom!
Tofino Dream Cottage has exactly what you need for an excellent West Coast getaway. With three bedrooms and two bathrooms, there's space for the whole family. Plus, you're only minutes away from Chesterman Beach!
This spectacular home is surrounded by a spacious 1500 square foot cedar deck with a hot tub, the perfect place to relax under the stars. Or, if you prefer lounging on patio chairs or sofas, there are plenty of choices!
The interior of the house is beautiful, framed with timber and featuring a large stone fireplace. Huge windows and skylights let plenty of sun into the house. There is a spacious loft with an ensuite bathroom and queen bed. On the main floor, there is a master bedroom and second bedroom with doors that lead right outside. And, for couples, there is even a two-person shower, complete with heated bathroom floors!
Tucked away in the quiet rainforest beside Jensen's Bay, you'll find the three-bedroom CedarView House. On one acre of forested land, this spacious oceanfront home is a fantastic spot for a Tofino getaway. Sleeping up to six people, you can bring the entire family!
If you follow the wooden pathway through the lush forest, you'll find a hot tub and wood-heated sauna right beside the ocean. Here, you'll get amazing views of the water and nearby islands. There's also a fire pit in the forest. And, you don't have too far to walk if you want to head to the beach!
This top Tofino vacation rental home is packed with amenities, not just the hot tub! There's everything you need for a home away from home experience, from a washer and dryer to a wrap-around deck with a BBQ. For those with an electric vehicle, there's even a Tesla charger.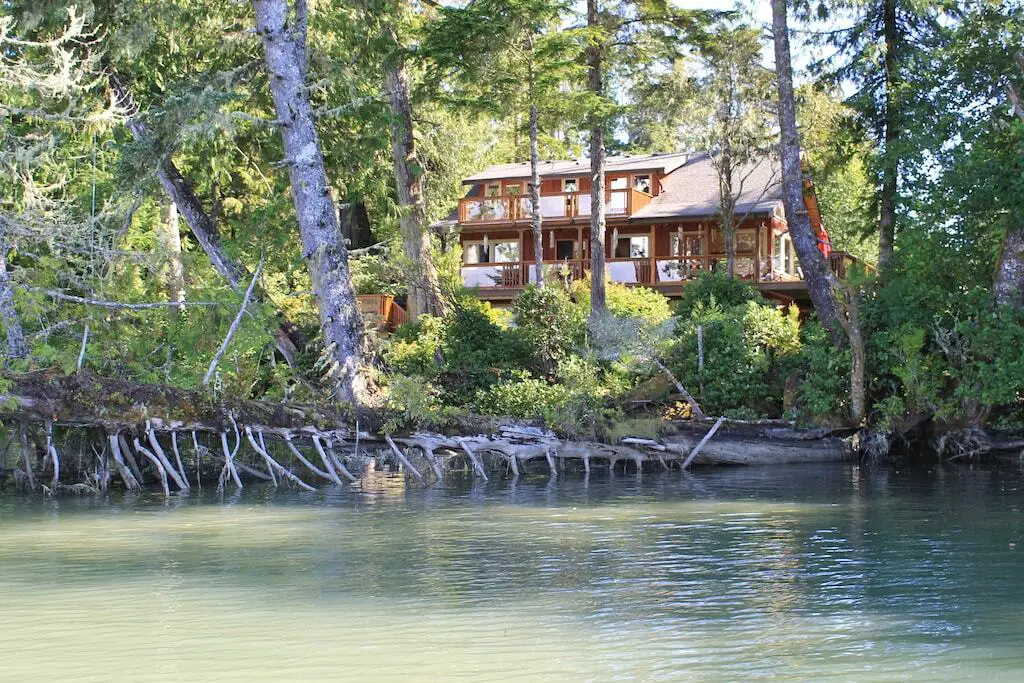 Jensen's Bay Rental Home overlooks the waters of Clayoquot Sound and the stunning Meares Island. The hot tub has excellent views of the tidal flats of Jensen's Bay through the trees. All kinds of wildlife have been spotted from the house, from colorful hummingbirds to the rare wolf sighting across the water!
The house was designed with an open concept, with a large great room and spacious kitchen. The rooms have massive windows that provide incredible forest views. There are three bedrooms and two bathrooms, so there's plenty of space to spread out. Outdoors, there's even a large deck that wraps around the house!
The fire pit has one of the best views on the property. Located right against the ocean, spend the evenings sipping drinks around the fire and enjoying starry views over the water. You won't want to leave!
Top Travel Tips & Resources for Tofino, BC