With world-class waves and spectacular shorelines, Tofino is a surfer's dream. Picking a hotel that's best suited for surfers is important if you plan to visit Tofino to catch the incredible waves.
From storage lockers for surfboards to locations right next to the best surfing beaches, there are plenty of features that'll make a hotel a top pick for surfers in Tofino. First-time visitors might be overwhelmed by the sheer number of accommodation options available but fret not: we've got you covered. Here are some of the best hotels in Tofino for surfers!
Best Hotels in Tofino for Surfers
Long Beach Lodge Resort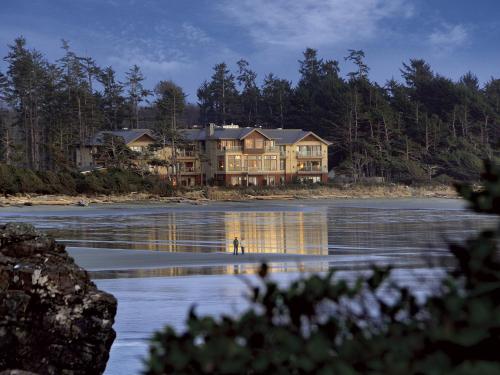 Long Beach Lodge Resort ticks all the boxes for amateur and pro surfers alike! Right beside Cox Bay Beach — one of the best surf spots in Tofino — you can't get much better than this.
This seaside hotel offers lavish rooms, most with ocean views. All rooms have minifridges and coffeemakers so you can enjoy a hot brew first thing in the morning before heading to the beach. Upgraded surf rooms add direct beach access and fireplaces while cottages are fitted with kitchenettes and hot tubs — perfect for soothing your muscles after catching some waves!
Best of all, this hotel beautifully caters to surfers. Not only is it right beside Cox Bay Beach, but it also offers a Surf Club with lessons to brush up on your skills or learn how to tackle those waves for the first time. Surf rentals are available at the club so there's no need for you to lug your gear around, too.
After spending the day on Cox Bay Beach, relax in the hot tub or cedar sauna, or treat yourself to an elegant dinner in the lodge-style Great Room restaurant. Also, you can always head over to the hotel's beachside Sandbar bistro and enjoy a refreshing drink while watching the sunset over the horizon!
Pacific Sands Beach Resort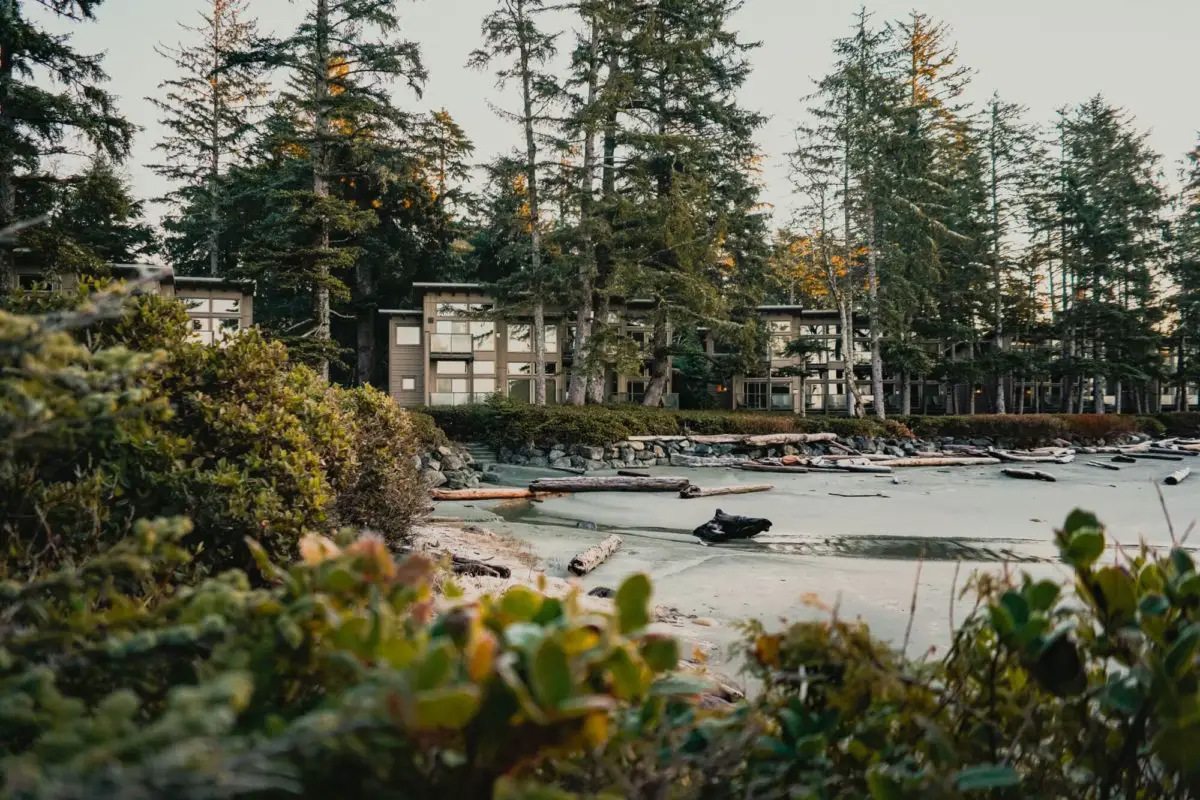 Situated right on the waterfront of Cox Bay, the Pacific Sands Beach Resort is often said to be one of the best hotels in Tofino for surfers — and for good reason!
This property offers a plethora of accommodation options, including lodge suites, beachfront suites, and beach houses. Oceanside suites (surf in/surf out as they call it) are also available for those who'd like to maximize their surfing time.
Our favorite rooms are the hot tub suites. After all, is there anything better than relaxing in your patio's hot tub while enjoying a beautiful sunset after an exhilarating surfing session? We think not!
In addition to an incredible location on the world-class surf beach at Cox Bay, the Pacific Sands Beach Resort offers all kinds of amenities for surfers. They have on-site gear rentals (like wetsuits and and surfboards) and surf lessons through the Surf Sister Surf School. By the beach, the hotel has showers, fresh towels, and fire pits to warm up after a session in the ocean.
After surfing, warm up with a hot drink at the hotel's beachside coffee bar or hop on a loaner bike to explore nearby points of interest. Make sure to take some time to hike up to the Cox Bay Lookout, to get an incredible view of the beach from above!
Cox Bay Beach Resort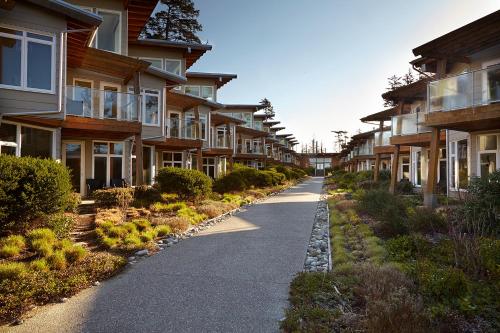 There's no doubt that Cox Bay Beach Resort is among the best hotels in Tofino for surfers!
Because it's practically located on the ocean's edge, this amazing resort is well-suited to surfing aficionados. There's even direct access to Cox Bay Beach, one of the main surfing spots in Tofino.
Boasting a scenic beachfront setting, this all-apartment resort features a host of onsite amenities. Both the common lounge with a log-burning fireplace and the beach look-out pavilion (great for storm watching) with a gas fireplace add to the resort's charm and coziness.
If surfing isn't enough of a workout, you can always check out the on-site fitness center or yoga room. There's even an outdoor hot tub and a sauna to soothe your muscles afterward!
In terms of accommodation, expect stylish apartments with one or two bedrooms, fireplaces, living areas, and decks. Some units are also fitted with loft bedrooms. All of the guest suites have direct beach access from the hotel's central walkway, making them quite ideal for surfers!
Best Western Plus Tin Wis Resort
The Best Western Plus Tin Wis another excellent option for anyone who wants to go surfing in Tofino. One of the great things about this hotel is that it is owned by the Tla-o-qui-aht First Nation. There is beautiful Indigenous art throughout the hotel and a giant totem pole that stands outside the resort's entrance.
The resort's location beside Mackenzie Beach is incredibly scenic and each of the guest rooms has an ocean view! Plus, with just a short drive, you'll be able to easily explore some of the nearby surf beaches Tofino has to offer, like Long Beach in Pacific Rim National Park or Chesterman Beach.
As far as accommodation is concerned, standard rooms offer patios or balconies with ocean views while suites and upgraded rooms add kitchenettes. Some suites also have sofa beds to comfortably sleep an extra friend.
On the property, you'll find a guest laundromat, oceanside bistro, beachside hot tub, and even a surf shop. There are on-site surfboard rentals, as well as lessons.
Hotel Zed Tofino
Are you traveling on a budget and wondering where to stay when surfing in Tofino? Well, Hotel Zed Tofino certainly is a great choice — especially if you're looking for a place that's fun, casual, and relatively affordable (by Tofino standards).
Perfect for mid-range budgets, this quirky hotel offers a fun, colorful décor with a distinct 70's vibe. The chic rooms have retro accents with rainforest views, minifridges, coffeemakers, and even vintage, rotary-style phones.
In addition, hotel guests can take advantage of the many on-site amenities, including a sunken living room with fireplaces, the ROAR restaurant and coffee shop, and mini disco with an interactive light-up floor. There's even a bike path that crosses right through the lobby!
When it's time to tackle some waves, head to the on-site Swell Tofino surf shop to arrange for gear rental (or surf lessons) before strolling over to Chesterman Beach. The beach is only about a 10 minute walk away!
After your surfing session, you can always wind down in the hot tub or barrel sauna before treating yourself to a soothing body treatment at the hotel's Stillwater Spa.
Middle Beach Lodge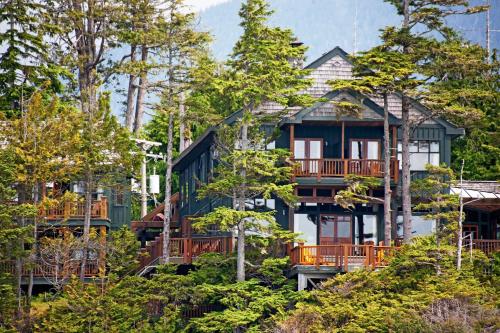 Commanding a great waterfront location between Middle and Mackenzie Beaches, the Middle Beach Lodge offers just about everything you need for surfing in Tofino: proximity to the ocean, excellent amenities, and a lush, luxurious setting to relax in at the end of the day.
The resort has a lodge at the headlands and another by the beach. Some rooms feature cozy home comforts like kitchenettes and fireplaces while cabins add whirlpool tubs. They even have treehouses, all surrounded by towering lush rainforest!
While right beside the water, Mackenzie Beach isn't great for surfing. If you want accommodations right next to the waves, you should look elsewhere. However, the resort is only a few minutes drive from Chesterman Beach, a favorite surf spot in Tofino!
As well, the hotel is partnered up with the Pacific Surf School to help you book group, private, or family lessons and get out on the waves.
Each morning, fuel up at the complimentary continental breakfast buffet before heading to the beach. When you're not surfing, you can always spend time relaxing at the almost private Middle Beach exploring nearby attractions like the Tofino Botanical Gardens or heading into town (only a few minutes away).
Where to Surf in Tofino
Tofino on Vancouver Island is the surfing capital of Canada. Known globally for its excellent waves and beautiful beaches, you'll fall in love with surfing at this incredible West Coast town.
There are several different surf spots to choose from around Tofino, including the popular Cox Bay, North and South Chesterman Beach, and the massive Long Beach in Pacific Rim National Park. For more details, check out our in-depth Tofino surf guide!
Experienced surfers will no doubt feel right at home as they tackle Cox Bay Beach's famously excellent waves, while beginners will find their joy in Chesterman Beach's gentler swells. If you'd like to avoid the crowds, you'll find that some areas like Long Beach in Pacific Rim National Park are so massive that you won't need to compete for the waves.
Incidentally, if you're looking for something other than surfing, rest assured that you'll find plenty of unique things to do in Tofino, including tide pooling and visiting Chesterman Beach's gorgeous sea caves.
What to Pack When Surfing in Tofino
As a coastal town, the weather in Tofino can be somewhat unpredictable and it's often rainy. It's always a good idea to make a list of things to pack for your trip to Tofino ahead of time. We also cover the essential gear for surfing in BC that you'll need if you plan on bringing your own equipment!
Top Travel Tips & Resources for Tofino, BC