Are you trying to decide on where to stay in Tofino? Whether you're looking for a rustic adventure, a relaxing oasis, or something that won't break the bank, you're sure to find the best hotel in Tofino for you.
A sprawling peninsula in the Clayoquot Sound, Tofino is famous for its spectacular natural scenery, lush and ancient rain forests, sandy beaches, year-round surfing, and incredible sunsets. Unlike anywhere else on the west coast, Tofino is an exciting but serene destination that is well worth a place on your British Columbia travel bucket list.
Tofino is known for its natural beauty and its hotels are no exception. From Chesterman Beach to Tofino city center, there are many accommodation options that will suit travelers of all ages, styles, and budgets. From seaside resorts and cabins nestled in forests to cozy motels and urban hotels, there is an impressive range of places to stay in Tofino.
Can't decide exactly where to stay in Tofino? Here are some of the best hotels, resorts, and cabins in Tofino, BC, well worth visiting for your next epic west coast adventure!
Disclaimer – This post contains affiliate links. We may receive a commission if you make a purchase through these links, at no extra cost to you. Thank you for your support! Learn More.
Exactly Where to Stay in Tofino
Tofino is a small but vibrant community on Canada's west coast. There are lots of great accommodations in Tofino to choose from, depending on your style and budget. Book your stay at one of these incredible hotels and resorts and be blown away by the stunning natural surroundings in Tofino, BC!
Middle Beach Lodge Resort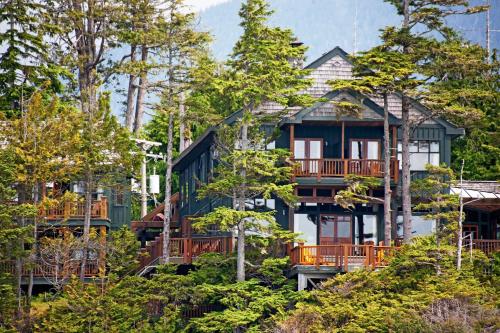 Middle Beach Lodge Resort is one of the top hotels in Tofino, British Columbia. Surrounded by lush natural landscapes, this rustic resort sits on 40 acres of private and serene oceanfront property. Staring out from Vancouver Island's west coast, you'll be treated to unforgettable views of the ocean no matter where you are on the resort. This waterfront property is a great place to stay if you're looking to take in the magnificence of Tofino and its surrounding area.
Middle Beach Lodge is made up of 70 comfortable and spacious rooms. Choose between a suite, cabin, or a unique treehouse! Each unit features warm, local décor and comes outfitted with a heavenly bed. Most rooms also have a full kitchen or kitchenette, a fireplace, and a balcony. There's no better place to sit back, relax and enjoy the views.
After a long day of exploring, sit down to a delicious set menu of local delicacies at Headlands, the resort's dining lounge. Guests can take in the incredible views of the ocean while sipping a glass of world-class BC wine or beer.
Ideally located 10-minutes from Tofino, this resort is a short walk or drive from popular attractions including Mackenzie Beach and Chesterman Beach.
Address: 400 Mackenzie Beach Rd, Tofino, BC V0R 2Z0
Cox Bay Beach Resort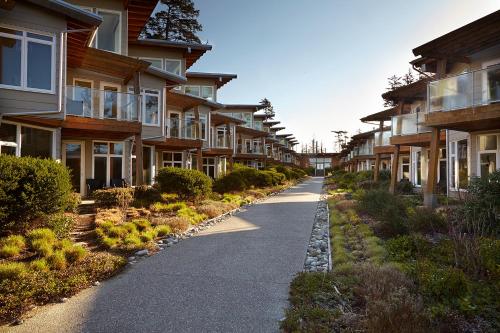 Cox Bay Beach Resort is the epitome of west coast cool. Just steps from Cox Bay Beach, this charming resort lets visitors get back to nature, while still enjoying all the creature comforts of home.
A peaceful boutique hotel, Cox Bay Beach Resort offers one and two-bedroom loft beach house-style accommodations spread throughout the property. Each unit is outfitted with premium bedding, a full kitchen with complimentary coffee and tea, in-suite laundry, and gas fireplaces.
At night, guests can immerse themselves in the natural wonders of Tofino by relaxing in the resort's sauna and hot tub, or soaking in the ambiance of the lounge next to the local San Juan stone Rumford woodburning fireplace. It doesn't get much more west coast than that!
At the Cox Bay Beach Resort, you'll be close to the best outdoor activities and attractions that Tofino has to offer, including Cox Bay, Chesterman Beach, and the Pacific Rim National Park Reserve. There is surfing and boogie boarding on-site, and bike rentals, eco-tours, kayaking, and golf nearby.
Address: 1431 Pacific Rim Hwy, Tofino, BC V0R 2Z0
Long Beach Lodge Resort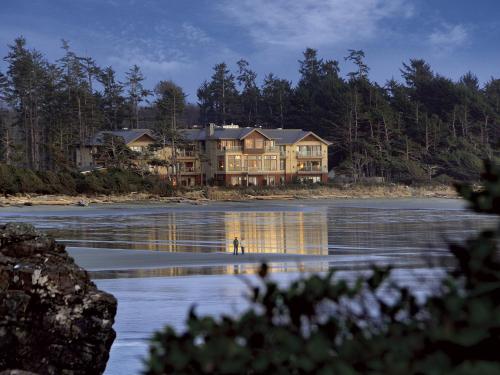 Long Beach Lodge Resort is an upscale, waterfront resort situated near Tofino's Cox Bay Beach. Nestled in a lush and verdant forest, this resort is just steps from Vancouver Island's rugged coastline and a gorgeous sandy beach.
With its warm and cozy rooms, the Long Beach Lodge invites guests to relax and indulge in nature in one of its 61 rooms and cottages. Each unit is clean and spacious and is filled with handcrafted Douglas Fir furniture and luxurious amenities like gas fireplaces or balconies with beach views. Or, if you choose a rainforest cottage, you'll have a hot tub all to yourself!
After a day of adventure, guests can dine on gourmet west coast cuisine made with local, fresh ingredients at the scenic Sandbar bistro. Here, the view almost rivals the meal!
The Long Beach Lodge Resort is perfectly located in Tofino for guests looking to explore the outdoors. The resort is steps away from Cox Bay Beach and is a short walk to Chesterman Beach and the Pacific Rim National Park Reserve. The on-site Surf Club also offers professional and customizable surf and SUP lessons, if you're keen to hit the water and hang ten.
Address: 441 Pacific Rim Hwy, Tofino, BC V0R 2Z0
Hotel Zed Tofino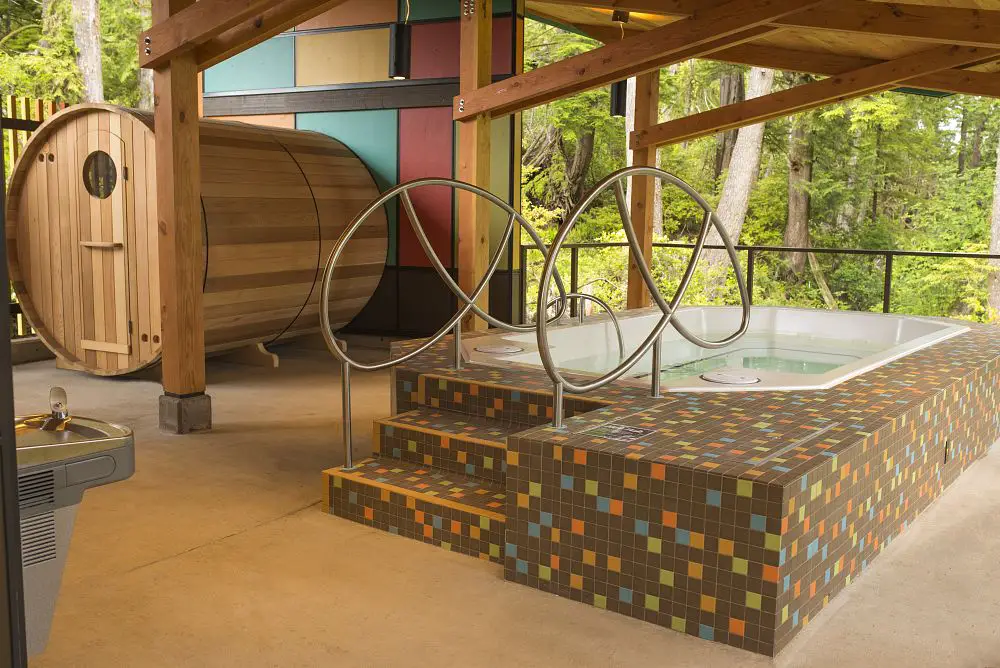 Located near Chesterman Beach, Hotel Zed Tofino is one of the best hotels in the area. Decked out in swanky, 1970s style, this hotel is bursting with color and character. It has a mini disco with interactive floor lights and karaoke, boasts a large hot tub and barrel sauna, and even has a bike path running through the lobby.
With its convenient seaside location, Hotel Zed is one of the best places to stay in Tofino to learn how to surf or SUP. It offers on-site paddleboard and surf rentals as well as lessons, and there are hiking trails, ziplining, and kayaking nearby.
Each of Hotel Zed Tofino's 58 rooms is comfortable and modern. They are outfitted with spacious beds, flat-screen TVs, blackout curtains, and views of the lush west coast rainforest. The private bathrooms have rain shower heads and complimentary toiletries. Overall, these Tofino accommodations are perfect for relaxing after a long day in the waves!
Address: 1258 Pacific Rim Hwy, Tofino, BC V0R 2Z0
Ocean Village Resort
Ocean Village Resort is a rustic and cozy property in Tofino. On the shores of Mackenzie Beach, this clean and spacious property gives visitors the chance to experience comfortable cabin life.
Great for families, couples, and groups of travelers, the Ocean Village Resort has studio, one, and two-bedroom cedar cabins, as well as garden suites. Each cabin has its own propane fireplace, a full kitchen, and a private bathroom with organic products and toiletries.
Located off the Pacific Rim Highway, the Ocean Village Resort is close to Tofino's most popular sights and sounds. Chesterman Beach, Cox Bay Beach, and Pacific Rim National Park are all within five kilometers of the resort, and, Tofino Paddle Surf Rentals and Lessons is right next door.
The resort also boasts fun and relaxing amenities, including a heated pool, hot tub, and an outdoor barbecue area. Plus, it has plenty of seasonal lawn games to offer. From the sea and sand to the grounds of the resort, you won't find a more fun place to stay in Tofino!
Address: 555 Hellesen Drive, Tofino, British Columbia, Canada V0R 2Z0
Best Western Plus Tin Wis Resort
The Best Western Plus Tin Wis Resort is a stylish and affordable property in Tofino. Nearly 2.5 miles from downtown, this hotel is close to popular attractions like Mackenzie, Chesterman, and Cox Bay Beaches. 
This hotel is the perfect destination for outdoor adventurers because it's surrounded by nature. It is steps from scenic Mackenzie Beach, popular for surfing and stand-up paddle boarding, and there are several incredible trails nearby.
The Best Western Plus Tin Wis Resort has 85 private and comfortable guest rooms. Each comes with a fridge and microwave and has a luxurious pillowtop bed. You'll absolutely adore relaxing on your private balcony or patio, while you take in the views around Tofino.
Address: 1119 Pacific Rim Hwy, Tofino, BC V0R 2Z0
The Shoreline Tofino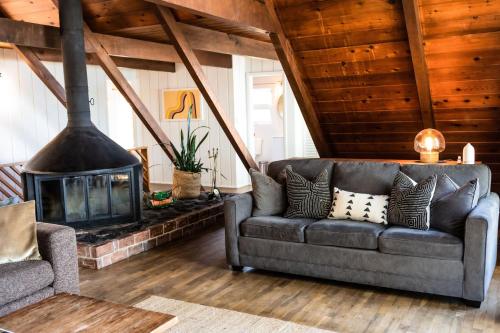 The Shoreline Tofino is a charming and cozy boutique hotel in the heart of Tofino. Built in the late-1960s, this unique property is the definition of cottagecore thanks to the A-frame houses and cabins that sit seamlessly in nature.
Guests who stay in the houses can enjoy private decks with ocean-view hot tubs and outdoor showers. Plus, there are full kitchens, spacious living rooms, and rustic wood-burning fires. You'll have a hard time tearing yourself away from this retro wonderland!
This rustic, beautiful hotel also offers a range of onsite amenities, like a sauna and hot tub, where you can relax and recharge after a long day in town.
With its convenient downtown location, the Shoreline Tofino is within walking distance of great restaurants, cafes, and bars serving up everything from local haute cuisine to savory tacos and succulent sweets. There are also many places nearby where you can rent bikes, surf gear, scooters, and other equipment to help you make the most of your time in Tofino.
Address: 350 Olsen Rd, Tofino, BC V0R 2Z0
Tofino Motel Harborview
The Tofino Motel Harborview is located in Tofino's city center. It boasts stunning views out over Clayoquot Sound and is within walking distance of bars, shops, and restaurants.
This hotel has 13 rooms spread out over two floors. Each unit is outfitted with modern features including a 32-inch LED TV, refrigerator, and microwave. Rooms also have private bathrooms and furnished balconies so you can take in the amazing Tofino views in style and comfort.
Located downtown, this hotel lets guests experience the best of both worlds – the hustle and bustle of Tofino's core, while still being within a 10-minute drive of Cox Bay and Chesterman Beaches. There are also hiking and biking trails nearby, and places to canoe or kayak. Who says you can't have it all!
The Tofino Motel Harborview is perfect for anyone looking to maximize their budget while making the most of their time in Tofino. This charming boutique motel offers all the amenities you need for a comfortable stay but at a fraction of the price.
Address: 542 Campbell St, Tofino, BC V0R 2Z0
Pacific Sands Beach Resort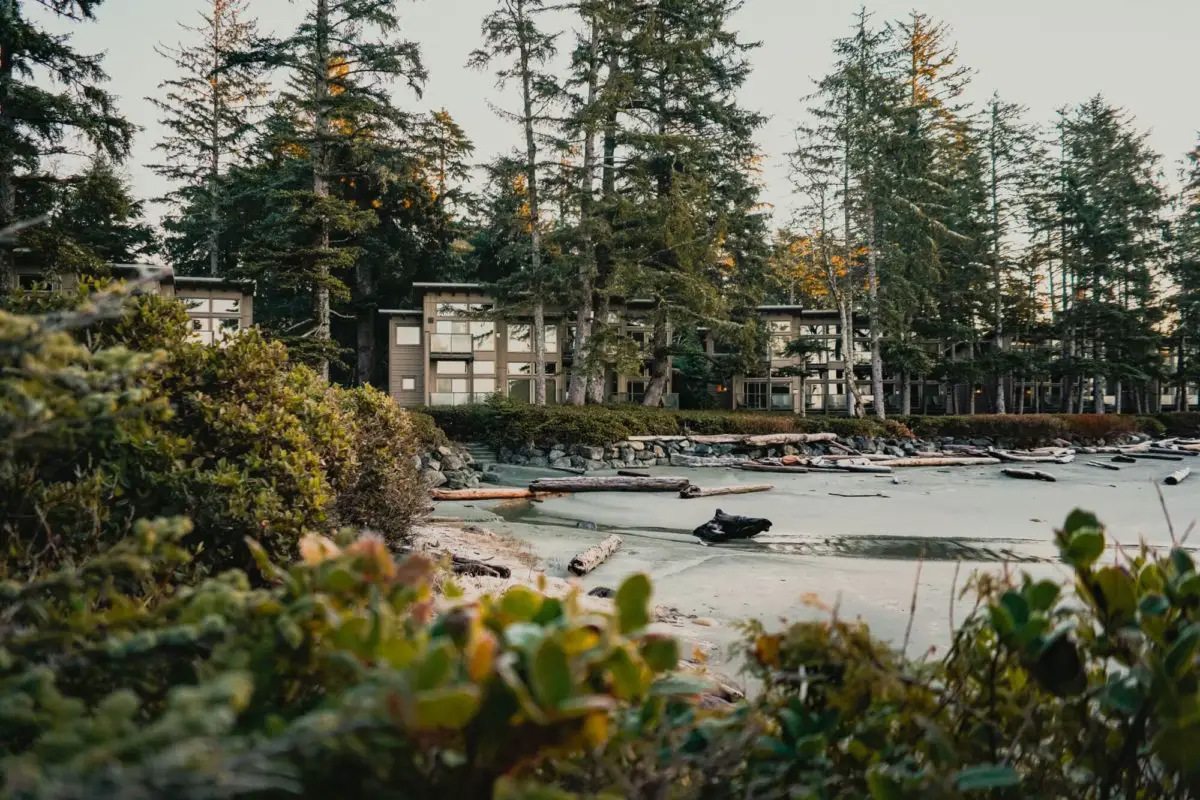 The Pacific Sands Beach Resort is a stunning property on the rugged west coast of Vancouver Island. A beachfront haven nestled in nature, this resort is formed of beach house-style suites that offer private, comfortable, and relaxing accommodation. Traditionally outfitted, each unit has a stone fireplace, flat-screen TV, a full kitchen, and a private deck or patio, perfect for watching Tofino's legendary storms roll in.
A four-minute walk to the beach, the Pacific Sands Beach Resort is also the ideal place to stay in Tofino for outdoor enthusiasts. Here, guests will be able to sit out under the stars while basking in the glow of the outdoor fireplace. During the day, you can enjoy a picnic area, sun terrace, private beach, and garden. 
Convenient for travelers, the resort has onsite surfboard rentals as well as beach toys and boogie boards available for use, which means you won't have to worry about over-packing the car. There's even complimentary beach yoga throughout the summer, the perfect way to start your day before you head into the waves.
Address: 1421 Pacific Rim Hwy, Tofino, BC V0R 2Z0
Wickaninnish Inn
The Wickaninnish Inn is one of the most famous and luxurious resorts in Tofino. With its rich history and breathtaking location, the Wickaninnish Resort allows guests unrivaled access to Tofino's lush natural attractions.
Perched on the rocky edge of Chesterman Beach's northern cape, the Wickaninnish Resort is nestled within 100 acres of verdant forests. It is a few minutes south of Tofino and is close to Pacific Rim National Park and Clayoquot Sound.
This elegant and modern resort offers deluxe accommodations across two stunning buildings. Each unit is outfitted with contemporary comforts and is decorated to encourage a feeling of calm and serenity.
When you're ready to eat, the resort boasts several incredible options including the Three Pointe Restaurant, the Shoreline Terrace, and the Driftwood Café. Looking for a nightcap? There's no better place to enjoy a world-class selection of local and international wines than Howard's Wine Cellar.
With the beach at your doorstep, this resort is one of the best places to stay in Tofino to learn how to surf. There are several local outfitters nearby who offer lessons and gear rentals. Guests can also use the complimentary bikes throughout their stay.
Address: 500 Osprey Ln, Tofino, BC V0R 2Z0
Top Travel Tips & Resources for Tofino, BC