Rugged coastlines. Colorful starfish. Swaying kelp forests. And best of all? Absolutely beautiful beaches! If you're spending some time in Nanaimo, it's worth checking out some of the best beaches in and around the area. This vibrant coastal city offers some amazing beaches and while not many of them are sandy, they are all quite gorgeous!
Unless you live in Nanaimo, you'll probably have limited time to explore and visit the beaches. You'll want to pick the best Nanaimo beaches and things to do to maximize your time in the area. When you're ready to plan a trip to explore Nanaimo's top beaches, this list will help you decide which spots are worth visiting.
While there are many beautiful beaches within the city limits of Nanaimo, you'll have to venture north to find some of the best beaches in the area. We've tried to keep this list to beaches within about an hour's drive from the city.
Disclaimer – This post contains affiliate links. We may receive a commission if you make a purchase through these links, at no extra cost to you. Thank you for your support! Learn More.
Best Beaches around Nanaimo
1. Rathtrevor Beach
Rathtrevor Beach Provincial Park is one of the best beaches on Vancouver Island and luckily, it's quite close to Nanaimo. With a massive, picturesque sandy beach bordered by forested parkland, Rathtrevor is absolutely worth visiting at any time of year.
At low tide, the water recedes almost a kilometer, making the sand appear to stretch on forever. It's the perfect spot for beachcombing and building sandcastles. If you want to stay close to the beach, there's a campground with lots of trails to explore.
The one downside is that Rathtrevor Beach isn't really in Nanaimo — it's much closer to Parksville. But, this is one of the best Vancouver Island beaches that you really don't want to miss and it's only a 20-minute drive from Nanaimo!
2. Neck Point Park
One of our favorite beach spots around Nanaimo is Neck Point Park. This beautiful waterfront park has three different rocky beaches to choose from: Sunset Beach in Keel Cove, Last Beach, Indian Beach, and lastly, Finn Beach.
The park is named after Neck Point Spit, a gravel bar resembling a "neck" that connects to an igneous rock (the "head"). At high tide, Neck Point Spit disappears under the water so time your visit appropriately!
In addition to wonderful beaches, Neck Point Park also features Garry Oak Meadows and a multi-use trail system. The park is also a popular scuba diving site, with opportunities to see everything from anemones to feather stars!
3. Pipers Lagoon Park
Pipers Lagoon Park consists of a large lagoon (called Page Lagoon) separated from the waves of the ocean by a manmade dyke. The waterfront park has several rocky beaches, accessed via a 2-km walking trail.
While the beaches at Pipers Lagoon Park aren't sandy, they make up for this with beautiful turquoise water and incredible views of the mountains over the Georgia Strait.
At the end of the lagoon, you'll find the historic Shack Island, part of Three Lagoon Islands Park. At low tide, you can walk to this T-shaped island. Some rustic cabins owned by old fishing families line the edges of the island.
4. Saysutshun (Newcastle Island Marine Provincial Park)
Saysutshun (Newcastle Island Marine) Provincial Park is a large island that's situated right beside Nanaimo. Accessed via a 10-minute foot passenger ferry ride from Maffeo Sutton Park, the island is an excellent spot to head for a day trip.
You'll come across several stunning beaches on your travels around Saysutshun. Looking for sandy beaches? Head to Kanaka Bay or Roga Beach near Midden Bay. For those who don't mind a rockier beach, Mark Bay and Brownie Bay are both really beautiful spots worth checking out.
Want to explore more of Saysutshun (Newcastle Island)? Try the Coastal Trail, a 7.5 km hike that takes you around the entire perimeter of the island in about 2 hours!
5. Swy-A-Lana Lagoon at Maffeo Sutton Park
The Swy-A-Lana Lagoon at Maffeo Sutton Park offers a sheltered beach on a peaceful tidal saltwater lagoon. The beach here is small but it's a great spot to bring the entire family. It's perfect for sunbathing, swimming, or playing in the sand!
Located along the Harbourfront Walkway, Maffeo Sutton Park is one of the best, most popular waterfront parks in Nanaimo. There is a grassy park for picnics and a large harbourside playground. You can catch seafood right at the Swy-A-Lana Lagoon Fishing Pier. And, the Saysutshun (Newcastle Island) Ferry departs from this park!
6. Westwood Lake Park
If you're looking for a good spot to swim, your best option is Westwood Lake Park near Mount Benson. On a hot summer's day, this lakeside beach is the spot to be. There's a sectioned swimming area and a couple of docks to swim to. There's even a lifeguard from June to August!
For those who want a stroll, the Westwood Lake Trail winds its way around the perimeter of the lake. The hike is just over 5 km long. Along the way, you'll find boardwalks, an off-leash dog area, plenty of bike trails, and lots of scenic views.
7. Parksville Community Park
In the heart of Parksville, you'll find the city's treasure: Parksville Community Park. While the name is unassuming, Parksville Community Park is by far the crown jewel of the town. Featuring a spectacular sandy beach, it's one of the best beaches around Parksville and worth a drive from Nanaimo.
Parksville Beach is fun for the whole family. Children love playing at the Lions Ventureland Playground and Splash Park. If you love sports, there's everything from horseshoe pits to beach volleyball courts. There's even Parksville's only skate park here!
8. Gabriola Island
Hop on a ferry and check out the beautiful beaches on Gabriola Island! Only a 20-minute ferry ride from Nanaimo, this Gulf Island is the perfect place for a day of adventuring.
Our favorite beaches are found at Gabriola Sands Provincial Park, Drumbeg Provincial Park, and Sandwell Provincial Park. All three of these parks have spectacular beaches. They also feature some really neat sandstone formations, created by the water eroding the rock. Descanso Bay Regional Park is another spot with some of this unique carved rock.
Brickyard Beach, on Gabriola Island's southwest coast, is a rocky beach that was once home to a brick manufacturer. At low tide, it's a great spot to hunt through the tidal pools or go clam digging. And another excellent spot is Whalebone Beach, a rockier beach that reveals a sandy bottom at low tide.
9. Qualicum Beach
Qualicum Beach takes its name from the long picturesque beach that stretches along its coastline. The beach is rocky, but low tide reveals sand bars that are great for beachcombing. About 40 minutes north of Nanaimo, this beautiful spot is a bit out of the way but it's worth the drive!
With kilometers of beautiful coastline, Qualicum Beach is the perfect place for a long walk on the beach. Want a spot for a romantic sunset stroll? This is it! There's a promenade that follows alongside the beach or when the tide is low, walk along the hard sand.
10. Blueback Beach
On the north end of Nanaimo, you'll find a peaceful beach hiding at the end of a long set of stairs: Blueback Beach. This stunning beach is one of Nanaimo's hidden gems and it's a great place to hang out with fewer crowds.
When the tide is high, the beach is quite rocky. But, when the tide recedes, it reveals a massive sandbar that's great for wading!
The stairs to Blueback Beach are also a popular spot for people to work out. You'll often cross paths with someone running up and down this set of stairs.
11. Departure Bay Beach
At Departure Bay, you'll find a gorgeous stretch of beach with spectacular views of Saysutshun (Newcastle Island) and Brandon Islands. This superb beach is a mix of sand and rocky shoreline, and is a great spot for paddleboarding, sunbathing, or wading in the water.
Not only is the beach here amazing, but Departure Bay Beach is also surrounded by several awesome parks. Kinsman Park borders the south end of the beach and Departure Bay Centennial Park is near the middle. There's a fun spray park here for children too. And, on the north side of the beach, climb Sugarloaf Mountain for an incredible view of the coastline!
12. Beachcomber Regional Park
As the name implies, Beachcomber Regional Park in Nanoose Bay is more of a spot for beachcombing and tide pooling, rather than spreading out a beach towel. If you love hunting for intertidal marine creatures like starfish and anemones, this 1-hectare park is the spot for you!
There are two small rocky beaches at Beachcomber Regional Park. Some of the rocks on the beach are quite large so watch your step!
13. Moorecroft Regional Park
Quiet and beautiful, Moorecroft Regional Park is a great spot to head for some time by the water. The park is about 30 minutes north of downtown Nanaimo, near Nanoose Bay. Here, you'll find two protected bays: Arab Cove and Second Bay.
For a good view of the water, head to Cook's Point between the two bays. Or, check out Vesper Point on the northern edge of the bay.
At high tide, the ocean water in the protected bay warms up, making this spot a decent swimming hole. Watch out for rocks though!
Where to Stay in Nanaimo
Looking for a place to stay the night in Nanaimo? Here are some of the best hotel options in the city:
Best Western Northgate Inn – Modern rooms in a hotel with a great atmosphere. The property is on the north side of Nanaimo, so it's a much shorter drive to some of the beaches on this list!
Coast Bastion Hotel – This waterfront hotel is the spot to stay if you want a convenient location in downtown Nanaimo. You'll get a great view over the Nanaimo Harbour and be nearby all that the city has to offer.
Painted Turtle Guesthouse – Traveling to Nanaimo on a budget? This spot offers comfortable private or dorm-style rooms, all at an affordable price!
Other Things to Do in Nanaimo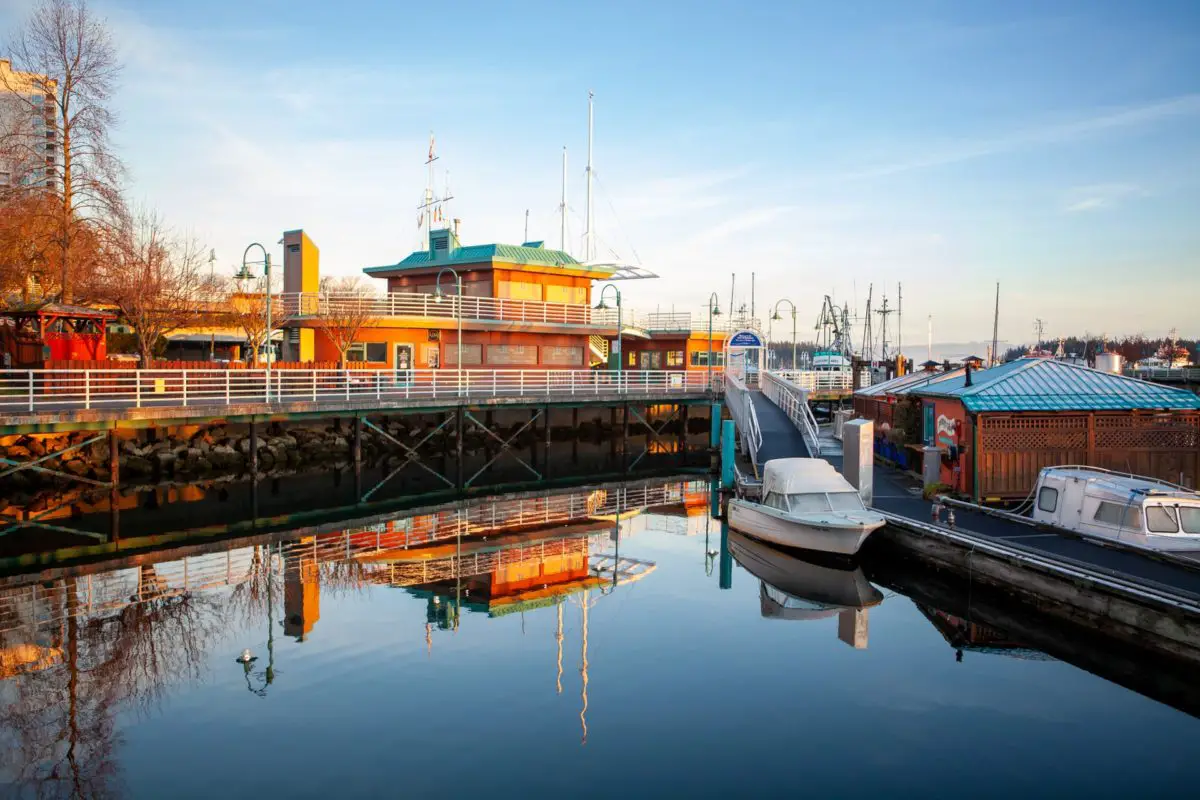 Search for whales in the Salish Sea with a Nanaimo whale-watching tour! You'll have the opportunity to see all kinds of marine mammals, like orcas and sea lions.
Walk along the Nanaimo Harbourfront Walkway and enjoy views of boats, seaplanes, and the ocean.
Explore the underground world at Horne Lake Caves Provincial Park. We recommend trying the Riverbend Cave Explorer tour, which is the most beginner-friendly cave adventure. For something more challenging, try the multi-cave experience!
Take to the skies and get an incredible view of Nanaimo from above with a Strait of Georgia seaplane tour. You'll also get the chance to stop at Sechelt on the Sunshine Coast, with several hours of exploring time.
Top Travel Tips & Resources for Nanaimo, BC