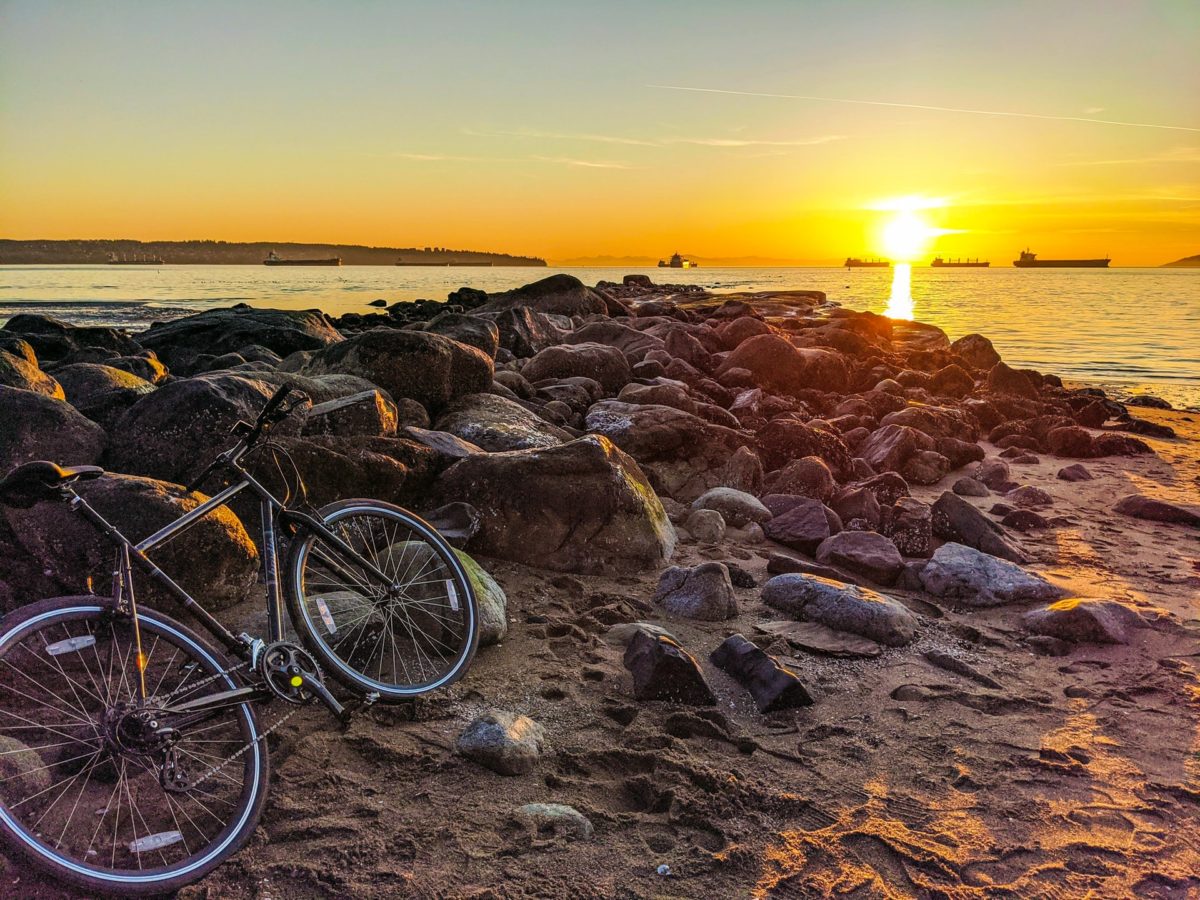 What could be a better way to spend your time in Vancouver than sitting on the beach enjoying the sun and the sea?
Some of the best beaches in Canada are found in Vancouver, and you never have far to go for a fun day of hanging out at the beach. The city is almost surrounded by ocean, so it makes sense that it's home to loads of gorgeous beaches.
Both locals and tourists look forward to when beach season begins in Vancouver. Not only are beaches a great place to relax, but they're also an awesome opportunity to take advantage of being near the water and do some fun things outside. Spending time at the beach is probably our favorite way to spend any sunny day!
Vancouver is one of the best places in Canada to head if you want to hang out on the beach. With a plethora of different beaches to choose from that are all within close proximity to the city, you'll be spoilt for choice.
Can't decide on where to head? Check out our top picks for the best Vancouver beaches. Head to one of these top beaches in Vancouver and enjoy the sun, sand, and stunning views!
Disclaimer – This post contains affiliate links. We may receive a commission if you make a purchase through these links, at no extra cost to you. Thank you for your support! Learn More.
Vancouver's Best Beaches
From a waterfront skyline to the vast mountain wilderness on it's doorstep, Vancouver is the perfect place to head if you want to be outdoors. And, along the coastline of the city, there are numerous picturesque beaches that make for a stunning day out.
With so many nearby beaches to visit, it can be overwhelming to pick which ones are the best to visit. So, here are our absolute favorite beaches in Vancouver to help you decide!
1. Kitsilano Beach
Kitsilano Beach (also fondly known by locals as Kits Beach) is one of the most popular beaches in Vancouver and it's easy to see why. With stunning views of the North Shore mountains over Burrard Inlet, it's one of the best places to spend a summer day.
There's something for everyone at Kitsilano Beach, so it's no surprise that it's one of the best Vancouver beaches out there. Splash in the ocean water, sunbathe on the warm sand, picnic on the grass, or rally for a game of beach volleyball. There's even a water wheelchair and mobi mats for accessibility.
One of the highlights at this beach is the Kitsilano Pool, the only saltwater swimming pool in Vancouver. At 137 meters long, Kits Pool also holds the title for the longest outdoor pool in North America. If you love swimming, definitely give this spot a try!
The seawall pathway passes behind the beach, connecting 28 km of Vancouver's waterfront. For dog owners, head to the far north end of the beach to Hadden Park (also called Kits Dog Beach), an off-leash dog park near Elsje Point and the Vancouver Maritime Museum.
2. Jericho Beach
In the West Point Grey neighborhood, you'll find the gorgeous Jericho Beach and the sprawling grassy park that surrounds it. With incredible sand and plenty of things to do, this is definitely one of the best Vancouver beaches to hang out at. Plus, the sunrises and sunsets here are breathtaking, with a backdrop of the North Shore mountains and downtown Vancouver!
You definitely won't get bored at Jericho Beach. Play sports at the tennis courts, volleyball nets, turf fields, or baseball diamond. And, the Jericho Sailing Centre will help you get onto the water with lessons and watercraft rentals, from kayaks to sailing boats.
Walking trails wind through the park, and the grass is perfect for spreading out a picnic blanket. And, every July, the Vancouver Folk Music Festival brings entertainment and music to this park.
If you want to stay nearby, the HI Vancouver Jericho Beach Hostel is located right between Jericho and Locarno Beach. You won't get accommodations that are much closer than that!
3. English Bay Beach
On a thin strip of the famous Stanley Park, you'll find the popular English Bay Beach. This stunning beach is spacious, sandy, and one of the top places to hang out on a sunny day in Vancouver.
Also known as First Beach, English Bay Beach is the first of three beaches that line the west side of the Stanley Park Seawall. The walk from First to Third Beach will take about thirty minutes and is a very scenic stroll.
During July, the park is home to the Celebration of Lights festival, with fireworks lighting up the night sky. And, on New Year's Day, thousands plunge into the chilly ocean for a Polar Bear Swim. Brave the cold waters if you dare or enjoy watching others welcome in the new year with an icy swim!
The south end of English Bay Beach is home to an iconic Inukshuk sculpture. This landmark is a welcoming symbol representing northern hospitality. It also serves as an excellent spot for photo ops!
4. Spanish Banks Beach
Famous for its tidal flats, Spanish Banks Beach is one of the best places to head for a hot summer's day. Even though it's an incredible beach, Spanish Banks is a bit less busy than some of the other beaches in Vancouver. If you want a peaceful beach experience, this is the spot!
Low tides and a shallow beach make Spanish Banks an excellent place to head with the family. Children love splashing in the ocean water, which warms up in the sun. And, the sand here is some of the best for building the perfect sandcastles.
Not only that, the tidal flats make Spanish Banks Beach one of the best places in Vancouver for skimboarding. During the right tide conditions, you'll see plenty of people out skimming the water on their boards.
Nearby, you'll find the Spanish Banks off-leash dog area. Your pup will love playing in the ocean water!
5. Wreck Beach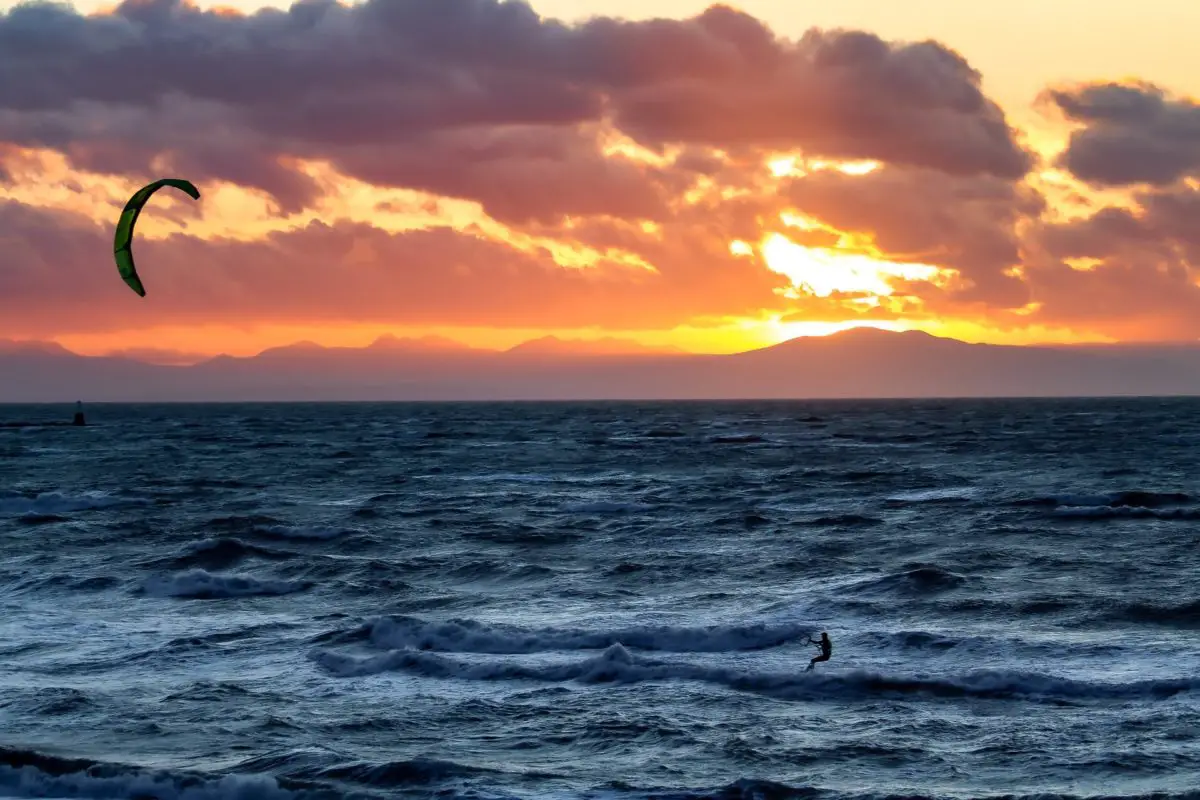 Wreck Beach is Vancouver's only clothing-optional beach so it's definitely not for everyone. However, if you're feeling brave, it's definitely worth checking out!
This unique beach is the first (and biggest) clothing-optional beach in Canada. You don't have to take your clothes off here, but many people do. If you visit, be prepared to see some people enjoying their clothesless freedom. Don't forget to respect their privacy!
The beach is located at the west end of the University of British Columbia (UBC) campus. The stairs down are quite steep — watch your step! It's a workout to get back up the stairs so make sure you can handle the return trip before heading down.
Want to explore the area more? The Foreshore Trail passes beside Wreck Beach, linking up to other fun spots like Oasis Beach, the UBC Botanical Garden, Acadia Beach, and Spanish Banks. It also passes by the Museum of Anthropology at UBC, which contains numerous unique artifacts from all over the world.
6. Locarno Beach
Locarno Beach is one of the many beautiful Vancouver beaches lining English Bay. Sandwiched in between Spanish Banks and Jericho Beaches, Locarno feels like it's part of a neverending stretch of sand. Sit down on the beach with your back against a driftwood log and take in the mountain vistas over the ocean.
With no loud music allowed, Locarno Beach is one of the best beaches in Vancouver for anyone seeking some quiet time in nature. Enjoy the sound of the waves while you read your book in peace!
If you are a fan of beach volleyball, Locarno is a great spot to head to. From Victoria Day in May to Labour Day in September, there are six nets set up on the beach. Rally with a group of friends and then grab a snack at the concession stand!
7. Sunset Beach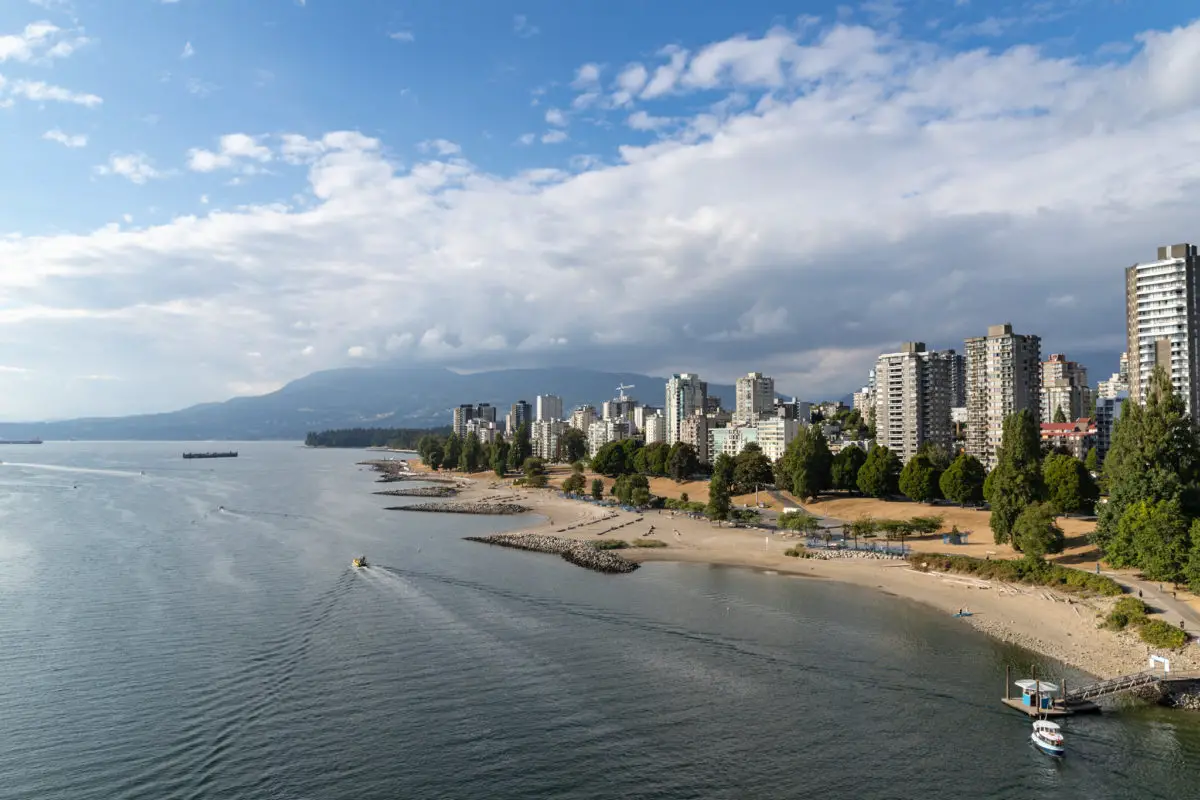 Looking for the best Vancouver park to spend a romantic evening? Sunset Beach Park near the Burrard Street Bridge is probably the best beach in Vancouver for catching a spectacular sunset!
Located in downtown Vancouver, Sunset Beach has sweeping views of English Bay and the North Shore mountains. It's located on the edge of False Creek, which leads to the famous Granville Island. Catch a water taxi to explore some of Vancouver's best destinations like the Granville Market and the Olympic Village.
Known for beautiful evenings and awesome beach days, Sunset Beach is the perfect place to hang out all through the day. During the day, the beach is a popular spot for swimming, sunbathing, and picnicking. Later in the day, watch the setting sun turn the horizon into a sea of colors.
Sunset Beach Park is also famous for a massive barge that ran aground in November 2021 due to some extreme weather. Briefly, the beach became known as "Barge Chilling Beach" after a sign was installed by the Vancouver Park Board.
8. Second Beach
As the name implies, Second Beach is the middle beach of the three that line the edge of Stanley Park. With two nearby playgrounds and a heated outdoor swimming pool, it is one of the best, most popular beaches in Vancouver for families.
One of the highlights of this spot is the Second Beach Swimming Pool. Open May to September, splashing in this wonderful outdoor public pool is a great way to cool off on a hot summer's day.
There are also a couple of playgrounds to choose from: the Stanley Park and Ceperley Park Playgrounds. The fire truck at Ceperley Park Playground is loads of fun for children!
On Tuesdays in July and August, the grassy field near Second Beach transforms into the Stanley Park Summer Cinema. Spread out a blanket on the grass and enjoy classic films for free (popcorn not included).
9. Third Beach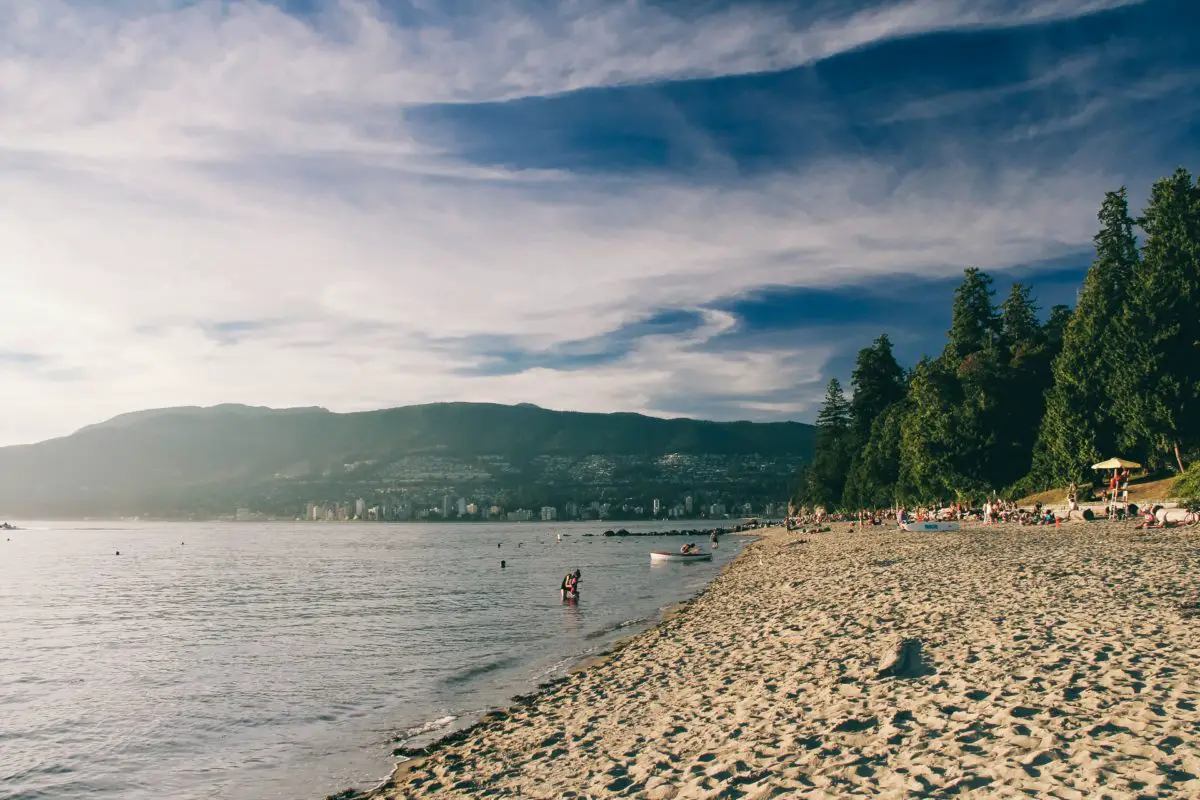 Third Beach in Stanley Park is another great option if you're looking for a beach with breathtaking views. Nearby Ferguson Point, the sandy beach looks out over Burrard Inlet and is bordered by the large trees of Stanley Park.
Located along the Stanley Park Seawall system, it's easy to get to this spot by walking or biking. It's the perfect spot to pause in your Stanley Park adventures and enjoy some beach time.
On sunny Tuesdays from March to September, there is the Brahm's Tams Drum Circle at Third Beach. This informal jam has been a tradition for decades. It starts when people get off work and goes until sunset. Dance to the beats beside the ocean or bring your own drum to join in the music!
Nearby Third Beach, you'll find the Teahouse in Stanley Park. Even though it's called a teahouse, it's much more than that! This awesome restaurant serves delicious entrees like BC salmon, steak, or ravioli. Plus, the venue looks out over the beautiful park and ocean.
10. Ambleside Beach
Ambleside Beach is right beside the famous Lions Gate Bridge in West Vancouver. One of the best parks on the North Shore, this top Vancouver beach is a great place to head for some summer beach time.
With plenty of things to do, you won't be bored if you spend a day in Vancouver at Ambleside Beach. Spend the afternoon lounging on the beach or building sandcastles. If you enjoy seafood, you can fish or go crab trapping off the side of the Ambleside Fishing Pier. There is also the Ambleside Skatepark right beside the beach for those who're a bit more adventurous.
The Hollyburn Sailing Club is based at Ambleside and they have regular club paddles. They also do sailing lessons, if you're interested in learning the sport.
For dog owners, there is also the Ambleside Dog Beach on the east side of the beach. One of the best off-leash dog beaches in Vancouver, dogs will love playing at this wonderful spot!
Where to Stay in Vancouver
Luxury: Fairmont Pacific Rim – Looking for an upscale experience? This high-end 5-star Vancouver hotel will make sure your vacation is spectacular, with classy decor, a pool with cabanas, and even an on-site spa!
Mid-Range: The Westin Bayshore – This elegant waterfront property has comfortable rooms that are incredibly restorative. Not to mention, the pool has picturesque views and there are plenty of on-site restaurants to choose from.
Budget-Friendly: YWCA Hotel Vancouver – This is a great choice if you need affordable accommodations. The rooms are simple but have exactly what you need for an amazing Vancouver vacation.
Other Things to Do around Vancouver
Top Travel Tips & Resources for Vancouver, BC