Vancouver has plenty of touristy activities, but what if you're looking for something more unusual, unique, or off-the-beaten path? Luckily, there are lots of unusual things to do in Vancouver, you just have to look for them!
There are so many unique, unusual, weird, whimsical, and wonderful things to see and do in Vancouver. You'll never run out of things to do here.
For those who're looking to explore some of the city's lesser-known attractions, you're in luck. We cover some of the top unusual, unique, strange, off-beat, and off-the-beaten-path things to do in Vancouver, BC.
Top Unusual Things to do in Vancouver
Join a Ghost Tour
Step back in time and explore Vancouver's spooky side on the Lost Souls of Gastown Walking Tour. On this 1.5-hour tour, your guide will lead you through the trendy and historic Gastown neighborhood, sharing tales from the wild west and the city's darkest days.
From fires and smallpox to thieves and vagabonds, you'll be completely enthralled as you make your way through the neighborhood. Not only will you see Gastown's most famous attractions, like the Steam Clock and Gassy Jack Statue, but you'll be exposed to some of the most unusual tales that ever swept through the city.
Solve the VanDusen Garden's Elizabethan Hedge Maze
Lose yourself in nature — literally — at the VanDusen Gardens. One of the most spectacular gardens in the city, VanDusen Gardens is also home to the incredible Elizabethan Hedge Maze, one of six hedge mazes in North America.
More than 3,000 pyramid cedars create this maze, which will have you completely turned around as you make your way from one end to the other.
Not too hard to beat, this unique Vancouver activity is a great way to spend the day whether you're traveling on your own, as a couple, or with a few kids in tow.
For more outdoor garden adventures, we also recommend you visit the Dr. Sun Yat-Sen Classical Chinese Garden, a traditional 15th-century garden in the middle of the city.
Explore Stanley Park in a Unique Way
Anyone planning a trip to Vancouver needs to make sure a visit to Stanley Park is at the top of their list. But what if you want to explore in a not-so-conventional way?
You're in luck! There are so many ways to explore the green heart of the city that you'll probably want to plan multiple visits to Stanley Park.
A Stanley Park segway tour is a very cool activity to try in Vancouver, especially if you're short on time. As you zip through Stanley Park, you'll see all of its most famous attractions like the First Nations Totem Poles and Brockton Point.
For something a little more leisurely, ride the Stanley Park Train or take a horse-drawn tour through the old-growth forest.
Also, if you want to learn about the weird history and strange stories of Stanley Park, we recommend joining a Vancouver Secrets of Stanley Park walking tour. The guide will take you to some of the more unique and unusual spots in Stanley Park, from odd art pieces to old crime scenes.
Experience Vancouver's Weird Art Scene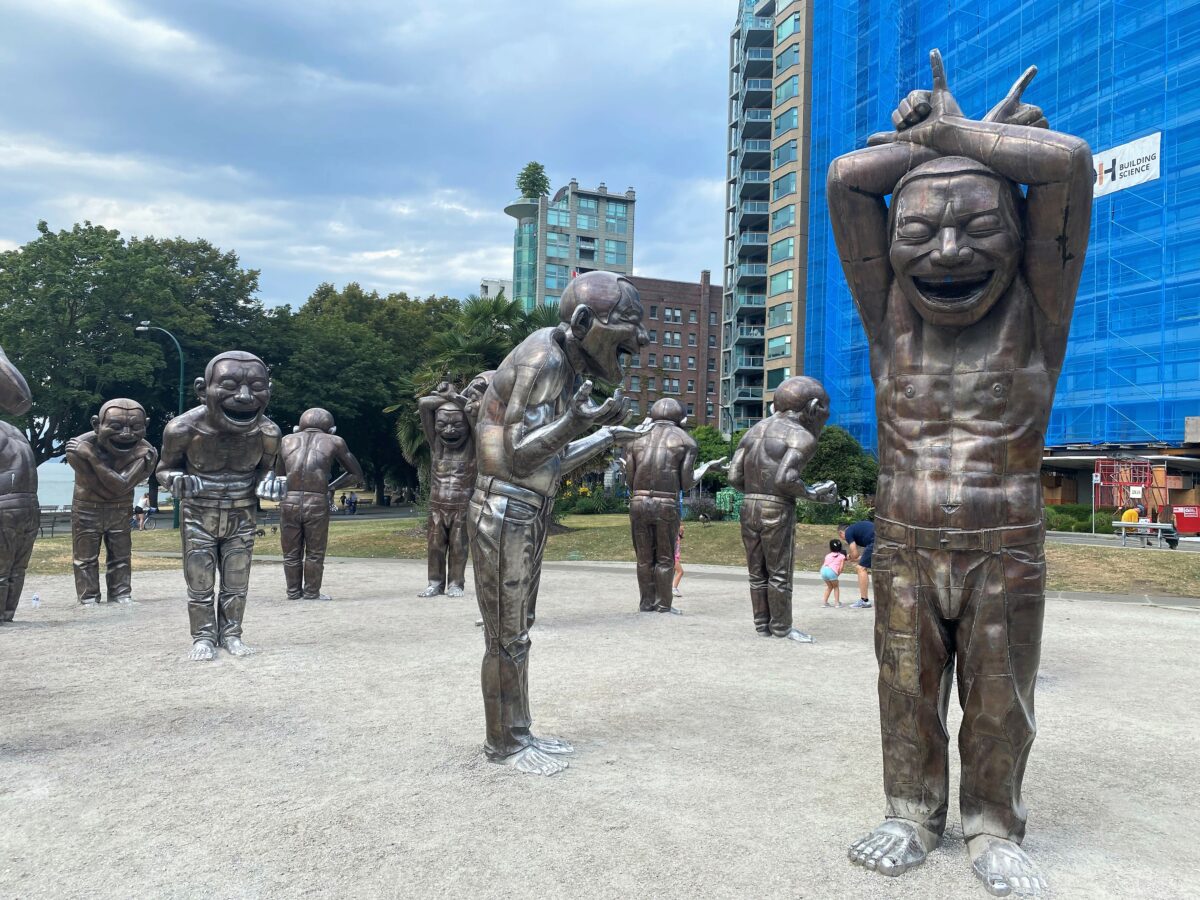 For art enthusiasts, a tour of Vancouver's public art scene is something you won't want to miss.
This vibrant city is home to an eclectic array of colorful murals and unique statues. Whether you're walking down the street or sitting on your favorite patio, you'll want to keep your eyes peeled because this city is packed with art!
Some of the city's most notable, unique, or unusual works of art are the "Girl in a Wetsuit" in Stanley Park, "Giants" on Granville Island, the Trans Am Totem, and The Bird Statue. Our favorites are the mesmerizing Digital Orca and the intriguing A-maze-ing Laughter.
One of the best ways to see the city's weird and wonderful art pieces is by joining a Vancouver street art tour. Your knowledgeable local guide will take you on a journey through Vancouver's creative art scene, from False Creek murals to Mount Pleasant alleyway graffiti, while giving you a taste of locally-brewed craft beers along the way.
Listen to the 9 O'clock Gun
Get your heart pumping by listening to the 9 O'clock Gun, one of the most unusual attractions in Vancouver. A quirky piece of naval artillery, the 9 O'clock Gun is a 1,500-pound cast iron cannon that has been blasting off every night at 9 p.m. for decades.
Located on the Stanley Park seawall, the cannon was originally set up to alert fishermen that the workday had come to an end. Today, the 9 O'clock Gun blasts simply to delight and deafen visitors and locals.
See the Gastown Steam Clock
The Gastown Steam Clock is one of the most famous and iconic landmarks in Vancouver. While an incredibly popular tourist destination, visiting the clock is still one of the most unusual things you can do in Vancouver.
The clock is one of six other functional 'steam' clocks in the entire world. So while visiting it isn't off the beaten path, it's still a sight to behold.
Even though the clock feels like its from the Victorian era, it was actually built in 1977 by Raymond Saunders and Doug Smith. It was built for two purposes: as a monument but also (shamefully) to keep the unhoused from sleeping on a steam vent below the clock.
If you're visiting at the right time (every quarter-hour), the steam clock will whistle out steam and produce a Westminster chime using its brass steam whistlers. It's quite a unique sight to see!
Find the Cambie Climbing Tree
For one of the best views in Vancouver, try to find and climb the elusive Cambie Climbing Tree. One of the city's lesser-known attractions, this incredible secret tree is a favorite climbing spot for locals who want to get a breathtaking panoramic view of the North Shore mountains and Vancouver's skyline — all from the top of a tree!
The Cambie Climbing Tree has a hidden location along the Cambie Corridor. You'll find the massive tree somewhere in the vicinity of Queen Elizabeth Park and the King Edward Station. That's all we'll give for hints though!
A giant evergreen, the tree has large branches that circle its wide trunk, acting almost like a staircase. The locals have also transformed the tree's branches into a jungle gym of sorts, with climbing ropes, woven hammocks, and even a tire swing.
Climbing this tree is certainly a strange thing to add to your bucket list, but worth it. Do take caution when trying to climb the tree, especially if it has rained recently. You'll want to ensure you have a certain level of fitness before trying to make your way to the top!
Visit the Bloedel Conservatory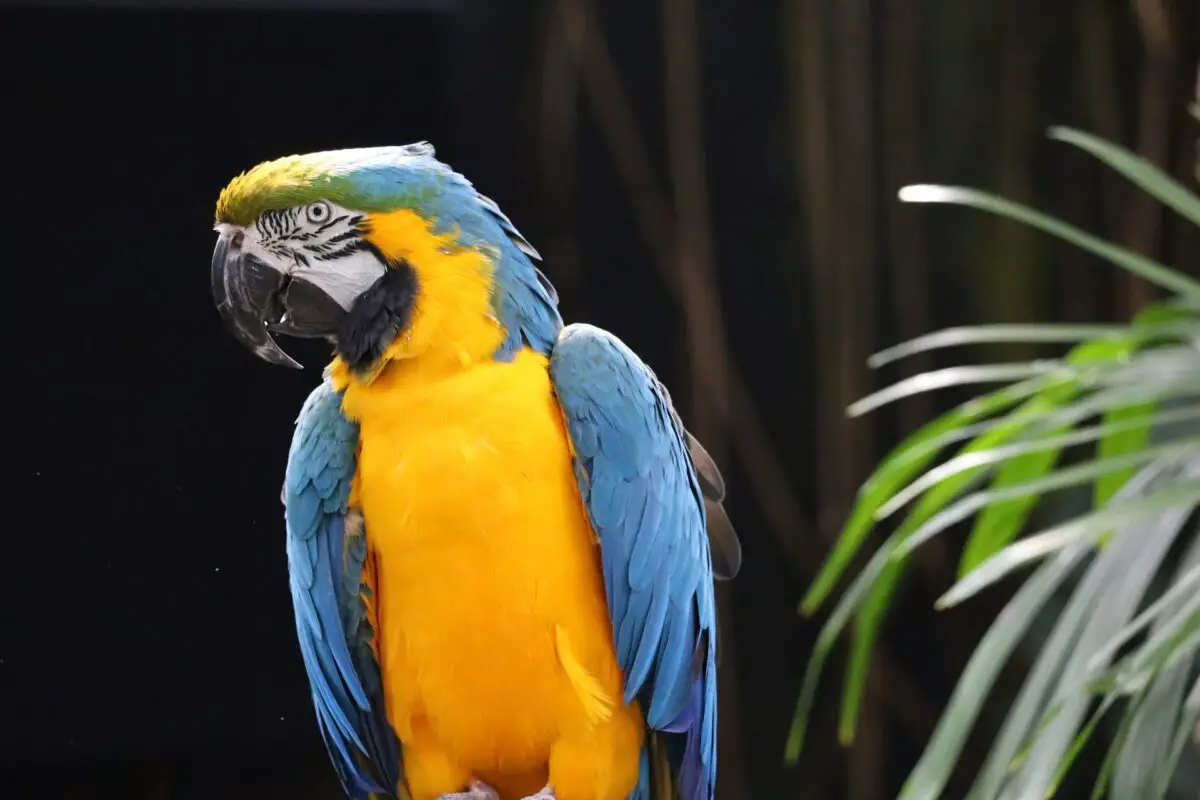 A trip to the Bloedel Conservatory in Queen Elizabeth Park is like a trip to paradise without ever leaving the city. A spectacular dome atop a hill, Bloedel Conservatory is the perfect indoor place to spend a rainy day in Vancouver.
You'll be nice and warm as you explore this domed paradise, surrounded by 500 species of plants and flowers while over 100 species of exotic birds fly overhead. Around every turn, you'll be amazed by the beauty and wonder that surrounds you within this amazing indoor garden.
Check Out the Vancouver Police Museum
For fans of true crime and history, a visit to the Vancouver Police Museum should be at the top of your bucket list of unique and unusual things to do in Vancouver.
One of the more unusual activities, the Vancouver Police Museum will have you diving deep into the gruesome history of this city. The gallery is packed with thousands of artifacts and mementos, as well as original evidence, confiscated weapons, news clippings, photos, preserved human organs, and more.
The Museum also hosts the Movies in the Morgue event, a monthly activity where you can watch horror films and thrillers in the historic morgue space.
Hang Out at Dude Chilling Park
What started as a prank is now one of the most unique places to visit in Vancouver: Dude Chilling Park in the Mount Pleasant neighborhood.
Technically a park within a park, Dude Chilling Park got its name in 2012 when a local prank artist installed a sign in Guelph Park referencing a nearby piece of art called "Reclining Figure". The prank was so popular that the small patch of green space was officially sanctioned by the city.
A delightful place to visit, you'll definitely want to pop by Dude Chilling Park to snap a pic with the now internationally recognized sign.
The park was also inspiration for the "Barge Chilling Beach" sign placed temporarily at Sunset Beach after a powerful storm washed a barge up on shore in 2021.
Climb Woodward's Spiral Staircase to Nowhere
Climbing a staircase to nowhere is without a doubt an odd thing to do in Vancouver. But, if you're looking for unusual activities in the city, you'll have to add this to your list.
You'll find the Spiral Staircase to Nowhere in the outdoor plaza of the old Woodward's building, only a few blocks away from the Gastown Steam Clock. The odd staircase connects a couple of floors within the building, but then continues to loop around again without ever reaching the top.
Pop by this upbeat and friendly space and take a quick trip to the top, before making your way back down again.
Visit the Clothing-Optional Wreck Beach
Take a trip to Vancouver's Wreck Beach and leave your inhibitions and clothes behind! Tucked away on the western shores of the UBC endowment lands, Wreck Beach is an infamous hangout where visitors relax and frolic in the nude, without a care in the world.
Wreck Beach is one of Vancouver's best beaches, so even if you don't want to go bathing suit-less, it's worth a visit.
If you plan on visiting Wreck Beach, make sure you follow and respect the rules: no photos, no staring, and absolutely no littering. Not everyone will be clothesless, but you should expect to see some people in their birthday suits.
Enjoy the Views at the Horseshoe Bay Lookout
With breathtaking vistas of the Howe Sound, mountains and ferry terminal, the Horseshoe Bay Lookout (also called the Horseshoe Bay secret platform) is one of the best viewpoints in the Lower Mainland.
A short drive north of the city, Horseshoe Bay is a spectacular stop on the Sea to Sky Highway to Whistler. Whether you're passing by or it's your destination, you're going to want to take a few minutes (or hours) to visit the Horseshoe Bay Lookout and soak in the views.
Here you'll enjoy unparalleled waterfront views of Bowen Island and the Howe Sound. It's one of the best places in the Lower Mainland to watch the sunset, have a picnic, or just sit with your thoughts.
While once one of Vancouver's best-kept secrets, this hidden gem is becoming more popular in recent years. You might not have the secret platform all to yourself anymore, but there are usually only a few people there.
FlyOver Canada
Explore the city and beyond at FlyOver Canada. One of the coolest indoor things to do in Vancouver, this ultramodern 4D experience lets you soar high over the vast landscapes of Canada without ever leaving the city.
In a 30 minute experience, you'll see Canada from coast-to-coast. Zoom over the prairies, fly up and over the Rockies, and soar high above the impressive Niagara Falls.
Thanks to the ride's unique technologies, you'll be able to feel the wind in your hair and mist on your face as you sit back and take in the magnificent beauty of Canada.
Culinary Tour around Chinatown
Tantalize and tease your tastebuds by joining the Wok Around Chinatown culinary and cultural walking tour. Led by a world-class chef, you'll spend four hours exploring Vancouver's Chinatown on this culinary tour, learning about the food and history that shaped this historic neighborhood.
You'll have the chance to sip traditional tea, explore herbal medicine shops, and visit the Dr. Sun Yat-Sen Classical Chinese Garden before capping off the day with a delicious dim sum lunch.
A feast for your brain and your stomach, you won't want to miss this unique Vancouver tour.
Polar Bear Swim
Take the plunge by signing up for a refreshing and invigorating Polar Bear Swim. An annual New Year's Day tradition since the 1920s, the Polar Bear Swim sees thousands of people stripping down to their bathing suits and rushing into the freezing cold waters of the Pacific Ocean.
You'll feel an immediate and unforgettable rush as you plunge into the frigid winter waters outside of Vancouver. It's a thrilling way to start a fresh year!
Solve the Gastown Murder Mystery
Explore Vancouver's most historic neighborhood while trying to solve the Gastown Murder Mystery. This is really one of the most unusual things to do in Vancouver and is lots of fun if you and your friends enjoy puzzles!
Typically lasting two hours, the Gastown Murder Mystery game will have you playing detective through the streets of Vancouver. Starting near Waterfront Station, you and your teammates will set out to find clues and uncover who is behind the mystery.
Through the adventure, you'll visit iconic Vancouver landmarks, like the Gastown Steam clock, Gaoler's Mews, and Gassy Jack statue. Not only will this experience let you get to know Gastown, but it will create memories of a lifetime for your friends and family!
Hollywood North Walking Tour
Did you know that Vancouver is one of the most popular filming locations in the world for TV shows and movies, outside of Hollywood? Often dubbed Hollywood North, Vancouver is home to many major film production studios and is the third largest film and TV production center in North America.
Learn about Vancouver's film industry on a Hollywood North Walking Tour. On this three-hour walking tour, you'll have the chance to visit some of the city's most famous filming locations, starting at Robson Square and ending at Waterfront Station.
Your knowledgeable guide will take you to three different Vancouver neighborhoods, sharing fun insight into the film industry of Hollywood North. You'll feel like you've stepped right into your favorite comedy or drama as you explore the city and some of the filming locations on this unique tour.
Grouse Mountain Ropes Adventure
The Grouse Mountain Ropes Adventure is the perfect way to spend an adrenaline-pumping afternoon. Lasting between 2-3 hours, the fun ropes course will have you climbing high into the treetops of the forest on a series of bridges, ziplines, and slacklines.
You'll navigate tunnels and trails as you take in the surrounding natural beauty of Grouse Mountain in a very unique and unforgettable way. A short drive from the Capilano Suspension Bridge, you can easily spend a day flying high and experience the most beautiful scenery in the Lower Mainland.
Capilano Salmon Hatchery
Just 15 minutes from downtown Vancouver, a visit to the Capilano Salmon Hatchery in the Capilano River Regional Park is a unique way to see and learn about some of Vancouver's native salmon species.
Every year, the Capilano River welcomes thousands of coho and chinook salmon, as well as steelheads, to spawn and create a new generation of fish. The hatchery is the perfect place to view this natural attraction. You'll also be able to see the juvenile fish grow and be released into the river in spring.
Free to enter, you'll be able to spend your visit watching the salmon jump up the ladder before reaching the hatching pond at the top. No matter how many times you see it, you won't cease to be amazed by these determined fish!
See the Marine Building Architecture
The Marine Building is one of the most iconic buildings in the city. It is an art deco masterpiece that opened in 1930, and nearly 100 years later its stunning facade attracts architecture and design buffs from all around the world.
The entire building is amazing, but the giant brass doors are a sight to behold. Tall and imposing, each door features intricately carved figures that pick up the marine theme throughout the rest of the building.
Top Travel Tips & Resources for Vancouver, BC